We may earn money or products from the companies mentioned in this post.
When travelling to Bravaria, you should take time to spend at least one day in Munich. Known for Oktoberfest, Munich's culture surpasses beer (although the beer is good enough to be known just for that!).  There is beautiful architecture, exceptional museums and great shopping.  You will find enough things to do in Munich to keep you entertained the entire time you are there!
Munich has become a huge tourist destination in the last few years and it is easy to see why.  If you are looking for things to do in Munich for a day trip, we have compiled a great list of 5 things you will want to experience.
List of Popular Things to do in Munich
Viktualienmarkt Munich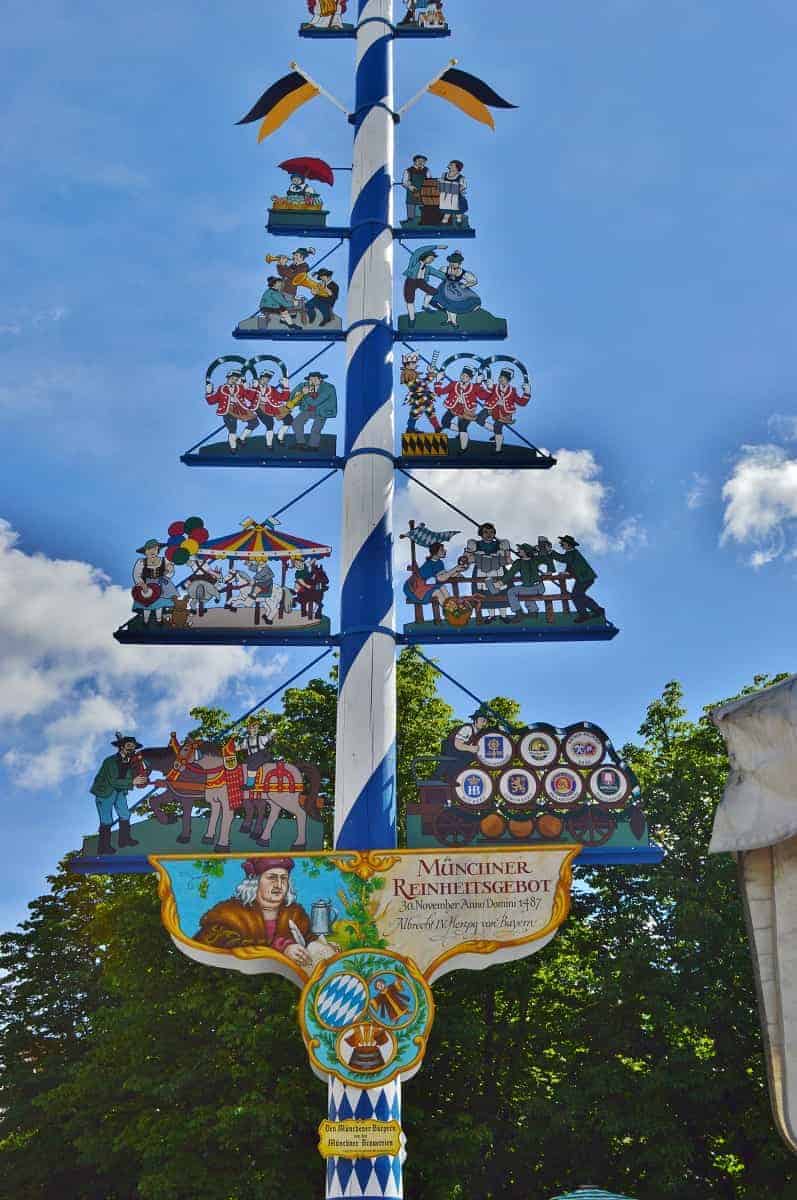 If you are looking for a souvenir, there is no better place to find a German trinket than at the local market. Vendors sell handmade goods, souvenirs, along side fresh fruits, vegetables and flowers.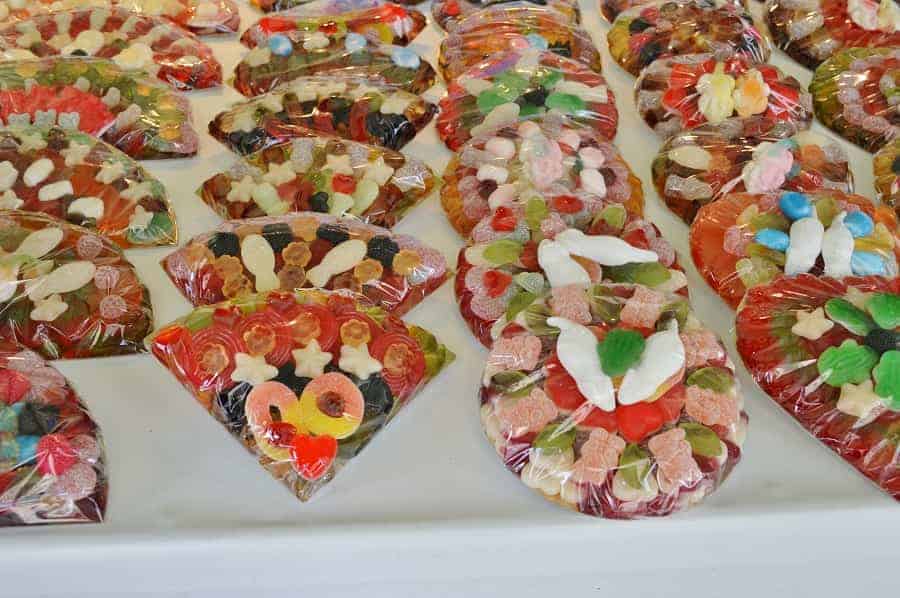 Bavarian Food And Cultural Experience in Munich: Food Walking Tour through Munich's Historic District and Viktualienmarkt
You will also find food vendors so it is a great place to have lunch or grab a beer.  If you have time, you can also do a Bavarian food & drink tour of Viktualienmarkt which allows you to try different local specialty foods and beers.
Spielzeugmuseum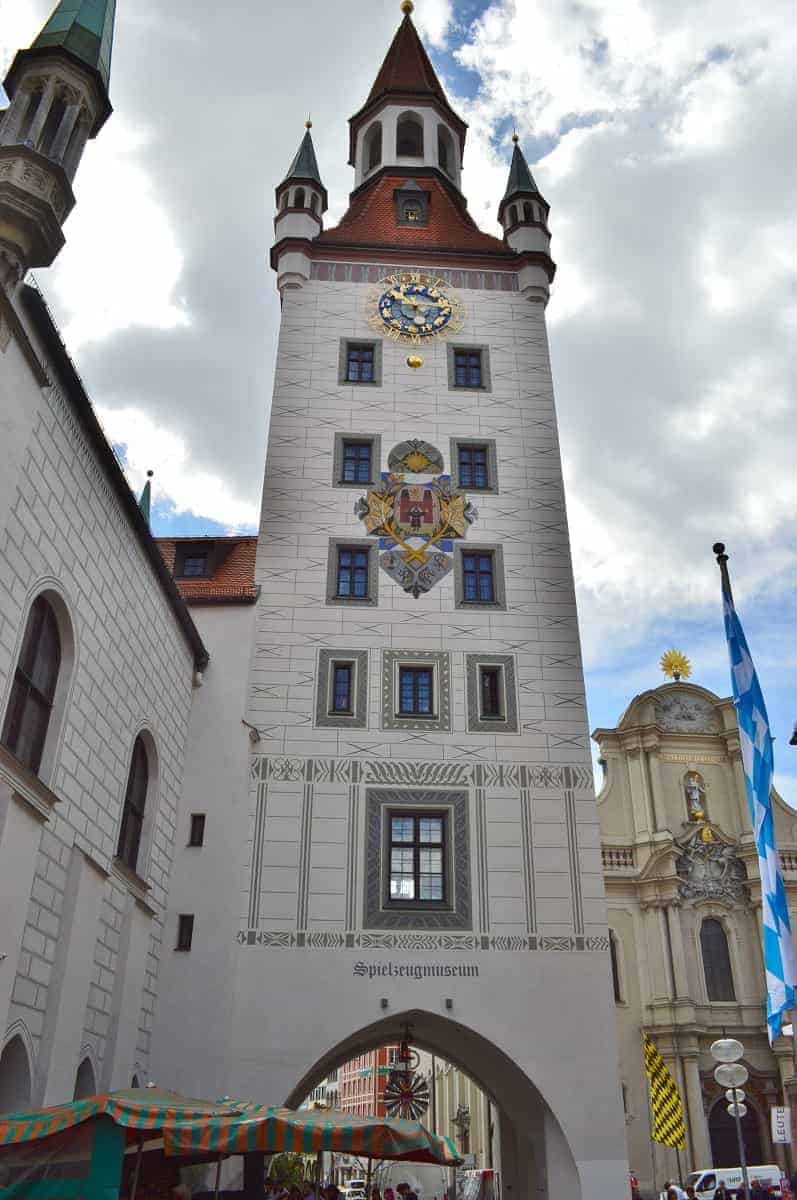 Whether you are travelling with kids or are a kid at heart, one of the things to do in Munich is visit the Toy Museum. Located in the Marienplatz, is the Spielzeugmuseum. While the building itself is really cool, what's even more fascinating is what's inside; a toy collection that dates back to 1800.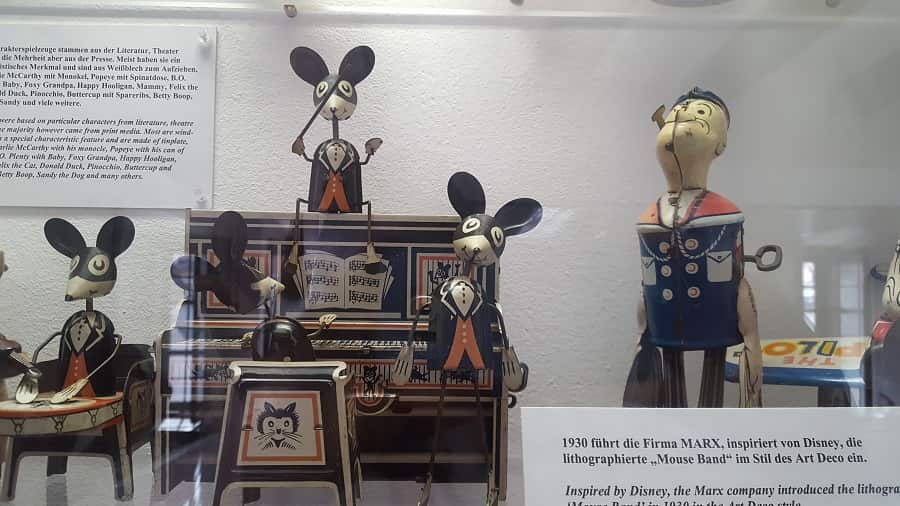 This several story tower holds everything from a collection of teddy bears to vintage Disney toys.  Prepare yourself for small spaces and a narrow winding staircase.
Admission Price
Adults €4
Kids €1
Family ticket for €8
Glokenspiel at Marienplatz
One of the most popular things to do in Munich is visit the Marienplatz to see the Glokenspiel.  Located in the main square, is the most amazing clock tower in all of Germany.  Every day at 11 am, 12 and 5 pm (not in Winter) you will be able to see the Glokenspiel in action.
This cuckoo clock features motorized figurines that display a royal wedding, jousting tournament and traditional German dance.  The clock tower show lasts about 15 minutes and ends with the classic German cuckoo bird!
We viewed from below, but I have heard that you can get a great view from Hugendubel bookstore across the square.
Nymphenburg Palace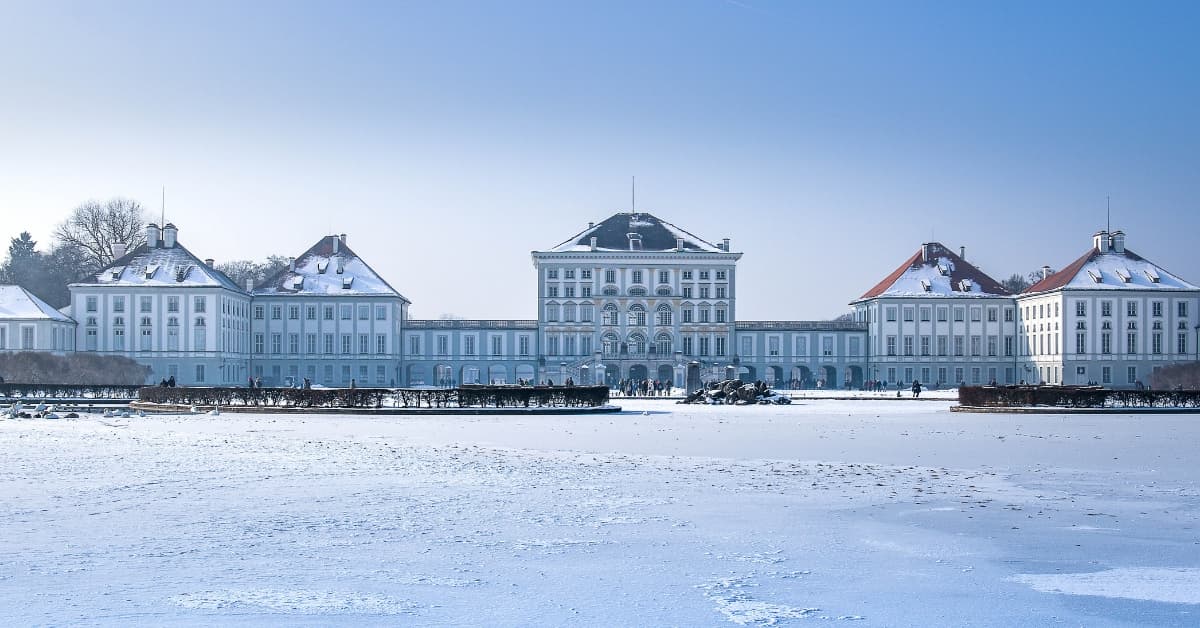 One of the best way to experience the history of Bravaria is by walking though one of the palaces. Nymphenburg Palace is a great example of a Baroque Palace built in the second half of the 17th century.
You will be able to see 20 apartments in the main residence featuring art and furnishing of various time periods in history.
During the summer season (April to mid-October), gondola rides are offered every day on the central canal. The rides last around 30 minutes and cost €15 euros each (children under 7 are free).
Admission Price
Adult €6
Children under 18 FREE
Beer Garden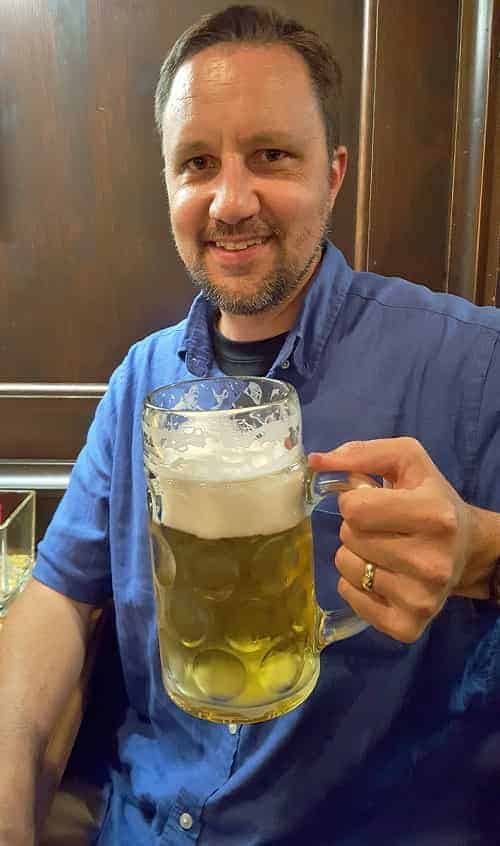 No  day trip to Munich is complete without going to a beer garden.  There are hop on hop off buses that will take you to breweries and even brewery tours at Hofbräuhaus.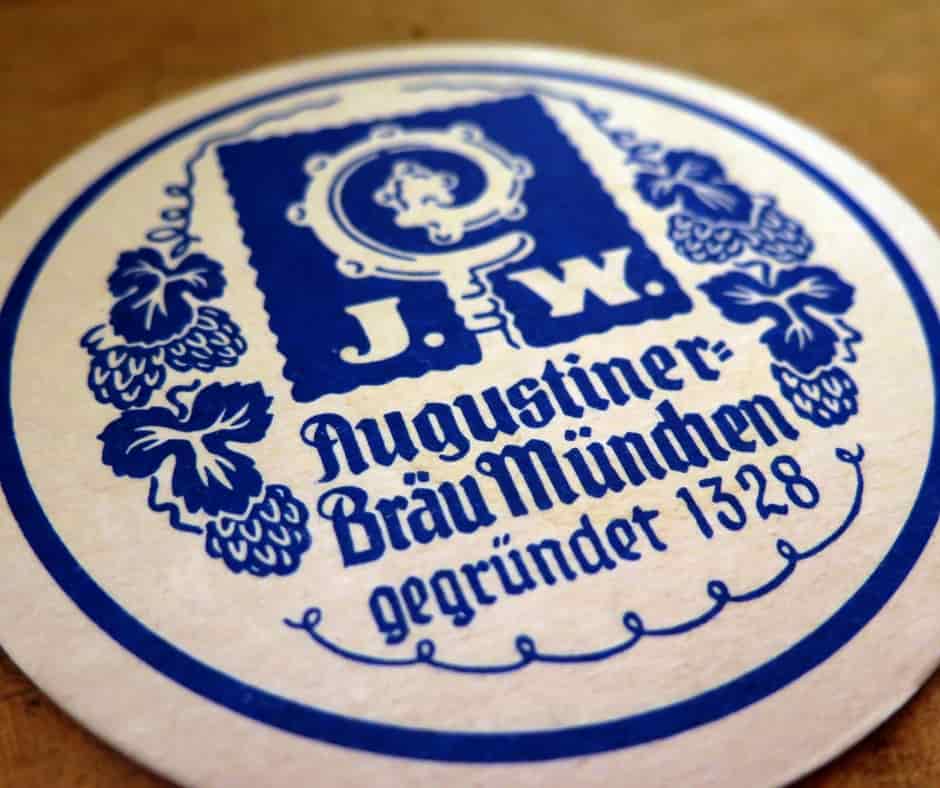 During our visit to Munich, we headed over to Augustiner Keller.  This beer garden seats you family-style in long tables where you share space with locals and tourists.
Pretzels are provided with your beer and you pay depending on how many you eat.   Food is also served and is typical German dishes.
Be sure to go in the evening when you can experience true German beer garden culture with the live band playing as you drink!
Munich Super Saver: Brewery and Beer Tour plus Express Hop-On Hop-Off Tour
Popular Day Trips from Munich
If you are looking for ideas on day trips from Munich, there are quite a few places you can see that aren't too far away. Munich is a great place to see, but it certainly shouldn't be the only place you visit in Bravaria!  If you are able, try to take time to visit the following:
Neuschwanstein Castle
If you can make the time in your trip to Munich to visit Neuschwanstein Castle, it is well worth it. This popular attraction is one of our top day trips from Munich because it is so close (within 2 hours) and allows you to see the castle that inspired Walt Disney to create Cinderella castle. You can do it on your own or take a Neuschwanstein Castle Small-Group Day Tour from Munich.
Romantic Road
One of my favorite things to do in Bravaria is take a drive down the Romantic Road.  You will find that this Romantic Road, Rothenburg, and Harburg Day Tour from Munich will take you by bus on the famously picturesque route; allowing you to see castles and the Medieval town Rothenburg ob der Tauber and Harburg.
Salzburg
A popular day trip from Munich is Salzburg, Austria.  Only a 2 hour train ride away, it makes it a great day trip, giving you the chance to see a whole other country.
During this Salzburg Sightseeing Day Trip from Munich by Rail you will be able to visit the historical Austrian city and enjoy a guided walking tour of its UNESCO-listed Old Town.
Guests will be able to visit some of Salzburgs most popular attractions including Mirabell Gardens, St. Peter's Church, Mozart's Birthplace, and more.
Have you been to Bravaria? Do you have any favorite things to experience in Munich?