Those planning a trip to Oslo, Norway are probably amazed at all there is to do in this city.  With a compact city center and great public transportation, this city is easy to explore on your own or with your family.  If you are heading to Oslo and wondering how to best spend your time, we have a great Oslo sightseeing list to share with you.
Before You Go to Oslo, Get Your Oslo Pass

Whether you are going to be in Oslo for one day or for a few days, The Oslo Pass is something you should purchase prior to your trip. It gives you free entry to more than 30 museums and attractions, free travel on all public transport and other great perks.
You will find that many of the sites on our Oslo sightseeing list have free admission with the Oslo Pass.
Getting Around Oslo
Oslo is a city that is easy to navigate, especially if you have the Oslo pass.  Ruter is the name of the public transport system in Oslo and the surrounding county, Akershus. You can take all public transport within zone 1 (Oslo) and zone 2 for free with the Oslo Pass. You will also be able to use the ferry to Bygdøy.
Oslo Sightseeing List
When making the trip to Oslo, these are the sites you will want to make sure you visit. If you are short on time, you might want to take a look at our Oslo in a Day post to see our abbreviated list of things to do.
The following Oslo Sightseeing list should be easily completed in 2-4 days depending on how you plan your trip.
Norsk Folkemuseum – Norwegian Museum of Cultural History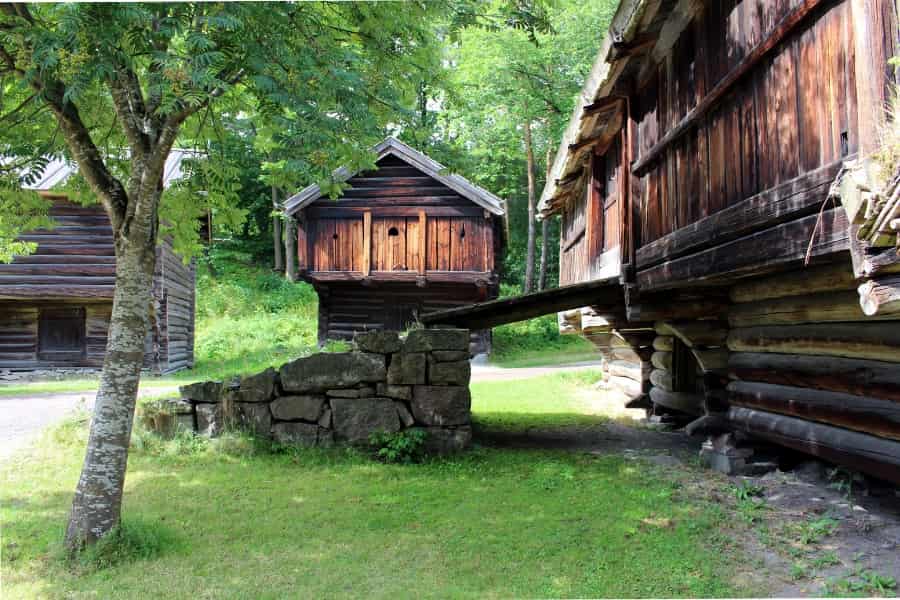 There is no better place to learn about the beautiful history of Norway than through the Norwegian Museum of Cultural history.  There are both indoor and outdoor exhibits and so much to explore! You could easily spend an entire day here!
Be sure to wear appropriate clothing and shoes! There is a lot of walking on hard & soft surfaces and you want to make sure your shoes are sturdy for the terrain.
The Viking Ship Museum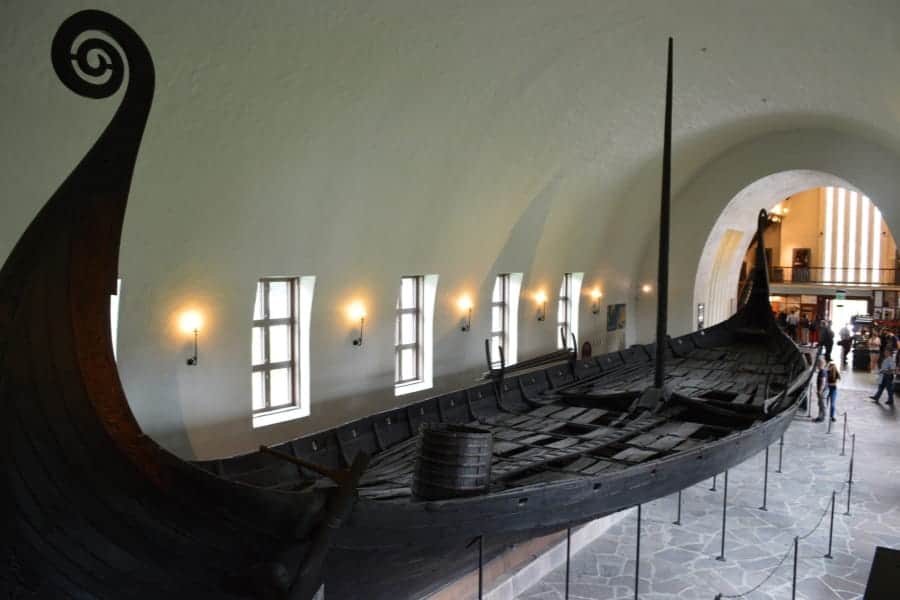 See authentic Viking ships and other items from the time of the Vikings in this museum.  You will be amazed at the quality of this collection of artifacts. Plan on spending about an hour looking through the collections.
Free with the Oslo Pass
The Kon-Tiki Museum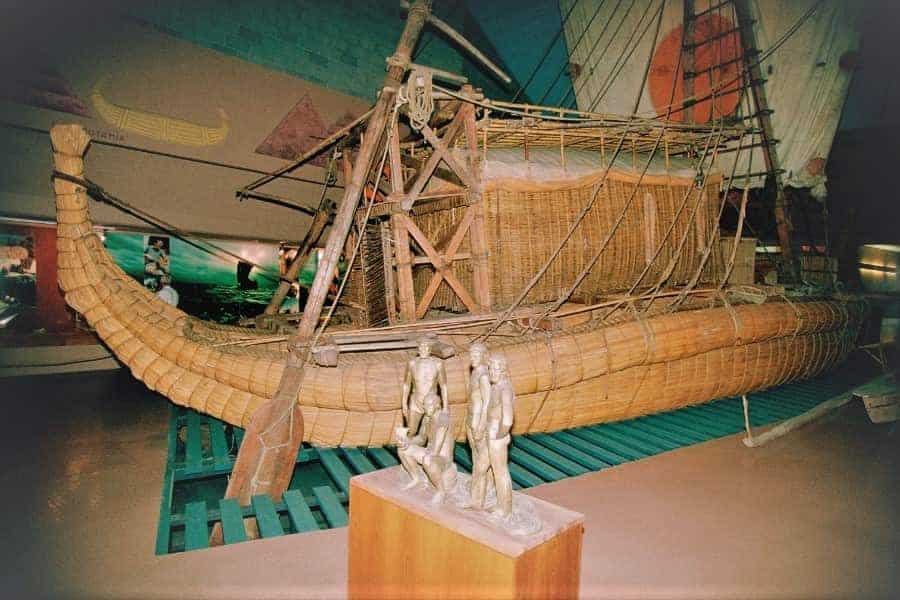 Thor Heyerdahl gained worldwide fame when he crossed the Pacific Ocean on a small raft made from balsawood in 1947.  The Kon-Tiki Museum showcases the original Kon-Tiki raft along with other impressive objects from Heyerdahl's later expeditions to places like Galapagos Island.
Free with the Oslo Pass
National Gallery
Those who are hoping to see Edvard Munch's "The Scream," will want to visit Norway's largest public collection of paintings, drawings and sculptures in Oslo.
If you are travelling to Oslo with children, museums can sometimes be "boring."  Keep your kids attention by taking them to the The Fairy Tale Room where they can see art showcasing princesses, trolls and other fairy tale creatures.
Note: The National Gallery temporarily closed January 13, 2019-January 2020.
Free with the Oslo Pass
Vigeland Sculpture Park
If the weather is nice, take a walk through Frogner Park. You will find more than 200 sculptures by Gustav Vigeland done in bronze, granite and cast iron.  The statues are beautifully done and some are quite obscure leaving interpretation up to the viewer.
Be prepared if you are traveling with children. All of the statues are in the nude and pretty graphic.  Nothing is obscene, but if your children shy away from nudity, this probably is not the place for your family.
Park is FREE!
Akershus Fortress
Built in 1299 under king Håkon V, Akershus Fortress saw a number of a number of sieges before being turned into a Renaisssance castle and royal residence of King Christian IV. You can get a guided tour of the fortress through out the day to learn its history and use as a prison.
Entrance to the fortress and to the The Norwegian Armed Forces Museum is FREE
Fram Museum – The Polar Ship Fram
One of the most popular museums in Oslo, the Fram, houses the largest wooden vessel ever built. The Fram was built to explore the Artic and that is exactly what it did.
In this museum, you will be able to board the ship and experience what it was like when it sailed in the late 19th century.
The Fram Museum also has a polar simulator that allows you to feel what it would have been like during the polar expeditions.
Free with the Oslo Pass
Nobel Peace Center
Learn about Alfred Nobel and the Nobel Peace prize. Exhibits change throughout the year and are meant to give engage guests to thoughtfully explore topics related to war, peace and conflict resolution.
Free with the Oslo Pass
Traveling with kids to Oslo?
You will find that Oslo is very kid friendly. Your children will find much of the sightseeing in Oslo enjoyable as Oslo museums take pleasure in making kids feel welcome. If you are looking for fun activities in Oslo that your kids will love, consider the following:
Leos Lekeland
If you are traveling to Oslo with small children and looking for a place to allow them to burn energy, consider spending a few hours in Leos Lekeland. This indoor facility as space for children to explore, climb, slide and play ball while parents can sit nearby and relax.
TusenFryd Amusement Park
This is Noway's largest amusement park. If you have older children who need a day away from normal touristy things, consider spending a day here. There are plenty of rides the whole family can enjoy! You'll find roller coasters, flume rides, carousels, etc. While not in Oslo, it is nearby and easy to get to from Oslo.
Discount with the Oslo Pass
Norwegian Museum of Science
Probably the most interactive of all of Oslo's museums, the Norwegian Museum of Science & Technology. Kids of all ages will enjoy being able to learn about technology with their hands.  Be prepared to find that only some of the displays are written in English, if that is your native language.
Free with the Oslo Pass
Best Hotels in Oslo (for those on a budget)
Looking for a great place to stay in Oslo? We have some tips on places to consider that are centrally located.
CityBox Oslo is a bargain, but you really get what you pay for.  You will not find a human being checking you in, instead it is done at a kiosk.  When we say this hotel is minimalist, we mean it. There are no TV, toiletries,  or USB ports. What you will find is a nice clean room with comfortable beds in a great location.
Thon Hotel Vika Atrium is in a wonderful location, within walking distance to many popular sites. The hotel is moderate in price, modern in design and gives you most of the comforts of home. You'll find coffee & tea in the room as well as a Smart TV and wifi access. On site buffet breakfast is also a nice treat.
We we stayed in Oslo
We stayed at the Best Western Karl Johan Hotell.  The location was perfect~ in the heart of Oslo, close to sites and walking distance to many restaurants.  Room was simple, clean and comfortable. There is no air conditioning (not that you will need it), but it does include a nice buffet breakfast which featured everything from eggs to pancakes.
---
A trip to Oslo will give you the chance to see a part of Scandinavia that has a rich history for you to explore.  We hope you find your time in Oslo as enjoyable as we did!
Have you been to Oslo? What would you add to our list for sightseeing in Oslo?