Purchasing Christmas gifts for travelers can be a tricky situations because you may not know what they already have. You don't want to purchase something too personal or items that you might not be sure if they will actually use or already have.
Things like backpacks and cameras can be a personal preference depending on where they are going or features they are looking for.
Instead of buying a Christmas gift that you are unsure of, purchase a gift that we know your traveler will love! These are great Christmas gifts for travelers that aren't specific to where they've been or where they are going and can be used for years to come!
List of the BEST Christmas Gifts for Travelers
One gift that travelers can use when they travel that allows them to watch movies, read books, surf the internet and even take pictures while on the go is a Kindle Fire. Travelers will appreciate having a larger screen that is easy to carry in their carry on luggage.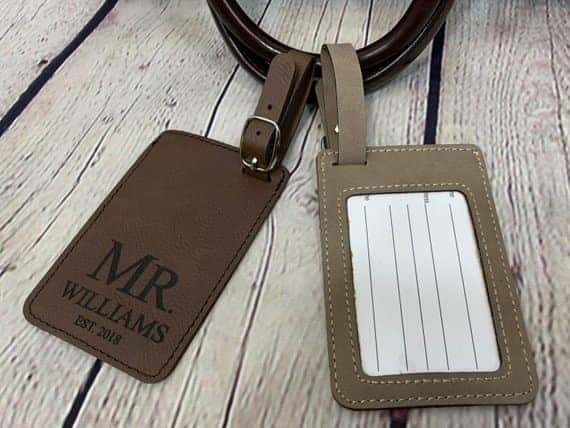 Personalized Luggage Tags are great gifts for travelers. It is one of those things that no one wants to have to buy for themselves, but it is so important to have.  If you ever lose your luggage, you will understand why! These luggage tags can be personalized and attach to luggage in such a way that they won't fall off easily!
Those who travel quite a bit may forget where they've actually been! Don't let that happen. Give them a gift that will help them keep track of their destinations like this scratch off map! Add it to a frame (without glass) and you will have an even more special Christmas gift that they can enjoy for years to come.


A great gift for travelers that doesn't cost a ton of money is a gift box of shampoo bars. Shampoo bars are popular for travelers because they are easy to carry in luggage (non-liquid shampoo doesn't risk spilling) and it is great for the environment. This gift set comes as a sampler pack so they can try different scents!
No one can ever have enough t-shirts, especially when they are this cute! We adore this Will Work for Travel shirt and think your traveler will too!


While a book might not seem like the best gift idea, this is one book that every traveler will obsess over. It is filled with 1000 adventure possibilities and great photography that will really inspire your traveler to think of new destinations.


One gift for travelers that they will use for years to come is a Tile. Tiles are small devices that helps users find things they are likely to lose through Bluetooth technology. Travelers can use it to find luggage, keys, or smart phones!


All travelers struggle to stay organized on the road. When you travel with lots of devices and lots of cords, you struggle to keep them organized. This case keeps everything in its place so it is easy to find the right cords when you need them!



One gift that travelers love is one that helps them learn about their heritage. Part of what spurs travelers to go on adventures is learning about other cultures. How much more fun would it be to travel and learn about your own heritage through knowing your DNA? The holiday season is the best time to buy a DNA kit because they are on sale!
We hope that you find this list of Christmas gifts for travelers helpful! What will you be buying your traveler this holiday season?