We may earn money or products from the companies mentioned in this post. Read our disclosure policy.
Less than a 2 hour train ride from London, is Canterbury, England. Known mostly for the Canterbury Cathedral and Chaucer's Canterbury Tales, what you may not realize is that this quaint town is steeped in a rich history that dates back to the ancient Romans.  If you only have a limited time to explore, you can easily see at a great deal. The key is to plan your trip for one day in Canterbury before you go.
For our one day in Canterbury, we made sure we had a few things prior to our trip.  First, you cannot pre-book Canterbury Cathedral tickets, but there is a way for you to get your kids free tickets if you pre-plan. Simply print this voucher and you bring with you to the ticket counter.
The second thing we did in advance was book a historic walking tour of the town. Our tour guide grew up in Canterbury and was a wealth of knowledge about everything from architecture to the town's history. The tour was a little over an hour with lots of walking, but was a great way to learn the history of the town.
Many have an idea as to what they might find in Canterbury, based on the words Chaucer left behind in his Canterbury Tales.  If you haven't read it, The Canterbury Tales is based on the humourous stories 29 pilgrims tell as they travel with the narrator to the shrine of martyr Saint Thomas Becket in Canterbury.  The tales give you a great perspective on what life was like during the middle ages. I would highly recommend you read at least a few of the tales prior to your trip so you can get a feel for the historical importance (plus it is quite cheeky).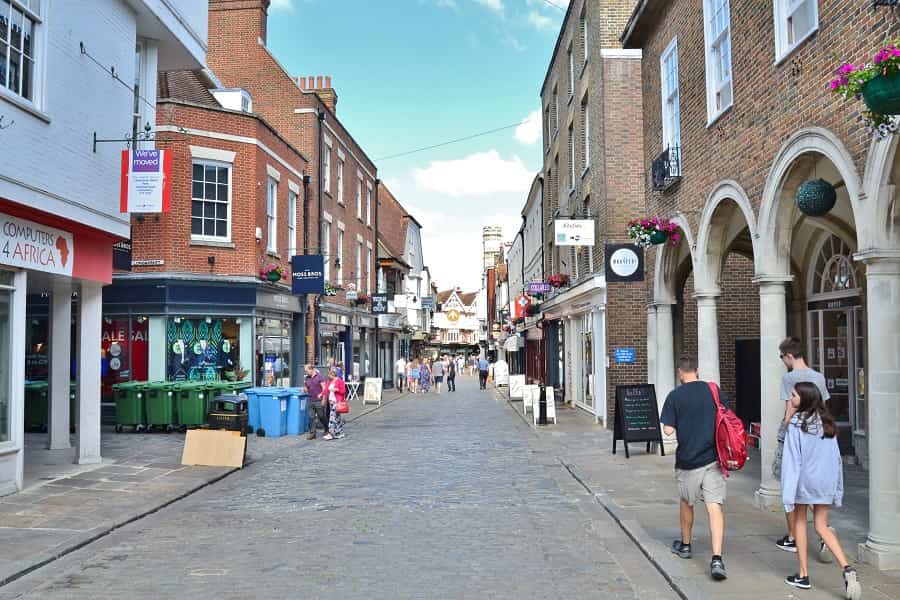 This town, while brought into the 21st century with stores like Subway and Optical Express, still has the charm of a medieval village with its stone wall, abbey ruins, wooden architecture, and cobblestone streets. If you only have one day in Canterbury, there are some things you will want to make sure you see.
Top things to see when you spend one day in Canterbury
Before heading to see Canterbury Cathedral, be sure to take some time to look at the details on Christchurch Gate. Built in the early 16th century (there is discrepancies on exact date).  The speculation is that Christchurch Gate was built in honour of Prince Arthur, Henry VIII's elder brother. Arthur was to have become king, but he died at age 16 (after marrying Catherine of Aragon) in 1501, leaving the throne (and his wife) to Henry VIII.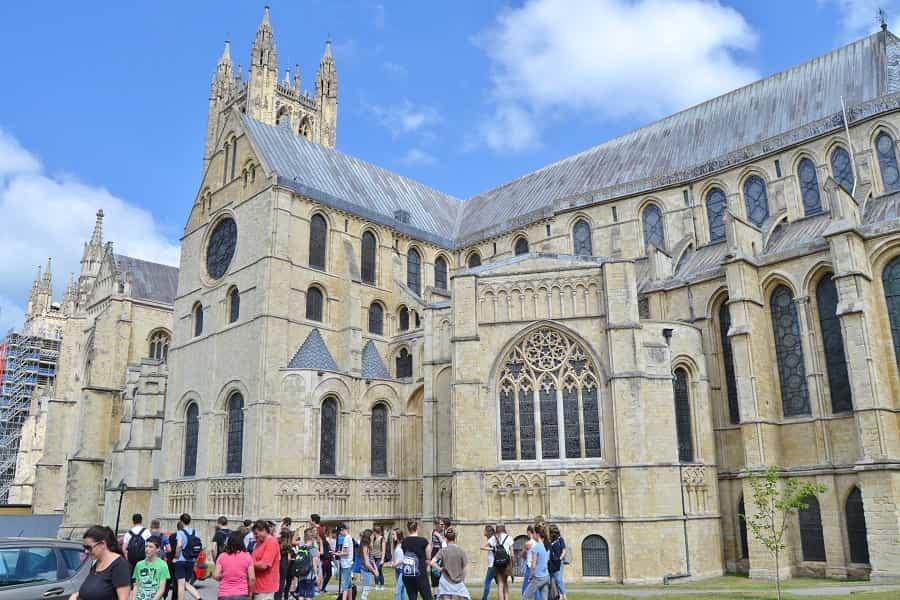 Canterbury Cathedral is the Mother Church of the Anglican Communion and seat of the Archbishop of Canterbury, one of only two in England. It is a place where pilgrims have journeyed since the middle ages (hence the Canterbury Tales) and it's history includes raids by foreign lands (Norman Conquest) and the murder of Archbishop Thomas Becket under the orders of King Henry II.
Canterbury Cathedral was erected in 597 above ancient Roman ruins, but had to be rebuilt beginning in 1070 due to the Norman Conquest and subsequent fires.
The style is Gothic revival and features some of the most beautiful stained glass in all of England.   It is easy to see why this structure was deemed a UNESCO World Heritage site.
Be sure to give yourself plenty of time inside this church because there is plenty to see. Visit the Perpetual Candle that burns in remembrance for those who have came before us and those who are currently being persecuted for their beliefs.
You will want to make sure you visit the crypt area beneath the church. There you will find 12th century murals and wall carvings. Be advised that there is no photography in the crypt area.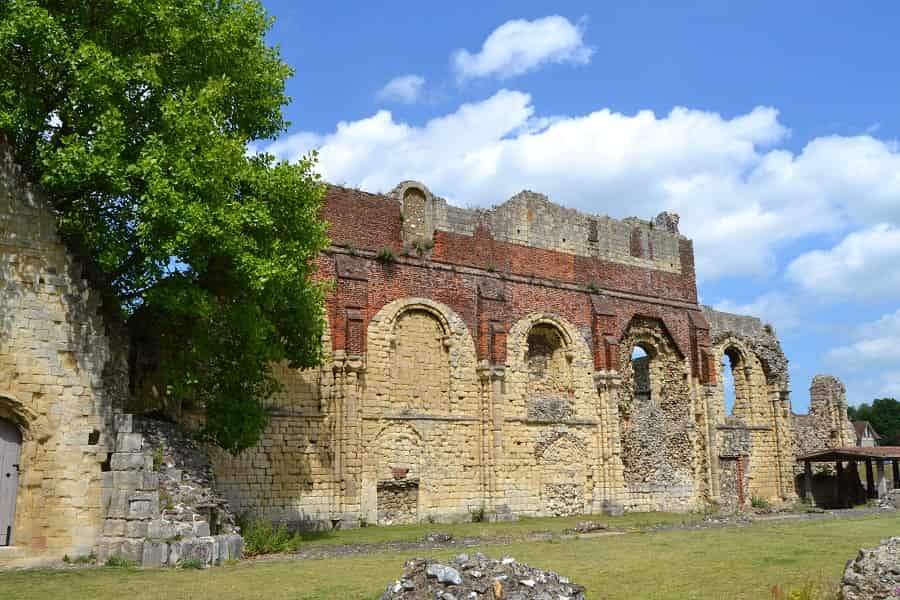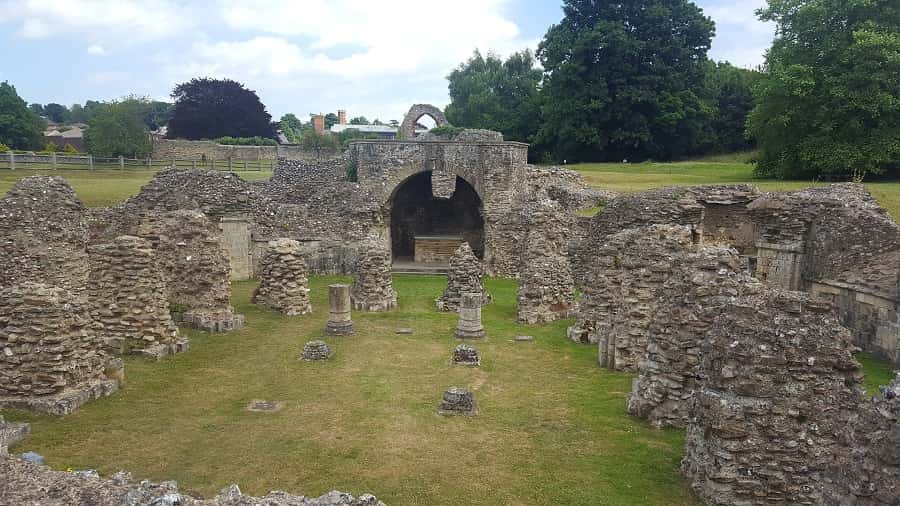 Just outside Canterbury Cathedral lies St. Augustine's Abbey. The abbey in the original form was built as a mission to bring Christianity to England. Unfortunately, like many other abbeys at the time of Henry VIII, it was abandoned, ransacked & left to collapse.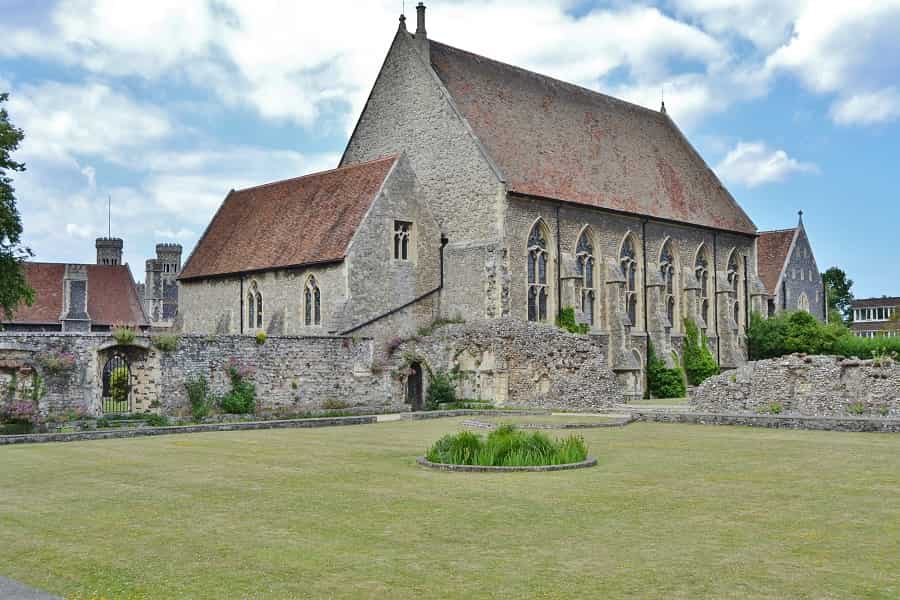 Also nearby is another important church when it comes to the role of Christianity coming to England. The Church of St Martin is the first church founded in England and the oldest parish church in continuous use. It served private chapel of Queen Bertha of Kent in the 6th century (before Augustine arrived from Rome).  Along with Canterbury Cathedral and St. Augustine's Abbey, this church is an UNESCO World Heritage Site.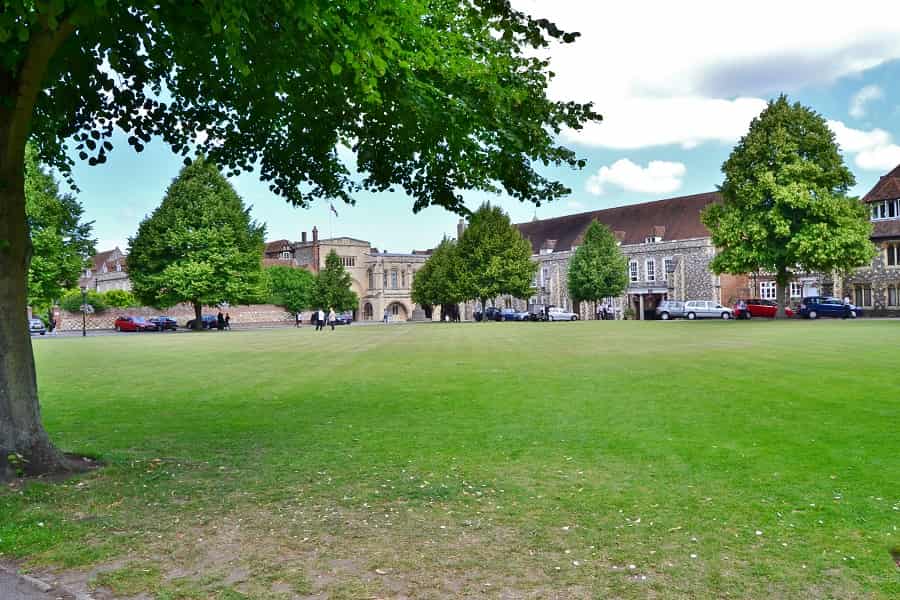 Just a short walk away from Canterbury Cathedral is the oldest school in all of England. Began by St. Augustine shortly after arriving to Canterbury, the school which now known as King's School, was formerly run by the monks with the funding of Henry VIII (until the dissolution of Monastaries, leaving the school without the monks who at that time were teachers).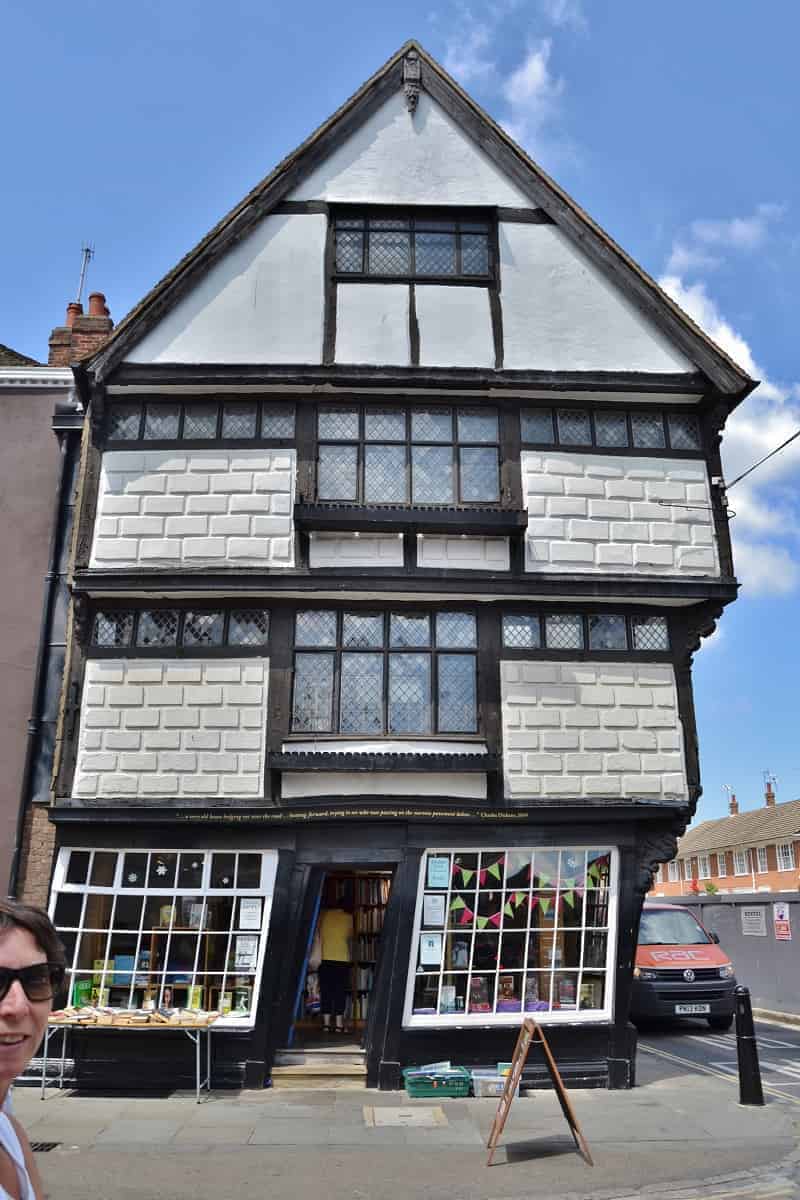 There is something quite charming about the gothic architecture in Canterbury. Near the end of Palace Street is a house that appears quite lopsided.  Named, The Crooked House, this early 17th century building features some pretty neat details outside of the crookedness.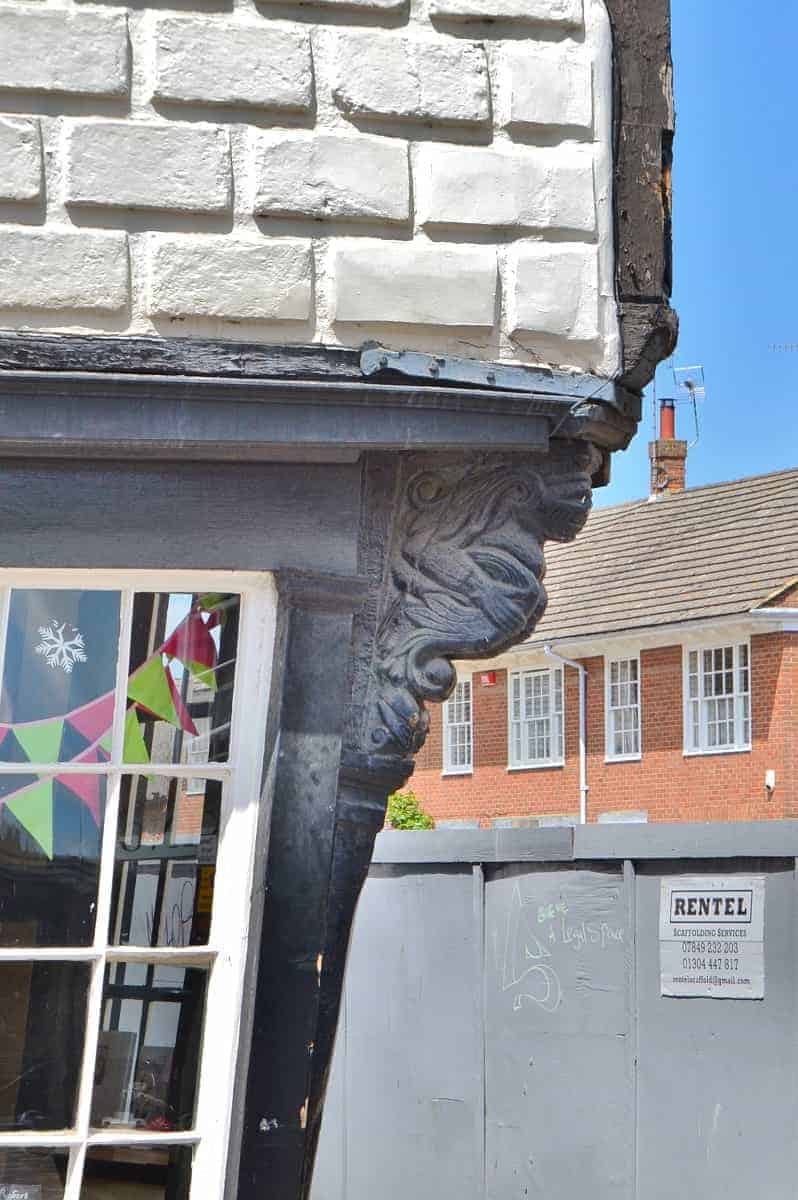 If you look at the left cornice, you will see a carved Native American figure. What makes this neat is that the building & figure predate the pilgrims arriving in Plymouth by a number of years.  It is just one of a few connections between Canterbury and the Americas.
Just down the street you will find the spot where the Mayflower was commissioned! Deacon Robert Cushman advocated for the Pilgrims settlement in America. He was sent to London in 1619 to obtain a charter from the King to relocate to America. It was in this building that the paperwork was signed.   If you  look carefully throughout Canterbury, you will find all sorts of little informative signs like the one above.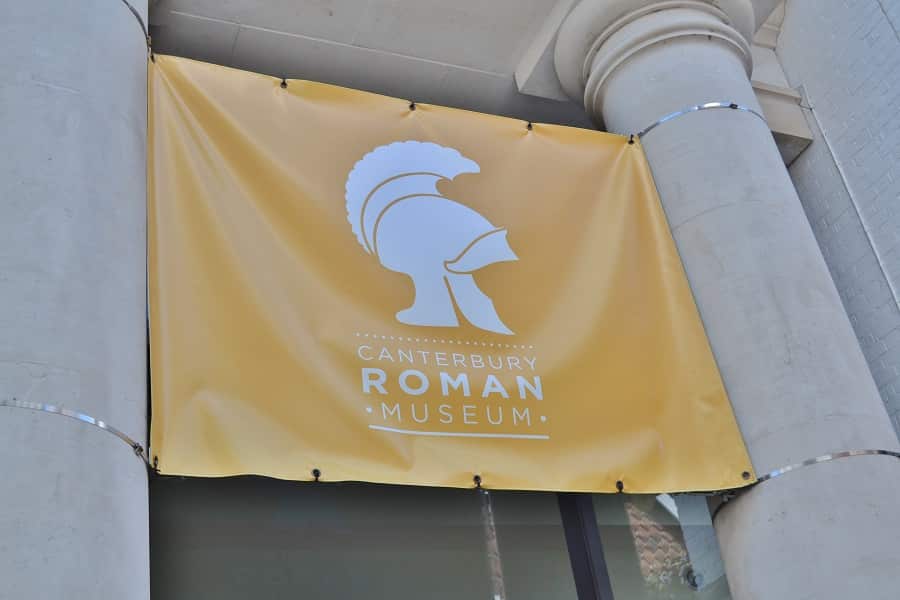 Long before the Pilgrims, were the Romans and they left behind an immense amount of proof that they lived in Canterbury.  You will find the Canterbury Roman museum housing many artifacts found on Butchery Lane.  You can get a discount if you book after a guided tour and children are FREE.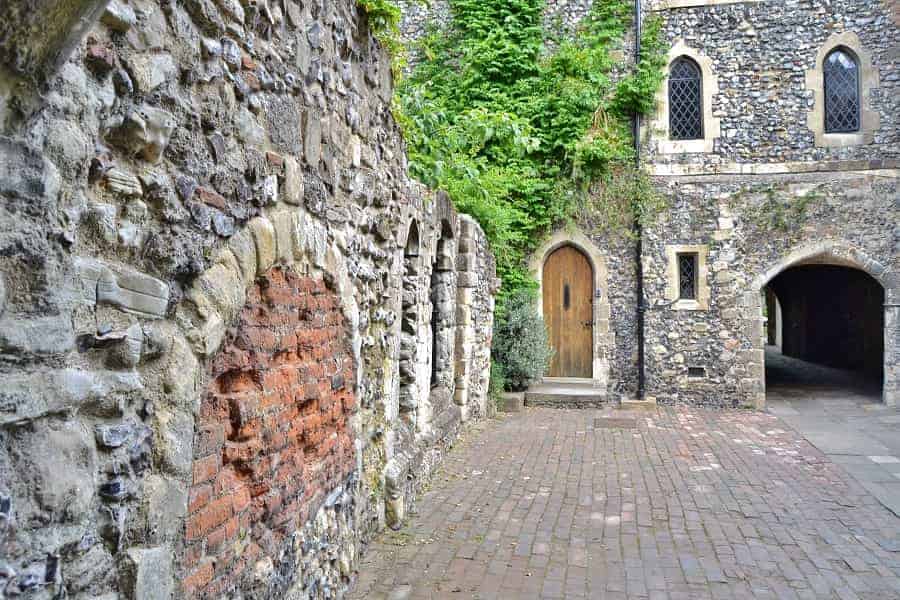 Even outside of the museum, you will spot evidence of the Romans in Canterbury in the stone work and archways.
Canterbury is full of wonderful things to do & see. If you are planning on spending one day in Canterbury, I would recommend that you do a little research before you go so that you will fully understand everything you will see. I am quite thankful that we took a guided tour of the city so that we could fully appreciate what we were seeing.
Have you been to Canterbury? What was your favorite part?