Located not far from Rothenburg ob der Tauber along the Romantic Road is the small village of Creglingen. Although small, it has a few places worth taking the time to explore.
You'll find two main attractions right across the road from one another: The Fingerhut Thimble Museum (yes, you read that right) and Herrgottskirche (Church of Our Lord).
While the Thimble museum is filled with unique thimbles from around the world, the real crown jewel is Herrgottskirche.
Herrgottskirche
Herrgottskirche is a 14th-century Gothic chapel built on a sacred site for the people living in Creglingen.
The story is that in 1384 a peasant, ploughing the field, discovered a communion wafer.  This wafer was considered holy and thought to be the cause of miracles in the area. As a consequence, people came from near & far to be in contact with this miraculous wafer, and thus, the church was constructed just a few years later.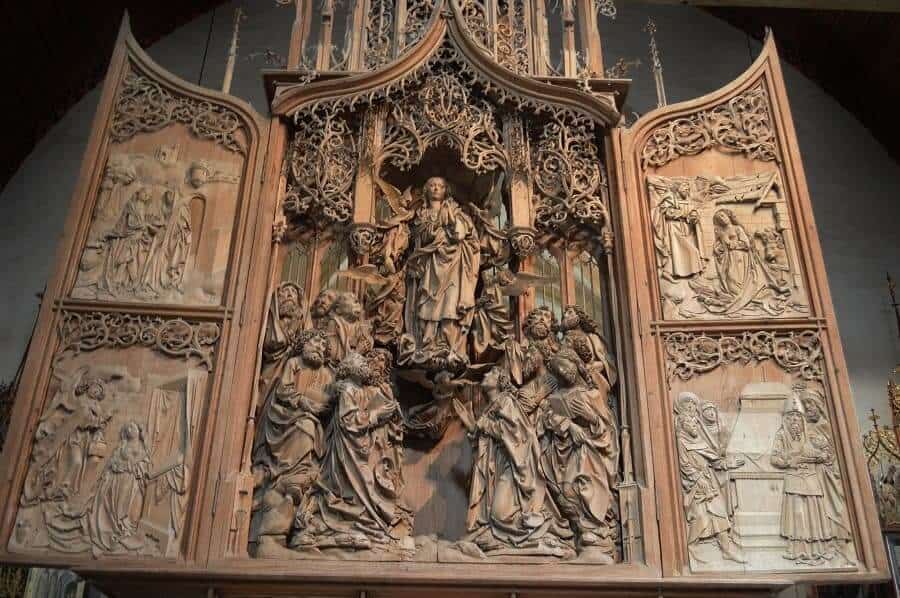 The Herrgottskirche contains one of the most magnificent pieces of religious art found anywhere.
The central altarpiece (The Marienaltar) was constructed and carved by Tilman Riemenschneider.
Known for his masterful skill in woodworking, Riemenschneider created the alter that tells the story of the Virgin Mary.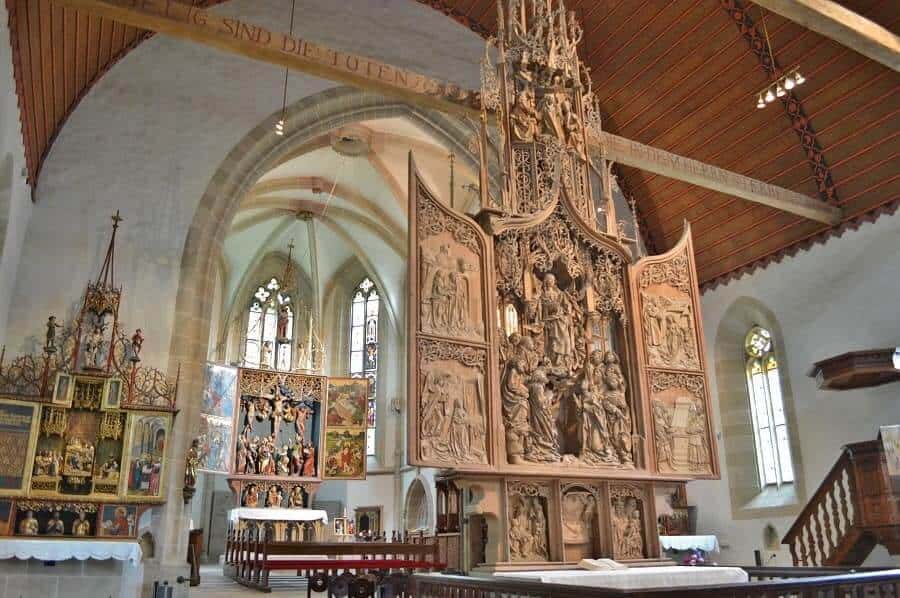 The Marienalter sits in the apex of the church and is the  focal point.  In the center panel is the Assumption of the Blessed Virgin who is surrounded by the twelve apostles.
The side panels show scenes from Mary's life including the birth of Christ.
At the far end of the church is the High Altar which depicts the Passion of Jesus.  The sculptures and artists that created this work are unknown.
The Left & Right Side Alters  feature paintings by Jakob Mülholzer.  On the left alter, you will find images include the wedding of the Virgin Mary, Jesus & the three wise men, and John the Baptist.  The right features scenes with the Virgin Mary.
From the outside, this church seems rather plain and it is easy to see why you might drive by it and think nothing of it.  But once you walk through the doors, you will be amazed by its interior and the well-maintained alter pieces.
If you can, be sure to stop and see Herrgottskirche in Creglingin on your journey down the Romantic Road.
FIND OUT MORE PLACES TO SEE ON THE ROMANTIC ROAD