(Note: This post contains affiliate links & I will be compensated if you make a purchase after clicking on my links. Read our disclosure policy here.)
Salzburg, the famous birthplace of Mozart is a city of Baroque architecture, alpine lakes, and green mountainous pastures. It is divided into two sections by the Salzach River;  Salzburg's Old Town on the left and New Town to the right. Salzburg's Old Town is a UNESCO World Cultural Heritage Site and a must see while in Austria.
During your day trip to Salzburg Old Town, you'll be able to visit and ancient Fortress, explore the city squares, and walk into a Baroque Cathedral. There is so much to see that you will have no problem spending the entire day in Salzburg! One great way to get a good perspective on the area is with a historic walking tour with a guide who can give you a good overview of the area.
Top 10 Things to See during a Day Trip to Salzburg Old Town
1. Hohensalzburg Fortress – While you can walk, why not take the funicular to the top? When you arrive at the Fortress, you will get the most magnificent view of the historic city! Once inside, you will be able to get a better understanding of what life was life at the Salzburg court. Admission is FREE with the Salzburg Card.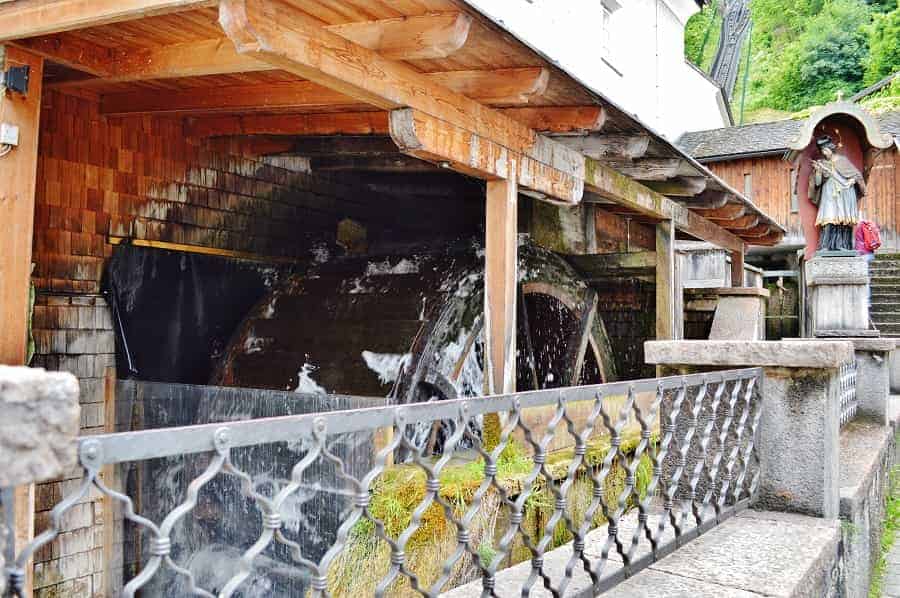 2. Stiftsbaeckerei St. Peter. The funicular you took up to the top is powered on water from the wheel beneath. That wheel also served as a way to grind the flour for the baker whose shop is along side the wheel.  This is Oldest Bakery in Austria and well-worth the visit to get a taste of this amazing bread!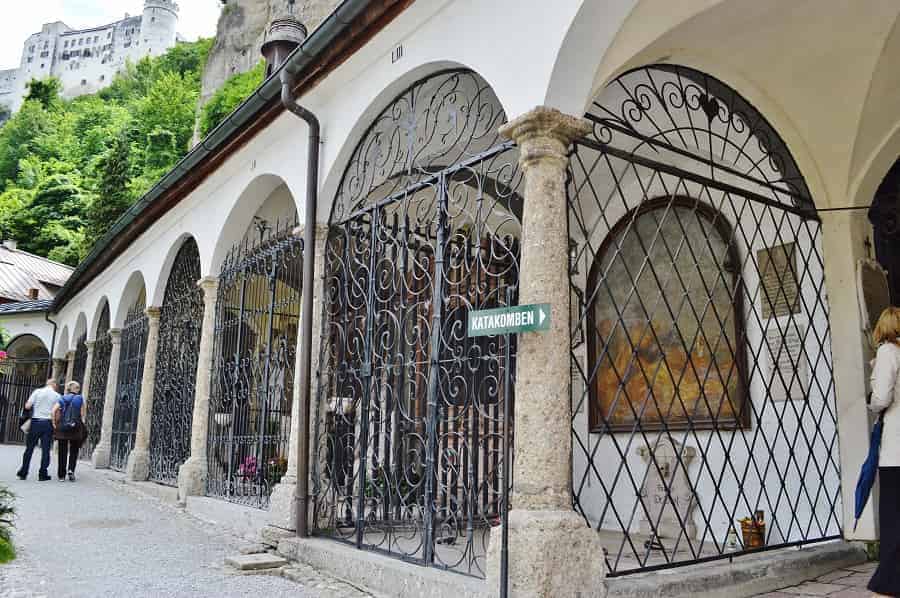 3. St. Peter's Monastery and Cemetery. One of the most beautiful cemeteries in the area, you will find both old and new graves side by side on this hilly area. What is most notable are the catacombs. These were the inspiration for a scene from The Sound of Music. You will remember this as where the Von Trapp family hid while being pursued by the National Socialists.
4. Karajan Square. Originally, this is where the horses of the prince-archbishops would have been washed. You will find the statue of the "Horse Tamer" and unique fresco paintings on the back wall.
5. Chapter Square.  Once the site of the Cathedral Abbey, is now is a place of artistic interpretation. You will find an oversized chess game, people selling trinkets and "Sphaera," a work of art by Stephan Balkenhol.
6. Salzburg Cathedral.  You will have no trouble finding the cathedral as it is colossal in scale of the buildings in Salzburg's Old Town. Built of marble, the twin-towered façade also features beautifully engraved bronze gates.
When you walk into this beautiful 17th century cathedral, you notice the elaborate Baroque style immediately. The light bounces off the white marbled walls and gives light to the hand painted murals and alter.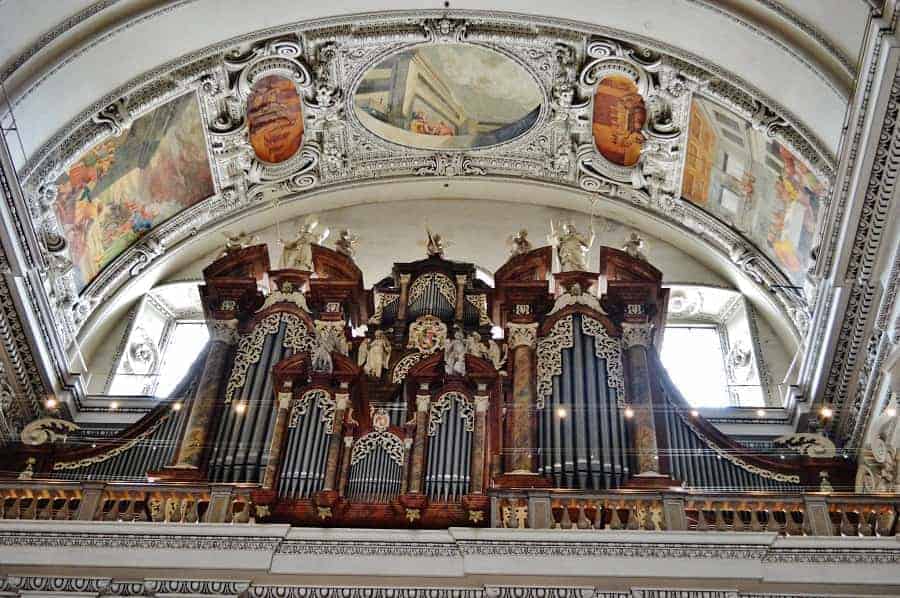 You will also find an organ on which Mozart played and the the baptismal font in which he was baptized.
7. Residence Square.  In the center of the square, you will find a beautiful baroque fountain. Considered to be one of the most significant baroque monuments in Europe, it features horses, giants and dolphins.  You may remember it from The Sound of Music as Maria drives by it with the children.  Today, the square in Salzburg's Old Town serves as a place for general people watching,  live music and Christmas markets.
8. Salzburg Glockenspiel. Located adjacent to Residence square is a 18th-century Glockenspiel. This clock plays at 7 and 11am, and 6pm daily.
9. Mozart Square.  One of the thing Salzburg holds most dearly is its son, Mozart.  This statue of Mozart was built in 1842 and commissioned by Bravaria's King Ludwig I to honor the life of Mozart.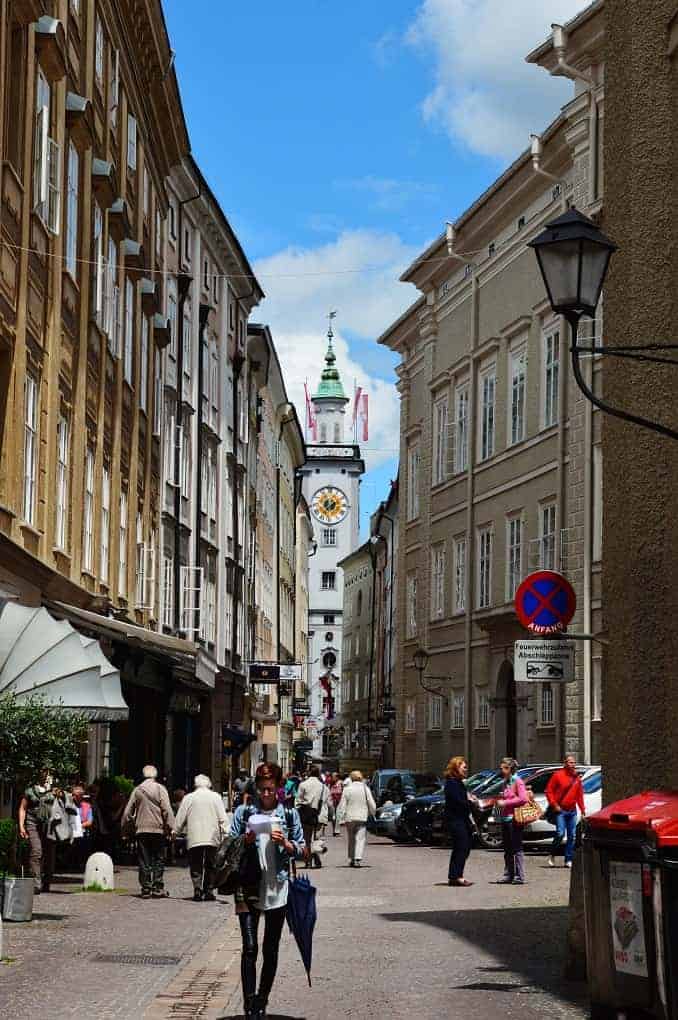 10.  Sigmund-Haffner-Gasse. One of the oldest streets in Salzburg, here you will find quaint shops, restaurants, and galleries.
One thing we suggest you purchase before taking your day trip to Salzburg Old Town is the Salzburg Card. This pass gets you into over 30 attractions for free and free public transportation! In addition, you get some discounts to other things, a guide book and a map of the area. You can choose as many days as you wish.  It pays for itself and allows you to bypass a lot of ticket lines!
Have you visited Salzburg's Old Town? What was your favorite part?