Flat Rock, North Carolina is a small town located in the Blue Ridge Mountains of Henderson County conveniently located near both Hendersonville and Asheville. It makes a great day trip or a place to stay when you want a historic town close to many of the top destinations in this part of the state. There is plenty of things to do in Flat Rock and just a few miles from town to keep you busy for days!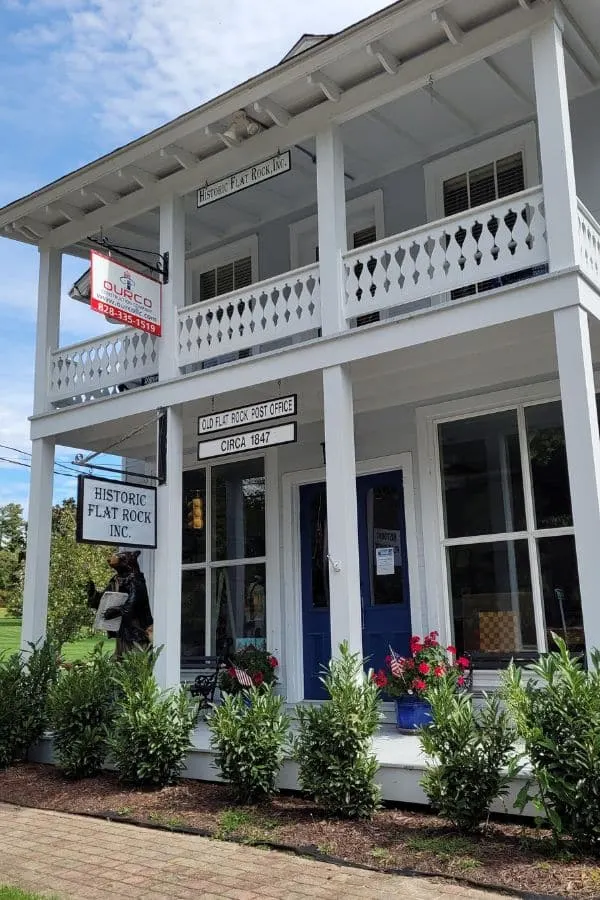 About Flat Rock
Once a meeting place for the Cherokee and European traders, Flat Rock, North Carolina, is named for a large Granite slab that the small town sits.
The history of the area is fascinating as it became the summer retreat for Charleston plantation owners.
10 Things to Do in Flat Rock NC
Today, you will find plenty of things to do in Flat Rock including visiting the home of a famous American author, picking apples in any number of the area orchards, and taking in local production in the historic theater.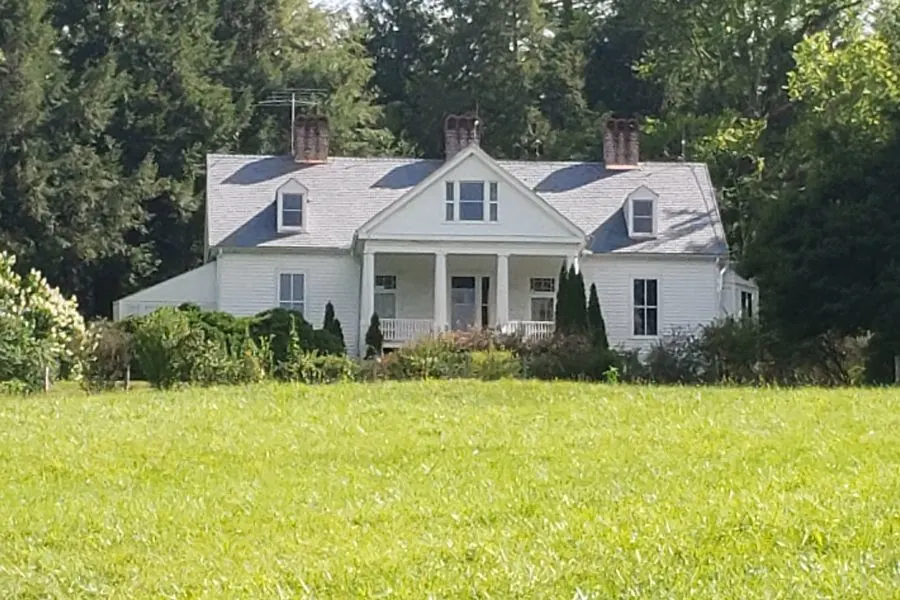 1. Visiti the Carl Sandburg Home
Carl August Sandburg was a famous American poet who won three Pulitzer Prizes during his lifetime. He lived out his last 20+ years in Flat Rock, NC and it is where you will find his home (which is now a 4,000-square-foot museum).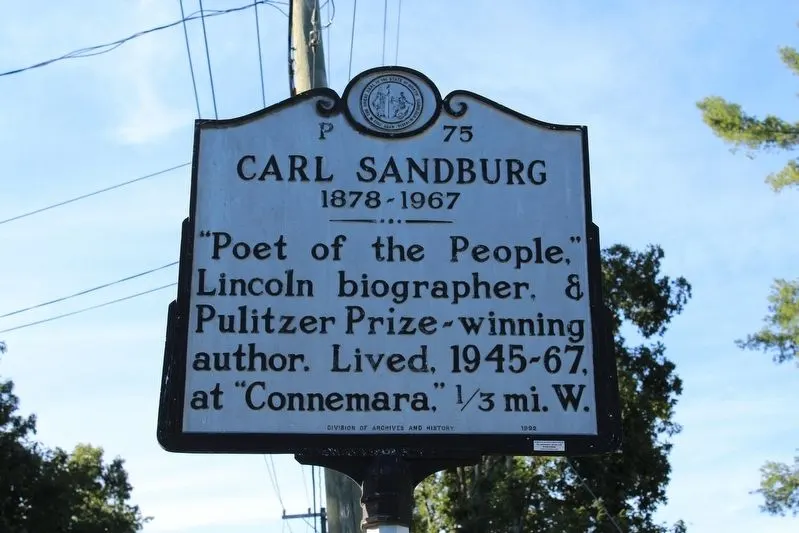 While famous for his writing, you don't have to be a fan or even know his works to appreciate the home in which he lived.
It houses one of the biggest collections of historical media in the Southeast, containing 325,298 items. The treasury of documents includes letters, telegrams, maps, photographs, motion pictures, sound recordings, and a library of more than 12,000 books.
A trip to the home of Carl Sandburg will take you on a journey into his life while writing.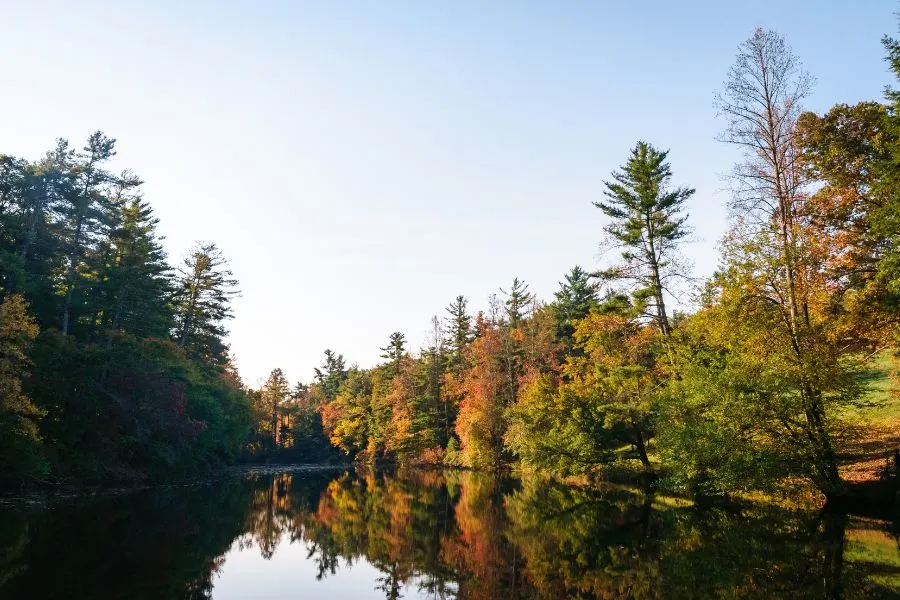 The property is much more than a modest house. The park includes 264 acres of pastures, ponds, and hiking trails, along with nearly fifty structures that include his wife's prize-winning goat farm.
You will find 5 miles of trails that take you throughout the property.
Even if you choose not to tour the Carl Sandburg home, you can visit the property for free.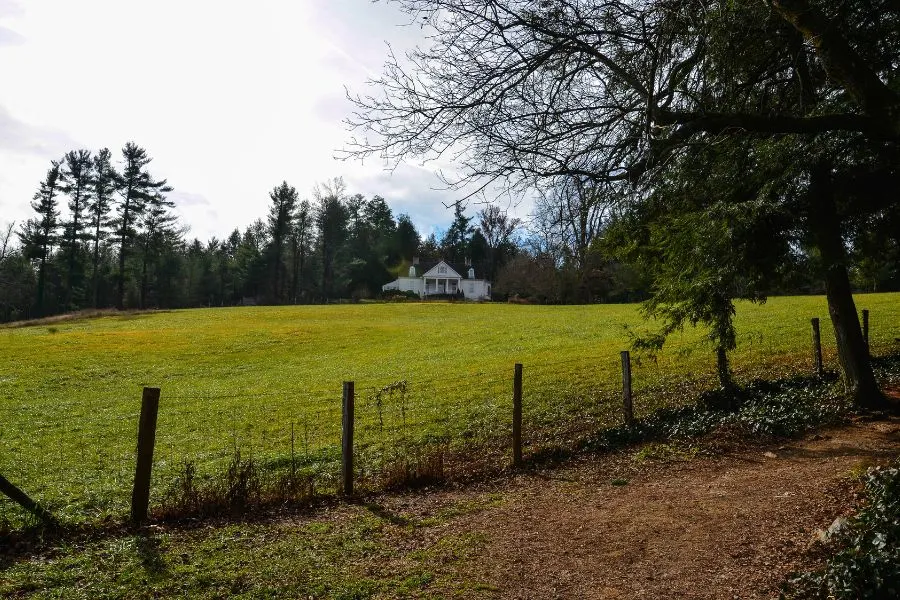 Sandburg Home Guided Tour Fee:
They ONLY take Credit Cards
$8.00 for Adults 16 and older
$5.00 for Adults age 62 and older
Free for Children age 15 and under
The main stage holds 500 guests, so it is quite substantial. Nevertheless, the Playhouse encourages you to book your tickets in advance as many will travel from Asheville and surrounding areas to see the amazing performances.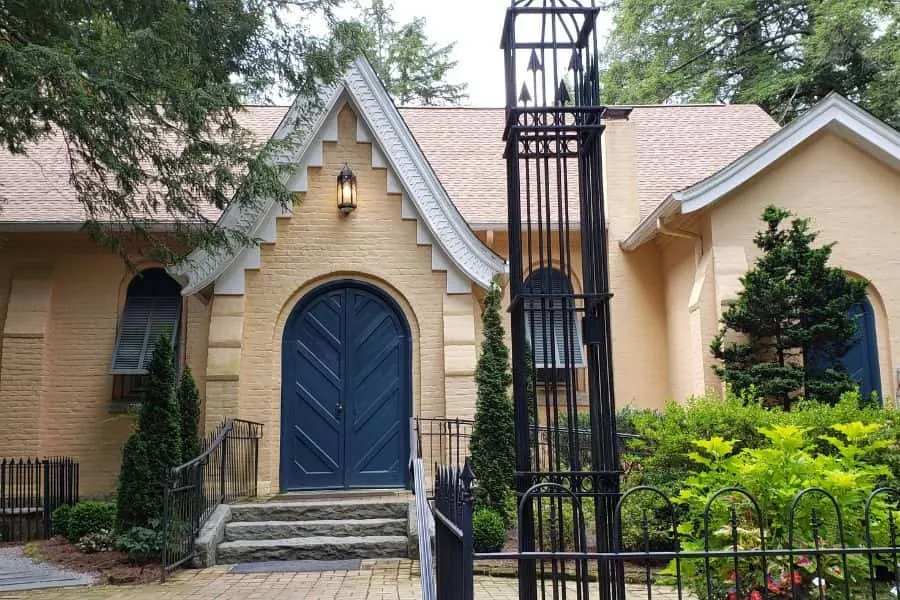 3. Walk around Historic St. John in the Wilderness Church & Cemetery
Built in 1834, St. John's in the Wilderness is the oldest Episcopal parish in western North Carolina.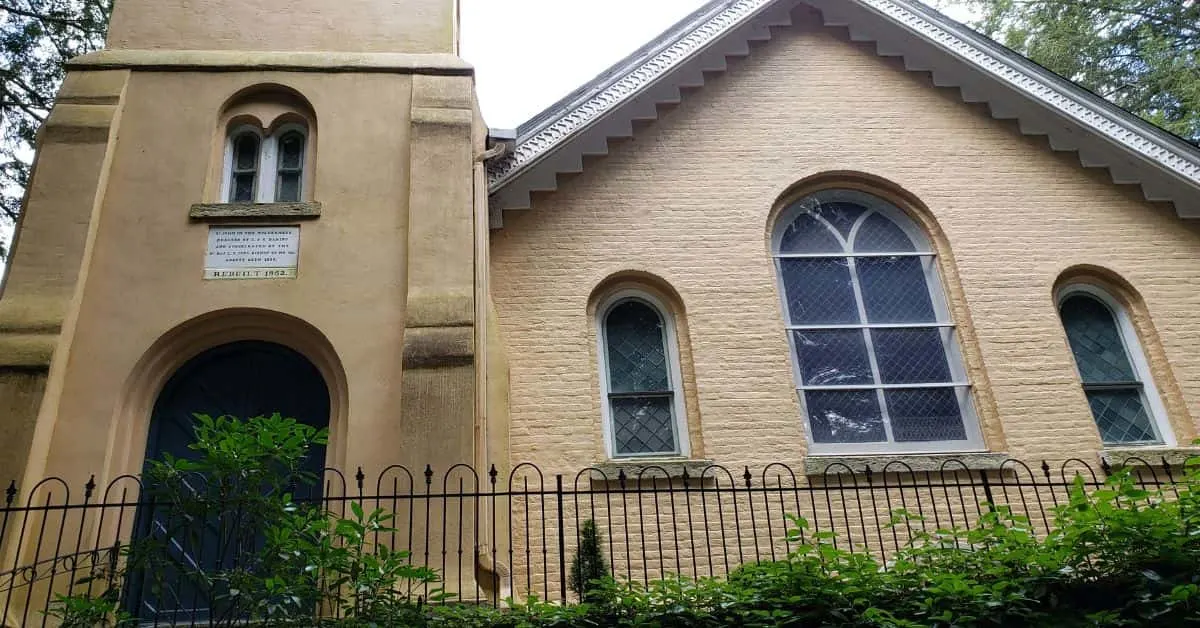 While located in North Carolina, the church was built by wealthy South Carolinian merchants and landowners (from Charleston and other places in the Low Country) who would vacation in the area during the hot summer months.
When the first chapel burned, a new one was erected made of brick.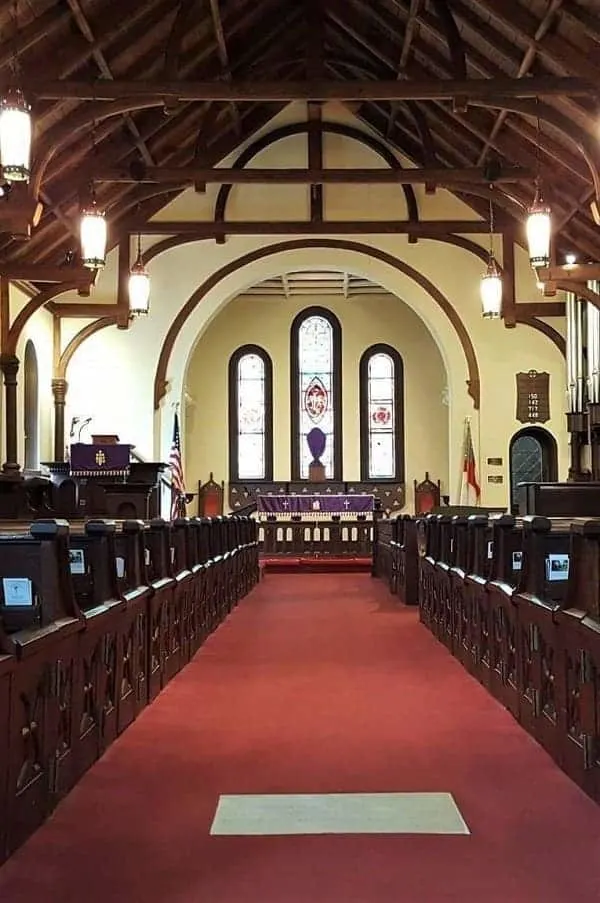 Through the years, as the population increased, the church underwent expansion (doubling in size). The church as you see it today is just as it was in 1852.
One of the unique parts of St. John in the Wilderness church is the very old graves that lie outside.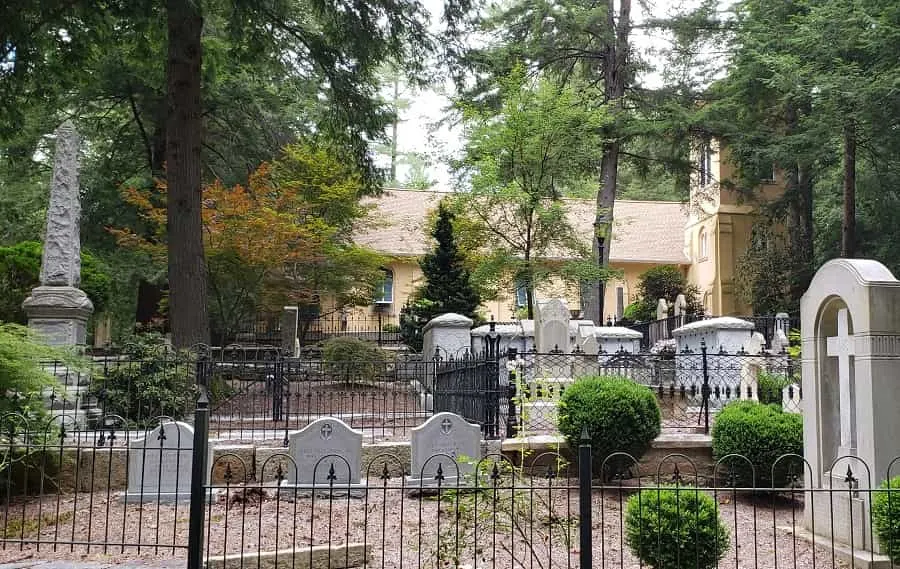 When the civil war broke out, many of the Charlestonians retreated to Flat Rock to live and due to this, you will find a number of Confederate South Carolina graves at the site.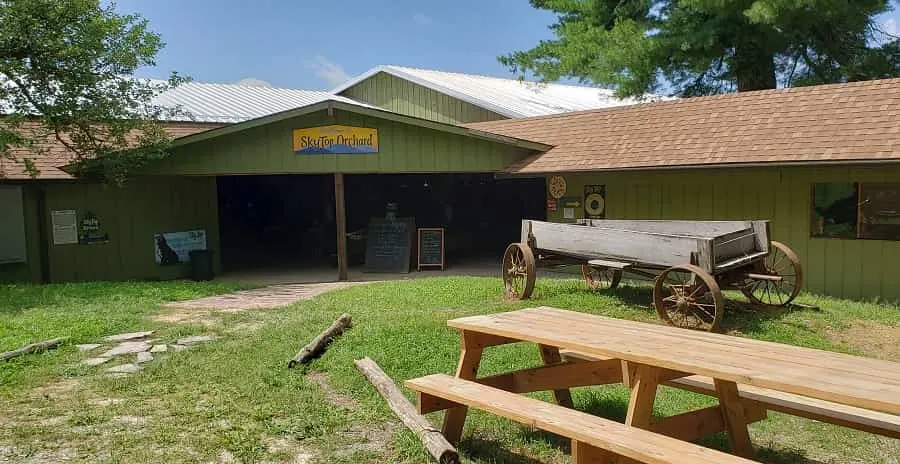 4. Go Apple-Picking at Skytop Orchard
The North Carolina mountains are known for their apple orchards. A great way to spend a few hours in the late summer or early fall is by going apple picking.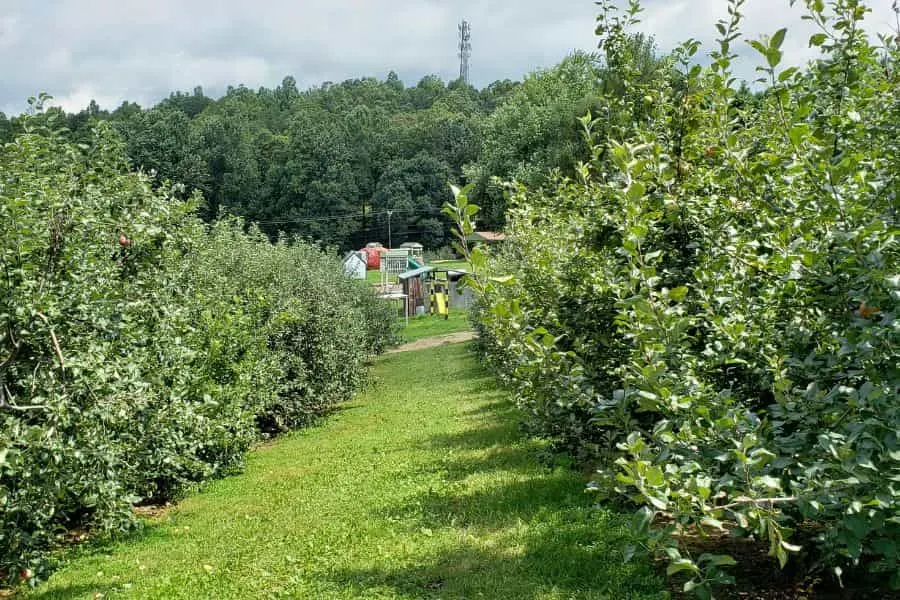 The apples change throughout the season, so make sure you look at their picking schedule so you know what types of apples are ready for picking.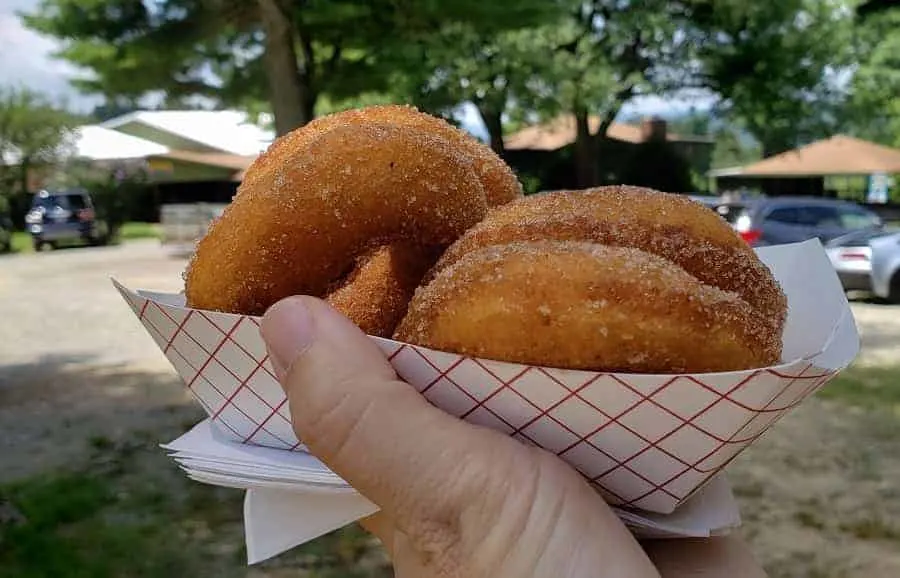 When you finish, you will pay and have the opportunity to purchase homemade apple cider and apple cider donuts. Make sure you get them both. They are AMAZING.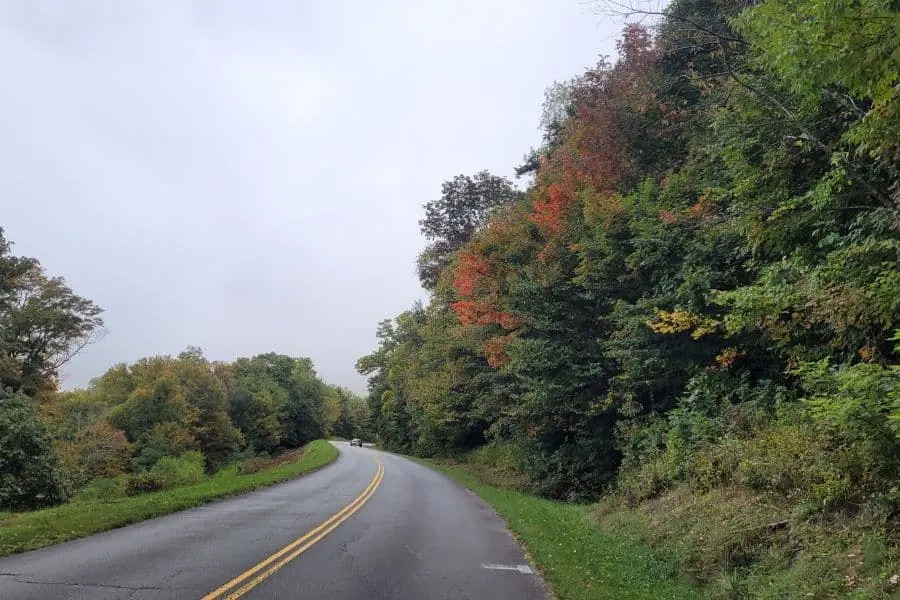 5. Take a Drive on the Blue Ridge Parkway
Flat Rock is a 30-minute drive to the Blue Ridge Parkway. You don't have to drive it very long before you notice why this drive is one of the most scenic drives in the United States.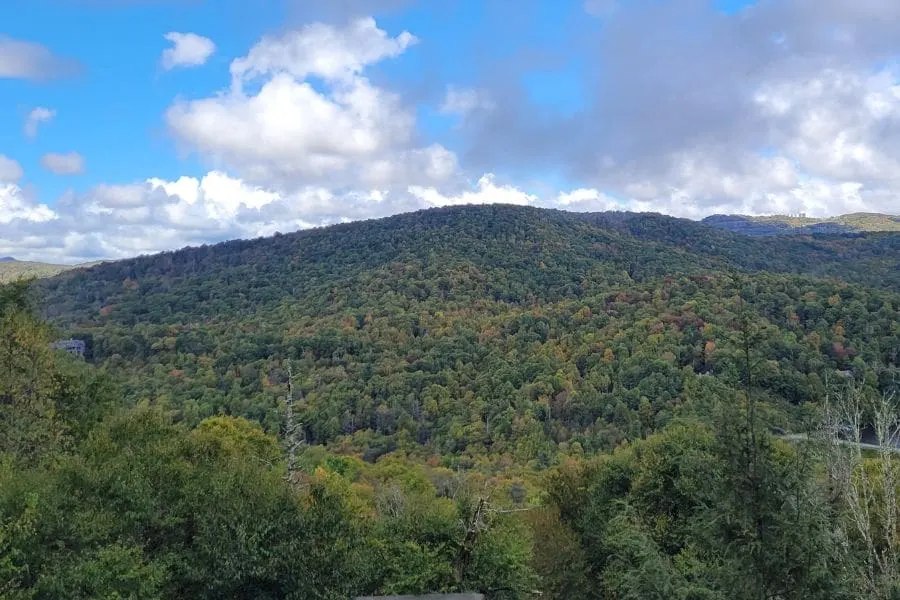 You'll find mountain views every few miles, each one offering different views.
6. North Carolina Arboretum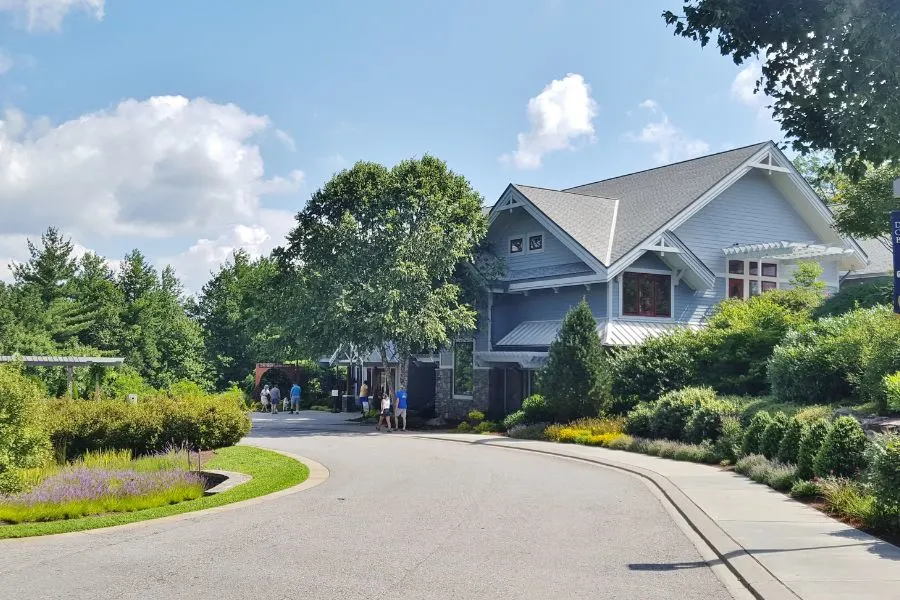 If you love spending time outside and love gardens, you won't want to miss seeing the North Carolina Arboretum.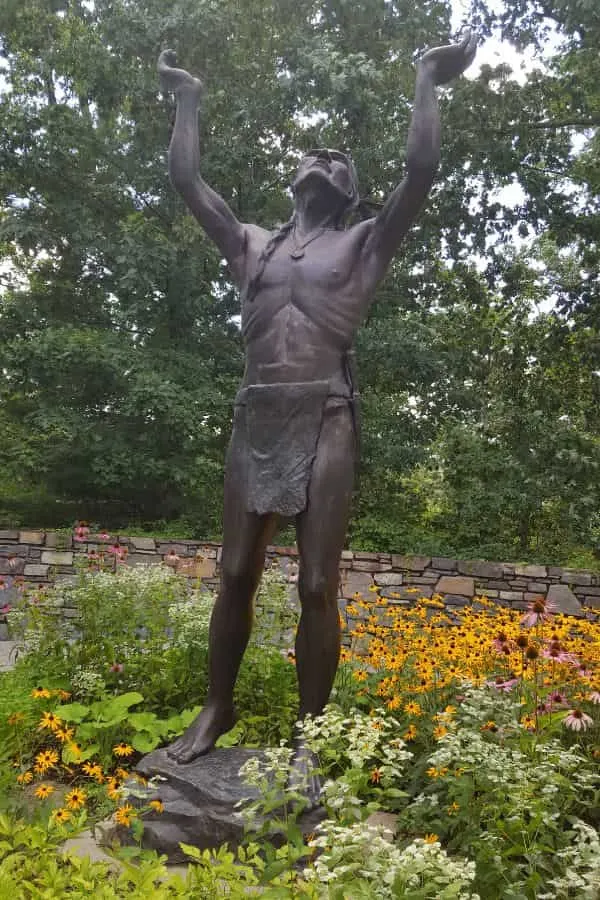 With more than 100 acres to explore, you'll be able to appreciate all the beauty that nature has to offer.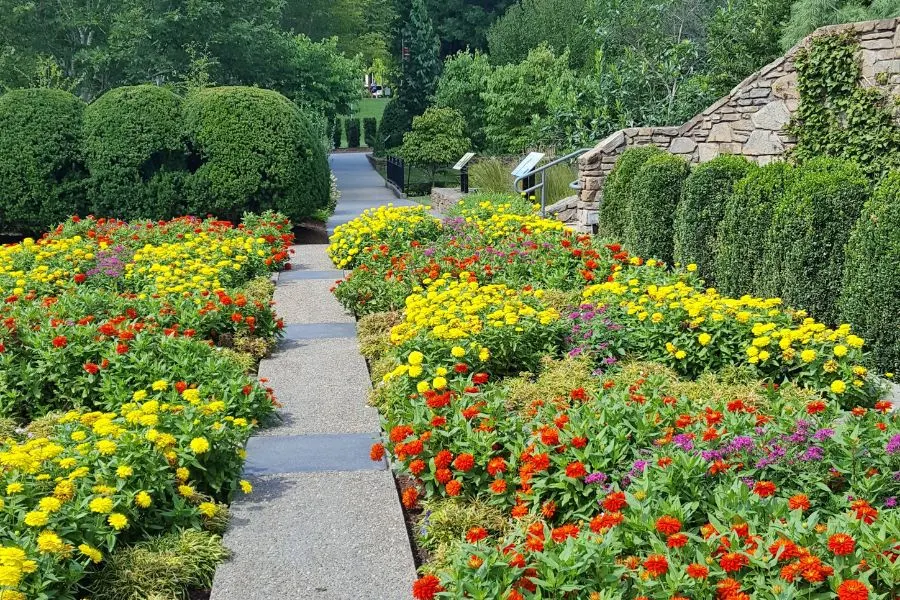 Park Hours & Fees
While there is a parking fee for your vehicle, there is no admission fee.
April–October Property Hours: 8am-9pm
November–March Property Hours: 8am-7pm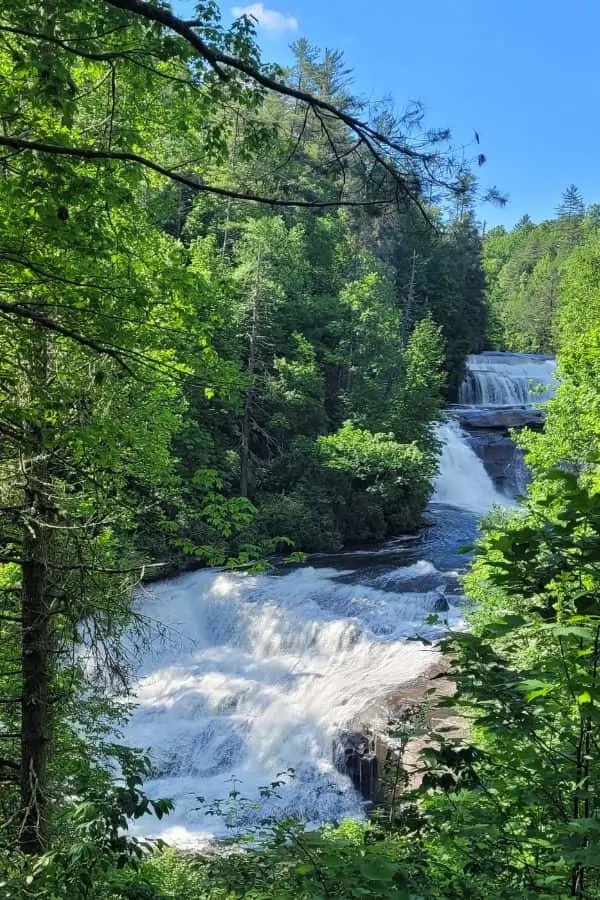 7. Hike in Dupont State Park to See Waterfalls
You really should spend some time taking in the nature of Pisgah National Forest.
There are so many different hiking trails, but one of our favorites is Triple Falls.
Triple Falls is one waterfall that has three distinct sections.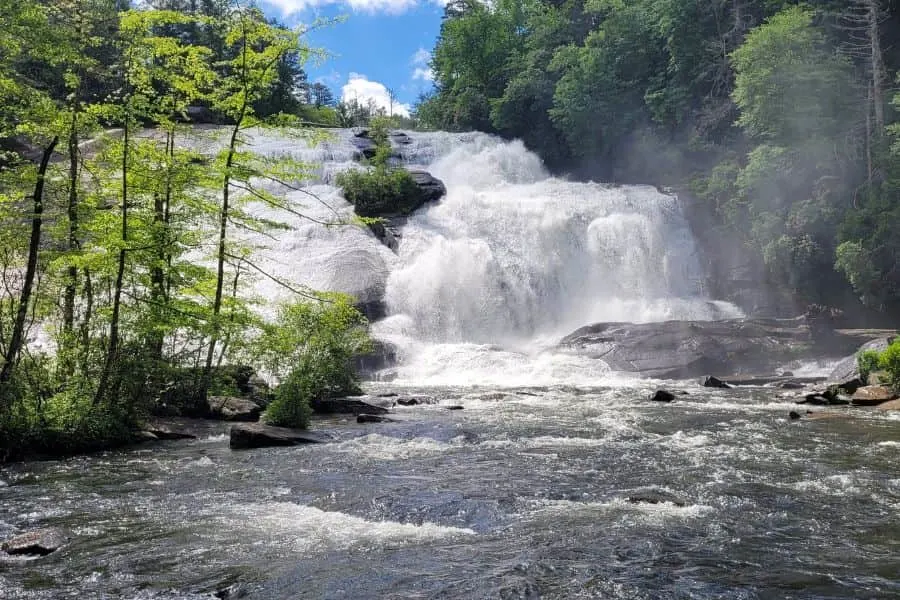 Depending on your skill level, you can either hike to the first, second, or third landing to see the falls from different viewing areas.
The hike starts off pretty easy, but as you make your way to the highest fall, you will find that the trail gets more rocky and steep.
You can access Triple Falls from either the Hooker Falls or High Falls parking areas.
If you are planning to only visit Triple Falls, the shortest route will be from the Hooker Falls access.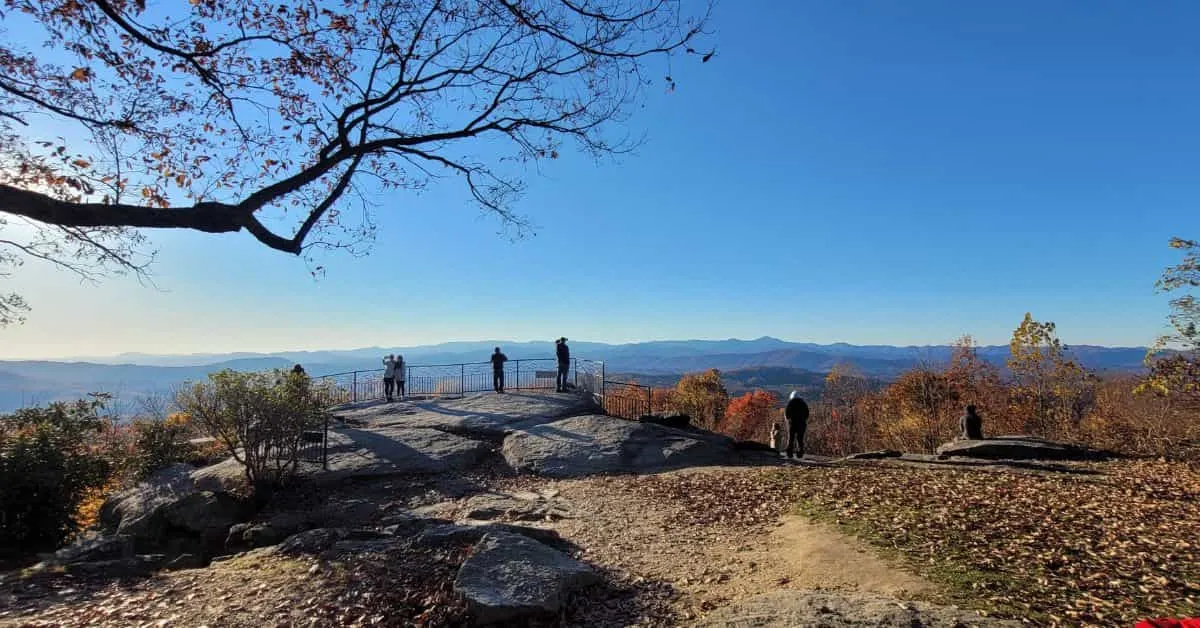 8. Visit Jump Off Rock
Jump Off Rock is a naturally formed rock outcropping located just 20 minutes away in Laurel Park, North Carolina.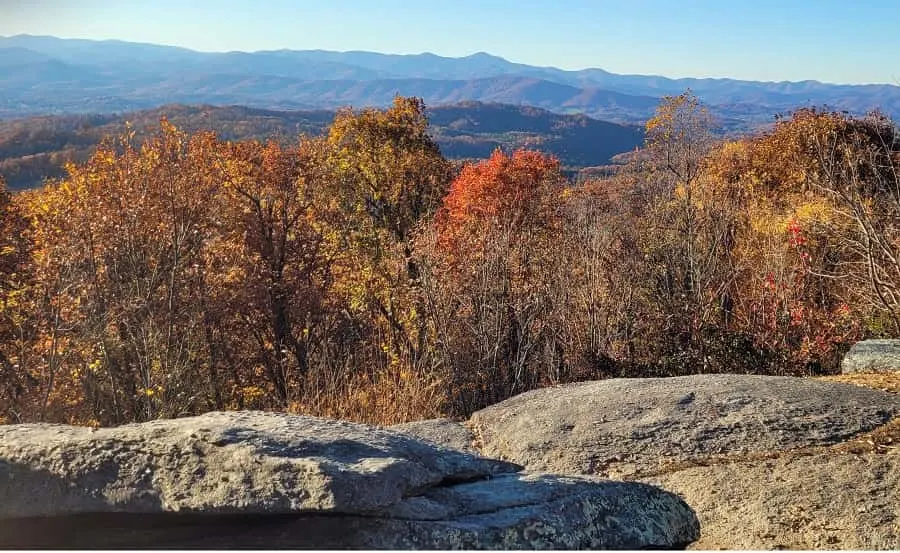 This natural attraction has been around for centuries and offers breathtaking views of the Blue Ridge Mountains and the surrounding region.
The history of Jump Off Rock is steeped in the folklore of the area.
According to local legend, a young Cherokee Indian maiden received word that her young Indian Chief had been killed in battle, so she climbed to the edge of the rock and jumped off.
While this story may be hard to confirm, it has become part of the attraction's mystique and has added to its popularity over the years.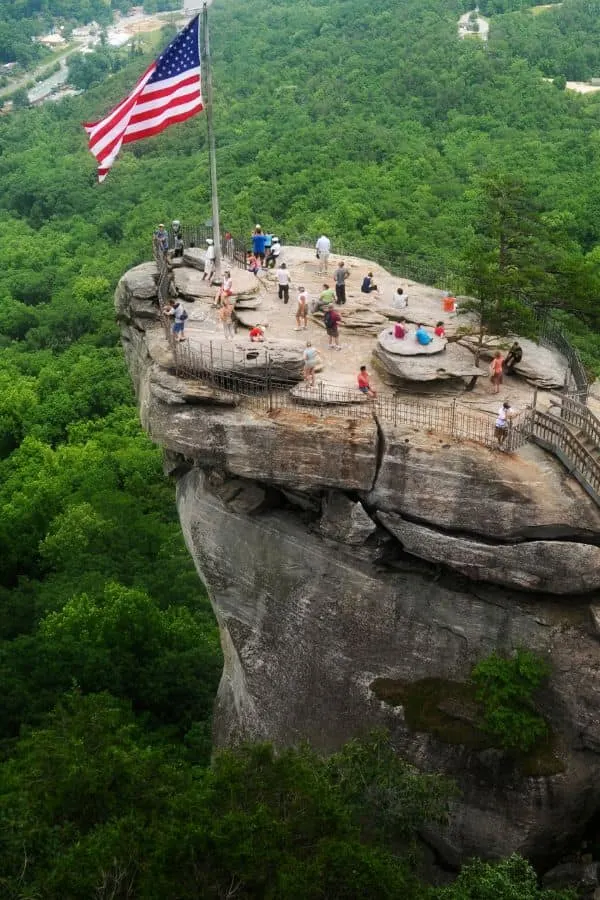 9. Visit Chimney Rock
Just a 30-minute drive from Flat Rock is one of the most visited geological in North Carolina.
The 315-foot tall monolith, known as Chimney Rock, towers over the Hickory Nut Gorge & Lake Lure.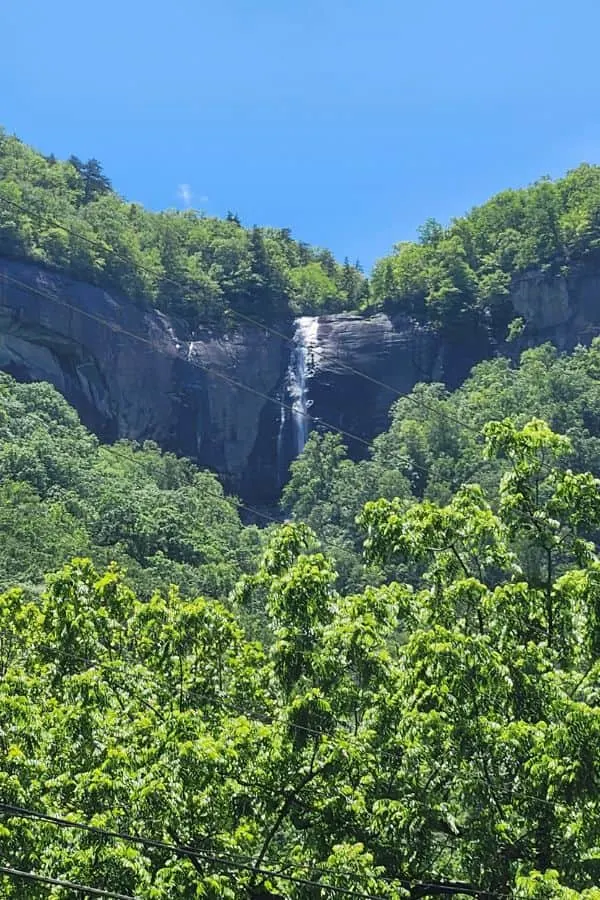 The state park is home to a number of trails, including the Hickory Nut Falls Trail which leads visitors to an incredible 404-foot waterfall.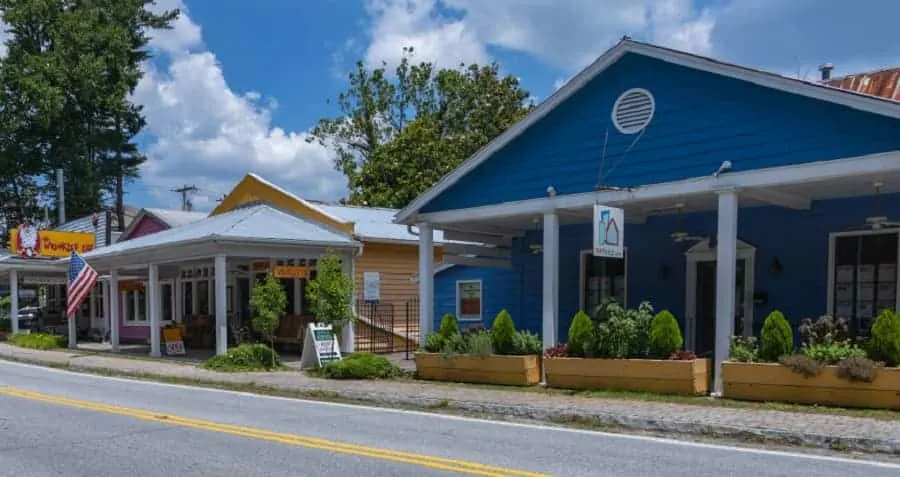 10. Eat at Little Rainbow Row
My favorite spot to eat in Flat Rock, NC is the "Little Rainbow Row."
You'll find The Wrinkled Egg, Honey and Salt, Flat Rock Village Bakery, and Hubba Hubba Smokehouse & more.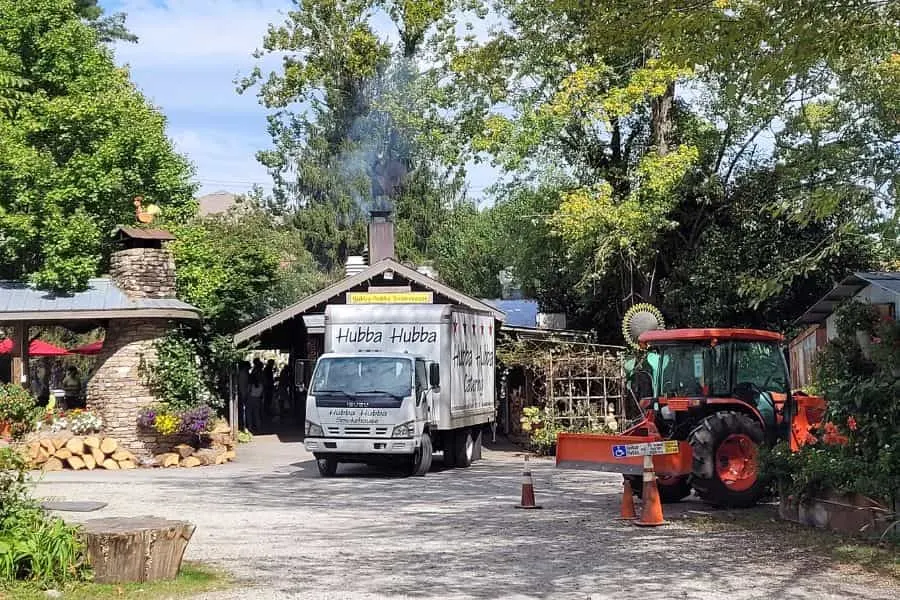 Our favorite place to grab a meal is Hubba Hubba Smokehouse.
There is plenty of parking and you will find a small outdoor dining area around the back that seat-yourself!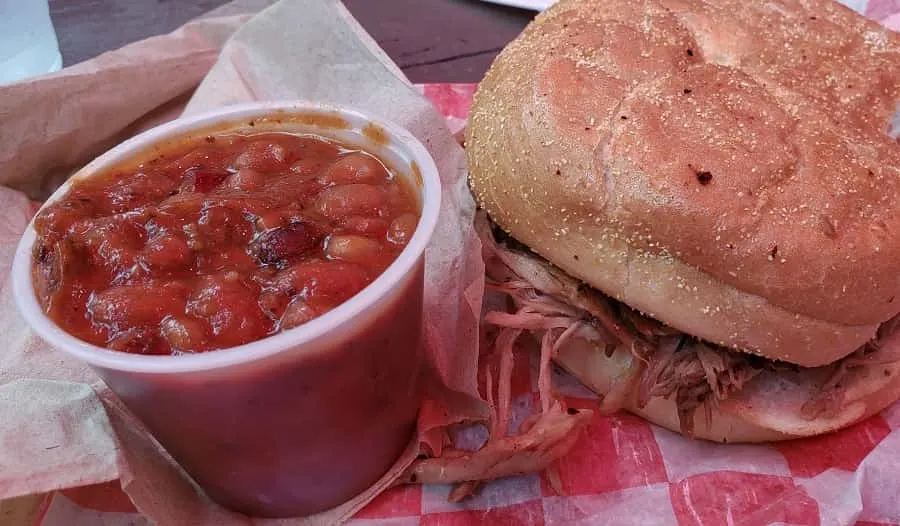 The BBQ is absolutely the best and while you are in Western NC, you can try either Eastern or Western Style North Carolina BBQ!
Where to Stay in Flat Rock
If you are looking to stay in Flat Rock, you will have a limited amount of choices. Many people choose to stay in Asheville or Hendersonville, as there are more options.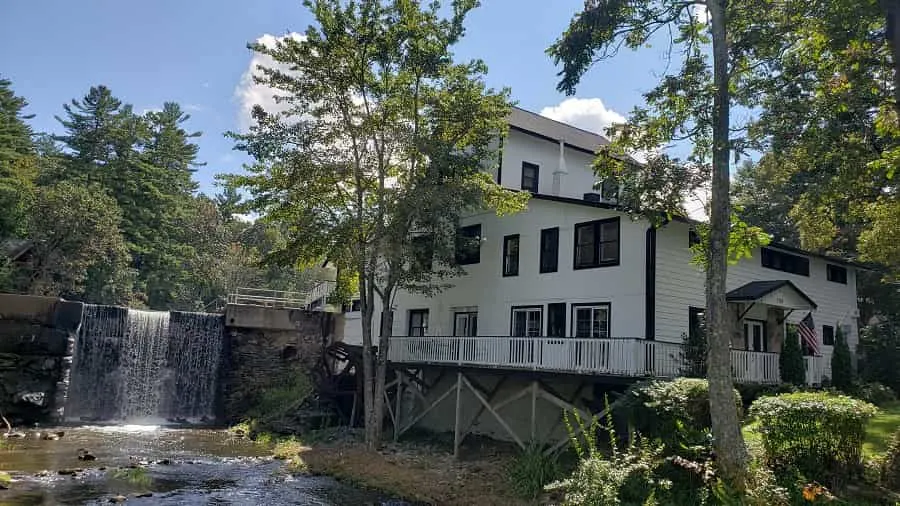 Mill House Lodge
Those who want to stay in Flat Rock should consider Mill House Lodge.
The mill dates back to the 1800s. In its early years, the mill that sits adjacent to the lodge provided ground corn and wheat products to surrounding towns.
In 1900, it was converted into a lodge.
The Mill House Lodge has several different types of rooms available, is pet friendly (extra fee for pets), has a lovely pool, and sits on a lake that gives you access to paddleboats & more.
Most Asked Questions about Flat Rock, NC
How Far Is Flat Rock NC from Asheville NC?
Flat Rock is 30 miles south of Asheville, NC
Is Flat Rock, NC, Dog Friendly?
Yes, Flat Rock Village is completely dog friendly. You will be able to bring your dog to many of the local outdoor eateries and hiking trails in the area.
Overall, you can easily spend a day in Flat Rock and have something to do all day! It is a great day trip to make if you are staying in Asheville or the surrounding area.