The city of Naples, nestled in Italy's southern region, is alive with beautiful architecture, delicious cuisine, and tons of history. From exploring ancient ruins to enjoying the regional specialties at a local pizzeria, there are so many things to do in Naples!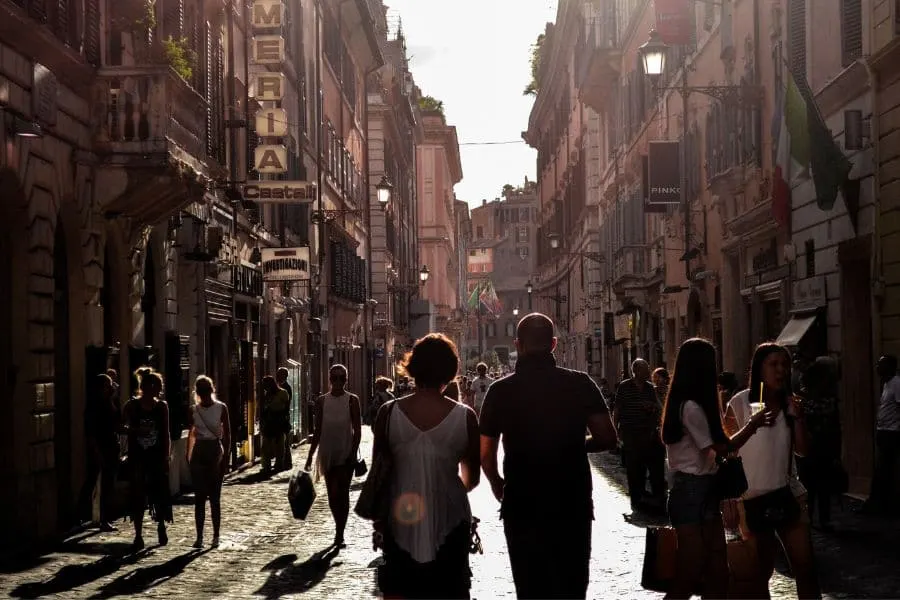 How to Get Around in Naples
Getting around Naples on foot is a breeze.
You can explore the historic city center, wander its narrow streets, and take in all its sights.
If you'd like to go further afar, Naples also has an excellent metro system that's easy to navigate and connects most of the city's major attractions.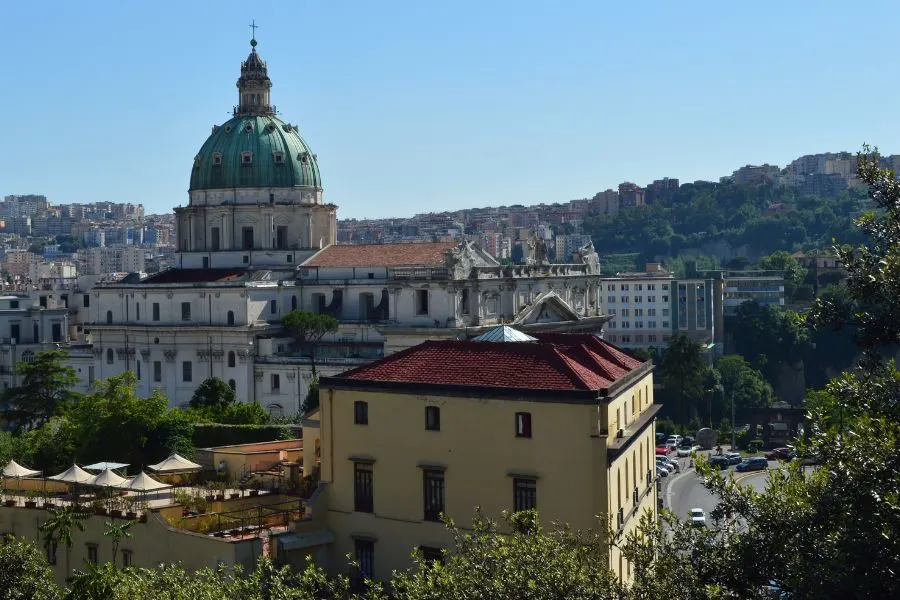 Top 10 Things to Do in Naples, Italy
If you are looking for things to do in Naples, Italy, we have some great ideas.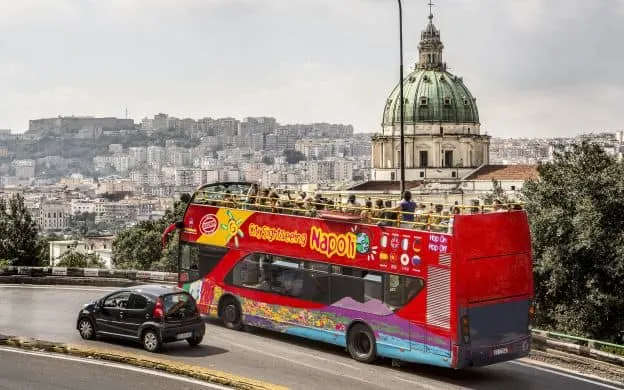 1. Take the Naples Hop on Hop off Bus
We are fans of taking bus tours to get situated in a new city.
If nothing else, using the Naples bus tour not only is a way to familiarize yourself with Naples but as a way to get from one place to another.
There are three different routes that the bus takes and all routes stop at Piazza Municipio, so you can transfer to other lines to see different things.
Route A takes you to the more historical landmarks.
Route B goes along the coastline.
Route C goes around San Martino.
Each route takes about 75-90 minutes if you don't get off.
What I appreciate about bus tours, like the one in Naples, is that you learn a little about the history of the area and the points of interest.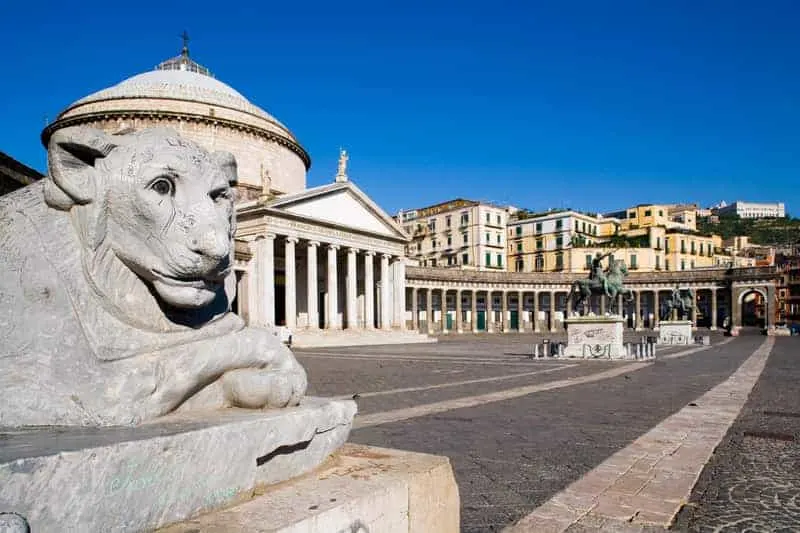 2. Piazza Del Plebiscito
Naples doesn't get the same sort of recognition as more touristy sites like Rome or Venice and yet the art and architecture it houses are some of the best in the world!
Take time to explore the Piazza Del Plebiscito (Square for the People)
This square is the largest in Naples and the site of two admirable monuments of the city: the Royal Palace and the Church of San Francesco di Paola.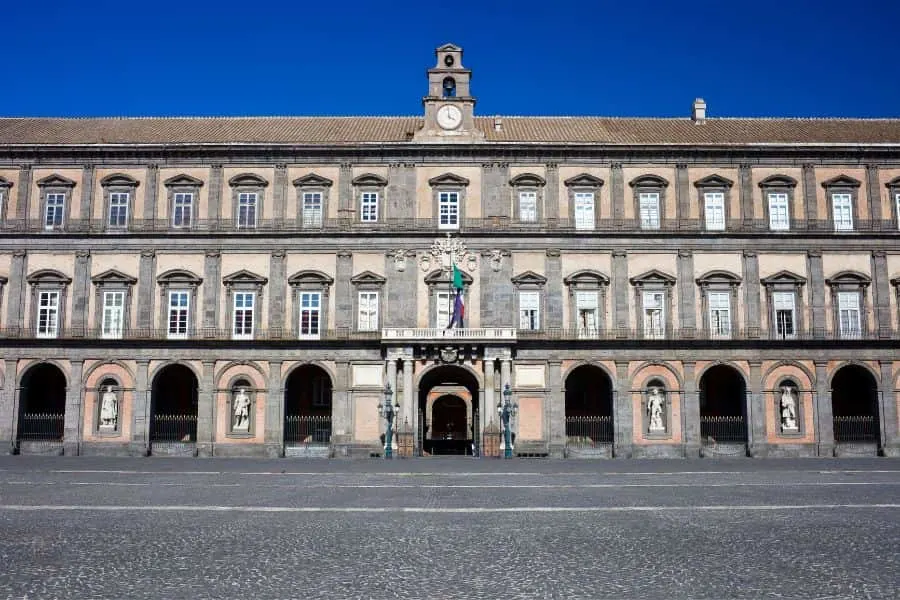 3. Royal Palace of Naples
The Royal Palace of Naples was built as a monument of Spanish victory but ended up serving as one of the royal residences for the Bourbon kings of Italy.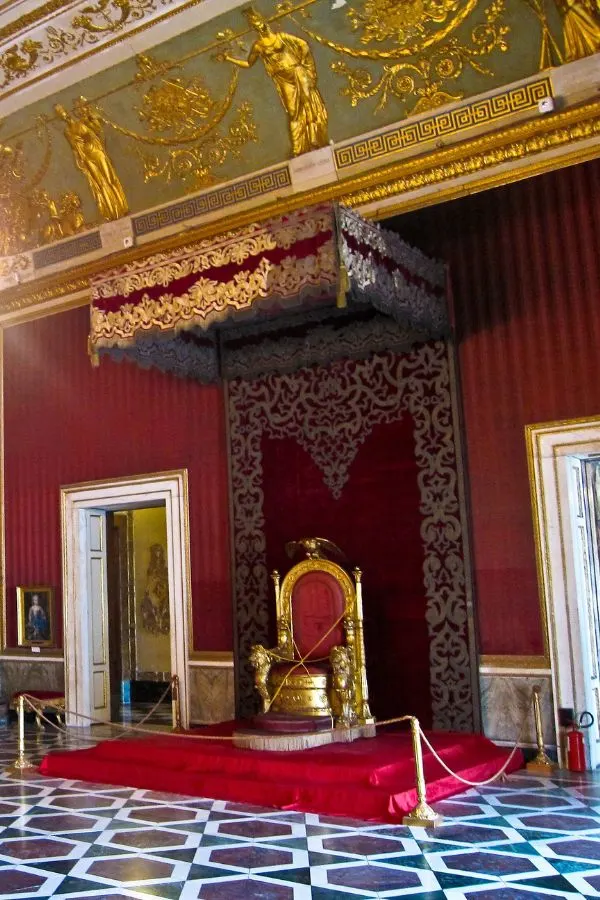 Visitors can tour the Palace to see The Royal Apartment which occupies one half of the palace.
It is furnished with the original furniture including many Italian masterpieces that were procured from Neapolitan churches.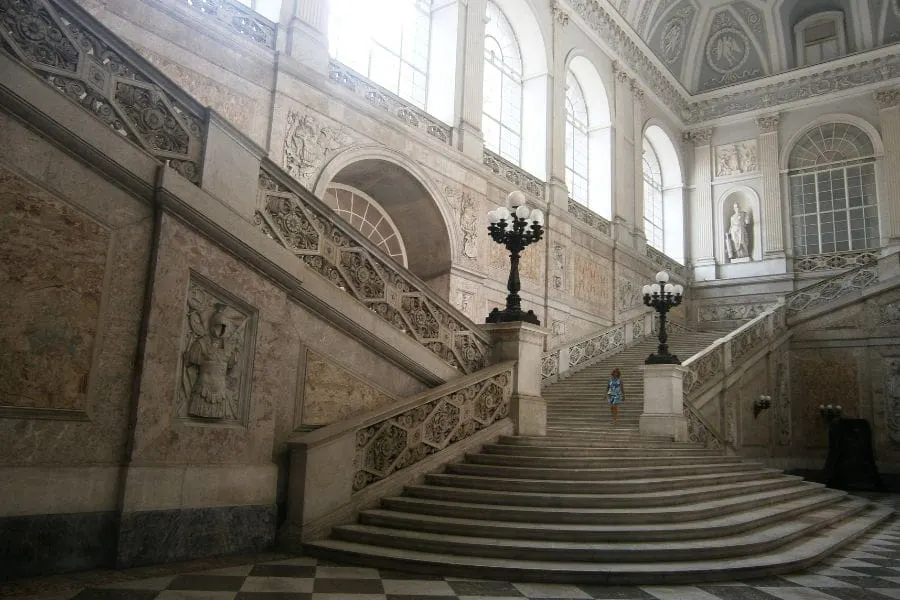 One of the most iconic features of the Royal Palace of Naples is the beautiful marble staircase, known as the Staircase of Honor.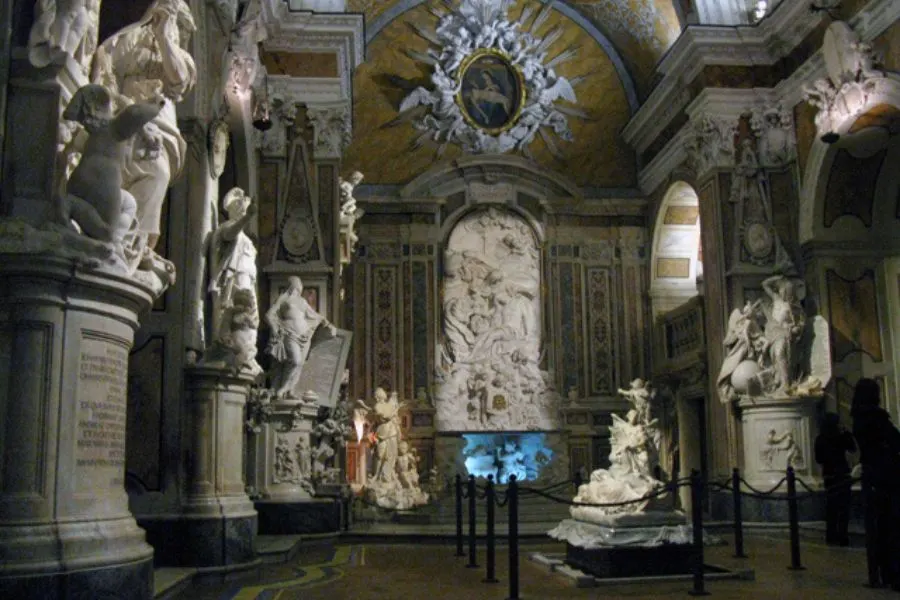 4. Sansevero Chapel Museum
This opulent chapel is a must-see for art and history lovers. See the life-size marble sculptures, or marvel at the ceiling frescoes painted by some of Europe's most celebrated artists.
The most impressive statue is that of the Veiled Christ, completed in 1753 by artist Giuseppe Sanmartino.
Carved from a single piece of marble, its intricate detail of the body of Jesus under a transparent veil is what makes it an 18th-century Italian masterpiece.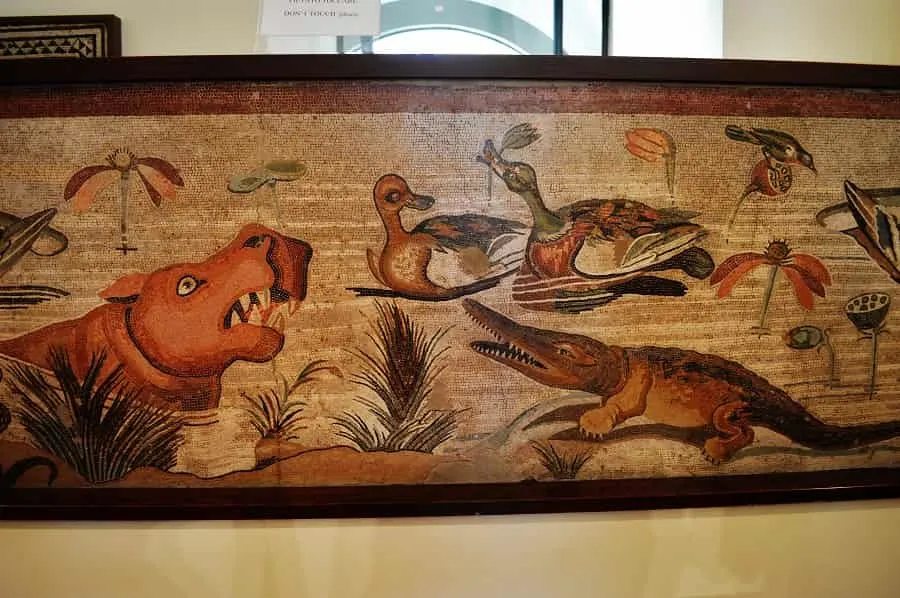 5. National Archaeological Museum
Naples is also home to Italy's oldest archaeological museums and it is filled with ancient treasures!
Because of its close proximity to Pompeii, Herculaneum, and Mount Vesuvius, many artifacts from the area that have been recovered are housed in this museum.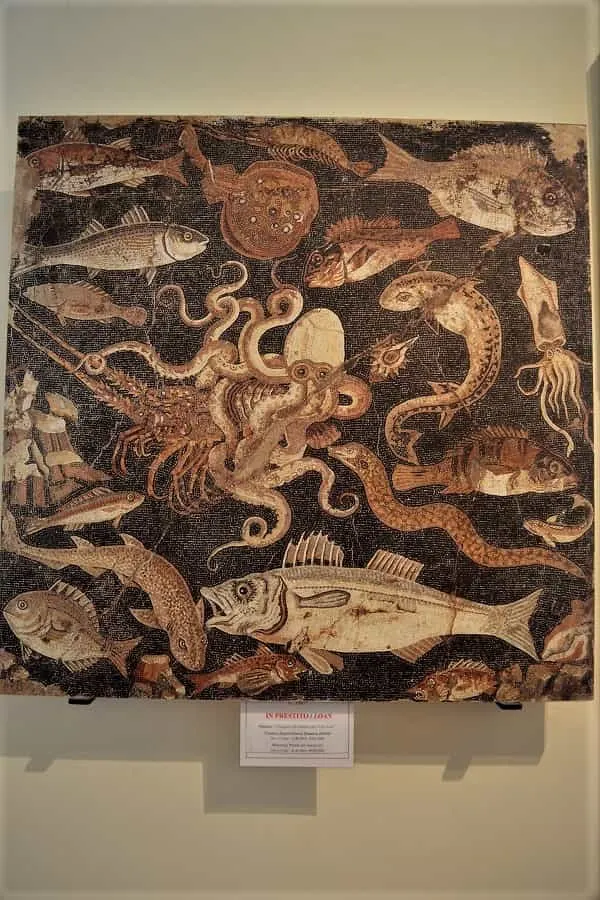 You will see ancient frescoes, statues, and mosaics that date back to the time of the eruption of Mt. Vesuvius.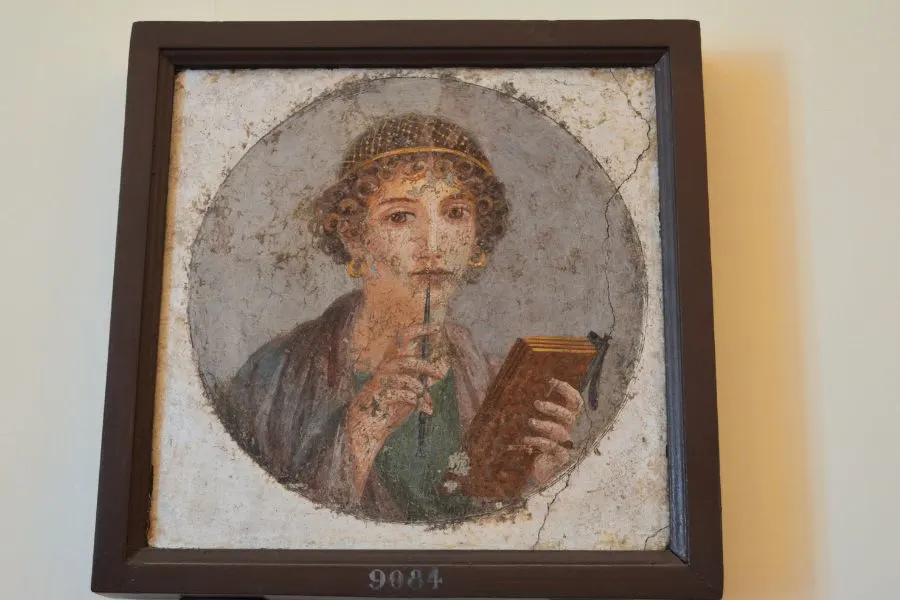 It's quite an amazing collection of items that survived the destruction and you will be amazed at how well-preserved the collection of relics are.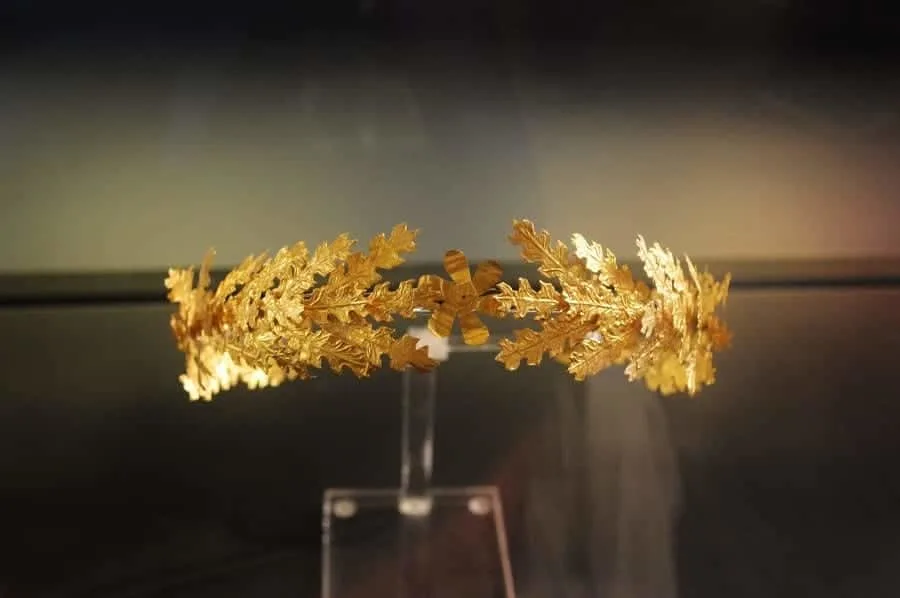 Not only will you see items from the ruins of Pompeii, but you will also see things from other parts of Italy, like this gold crown of oak leaves from the 2nd century BC found in Taranto, Italy.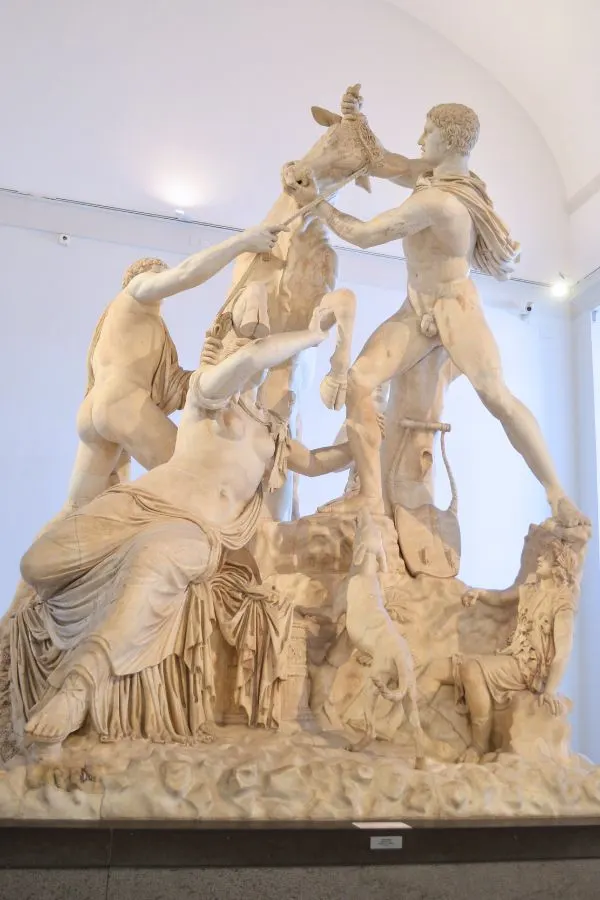 One of the most famous sculptures housed in this museum is Farnese Bull. It was found in pieces during 16th century excavations at the Baths of Caracalla.
Bringing kids with you to Naples?
Be aware that there is a secret room in the Archaeological Museum where children are not allowed. It is full of erotic art taken from places like Pompeii & Herculaneum.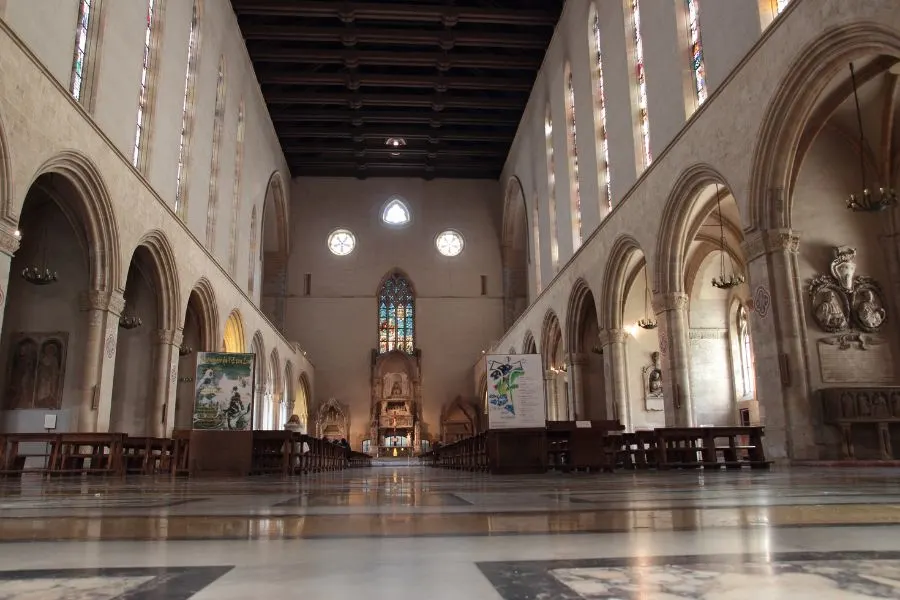 6. Santa Chiara
Santa Chiara is a hidden oasis inside Naples.
While the reconstructed Gothic church is beautiful, the real reason to visit is to see the cloisters.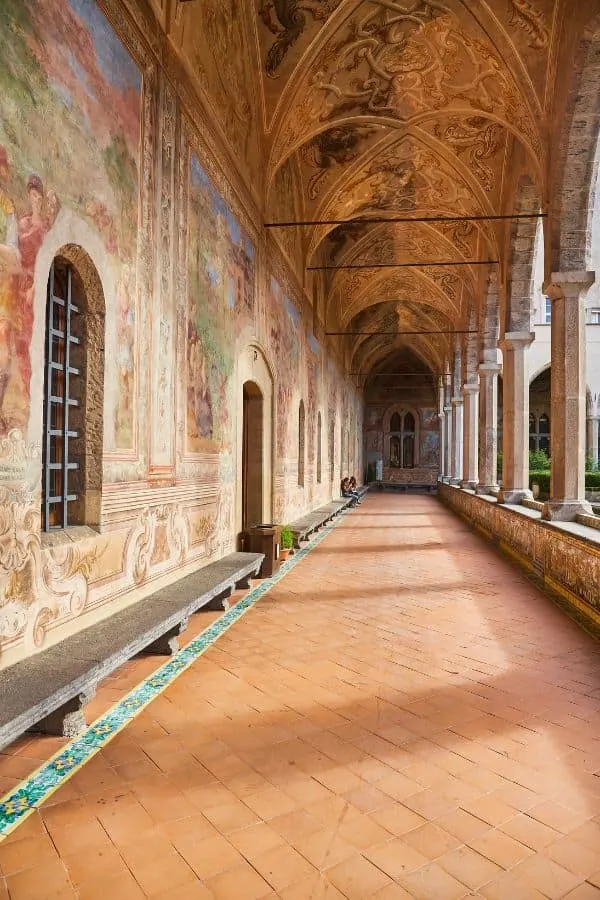 Planned as a peaceful place for nuns to enjoy, beautiful murals and painted tiles reflect the 17th-century world outside of the complex that they didn't get to enjoy.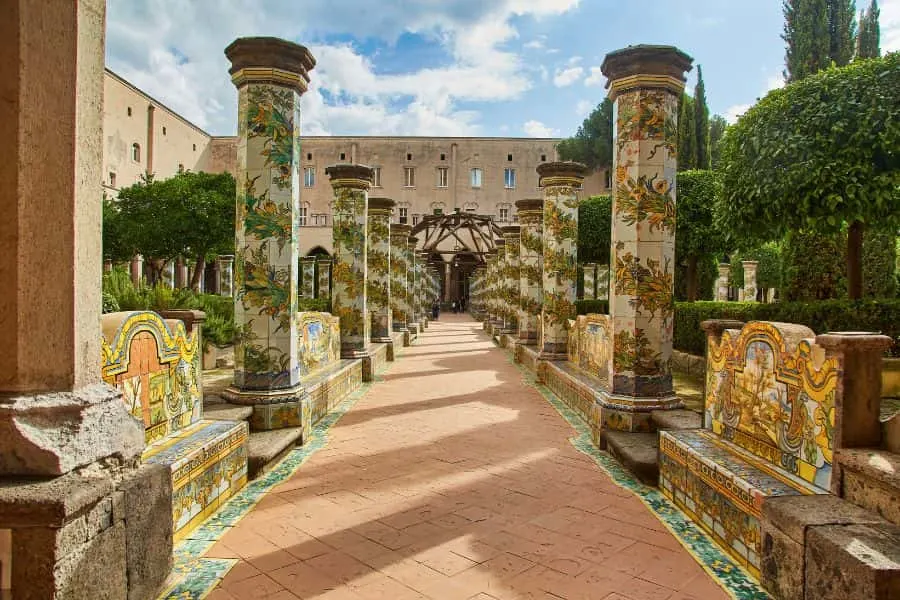 Probably one of the most Instagrammable places in Naples, you will be enamored with the beautiful walkways of the cloister that appear to be lined with blossoming orange trees.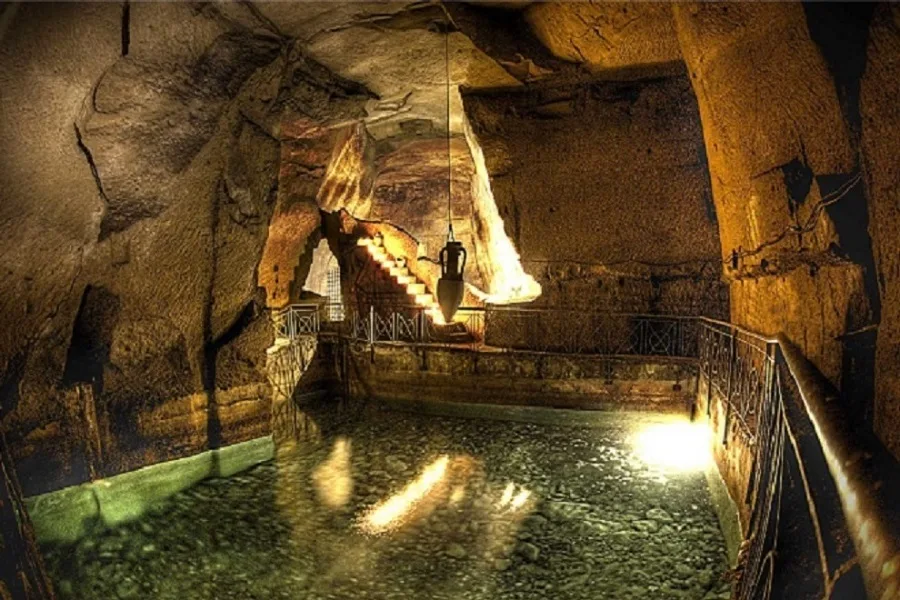 7. Underground Naples
Venture below the streets of Naples to see what life was like in ancient times.
With this underground tour, you will go beneath the streets some 130 feet to see ancient Greek-Roman aqueducts, caves, a garden, and a Roman theater! This tour is not for those who are claustrophobic
Guided tours are in English at 10 am / 12 pm / 2 pm / 4 pm / 6 pm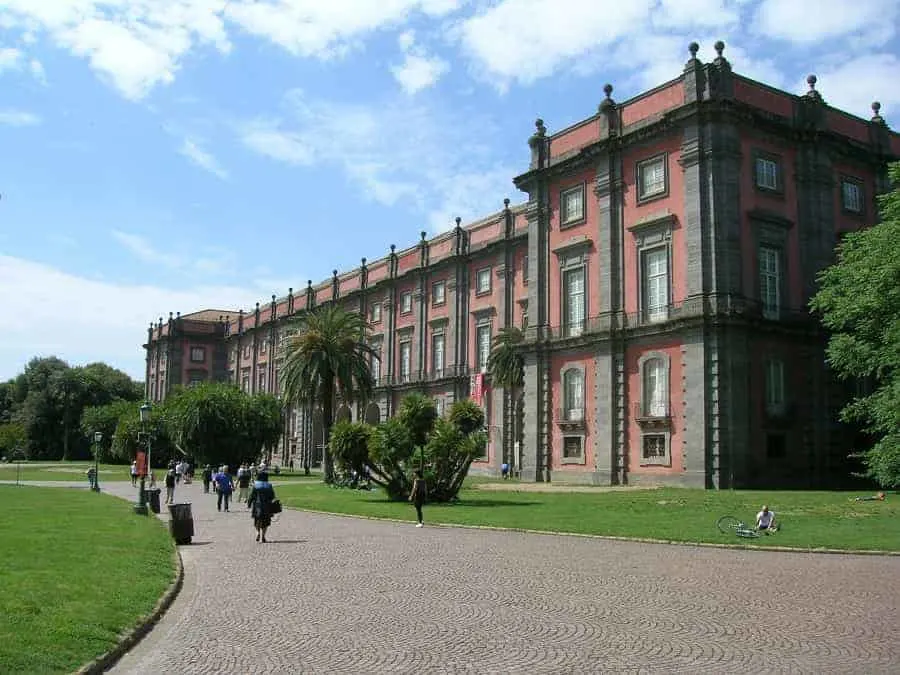 8. Museo di Capodimonte
When it comes to Italian art, there is no better collection than the ones found in the Museo di Capodimonte.
You will find works by such artists as Raphael, Michelangelo, and Botticelli, as well as more recent artists like Andy Warhol.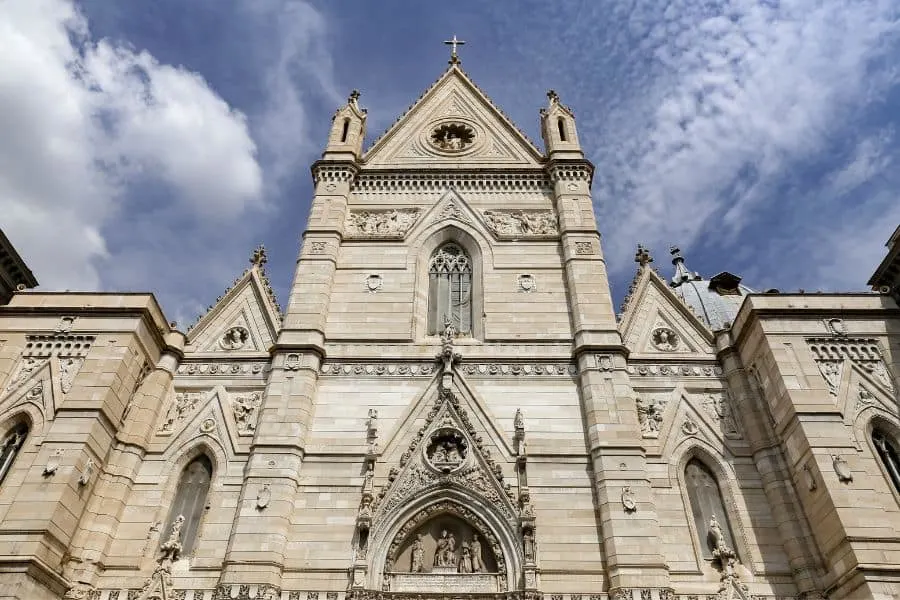 10. Naples Cathedral
One of the most iconic buildings to explore is Naples Cathedral.
Built between 1299 and 1314, the church has a Neo-Gothic façade with three entrances.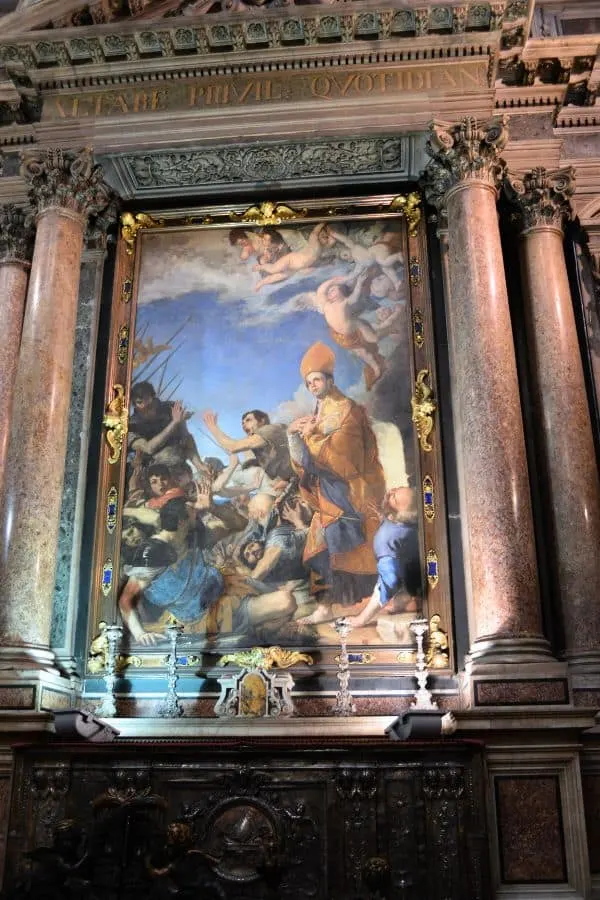 It is widely known as the Cathedral of Saint Januarius, named for its patron saint.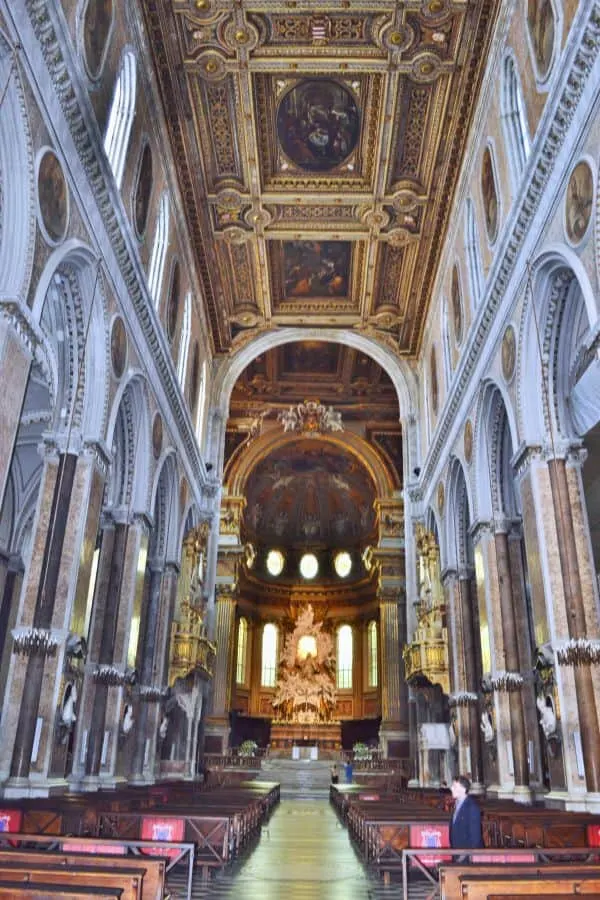 The interior ranges from Baroque to Neo-Gothic and is home to exquisite works of art and artifacts.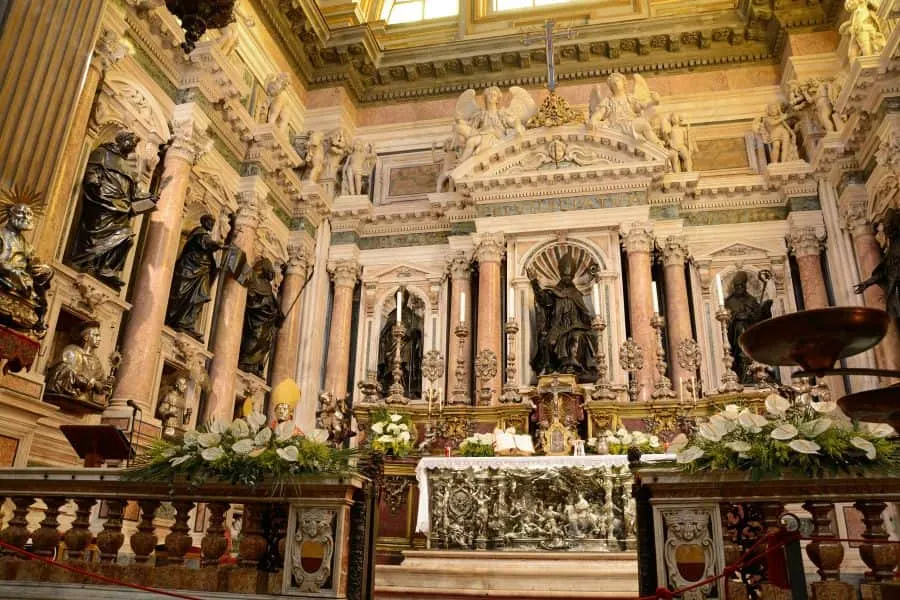 Visitors will find colorful frescoes, detailed bronze railings and ornate sculptures throughout.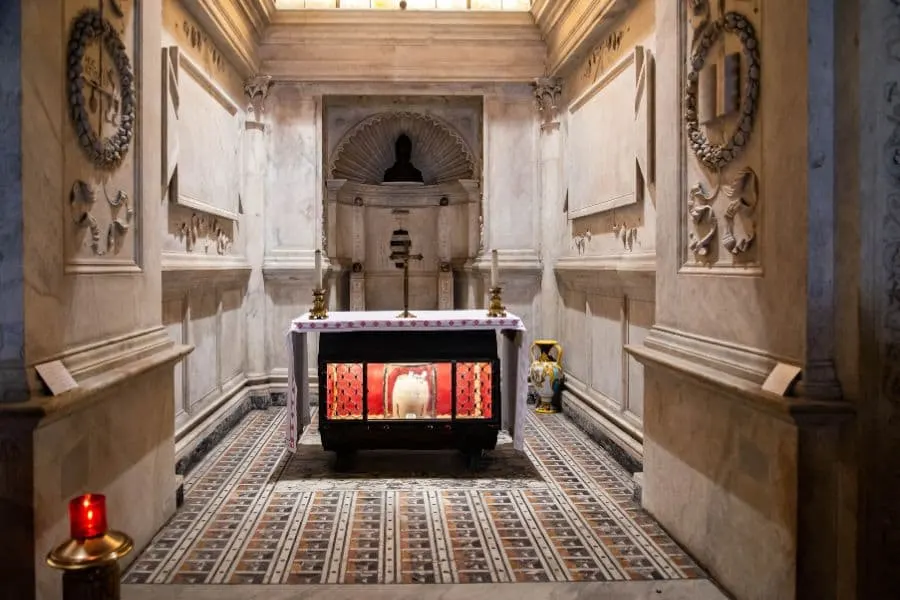 Visit the crypts beneath the cathedral for a unique opportunity to glimpse some of an ancient Greek wall belonging to the temple of Apollo.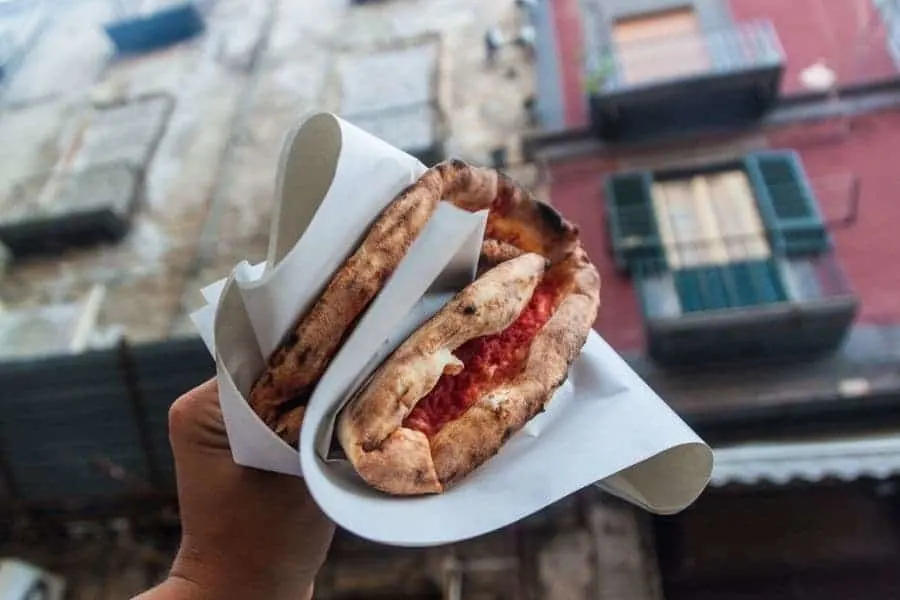 10. Food Walking Tour
You are in Italy and you really should experience the food of Naples.
What is Naples Italy known for? Naples is the official home to Pizza.
And there is plenty of pizza to be found in Naples! Just make sure you go to the places that locals go for pizza in Naples.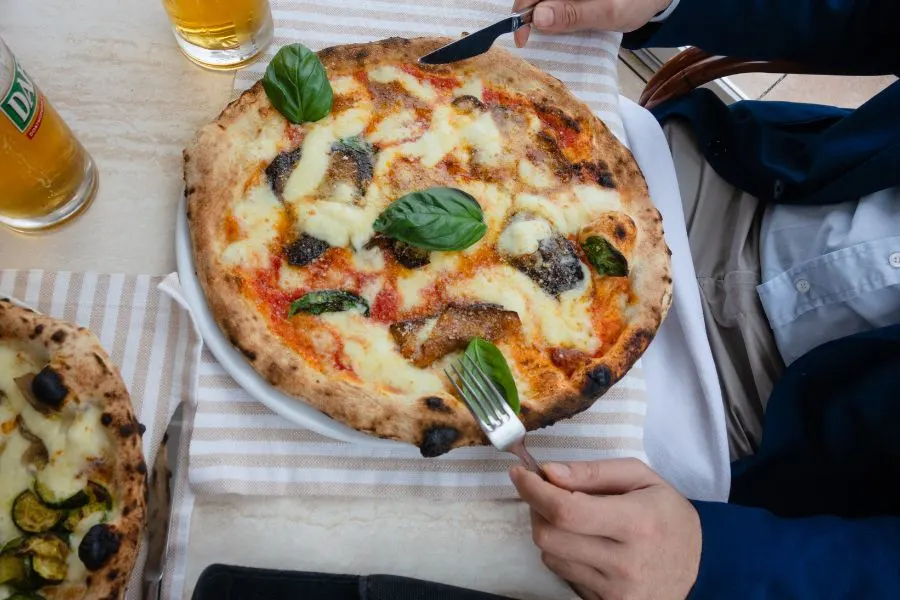 While Pizza is King in Naples, this city offers much more than just this Italian dish.
If you are a foodie, you are going to want to experience the local favorites.
One of the best ways to experience the great food of the region is with a walking street food tour of Naples where you can travel through the city, and learn about the history while trying everything from coffee to seafood!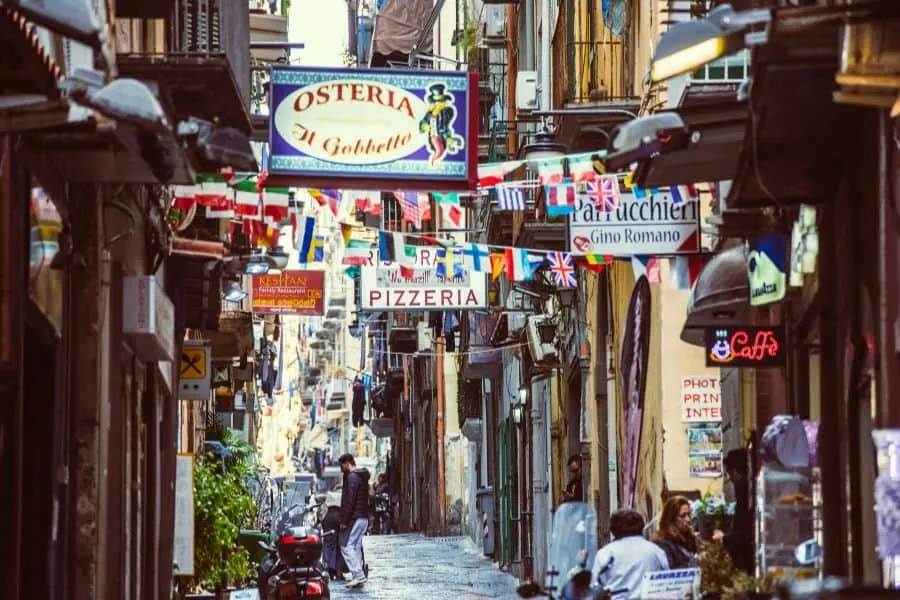 Tips for Traveling to Naples
Wear comfortable shoes – the cobblestone streets can be uneven and hard to walk on.
Double-check bus routes and schedules before you board, as they can change without notice.
When taking a taxi be sure to agree on the fare beforehand, and always check that the driver is using the meter.
Have a map with you when walking around Naples so you don't get lost; most tourist sites have maps available at the entrance.
Use public transportation whenever possible; it is cheaper and often faster than travelling by car.
Be mindful of pickpockets when visiting crowded places such as markets and popular tourist sites. Keep your wallet and other valuables secure, close to your body at all times.
Popular Day Trips from Naples
When you are going to be in Naples for a few days, you might be interested in seeing other popular Italian destinations.
Some of the most popular day trips from Naples are easy to make by train and allow you to experience some beautiful places.
Have you been to Naples? What were some of your favorite places to visit?