We may earn money or products from the companies mentioned in this post. Read our disclosure policy.
William Shakespeare is known as the greatest writer in English history and the mark he made on literature is great. Even if you aren't a fervent fan of the works of William Shakespeare, you will certainly appreciate being able to immerse yourself in the time in which he lived by touring his family homes, seeing his works and visiting the ways England has memorialized him.  If you love Shakespeare (like I do), you will be thrilled to know that there are many Shakespeare sites in England and most of them are an easy train ride or drive from London.
Best Shakespeare Sites in England
Shakespeare's Birthplace. Born in 1564, Shakespeare grew up in a Tudor-style cottage in Stratford Upon Avon. For a fee, you can tour the home which is made to look as it would have in his lifetime.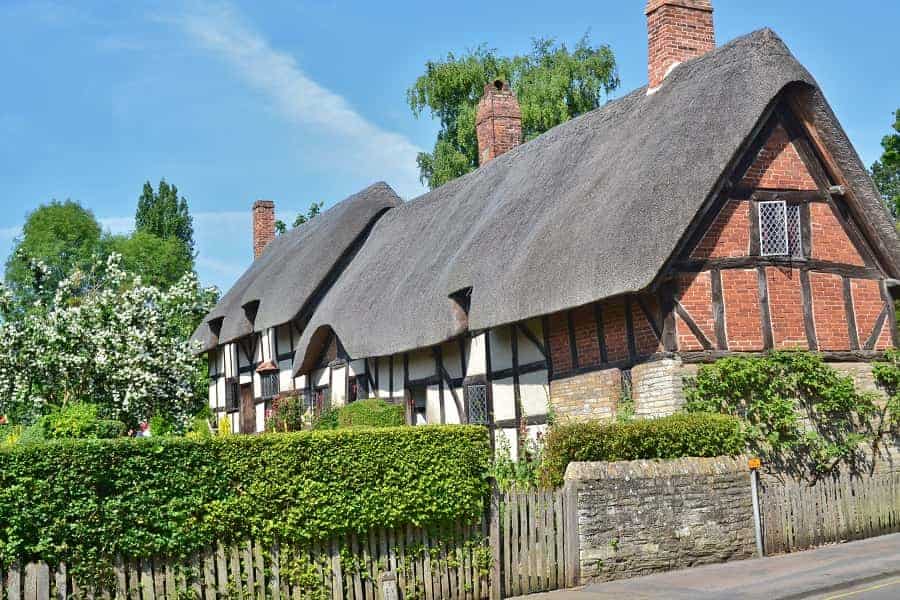 Anne Hathaway House. Anne Hathaway was the wife of William Shakespeare.  Her home in Stratford Upon Avon is similar in Tudor styling to Shakespeare's and also has a lovely garden and walking paths that you can enjoy. Tickets can be purchased in advance online.
Mary Arden's Farm. Shakespeare's mother's farm is just outside of Stratford in Wilmcote. Here you will find a working Tudor farm which now serves as the Shakespeare Countryside Museum. The museum has many hands-on activities that families with children will enjoy like goose-herding and falconry.
If you plan to see the homes where Shakespeare lived & worked, consider doing the Any Four Houses tour.
Published works at Victoria & Albert Museum. This museum is absolutely FREE and houses some pretty amazing things including a published collection of Shakespeare's plays known as the 'First Folio'.  They also hold other editions and one even has been signed by William Wordsworth, Robert Browning, and Charles Dickens. You can also opt for
Shakespeare's Will is in the National Archives in Kew. It is one of the few documents that actually contain his signature. You will need to register for a reader's ticket in advance to be able to view it.                                                                                                                                                                            
Shakespeare's Grave. Shakespeare is buried in the Holy Trinity Church in Stratford-upon-Avon. His final resting place is famous for its inscription. It reads: "Good friend for Jesus sake forbeare, to digg the dust enclosed heare. Blese be the man that spares thes stones, and curst be he that moves my bones."  
Shakespeare Memorial in Westminster Abbey. You will notice that there is a special memorial statue in the famous Poets' Corner for the bard.  
The Globe Theater. One of the most toured Shakespeare sites in England is the Globe theater. While the original Globe Theater burnt to the ground during the time of Shakespeare, this recreated version is true to the original. It is still a working theater and you can see a performance many day & nights of the year (and even stand in front of the stage just like the Groundlings).  You will also find a guided tour and museum on site that is pretty fantastic.
Have you been to any of these Shakespeare sites or know of others we should check out?