We may earn money or products from the companies mentioned in this post. Read our disclosure policy.
One of my favorite parts of Florida is Key West. Known as the Conch Republic, Key West is the southernmost point in the United States and with an average temperature of 77 degrees, it is the perfect place to venture any time of year! If you are planning a trip to Miami, you will find that many companies do a day trip to Key West. It is a great way to be able to experience Key West if you can't afford to fly directly there.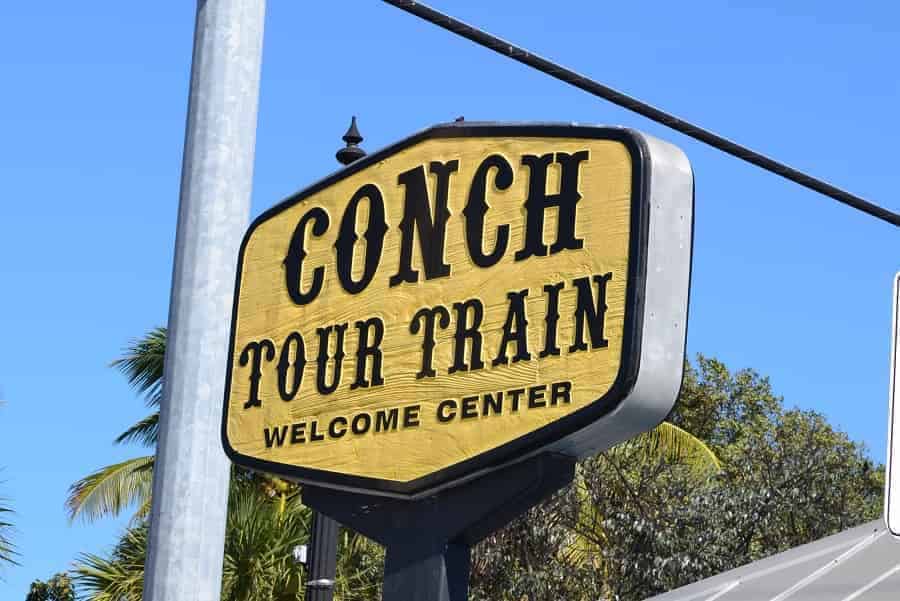 Considering that Key West measures only 4 miles long and 2 miles wide, you can easily see the main points of interest on a day trip to Key West.  One of our favorite ways to see the entire island in a day is with a train tour. You will find that there are several to choose from on the island.  Our preferred choice is by the Conch Train Tour. 
The Conch Train tour takes you throughout Key West, showing everything from Ernest Hemingway's home to the Southernmost Point. It is a great way to explore Key West and learn about the architecture and history of the region. Just like hop on hop off busses in big cities, the Conch Train tour has a few places where you can get off the train and pick it back up if you feel want to venture about.
Here are some other things to see outside of the train tour during your day trip to Key West
Stop by the historical Custom House Museum to learn about the history of Key West and  to see one of a kind art which is on display inside and out. Located in Mallory Square, you can find tons of shopping and restaurants nearby. Cost is $7 for adults, $6 for kids 6+ and little ones are FREE.
A day trip to Key West isn't complete without Key Lime Pie!  Stop by the Key Lime Pie Factory to get a Frozen Chocolate Covered Key Lime Pie on a stick!  It is one of the best things I have ever eaten. Seriously, it is that good.  You'll also find other Key Lime themed goodies.  Key Lime Pie on a Stick is about $6.
This is an island, which means there are some pretty beautiful beaches.  Take advantage of something you can do for free.  Venture to the Southernmost Point or even Astro City Park & Higgs Beach (great play area for kids who need to let some energy out).
If you love lighthouses, the Key West Lighthouse is open to the public. Opened in 1848, the Key West Lighthouse originally had a woman keeper.  That was pretty unheard of in the 19th century!  You can walk up the 88 steps to the top of the light and check out the belongings of previous families who took on the task of running the lighthouse. Admission is $10 for adults and kids over 6 are $5.
At the Key West Aquarium you will get to to see many native aquatic life, like sea turtles, sting rays, jellyfish and sharks.  Probably the highlight (for kids especially) is the touch tank where you can hold crustaceans like sea urchins and conch shells.  Tickets are discounted if you purchase online, so consider doing this before you go.  If you take the train tour, they also offer a discount on tickets to certain area attractions. I'm not sure if the aquarium is one of those or not.
What do you love to do in Key West?