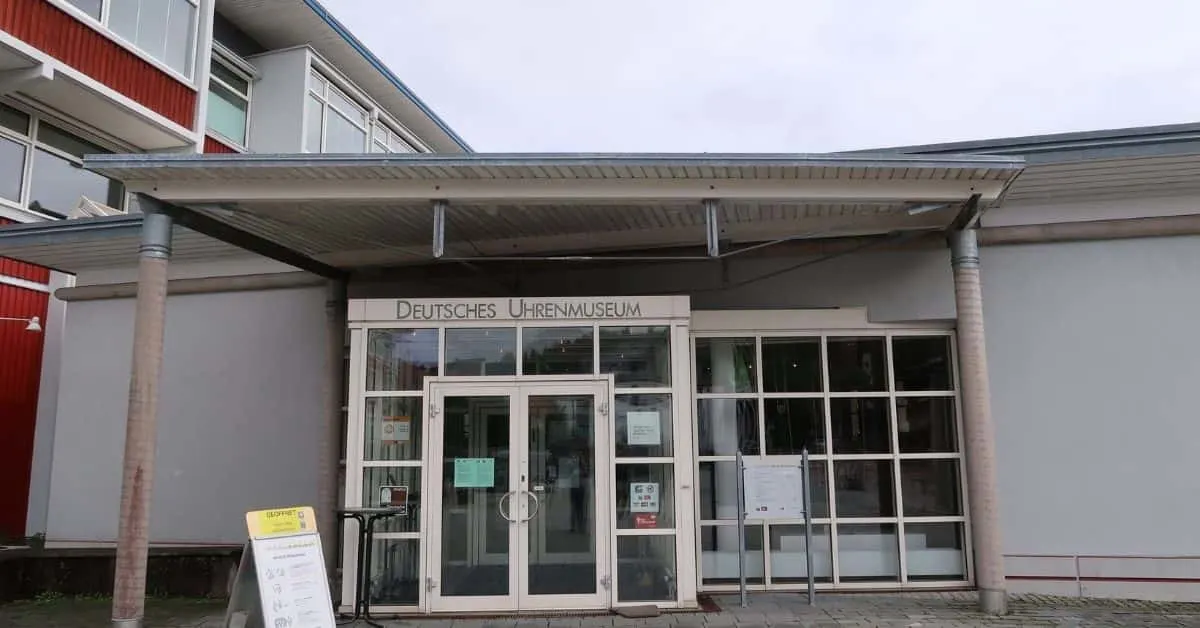 The German Clock Museum in Furtwangen is a place for clock enthusiasts, families and travellers alike. Located just outside of the Black Forest, this museum is home to clocks from all over the world.
Guests can see how the clock has evolved over time as well as explore some fascinating exhibits. It's worth checking out if you're in the area!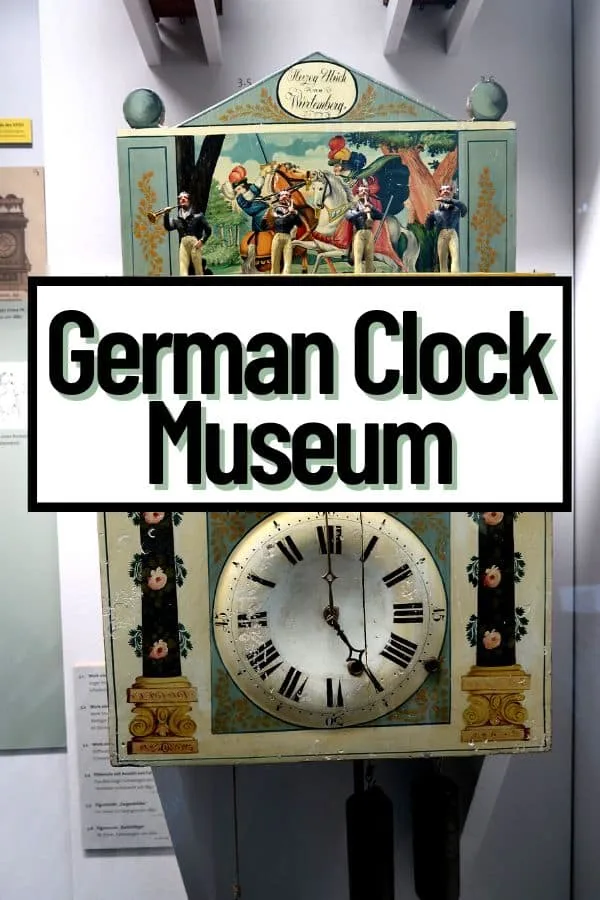 Things to See at the German Clock Museum in Furtwangen
The German Clock Museum is home to some beautiful clocks that have been restored and are in full working order.
Some of the types of clocks you will find are pendulums, grandfather clocks, cuckoo clocks and a range of wall clocks.
The first part of the German Clock Museum walks you through the history of clocks.
You will find a range of astronomical and scientific instruments such as sundials, Orrerys and Barometers.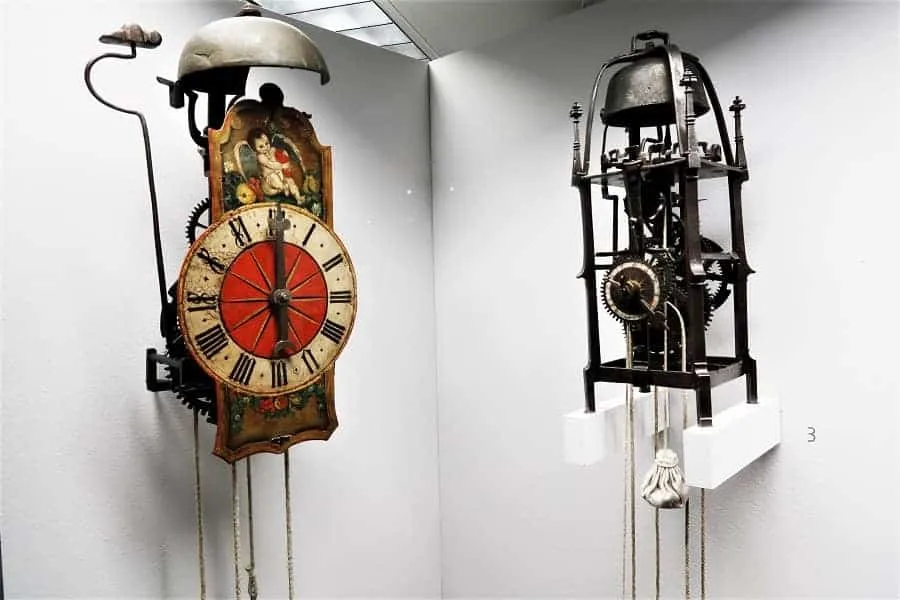 Iron Gear Clocks
In the 15-16th Centuries, wrought iron gear clocks were controlled by the action of a verge and foliot. Because of wear & tear, many of these clocks broke down and very little survived. There are several at this museum.
Pendulum Clocks
Pendulum clocks changed everything when it came to keeping time. These clocks were much more accurate, and led to many older clocks to be refitted with pendulums.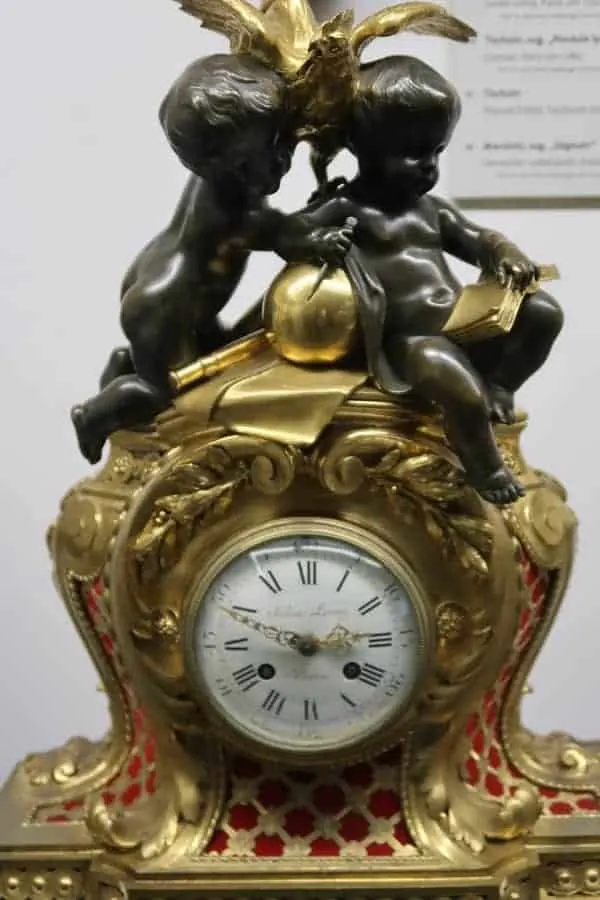 During the 16th and 17th centuries, ornate timepieces were used by nobility and the grand bourgeoisie served as showpieces of wealth and power. French Mantel Clocks became popular because they were easy to display.
Permanent Exhibit on Clocks from Around the World
The permanent exhibit continues by showing the different styles of clocks and timepieces from around the world and how they changed over time.
There is even a section that is dedicated to how American clock makers attempted to recreate German Clocks & how some Clock makers died from being exposed to toxic chemicals they used in the making of clocks.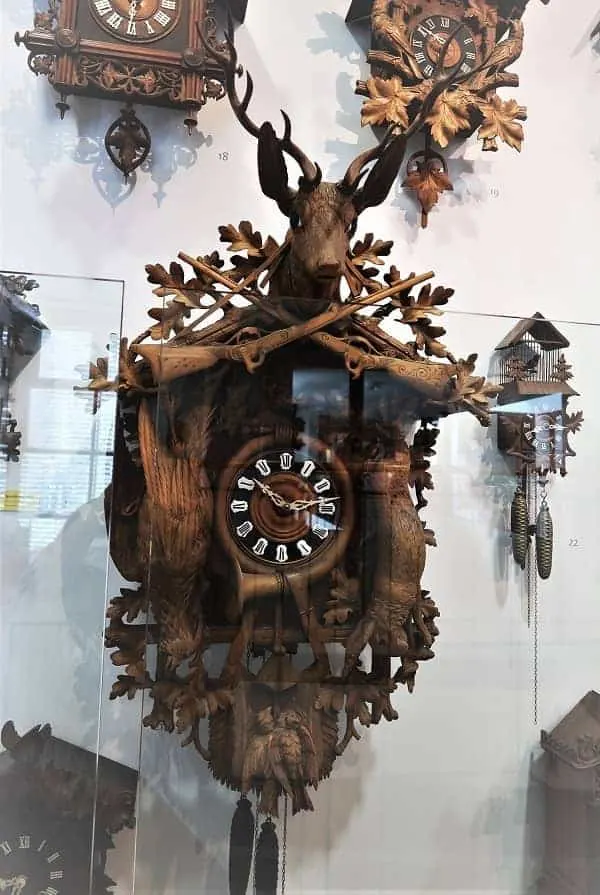 German Cuckoo Clocks on Display
While the history of the Cuckoo Clock is not cemented, you will get to see what is believed to be the oldest known Black Forest Cuckoo clock, dating around 1780-90.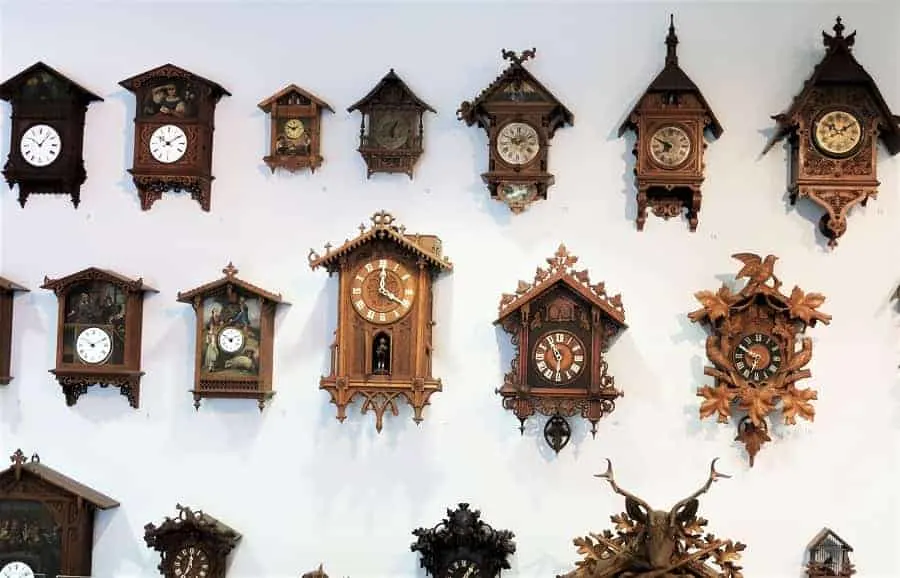 You will also see the largest collection of German Cuckoo Clocks anywhere! There are different sizes, details and animated features but all have the same over-all style.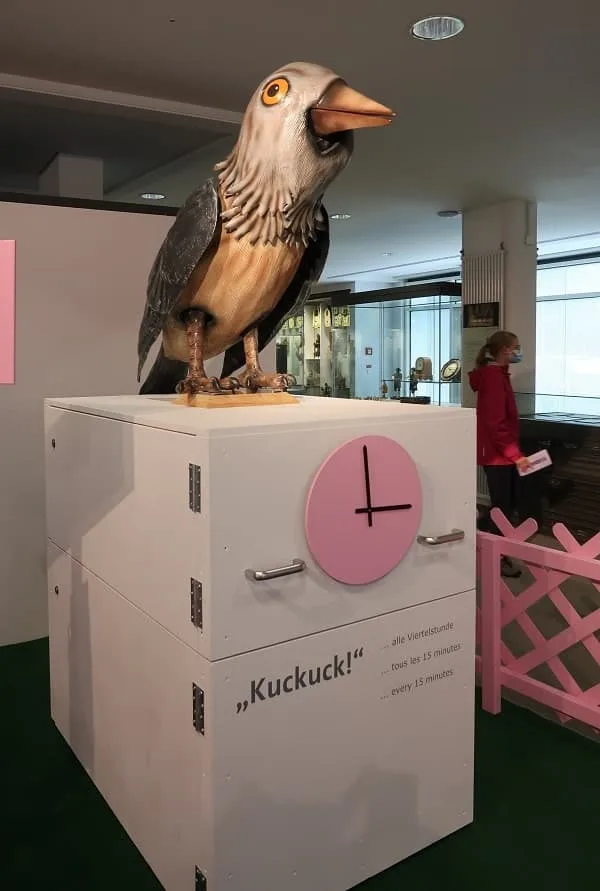 Don't miss the giant cuckoo that is sitting on the top floor. The bird will sound & move during the quarter hours.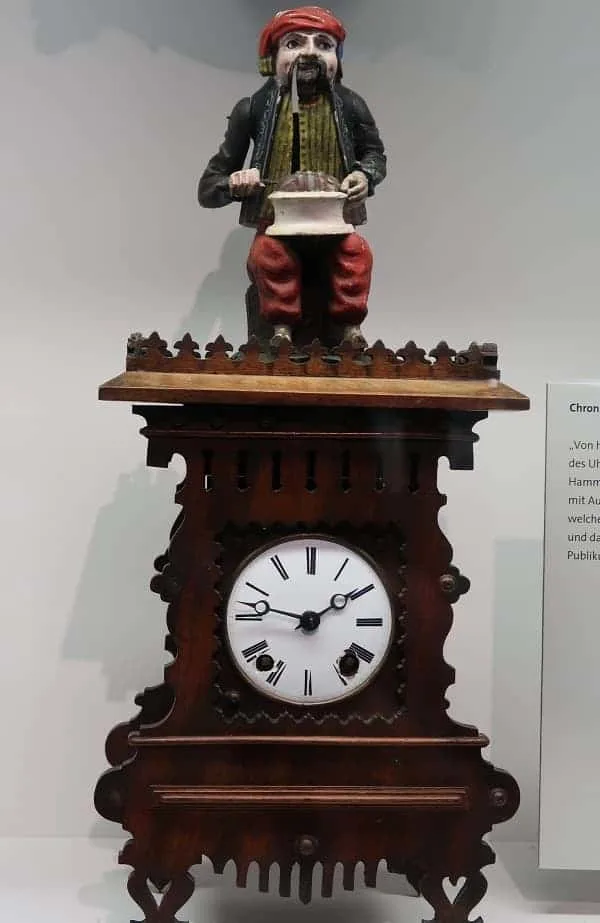 Black Forest Clocks with Animated Figures
While we were visiting the museum, there was a special exhibition on Animated Clocks. These clock are pretty incredible.
Instead of a Cuckoo, these clocks have automated figures that do everything from chopping wood to drinking a beer!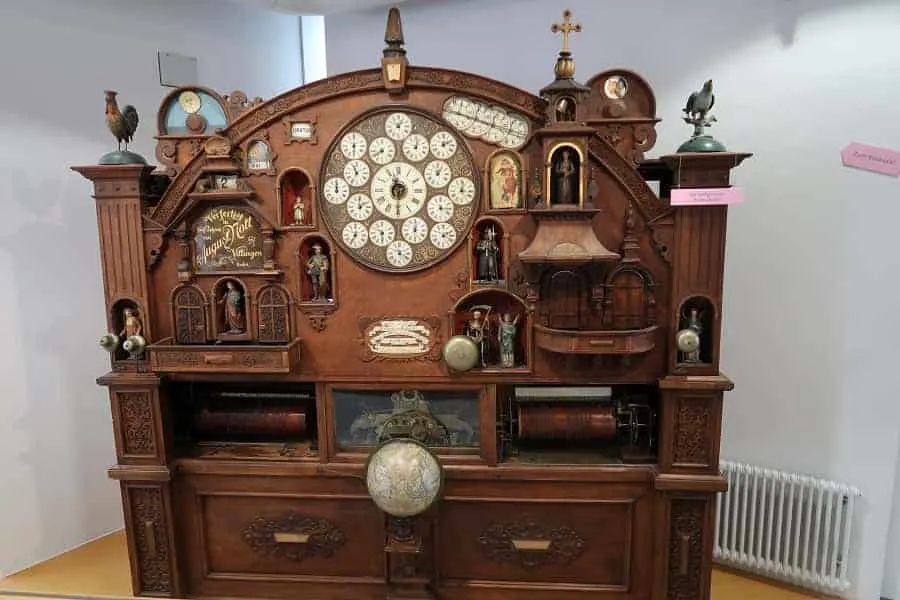 The World Clock is on the bottom level of the museum is definitly an eye catching piece. It dates back to the mid 19th century and features numeous components, like the phases of the moon and various moving objects.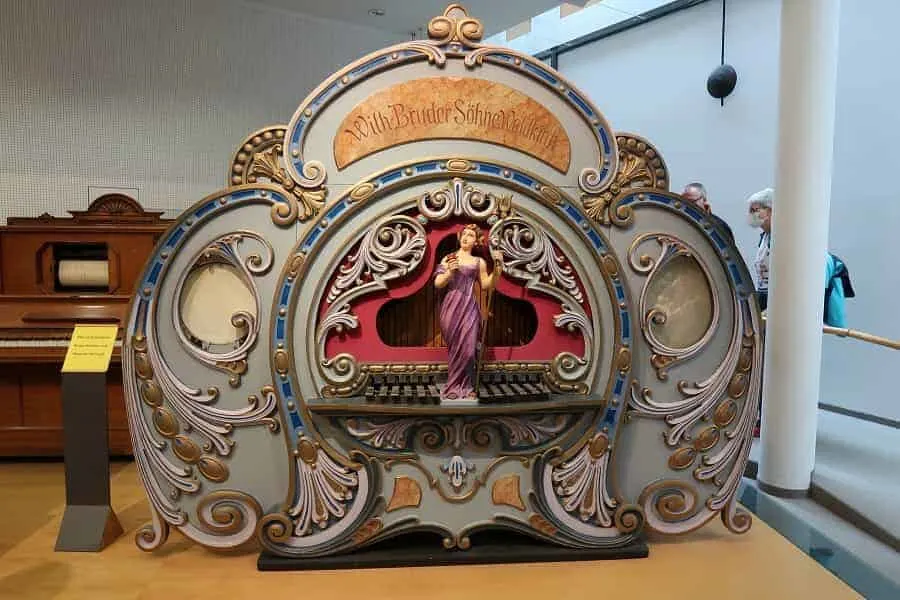 Demonstrations
Docents will announce the demonstration and guests will make their way the bottom level where they will be able to see different types of clocks in action along with a merry-go-round organ with punched-card control.
The demonstrations last about 10-15 minutes.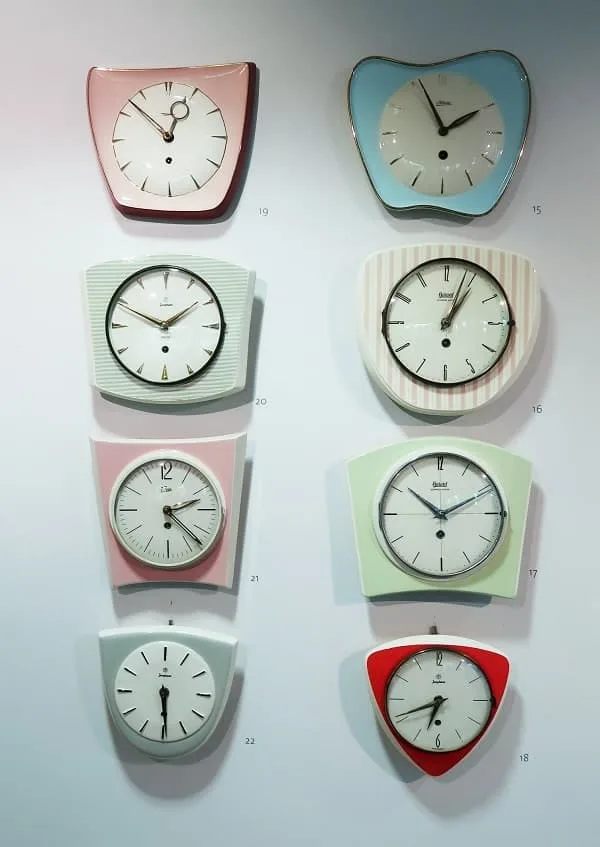 Retro & Current Time Pieces
This museum allows you to see how clock making has evolved over time. Not only are there old clocks, but you will many time pieces from the 20th century.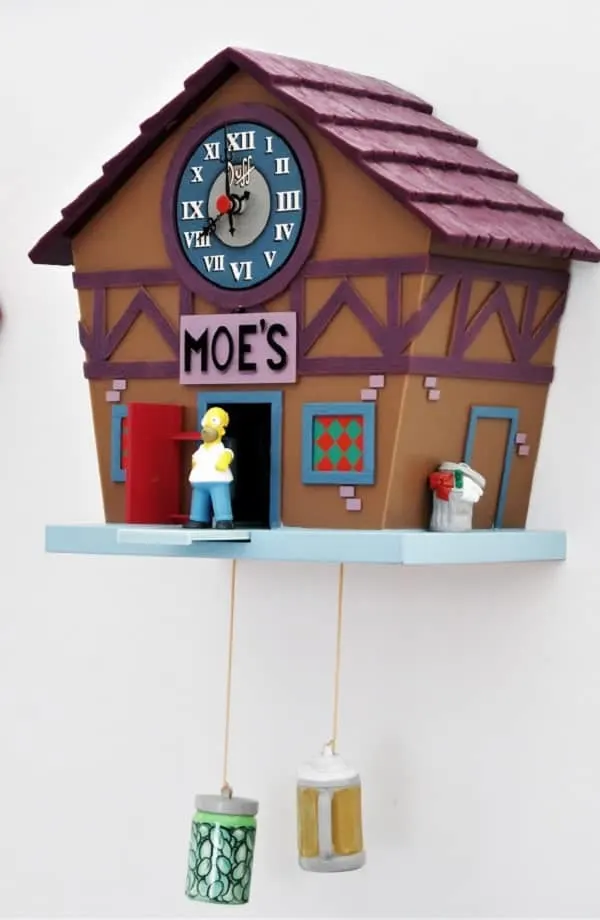 How could you not fall in love with this Cuckoo Clock featuring Homer Simpson?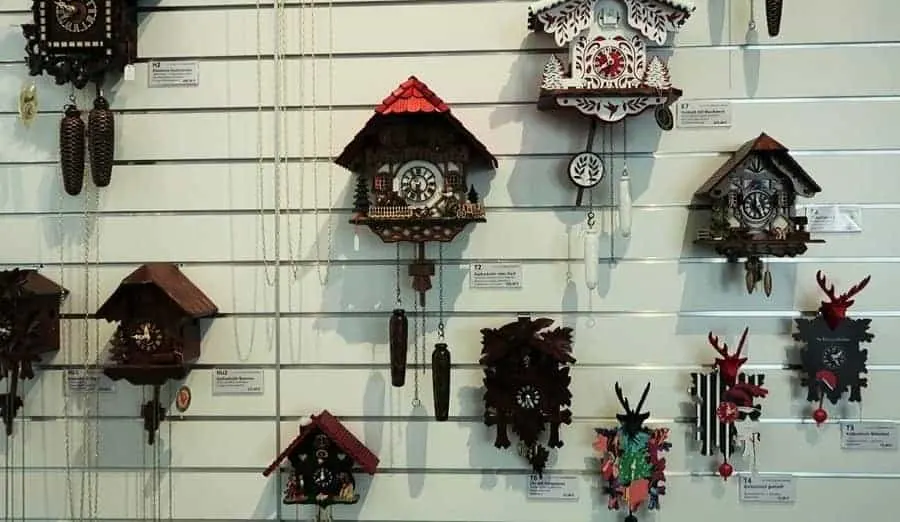 Gift Shop
The German Clock Museum in Furtwangen also has a small gift shop, where you can buy gifts for yourself or loved ones. They have a limited supply of clocks and honestly, you are better off buying them from a store that specializes in Cuckoo Clocks if that is something on your souvenir list.
If you're in the Black Forest region, visiting this clock museum is a great way to understand how clocks have developed over time. It's a beautiful museum and not something you see every day.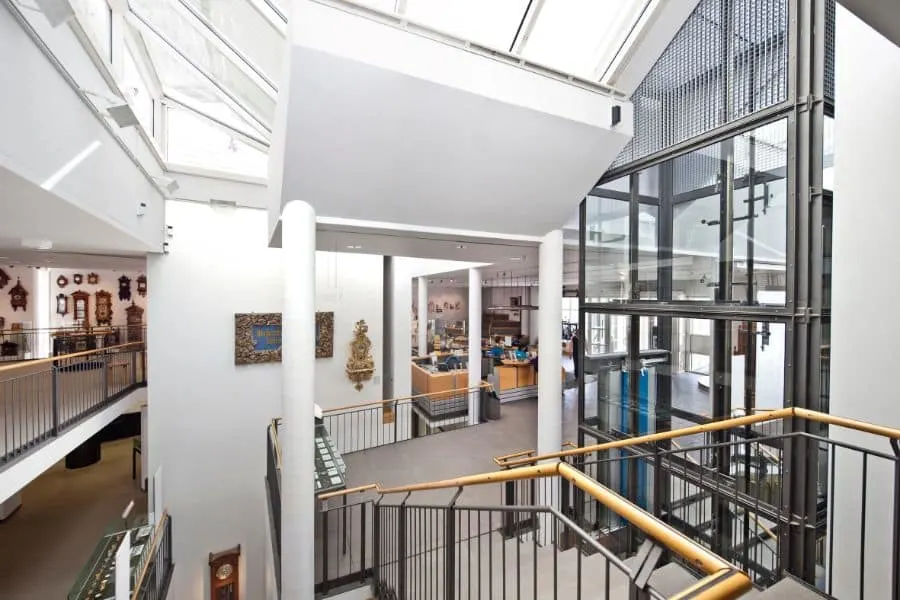 Visiting the German Clock Museum in Furtwangen
Hours
April-October: Tue-Sun, 9:00-18:00
November-March: Tue-Sun, 10:00-17:00