We may earn money or products from the companies mentioned in this post. Read our disclosure policy.
When travelling abroad with children, you may find it difficult to find a restaurant that both you and your children will like. We happened upon Giraffe World Kitchen in Brunswick Square when we were in London and were thrilled with the atmosphere, menu and service.
As walk ins, we found that we were immediately seated and had a server take our drink order.  We decided to try the Sunshine Coast Iced Tea.  It is ice cold chamomile  & green tea mix with mango, lime & a sprig of fresh mint. Absolutely delicious.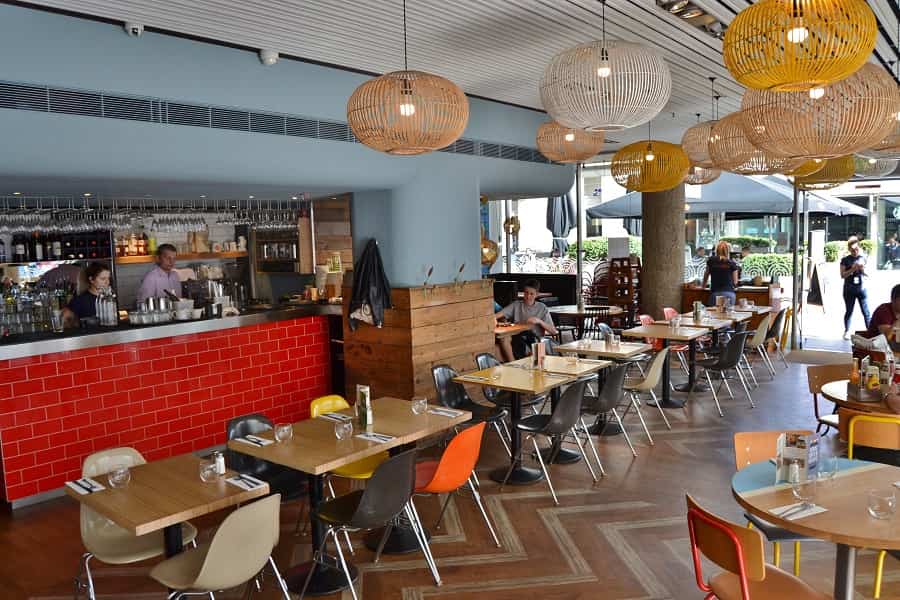 Giraffe World Kitchen is contemporary, bright with great natural light. There is table seating and small booths that are spaced appropriately so that you don't feel like you are on top of each other.  At the Brunswick Square location, there is some outside seating available, but only for small parties of 2-3 people.
Take time to look over the menu. You will find it filled with both exotic and mainstream cuisine; flavors of Asia, India, Mexico and more. Choose tapas to share or reasonably priced main dishes.  There is a little bit of everything for everyone and plenty of healthy options too.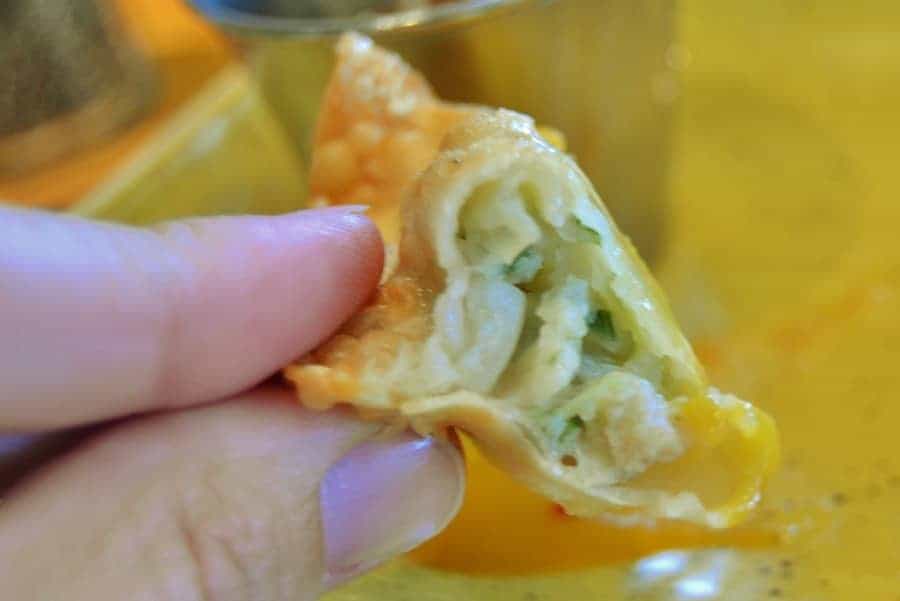 For our meal, we decided to split 3 tapas.  The first one we had was the Yaki Gyozas. These deep fried chicken dumplings with orange & miso glaze come with a nuoc cham sweet chilli sauce that is out of this world. Crispy on the outside and tender on the inside.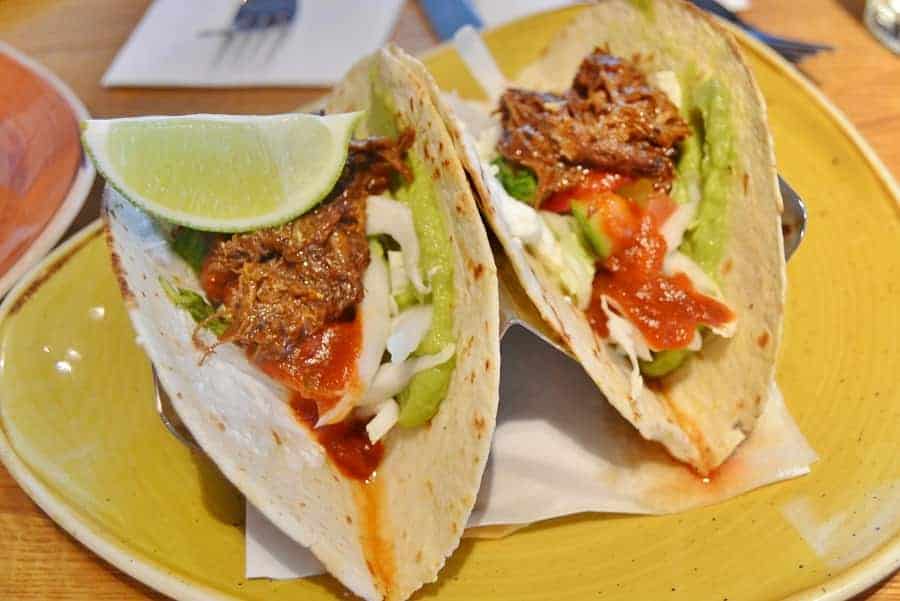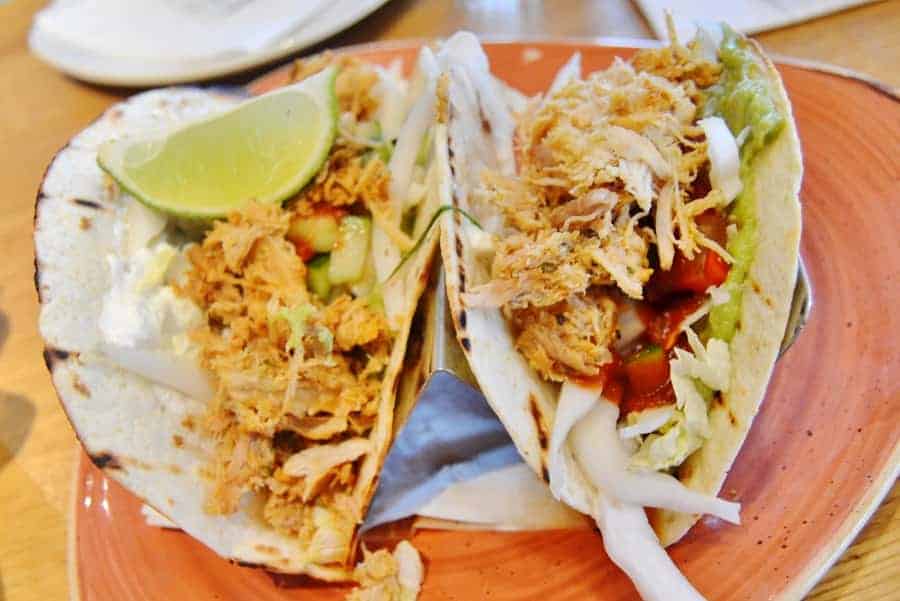 We also ordered the Shredded Chicken & Barbacoa pulled beef Tacos.  We received two of each and found them extremely flavorful. The only thing that I didn't enjoy was the shredded root vegetable that was added to the tacos. I'm not sure what it was, but it was shaved too thick and the texture (although crisp) was too much.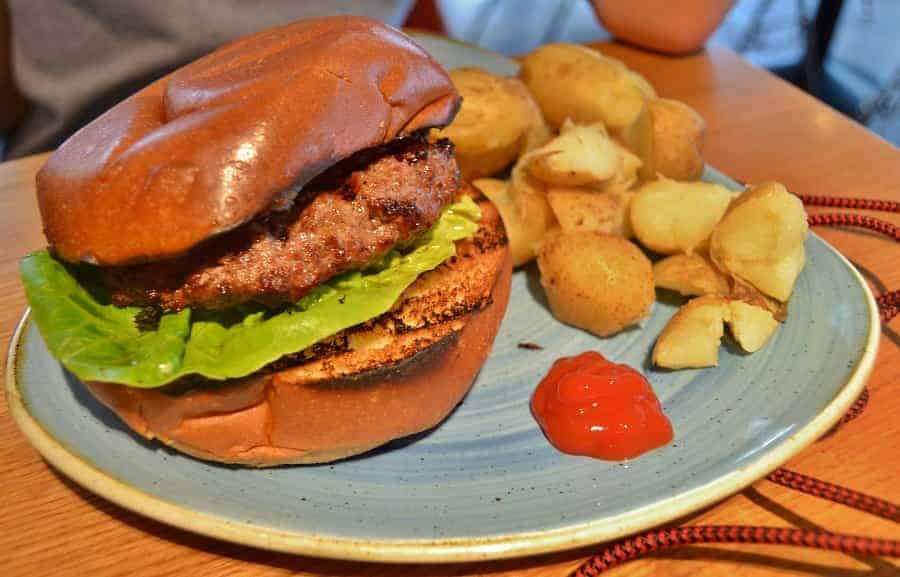 The kids meal are a really great deal. For £6.95, kids get a great meal that comes with a drink and dessert. Our kids chose the beef patty in a brioche bun with baby gem, tomato and jacket potato wedges & the Grilled Chicken Breast with salad and bread. Both ended the meal with Churros.
Everything we had at Giraffe World Kitchen was delicious and it was nice to be able to find a restaurant that the entire family enjoyed!
Do you have a favorite family friendly restaurant when travelling abroad?