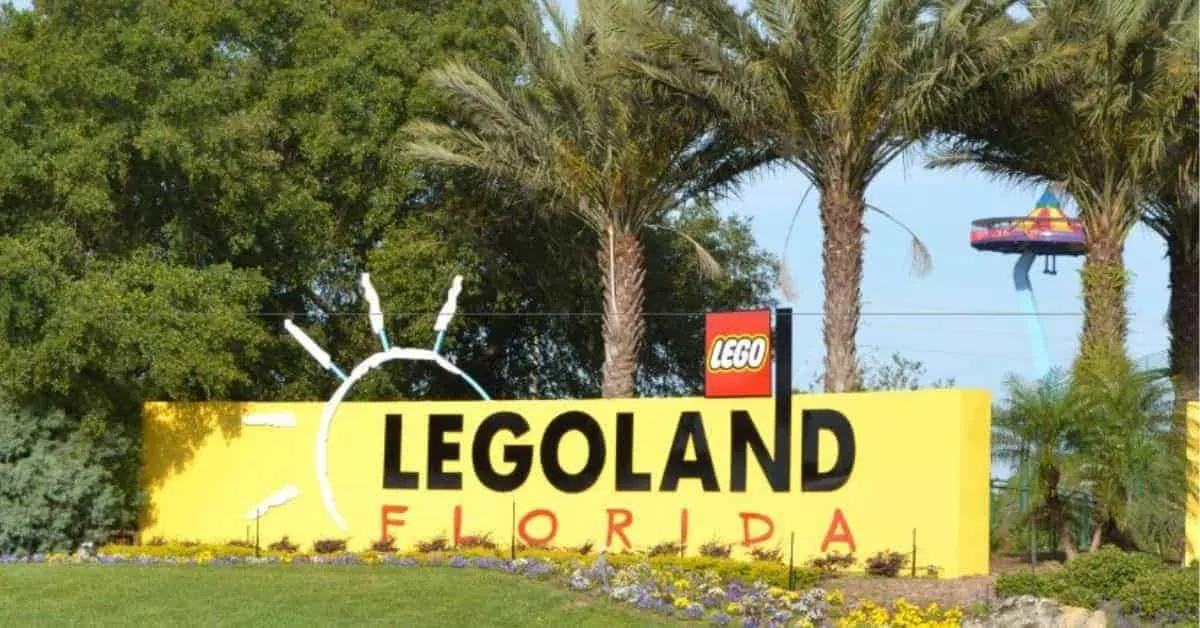 If you are looking to do something other than Disney parks while you are in Orlando, check out LEGOLAND Florida located in Winterhaven which is just an hour away. This park is a LEGO lovers dream filled with LEGO structures, rides and characters from the popular LEGO movie. Along with park information, we also have some great LEGOLAND Florida tips to share with you.
Things to do at LEGOLAND Florida
Meet LEGO Characters!
If your kids are fans of the LEGO movies, they are going to have a blast meeting some of the popular movie characters! While you can find LEGO characters throughout the park, the best place to visit them is in Buddy's Character Corner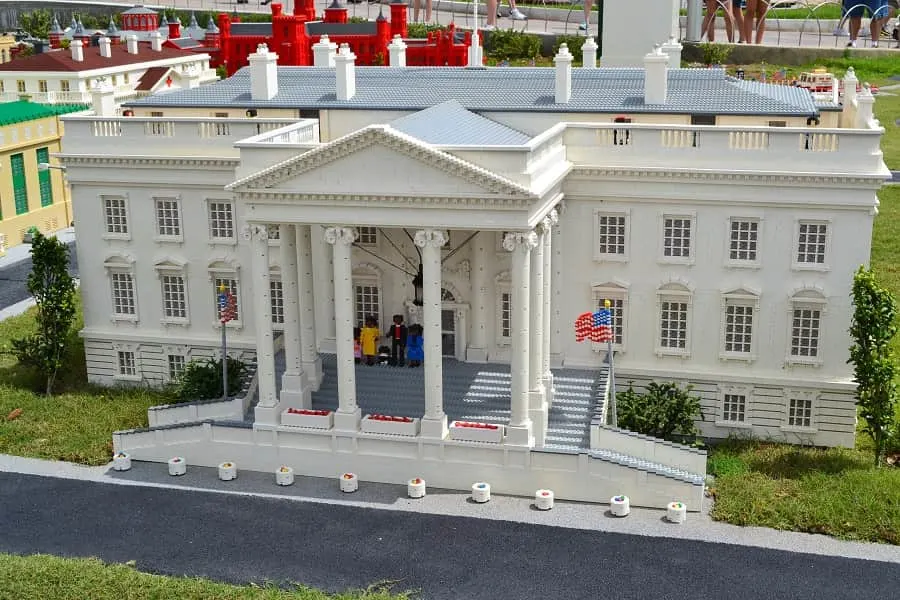 LEGO Mini Land USA
LEGO enthusiasts will love to see all the different things that the LEGO experts have built for the displays. There is an entire section just on Washington DC.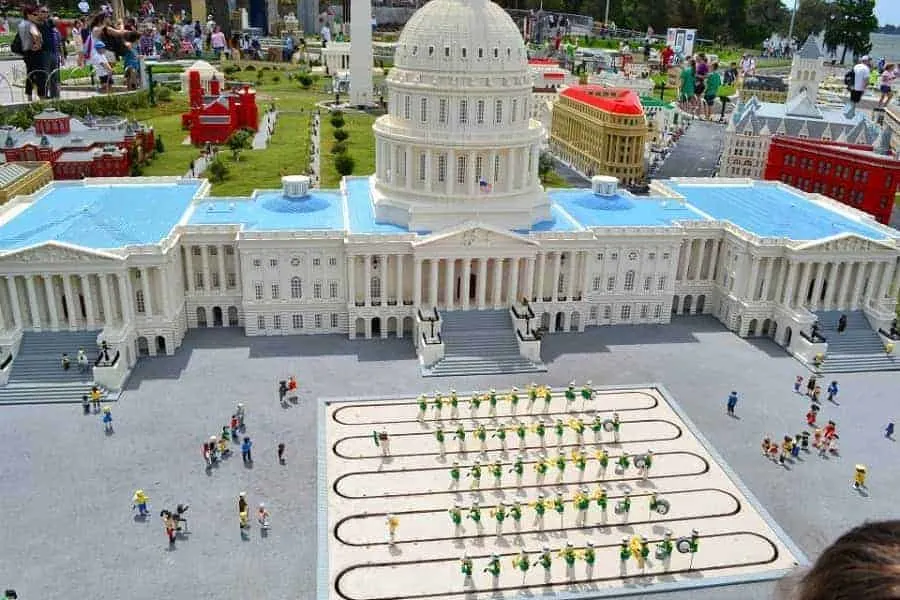 Not only will you find the White House, but you will also find LEGO Displays featuring the Capitol, National Memorials and parts of Georgetown.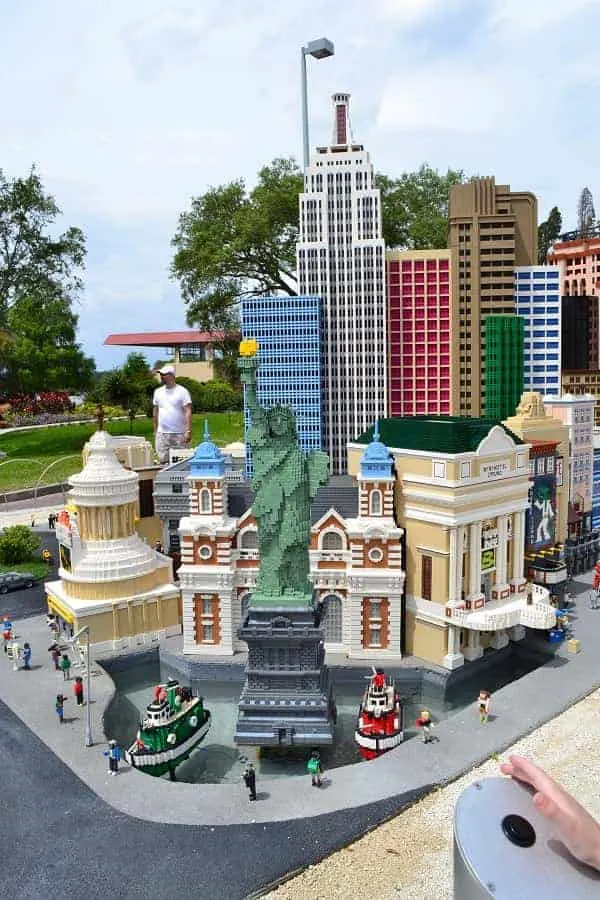 Besides Washington DC, you will find other popular destinations like New York City, Las Vegas and California, Take time to explore because there are neat things to see around every corner.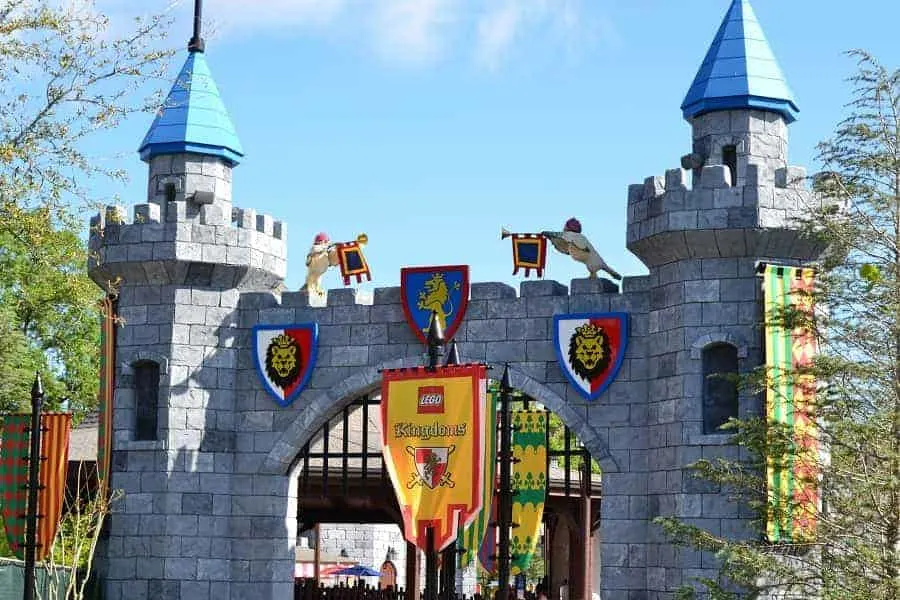 LEGOLAND Family Rides
This park isn't just for looking at LEGOS. You are going to also find that LEGOLAND Florida has some pretty cool rides!
There are rides for all types of theme park guests.
Best part is that they are all family friendly! Nothing scary about these rides.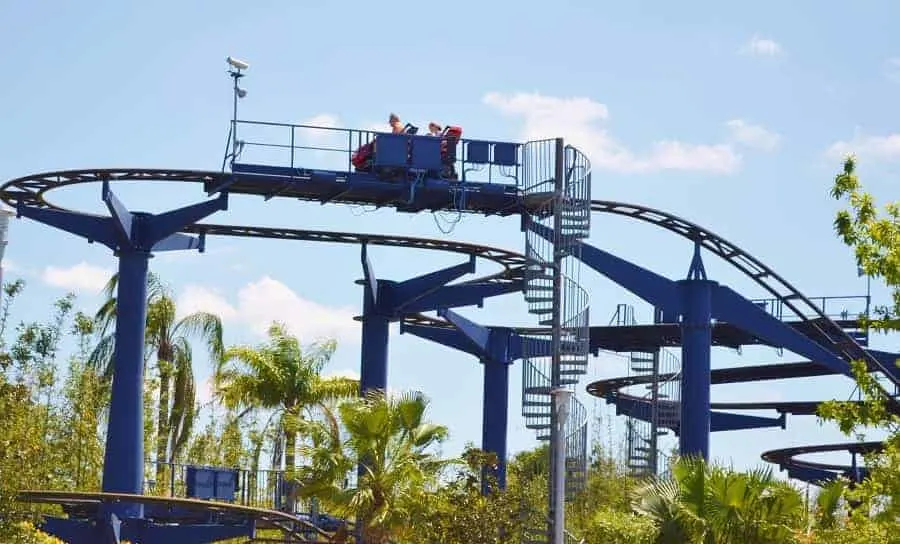 LEGOLAND Thrill Rides
While the rides aren't scary, there are some that do offer a thrill factor.
This thrill ride is the Great Lego Race VR coaster where you wear VR glasses that take you on cartoon like video game adventure while you also ride a real coaster.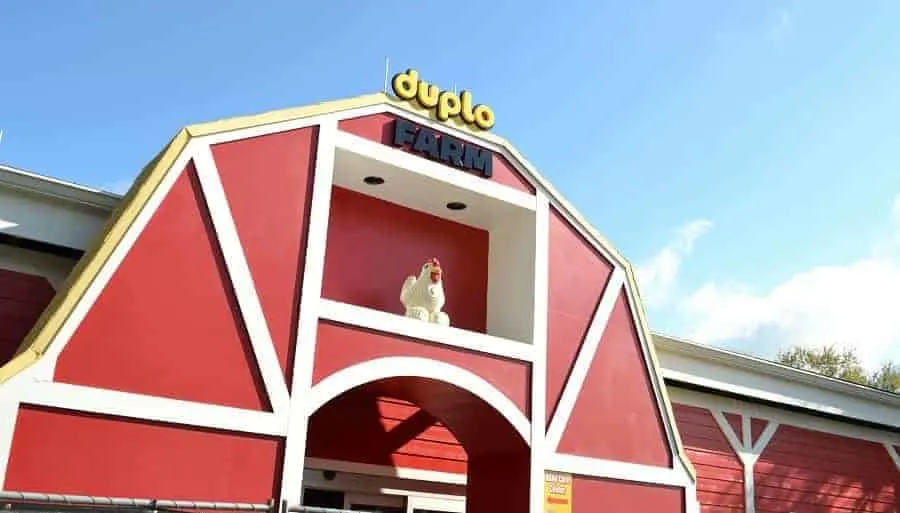 LEGOLAND Toddler & Preschooler Fun
Worried there might not be anything for your toddler? There is an entire area dedicated solely to little ones… and it is air conditioned.
Little ones will also enjoy riding a train or just playing with Duplo Blocks.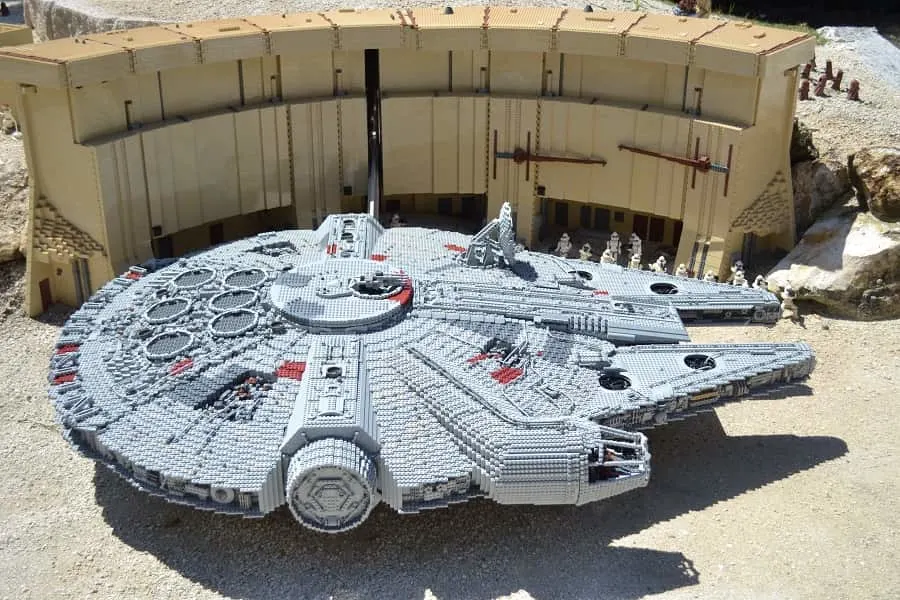 LEGOLAND fun for Star Wars Fans
Star War fans will be glad to know that LEGOLAND Florida park has a Mini Land section just for Star Wars.
It has EVERYTHING Star Wars; characters, vehicles, lands… It is a Star Wars fans paradise!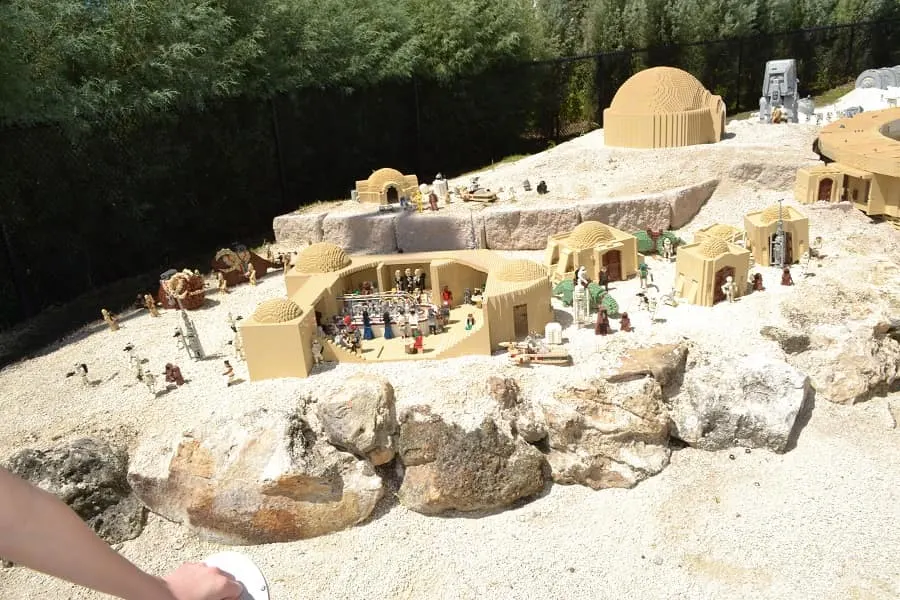 Part of it is even interactive, where you can push buttons to activate sounds and movement. It is very cool!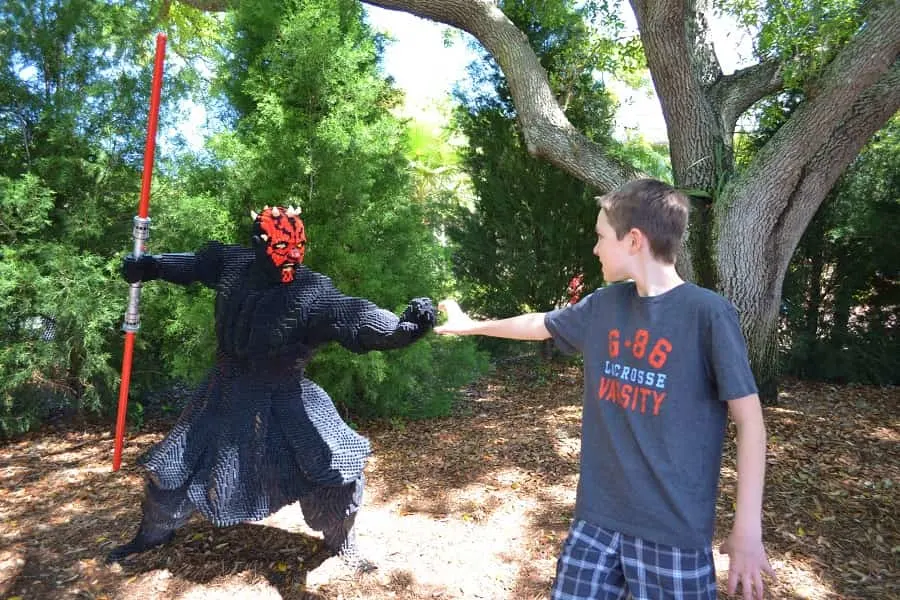 You will also find life size Star Wars characters made completely out of LEGOS!
7 LEGOLAND Florida Tips for Families
Best age to go to LEGOLAND Florida is ideally 6-12. Children between these ages who are already fans of LEGO movies and toys are going to have a blast. Younger children will probably have fun too, but if you really want your kids to fully enjoy the park experience, 6 is a great age to bring them.
Bring your own food. The food at the parks is not great so one of our favorite LEGOLAND Florida tips is to bring food and drink with you to the park. It will save you time and money! We love packing sandwiches, snacks and bottles of water in these soft coolers that fit in our backpacks.
Bring LEGO mini figures. If you have some around the house that are collecting dust, a cute thing that employees do is trade mini figures that they wear on their name tags!
Check the show schedule. There aren't that many show times and the shows are really well done. Make sure that you plan your day according to the shows so you don't miss out.
Use the package pick up system when you buy your souvenirs. You can have them send your purchases to the front of the park (as long as you don't wait until the last minute to buy your goodies).
Keep an eye on the park hours for your visit. While open most days, the days & hours depend on the time of year.
Get the Best Ticket Price for LEGOLAND Florida. You will find that a day at LEGOLAND park Florida is very affordable. LEGOLAND typically throws out deals through out the year, so be sure to do some searching before you pay full price for a ticket. Tickets are most expensive at the gate, so one of our best LEGOLAND tips is to buy your tickets for LEGOLAND online. We encourage you to check the prices with Undercover Tourist as they tend to be the lowest around!
LEGOLAND Florida Hours
Opens at 10am
Closes between 4pm and 7pm depending on the time of the year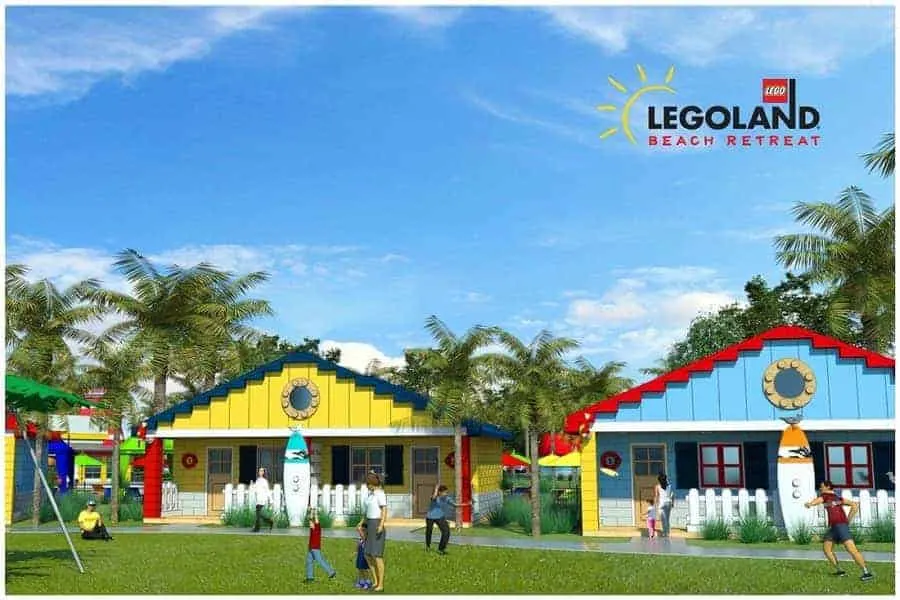 LEGOLAND Florida Resorts
LEGOLAND Florida Hotel
Give your kid the ultimate Lego experience and stay in their five-story, 152-room LEGOLAND Forida Hotel! Inside you will find over 2,000 LEGO models! This place is built for kids and has plenty to do to keep them busy.
Choose from 4 LEGO themed rooms: Pirate, Adventure, Kingdom and LEGO Friends.
All stays at LEGOLAND Florida hotel include interactive LEGO features throughout the property, a FREE hot breakfast buffet, nightly children's entertainment and an in-room treasure hunt. Children can also meet a Master Model Builder and follow step-by-step instructions to build their own LEGO souvenir.
LEGOLAND Beach Retreat
LEGOLAND Beach Retreat is the resorts newest hotel. You will find a beach-themed bungalow, each centered around an outdoor play area, with LEGO themed rooms!
All guests will enjoy the FREE hot breakfast and access to LEGOLAND Florida park with FREE shuttle transportation and FREE parking.
It is Worth the Drive to go to LEGOLAND Florida?
Yes, LEGOLAND park Florida is just an hour outside of Orlando and makes it a great place to spend the day. But if you would like to stay for more than one day, you can do that too as LEGOLAND has both an amusement park and a waterpark for guests to enjoy.
Have you been to LEGOLAND park Florida? Do you have any LEGOLAND Florida tips to share?