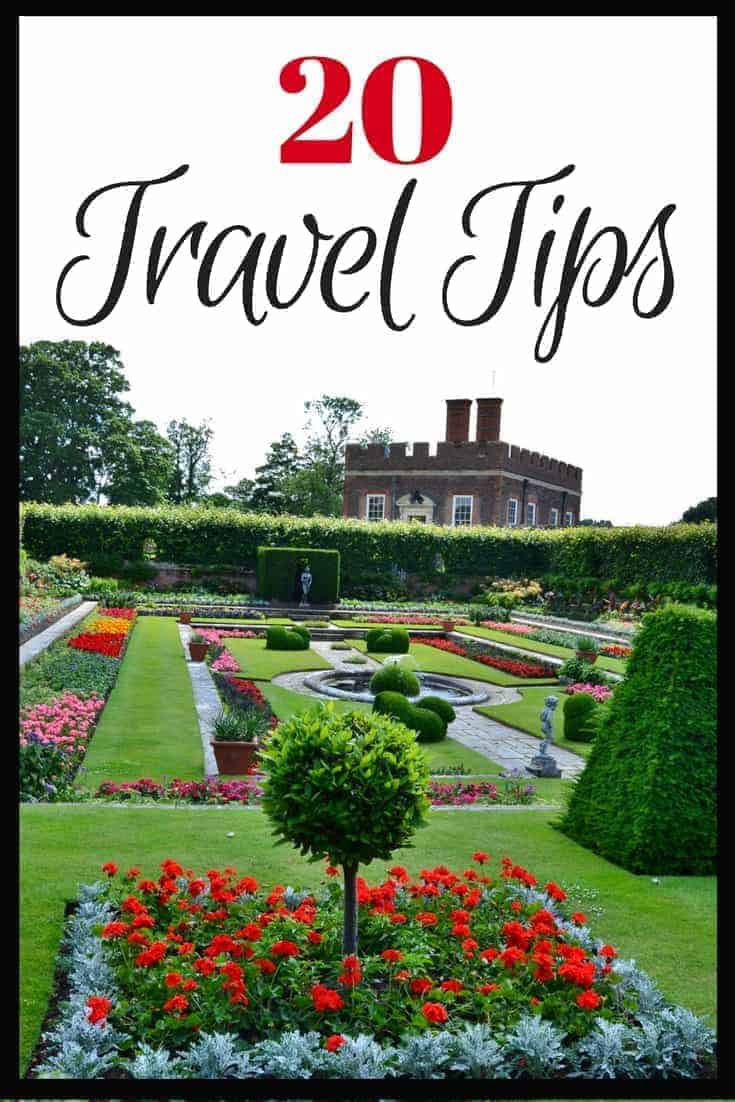 Are you getting ready to set out on your first major vacation out of the country? It is easy to be overwhelmed by all of the information and travel tips out there! We've been to more than a dozen different countries and have learned a lot from our adventures. In order to pass on what we've learned, we've come up with 20 travel tips we feel that everyone could benefit from knowing. We hope you find it helpful!
20 Travel Tips that Everyone Should Know
Take a picture of your travel documents and make sure that you download them to a 3rd party hosting site like OneDrive so you can access them from ANYWHERE.
If you are flying during a time when you know you will need to eat, grab a sandwich, chips and drink to take with you on the flight. If you wait until you are on the plane, you will pay at least 3x more.
Be sure you have gum for the flight. That air pressure can do a number on your ears! The chewing movement can help with that.
Choose a hotel that has free WIFI. There is no reason in this day & age you should be paying for WIFI, especially when you are travelling abroad.
For those travelling on red eye flights, invest in a travel pillow, earplugs (earbuds work fine too) and eye mask.
Pack Smart. Use things like space saver bags and travel cubes. It will help you stay organized and it will keep your clothes from being a wrinkled mess.
Attach a bright sticker or luggage tag to your checked luggage. This will help you find it amongst the other similar bags on the luggage turnstyle.  Also be sure to write your address with permanent marker on the interior of your bags in the event that the luggage tags fall off. If your luggage goes missing, you will have to describe your luggage and its contents. When in doubt, take a picture of your bags.
Always pack a bathing suit. Even if you don't think you need one, you should have one just in case.
Take more than one credit card and make sure you know the PIN in the event you should need to pull out cash in a foreign country. Also let your credit card company know where you will be travelling prior to your trip.
Hide emergency cash in a place no one would look inside your suitcase. This is your backup in case you get pickpocketed or robbed.
Download city maps through Google and FREE audio guides to sites and cities. Rick Steves has great audio guides!  It is so much more convenient to have your audio guide on you rather than have to stand in a line (or pay) to get one!
Purchase a CityPass if available. If you are going to a big city and planning to hit popular tourist attractions, you will save a ton of money by purchasing with these all-in-one tickets.
Invest in quality walking shoes and wear them for 2 weeks prior to your trip to break them in.
Have an emergency plan. In the event that something happens while you are travelling, make an action plan. It is also a good idea for those travelling abroad to know where their Nation's embassy is located along with the phone number.
Americans can enroll in the State Department's STEP (Smart Traveler Enrollment Program) which allows you to upload your travel details (where you are going, where you are staying) as well as your emergency contact information.  They will make it available to the local US Embassy/Consulate. This way you take out all of the guess work if a true emergency arises.
Avoid traveling with liquid when you can. There is a high likelihood that something will leak and ruin your clothes or other packed items. LUSH has a great line of solid soaps, shampoos and even toothpaste.
Bathrooms can be difficult to find in Europe, especially public restrooms that are free. ALWAYS have coins on you in case you have to pay to pee.
Pack hypoallergenic, bedbug-proof, encasement pillowcases.  You will probably sleep on a pillow during your stay right? Want to make sure you have a clean place to lay your head? These pillowcases are easy to pack and will keep your face clean.
If you MUST pack a water bottle, get one that also filters the water. Clean tap water can be hard to come by in Europe and who wants to waste all that money on bottled water???
Bring one suitcase for souvenirs. There is nothing worse than cramming all your things into a suitcase only to realize there is no room to bring back treasures from your trip. Make sure you have a small (even a carry on) bag that is filled with things you will use while you are away (snacks, magazines, toilet paper) so that you can replace with the things you purchase.
Do you have any travel tips to share?