(We may earn a commission via affiliate links in this post. Read our full disclosure policy.)
Located 50 miles from the Atlantic Ocean and just off the Pamlico Sound sits North Carolina's first incorporated town, Bath. In the 1600's, French Huguenots arrived from Virginia and set up the first working port in the state. With its location on the water, it made Bath, NC a perfect spot to trade fur and tobacco…. and pirates.
North Carolina has steep ties to Edward Teach, or as he is also known, Black Beard.
Black Beard lived in Bath for a short time and his ship, the Queen Anne's Revenge, actually ran aground near the coast of Beaufort, North Carolina.
You will find stories and artifacts tied to Blackbeard throughout the town of Bath.
What You'll See in Historic Bath, NC
Bath is a quaint little community that is full of history that goes beyond just pirates.
It has the oldest church in the state and a National Historical Landmark, The Palmer-Marsh House.
If you are looking for a day trip to the eastern part of North Carolina, you won't want to miss seeing historic Bath.
Palmer-Marsh House
In 1753, 28-year-old Robert Palmer, a lieutenant colonel in the British army, sailed from Scotland to Bath and became the surveyor general of the colony.
His family lived in the home for many years. During the early 19th century, the home was owned by the Marsh family who were ship merchants from Rhode Island.
This home is one of the oldest surviving dwelling houses in North Carolina.
It is currently undergoing restoration and tours are available through the visitor's center.
S Main St, Bath, NC 27808
Land of John Lawson
Lawson arrived in Bath around 1700 and left the most important historical document on the area in his work, A New Voyage to Carolina which documented his trip to North Carolina and his time in Bath and surrounding area.
While his house no longer remains, you will be able to see where it once stood.
Joseph Bonner House
In 1830, Joseph Bonner purchased the land on which John Lawson's house once stood and built his own home with sprawling front porch to overlook the sound.
It is one of the best remaining examples of early Carolina architecture with pine floors, hand-blown glass window panes and hand carved mantles.
Guided tours of the property are available.
200-216 Front St, Bath, NC 27808
Van Der Veer House
This house once owned by a prominent banker (Jacob Van Der Veer) was constructed around 1790.
It features a gambrel roof and double-shouldered Flemish bond chimneys.
The interior is open to the public and features information and artifacts from the time period.
207 Carteret St, Bath, NC 27808
Glebe House
Built around 1827, what's known as the Glebe House was owned by Dr. John F. Tompkins in the mid 1800's. Tompkins was an agriculturalist and founder of the North Carolina State Fair.
This home is now occupied and not available for tour.
St. Thomas Episcopal Church
Consecrated in 1734, this church is the oldest in the state of North Carolina.
The first clergyman was Garzia (of Spanish origin) who took no salary for the first 4 years, spoke little English and yet baptized 635 people in the church's first year.
Important artifacts from the church include Queen Anne's Bell which was cast in 1750 (and recast in 1872), a silver chalice presented to Garzia by the Bishop of London in 1738, and a silver candelabra said to have been given to Garzia from King George II.
101 Craven St, Bath, NC 27808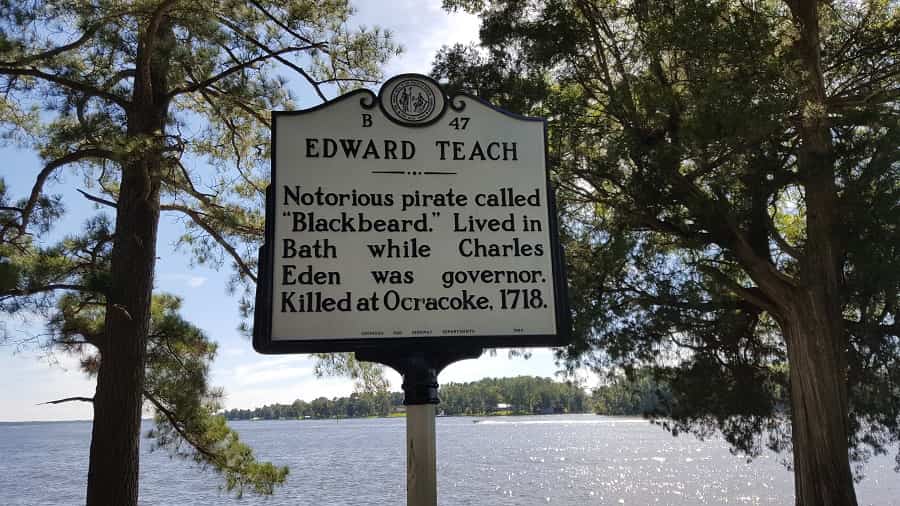 Blackbeard's tie to Bath, North Carolina
Blackbeard and his men were known to port in Bath regularly. The locals welcomed Blackbeard because his men would spend lots of money there, which was good for everyone.
When he received pardon from the King, the area of Bath soon became his home.
While the actual home has never been discovered, it is said to have been across the water from the Bonner house at Plum Point.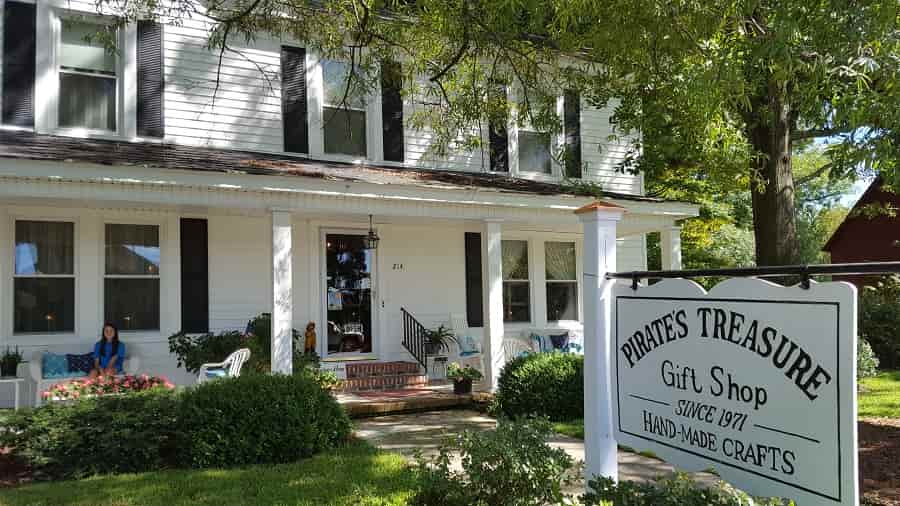 Pirate's Treasure Gift Shop in Historic Bath
Part home, part gift shop, this little place is full of treasures.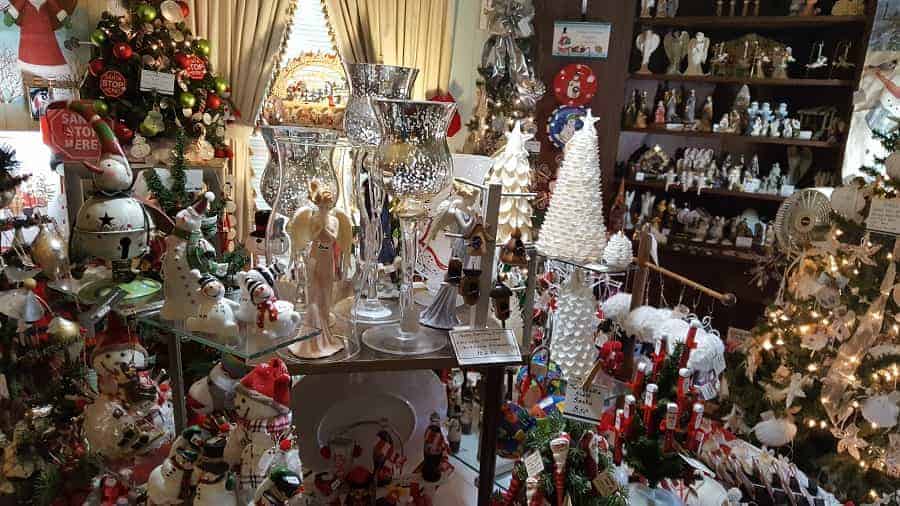 One side is purely Christmas decor, much of which is homemade from seashells (and lots of love).
The other side of the home is beachy themed knick-knacks. You will surely fall in love with this little shop.
214 S Main St, Bath, NC 27808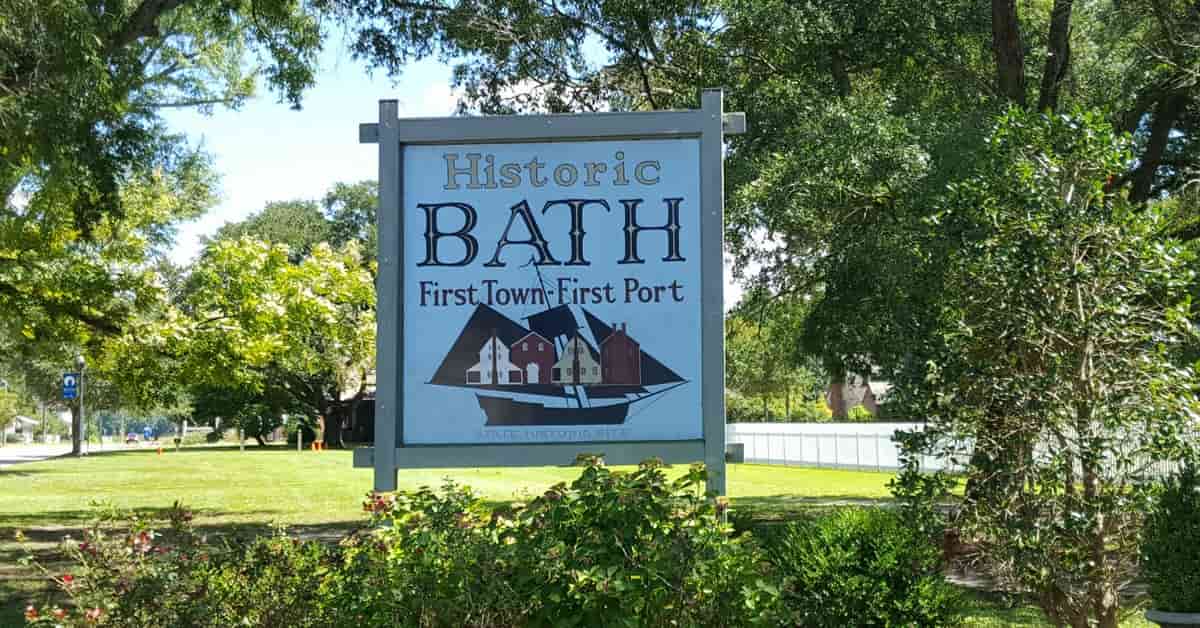 Bath is a very small town and most of the historic Bath sites are all within walking distance. You will probably only need a few hours to get the full perspective of the town.
If you choose to stay, you should consider a Bed & Breakfast in Bath that will give you a chance to stay in a historic home and be in walking distance to the sites.
The Inn On Bath Creek is a wonderful place to relax and get away. It has 4 bedrooms which are all equally comfortable.
We suggest that during your trip to Bath that you also take some time to see a few other places that are a short car ride away. Two places we think you would enjoy are Little Washington & Aurora.
Places to See Just Outside of Historic Bath, NC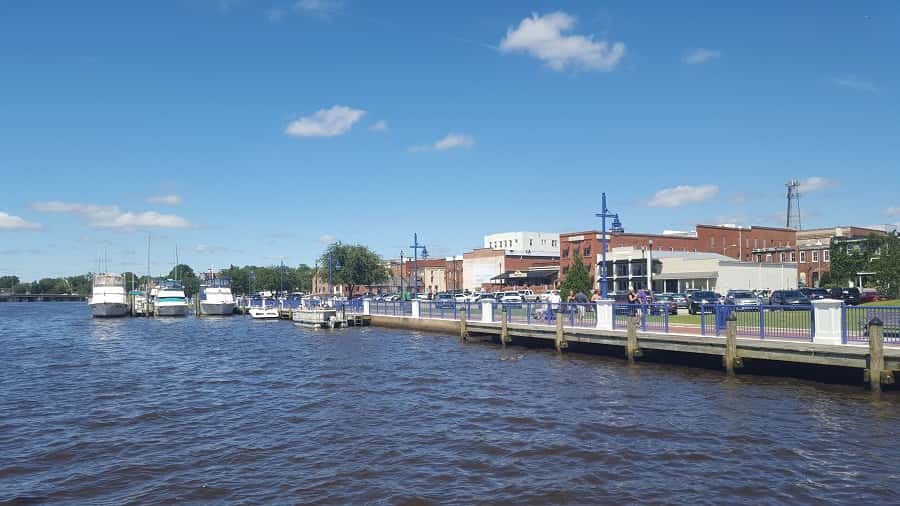 Little Washington, North Carolina
Just a short drive from Bath, North Carolina is the small town of Little Washington. Little Washington was settled in the 1770's and went by various names before landing the name in honor of General George Washington.
The small boating town has some great restaurants on the water, boutiques and a ton of antique shops in their downtown.
Be sure to stop by the Visitor's Center to get a map for the historic walking tour (although, you may be best to actually drive it rather than walk it.)
This waterfront town is charming and has it's own fascinating history that dates back to the War Between the States. On Water Street, you will find two homes dating back to the late 1700's and were used to house Federal Troops during the war.
You'll notice that both homes show signs of battle with cannonballs still protruding from the front of the homes.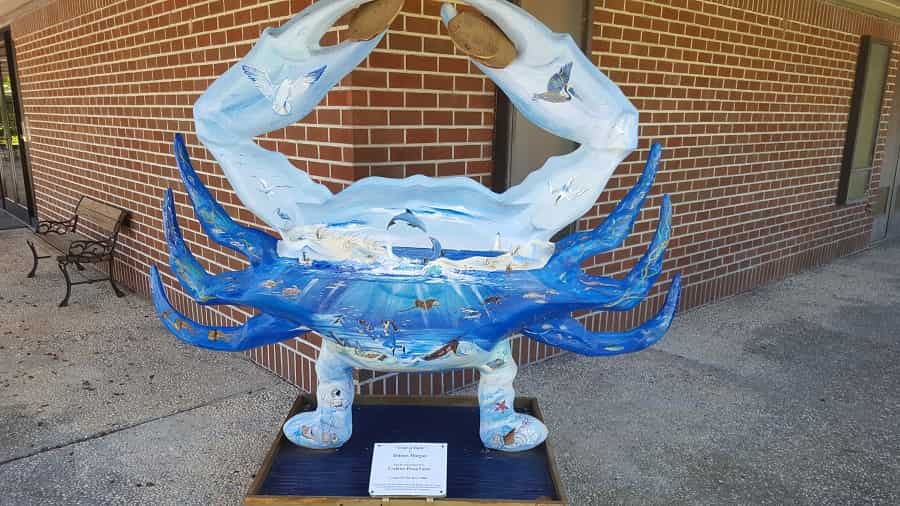 While you are in Little Washington & Bath, be on the lookout for these large Crabs on the Move sculptures.
In 2006, the city of Washington, North Carolina, funded an outdoor art project called Crabs On The Move.
There were originally over 2 dozen crabs placed throughout the town, but most were auctioned off for charity.
Aurora Ferry
Take a drive just west of Bath, NC and take the Aurora Ferry over to Aurora. The ferry is a nice way to get to the other side of the Pamlico sound and has a beautiful view.
Make sure you know the ferry schedule before you head over or else you may have quite a wait.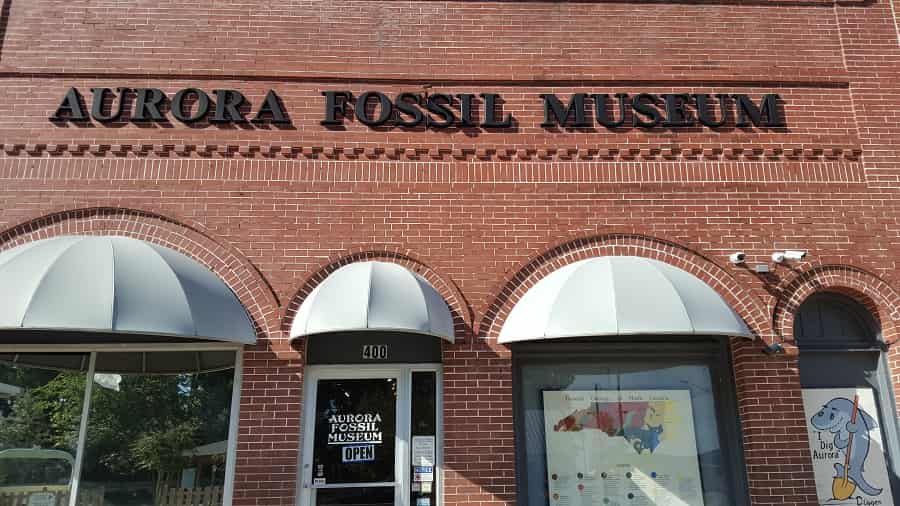 Once you get to Aurora, there isn't a whole lot to see. The main attraction is the Aurora Fossil Museum. The Learning Center has a HUGE collection of gems, minerals, and fossils plus a really cool fluorescent mineral room.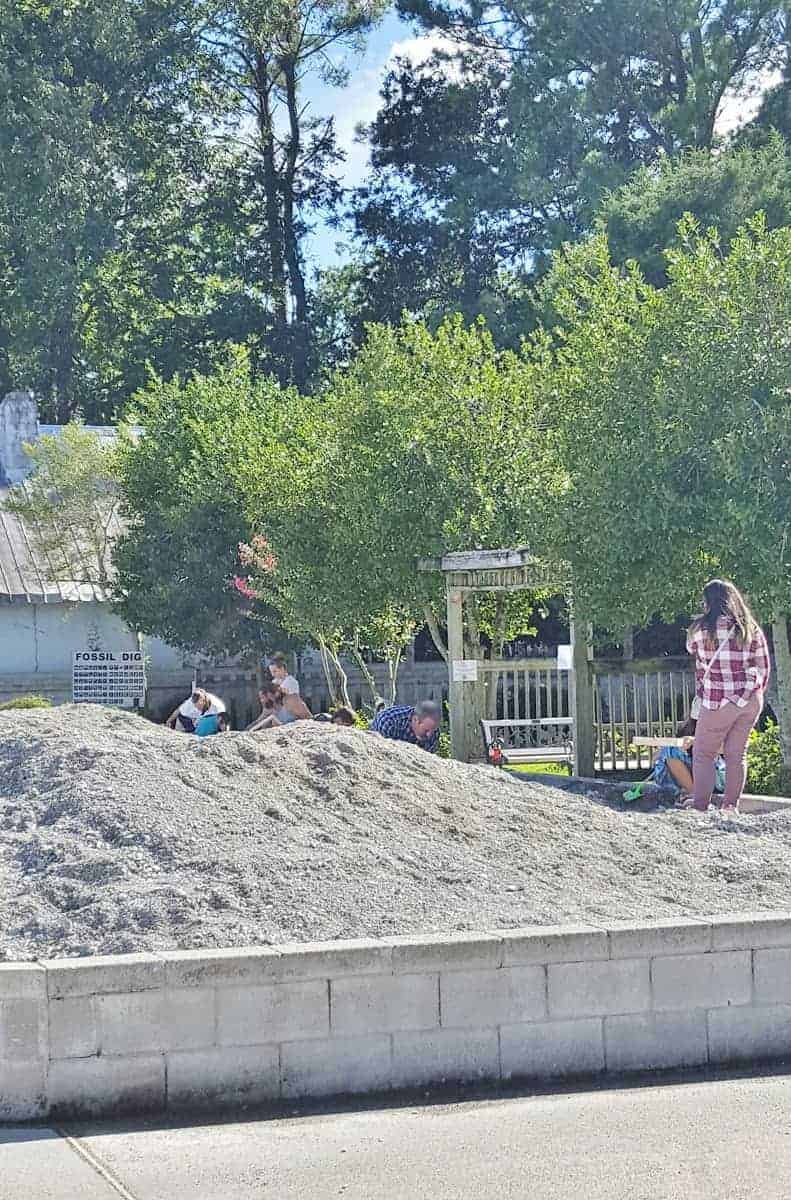 Across the street from the main museum is a few Fossil Parks where you can dig up Miocene age fossils.
The museum is free, but if you are planning to do some digging, you should bring hand shovel, sifter, and plastic bags (to take home your loot).
Have you been to historic Bath, North Carolina? Is there something that you love to do or suggest others see while there?