With its cobblestone streets and half-timbered houses, Canterbury is filled with Medieval charm. A Canterbury day trip involves learning about the Roman influence in the town, visiting one of the most famous Cathedrals in England and seeing some amazing architecture.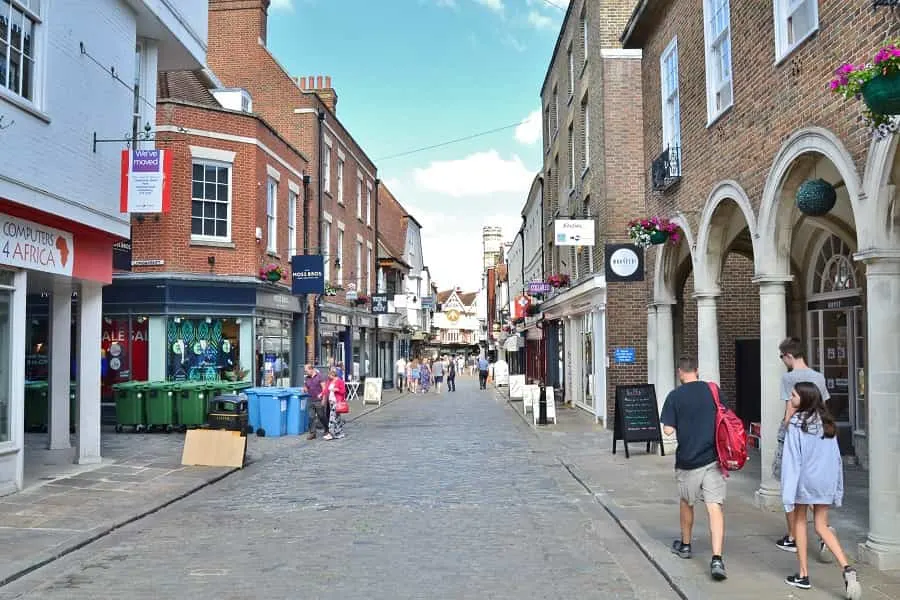 You'll find plenty of things to do in Canterbury to fill up your day and since it is less than a 2-hour train ride from London, you can easily leave in the morning and be back before dark!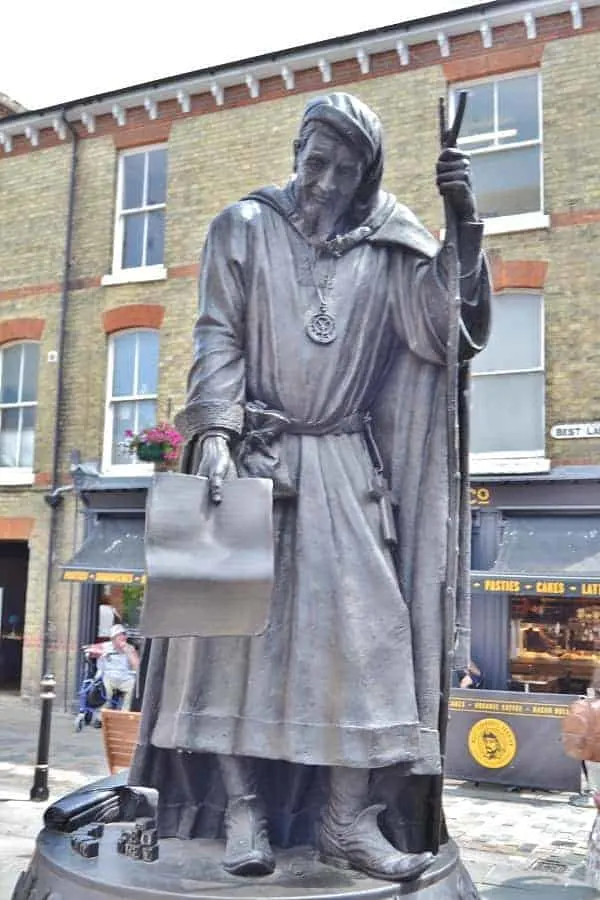 Many have an idea as to what they might find in Canterbury, based on the words Chaucer left behind in his Canterbury Tales.
The tales give you a great perspective on what life was like during the middle ages.
If you haven't read it, The Canterbury Tales is based on the humorous stories 29 pilgrims tell as they travel with the narrator to the shrine of Christian martyr Saint Thomas Becket in Canterbury.
I would highly recommend you read at least a few of the tales prior to your trip!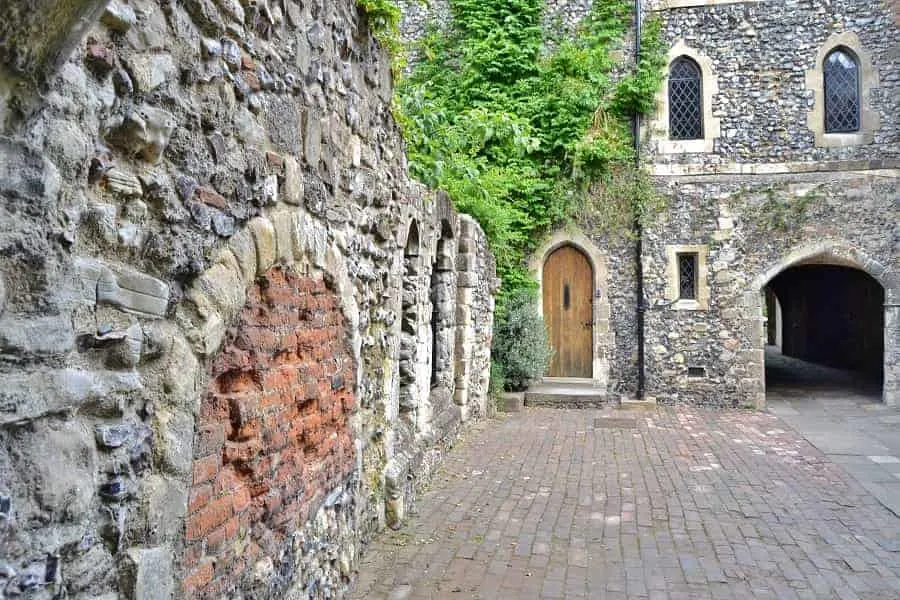 But that is only part of the history of Canterbury. This area actually dates back to the time of the Romans, and you will find evidence of this during your time here.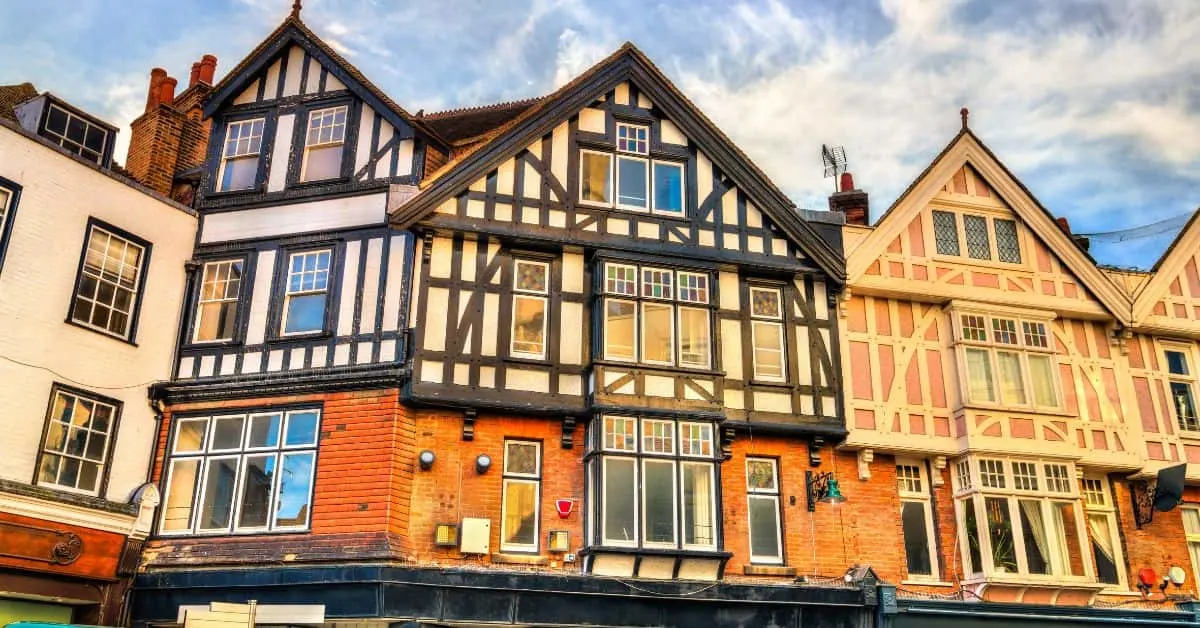 Our one-day Canterbury itinerary will allow you to learn all about the history of the town along with giving you time to explore on your own.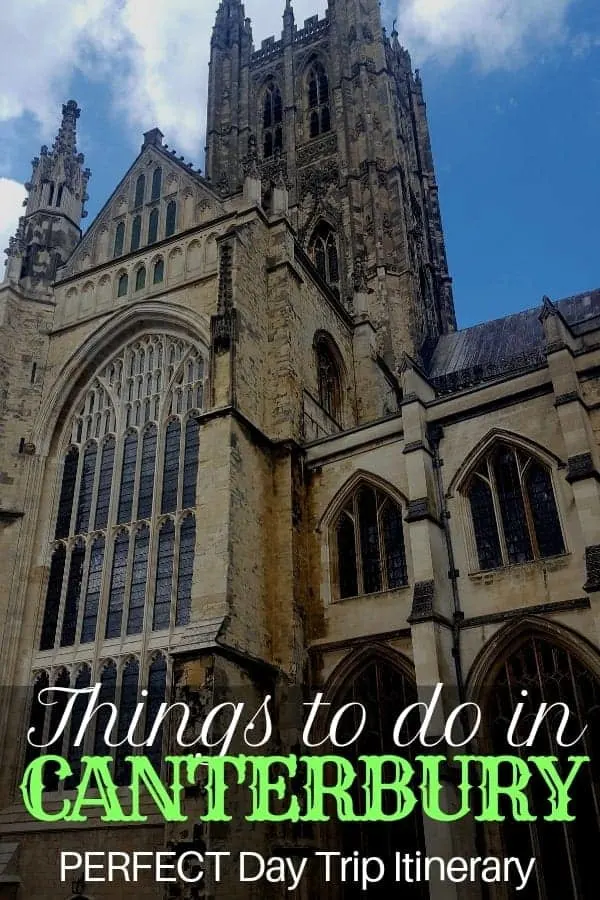 Canterbury Day Trip Itinerary
Historic Canterbury Tour & Guided City Walk
Christ Church Gate
Canterbury Cathedral
St. Augustine's Abbey
Church of St. Martin
King's School
The Crooked House
Building where Mayflower was commissioned
Canterbury Roman Museum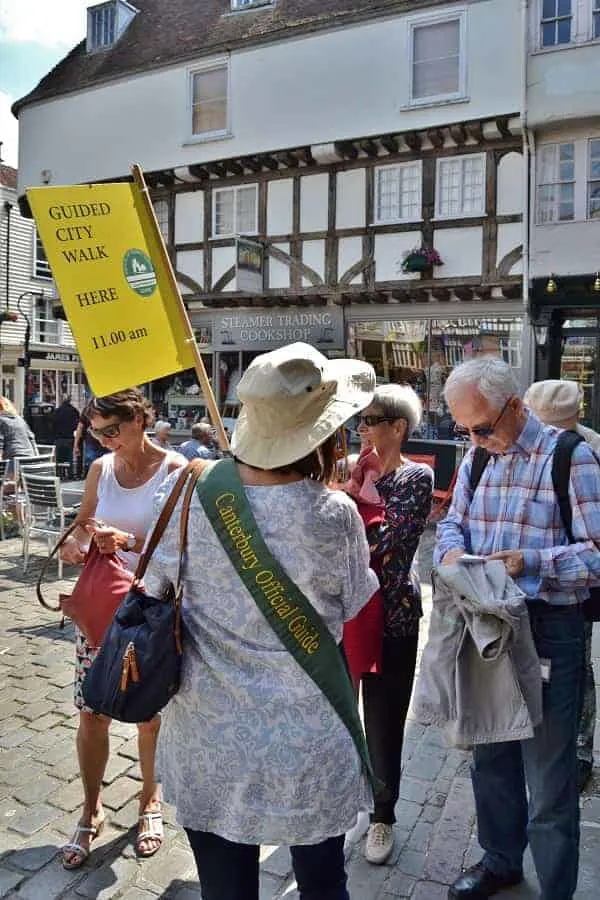 Historic Walking Tour of Canterbury
One thing we did in advance of our Canterbury day trip was book a historic walking tour of the town.
Our Canterbury tour guide grew up in Canterbury and had a wealth of knowledge about everything from architecture to the town's history.
The Canterbury tour was a little over an hour with lots of walking but was a great way to learn the history of the town.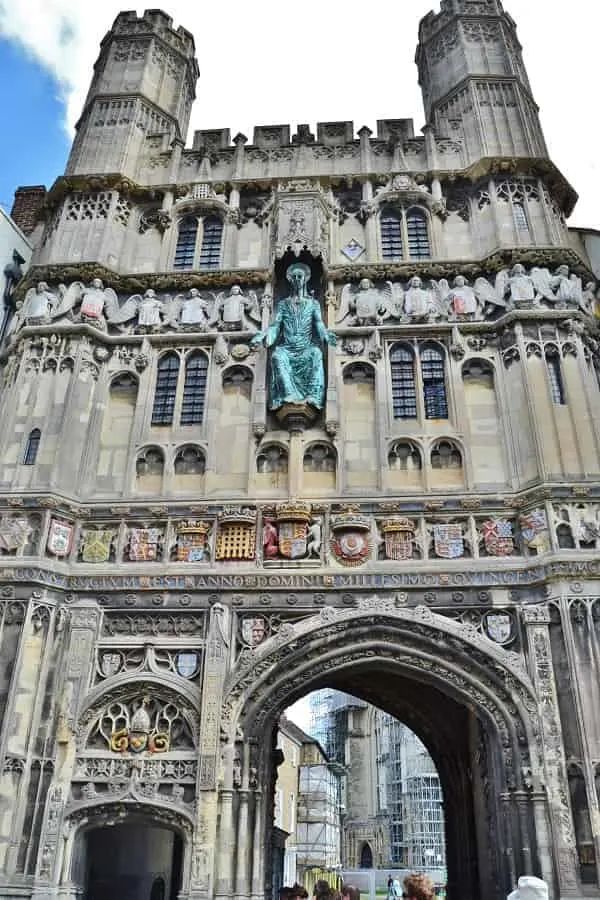 Christ Church Gate
Before heading to see Canterbury Cathedral, be sure to take some time to look at the details on Christ Church Gate.
Built during the early 16th century (there are discrepancies on the exact date). The speculation is that Christ Church Gate was built in honor of Prince Arthur, Henry VIII's elder brother.
Arthur was to have become king, but he died at age 16 (after marrying Catherine of Aragon) in 1501, leaving the throne (and his wife) to Henry VIII.
Canterbury Cathedral
Canterbury Cathedral is the Mother Church of the Anglican Communion and the seat of the Archbishop of Canterbury, one of only two in England.
It was erected in 597 above ancient Roman ruins but had to be rebuilt beginning in 1070 due to the Norman Conquest and subsequent fires.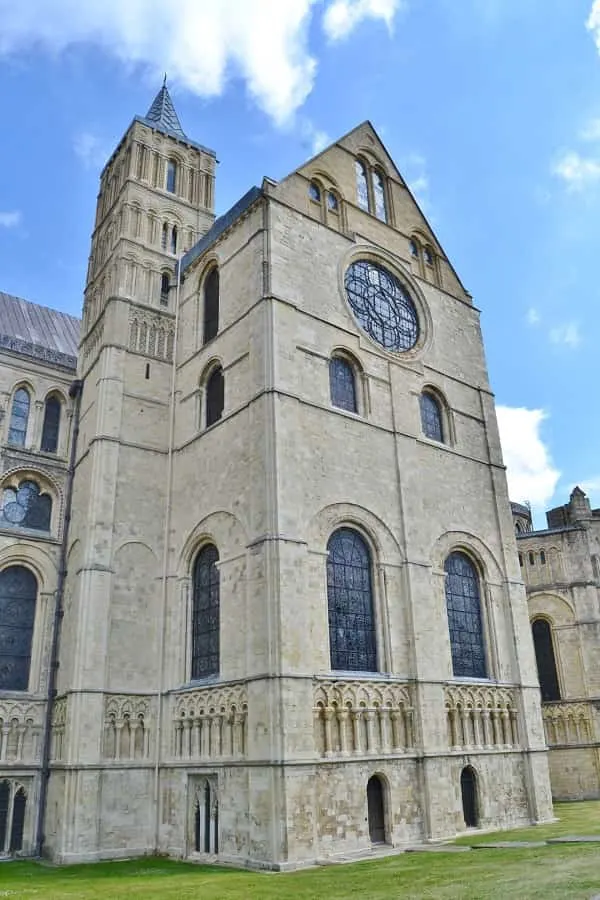 The Cathedral is built in Caen stone from France which gives the building a cream color.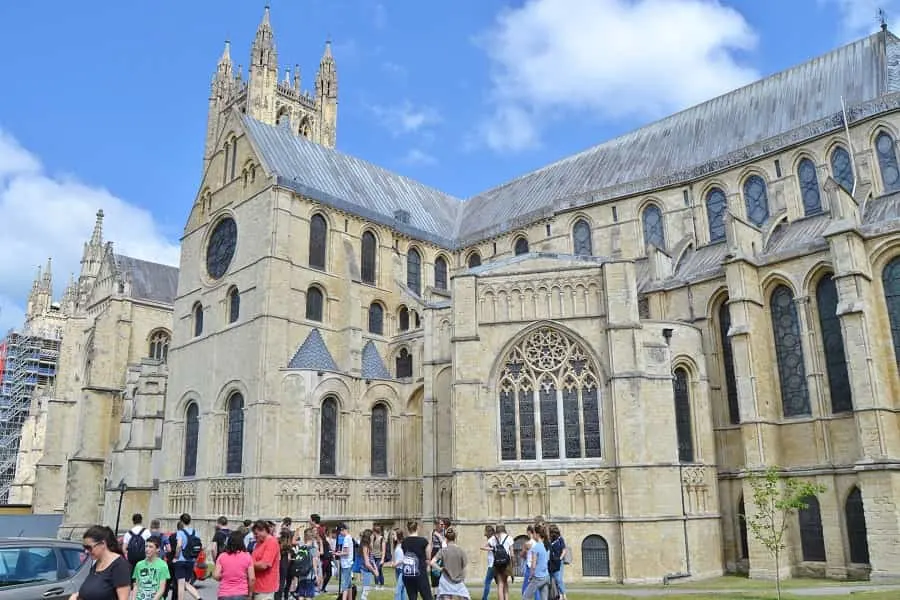 It is a place where pilgrims have journeyed since the middle ages (hence the Canterbury Tales) and its history includes such atrocities as raids by foreign lands and the murder of Archbishop Thomas Becket under the orders of King Henry II.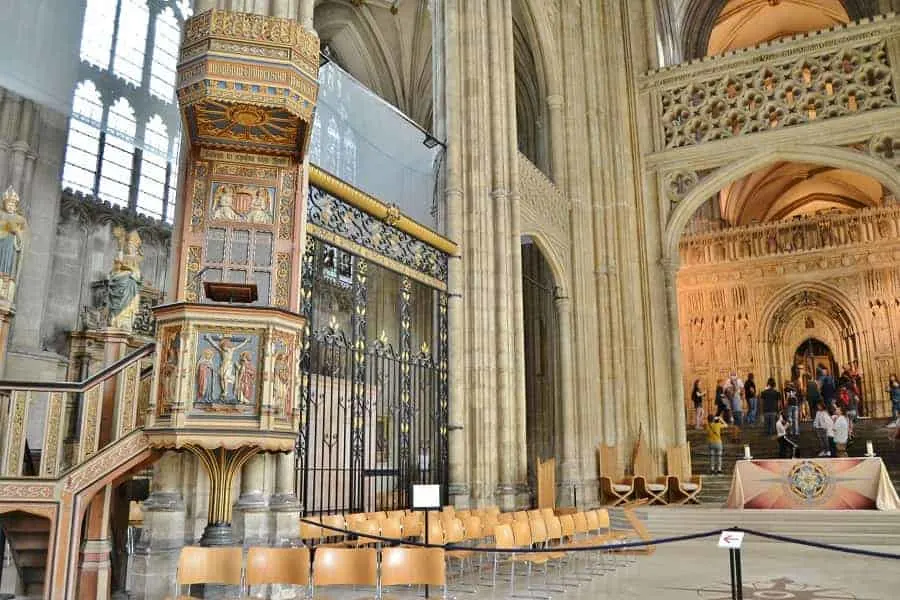 The interior of Canterbury Cathedral is a beautiful display of Medieval architecture, stonework, and stained glass with Romanesque side chapels.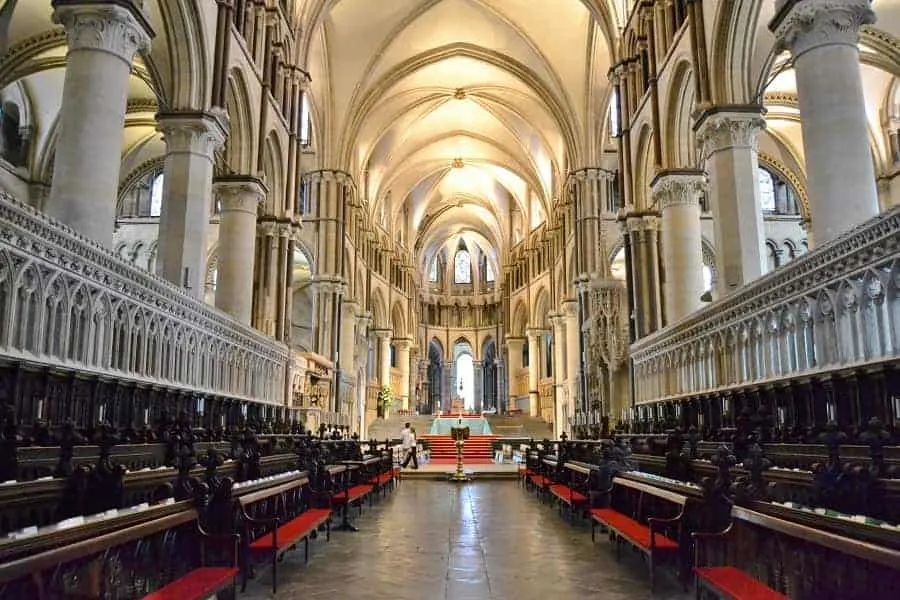 The choir and chapel at the far end were rebuilt 1175-84 after a fire destroyed much of the original ceiling and stonework.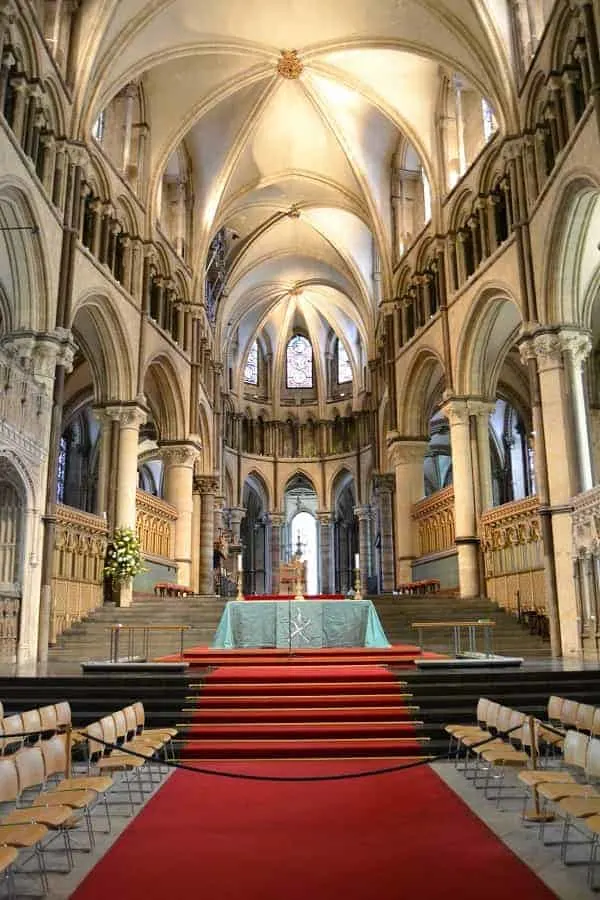 It was at this time that it was decided to extend the original axial chapel to contain a shrine of St Thomas Becket (that was later destroyed due to the orders of King Henry VIII).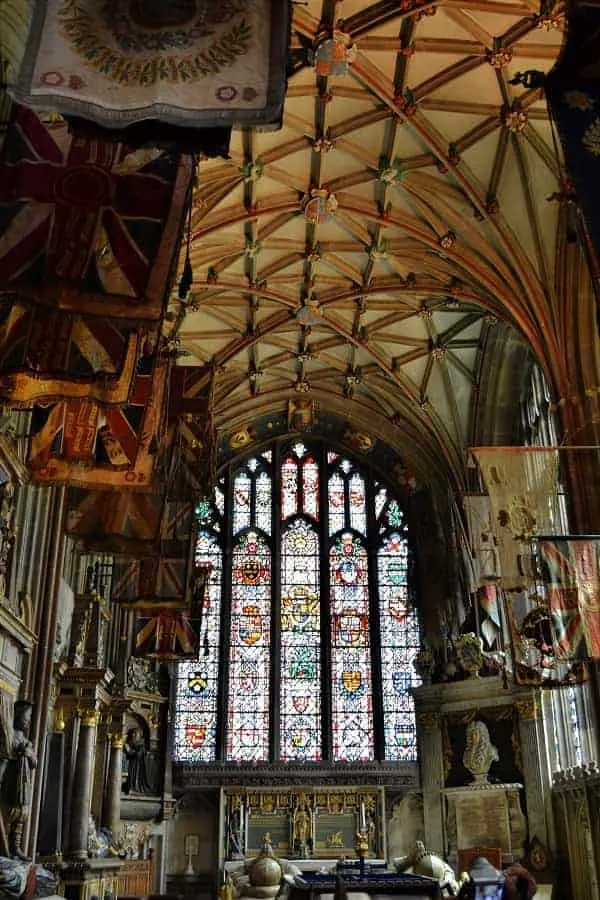 You will find some of the most beautiful stained glass in all of England. Much of the stained glass dates back to the 10th century and was an important part of the worship of those who could not read.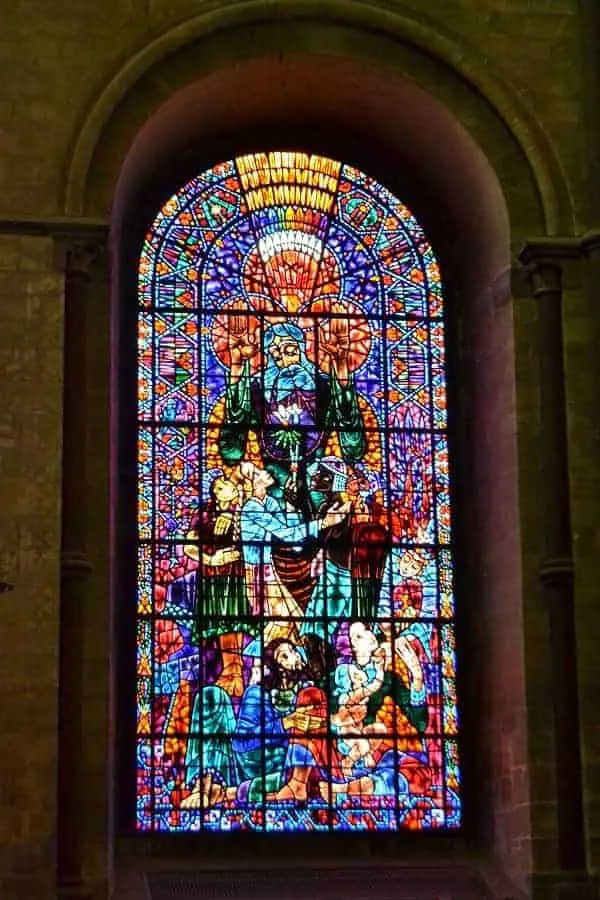 Often the stained glass tells Biblical stories in a visual way since early Christians in England did not know how to read.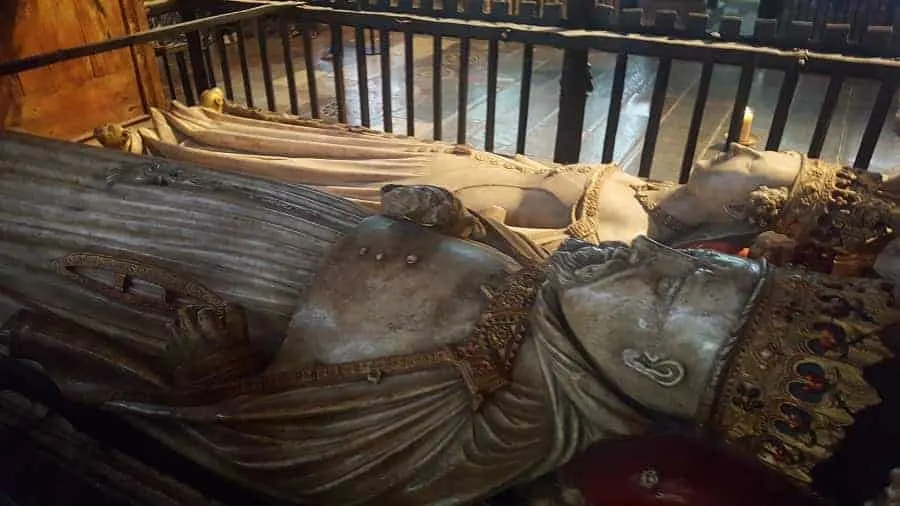 Also inside Canterbury Cathedral are several tombs with only one being of a king. You will find Henry IV, the 1st Lancastrian king, and his 2nd wife Joanna of Navarre.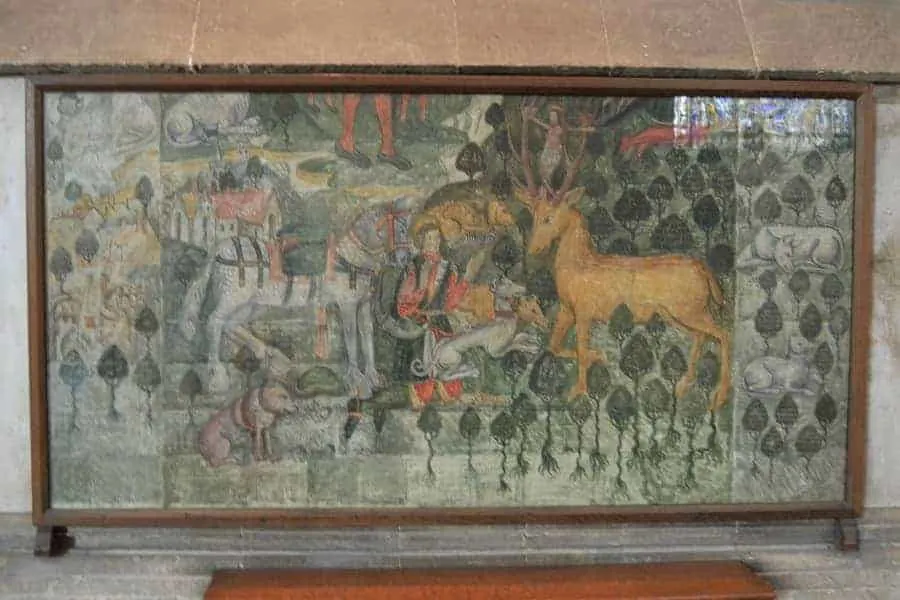 Be sure to give yourself plenty of time inside this church to explore its beauty because there are amazing pieces of artwork and one-of-a-kind Medieval details throughout.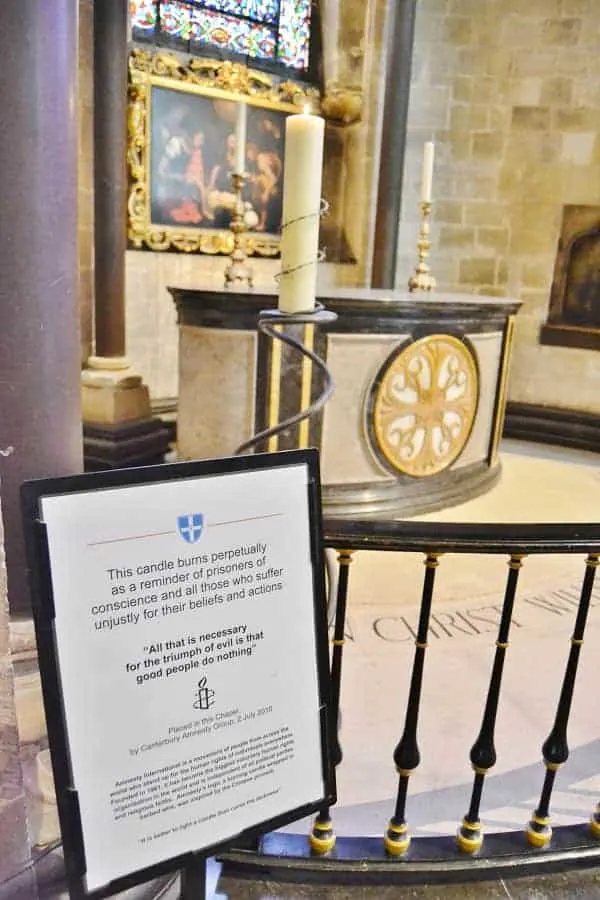 Don't miss seeing the Perpetual Candle in Canterbury Cathedral.
"All that is necessary for the triumph of evil is that good people to do nothing."
It burns in remembrance for those who have come before us and those who are currently being persecuted for their beliefs.
You will want to make sure you visit the crypt area beneath the church. Built in 1077, it is the oldest surviving part of Canterbury Cathedral.
It opens around 10 am and it is a neat place to explore. You will find 12th-century murals and wall carvings. Be advised that there is no photography in the crypt area.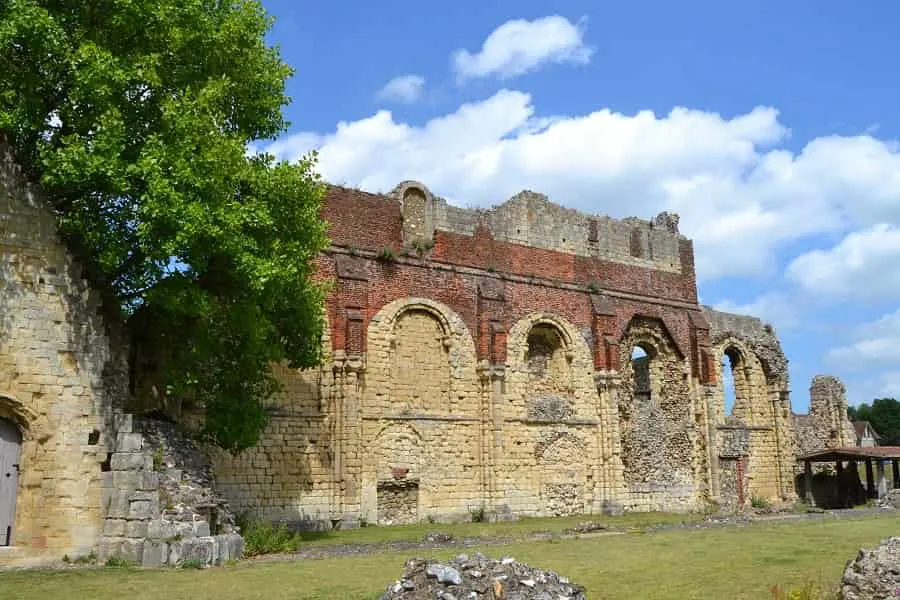 St. Augustine's Abbey
Just outside Canterbury Cathedral lies St. Augustine's Abbey. The abbey in its original form was built as a mission to bring Christianity to England.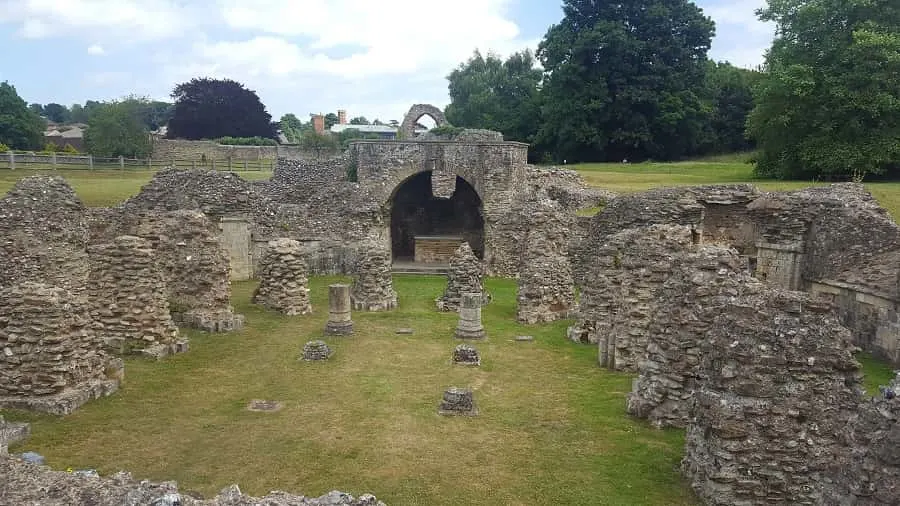 Unfortunately, like many other abbeys at the time of Henry VIII, it was abandoned, ransacked & left to collapse.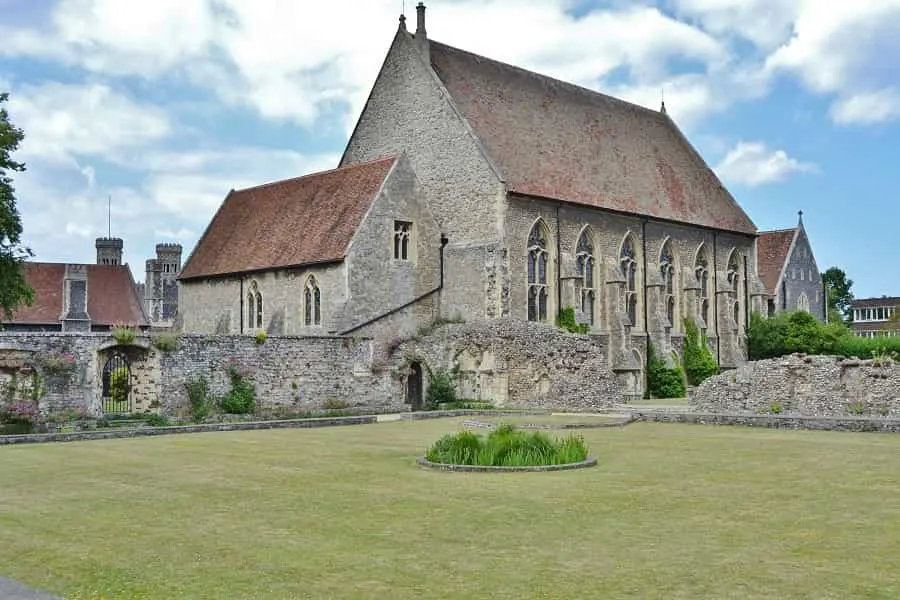 The Church of St Martin
Also nearby is another important church when it comes to the role of Christianity coming to England.
The Church of St Martin is the first church founded in England and the oldest parish church in continuous use.
It served as the private chapel of Queen Bertha of Kent in the 6th century (before Augustine arrived from Rome).
Along with Canterbury Cathedral and St. Augustine's Abbey, this church is a UNESCO World Heritage Site.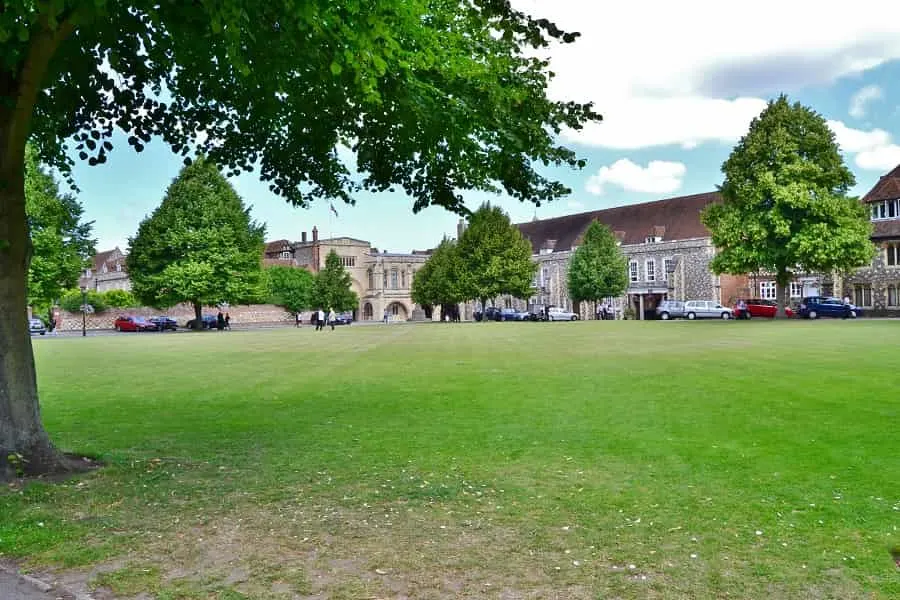 The Grounds of King's School
Just a short walk away from Canterbury Cathedral is the oldest school in all of England.
Began by St. Augustine shortly after arriving at Canterbury, the school which is now known as King's School was formerly run by the monks with the funding of Henry VIII (until the dissolution of Monasteries, leaving the school without the monks who at that time were teachers).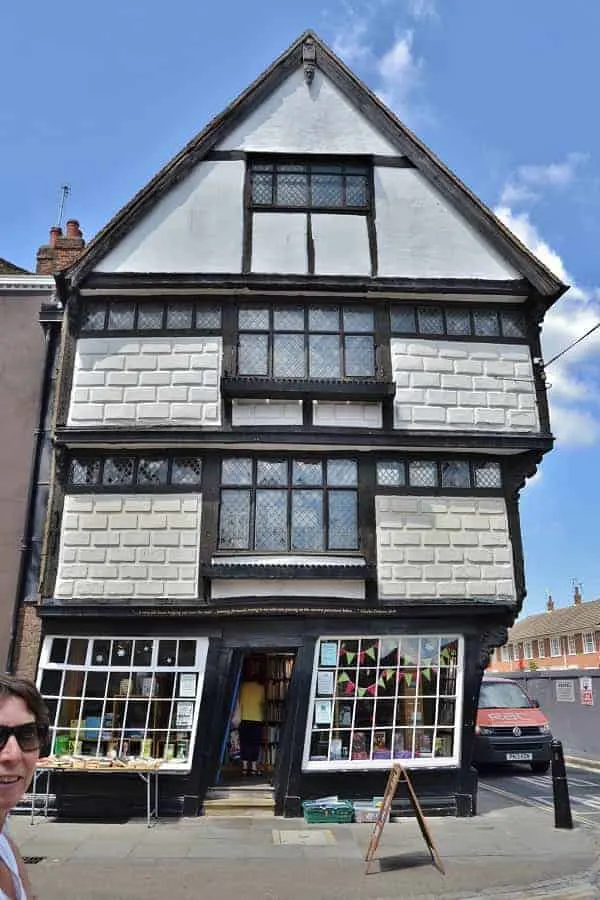 The Crooked House
There is something quite charming about the Gothic architecture in Canterbury.
Near the end of Palace Street is a house that appears quite lopsided. Named, The Crooked House, this early 17th-century building features some pretty neat details outside of the crookedness.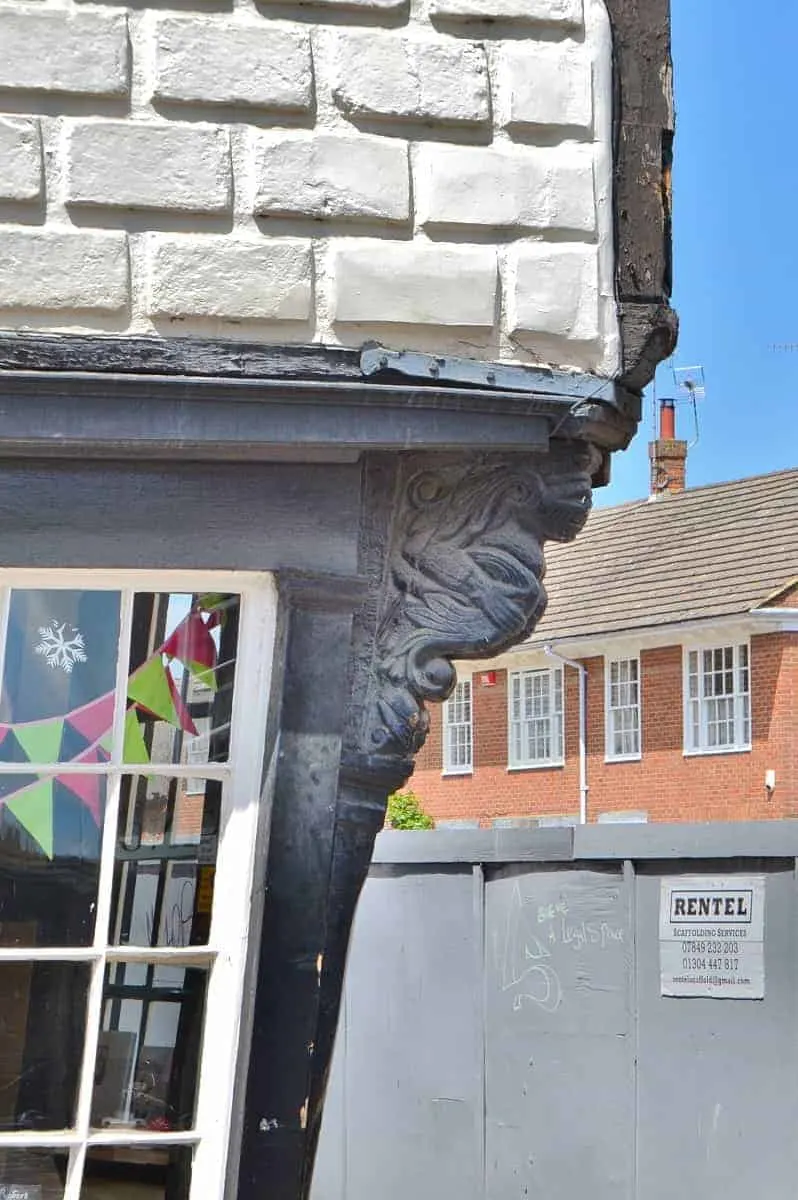 If you look at the left cornice, you will see a carved Native American figure.
What makes this neat is that the building & figure predate the pilgrims arriving in Plymouth by a number of years.
It is just one of a few connections between Canterbury and the Americas.
6 Palace Street in Canterbury
As you walk further downtown, you will find the spot where the Mayflower was commissioned!
Deacon Robert Cushman advocated for the Pilgrim's settlement in America. He was sent to London in 1619 to obtain a charter from the King to relocate to America.
It was in this building that the paperwork was signed.
If you look carefully throughout Canterbury, you will find all sorts of little informative signs like the one you will find at this location.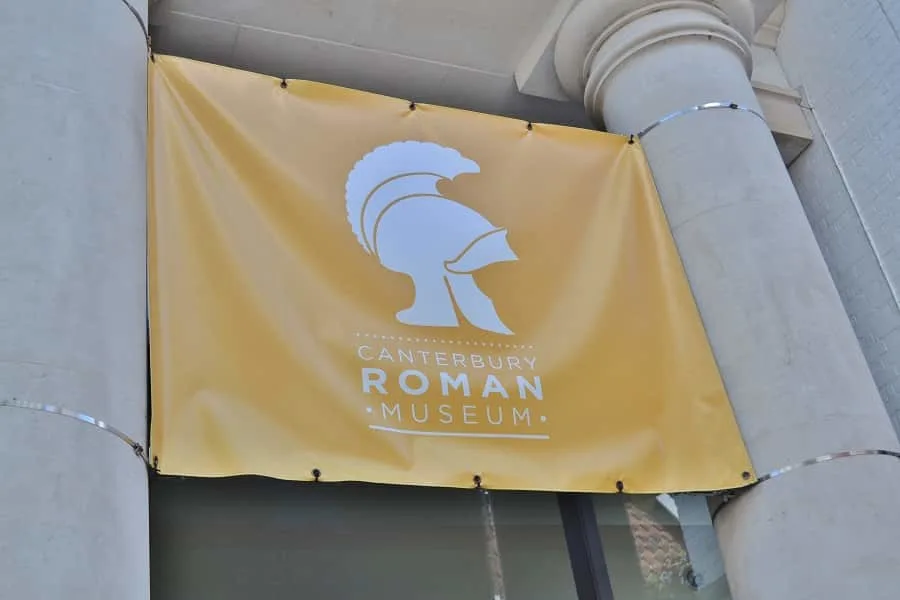 Canterbury Roman Museum
Long before the Pilgrims, were the Romans and they left behind an immense amount of proof that they lived in Canterbury. You will find the Canterbury Roman museum housing many artifacts found on Butchery Lane.
*You can get a discount if you book after the guided walking tour.
Where to Stay in Canterbury
Need some ideas on where to stay while in Canterbury? These are our top picks
Photo Credit: www.booking.com
Thomas Ingoldsby Wetherspoon is close to Canterbury Cathedral and has a restaurant on property. It is air-conditioned and has free WiFi, a private bathroom, TV and luggage storage for guests.
Photo Credit: www.booking.com
Abode is close to Canterbury Cathedral. It has an award-winning restaurant and bar. All rooms have private bathrooms with a monsoon shower, TV with satellite channels and free WIFI. Tea and coffee and toiletries are also provided.
Photo Credit: www.booking.com
You can't get closer to Canterbury Cathedral than this. It is on the grounds of Canterbury Cathedral and offers free Wi-Fi, full English breakfasts and scenic views.
All rooms feature a bathroom, and many have cathedral views.
---
How to Get From London to Canterbury
You can pick up the train from St.Pancreas and it will take you less than an hour.
If you have rented a car, you will take A2 and M2 to Canterbury. The drive is about 1 1/2 hours.
Have you taken a Canterbury day trip? What were some of your favorite things to do in Canterbury?