SeaWorld Orlando is one of the most popular tourist destinations in Florida. With a variety of aquatic attractions, rides, and shows, there is something for everyone. Here are some SeaWorld Orlando attractions you can look forward to experiencing.
Most Popular SeaWorld Orlando Attractions
SeaWorld Orlando Rides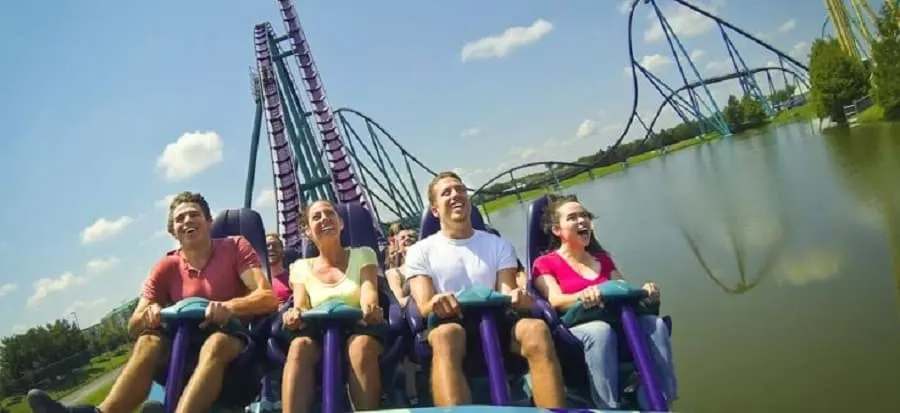 If you love Roller Coasters, you are going to LOVE SeaWorld Orlando.
This park may seem like it is all about animal encounters, but it has some of the best roller coasters in Orlando.
Ice Breaker
The newest coaster at SeaWorld Orlando, Ice Breaker features four launches, both backward and forward, culminating in a reverse launch into the steepest vertical drop in Florida – a 93 feet tall spike with 100-degree angle.
Manta
Riders are taunted by a head-first, face-down inverted nosedive before skimming the water!
Mako
This coaster is known for high speeds, deep dives, and thrills around every turn.
Kraken
Kraken is Orlando's only floorless roller coaster where riders' feet dangle as they travel in open-sided seats, riding on a pedestal above the track at highway speeds to heights of more than 150 feet.
Infinity Falls
Sea World Orlando also has plenty of water rides. Take one of a kind ride down a lost jungle river. You will find soaking fountains and waterfalls and drop down a 40-foot slide!
Journey to Atlantis
On this flume ride, you will explore the lost city of Atlantis before taking a plunge down into the water below.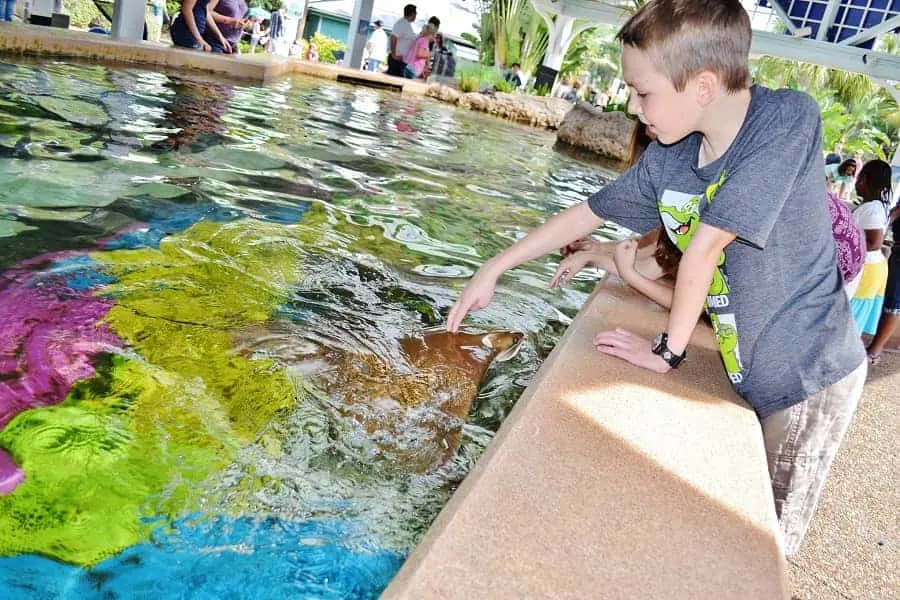 SeaWorld Orlando Animal Encounters
Sting Ray Encounter
If you have to narrow your trip down to see only a few things, I would highly recommend that you spend some time on their hands-on exhibits like the Sting Ray encounter.
If you have never had a chance to be up close and personal with sea creatures, Sea World gives you to chance to not only feed them but to also physically interact with them.
Dolphin Cove
Guests that love dolphins, will love this exhibit. Not only can you have a chance to see them jump & dive up close, you can also get a chance to hand-feed a dolphin.
When you get to Dolphin Cove, you will have two line choices.
One line (the longer of the two) will give you a chance to feed the dolphins by hand. The other will allow you to only observe the dolphins.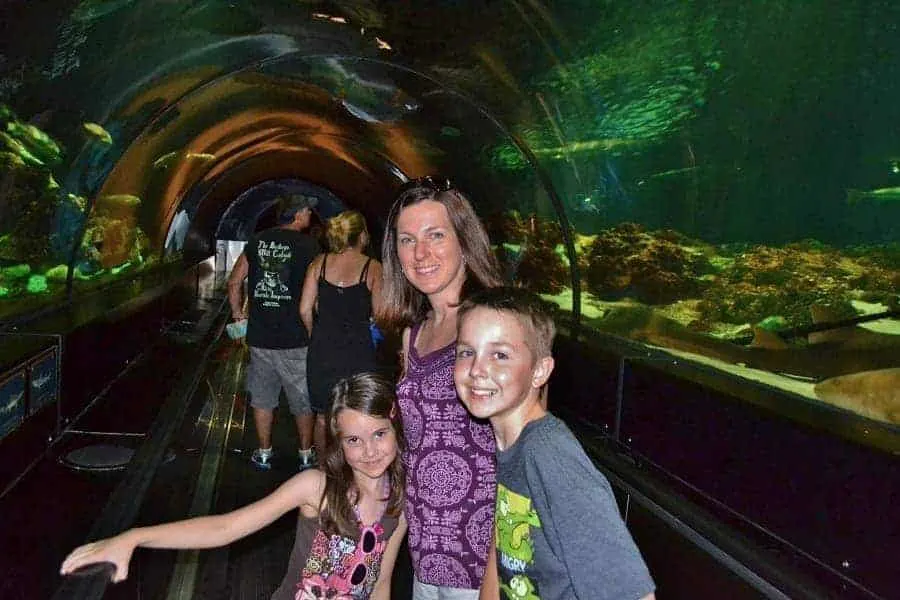 Jewel of Sea Aquarium & Shark Encounter
Who doesn't love an aquarium? You will see plenty of beautiful fish along with other sea creatures like Sea Horses, Manna Rays, and Sharks.
The highlight of the aquarium is the Shark Encounter where you can not only walk underneath these beasts but also watch the handlers feeding them.
Empire of the Penguin Habitat
Of all of the Sea World Orlando exhibits, the penguins are my favorite!
Here you can get a glimpse of a penguin colony in what looks like a real environment, they will interact with each other and swim underwater in this expansive habitat.
SeaWorld Orlando Animal Shows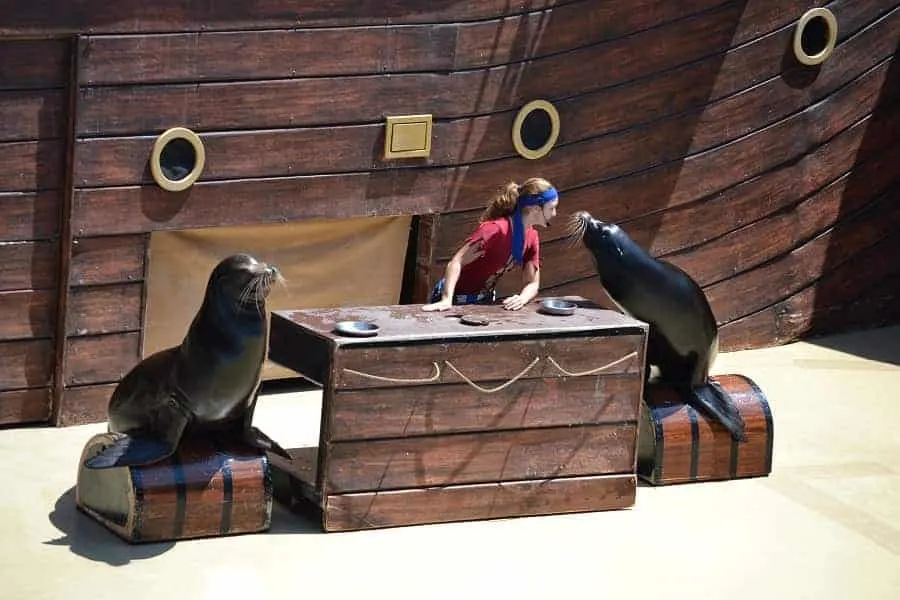 Sea Lion & Otter Spotlight
One of the cutest shows at Sea World Orlando is Sea Lion High. Clyde and Seamore go back to school in the slippery pursuit of their diplomas.!
You will be surprised at how these creatures communicate with their handlers and kids will love how silly their behavior is!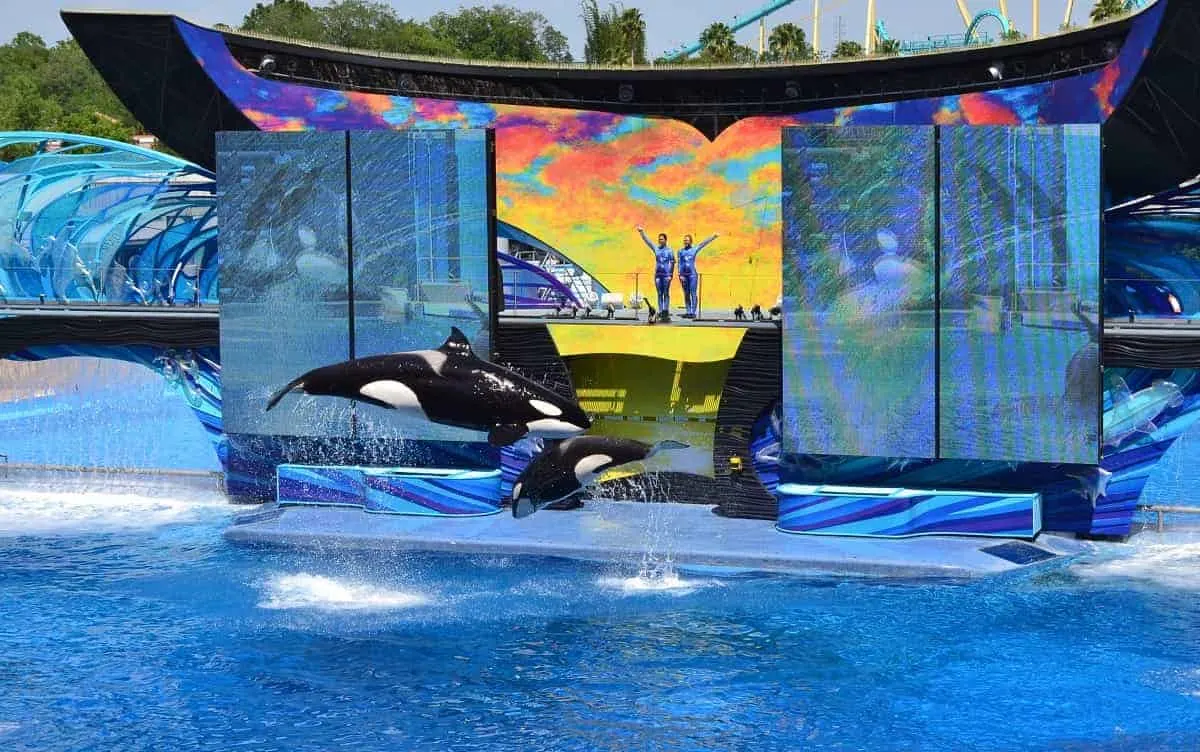 Orca Encounter
Learn about Orcas along with other species of whales during a special educational show. You will walk away from this show really loving how beautifully it was put together.
Sesame Street Land at SeaWorld Orlando
Take a walk down Sesame Street and stop by the famous stoop at 123.
You can explore Hooper's Store, stop by Elmo's window & even visit Big Bird's Nest!
This place is great for families who are bringing preschoolers and toddlers!
Sea World Orlando Tips
There are several shows at Sea World and the key to seeing them all is to plan your day according to the scheduled show times. Each main show attraction is in a different part of the park, so you might want to try to tackle one area at a time, otherwise, you will spend your day walking around back & forth.
If you don't want to waste an hour or more standing in line at the Dolphin Encounter, you can walk straight over to the Dolphin pool observation point to see them up close.
Those seated closest to the tank at Shamu Stadium will get wet! Be sure to look for dry seats to avoid walking away soaked!
Antarctica: Empire of the Penguin has two different types of ride experiences: You can choose a "mild" or "wild" version of this trackless, motion-based simulator experience.
Parking is not free. If you want to save some money, we encourage you to pre-pay for parking.
Overall, SeaWorld Orlando is a great theme park that the entire family will enjoy. You will need at least one whole day to see everything there is to see here.
Tickets for SeaWorld Orlando
While you can purchase your tickets at the entrance to the park, we suggest you purchase tickets to Sea World online.
Many people take advantage of the SeaWorld Orlando Two Park Ticket so that they can do both Sea World and either Busch Gardens or Aquatica (the Sea World Waterpark).
Have you been to Sea World Orlando? What are you favorite parts of this theme park?