One of the best day trips to take from London is a tour of Oxford. Oxford is best know for its prestigious university, which happens to be the world's second-oldest, but there is more to Oxford than meets the eye. In order to get the most out of a day trip to Oxford, you should take an Oxford walking tour.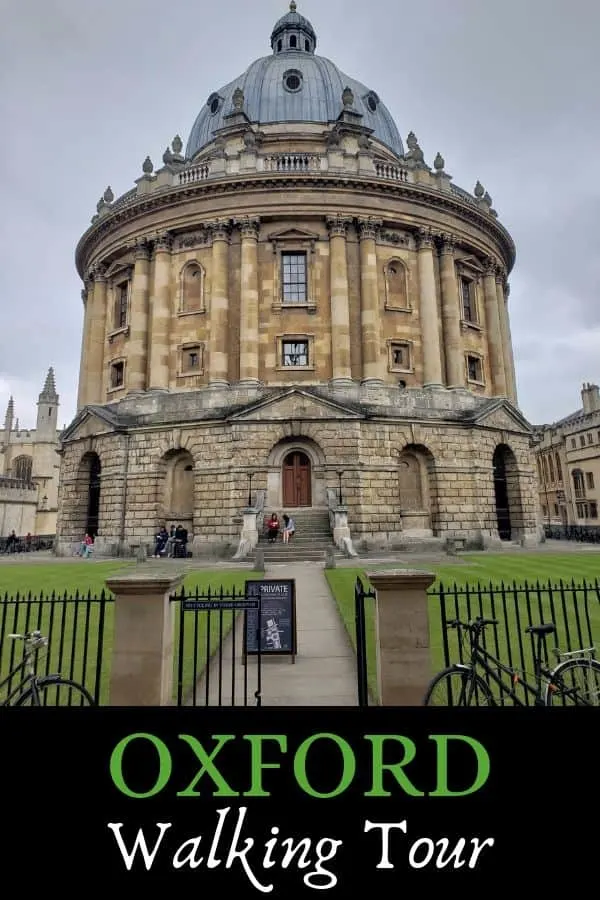 Taking an Oxford Walking Tour
An Oxford Walking Tour will allow you to see different parts of Oxford University, as well as filming locations for Harry Potter, the place where Charles Dodgson (better known as Lewis Carroll) received inspiration for Alice in Wonderland, the door that inspired The Lion, the Witch and the Wardrobe from the Chronicles of Narnia and much more!
There are many different walking tours you can take to help you explore Oxford.
We chose Footprint Tours. Footprint Tours uses University-educated guides that explain the history of Oxford from its time as a Saxon town to its current state as one of the most respected universities in the world.
They know all sorts of quirky facts and make learning about Oxford an interesting experience.
The Oxford walking tour is 2 hours long and during the time you will do plenty of walking.
Make sure that you dress appropriately for the weather since much of your walk will be outside and definitely wear good walking shoes because you will be on your feet for two hours straight.
What You Will See on an Oxford Walking Tour
Christ Church College
CarFax Tower
Trinity College
Hertford College & Bridge of Sighs
The Bodleian Library & Radcliffe Camera
University Church of St Mary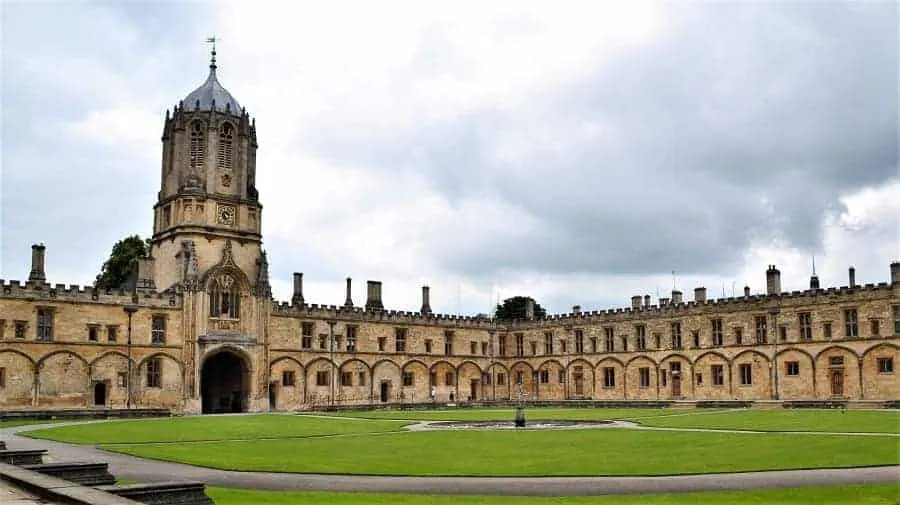 Christ Church Cathedral & College
Founded in 1525 by Cardinal Wolsey, Christ Church is one of the most popular places to see on an Oxford walking tour.
You will find beautifully landscaped quads, majestic academic buildings and a gorgeous cathedral on the grounds.
If you only have one day in Oxford, Christ Church College and Cathedral should be on the top of your list of things to see.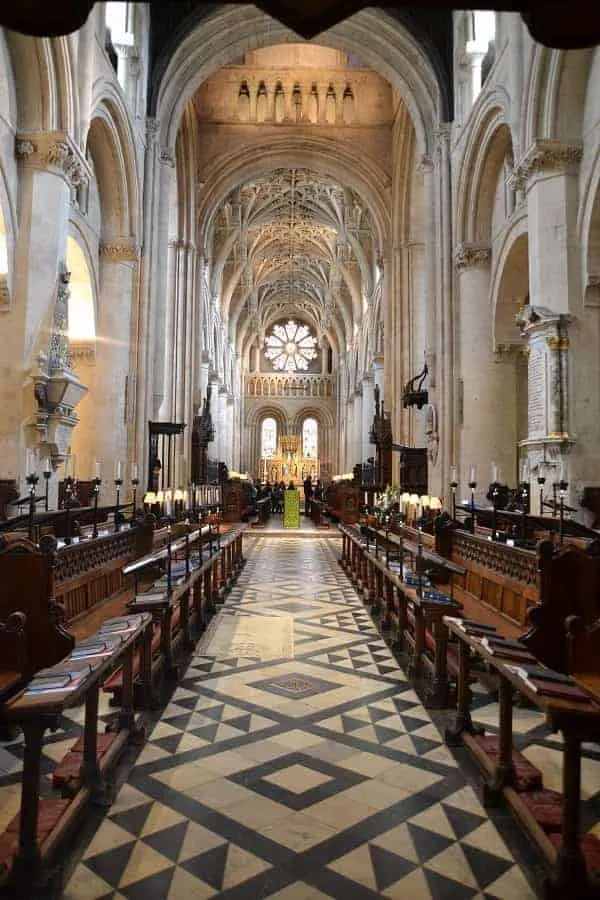 Christ Church Cathedral
The Christ Church cathedral was built in the 12th century as the priory church for the Augustinians of St Frideswide, but has undergone massive renovations in the centuries since.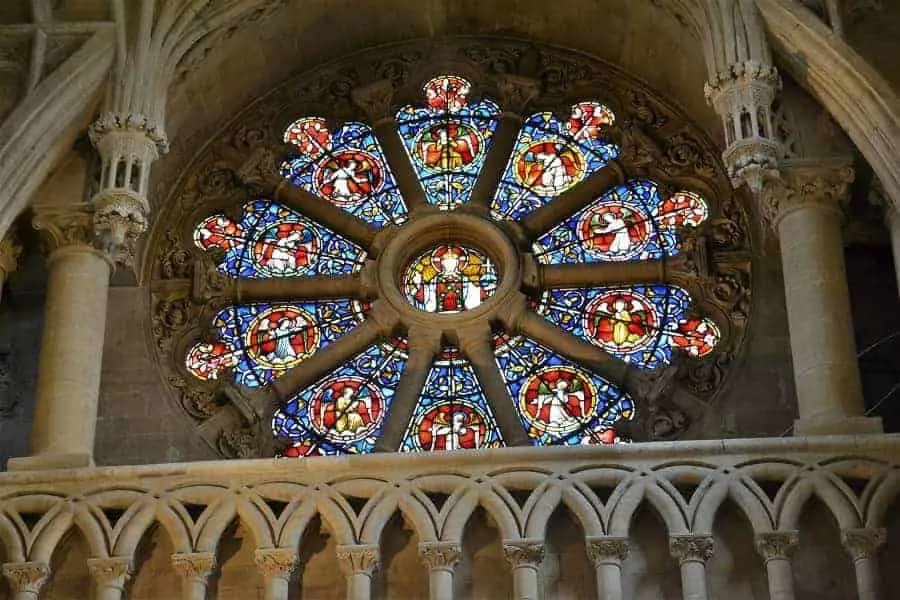 While it is one of the smallest cathedrals of the Church of England, it is certainly worth walking through. You will find a beautiful nave and stained glass windows throughout.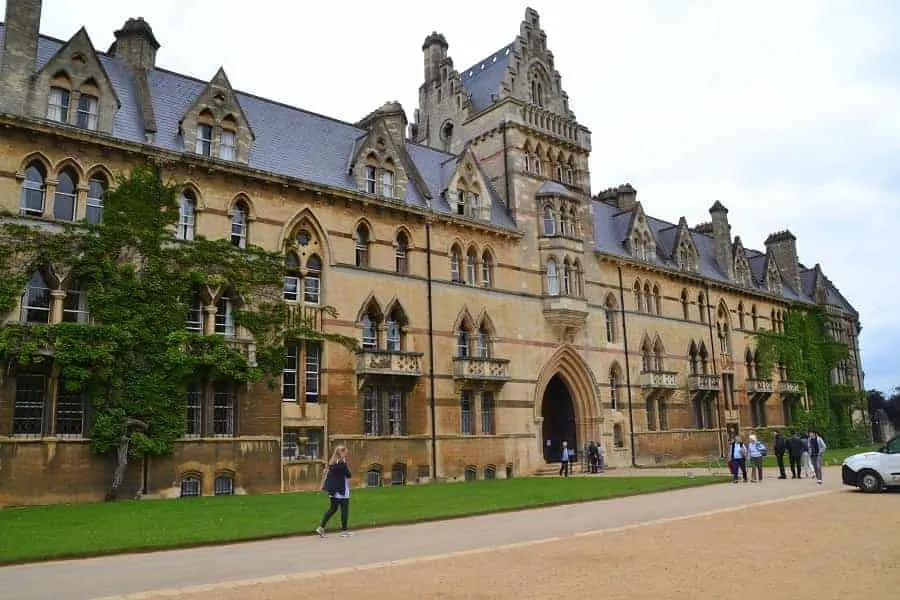 Christ Church College
Christ Church college was founded during the Renaissance movement to improve education. When Henry VIII closed the monastery, his personal adviser, Cardinal Wolsey, decided to use the site as the foundation for the college.
There are two popular places to see on a tour of Christ Church College: The staircase & the Great Hall. Luckily, both are in the same location!
These areas are great places to visit because of their architectural and historical details, but what makes them even more of a draw is that they are tied to major parts of the Harry Potter films.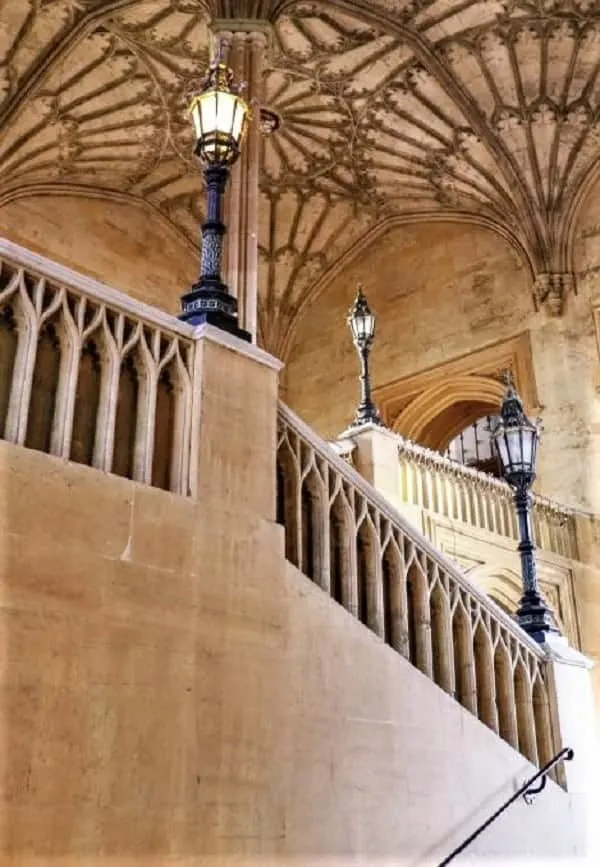 The staircase which leads up to the great Hall was used in the first two Harry Potter movies when the students first arrive at Hogwarts.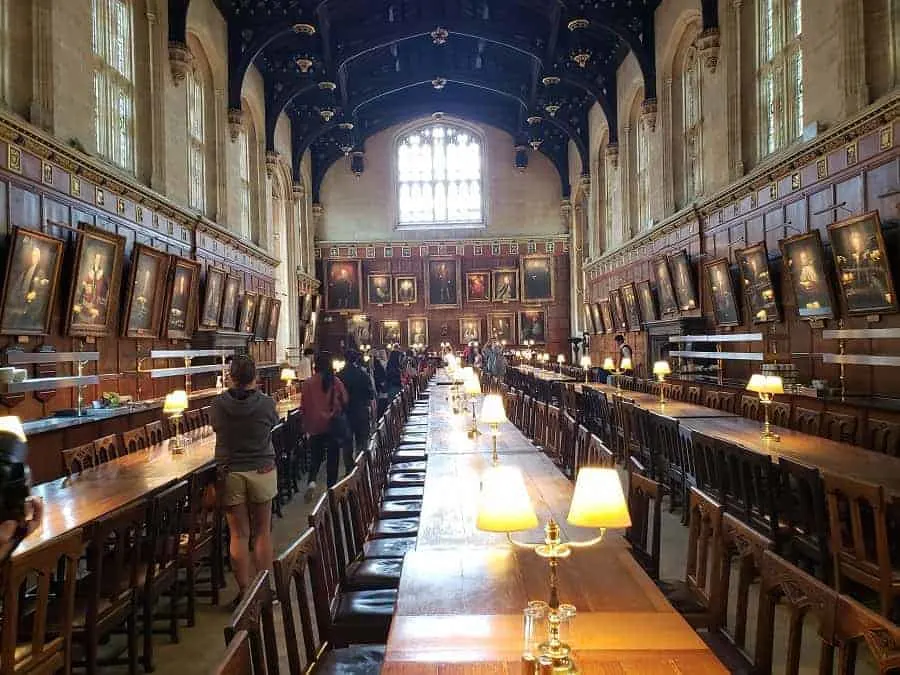 The Great Hall is where students eat. It has been in use since the sixteenth century and is where students are served meals three times a day.
This is the location that inspired the grand dining hall in Hogwarts as seen on the Harry Potter London Warner Brothers Studios Tour.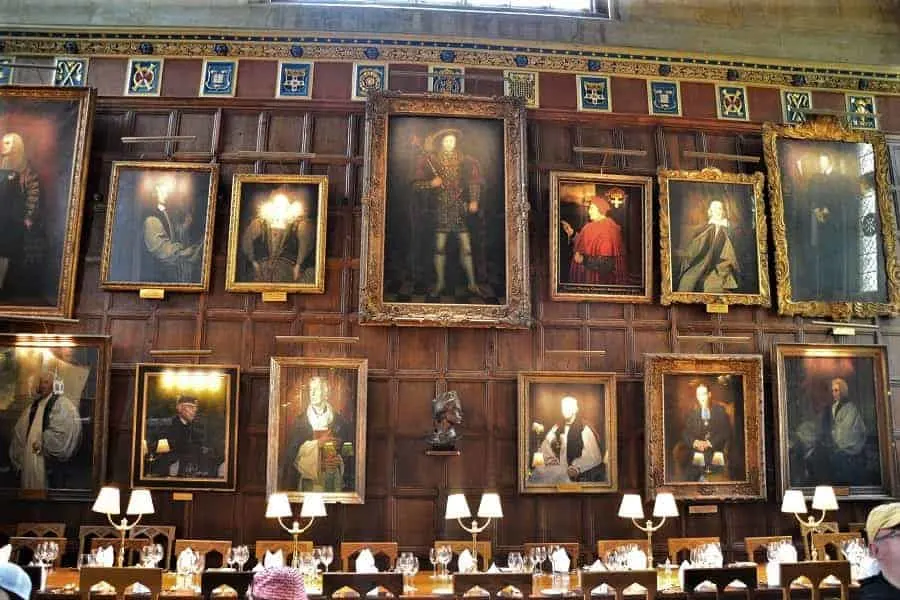 Along the walls of the Great Hall in Christ Church college are portraits of members of the college, including Henry VIII and Charles Dodgson (better known as Lewis Carroll).
Another interesting fact is that Christ Church was also once home to the famous writer Lewis Carroll.
He drew inspiration for Alice in Alice's Adventures in Wonderland from Alice Liddell, the daughter of the Dean of Christ Church and the Mad Hatter's tea party is said to have been inspired by the meals at the Great Hall.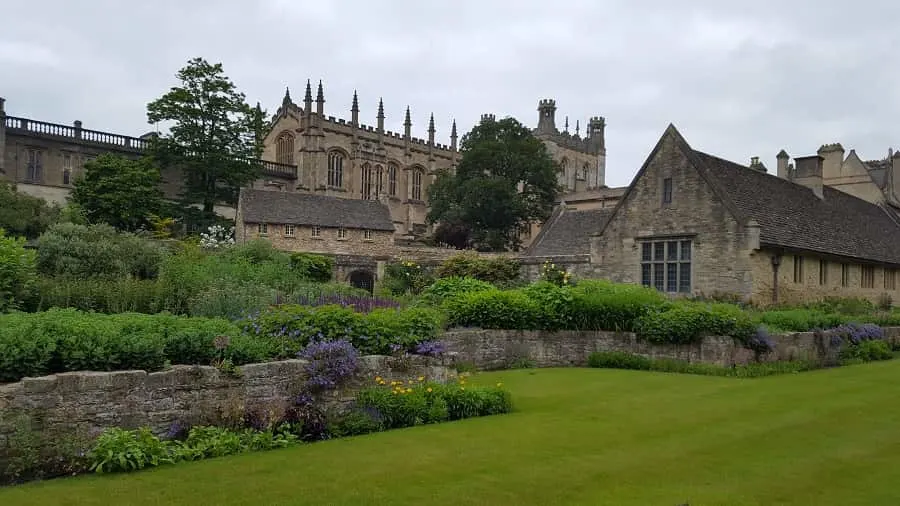 War Memorial Garden
War Memorial Garden landscape is a lovely place to see. It is divided into a Rose Garden and a Circle Garden.
You will find a colorful display of roses, lavender, wisteria, magnolia, among other flowers depending on the season of the year you visit.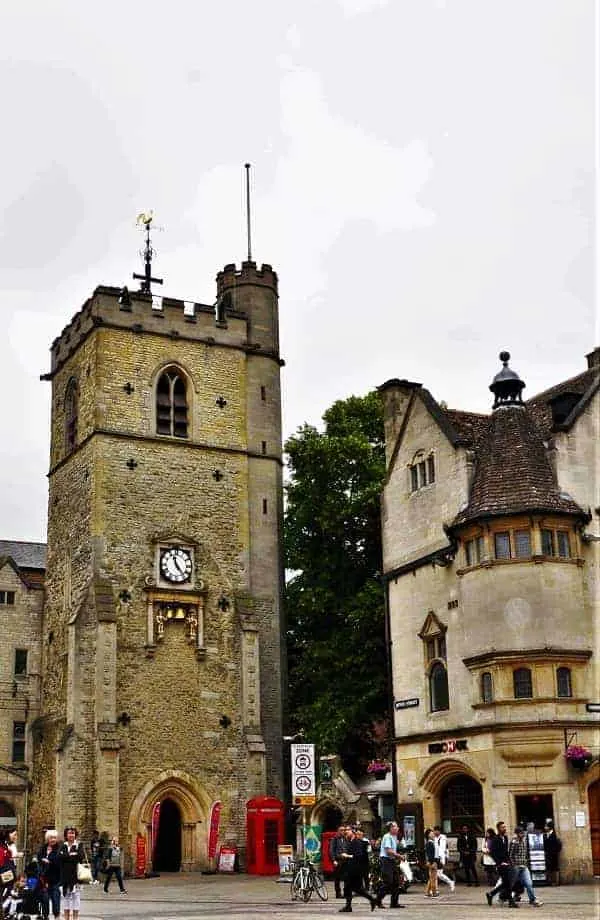 Carfax Tower
St Martin's Tower (which is known as Carfax Tower) is all that remains of the 12th-century St Martin's Church (it was demolished in the 1800's to make a roadway).
If you want a great view of the city, you can climb the 99 steps to the top of the tower.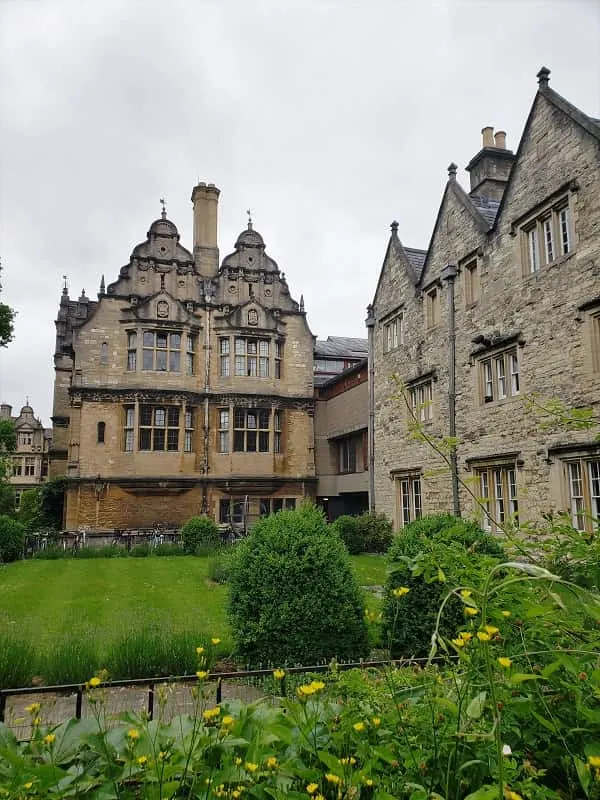 Trinity College
Trinity College is one of the constituent colleges of the larger University. While small, the architecture is ornate and the 17th-century garden (designed by Sir Christopher Wren) is lovely.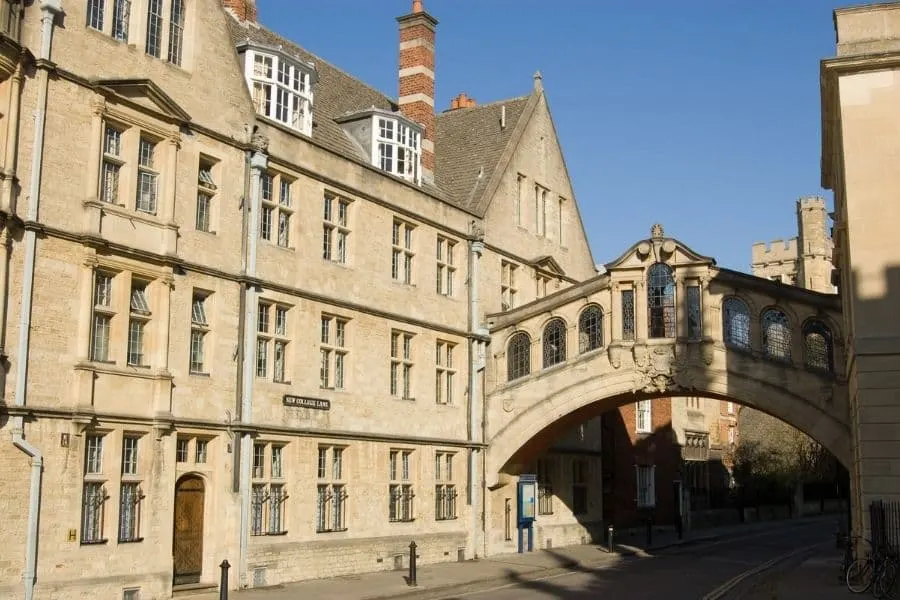 Hertford College
The first Hertford College began in the late 13th century as Hart Hall and eventually dissolved in 1816. In 1820, the buildings were taken over by Magdalen Hall and then incorporated into a college in 1874, taking back the name Hertford College.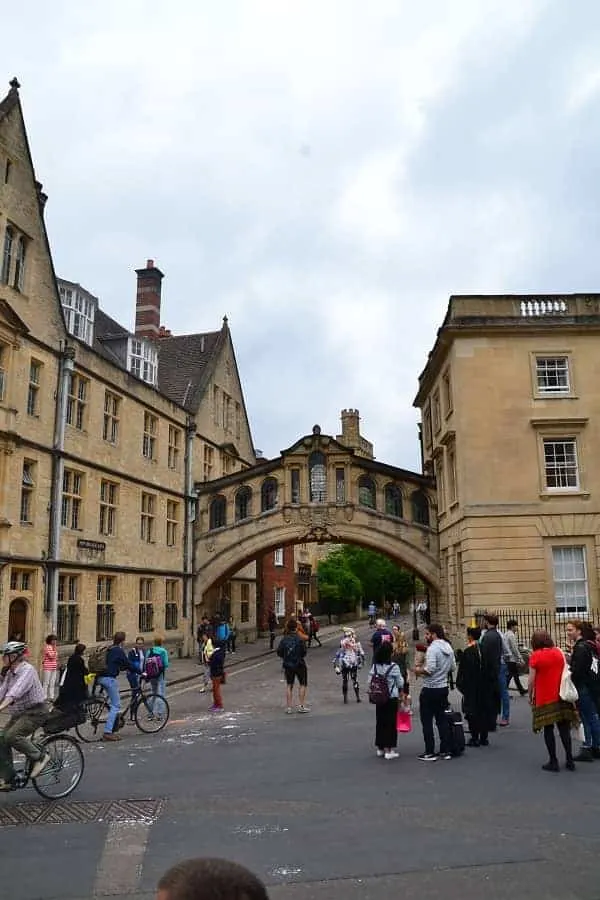 One of the most popular features of Hertford College is The Bridge of Sighs.
It is a covered skyway that connects two university buildings of Hertford College.
Its name is a play on the Bridge of Sighs in Venice and is a beautiful & popular location for photos.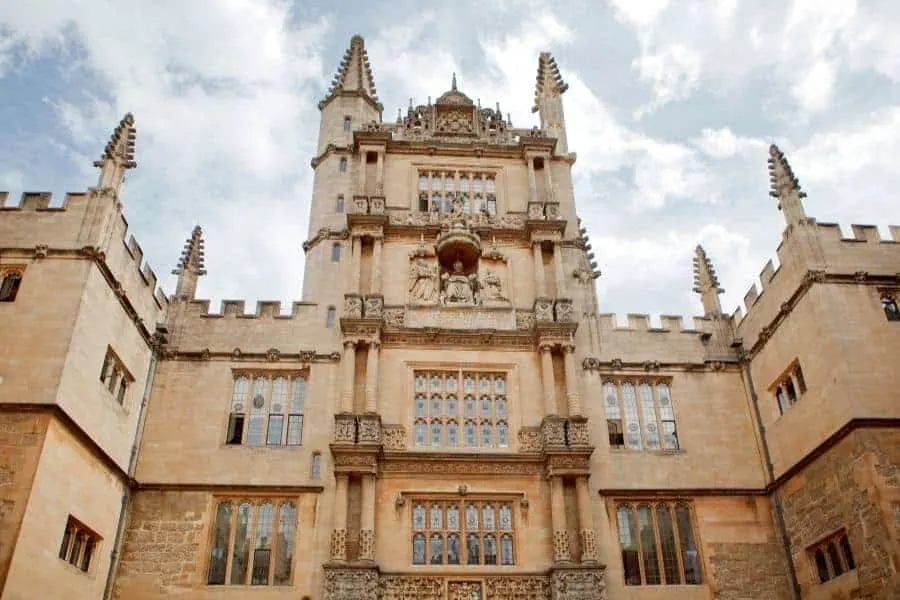 Bodleian Library
Bodleian Library is one of the oldest libraries in Europe and it contains every book printed in the UK and Ireland (a collection of more than 12 million printed items).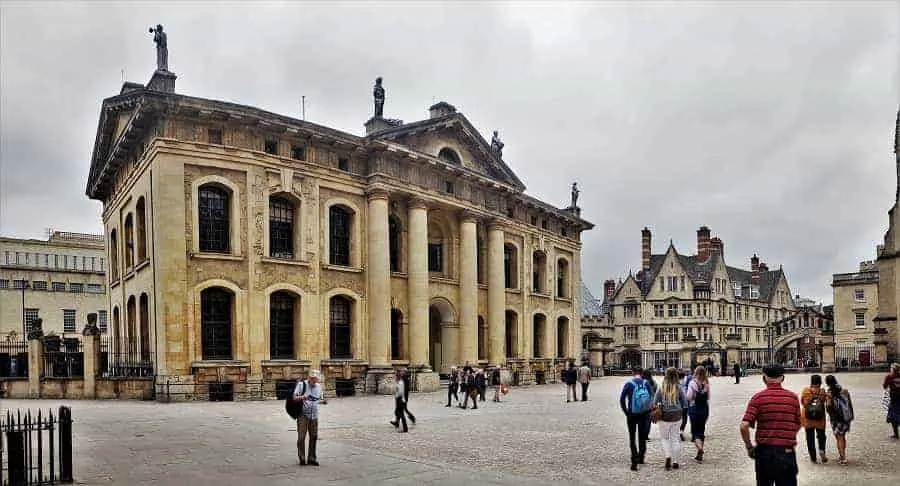 The Bodleian Library occupies a group of five buildings: Duke Humfrey's Library, Schools Quadrangle, Clarendon Building, Radcliffe Camera, and Weston Library.
Duke Humfrey's Library is the oldest reading room inside Bodleian Library. It is named for Duke Humfrey of Lancaster, 1st Duke of Gloucester, who donated 281 books after his death in 1447.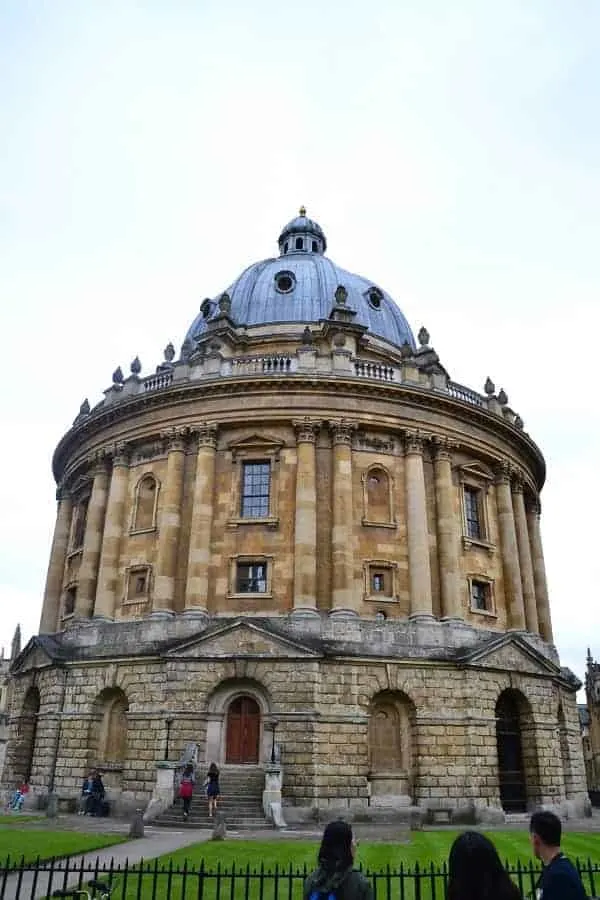 Radcliffe Camera houses reading rooms for the Bodleian Library and one of the most impressive structures in Oxford.
While you can enjoy the beauty of the outside, the inside is reserved for students and faculty.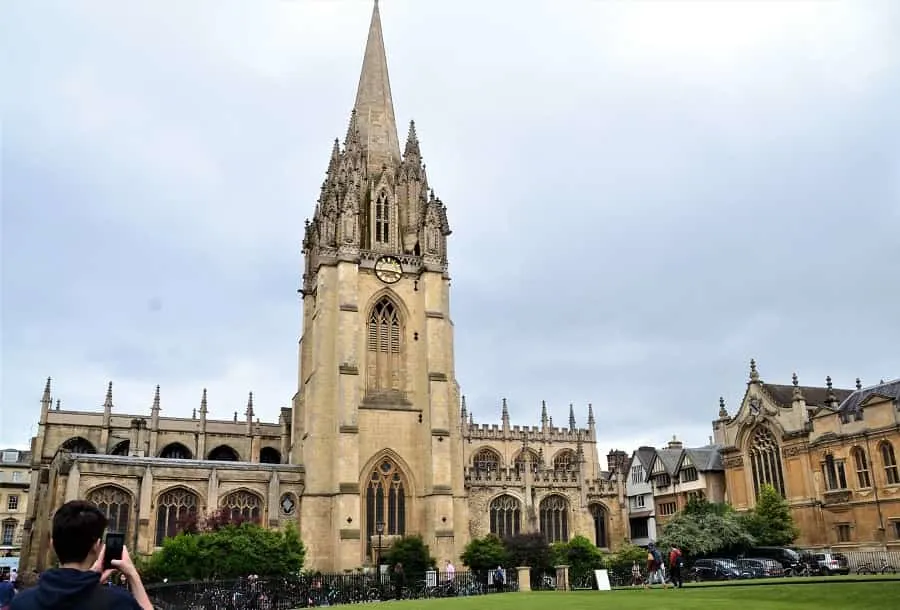 University Church of St. Mary
The University Church of St. Mary the Virgin is the largest of the parish churches in Oxford and one of the most historic. Part of the church dates back to the time of the Anglo-Saxons.
It is most famous as the site of the 1555 trial of the Oxford Martyrs, who were burnt at the stake for heresy. The three martyrs (who were tried for their religious beliefs and teachings) were Anglican bishops Hugh Latimer, Nicholas Ridley and Thomas Cranmer, the Archbishop of Canterbury.
The University Church of St. Mary the Virgin is open to visitors daily from morning until late afternoon.
There is a small fee (£4) to climb the tower.
Other Places to Explore in Oxford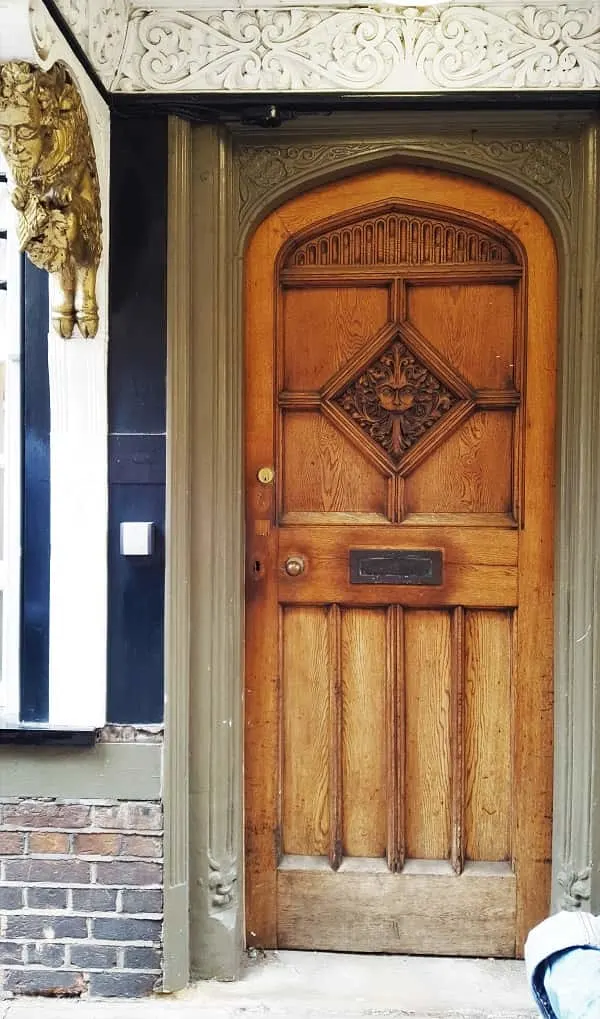 Narnia Door
Writer C.S. Lewis attended Oxford and was later part of the English faculty.
This door located across from Church of St. Mary ( on St Mary's Passage) is what many consider the "Narnia Door" that inspired C.S. Lewis's wardrobe door that the children walked through in The Lion, the Witch and the Wardrobe.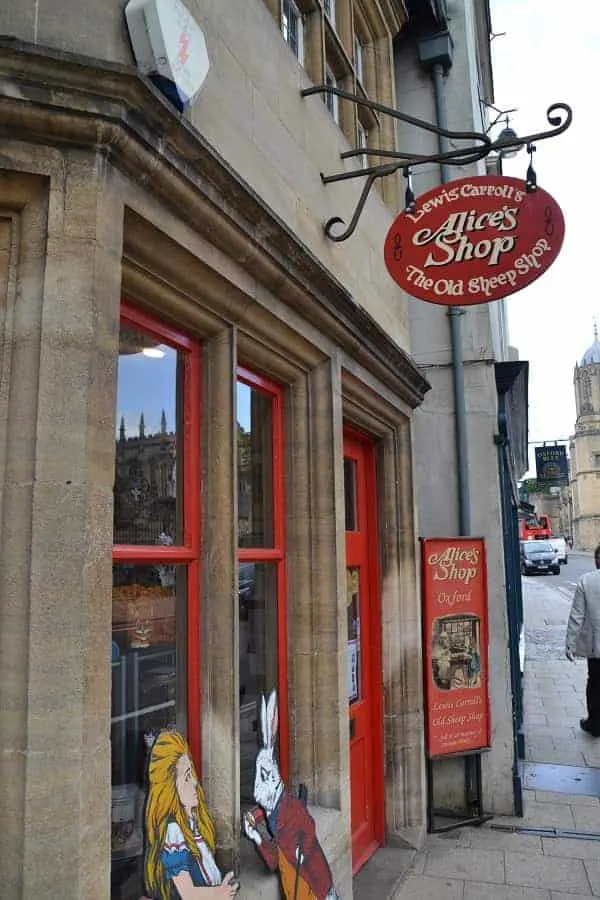 Alice's Shop
If you are fan of Alice & Wonderland, you won't want to miss seeing Alice's Shop. Located across from the Oxford University college of Christ Church, this location was actually a sweet shop during the time Lewis Carroll lived in Oxford and is featured as an illustration in Through the Looking-Glass.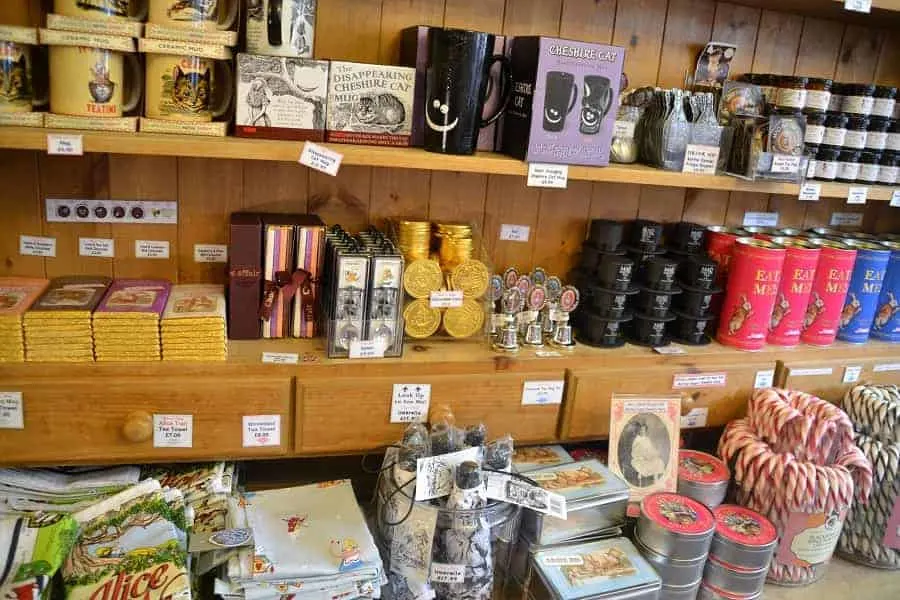 Alice's Shop is filled with whimsical and classic Victorian Alice in Wonderland merchandise.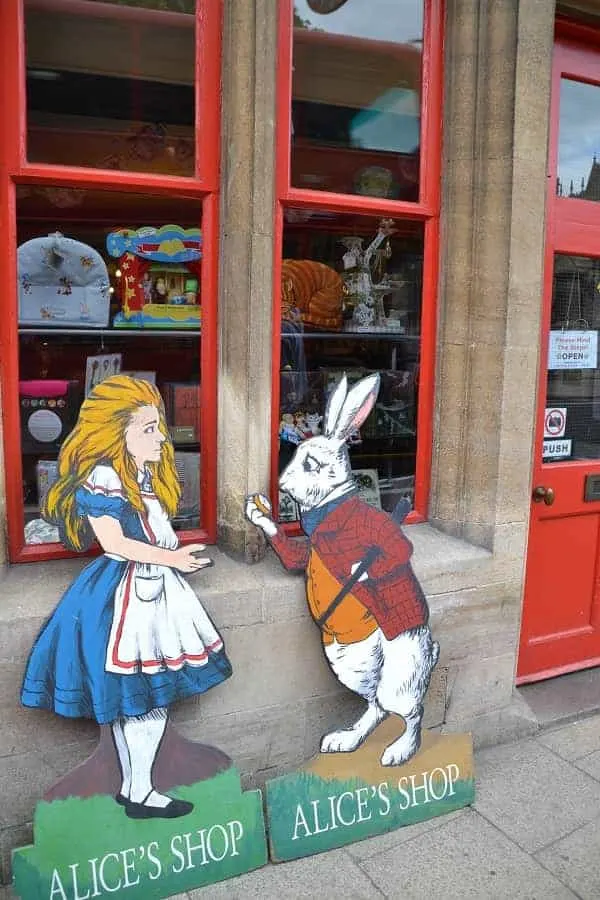 Open:10.30am to 5.00pm every day
Extended Hours in July & August: 9.30am – 6.30pm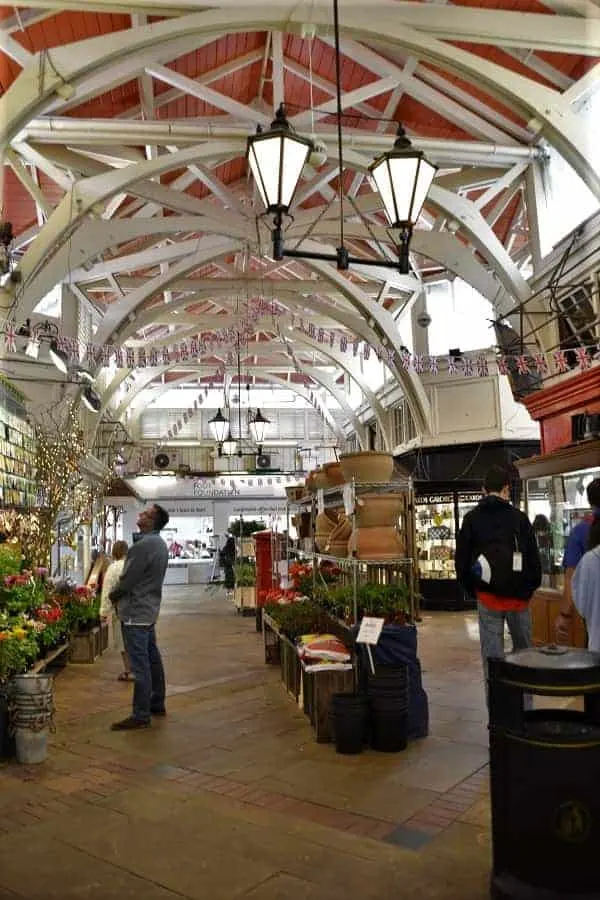 Oxford Covered Market
Another spot you will want to see after your Oxford walking tour is The Covered Market.
The Covered Market is a group of permanent stalls in the heart of Oxford, where you can shop, eat or just explore!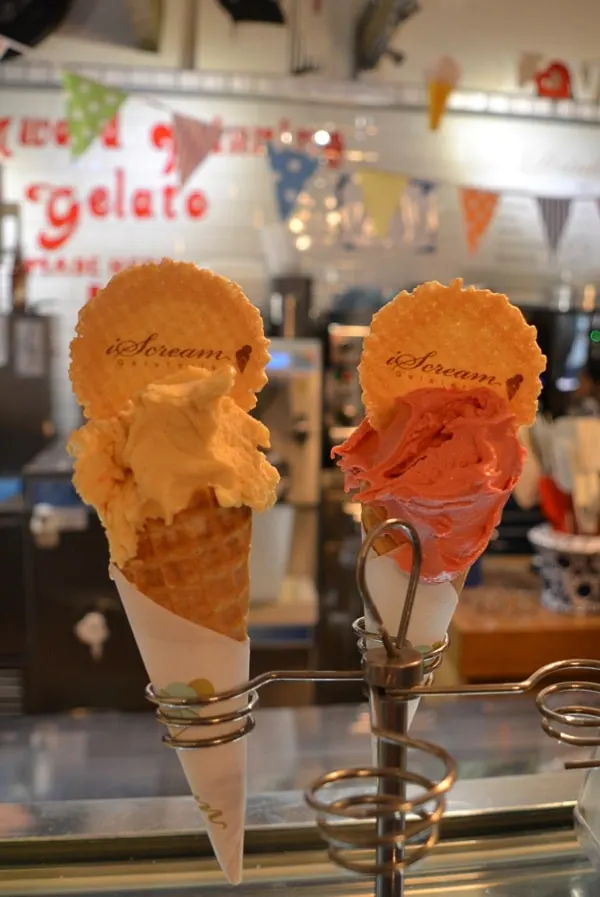 We stopped for a gelato to enjoy while we did some shopping!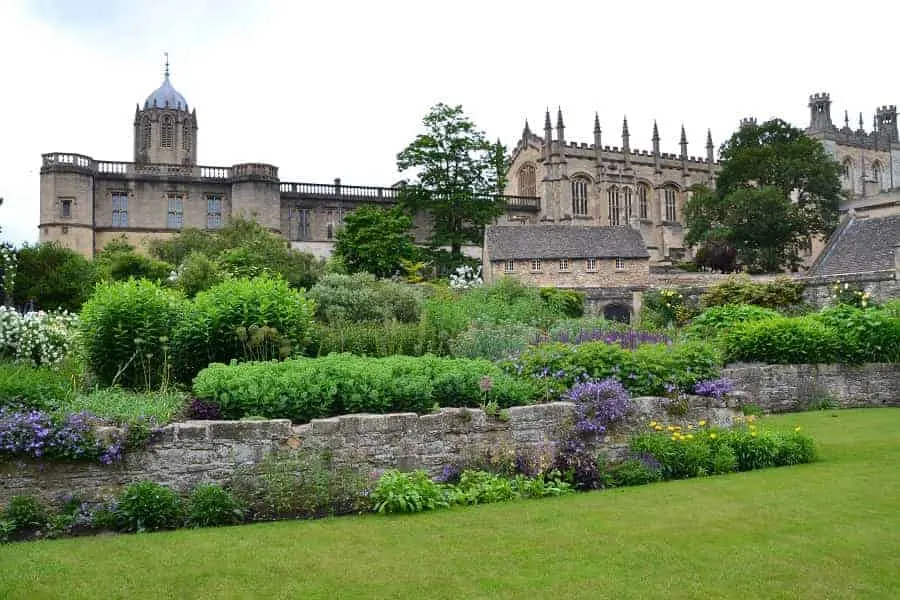 There is somethings about going to a place where you can walk everywhere!
Oxford is the perfect place for a walking tour because there is something to see around every corner!
If you are going to be spending time in London, you really should make a day trip to Oxford to learn about its history and what life is like for students who live here now.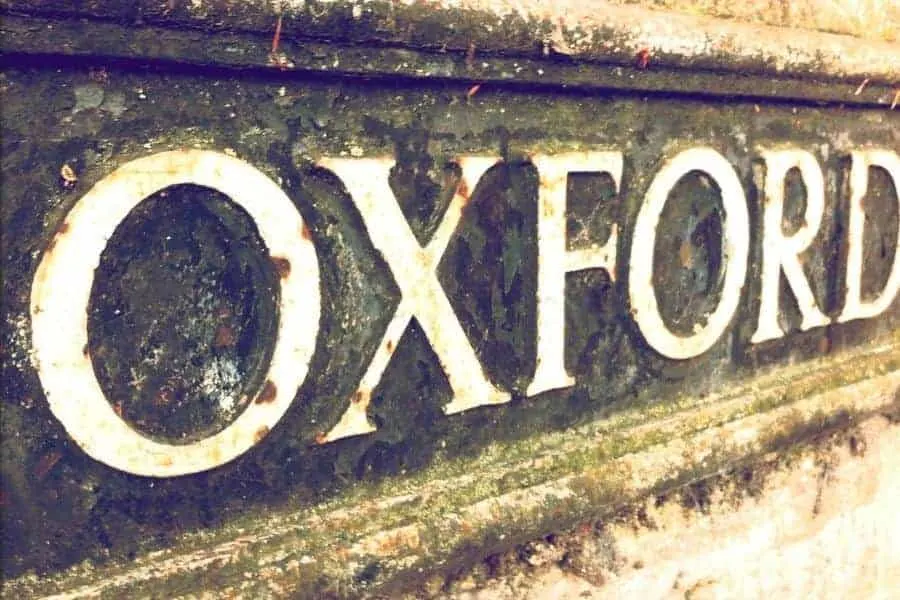 How to Get to Oxford from London
By Train: Catch the train at Paddington Station. Trains leave for Oxford Station every 5 to 10 minutes and takes about an hour to arrive in Oxford.
By Bus: The Oxford Tube runs buses every 10 minutes from London Victoria Coach Station to Oxford. The trip takes about one hour and 40 minutes.
By Car: Oxford is one hour and a half drive from London on the M4.
Have you been to Oxford? Did you do the walking tour? What was your favorite part of the trip?
Hotels in Oxford England
When looking for a hotel in Oxford, you are best to find one that is walking distance to the campus. These are the places we suggest:
Photo Credit: www.expedia.com
This hotel is a 10 minute walk from Oxford University and has self parking. All 25 rooms offer free WiFi, room service, and LCD TVs with digital channels. Rainfall showerheads, coffee makers, and hair dryers are among the other amenities available to guests.
Photo Credit: www.expedia.com
This hotel is close to Oxford campus and offers very roomy accomodations. All 18 rooms provide conveniences like refrigerators and microwaves, plus free WiFi and Smart TVs with Netflix.
Photo Credit: www.expedia.com
Located in Oxford City Centre, all 22 rooms feature free WiFi, flat-screen TVs come with satellite channels, coffee makers and safes.