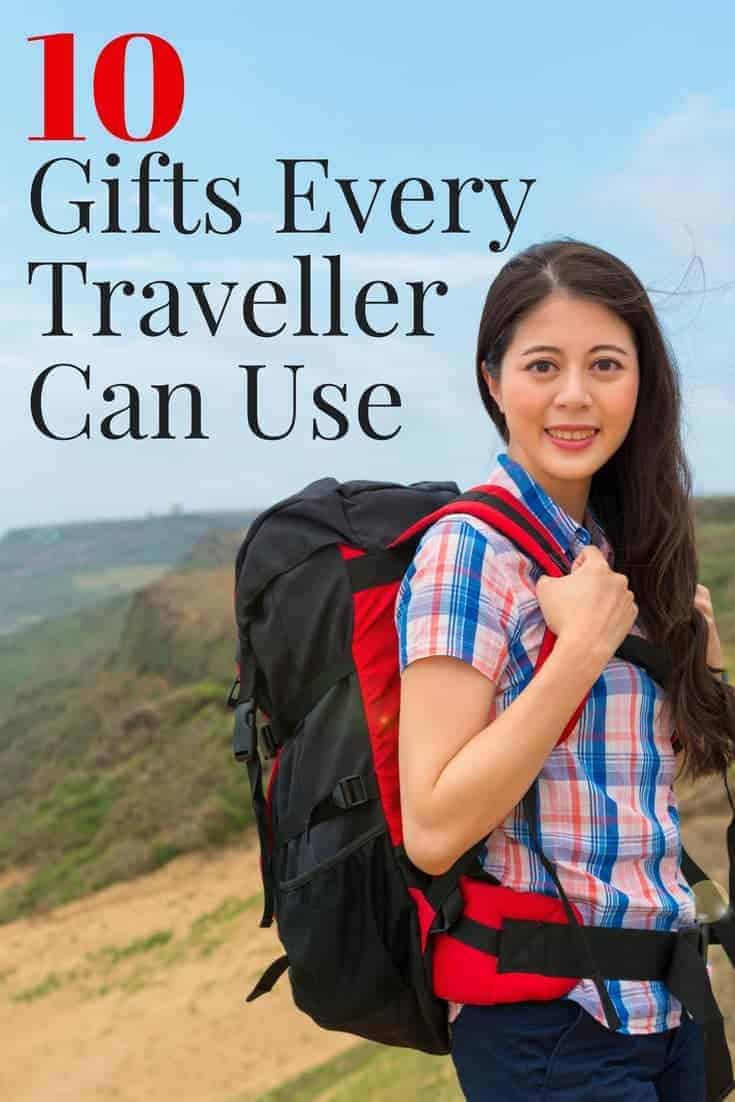 (Note: The links in this post are affiliate links, and we will be compensated when you make a purchase by clicking through our links. Read our disclosure policy.)
Picking out the perfect gift for the traveler in your life doesn't have to be too hard. Whether they are going on their first trip or their tenth, there are certain items all people need to have with them. Then there are those other items that aren't necessarily needs, but are things that make travel a heck of a lot easier! Regardless of the situation, we have some gift ideas for travelers.
10 Gift Ideas for Travellers
1. Backpack. You will want a backpack that comes with lots of pockets and compartments One of the most important items to travel with is what you put on your back. I'm not talking backpacking gear, but just your basic day trip backpack, but be lightweight since you'll have it on your back all day long.
2. Packing Cubes. These are essential for long trips. Packing cubes allow you to organize your luggage so you can easily find what you need when you want it. It also helps keep your suitcase tidy so that your clothes aren't moving around and becoming a wrinkled mess. If you know someone who is planning on doing some travel, these packing cubes make the perfect gift.
3. Passport Case. When travelling abroad, it really helps to have all of your important documents in one place. This passport holder is the perfect way to keep everything you need for a day out in one place. It not only holds all your credit cards, travel cards, and passport but will also help protect you with RFID Blocking material integrated into the wallet.
4. Luggage Tags. No one wants to spend their own money on luggage tags, but they are important to have. This is the way you'll find your luggage if it gets misplaced. Another benefit off luggage tags is that they can make your luggage easier to spot on the baggage carousel. Choose brightly colored or patterned luggage tags so that you can spot them from a distance when they are in baggage claim.
5. Shampoo Bars. These small shampoo bars might be pricey, but they last forever and are perfect for all kinds of travelers. The bars are lightweight and are compact and you don't have to worry about spilling any liquids in your luggage!
6. Neck Support Travel Pillow. If you travel, you will want your own travel pillow. Trust me on this one. Besides being lightweight, you also want a pillow that is comfortable so you don't wake up with a crick in your neck. This one is perfect because it is the size of a scarf and is adjustable!
7. Hydaway collapsible bottle. One thing that all travelers can agree on is the value of being hydrated. These collapsible water bottles are amazing. You can fill them up and when done, collapse them and fit them easily in the pocket of your pants for backpack!
8. Outlet Converter. You will need a power adapter if you plan on charging anything or using your own electronic devices. If you are someone who travels frequently and to different countries, choose a power adapter that is interchangeable like the All in One World Wide Power Plug.
9. Kindle. I am an avid reader, but even if I wasn't I would still travel with my Kindle. The device is the perfect size for taking on the go, can support HD video and even has a built in camera just in case I need it!
10. Scratch Off Map. This happens to be the only travel item that isn't actually something you take on trips. The scratch off world map poster is perfect for the avid traveller who ventures out of the country frequently. It is a fun way to show off where you have been.
Do you have any gift ideas for travellers?