One of the best parts of taking a Royal Caribbean cruise is getting to visit Perfect Day at Coco Cay. The Royal Caribbean Coco Cay Waterpark has 13 water slides, the Caribbean's largest wave pool & tons of things your family is going to love.!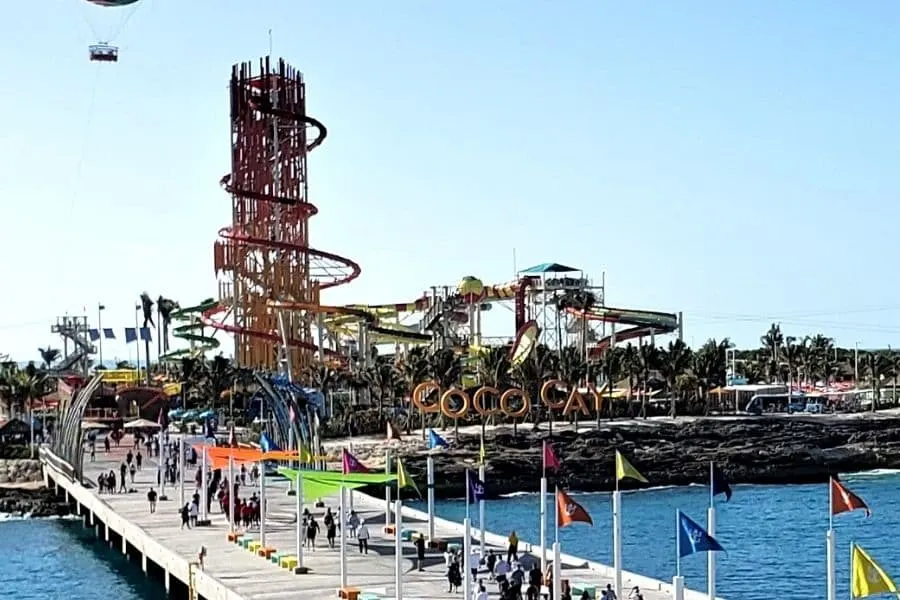 Royal Caribbean Coco Cay Waterpark
Daredevil's Tower
The centerpiece of the Thrill Waterpark at Cococay is Daredevil's Tower. While the name is quite intimidating, don't be turned away.
You will find seven single-rider waterslides of various heights. The tallest is the 135-foot-tall Daredevil's Peak. It is the tallest waterslide in North America.
What you will want to know is that the line for Daredevil's Peak can be ridiculous. If you can hold out for the end of the day, you will find that there is hardly a line at all!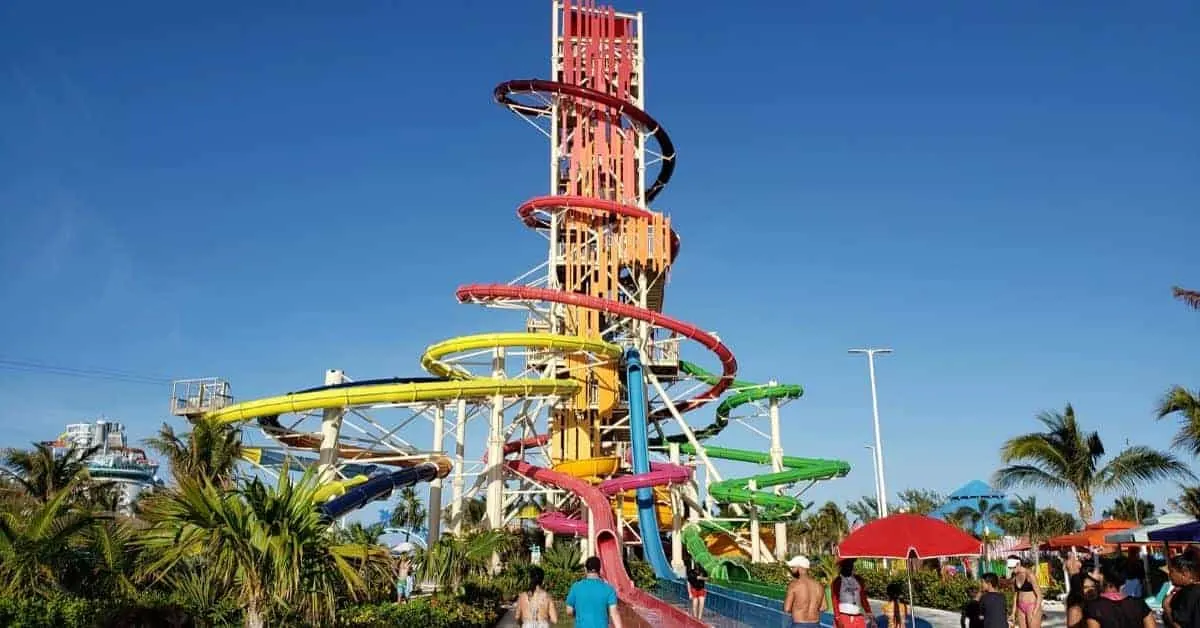 There are also other slides besides Daredevil's Peak you can enjoy.
Dueling Demon slides drop you from a platform onto a slide.
Manta Raycers which are twin open flume slides.
Green Mamba is a tube slide full of twists and turns
Screeching Serpent is an open flume ride with a ridiculous drop!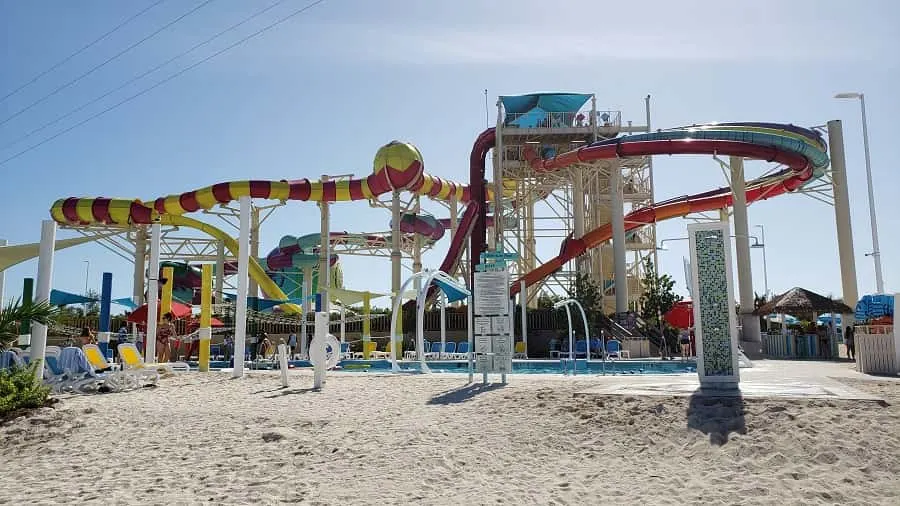 Splash Summit
The second set of great waterslides is found at Splash Summit. This is where you will find dual-rider slides and mat slides.
There are 6 slides in total:
The Slingshot is a zero-gravity slide for 2-4 riders. They will weigh you as a group and you will have to be under 350lbs total to ride.
The Twister is a winding tube slide for two on a tandem raft.
There are also four-lane Splash Speedway mat racing slides.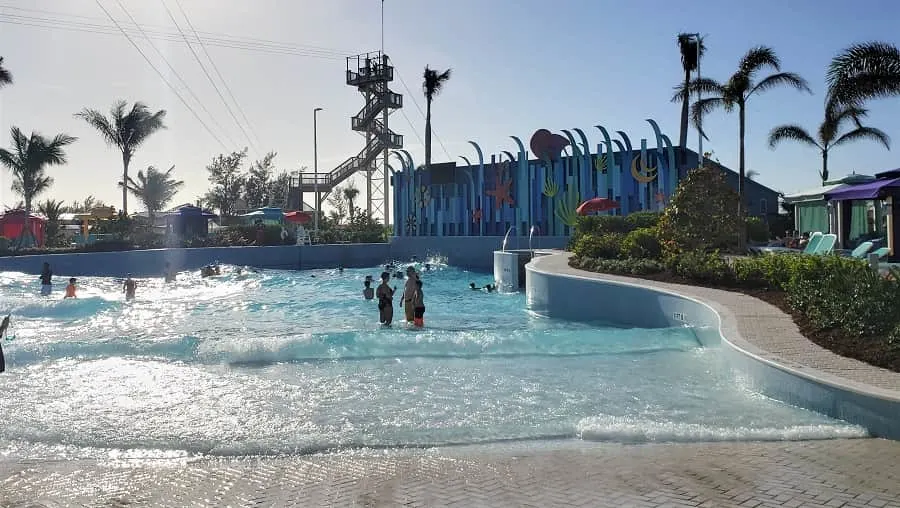 Wave Pool
This is the largest wave pool in the Caribbean. You will find the wave pool calm and then once the timer goes off, waves begin to appear.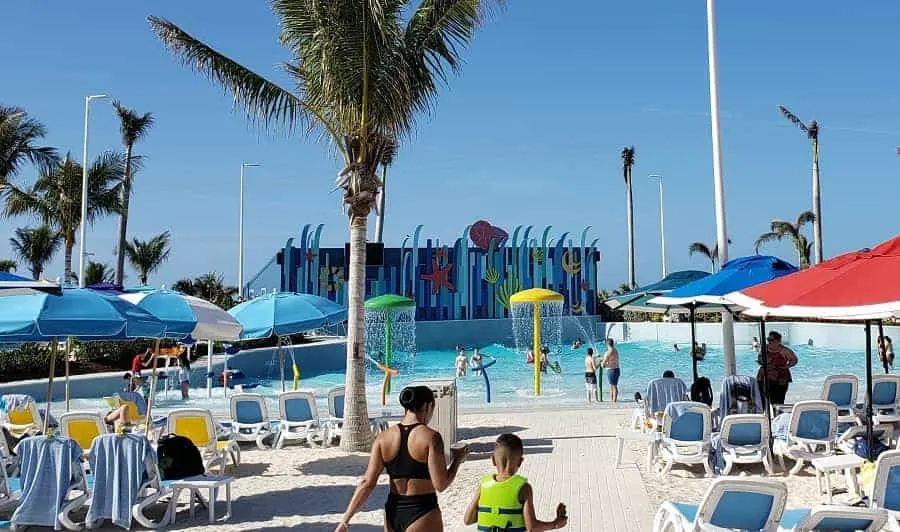 There is plenty of room to hang out in lounge chairs and enjoy the sunshine (or sit beneath the shade of an umbrella. It is your choice.
You will find a towel station on the left side of the pool.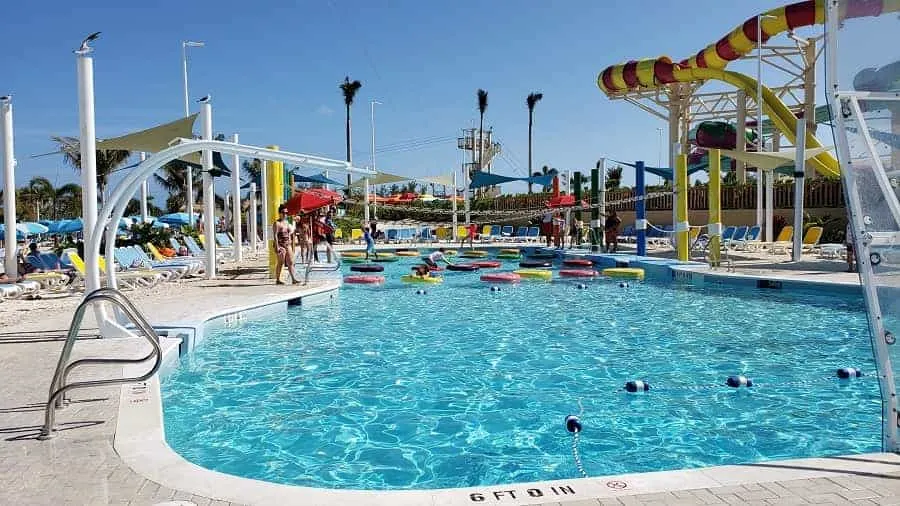 Adventure Pool
This interactive obstacle course on water has guests test their balance skills by crossing the pool on floating lily pads.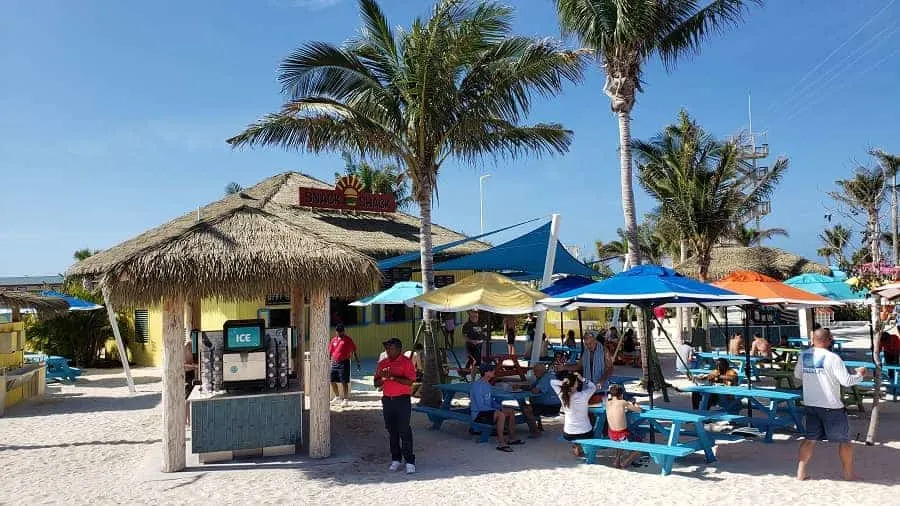 Eat for FREE at Royal Caribbean Coco Cay Waterpark
During your time at Royal Caribbean Coco Cay Waterpark, you will be able to dine for free at Chill Grill and Snack Shack.
Chill Grill
This is the place to go for Caribbean fare and tacos. You will also find plenty of fresh fruit, desserts, and two soft-serve ice cream stations!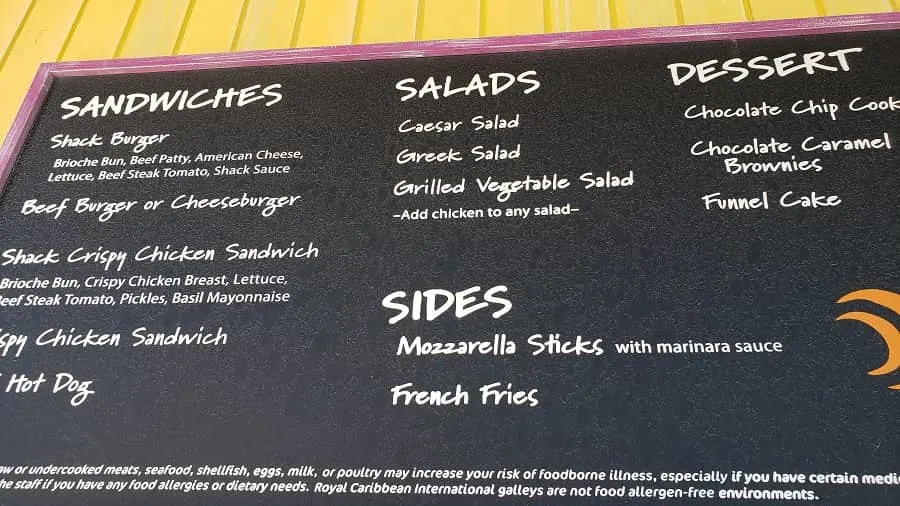 Snack Shacks
Choose from made-to-order burgers & hot dogs, salads, and chicken sandwiches. There is also a fresh fruit and dessert station.
If you have a sweet tooth, you can enjoy fried dough, caramel brownies, and cookies.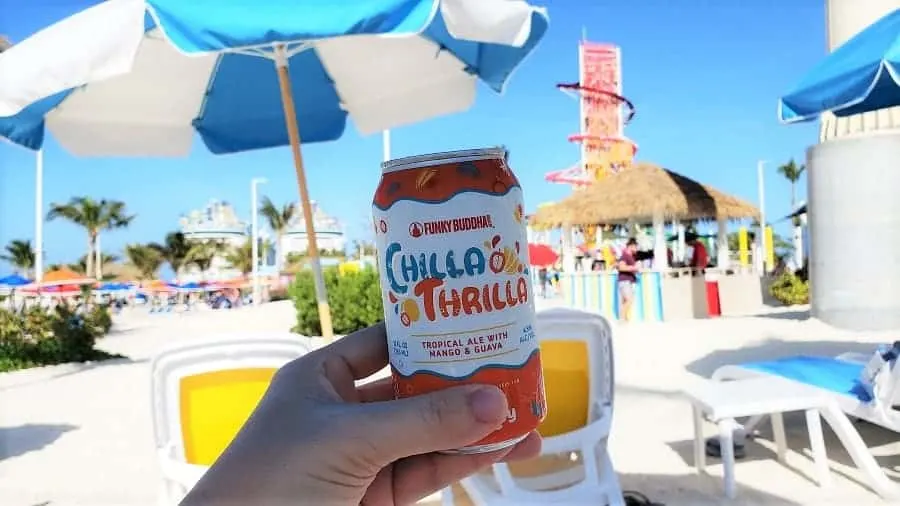 Adult beverages are available on the island at the bars. You will find a full bar along with a limited selection of beer.
One beer you will want to try is the Chilla Thrilla. This blond ale is crafted exclusively for Royal Caribbean's Perfect Day at Cococay!
Up, Up and Away (extra cost)
Guests can float up to 450 feet above Perfect Day at CocoCay in a colorful helium balloon. There is no better view of the island or surrounding water!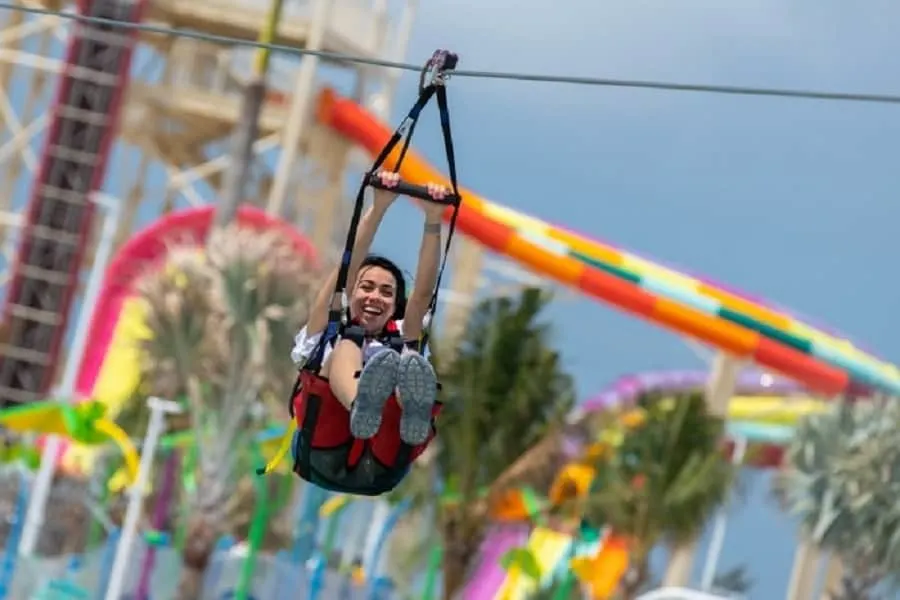 Zip Line (extra cost)
Guests can take the Thrill Waterpark up a notch & soar on the 1,600-foot-long zip-line course. The zip line has several different platforms that crisscross high above Coco Cay.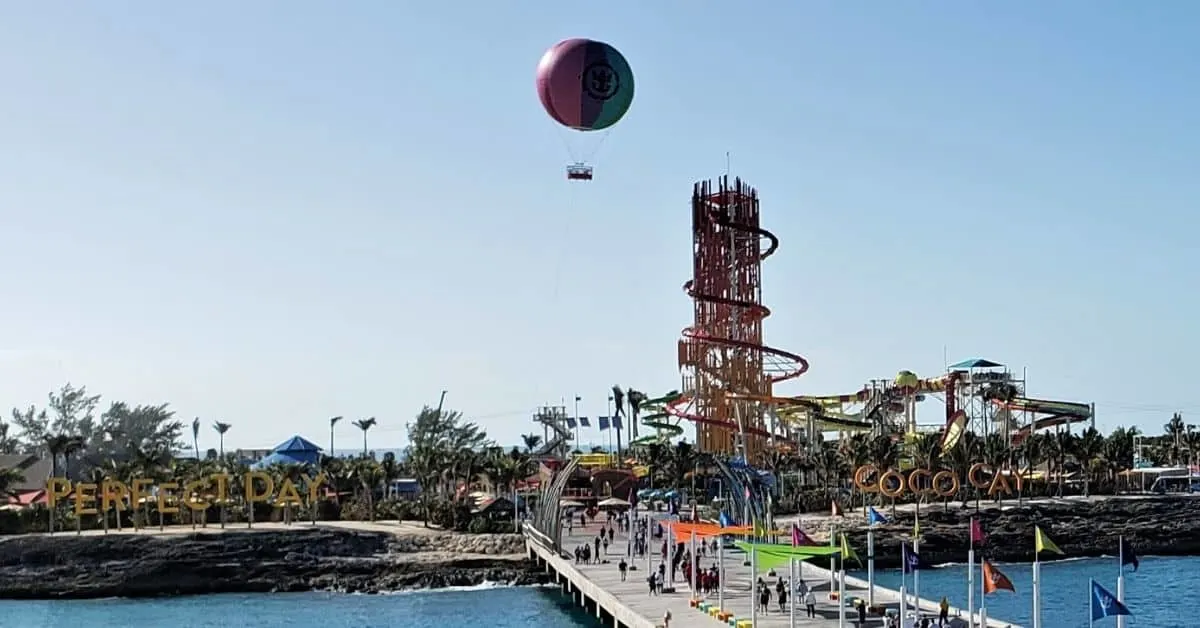 How much is the Royal Caribbean Coco Cay Waterpark Admission?
The price for Coco Cay Waterpark varies based on the season of the year.
Price ranges from $51-$139.
We paid $84 per person in January.
While the price is expensive, keep in mind that you are getting a fun day at a water park with lunch & snacks provided.
More Information on Royal Caribbean Coco Cay Water Park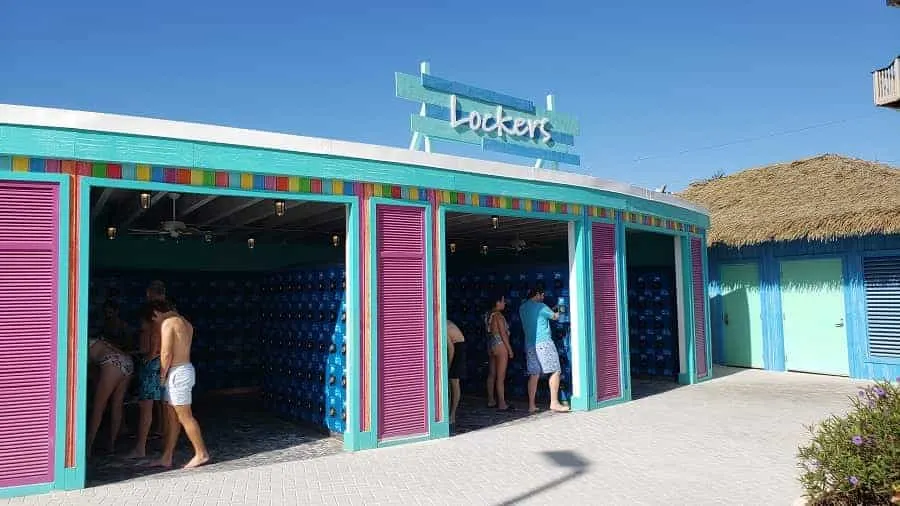 Locker Rentals on Coco Cay
There are lockers at Coco Cay so if you want to bring your phone, but are afraid to leave it at your beach chair, you can lock it up.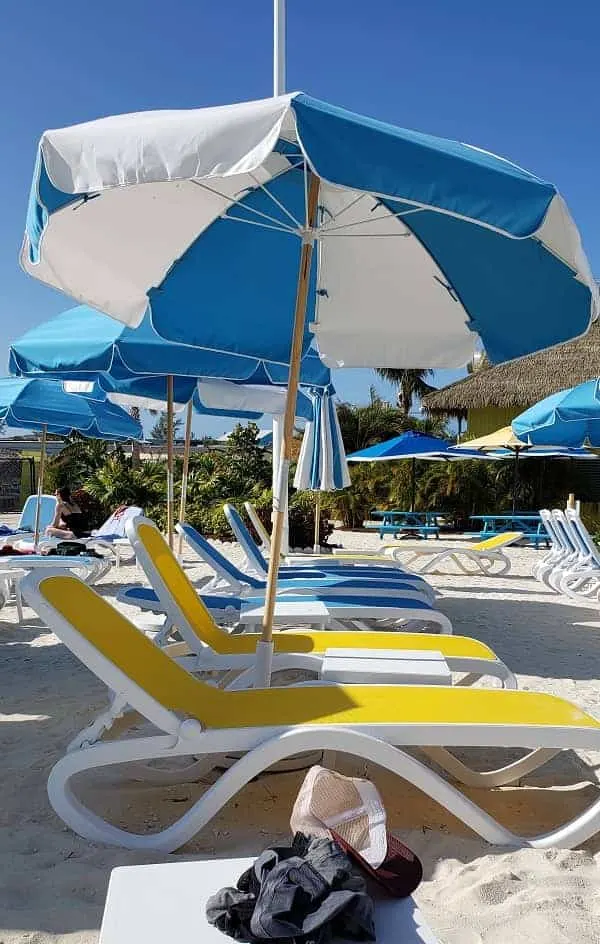 Complimentary Beach Chairs & Towels
Beach chairs and umbrellas are complimentary as are beach towels. You can pick up towels or exchange them for fresh towels at either of the two towel exchange stations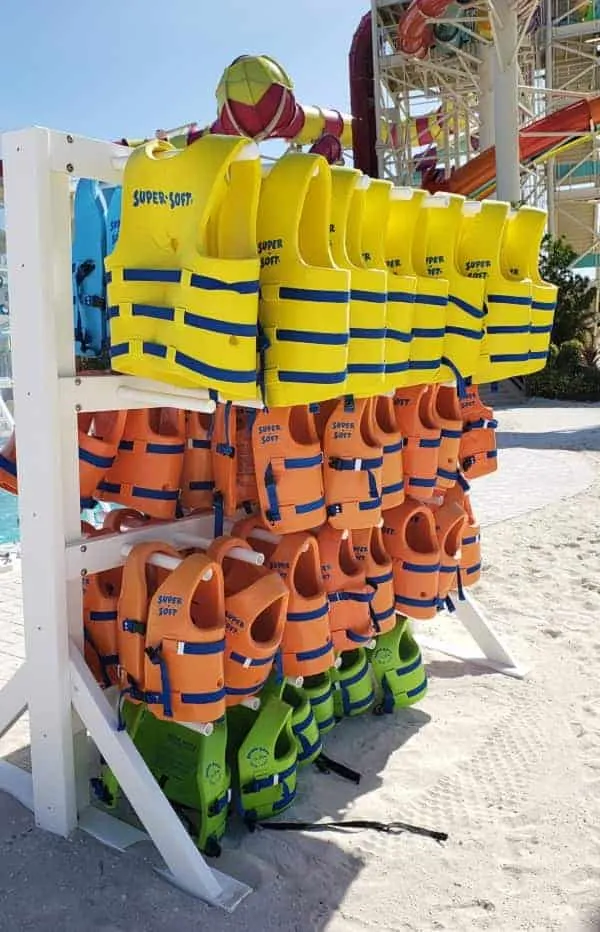 Complimentary Swim Vests
Those guests that aren't confident swimmers don't need to bring their own swim vest. There are swim vests available for all guests to use as needed.
Adventure Ocean Kids Club
If you are traveling with very small children and want to enjoy the Coco Cay Waterpark, you might want to drop them off at Adventure Ocean before heading over to the island.
What to Pack for a Visit to Royal Caribbean Perfect Day at Coco Cay
SeaPass card
This will be your entrance ticket to the waterpark at Coco Cay. You can enter & leave as much as you would like but will have to scan the card each time to return.
Sunscreen, hat & sunglasses
Even though you will find umbrellas on most of the beach chairs in the waterpark, you are going to want to make sure that you protect your skin. The last thing you want to do is to underestimate the sun in the Bahamas!
Refillable Waterbottle
There are drink stations located at the snack shack. While cups are provided, if you want your beverage to remain cold, you probably should bring an insulated water bottle that you can refill.
You really won't need much else.
While there are no age restrictions for the experiences at Perfect Day at CocoCay, some of the slides and activities do have height and weight restrictions.
Do be aware that children 13 & under must be accompanied by a guest that is 14+.
Royal Caribbean has become one of our favorite cruise lines. Between the recent upgrades to many of their ships and to Coco Cay, we have found them to be improving each year!

Have you visited the Coco Cay Waterpark? Did you think it was worth the cost of admission?