With the features of many of the newer ships, the Royal Caribbean Navigator of the Seas ship has really impressed us with being a great family cruise. It offers 3 and 4 night Bahamas cruises along with 5, 7 & 9 night Caribbean cruises out of Miami, Florida. If you want to know what to expect on this ship, read on to see our Royal Caribbean Navigator of the Seas Review.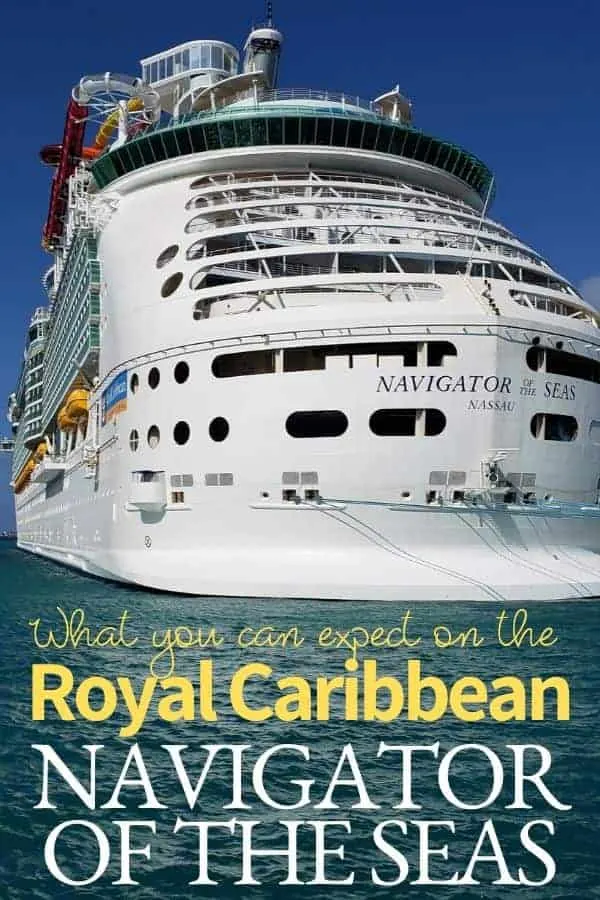 Royal Caribbean Navigator of the Seas Review
We have been on several Royal Caribbean cruises and always look forward to checking out ships after they go to drydock.
When Royal Caribbean Navigator of the Seas went under refurbishment in 2019, it was given many enhancements.
We found it similar in many ways to the Mariner of the Seas in terms of cruise ship features and this led us to decide to take it on a 3-night cruise to Nassau and Coco Cay (check out the new waterpark).
I am so glad that we did. We fell in love with this ship and were pleased with all the things added to it!
Wondering what you can expect to find on this ship?
Royal Caribbean Navigator of the Seas Rooms
Rooms aboard the Navigator of the Seas are pretty standard as far as Royal Caribbean ships go.
The refurbishment of the Navigator of the Seas brought a fresh facelift to the rooms, but the size of the rooms & bathrooms of course did not change.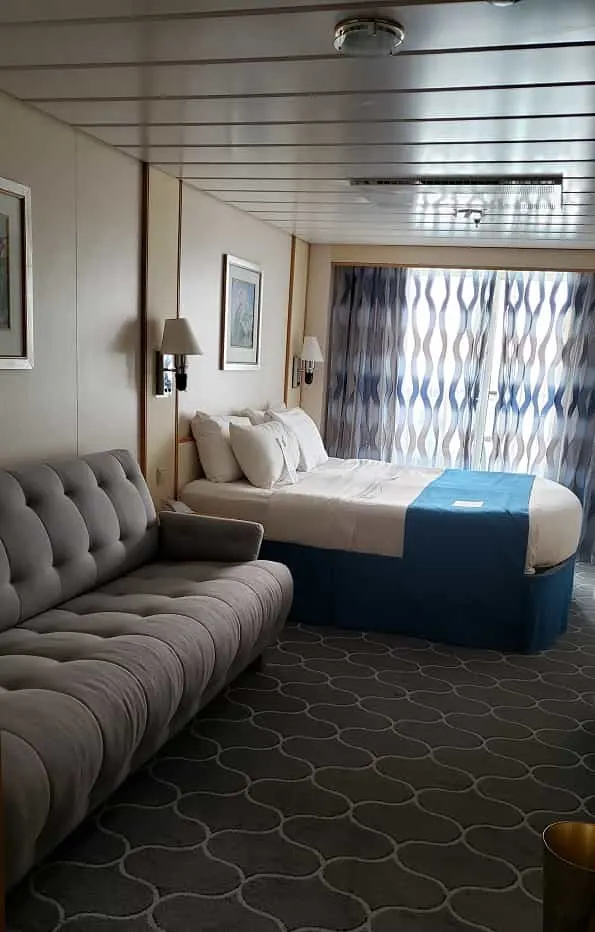 Royal Caribbean Navigator of the Seas Balcony Room
We chose a balcony room because we wanted to have a little more space which they afford.
Our balcony room included a queen size bed and couch that pulled out into a full bed.
The pull-out bed is on the short side, so we choose to make the bed up horizontally instead of vertically to allow more legroom.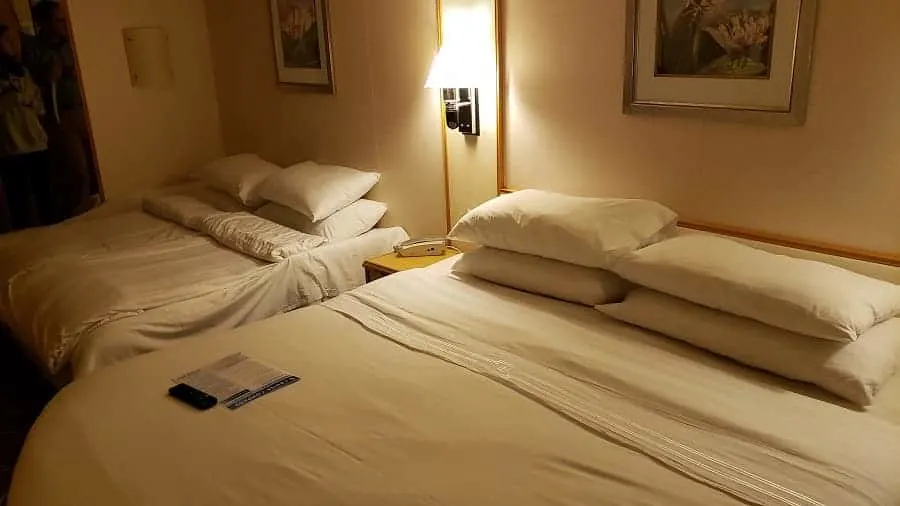 It is fine for children to sleep on (if they are okay sleeping together), but not big enough for 2 teens or 2 adults to share.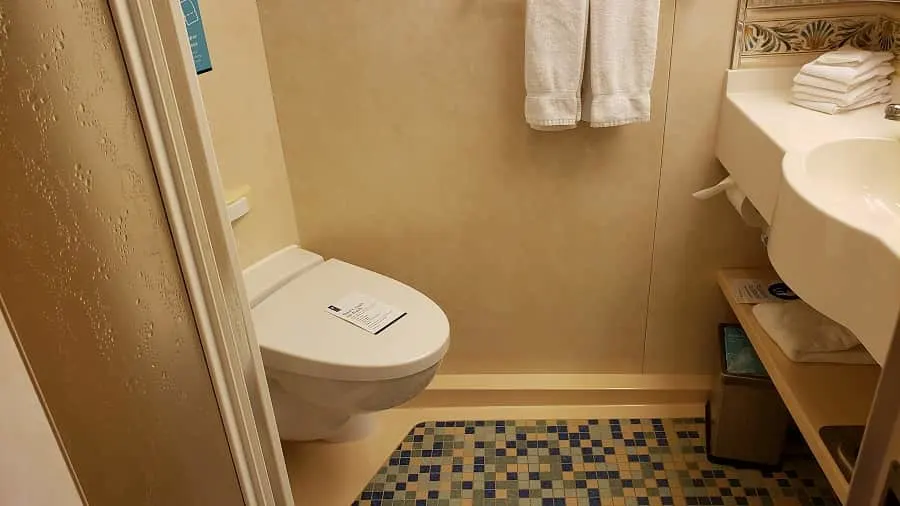 The bathrooms on the Navigator of the seas are small, but do have shower doors which I do prefer over the shower curtain which can give the bathroom a mildew smell.
Each shower comes with a body wash-shampoo combination dispenser.
The counter space in the bathroom is sufficient enough, and luckily the mirrors do open for more storage space.
Royal Caribbean Navigator of the Seas Restaurants
One of the best parts of taking a cruise is the food! The food on the Navigator of the Seas is just as good as it is on their other ships. You have a few selections as far as free dining goes and lots more for paid.
I don't like to have to pay for food while on a cruise so I can't tell you too much about that, but the quick service and table service restaurants on board were great.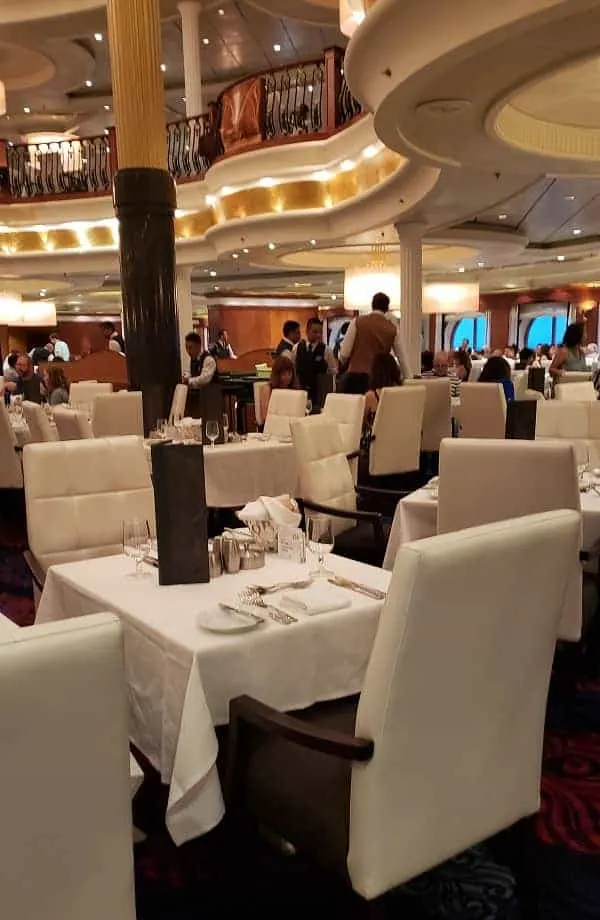 Royal Caribbean Navigator of the Seas Main Dining Room
The main dining room on the Navigator of the Seas is similar to other Royal Caribbean ship's fine-dining experiences.
There are two levels to the main dining room with a central staircase in the center featuring a statue of a ballerina.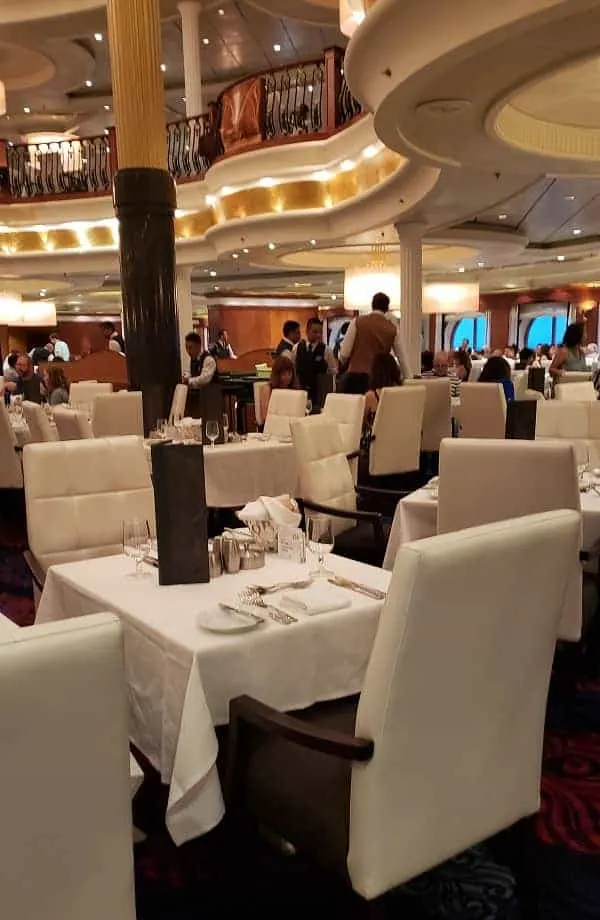 Each night, you will sit at the same table, so no need to line up after the first night. You will simply walk straight to your table.
Dinner is a three course meal where you will choose from a starter, main course, and dessert. All are on the same menu.
You will find that the menu is different each night with several items that remain consistent for all three courses.
There are also selections that are available for an upcharge. These are things like steak and lobster combinations.
There is usually one night when they will have a special on these special menu items where you will pay a discounted price. Wait for that night and you will save!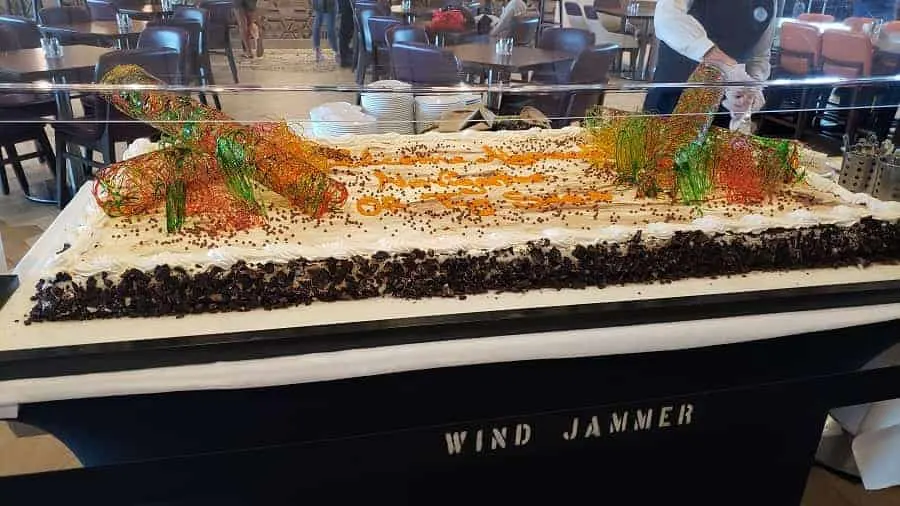 Royal Caribbean Navigator of the Seas Windjammer Cafe
If you want a great variety of choices on what to eat, you should head to the Navigator of the Seas Windjammer Cafe.
There is something for everyone.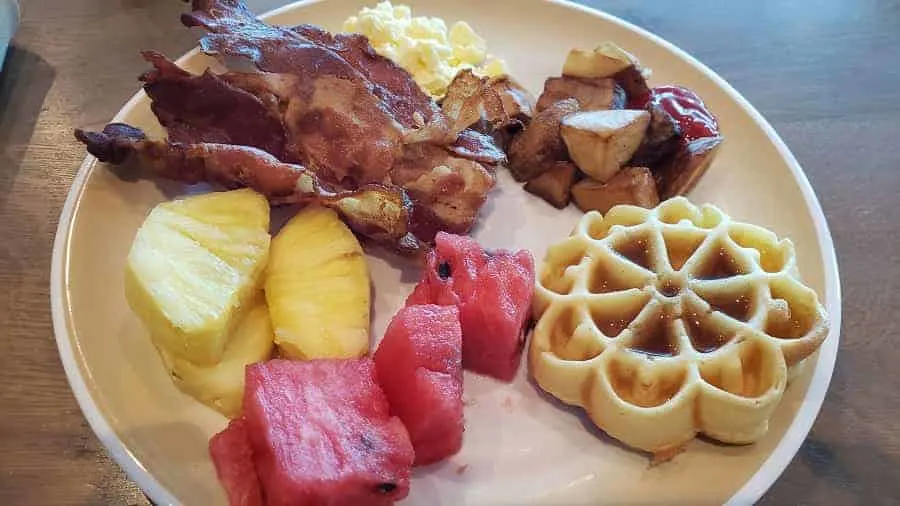 For breakfast, there are stations serving all your favorite American breakfast favorites: scrambled eggs, fried eggs, made-to-order omelets, waffles, french toast, bacon, fried potatoes, oatmeal, yogurt, fresh fruit, pastries, and more!
For lunch, you will find a carving station, regional cuisines from Asia and India, fish, chicken, burgers and hot dogs, a salad bar, and more! There is always a wonderful dessert bar.
For dinner, the buffet is filled with everything from lunch and more. Each night the buffet has a different theme. You will find nights geared toward food items like Seafood, Barbecue, and even Fondue.
Desserts were also a little different at dinner with hand-scooped ice cream and various pies.
If you are Gluten Free, you will even find a small section devoted to Gluten free desserts that are clearly marked!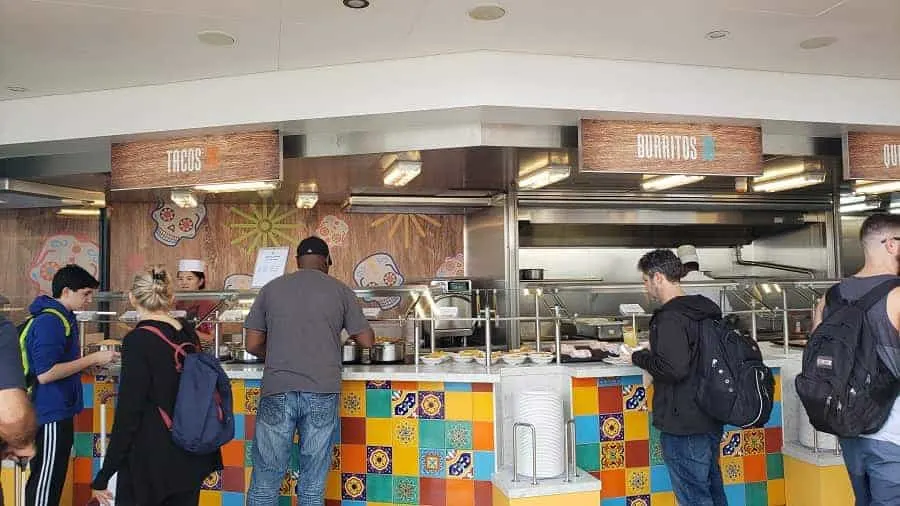 El Loco Fresh Tacos
One of my absolute favorite places to grab lunch or a snack was the free Taco stand next to the pool deck. They served fresh soft-shell tacos, nachos, burritos, and quesadillas all day long. The free-standing fixing bar has all everything you could want to build your own taco or nachos including guacamole!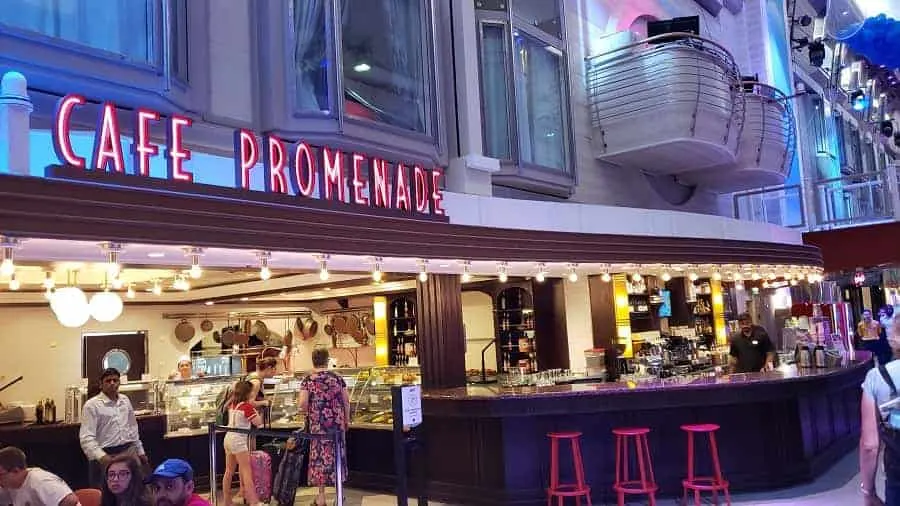 Cafe Promenade
At the Cafe Promenade, you will find coffee, pastries, sandwiches, and pizza, along with a case full of yummy desserts. There are plenty of tables with seating for you to hang out and you can see the big TVs playing sports right across the promenade at Playmaker's Sports bar. All the food items are complimentary.
Navigator of the Seas Restaurants (for additional cost)
Chops Grille – Steakhouse
Chef's Table – Gourmet dinner.
Hooked Seafood – New England seafood
Jamie's Italian – Casual Italian
Izumi Sushi and Hot Rocks – Japanese
Johnny Rockets Express – Made-to-order burgers, fries and shakes
Starbucks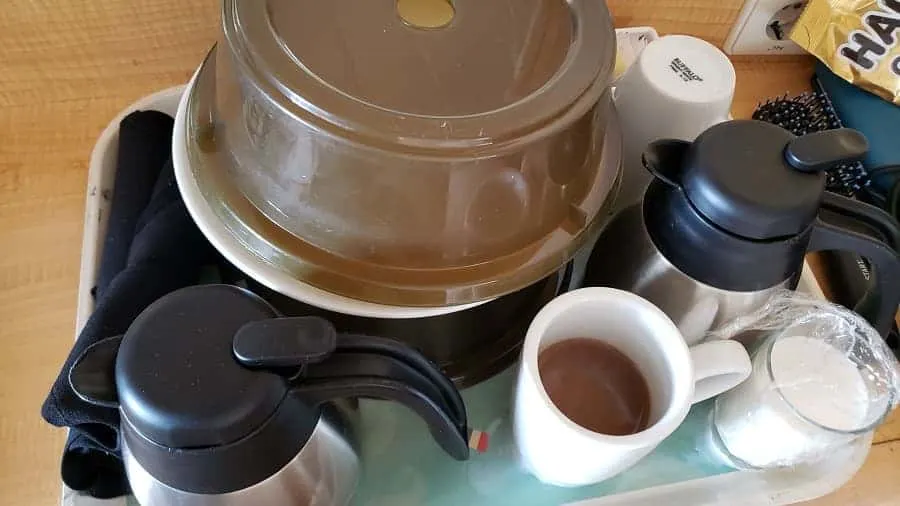 Royal Caribbean Navigator of the Seas Room Service
Room service is available throughout the day on your ship, but comes at a cost. The only thing you can have sent to your room for free is a small selection of breakfast items that includes pastries, cereal, juices and coffee.
We had this brought to our room each morning so that we could wake up with ease and enjoy a cup of coffee on the balcony. They bring the coffee in a carafe so it stays warm!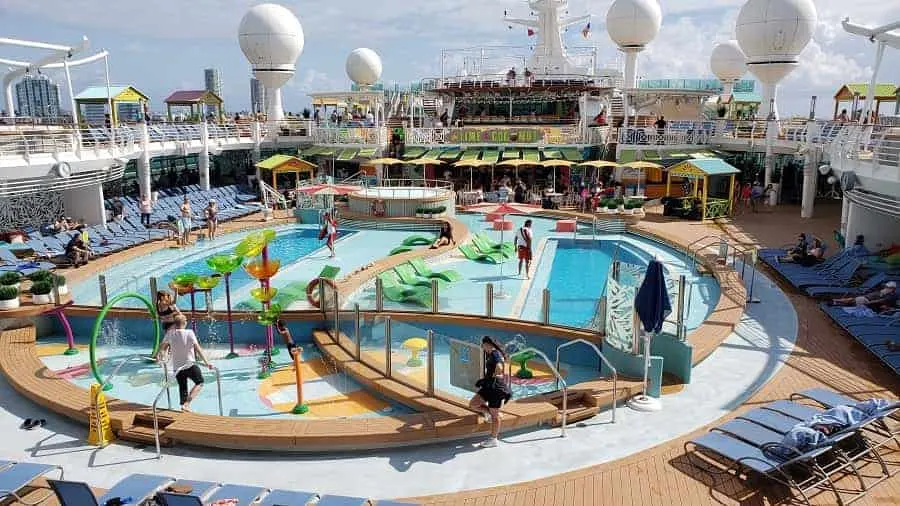 Royal Caribbean Navigator of the Seas Pools
The pool deck on Deck 11 is wonderful. You will find two pools sitting parallel with loungers and a shallow wading area.
There is even a splash pad for little ones to enjoy!
While the loungers are few, we were amazed that three of us managed to sit in them twice on our cruise!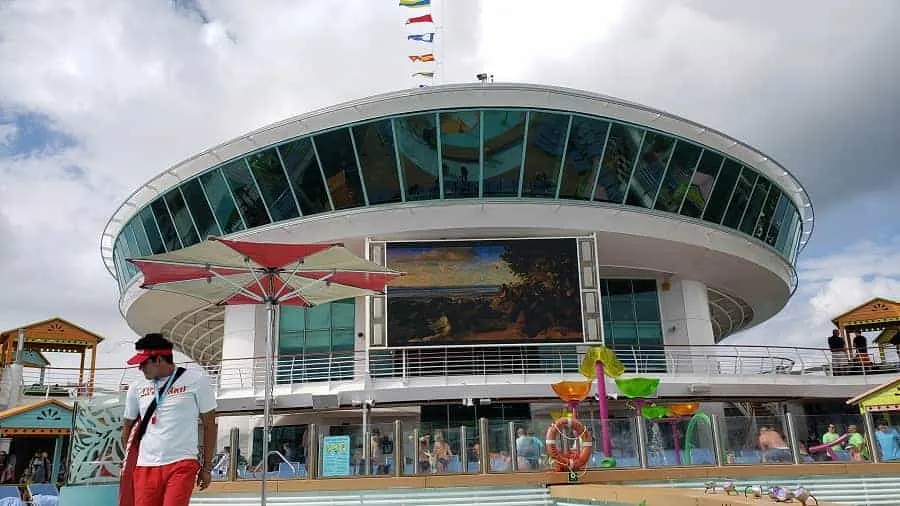 One of the benefits of this pool is that there is a big screen where you can watch movies while hanging out poolside!
There is plenty of seating (although a little claustrophobic) and you will find cabanas on deck 12 that overlook the pool area and are faced toward the outside of the ship. These cabanas are free and were always taken when I went to search for one!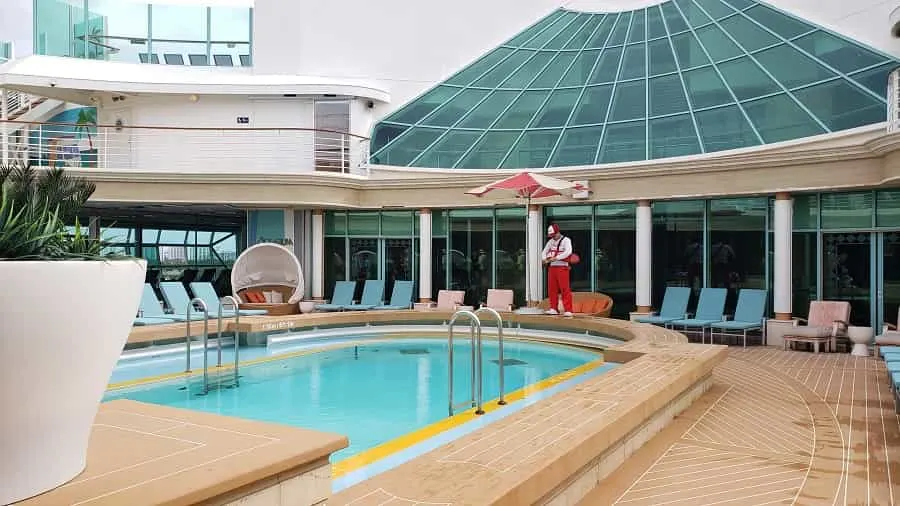 The adult pool area is small and tends to be pretty packed. I tried to go over the for some quiet time in the afternoon, but there was not a seat to be found!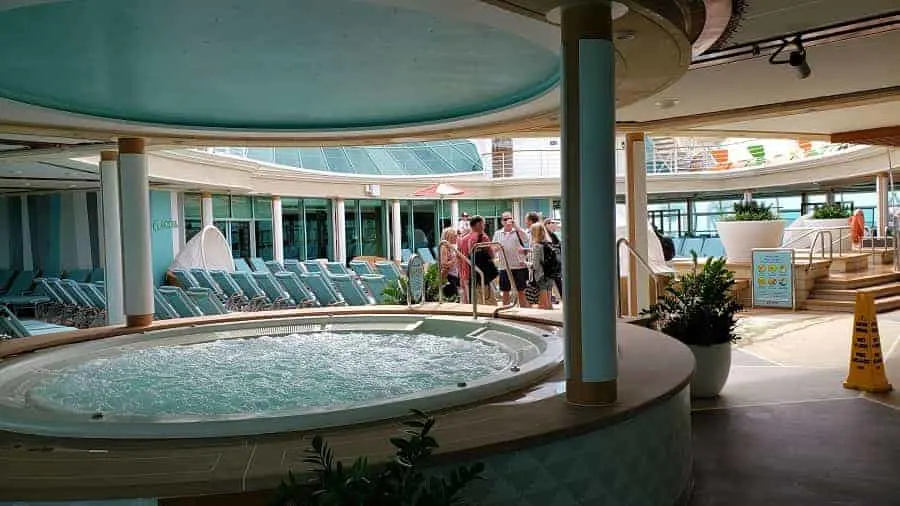 They have two hot tubs, so you should have no trouble snagging some time in one of them.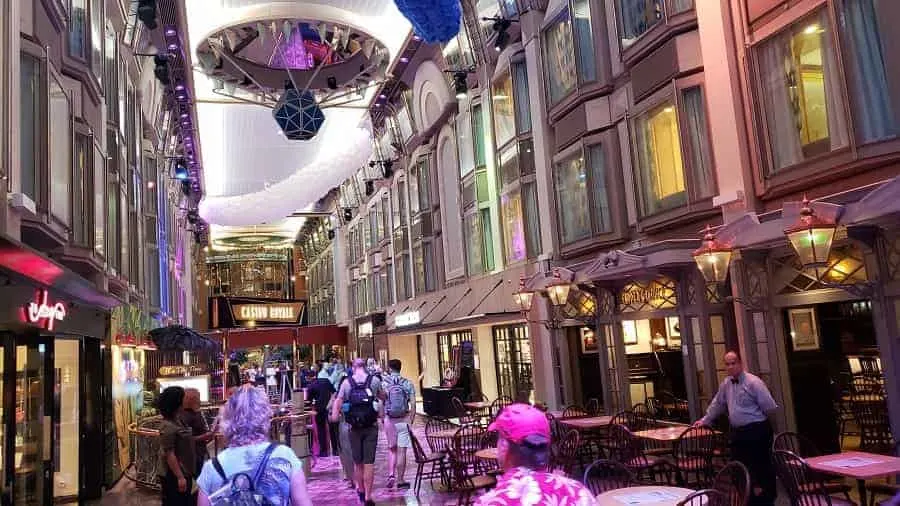 Royal Caribbean Navigator of the Seas Promenade
This area of the ship has shops, bars, and cafes. It is centrally located and is the place to be when nothing else is happening on the ship.
On the last day of your cruise, you will find all sorts of deals on everything from jewelry and watches to t-shirts!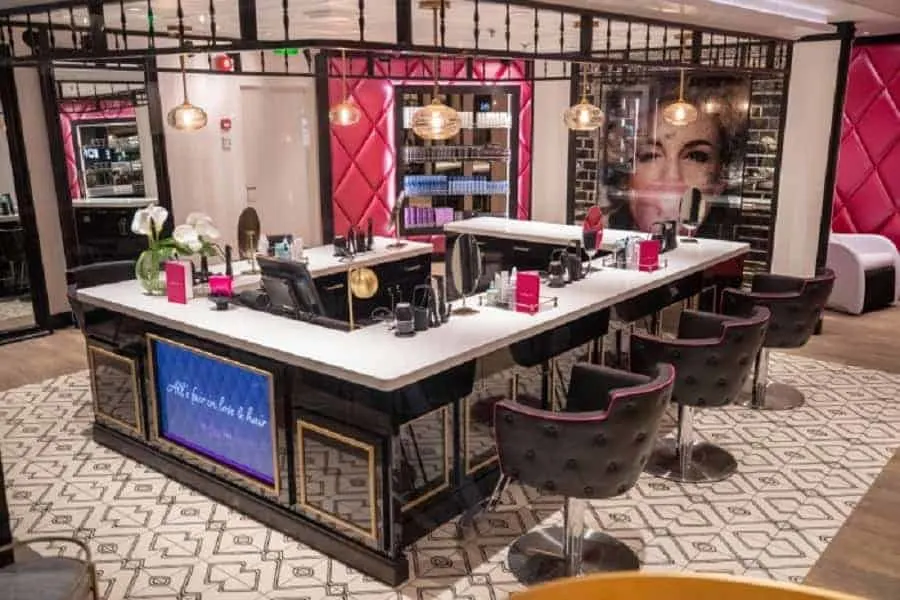 Blow Dry Bar
New on the Royal Caribbean Navigator of the Seas is the hair salon where you can get your hair washed, dried and styled. It is the first standalone blow dry bar at sea. Complimentary champagne is included in the flat rate cost.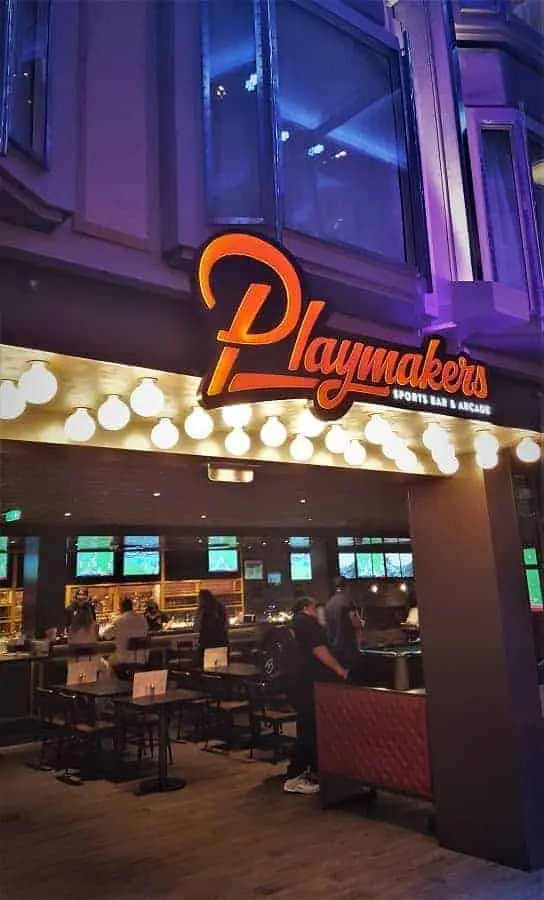 Playmaker's Sports Bar
While this is a bar along the promenade, it is so much more. You can watch your favorite sporting events live, play arcade games, shoot pool, play table shuffleboard, or a board game.
You can also order food a la carte. To me, it wasn't worth the cost. I mean, I can get nachos for free at El Taco Fresh by the pool.
Activities on the Navigator of the Seas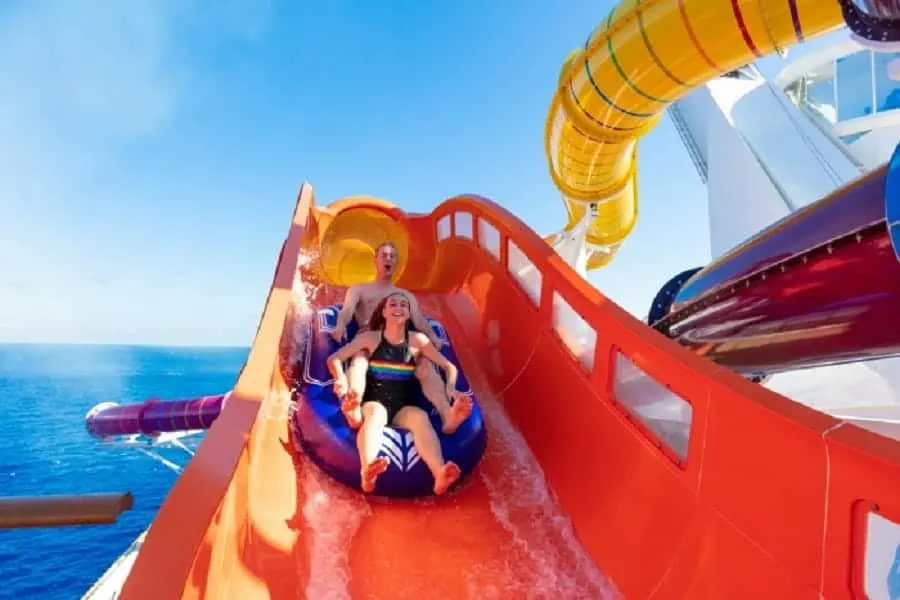 The Blaster Aqua Coaster
This water slide reminds me a lot of the Disney Dream & Fantasy Aquaduck slide, except it is much faster and seems longer. We really enjoyed this slide and found that the line, while long, was totally worth it.
Riptide (Headfirst Mat Racer)
This slight is all kinds of fun if you can handle the water being sprayed in your face for most of the journey!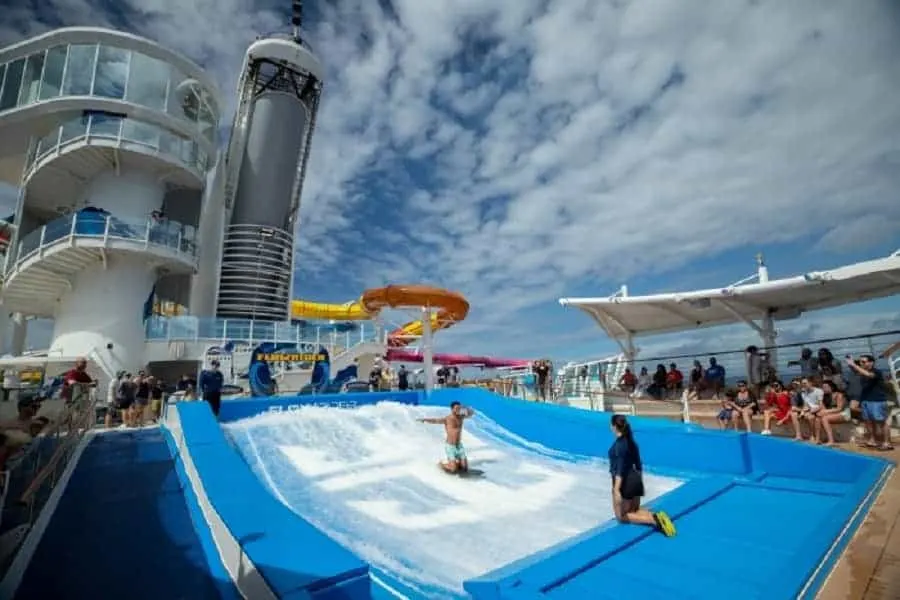 Flowrider
If you love to surf or want to take your hand at body surfing, you really should try the Flowrider. You don't have to know what you are doing. There is an instructor there to show you. They want you to have fun and will guide you through the experience.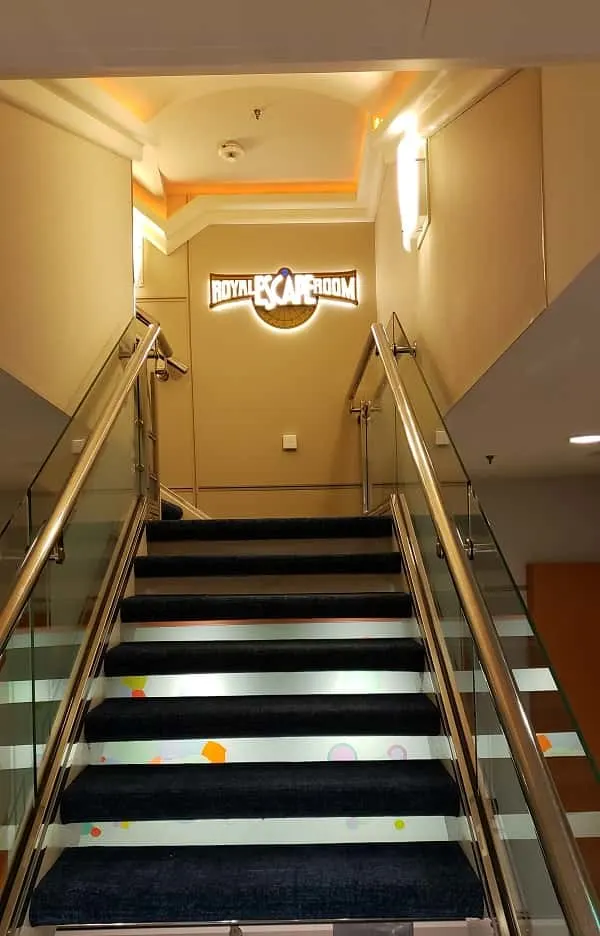 Navigator of the Seas Escape Room: Observatorium
If you are looking for a fun thing to do as a family on the ship outside of the shows, make sure you book the Royal Escape Room.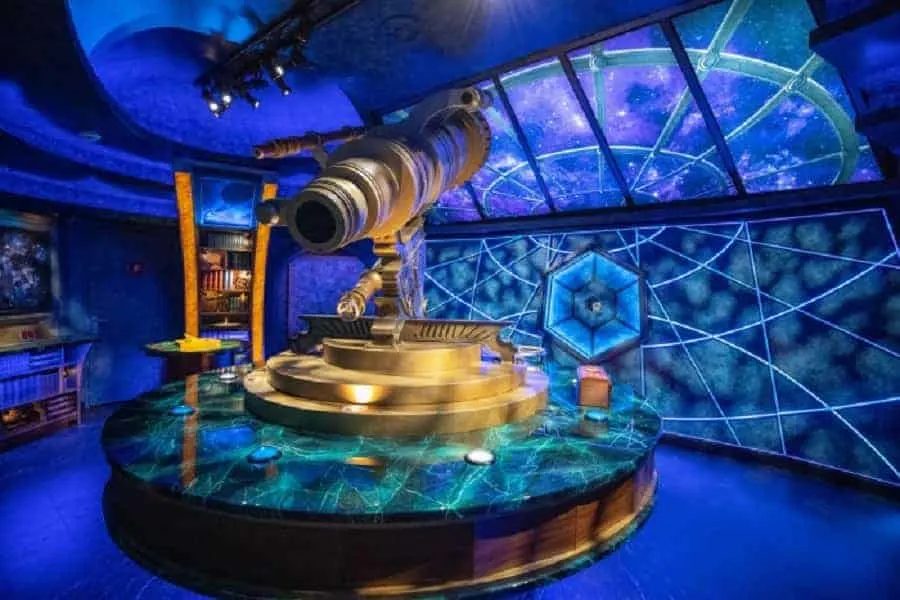 You will be paired up with other families or couples (I think we had 12 people total) and work together to solve different puzzles that will eventually unlock the door to the room. It was a blast!
Royal Caribbean Navigator of the Seas Ice Show
We haven't always been fans of the Ice Shows on board cruise ships, but we really liked the one of Navigator of the Seas. It was all set to current music and the ice skaters were very good.
During the day you can go Ice Skating for free or enjoy a game of laser tag!
Other activities on board:
Mini Golf
Rock Climbing Wall
Basketball
Shuffleboard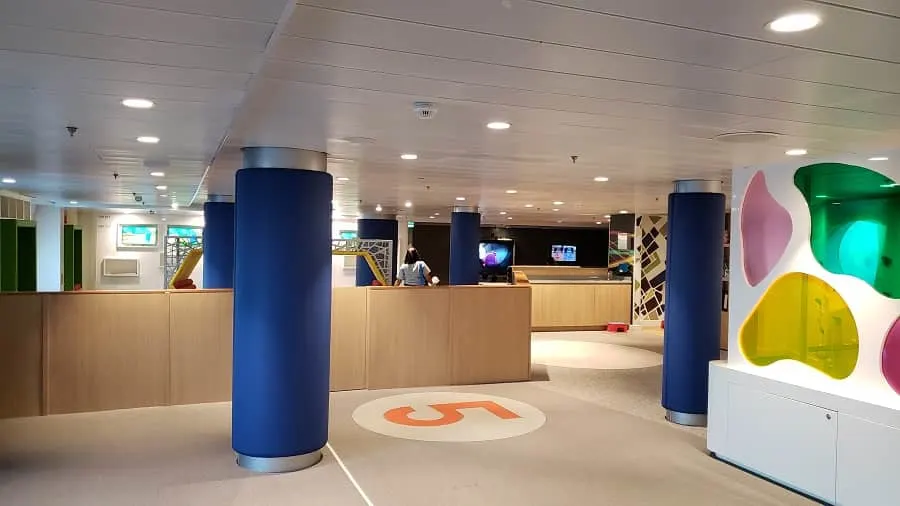 Adventure Ocean Kids Club
If you want some time to enjoy the ship without the kids, you will find that your kids will enjoy spending time at the kids club on Navigator of the Seas.
Royal Babies and Tots program for kids 6- 36 months
Aquanauts 3-5 years
Explorers 6-8 years
Voyagers 9-11 years
The kids clubs are well-run and are full of educational and entertaining activities that your kids are sure to enjoy!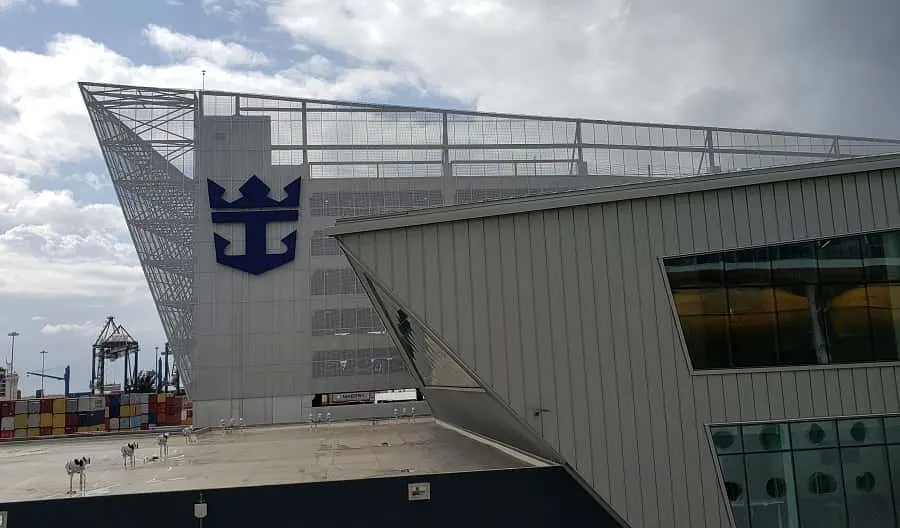 Navigator of the Seas Miami Terminal: Preparing to Board
Hopefully, you are coming to the cruise port from a hotel (and not the airport). Some hotels offer shuttle services but we used Uber. It was super easy and for us, much cheaper.
If you've sailed with Royal Caribbean before, your check-in process should be fairly simple in the Miami terminal.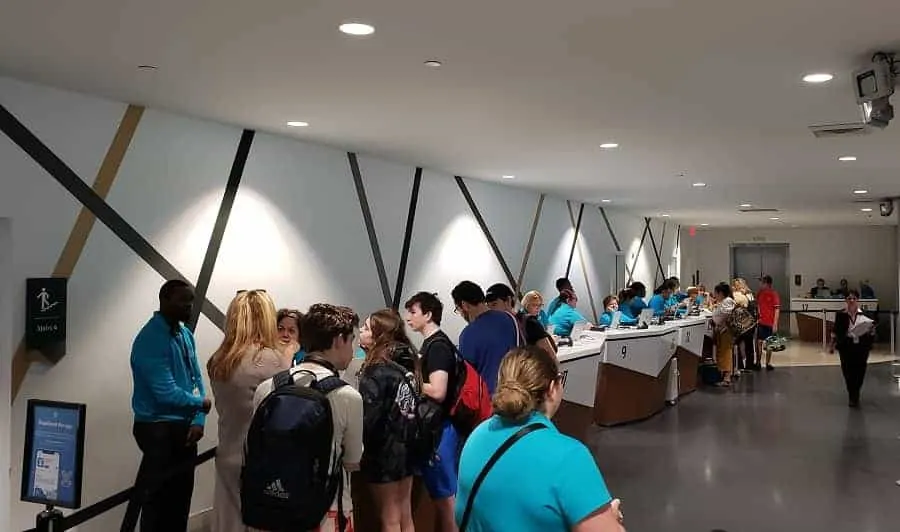 You should've done your check-in before you arrived, but if not, it won't take very long at all. Just simply queue up and have everyone in your party with you (you'll need to be photographed).
We had a 12:30 check which was perfect. It gave us time to get on the ship, have lunch in Windjammer and walk around the ship getting our bearings.
By the time we knew it, it was 1:30 and most of our luggage was waiting for us in our stateroom hall.

Have you been on Royal Caribbean Navigator of the Seas before? What was your favorite part of the ship?