The High Line is a unique and iconic urban park located in New York City, built on the remains of an old elevated railway line. The space has been transformed into a beautiful walking trail that has both natural elements along with hidden art features that make it a must-visit attraction for tourists and locals alike. Here is what you need to know about walking the High Line in NYC.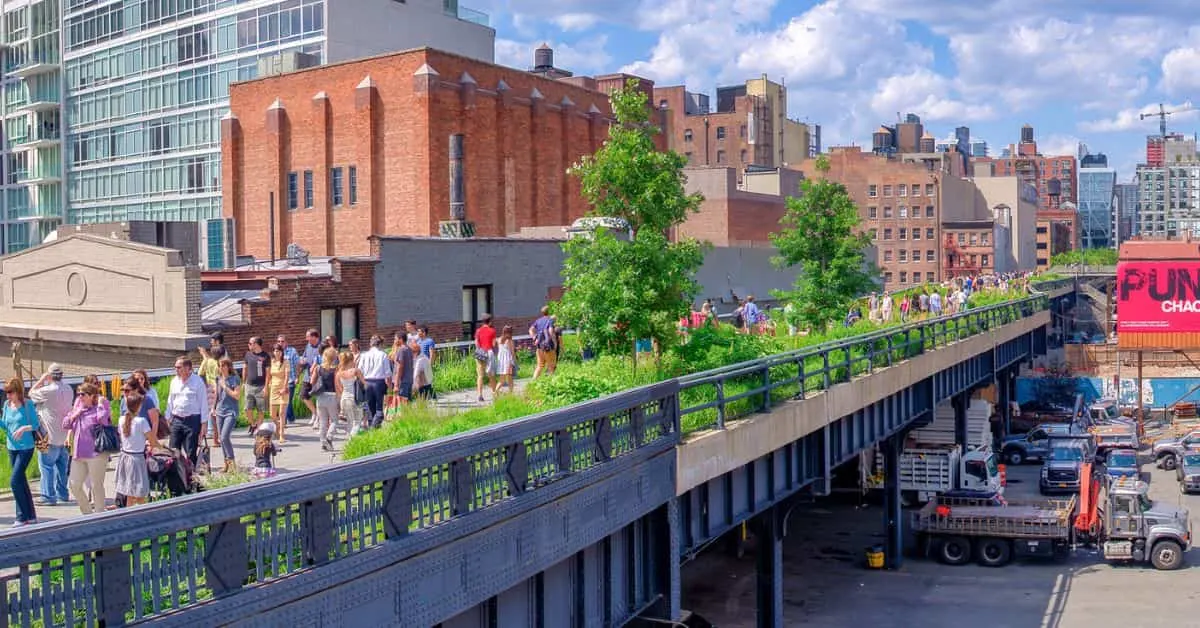 History of the High Line
The High Line was originally constructed in the 1930s to transport freight trains in and out of Manhattan's industrial district.
By the 1980s, it was abandoned, in disrepair, and frankly, an eye sore.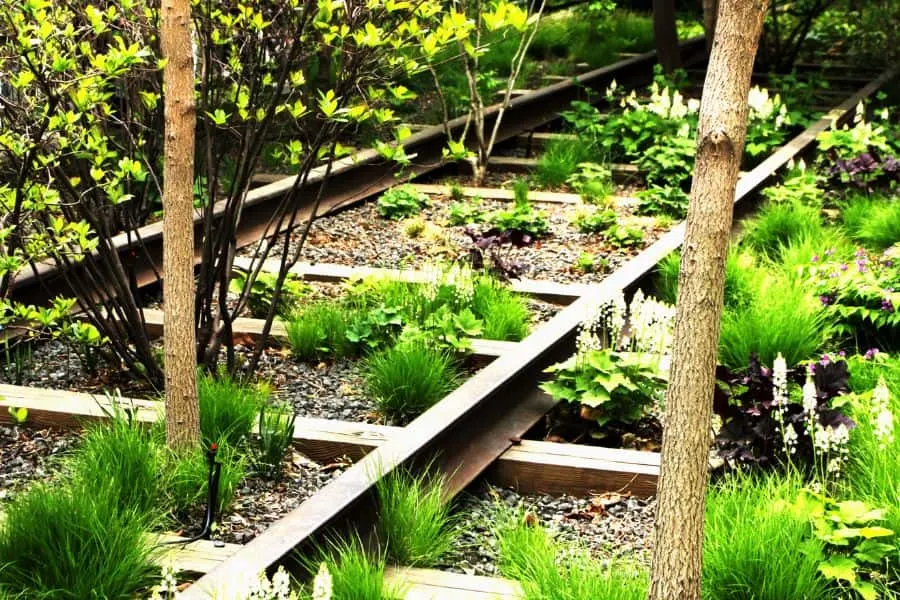 Instead of demolishing the train line, a group of local residents and business owners came together to save the structure and transform it into a unique public park, which opened in 2009.
Today this non-profit conservancy works alongside the New York City's Department of Parks & Recreation to make sure the High Line is maintained for the public to enjoy.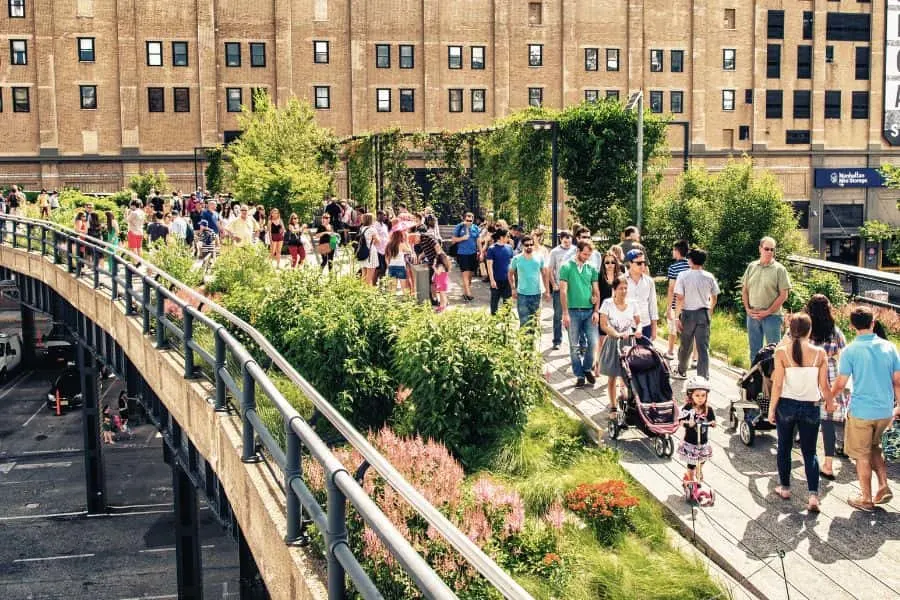 Why You Should Take Time to Walk the High Line in NYC
The High Line offers a stunning city view and allows visitors to walk through gardens, art installations, and rest in various seating areas.
It is the perfect place to escape the hustle and bustle of New York City, allowing both locals and visitors the chance to enjoy a stress-free walk while seeing the city from a different perspective.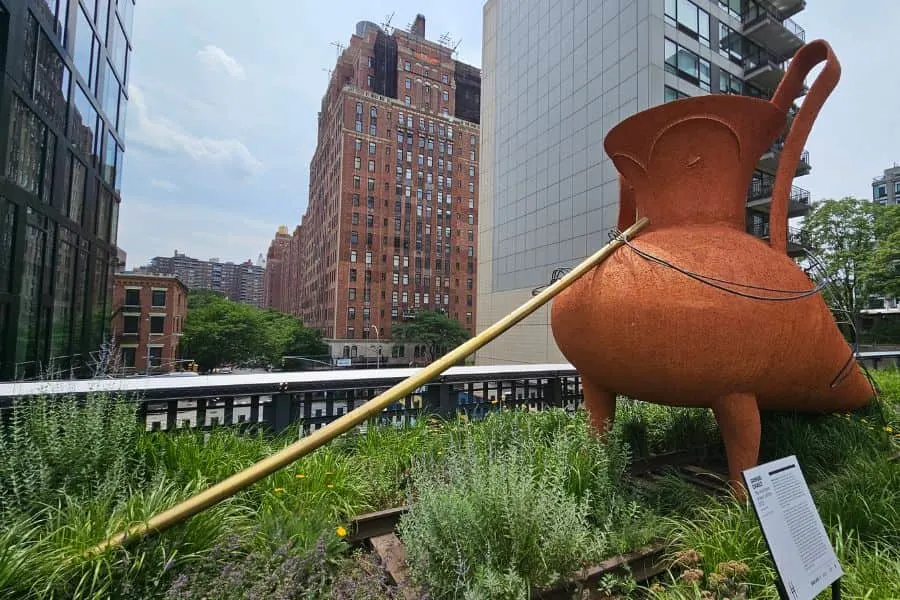 Interpretative signs along the way provide information about the history of the High Line, the surrounding area, and the artwork on display.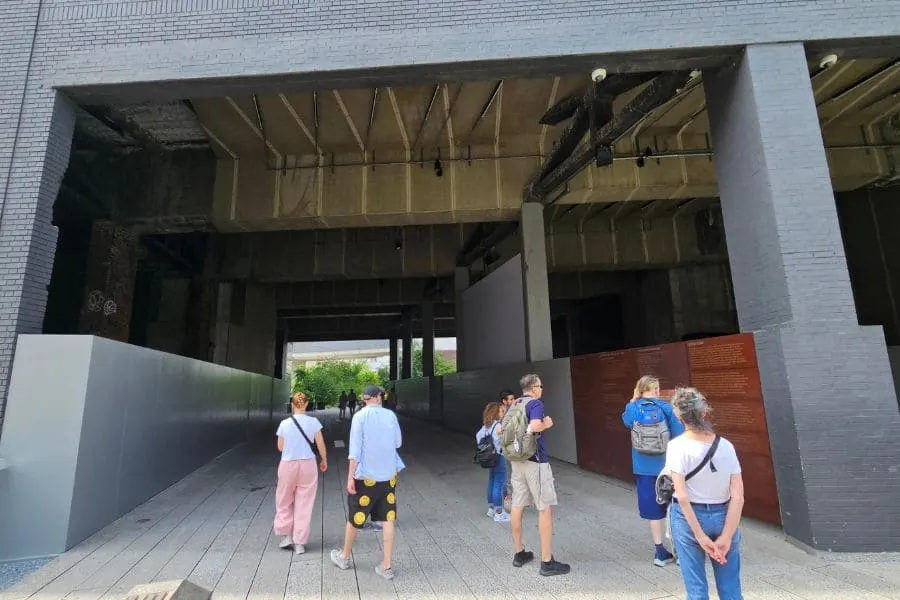 14TH STREET PASSAGE: Between 14th St. and 15th St.
If you choose to start your walk along the High Line here, you will be able to read about the history of this park. In the evenings, there are also video art exhibitions.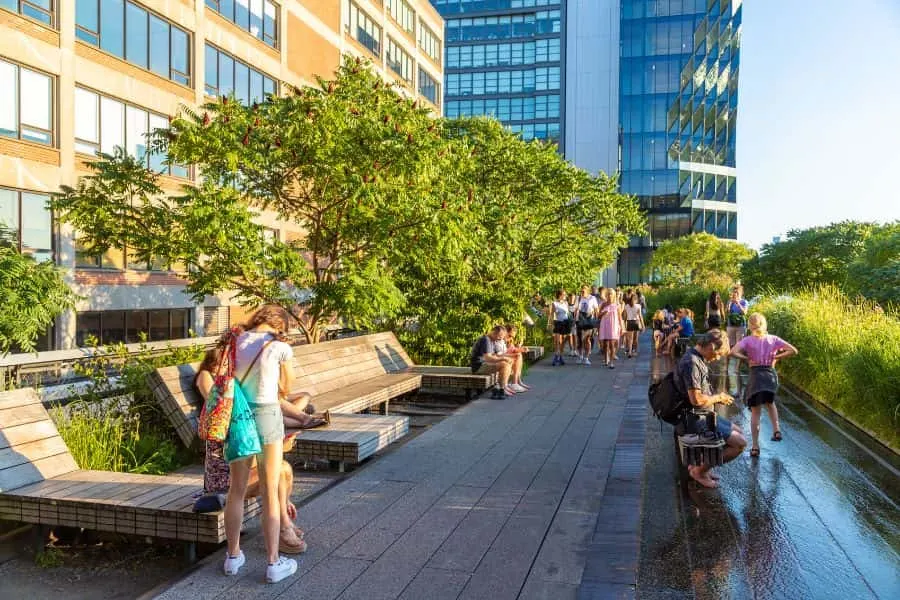 DILLER – VON FURSTENBERG SUNDECK & WATER FEATURE: Between 14th St. and 15th St.
Water used to collect on this part of the track, so it was decided that there should be a water feature in this area of the park. Now, you will find water sprinkling at ankle height on the far side of the walking path.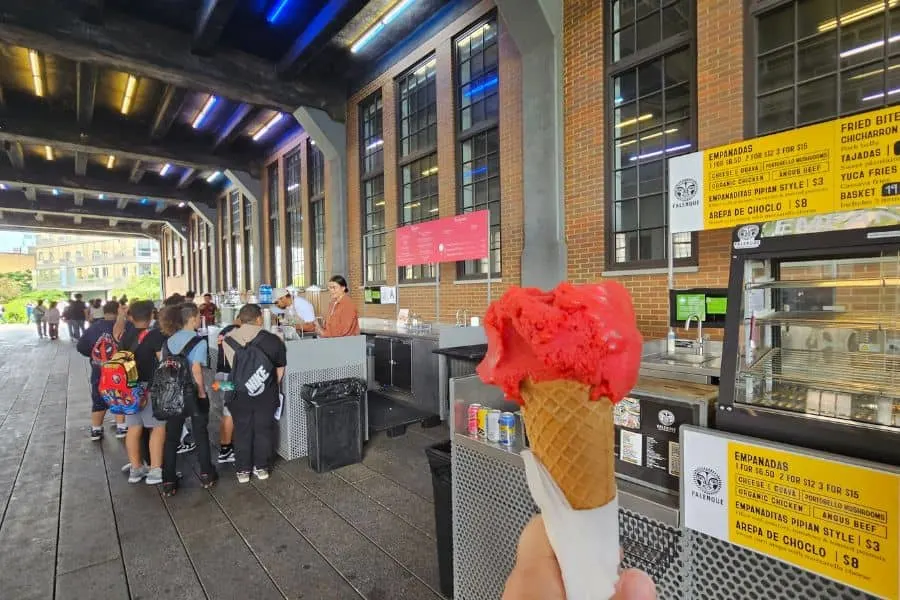 CHELSEA MARKET PASSAGE: Between 15th St. and 16th St.
Another notable feature is the Chelsea Market Passage which was once the home of Nabisco and the famous Oreo cookie.
Now, you will find a covered walkway lined with food stalls serving up everything from an empanada to gelato.
NORTHERN SPUR PRESERVE at 16th St.
Crossing 10th Avenue, this part of the park features native plants crab apples, asters, sedges, and goldenrods.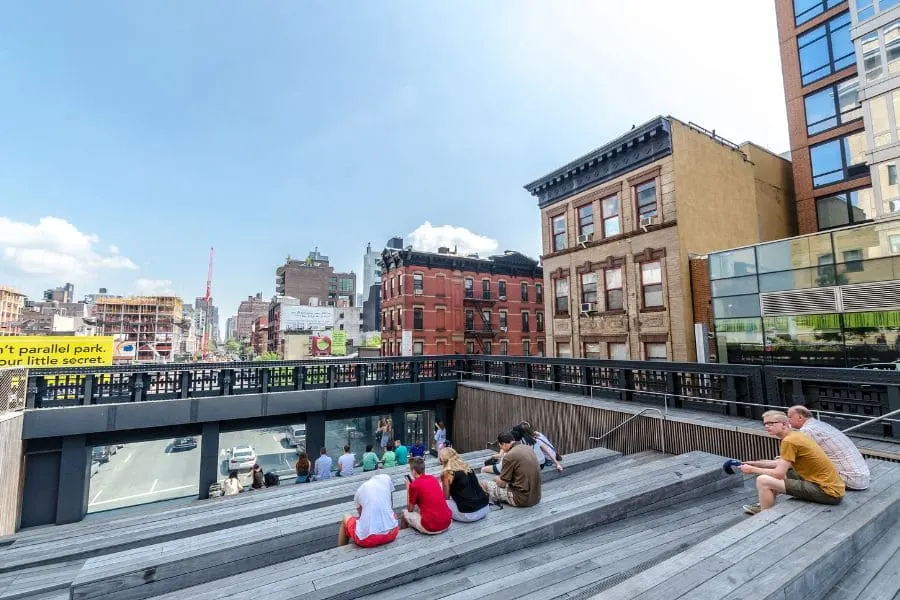 10TH AVENUE SQUARE & OVERLOOK at 17th St.
A favorite among locals, this part of the walking bridge features a glass panel that gives you a beautiful view. Grab something to eat from the Chelsea Market Passage and bring it here to eat & people-watch!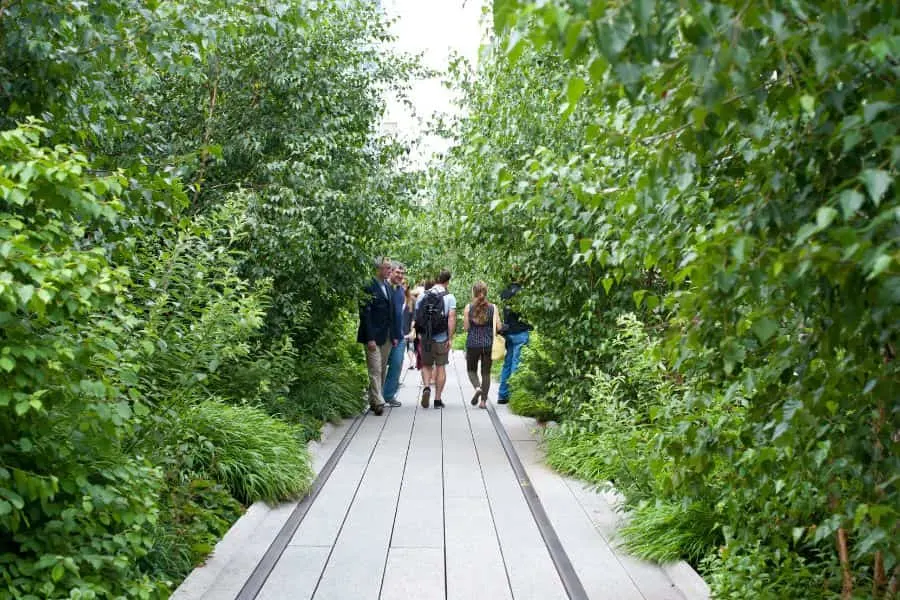 CHELSEA THICKET between 21st St. and 22nd St.
During this part of your walk along the High Line, you will feel as though you are on the ground. The trail is lined with trees and offers a wonderful shady spot to enjoy NYC!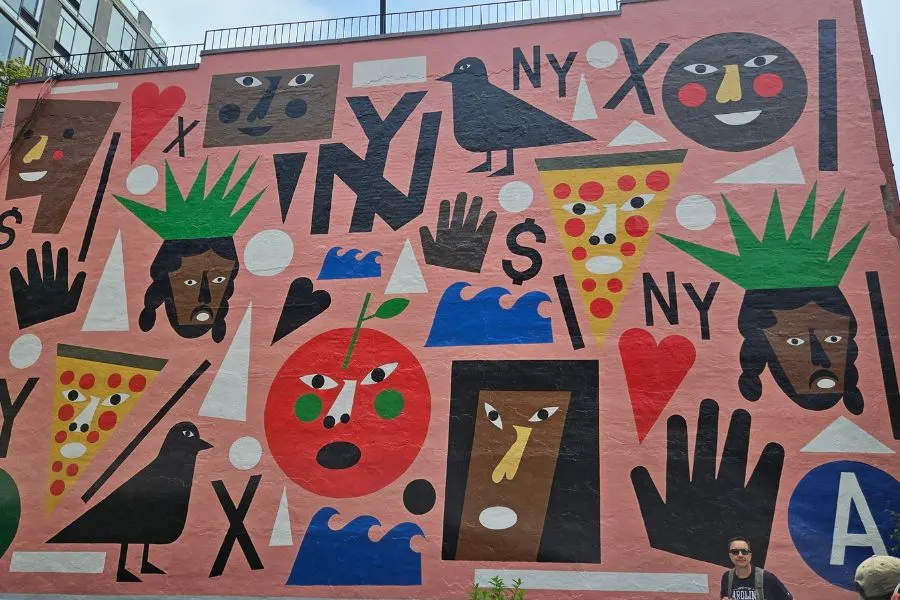 22ND STREET SEATING STEPS at 22nd St.
There are no shortages of places to sit and rest, but this seating is quite unique and offers a great view of the art installations!
FLYOVER between 25th St. and 27th St.
This part of the park makes you feel as though you are near the tops of the trees, flying over!
26TH STREET VIEWING SPUR at 26th St.
This is another great place to sit and enjoy various city neighborhoods!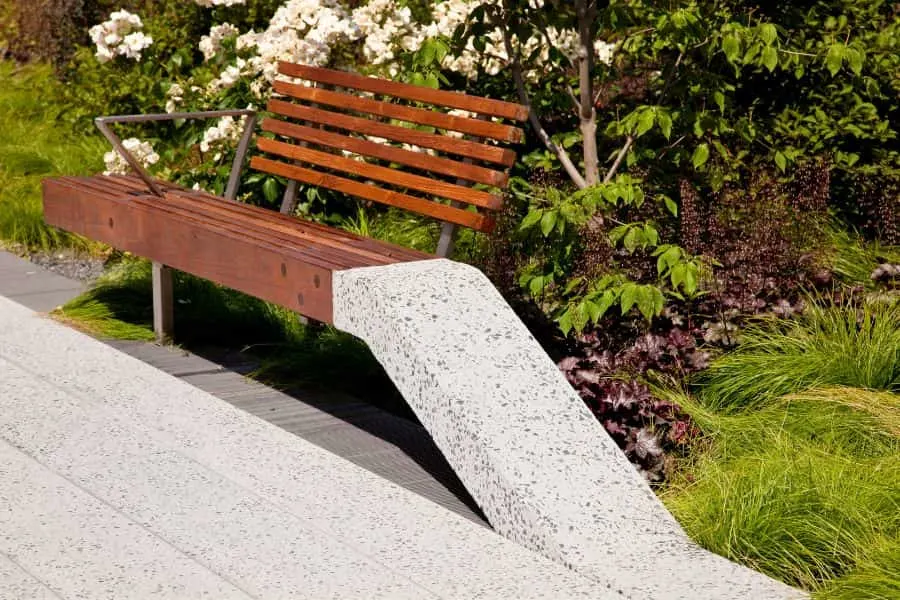 CROSSROADS at 30th St.
This road is so named because it changes orientation from North-South to East-West. You'll also find the iconic High Line peel-up X benches,
SPUR at 30th St. & 10th Ave.
This is where you will find Coach Passage, a large open space with large, mature trees. The High Line Plinth is a dedicated site for monumental art pieces.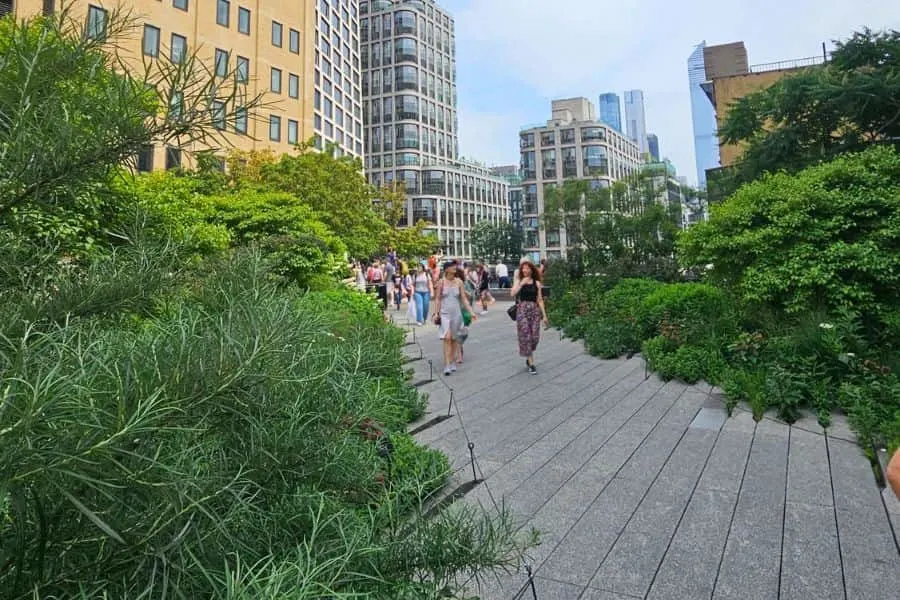 High Line Park Tours
While you can do the High Line walk on your own, you can also take a guided tour.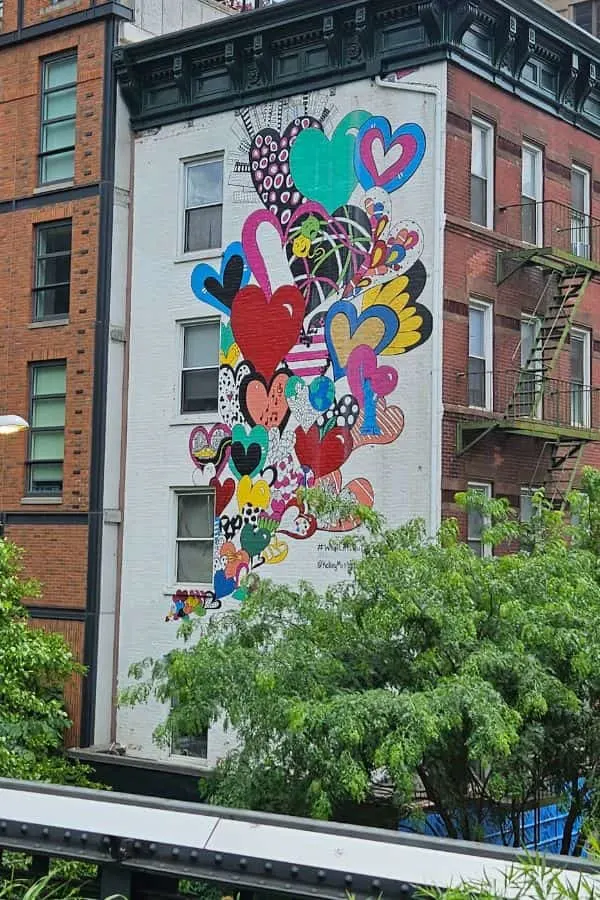 Free docent-led public tours of the park & its surroundings are offered on Tuesdays, Wednesdays, and Saturdays from May to October, and on Wednesdays and Saturdays from November to April.
Park Hours & Access Points
The High Line is currently open daily from 7am to 10pm, but you might want to do a High Line walk early in the day to avoid the most crowds.
There are different entry and exit points along the High Line, so make sure that you have the NYC High Line Map downloaded to your phone.
Those who need elevators can find them at:
• Gansevoort Street and Washington Street (Northwest corner)
• 14th Street and 10th Avenue (Southwest side)
• 23rd Street and 10th Avenue (Southeast side)
• 30th Street and 10th Avenue (Southeast side)