One of the worst things about travelling internationally is the long plane ride. You are confined for many hours in a small seat without access to things you are used to having at your disposal. This is why packing your carry on with your long haul flight essentials makes a huge difference.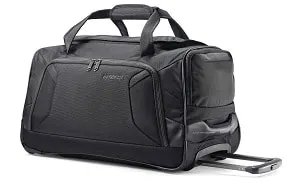 First of all, you should choose a carry on bag that will fit under the seat in front of you. This way you will have all your long haul flight essentials at your finger tips.
It will not serve you well to have to exit your seat, get your bag out of the overhead storage area several times during your flight to get what you need.
Instead, make sure you have a bag at your feet that has plenty of easy to access pockets.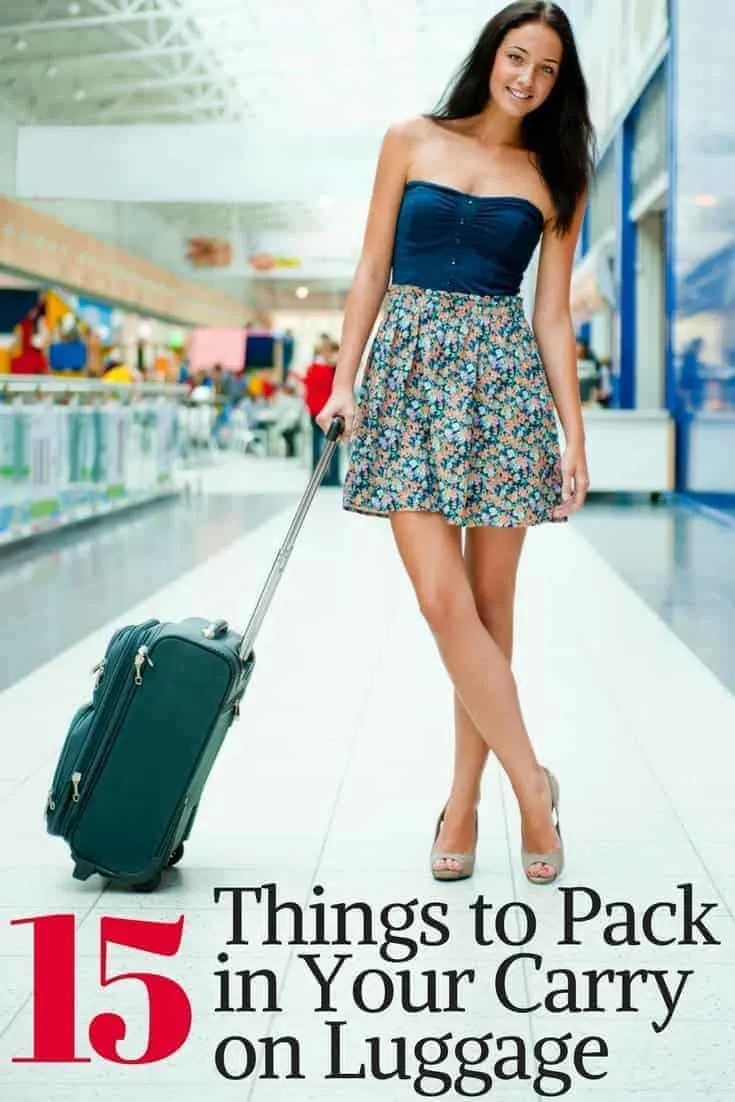 15 Long Haul Flight Essentials
1. Snack & Water
Depending on the airline that you take and how long your flight is, you might find yourself hungry and thirsty. Food (even candy) on airlines can be a budget buster. Bring your own. While you cannot travel with liquids in through security, you can bring snacks.
Choose snacks that will also have protein so that in the event that your plane isn't on time or a short layover doesn't give you time for a meal, that you have something to keep you going.
And while some airlines will give you free bottled water on International flights (because they want you to stay hydrated) it isn't a given. You are better off purchasing water bottles in the airport store before you board your flight.
2. Travel Pillow
Even if you aren't taking a red-eye, a long flight is a great way to catch up on a little sleep. Packing a travel pillow is an absolute must!
Choose one that fits around your neck and is lightweight and ergonomic. Our favorite is the BCOZZY Travel Neck Pillow because it not only supports your neck, it also wraps under your chin to prevent your head from dropping forward.
3. Eye Mask
Again, even if you don't plan on sleeping on the plane, and eye mask is a lightweight item that you never know you need until you do!
While these YIVIEW sleep masks looks more like a mini bra than an eye mask, they are so comfortable and totally block light.
4. Blanket Scarf
Most airlines will give you a blanket if you ask for one, but who knows how clean it really is.
I ALWAYS travel with a blanket scarf because it is so versatile that it can be worn onto the plane as a scarf (no need to waste valuable luggage space) and it doubles as a blanket if you get chilly on the flight.
5. Kindle
Not only can you download books to read, but you can also download TV shows and movies to watch during your flight. While most airlines have movies on board, some of the budget airlines cut costs by ditching the on board video screens.
The other great thing about travelling with a Kindle is that it also allows you to surf the internet (when you have access to wifi).
6. Earbuds
Earbuds are must haves for more than one reason. First, you will need them to watch a movie or listen to music.
Some airlines will give them to you so you can watch their on board movies, but many will not. You will want to come prepare so you don't have to shell out money for a cheap worthless pair.
Secondly, these work great as earplugs when you are trying to sleep! The key is to choose a pair of earbuds that are sound canceling like these from ROVKING.
7. Gum
Even if you don't always experience ear pressure, you are better to be safe than sorry. The act of moving your jaw in a chewing motion opens up the ear canal allowing the pressure to release naturally.
I always chew gum when we fly because the last thing you want to deal with is vertigo or plugged sinuses once you de-board the plane and start your vacation.
8. Lip Balm
Air plane rides are notorious for drying out your skin. Same is true for your lips. Keep those lips hydrated with Burt's Bees lip balm. My favorite is the Burt's Bees Coconut and Pear.
9. Contact Lens Case & Pair of Glasses
Remember how I said air plane rides dry out your skin? Well, same is true for your eyes. If you are a contact lens wearer, you will want to remove them on a long flight.
One thing to be sure to pack in your carry on luggage for a long plane ride are your glasses so that you can still see when you remove your contacts.
A small travel size bottle of eye solution is also a good idea! I love this little contact lens kit that has everything you need to take your contacts out during a flight and will also store your glasses.
10. Tissues
If you are someone whose sinus' get aggravated on flights, you will want to make sure that you have a small pack of tissue with you so you aren't having to go to the bathroom for tissue or blow your nose in a hard napkin left over from drink service.
11. Compression Socks
You probably think compression socks are for old people, but think again. While studies have shown that wearing compression socks during long-haul flights can reduce the risk of blood clots, they can also help prevent ankle and leg swelling due to poor blood circulation.
If you have a problem with swelling when you are on your feet too much, you might want to bring a pair of compression socks to keep your legs in the best shape possible.
12. Sleep aid
If you have a red eye flight and plan on sleeping during your long flight, you may look into sleep aids.
One thing that I to help me sleep when I fly is take Nature's Made Melatonin. Melatonin is a hormone in the body that helps to regulate sleep cycles and can be taken orally in the form of a pill to help you sleep or combat jet lag.
Be sure to consult your doctor before taking any type of medication because Melatonin can interfere with some medications and conditions.
13. Portable Charger
Most likely, there will be a way for you to charge your phone & other devices in flight. But there are cheaper airlines that don't offer charging outlets.
One of our long haul flight essentials is a portable charger. My personal favorite is the Anker PowerCore that has more than one charging port.
14. Pen & Pad
I know, it seems very old school. First off, the pen will come in totally handy when you have to fill out your customs declaration form. No one EVER has enough pens when you need them.
Secondly, if you are in a jam and need to write a flight number down or if your connecting flight moves terminals, you will want to write it down.
15. Wet Wipes
Okay, I am a germ freak. So many people come on & off planes and no one really cleans them properly.
That is why I always bring hand sanitizer and wet wipes. Wet wipes are great to clean airplane trays, movie screens and the armrests.
These little packs have 20 wipes each and are so easy to pack in your carry on luggage for a long plane ride.
---
There are plenty of other things you should travel with in your carry on bag, but these are some of the things we think are long haul flight essentials.
Do you have certain things you pack in your carry on luggage for a long plane ride?