Skellig Michael, an island off the coast of Ireland, is a mystical and historical site that has become a bucket list item for those visiting Ireland. The remote mountain jets out from the Atlantic and was inhabited for centuries by Christian monks. Today, most tourists know Skellig Michael as the island home of Luke Skywalker from Star Wars: The Force Awakens and The Last Jedi.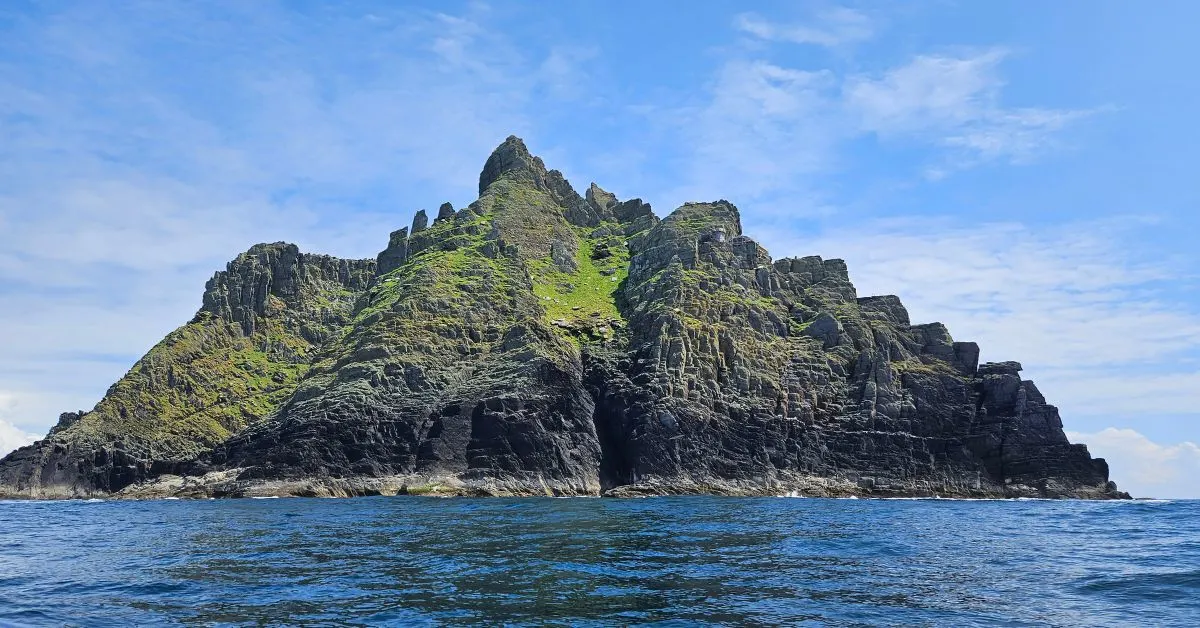 From its ancient monastery to its birdlife, the island offers visitors an unforgettable experience.
If you're planning on exploring this magnificent site, then make sure you are prepared for taking a Skellig Michael tour.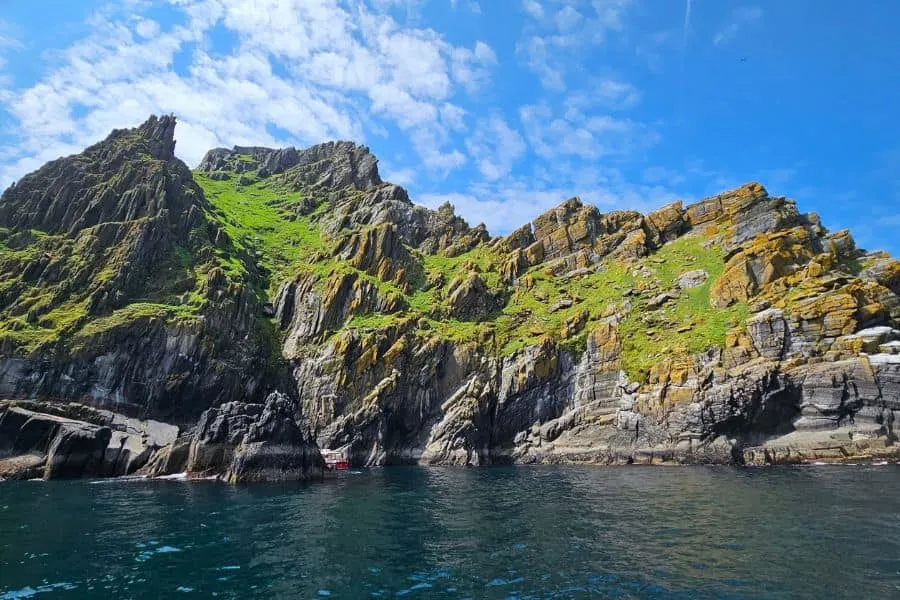 About Skellig Michael
Skellig Michael, located 8 miles off the western coast of Ireland, was once home to an early Christian monastery.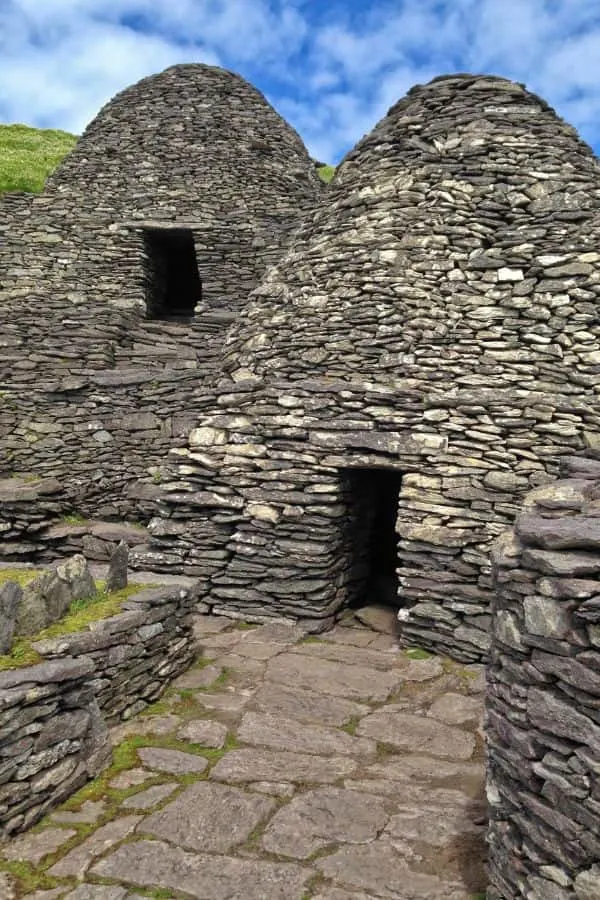 The monastery was inhabited by a small group of monks who arrived in the 6th century and stayed until sometime in the 12th or 13th century.
It is said that no more than twelve monks lived at the monastery at any one time.
When monasteries were dissolved in the 16th century, the island went into private ownership and remained uninhabited for 600 years until it was purchased by Preserving and Improving the Port of Dublin.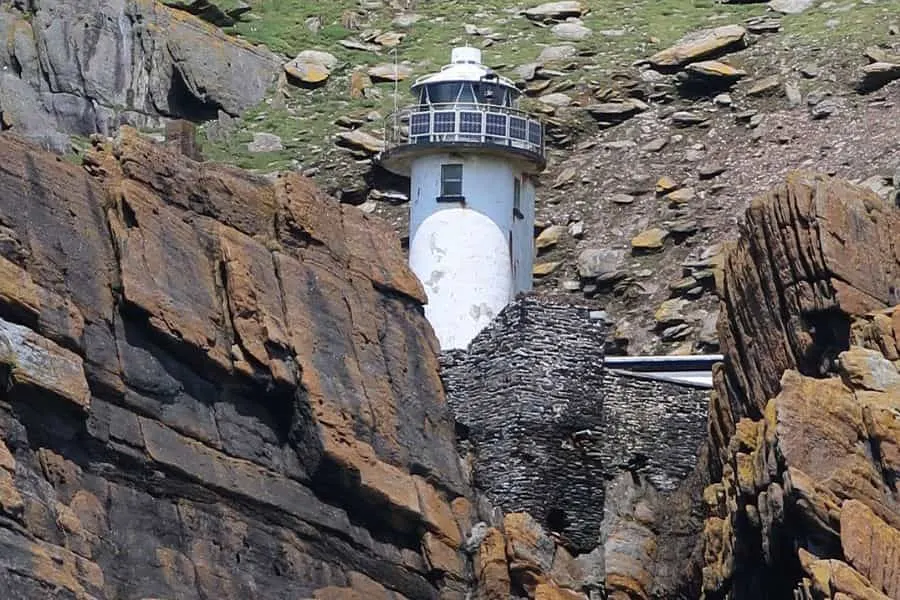 At that point, two lighthouses were built on the Atlantic side of the island along with living quarters for the 2 lighthouse keepers & their families.
In 1996 Skellig Michael became a UNESCO Worth Heritage Site.
Planning Your Visit to Skellig Michael
Skellig Michael is only accessible from April through September so if you are traveling to Ireland at other times, you will not be able to visit the island.
You should also check the weather forecast as trips can be canceled due to rough seas.
There are two tour types: one that takes you by boat to see the island and one that takes you by boat to actually walk the island.
Both tours should be booked online well in advance of your trip as they do fill up quickly.
The Skellig Michael tour usually lasts around three to four hours, or 5-6 hours if you do the Landing Tour.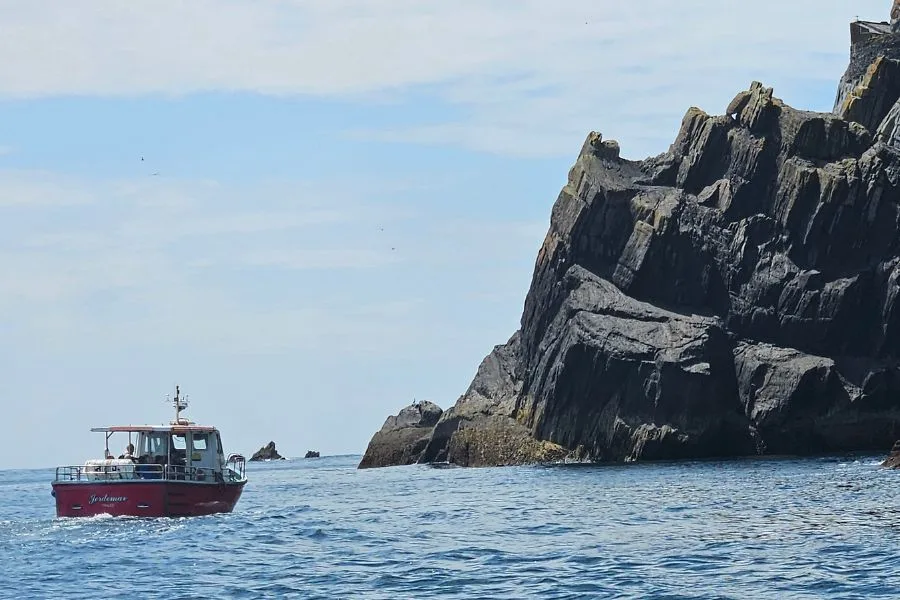 Different Skellig Michael Tours
Skellig Michael Boat Tour
On the boat tour, your guide will take you around both Little Skellig and Skellig Michael.
The boat will stop at various points to allow you to fully see both islands fully & the boat captain will explain the geological features, wildlife and overall history.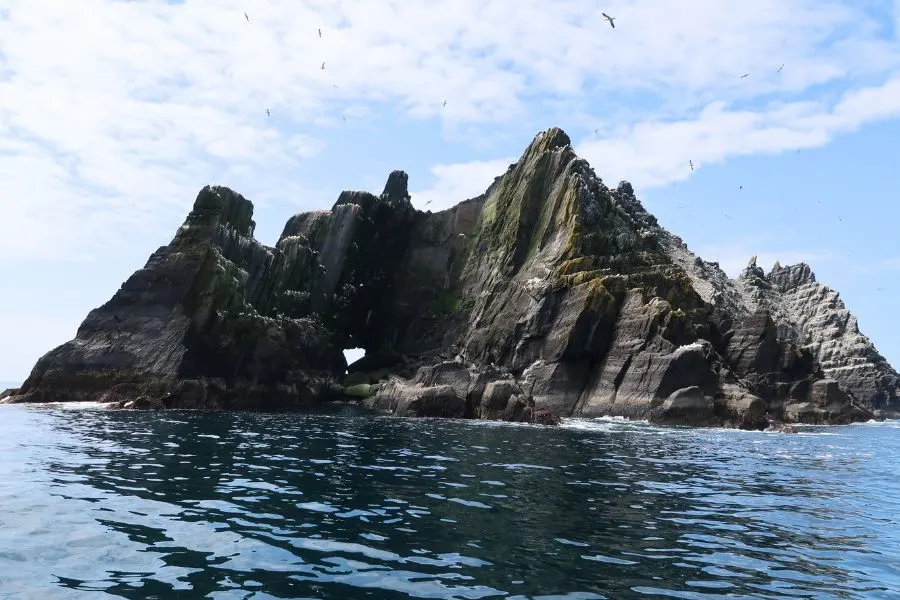 The first stop is at Little Skellig which is the smaller of the two twin islands and the one that is inhabitable due to its formation.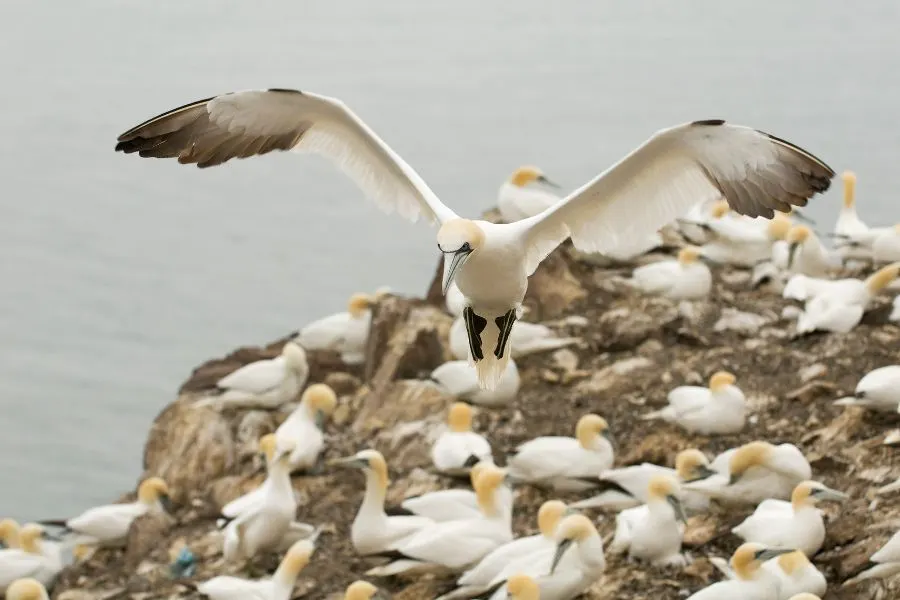 What makes this island unique is that it has the largest colony of northern gannets in Ireland.
If you are a bird-watcher, you will want to bring a pair of binoculars so that you can see the birds up close.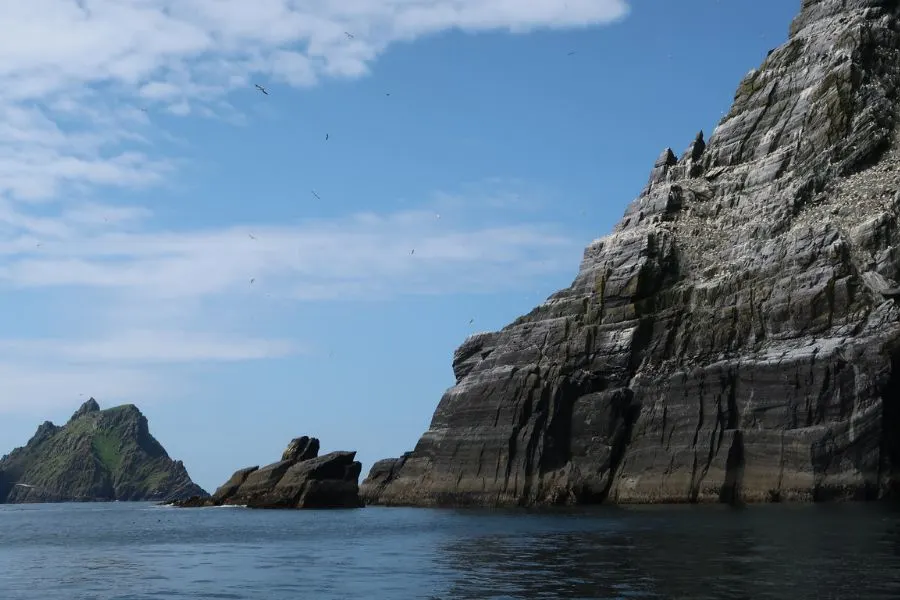 After leaving Little Skellig, you will then make your way to Skellig Michael.
Along the way, you will see several different types of birds in flight and sitting on the water.
Upon your approach to Skellig Michael, your captain will point out details and do a full circle around the island, stopping along the way to discuss various landmarks and features, including where parts of Star Wars was filmed.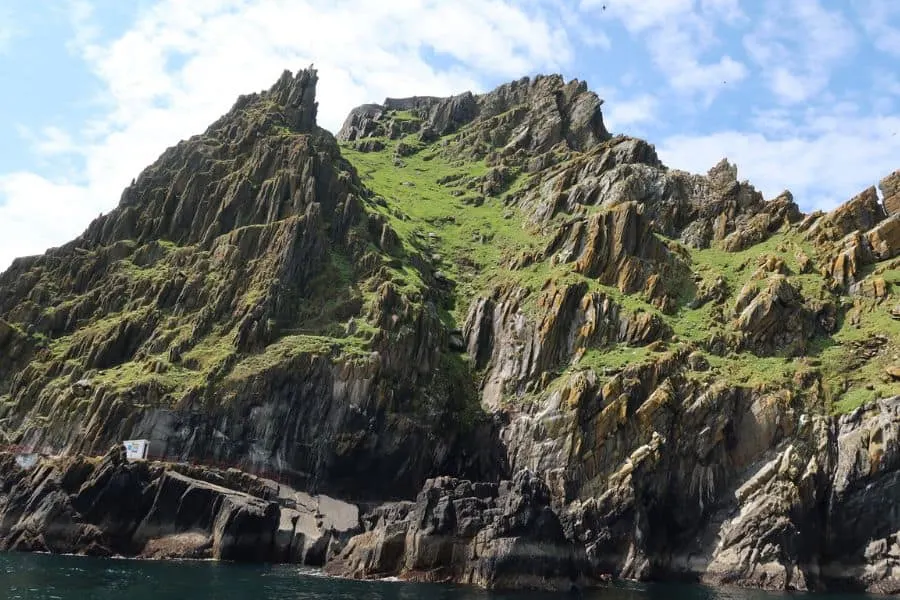 Skellig Michael Landing Tour
Those doing the landing tour will do the boat tour portion, plus be able to explore the island by foot.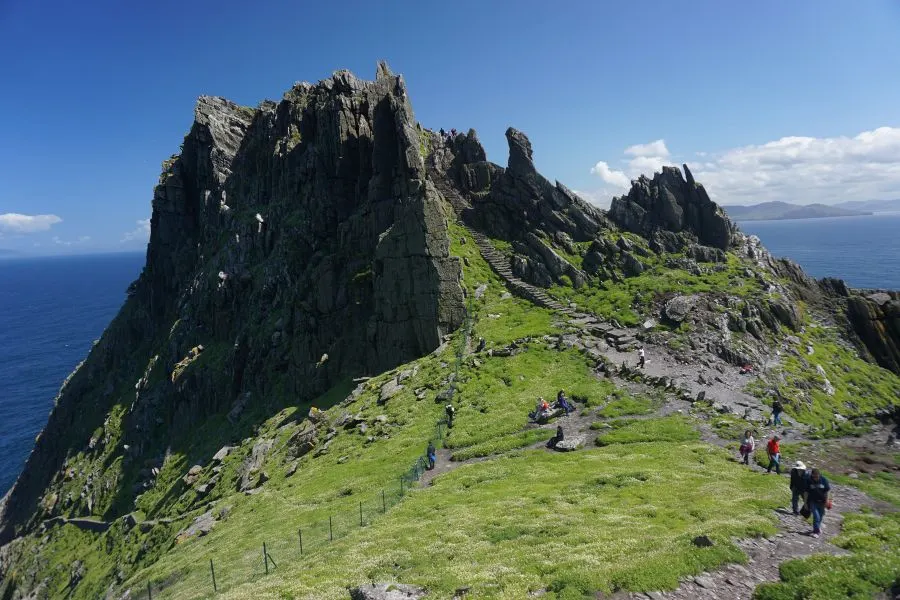 The climb up to Skellig Michael is steep, with 640 steps to reach the summit.
The hike up takes around an hour, so make sure to bring comfortable shoes and a rain jacket just in case the weather turns, as it is known to do in Ireland.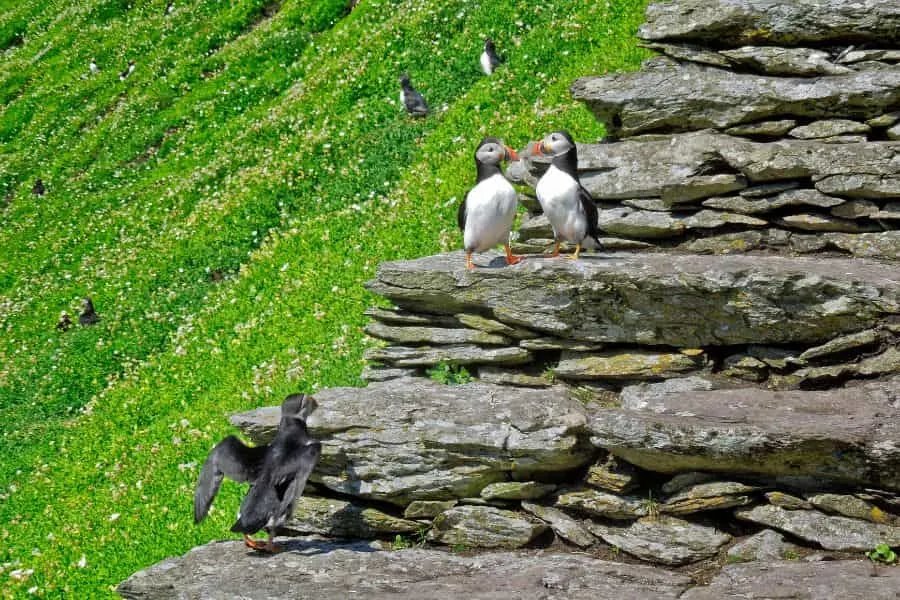 As you make your way up, you'll see the incredible sea views, puffins, and gannets soaring above you, and you will be able to explore the remnants of the ancient monastery.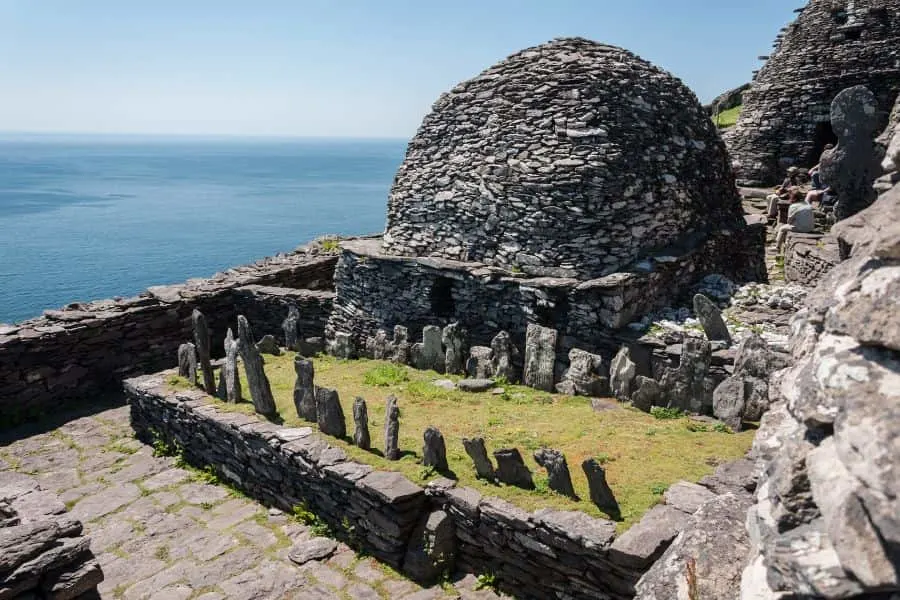 Your guide will explain the rich history and archaeological significance of many of the ruins.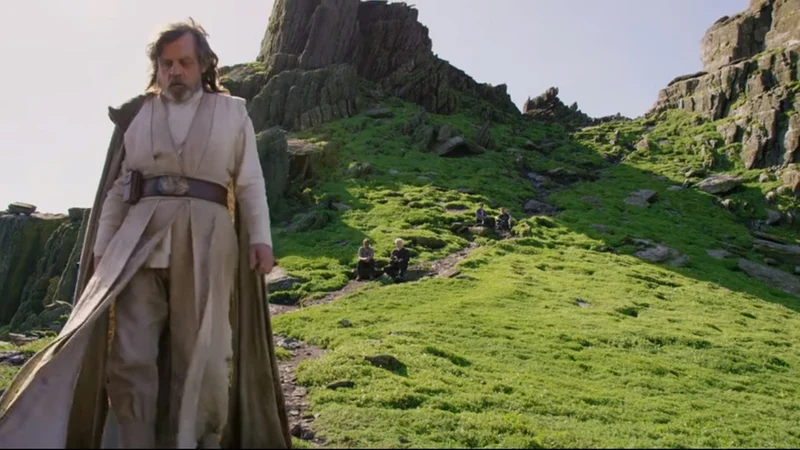 You will also get to see where scenes from Star Wars: The Force Awakens and The Last Jedi were filmed.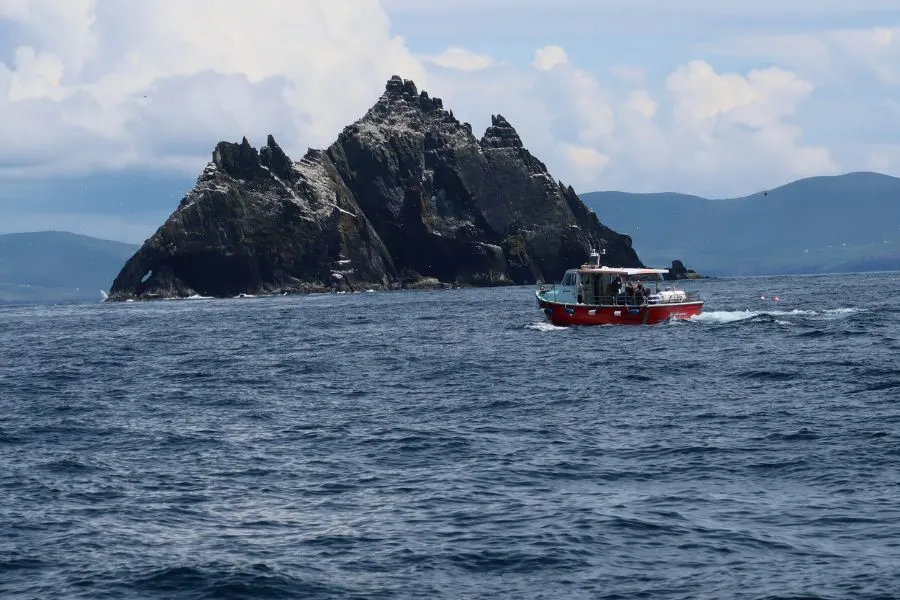 Skellig Michael Tour Tips
You will need to arrive in the area of the dock at least 1-2 hours prior to your trip. This is because the boats sometimes need to leave early (if they see bad weather is on the way). They will call you to let you know if they move the time up, so answer your phone!

Use the bathroom facilities prior to getting on the boat. There is a public bathroom nearby the dock.
Pack snacks and water. Both are permitted to be taken with you on the boat.
Bring a jacket, even if it is warm. The boat ride is windy and while much of the wind is fairly tame, it can make your trip chilly.
Wear sunscreen. You are in open water and on an island with no shade. No matter the time of the year or the temperature outside, you will be getting a lot of sun exposure. I failed to bring sunscreen and walked around Ireland for several days with a sunburned face and arms!
Be prepared for motion sickness. While my boat ride was tame, weather can change on a dime and create some pretty big swells in the ocean. If you have trouble with motion sickness, you are better off being prepared.
If you're planning a trip to Ireland, a Skellig Michael tour should be at the top of your itinerary. With its stunning beauty, rich history, and unique wildlife experience, this mystical island is an unforgettable location.