If you are planning a trip to Rome, three days is near perfect! It will give you time to explore the back streets, see the famous historic sites, and venture to the Vatican. Wondering how to fit so much into a short stay? We have the perfect itinerary for 3 days in Rome!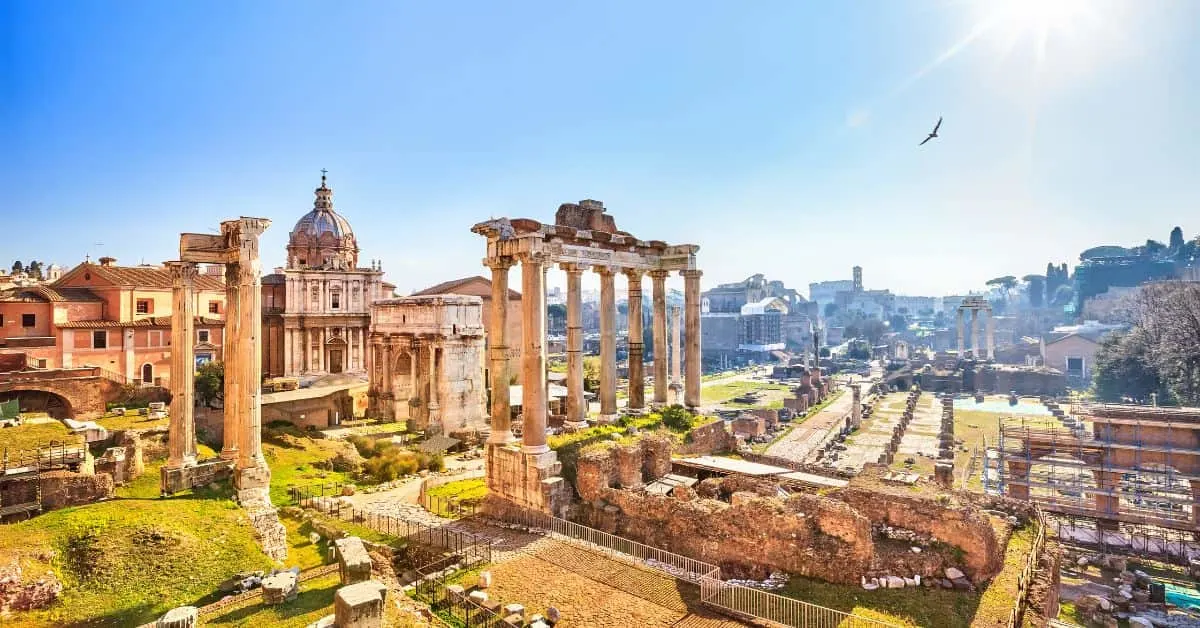 3-Day Rome Itinerary
Piazza Navona
Pantheon
Trevi Fountain
Spanish Steps
Rome Food Tour
Arch of Constantine
Palatine Hill
Colosseum
The Forum
The Vatican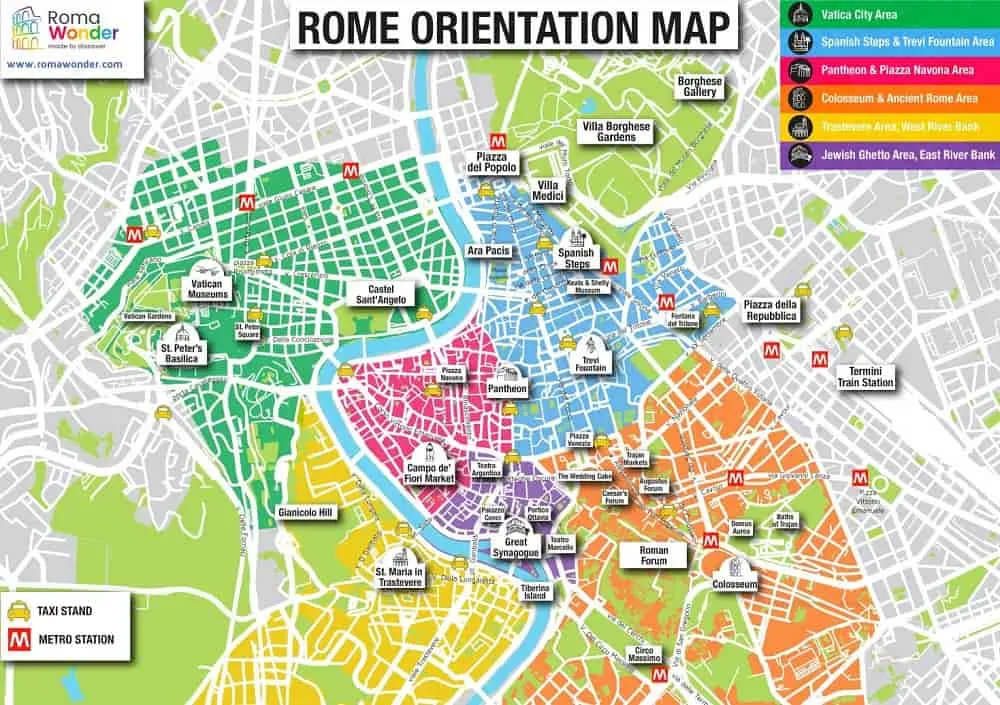 Before you head to Rome, make sure that you familiarize yourself with the locations of sites in Rome. This map of Rome is helpful in knowing where Metro stations and Taxi pickups are located.
Most of what you will want to experience is centrally located.
Getting there is easy and signs are posted everywhere to help you find your way from one important Roman site to the next.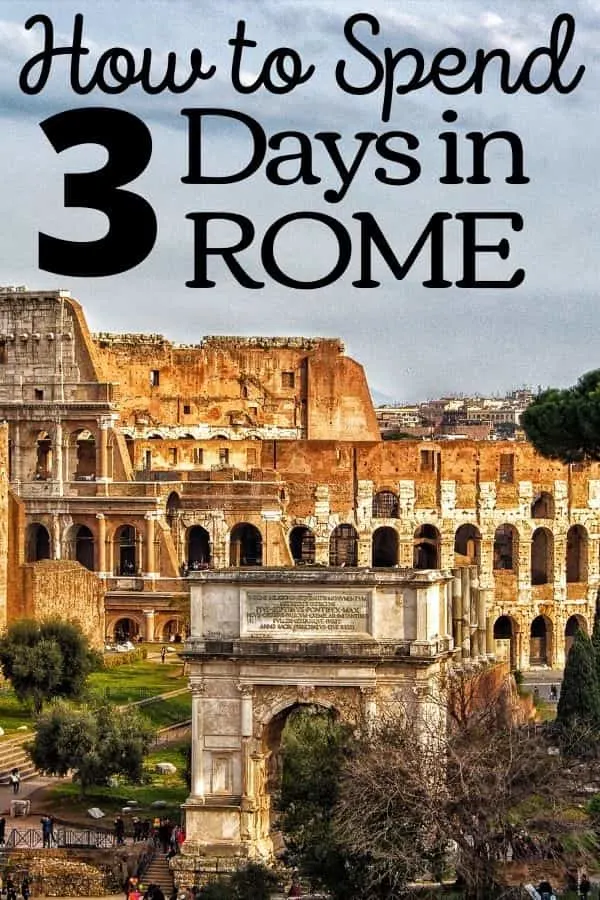 3 Days in Rome Itinerary
Day One in Rome: Central Rome
On your first day in Rome, you are going to want to get up early to explore.
Start with spending your day seeing some of the most historic sites in the city! Lucky for you, all of these sites are within walking distance.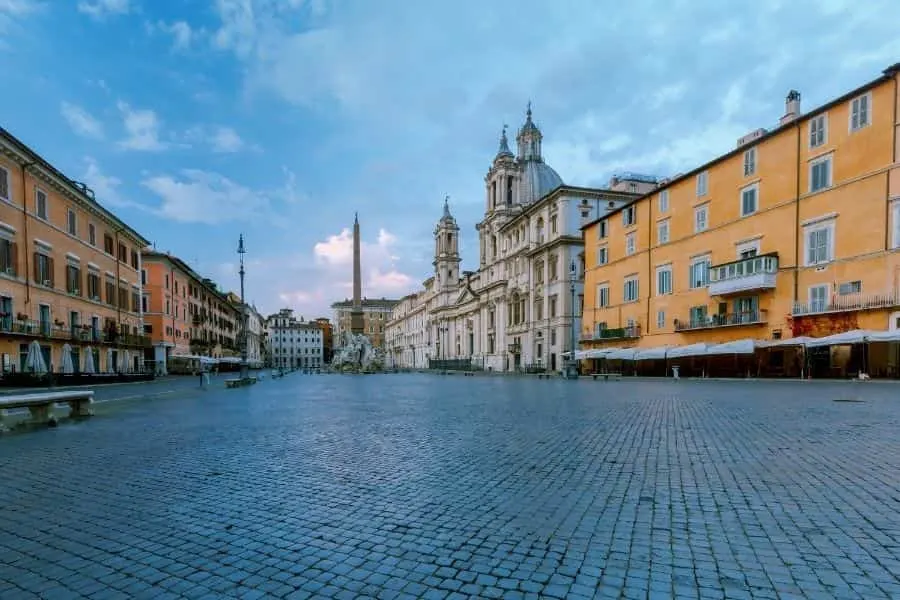 Piazza Navona
Start your day at Piazza Navona. It is set on the site of what was once the Stadium of Domitian in the 1st Century A.D. It is hard to believe that this is where you would have once found Gladiators competing.
Today, this square is the home of Fontana Dei Quattro Fiumi fountain, street musicians & artists.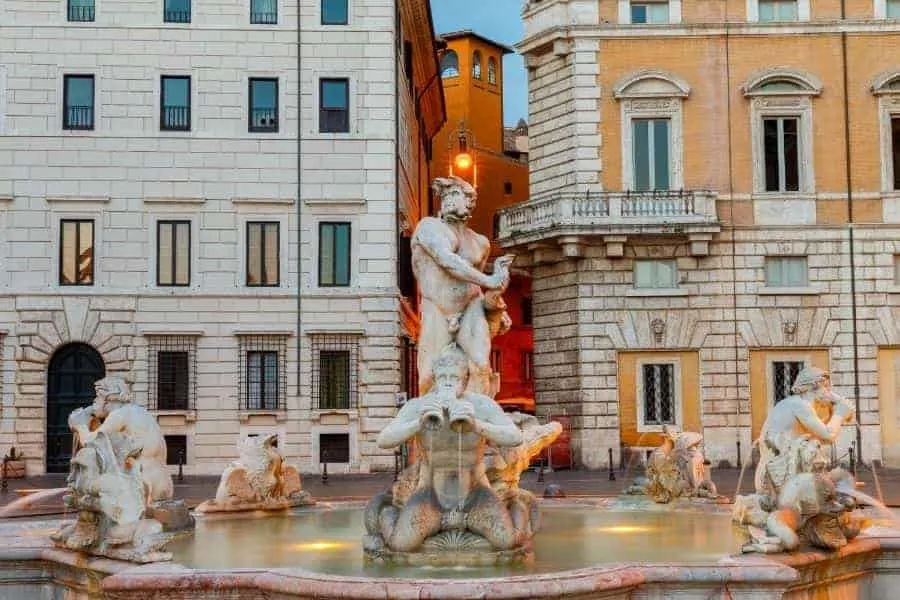 Fontana dei Quattro Fiumi
Make sure that you don't just walk past Fountain of the Four Rivers by Bernini.
This famous fountain dates back to 1651.
Each figure on the fountain is meant to represent one of the major rivers of Bernini's time: the Nile, Ganges, Danube, and Rio de la Plata.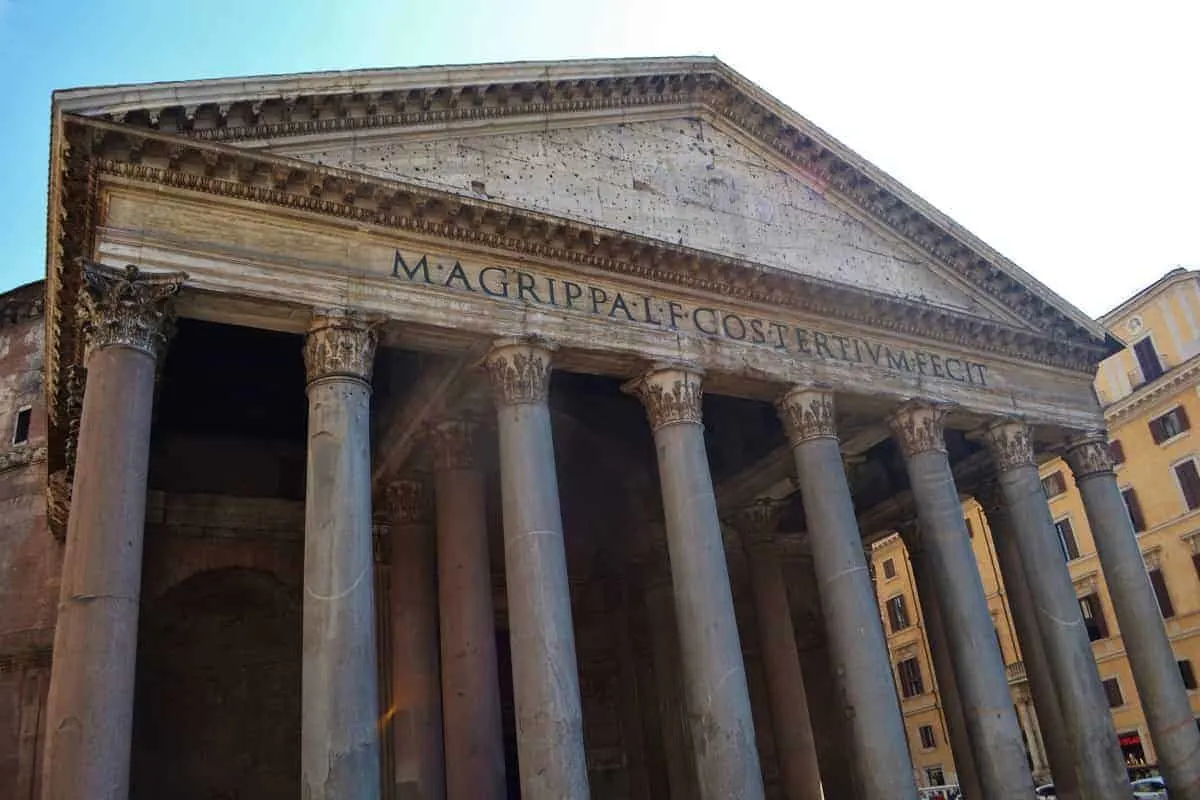 Pantheon
Just steps away from Piazza Navona is the famous Pantheon, one of the best-preserved ancient Roman buildings.
Once a Roman Temple commissioned by Marcus Agrippa, the Pantheon was rebuilt by Hadrian around 125AD and is now a Catholic church.
Walking inside will take you back in time. This building is exactly as it once was nearly 2000 years ago!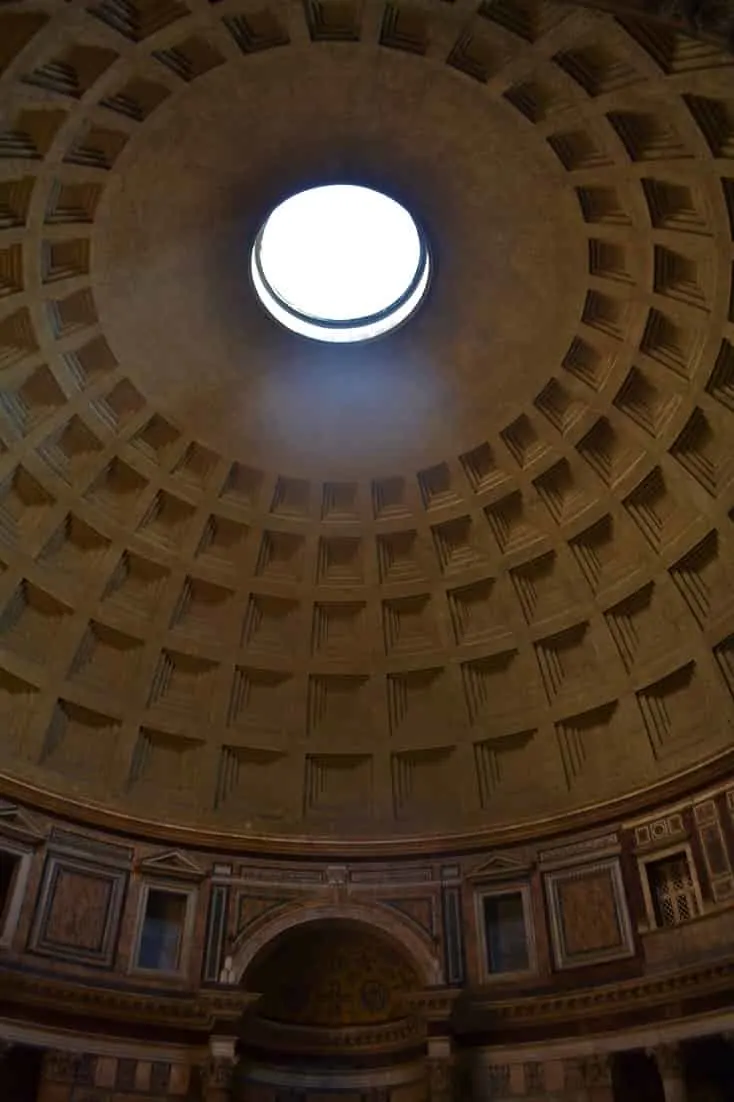 What makes this church unlike any other in Rome, is its concrete coffered dome with an oculus.
The light from the oculus provides enough natural light that no interior lights are really needed (although they are there for safety).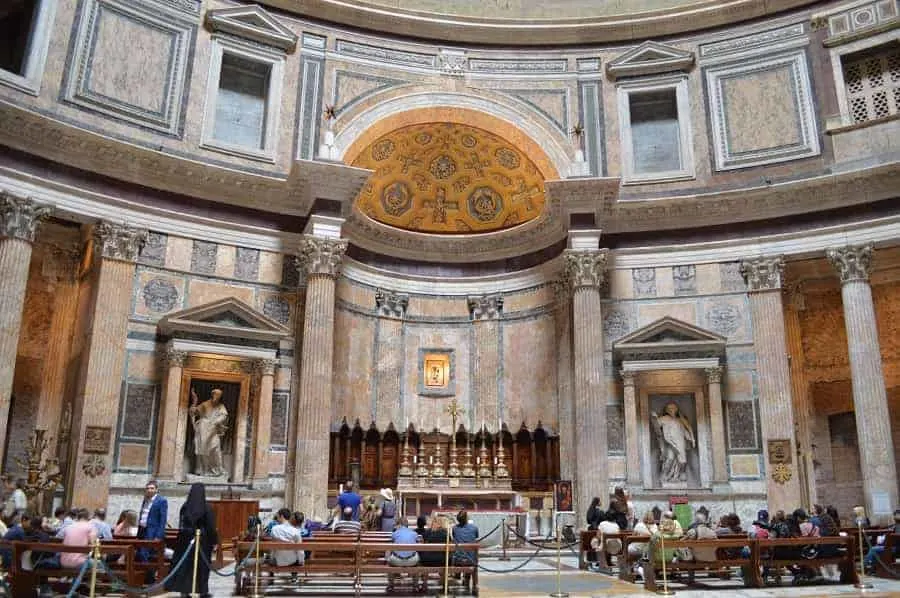 Within the Pantheon are the tombs of members of the Italian monarchy and of painter Raphael.
Outside the building, you will see the following inscribed on the stone: M. AGRIPPA L.F. COS TERTIUM FECIT
The translation reads:
Marcus Agrippa. , son of Lucius, three-time consul, made this.
When Hadrian rebuilt the original temple, he wanted to pay homage to the original structure by Marcus Agrippa.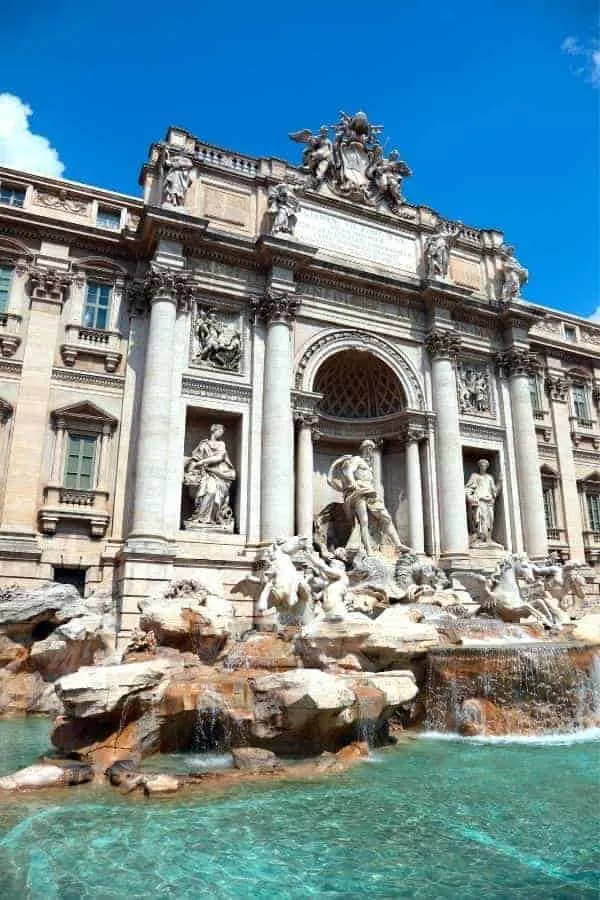 Trevi Fountain
You will find several famous fountains in Rome, but the largest Baroque fountain in Rome is Trevi Fountain. This fountain was the end point of an ancient Roman aqueduct constructed by Marcus Vipsanius Agrippa.
While the endpoint existed since ancient times, a fountain wasn't erected until 1762.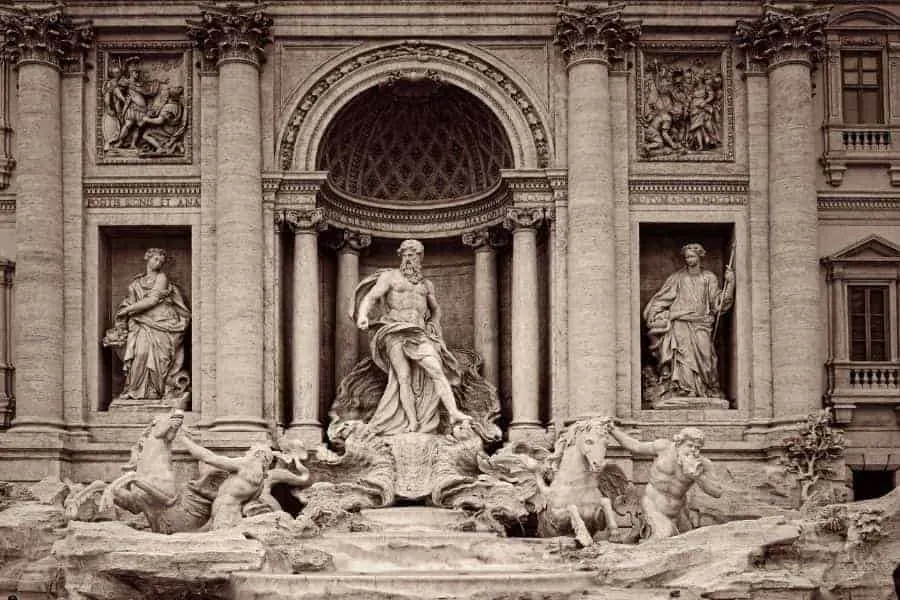 Made from locally sourced Travertine, the fountain features Oceanus (God of the Ocean) riding in a chariot as Abundance and Salubrity gaze on from behind.
There is a legend that says if a visitor throws a coin into the fountain, they are ensured a return to Rome. It's worth giving it a go!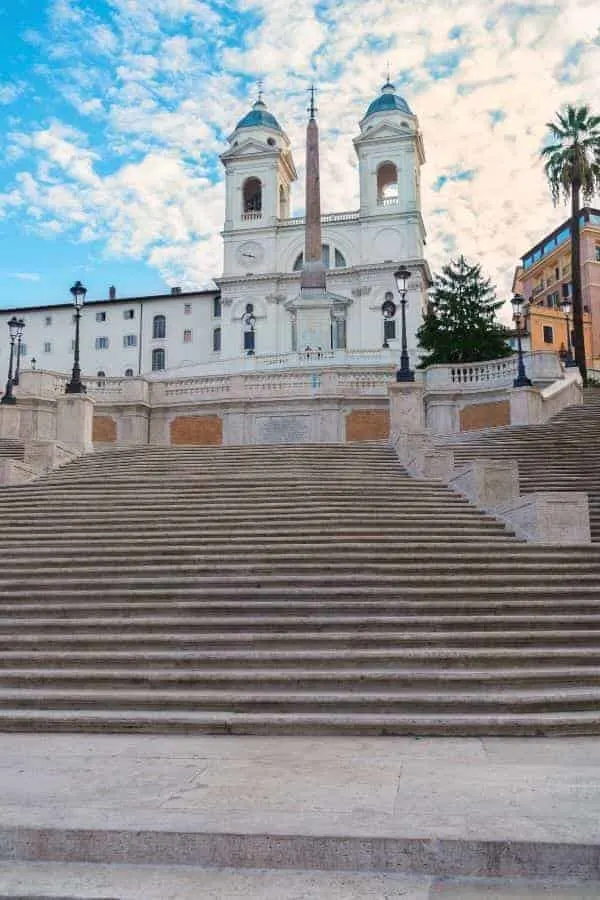 Spanish Steps
A few blocks from Trevi Fountain is the famous Spanish Steps. This 153 stairway was built to link the Trinità dei Monti church with the Spanish Square below.
Built in 1723, the staircase is made of marble and is deemed a UNESCO World Heritage Site.
While you used to be able to sit and enjoy a little rest on the stairs, in 2019 it became illegal to sit on them.
When you walk along the stairs, you may find men passing out roses. These roses are NOT free. The people handing them out will expect euros.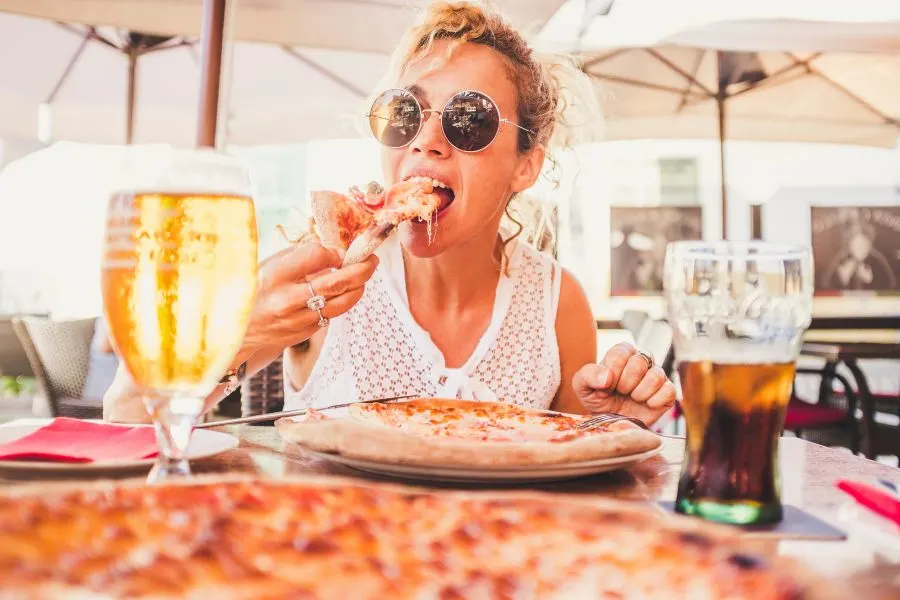 Afternoon Roman Food Tour
When it comes to experiencing Rome, nothing beats trying Italian food.
Spend your afternoon enjoying different items on a Rome Food Tour where you can sample pizza, pasta, and of course desserts.
If you aren't able to fit in a food tour, make sure that you make time to eat Rome's signature dish, carbonara. There are a few places to try if you want the best carbonara in Rome.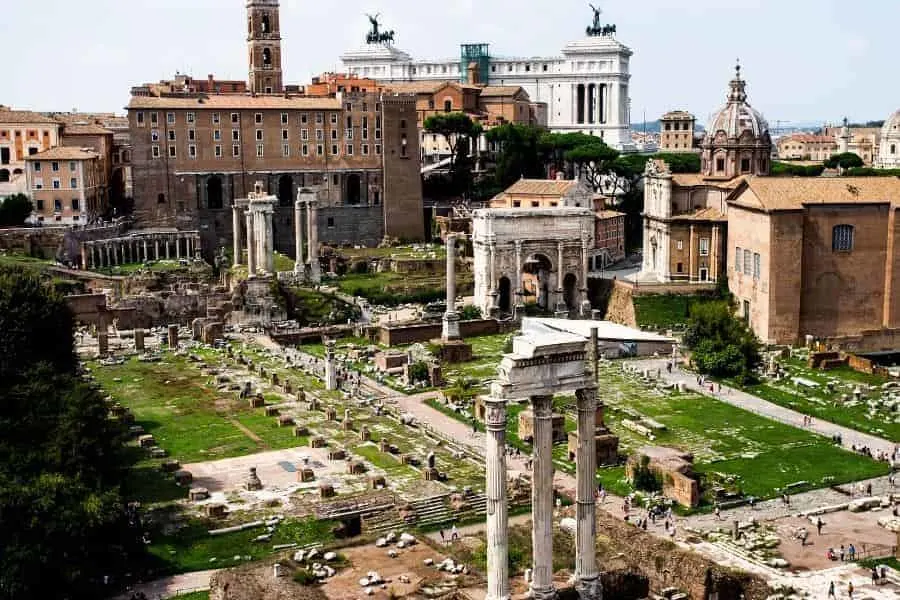 Day 2 in Rome
On your second day in Rome, you will be spending the bulk of your time at the sites near the Roman Forum.
Make sure that you wear really good walking shoes because you will be walking on a lot of uneven surfaces.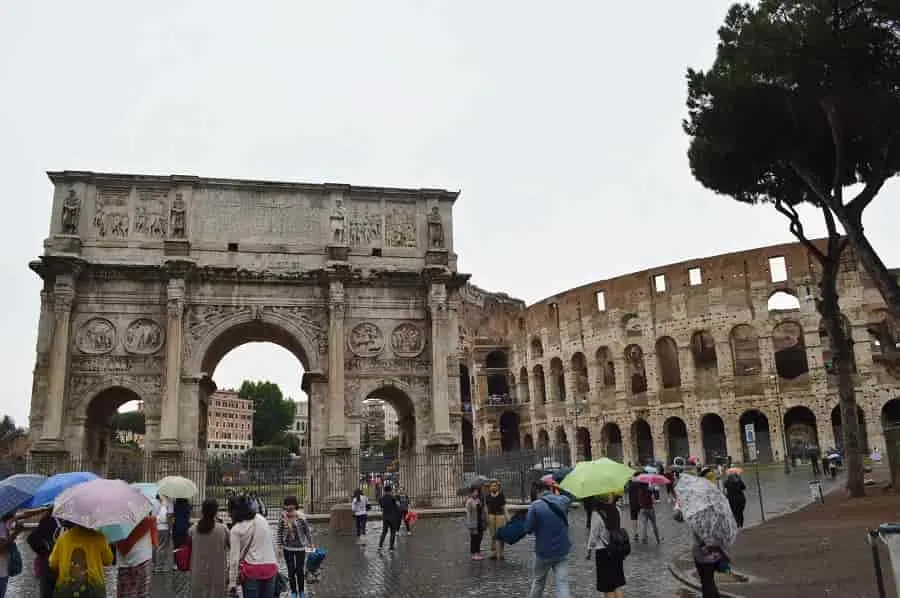 Arch of Constantine
The Arch of Constantine is the largest surviving Roman arch from imperial Rome and sits between the Colosseum and Palatine Hill.
Constructed in 315 CE, the Arch of Constantine commemorates Roman Emperor Constantine the Great's victory over Maxentius at the battle of Milvian Bridge in Rome.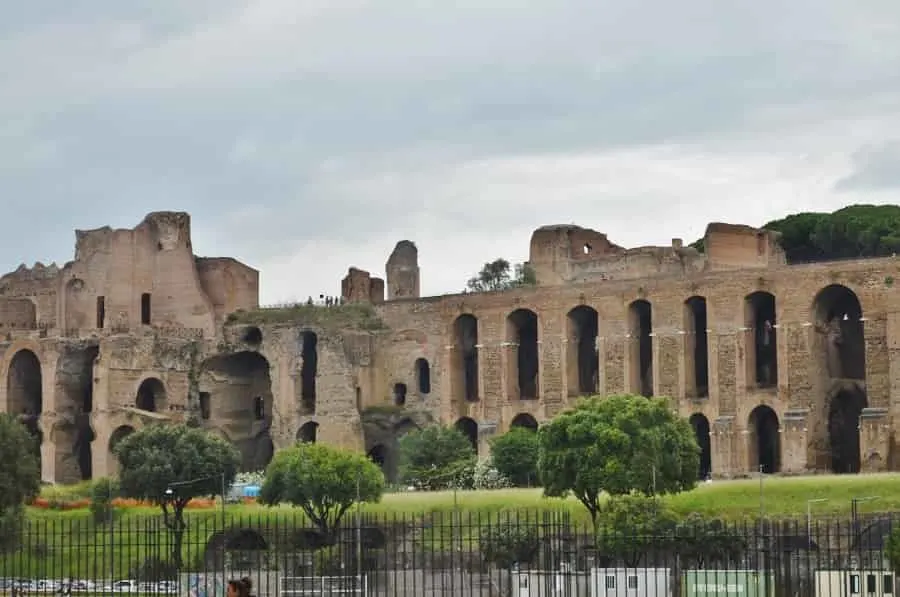 Palatine Hill
Sitting next to both the Roman Forum and above the Colosseum is Palatine Hill.
This is the most famous of Rome's seven hills and according to legend, this is the spot where Romulus founded Rome.
Palentine Hill was once home to Roman Emperors and ancient palaces.
You can tour this area for a fee and see what remains of the House of Augustus and the House of Livia.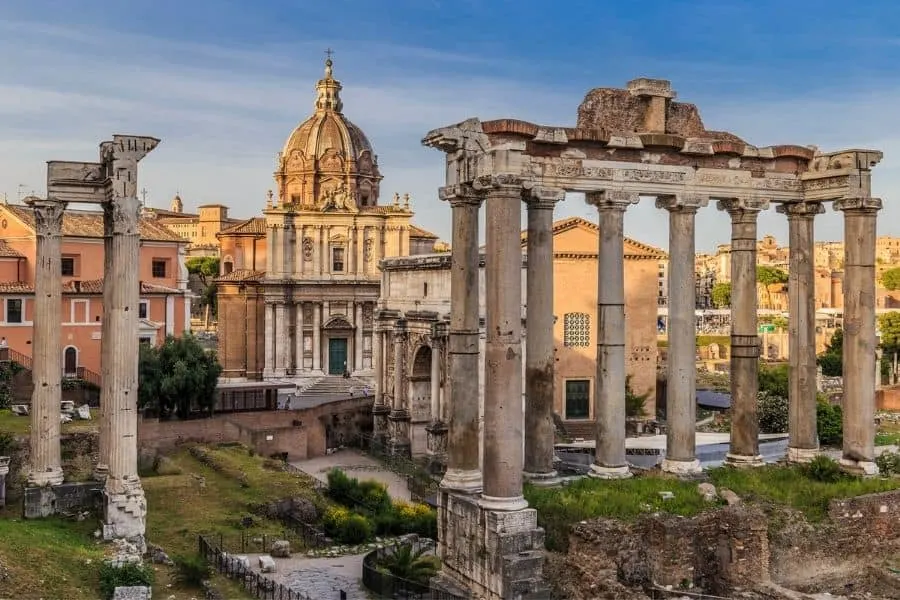 Roman Forum
The Forum is my absolute favorite place to visit and it is something that should top your list of places to see when you have 3 days in Rome.
Dating back to the sixth century BC, this was the center of political and social activity in ancient Rome. You will find fully intact ancient buildings, structures as well as statues.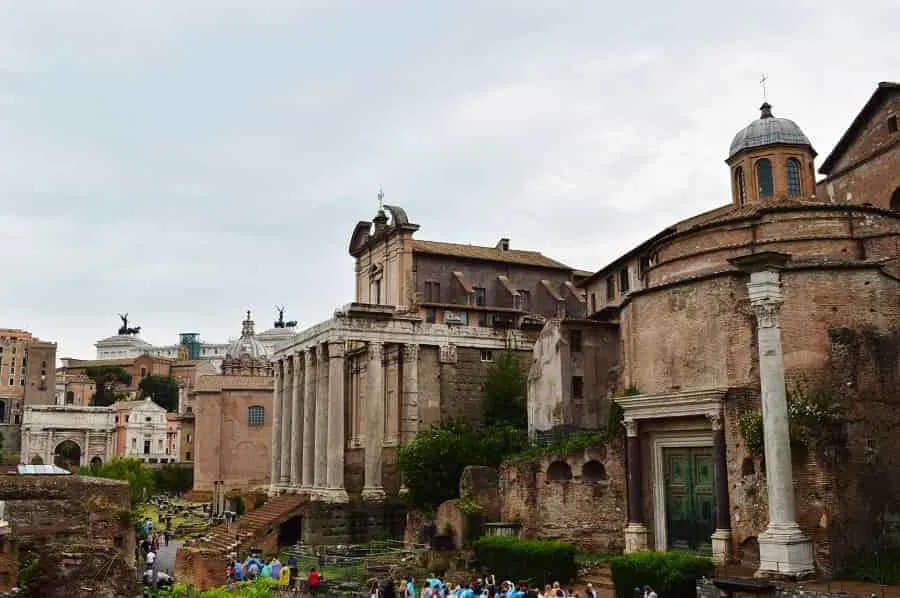 Walking among the ancient Roman ruins makes you feel so small. The buildings are magnificent and it is truly amazing to know that they are still standing today.
In order to fully understand the significance of what you will see there, I recommend you download Rick Steve's audio guide for the Forum.
Colosseum
You can't go to Rome and not visit the Colosseum.
Constructed in 80 AD, the Roman Colosseum could seat 50,000 people who came to see the gladiators and men reenact battles for more than 500 years!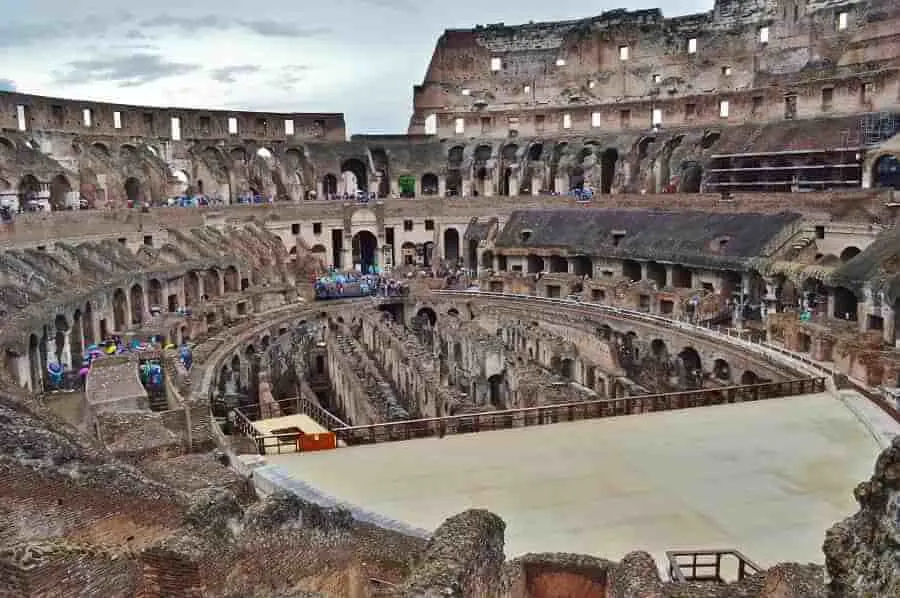 While many feel it is essential to go inside, if you choose not to, don't feel like you are missing out.
There is an audio tour that will explain different aspects of what you see inside, but honestly, it isn't much more than a shell.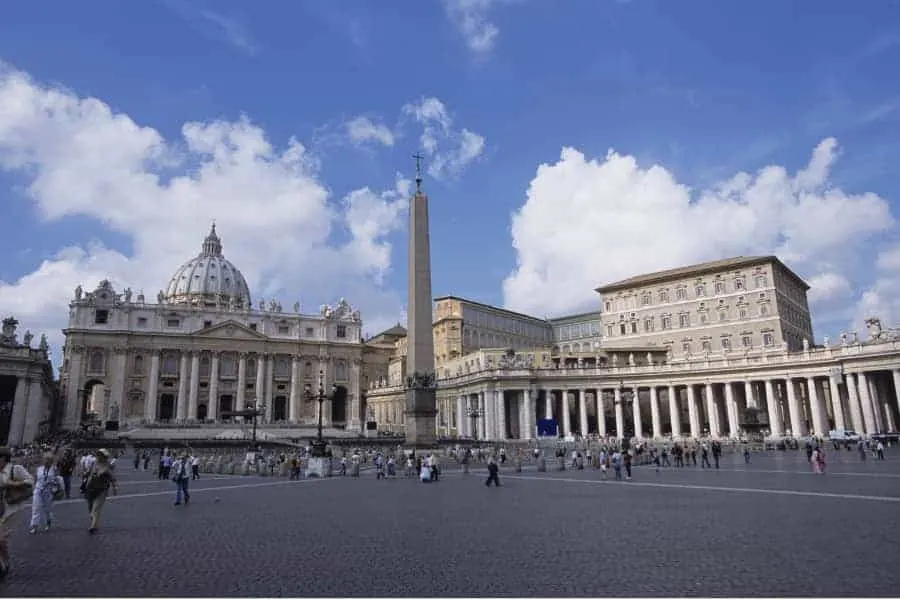 Day Three: Vatican
You really shouldn't visit Rome and not see the Vatican! The trip from Rome to Vatican City is close, like within walking distance (although I don't suggest you walk).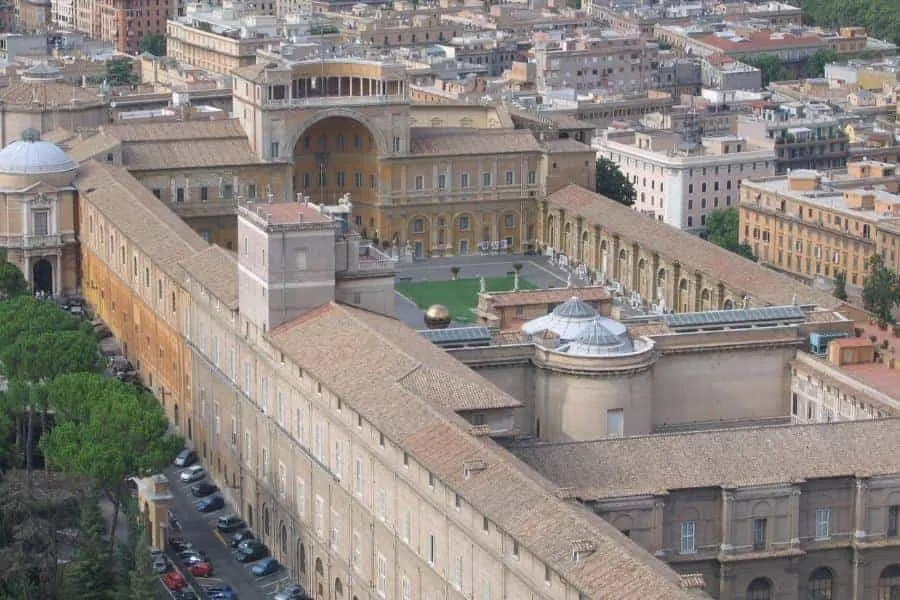 Vatican Museum
While you don't need to spend a full day at the Vatican, you probably should plan to spend the better part of your day visiting because there is much to see in the museum alone!
The Vatican Museum first opened to the public under Pope Clement XIV. He began the museum as a way to showcase his collections of sculptures of Julius II.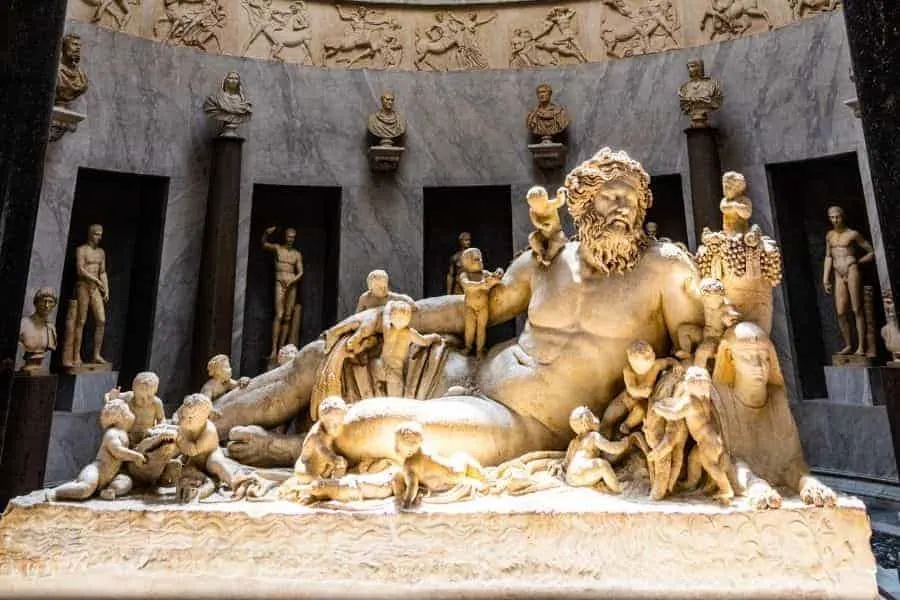 Over the years, the collection grew and now has more than 70,000 exhibits!
You won't be able to see everything, so you might want to pace yourself and hit the areas that are most important to you.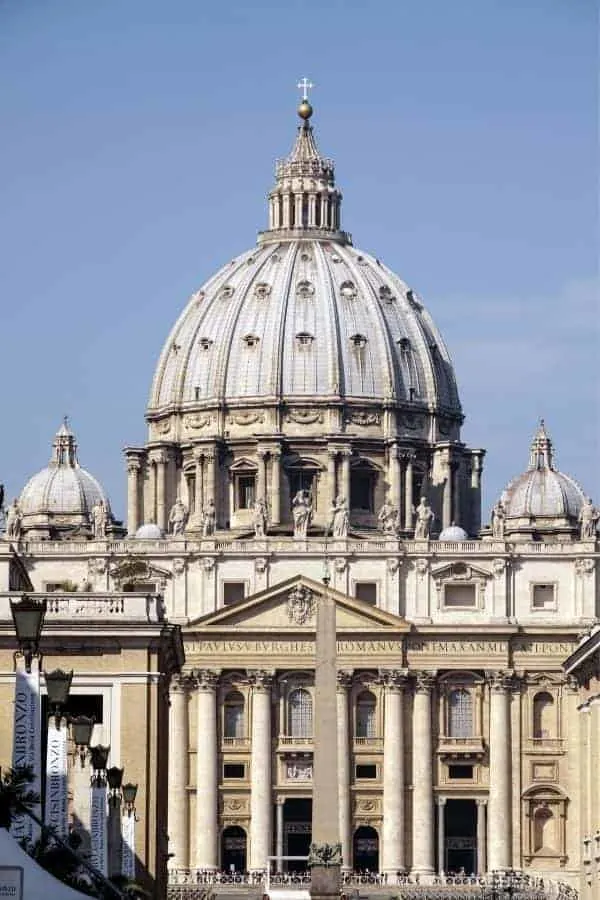 St. Peter's Basilica
This is one of the largest churches in the world and the most impressive example of Renaissance architecture.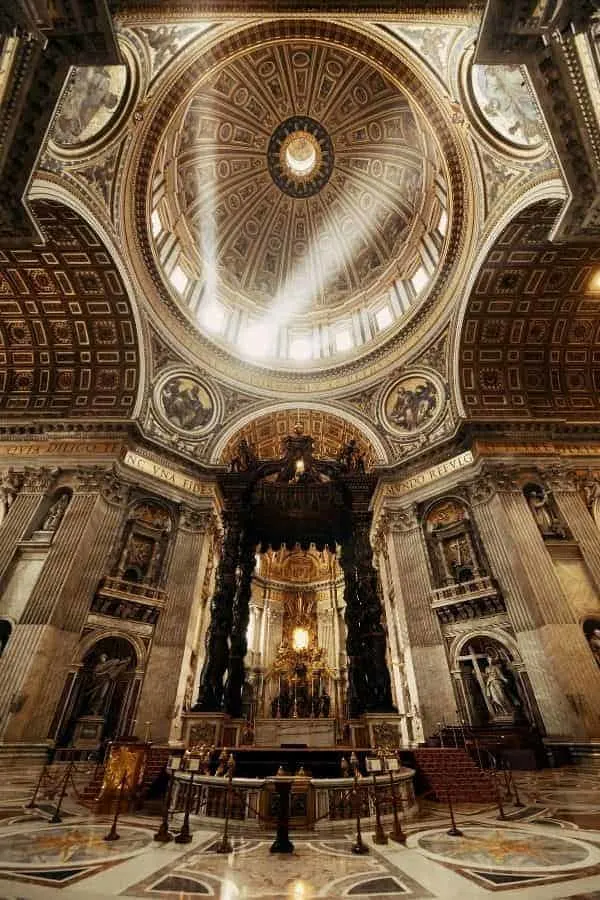 You don't have to be Catholic or even Christian to admire its beauty.
Emperor Constantine was the first Christian emperor of Rome and decided to build a church at the supposed location of St. Peter's tomb.
After 1000 years, the church began to deteriorate and it was decided that it should be demolished and the basilica was erected on its foundation.
There are two levels below St Peter's Basilica. The first is the Vatican Grottoes where 91 Popes are buried.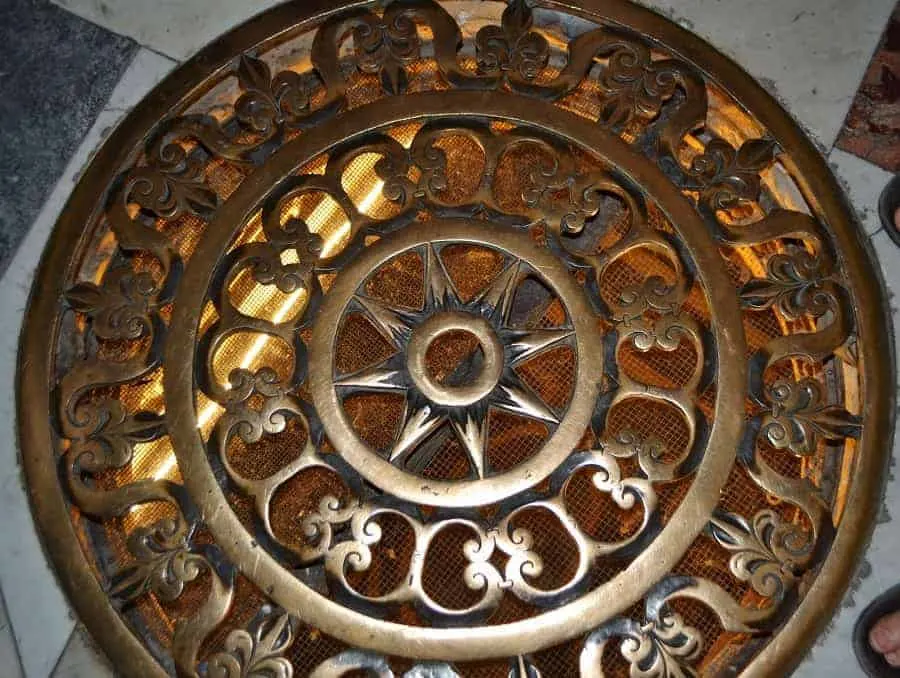 The level below that is the Vatican Necropolis and is the supposed place of St Peter's Tomb. The tomb is only opened every so often, but there is a grait that leads to the tomb that you can peer down.
The interior of St. Peter's is filled with masterpieces of Renaissance art.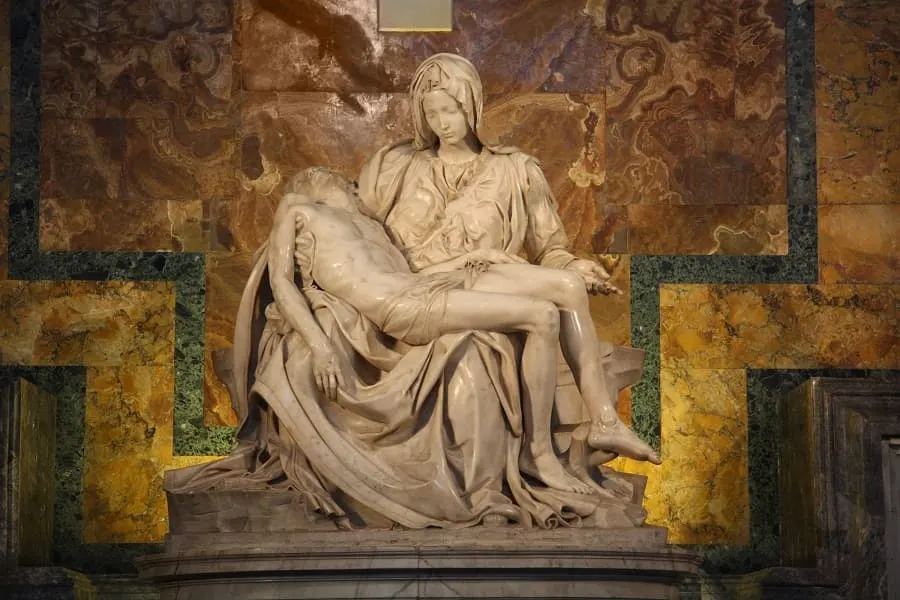 Michelangelo's Pieta, which was carved from a single slab of marble, is located behind bulletproof glass.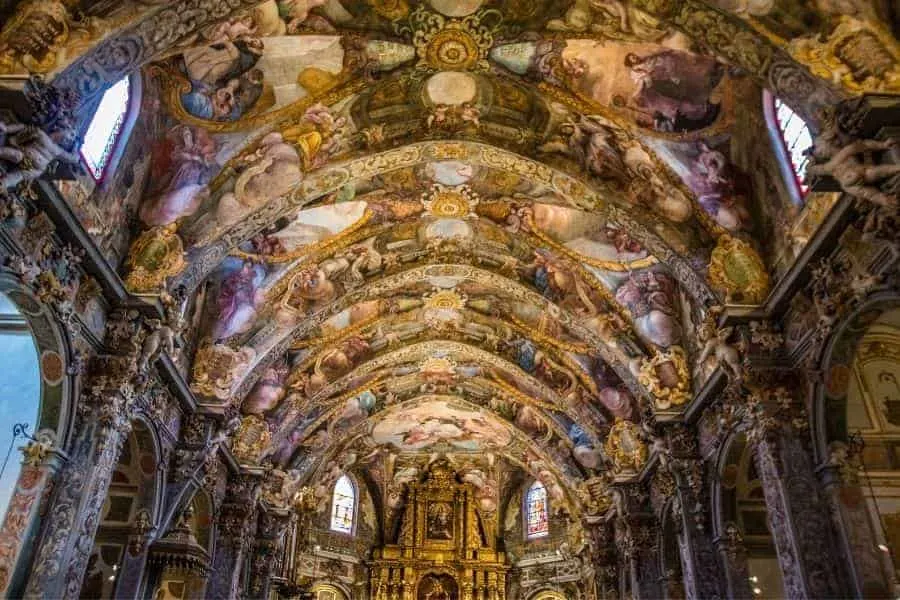 The Sistine Chapel
Built at the end of the 15th century, this chapel is most known for its ceiling painted by Michelangelo.
When you get to the Chapel, it will be crowded, prepare yourself in advance to not have much space to move around.
There is NO PHOTOGRAPHY in the Sistine Chapel.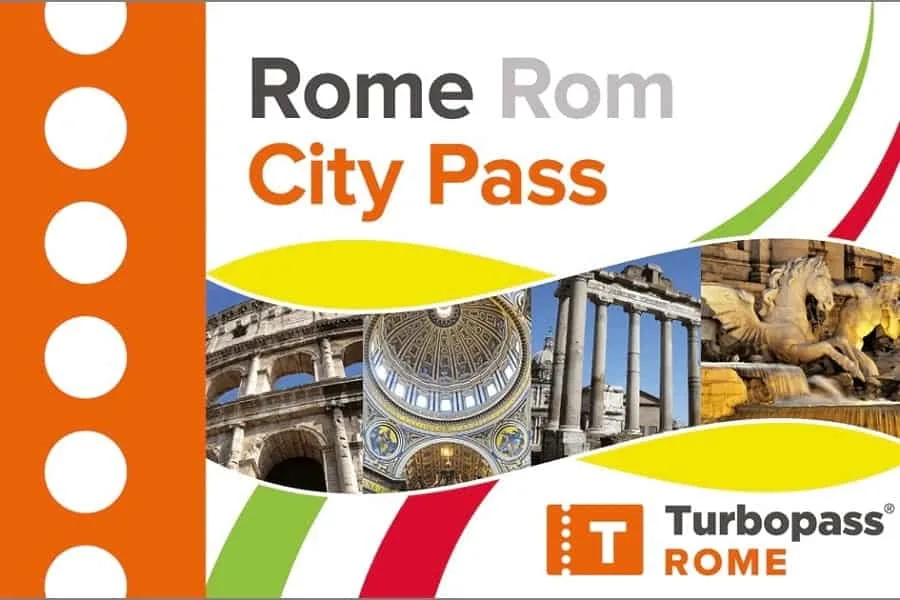 Rome City Pass
If you know that you are going to be hitting several different attractions during your 3 days in Rome, you should take a look at the Rome City Pass. Choose the 3-day Rome pass since it will also cover you to get into the Vatican.
The pass is flexible.
If you decide that you don't want to do the Colosseum or can't see the Vatican due to time restraints, your price of the Rome City pass will be reduced.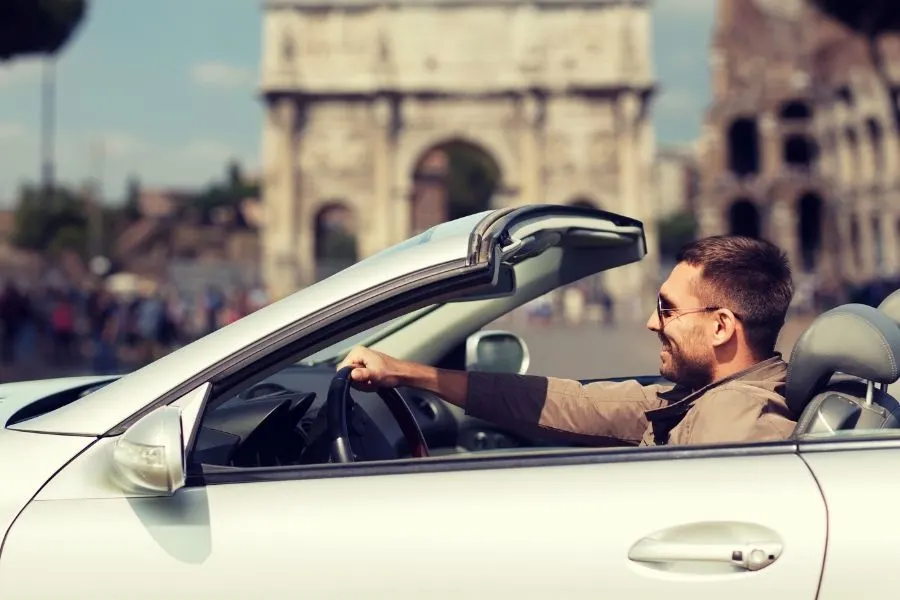 Using a Private Driver in Rome
While you can see many of the famous Roman sites using public transportation, it may be in your best interest to hire a private driver.
Private drivers in Rome usually speak some English and know the city better than anyone.
This means they can navigate streets to get you where you want to go much faster than you could on your own.
It does cost more than doing it on our own, but if time is of the essence, you might find that it is worth it.
Spending 3 days in Rome will give you enough time to see many major tourist attractions. The key is to make sure that you plan out your days in advance! We hope our Rome itinerary will help you in planning your trip.
Wondering what to pack for Rome & the Vatican? Read our Italy Packing List