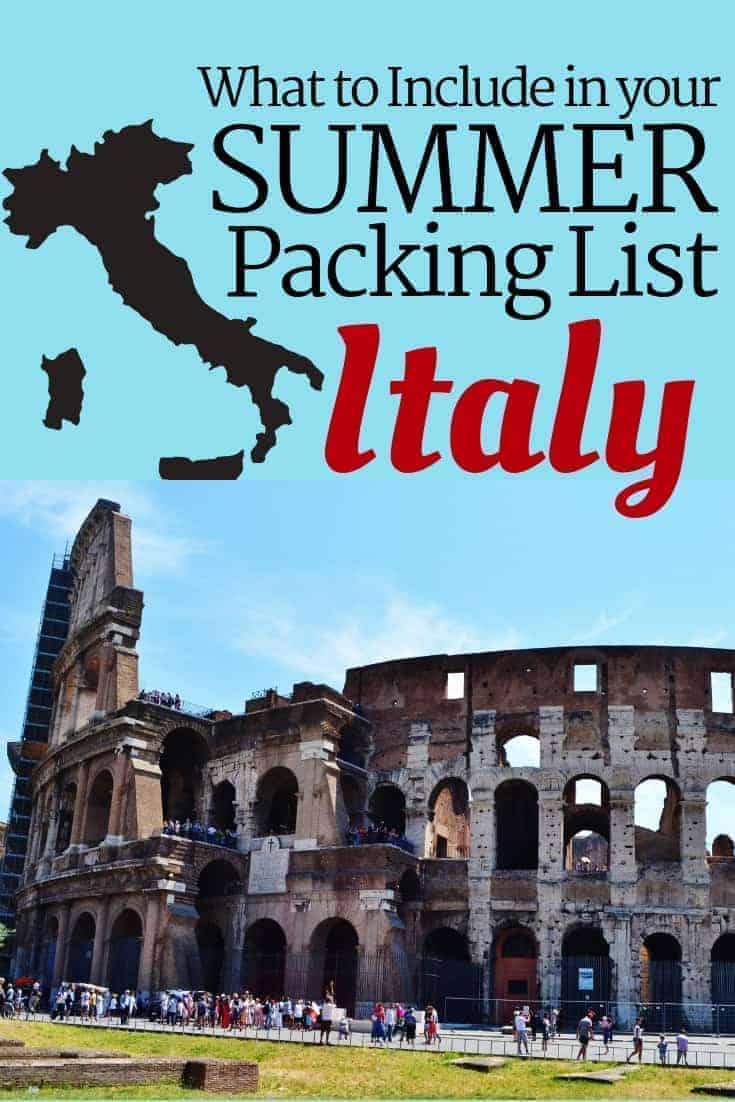 If you are taking a trip to Italy (or the Vatican), you might be wondering what you should pack. We've been to several different parts of Italy (and the Vatican) many times and we've come up with a summer packing list for Italy that has all of our essentials.
In the summer months, Italy can be brutally hot! When you are spending most of your time walking from place to place, you will want to make sure that you are wearing the right clothes and shoes.  You will also want to make sure you have the right gear!
Outside of the normal things you would put on a packing list for Italy like socks and underwear, bathing suit, and pajamas, there are somethings you may not think of.  These are things you find yourself saying, "I wish I would have thought about packing…"
Summer Packing List for Italy (Including Vatican)
Sunscreen.  It is sunny most of the time no matter where you are in Italy. You will want to make sure that you have plenty of sunscreen with you. Not only do we pack a bottle of sunscreen, we also pack sunscreen sticks because they are easy to apply to the face and tops of shoulders where you tend to get the most sun.
Sunglasses.  I already warned you that it is sunny in Italy. Do yourself a favor and make sure that you have a good pair on sunglasses with you that have UV protection!


Hat. I know not everyone likes a hat, but believe me, you will want a hat for open air bus tours or days trips to places like Pompeii where there is very little shade.  Find one like this one that is packable.
Scarf. If you are planning to tour some of the beautiful Cathedrals in Italy (or the Vatican) then you will want to make sure that your shoulders and knees are covered.  Many (not all) will require it. The Vatican does for sure.  Pack a lightweight scarf that can fit in your day bag. You can also use it when sitting outdoors on hot cement steps or benches.


Body Glide. If your thighs touch at all, the last thing you want is for them to be rubbed raw due to the fact that you will be sweating from the heat and the walking.  Use a Body Glide stick. It's a tad smaller than a deodorant stick and prevents chafing by creating a barrier on your skin. It also works on feet where shoes can rub giving you blisters.
Wet Wipes. You are going to find that bathrooms are scarce in Italy. This means that you won't always have access to wash your hands. If you want a Gelato, be on the safe side and use a wet wipe to wash your hands! We always bring these little single use Wet Wipe packs.


Comfy Footwear. You will most likely be doing a lot of walking and this means you will be on uneven cobblestone, up and down stairs and even on dirt.  You're gonna need a good pair of shoes that will grip the surface you are on and give you enough stability to get through the day.  My personal favorites are Jambu shoes. They are comfy and have great support. It's an added benefit that they are cute!


A fan.  Sounds crazy, I know, but when you find out how hot it can get while looking at outdoor architecture, statues and fountains, you will thank me for adding this to your packing list for Italy.  This handheld battery operated rechargeable fan folds up easily to fit in your day pack.


Rick Steves Book. If there is one book you should have with you on your trip to Italy, it is Rick Steves guide to Italy. If you don't want to take this heavy book with you, consider taking his pocket guide to whatever city it is you will be in.
There is so much to think about when you are taking a trip to Italy and making a packing list can be overwhelming.  We hope that you find this packing list for Italy (& Vatican) useful!
Do you have items we should include on our Italy packing list?