Murren is one of the most beautiful places in Switzerland and often overlooked by those traveling in the Oberland region. A visit to this small town is worth the climb. You will find great hiking trails, spectacular views and if you visit in winter months some of the best skiing in Switzerland.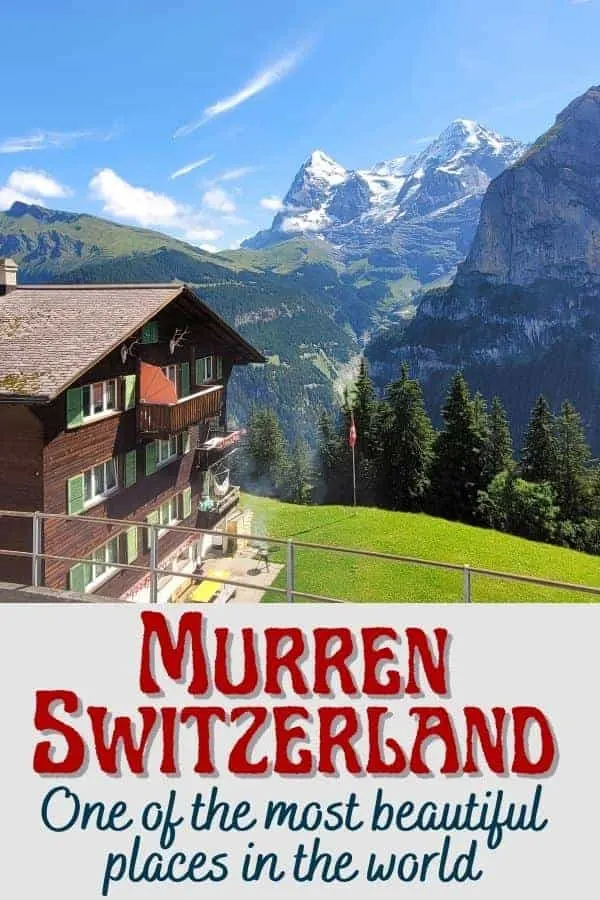 Why You Should Visit Murren, Switzerland
Murren sits at the mouth of the Lauterbrunnen Valley, sandwiched between green rolling hills and three towering mountains and if you want to getaway from it all and spend time in nature, this is the perfect spot.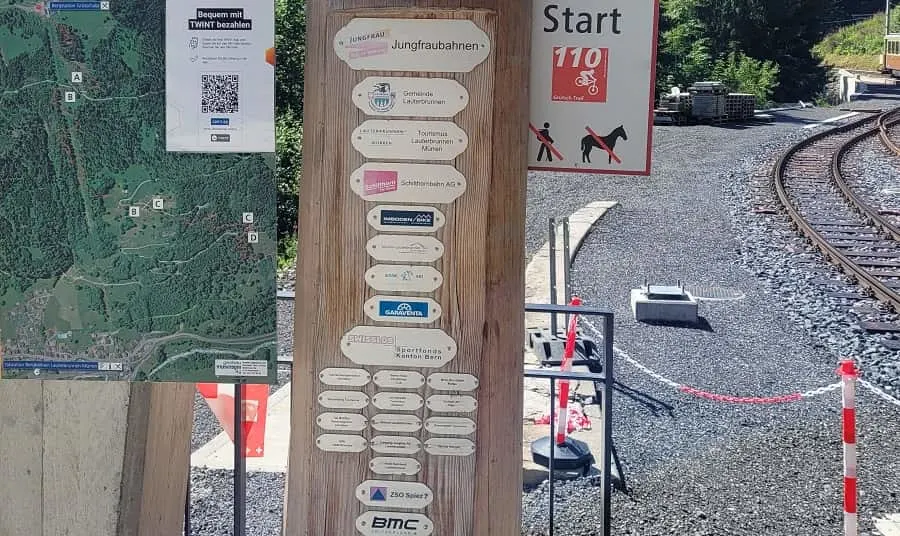 How to Get to Murren, Switzerland
Murren is a small village with a population of only about 700 people and sits at an elevation of nearly 4,000 ft.
There is no airport, no Uber. If you want to get here you will need to take a train & cable car.
But if you are up to the challenge, you will find unparalleled breathtaking views and old world charm.
To get here, first take the train from Interlaken to Lauterbrunnen and then board a cable car up to the village of Murren.
While it may seem intimidating to travel this high, the experience is quite extrodinary and you will get a perspective unlike any other by travelling this way!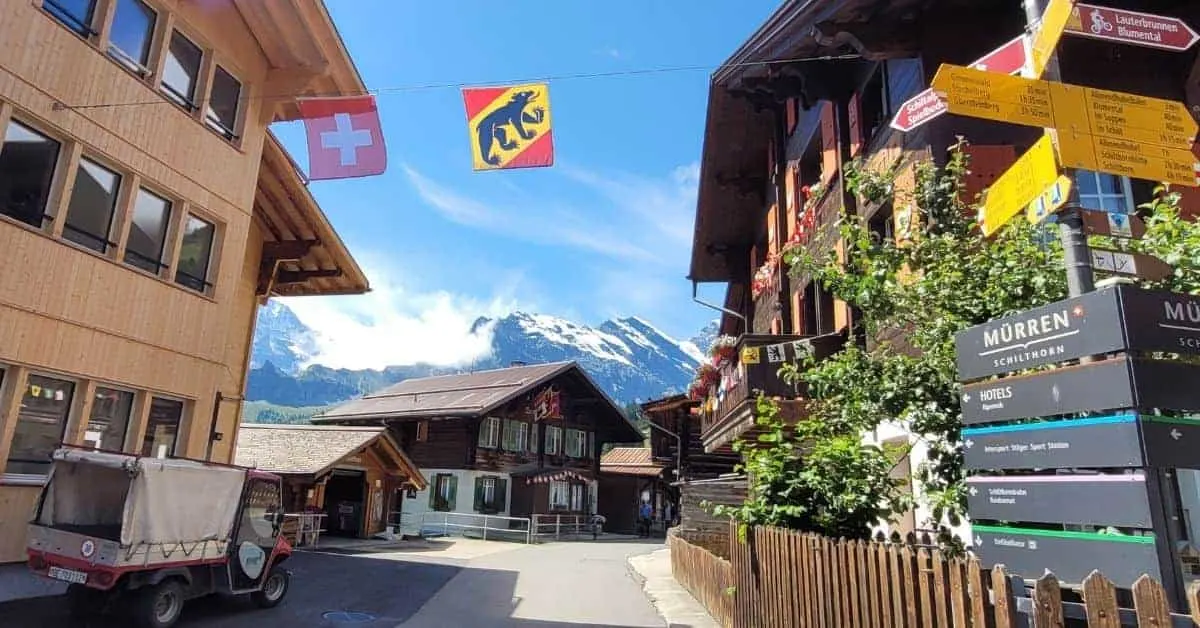 Hiking in Murren
Once you arrive, you will be able to explore the small town and more than 40 miles of hiking trails.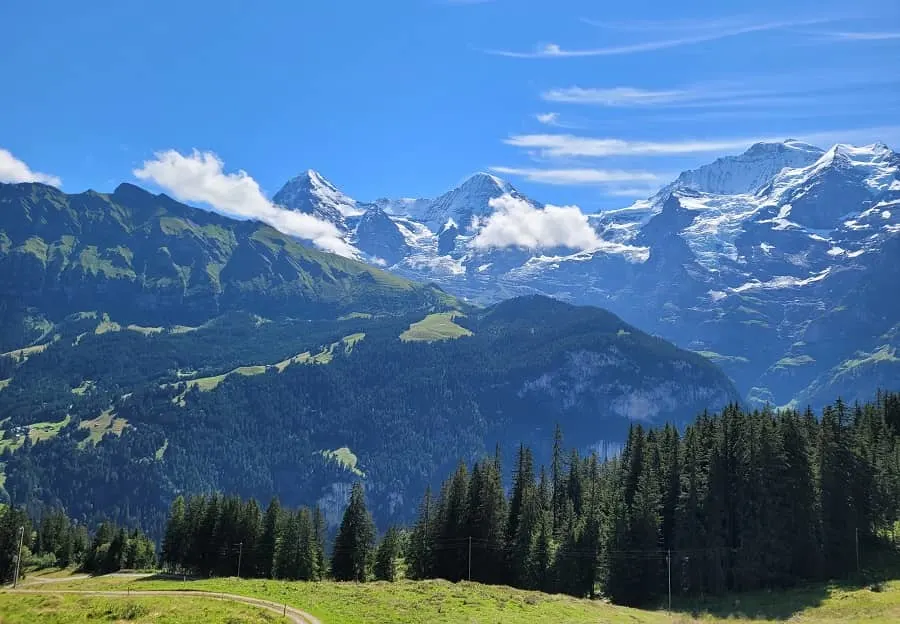 The trails will take you through nature paths, lush forests and along fields of flowers.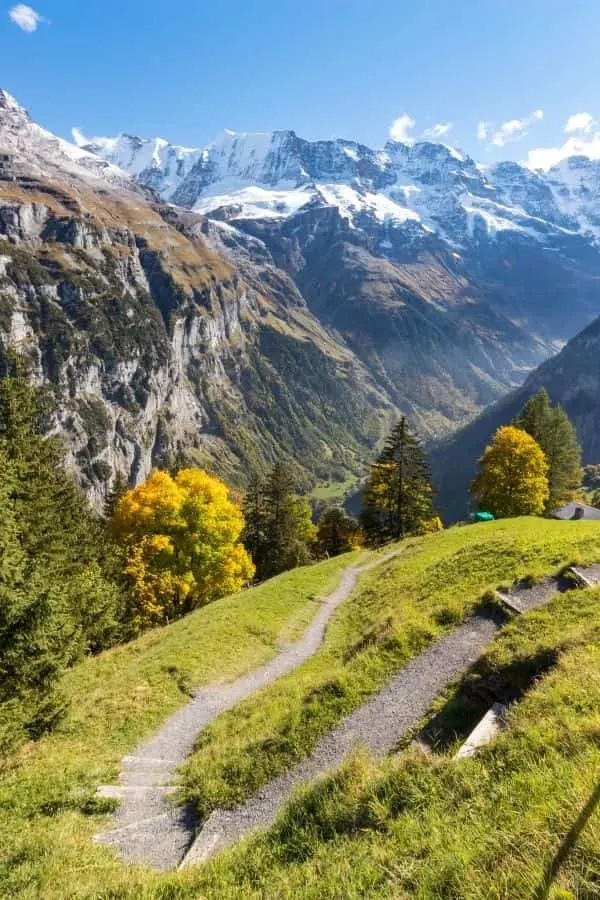 In the summer months, you will find the trails filled with hikers of all ages. This is as good as it gets when it comes to hiking.
You will have some of the most amazing views as you decend the mountain.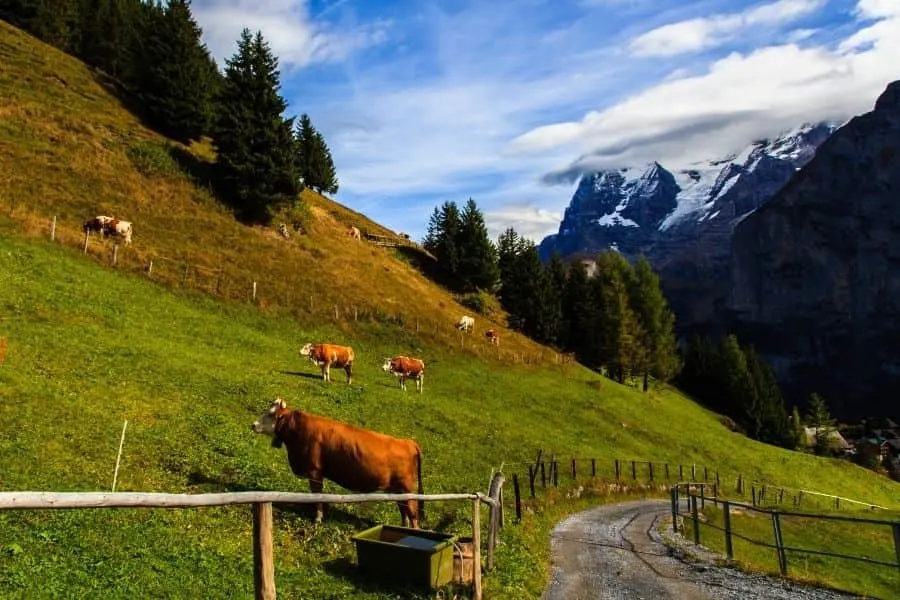 Dairy Farms in Murren
You'll find that Murren is an active farming community, so you will see farmers tending land with small herds of cows and sheep on hillsides.
This is because Switzerland has a thriving dairy producing industry and Murren is not an exception to this.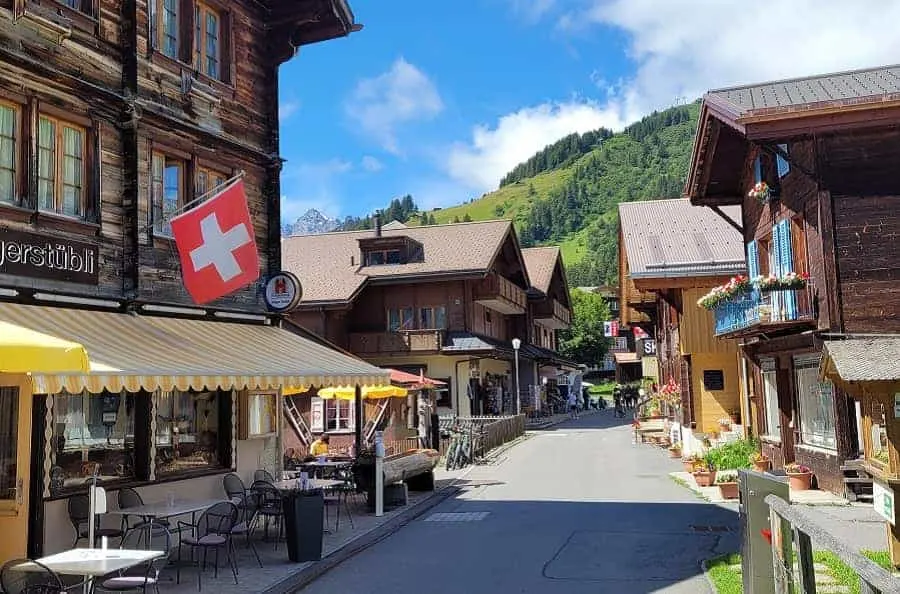 Local Food & Beer in Murren
You can enjoy an array of fresh Swiss cheeses, baked goods, local wine & beer at several small eateries, most of which offer outdoor seating with lovely views.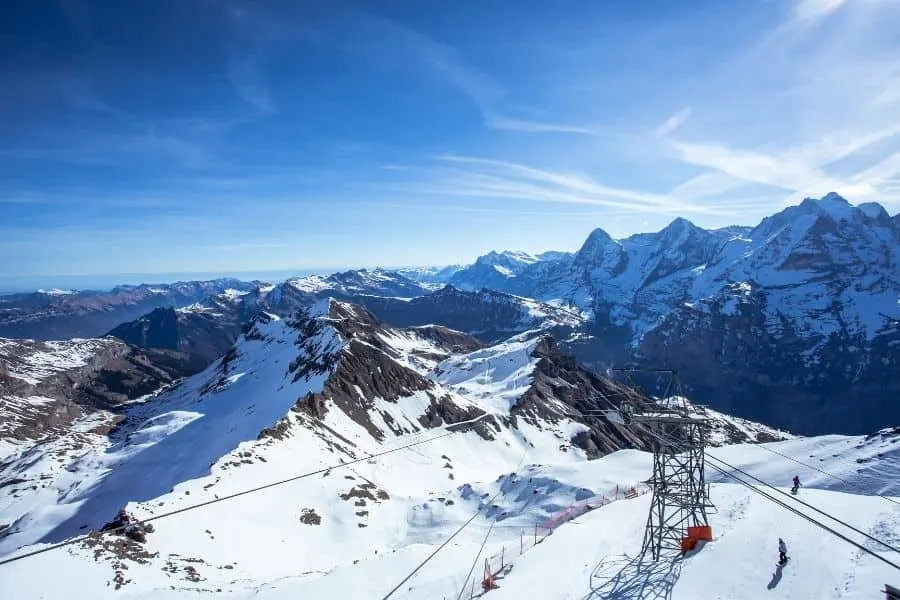 Skiing in Murren
Schilthorn offers a good variety of slopes and some serious challenges for even the most advanced skiers. Although a small set of runs, the views are spectacular!
The panorama from here includes the trifecta of scenery: Mont Blanc on the French/Italian border, the German Black Forest, and the Jungfrau of Switzerland.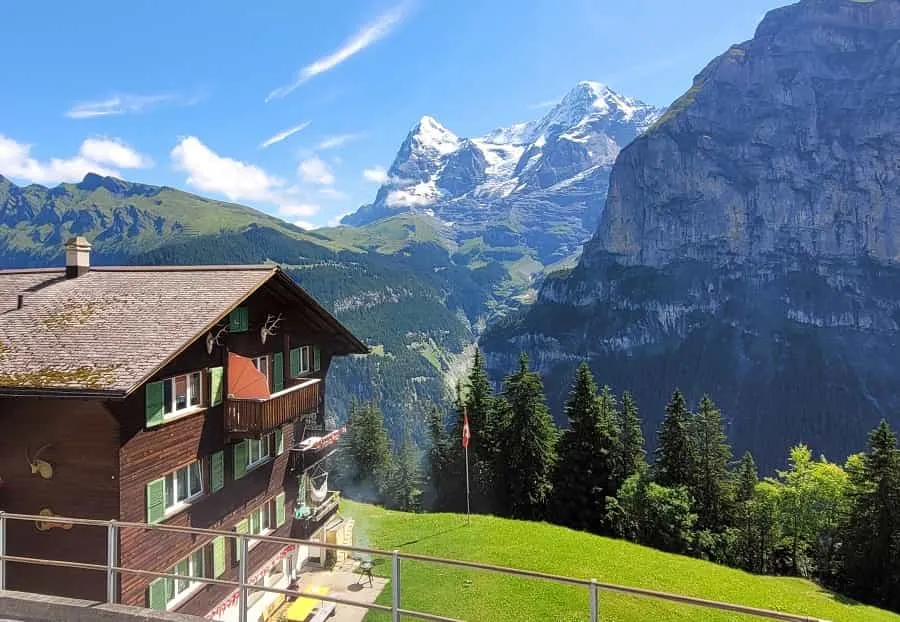 Where to Stay in Murren, Switzerland
There are several hotels that you can stay and all of them have beautiful views!
Depending on the time of year, you will be able to enjoy seeing either the snow capped mountains or the lush green forests.
Each resort in Murren offers different types of amenities so be sure to do your research to find which ones offer in house spas, restaurants or luggage pick up.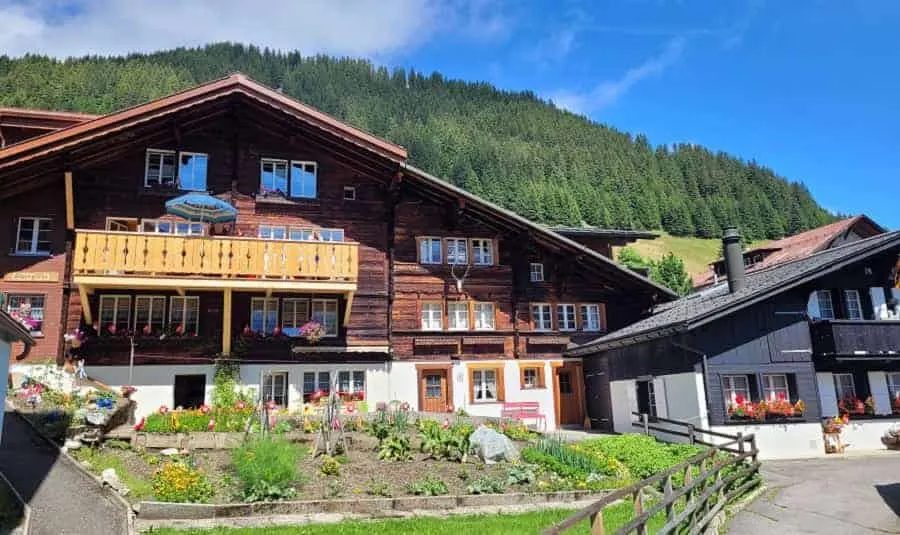 This chalet-style hotel offers some of the most amazing views of the Eiger, the Mönch and the Jungfrau mountains.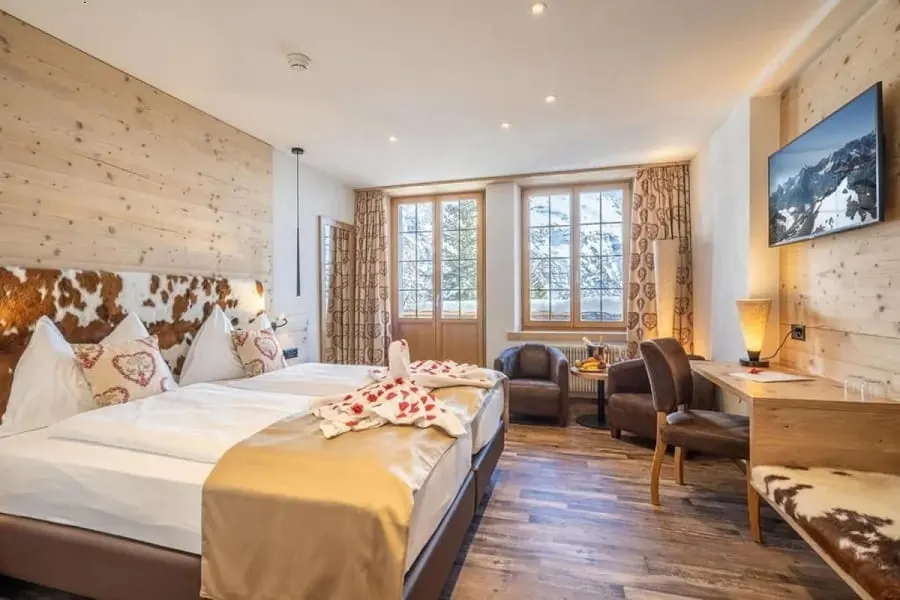 All 26 rooms offer free WiFi, DVD players, and cable TV. Guests will also find hair dryers and safes in their rooms.
All guests can enjoy the sauna free of charge and the spa has several massages that can be booked for a fee.
The back of the hotel boasts a beautiful panorama restaurant where you can experience fresh Swiss cuisine while enjoying mountain views.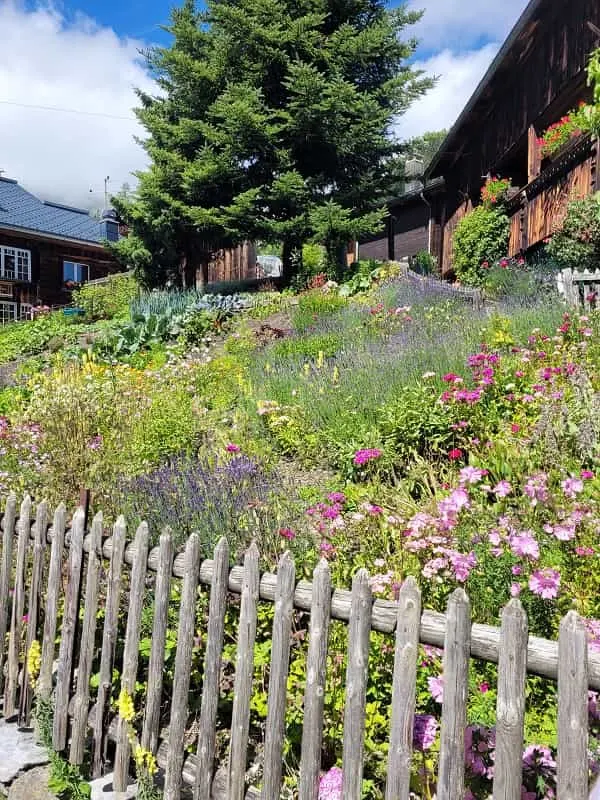 If you want to experience nature at its finest then Murren, Switzerland needs to be on your list of places to visit! You will never find another place quite like this anywhere else in the world!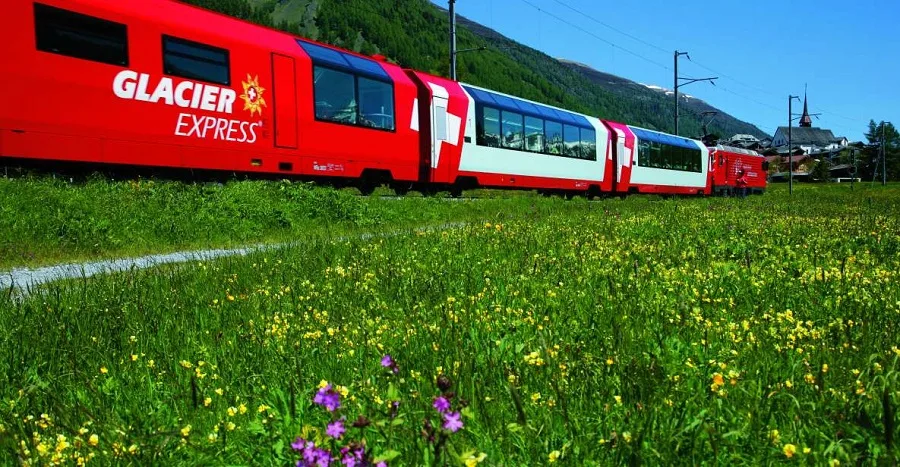 Swiss Travel Pass
If you will be using trains or public transportation in Switzerland, you might want to purchase a Swiss Travel Pass.
The pass gets you unlimited access by public train, bus, and boat to visit more than 41 Swiss cities.
It also gets you up to 50% discount on many mountain excursions and rail travel, along with free entrance to many museums.
Have you visited Murren Switzerland?