Savannah is one of the most popular tourist destinations in the south and it is easy to see why. With its manicured squares, oak trees draped in Spanish moss, and antebellum architecture, this waterfront city has plenty to explore. While it can be an expensive place to visit, there are plenty of free things to do in Savannah, Georgia.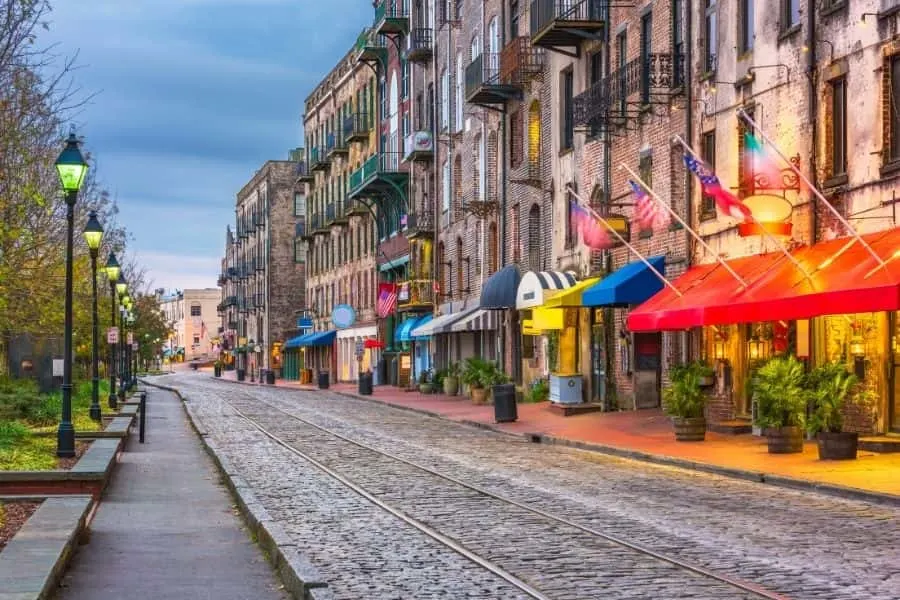 5 Free Things to Do in Savannah, Georgia
If you are traveling to Savannah on a budget, here are 5 things that should be on your to-do list.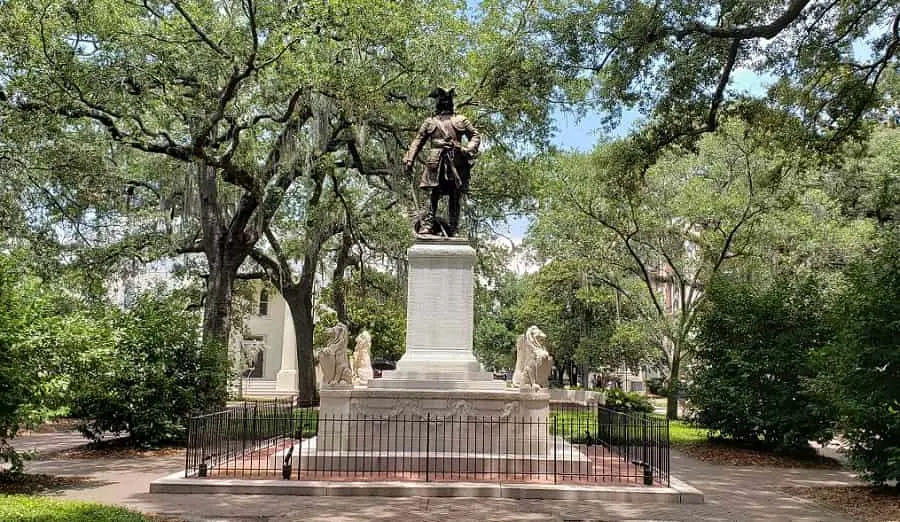 1. Walk through the Historic Savannah Squares
One of the free things to do in Savannah is walk through each of the historic squares.
There is a great walking tour that makes it possible to see all of the historic squares in a 2-mile loop.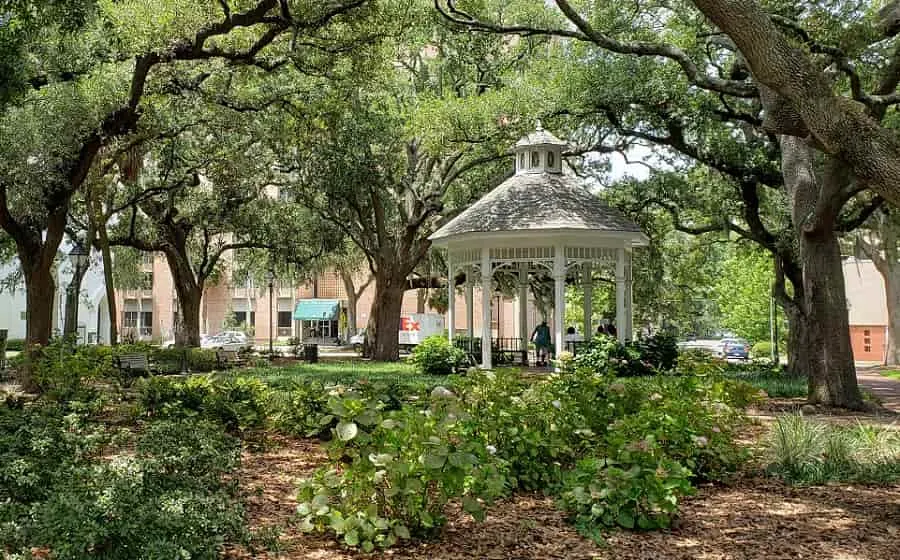 While this walk will take you most of the day, you can also just hit some of the more frequented squares along with Forsyth Park.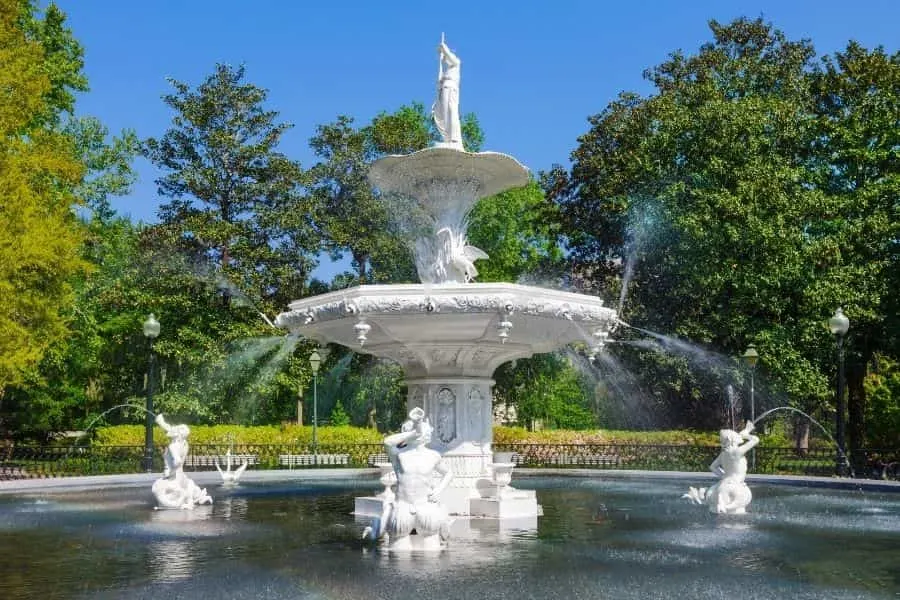 Forsyth Park
Forsyth Park is Savannah's oldest public park and is also the largest, spanning nearly 30 acres.
Dating back to the 1840s, you will find civil war monuments, different statues, and of course, the famous fountain that actually is lit at night.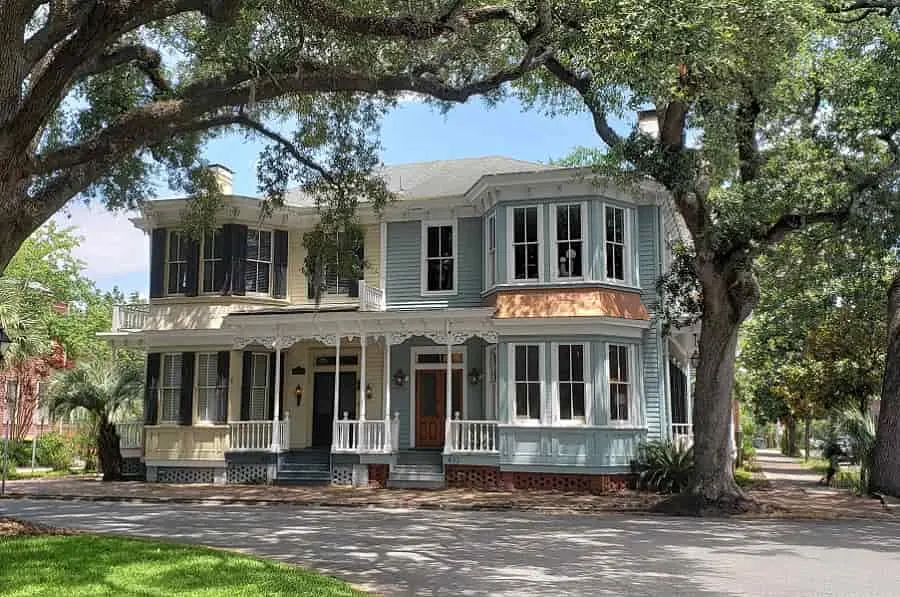 Historic Homes
While walking through the historic district, you will also be able to see some of the most beautiful homes in the area.
You will find homes in many different styles, from Greek Revival to Colonial and all are so well-preserved!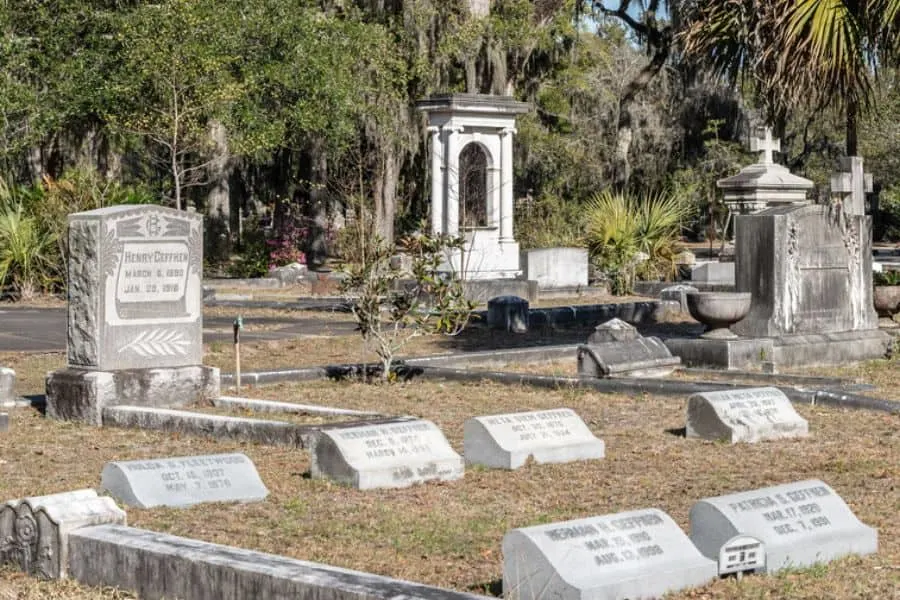 2. Visit Some of Savannah's Famous Cemeteries
While you might not think cemeteries should be on your list of things to see in Savannah, there are two that you should take time to walk through while in the area since they are free.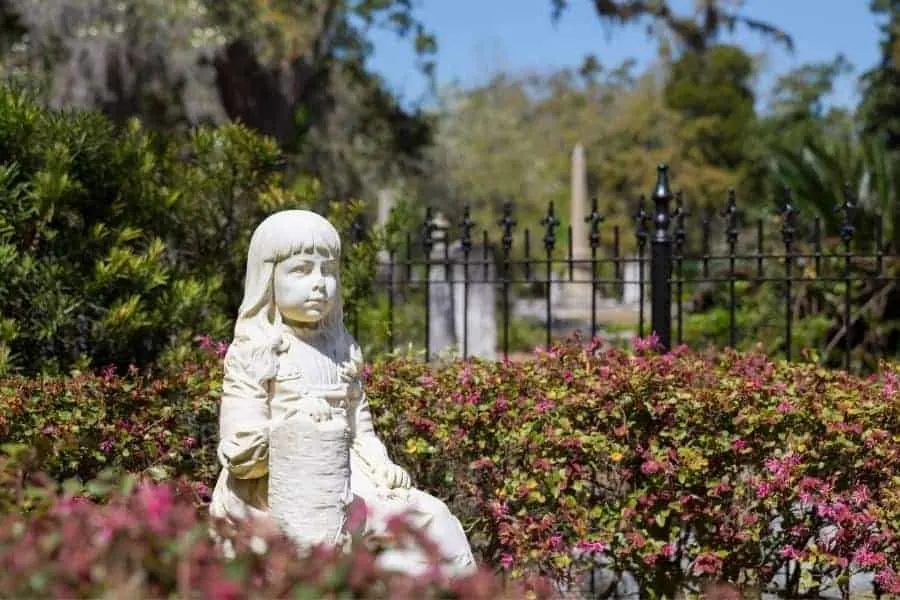 Bonaventure Cemetery
Bonaventure Cemetery is Savannah's most famous burial ground.
This cemetery dates back to 1846 when it was part of the Bonaventure plantation.
The Bonaventure Historical Society has released a mobile guide ( Apple iTunes or Google Play) for touring the cemetery on your own.
This app is free and will provide you with details on different aspects of the cemetery along with historic information on the deaths of some of those who are buried there.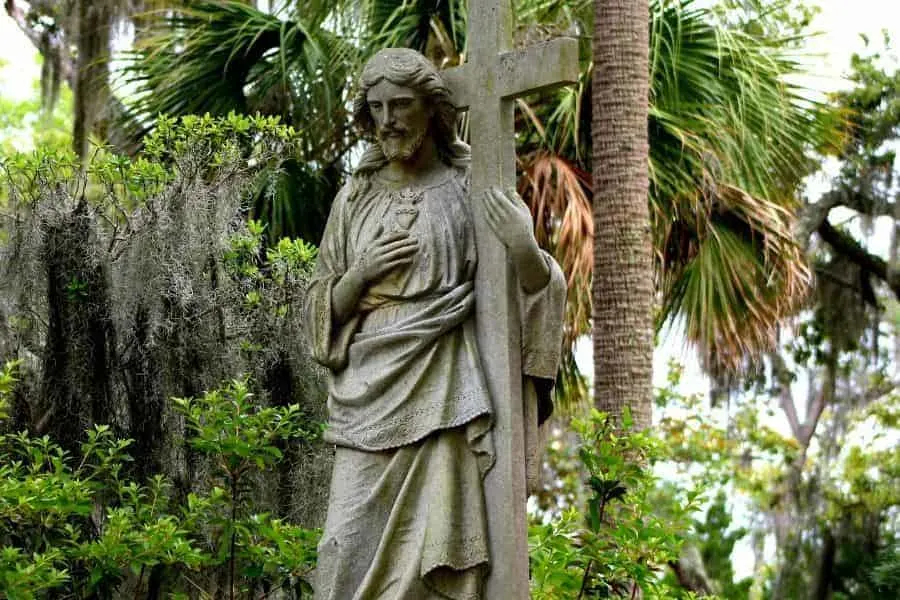 The main draw to visiting this cemetery is the beautiful statues that adorn the graves.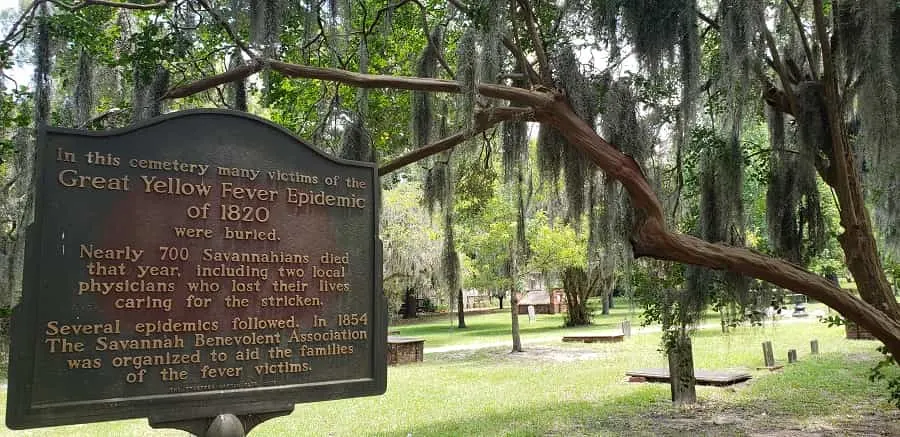 Colonial Park Cemetery
Colonial Park Cemetery dates back to 1750 and some prominent Savannahians are buried there including one of the signers to the Declaration of Independence, Button Gwinnett.
The Yellow Fever epidemic of 1820 killed thousands of people in Savannah. At the northern end of Colonial Park Cemetery, you will find mass graves that hold nearly 700 bodies.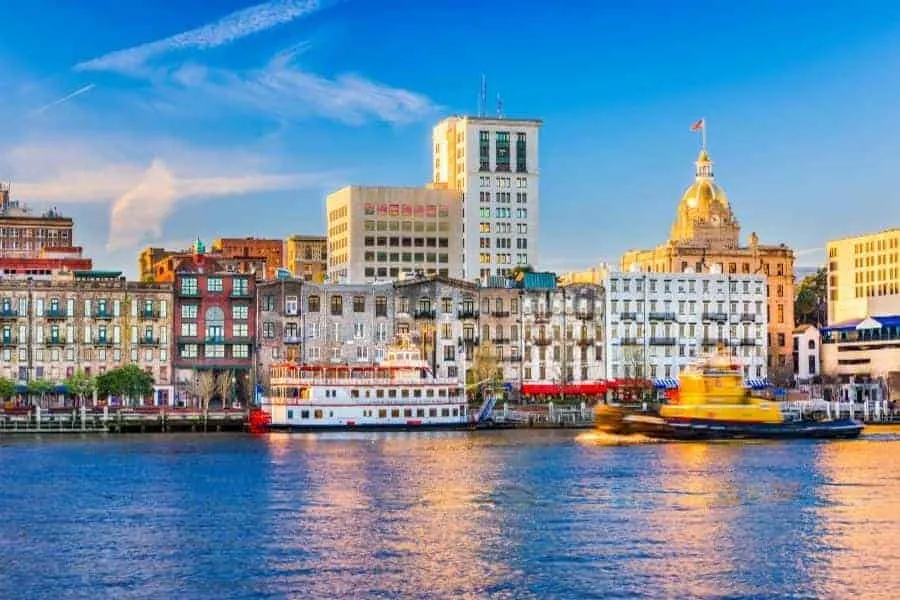 3. Visit the Waterfront District
River Street is where you will find plenty of shopping and restaurants. What used to be an old cotton warehouse has been reutilized into a vibrant art district filled with galleries, studios, stores, and more!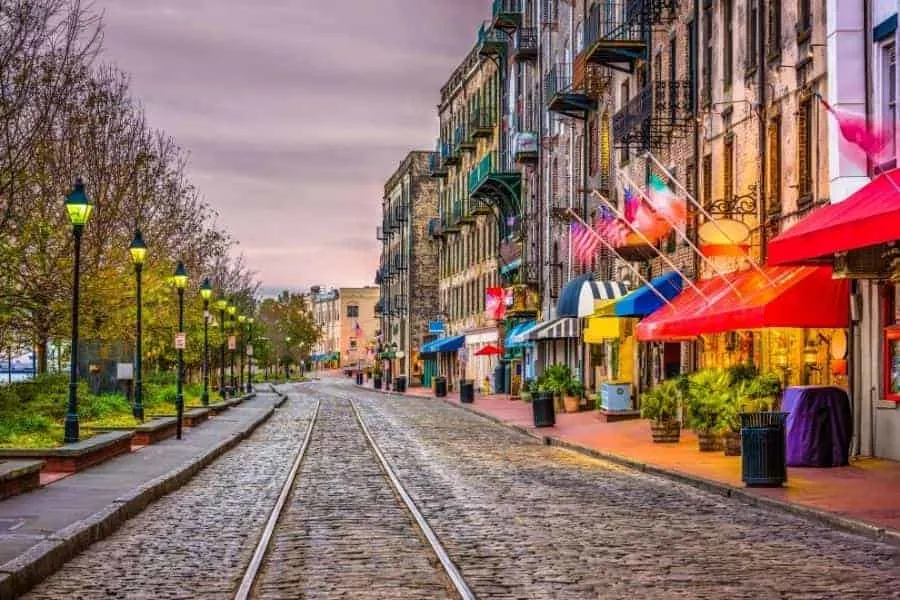 If you don't have money to spend, no worries, there is plenty you can do & see for free along the riverfront.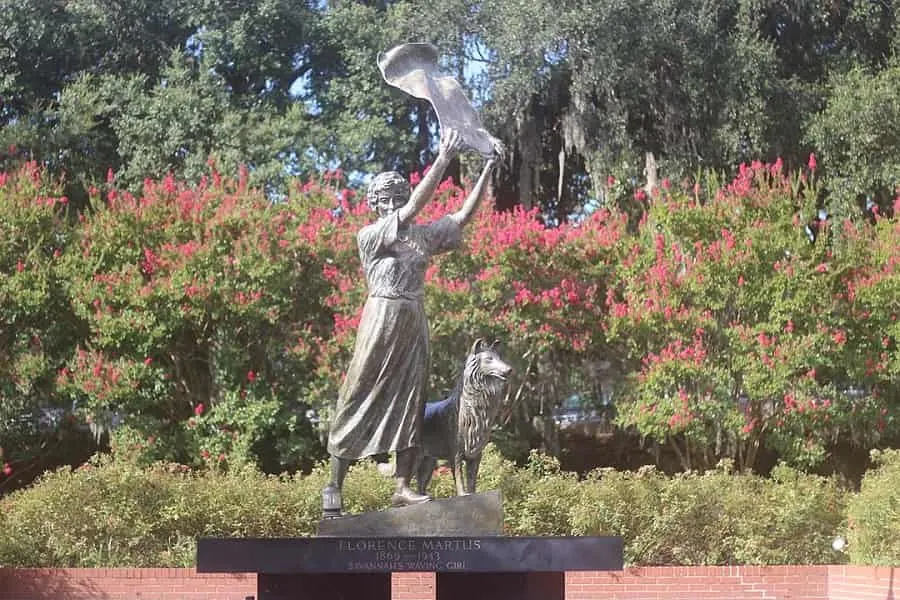 The Waving Girl statue is one of the most famous statues along the riverfront district.
Savannah's "Waving Girl" statue was created in memoriam to Florence Margaret Martus who greeted ships coming into the city's port for over forty-four years, from 1887-1931.
While walking around the waterfront, you will find several different statues and it is worth the time to admire each one in person!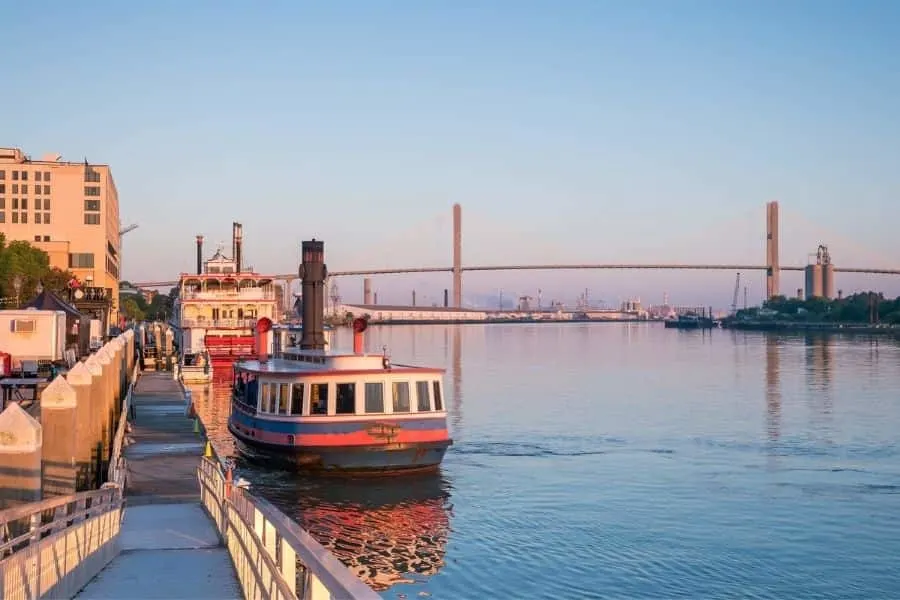 Ride the Savannah Belles Ferry
Ride the FREE Savannah Belles Ferry that connects River Street with Hutchinson Island. It will give you a unique perspective of the "Waving Girl" statue at the Savannah Marriott Riverfront.
It runs from 7 am to midnight and a trip at night will give you a different perspective than the day!
In fact, if you happen to be in Savannah on the first Friday night of the month, you will even get to see fireworks light up the sky over the water!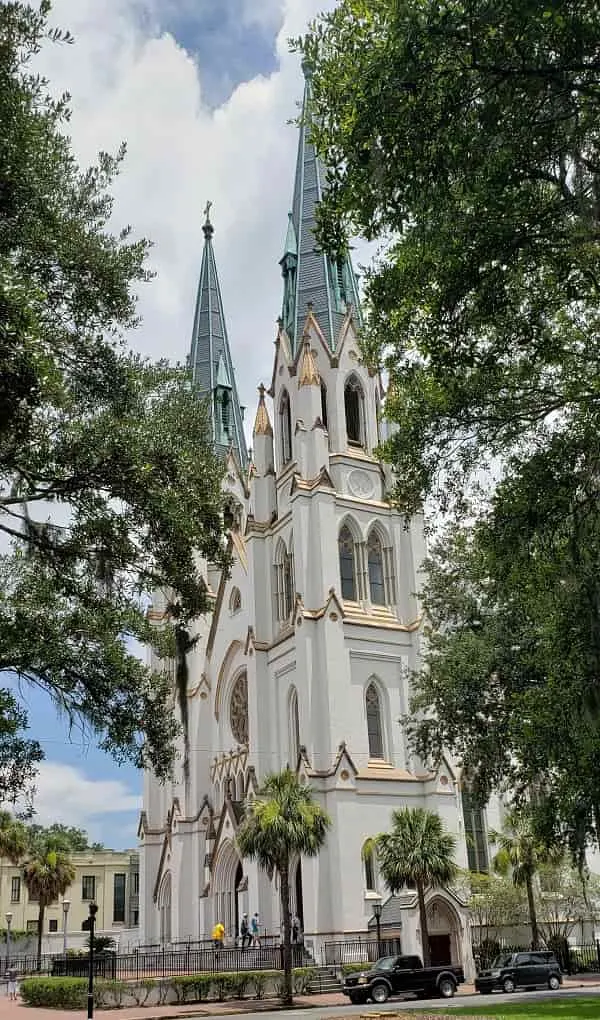 4. Walk in the Cathedral of St. John the Baptist
History of the Cathedral
In the late 1700s, after the Revolutionary War, a wave of French Catholics settled in Savannah (fleeing from Haiti) and set up a congregation named after Saint Jean-Baptiste.
Their first church was a small building located where the courthouse now stands.
As more immigrants like the Irish, flocked to the religious tolerant United States, the church grew out of its wall and needed a much larger place to meet.
St. John the Baptist in Savannah was erected in 1876 but was nearly destroyed in a fire in 1898. The cathedral that now stands, was the reconstruction that was completed in 1900.
The Interior of St. John the Baptist Cathedral
When you enter the cathedral, you will notice the French Gothic interior. It is simply stunning.
There are 34 murals all painted by popular Savannah artist, Christopher Murphy. These were actually painted in New York on canvas and then assembled in the cathedral later!
Along either side of the cathedral are Stations of the Cross and glorious stained glass windows depicting parts of the Bible.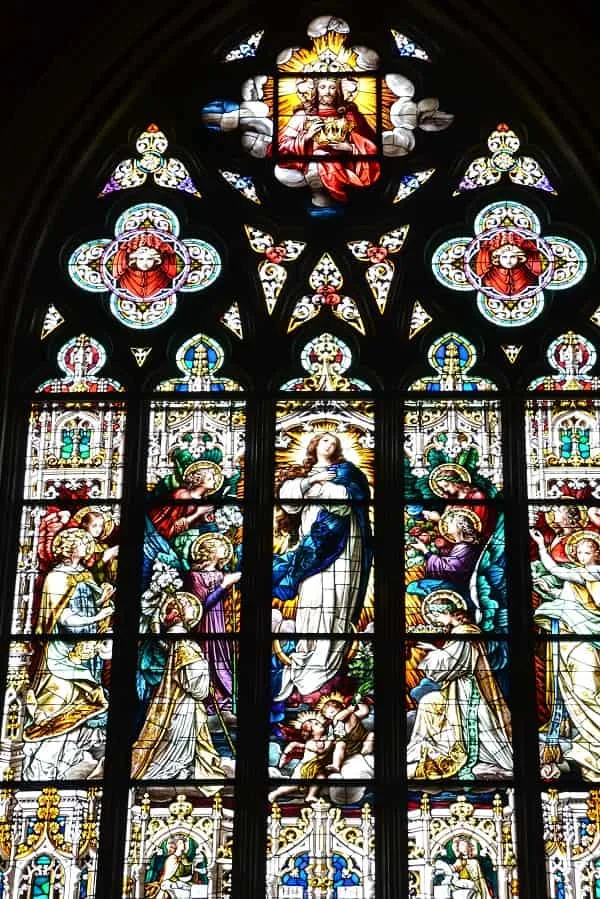 The stained glass that illuminates the sanctuary was actually made in Innsbruck, Austria and dates back to 1904.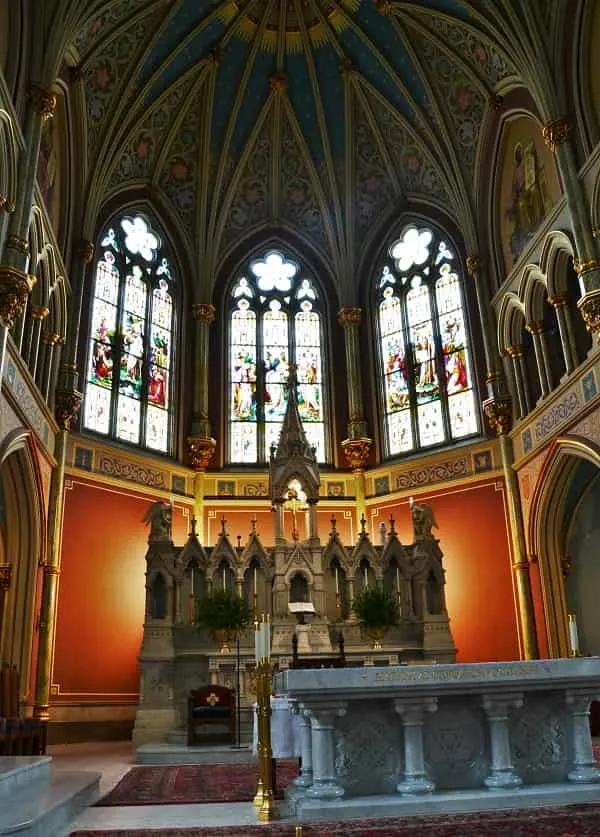 The main Altar, made of Carrara marble from Italy, has inscribed the Latin phrase, "Beati Qui Ad Cenam Agni Vocati Sunt." The phrase translates to "Blessed are they who are called to the banquet of the Lamb."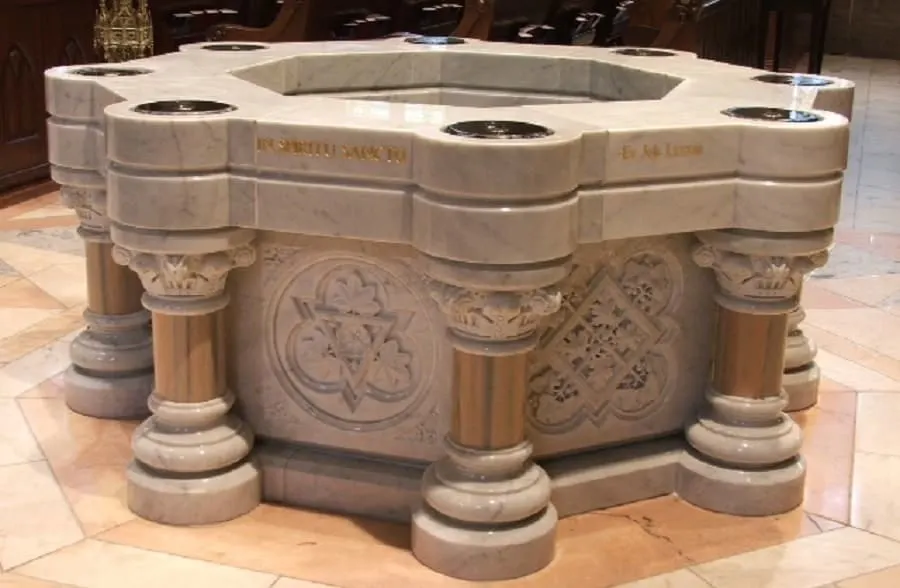 The baptismal font dates to 1876, but has been renovated as recently as 2000. It is made of Carrara marble and lined in black granite from India.
You may notice that there is a Celtic symbol for eternity that pays homage to the Irish that helped to start the diocese.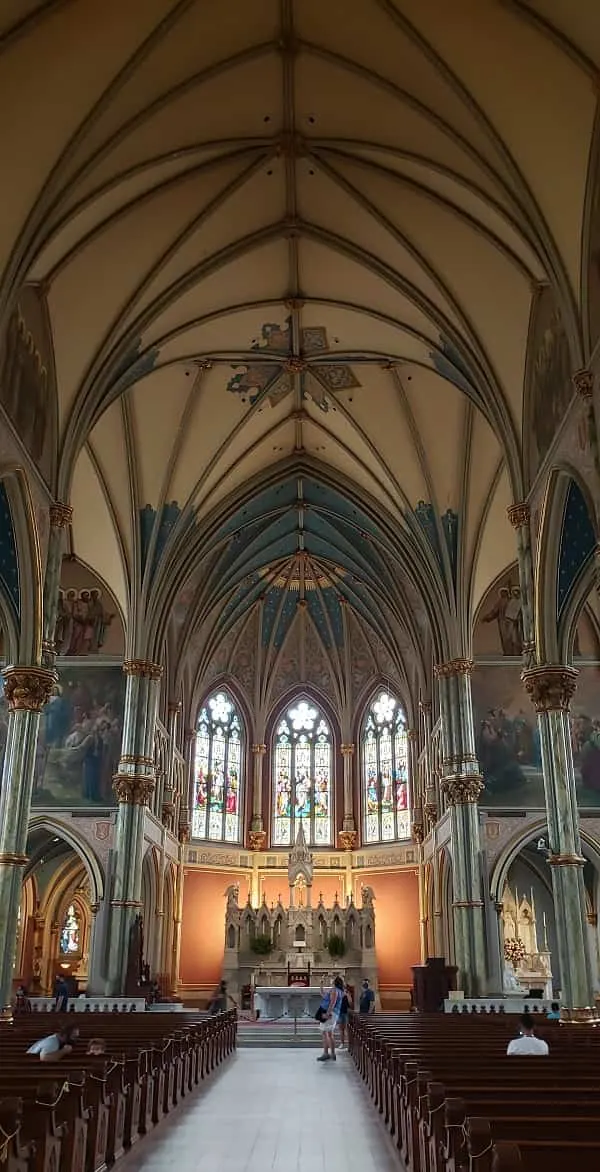 The church is open for self-guided touring Monday-Saturday from 9am–11:30am and 12:45pm–5pm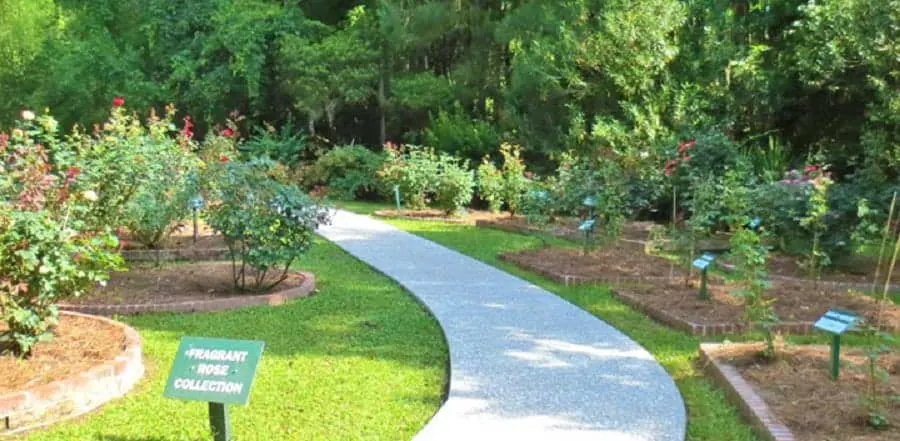 5. Savannah Botanical Gardens
Operated by the Savannah Area Council of Garden Clubs, the Savannah Botanical Garden features several beautiful gardens based on different types of plants and flowers.
You will find a rose garden, perennial garden, ferns, and much, much more.
Along with the lovely seasonal flowers and plants, there is a two-acre pond, walking trails, and a 19th-century vernacular farmhouse. Use this Garden Map as a guide.
Hours: Mon – Sat: 8:00 am – 8:00 pm and Sun: 8:00 am – 8:45 pm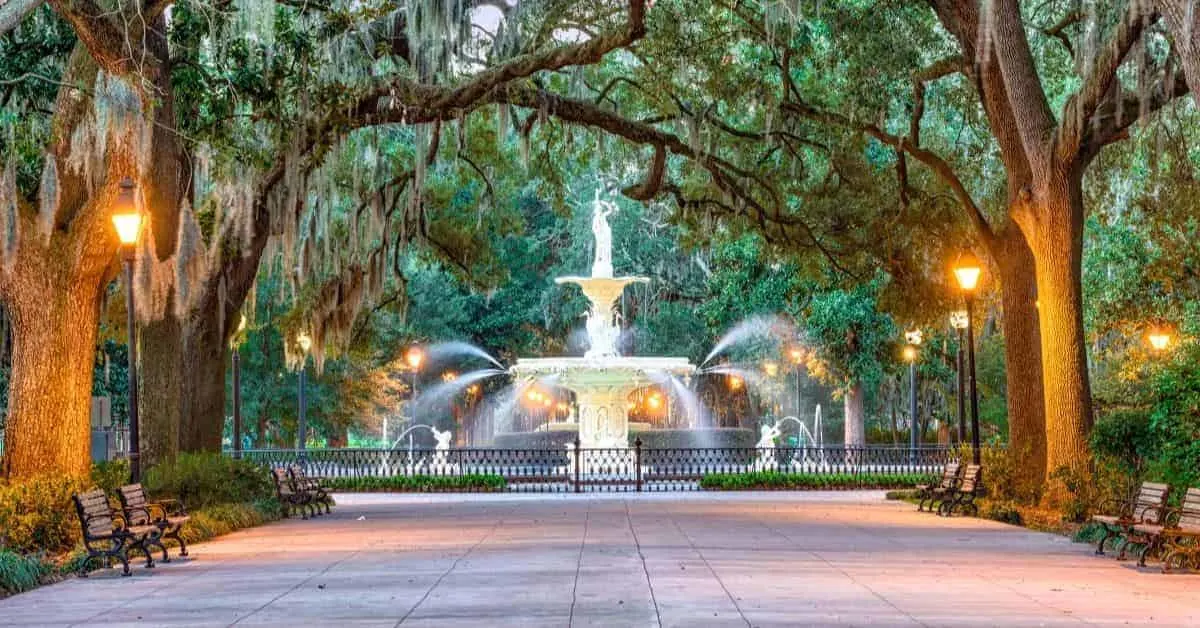 Savannah is a true jewel of the South and although it gets the reputation of being an expensive place to visit, it has plenty of inexpensive and free things to do!
Have you visited Savannah? Do you have tips on how to visit Savannah on a budget?