If you are visiting Asheville during the Christmas season, one of the things you really should do is a Biltmore Estate Christmas tour. There are two different ways you can enjoy Christmas at the Biltmore Estate & Garden: the Daytime Celebration and the Candlelight Tour.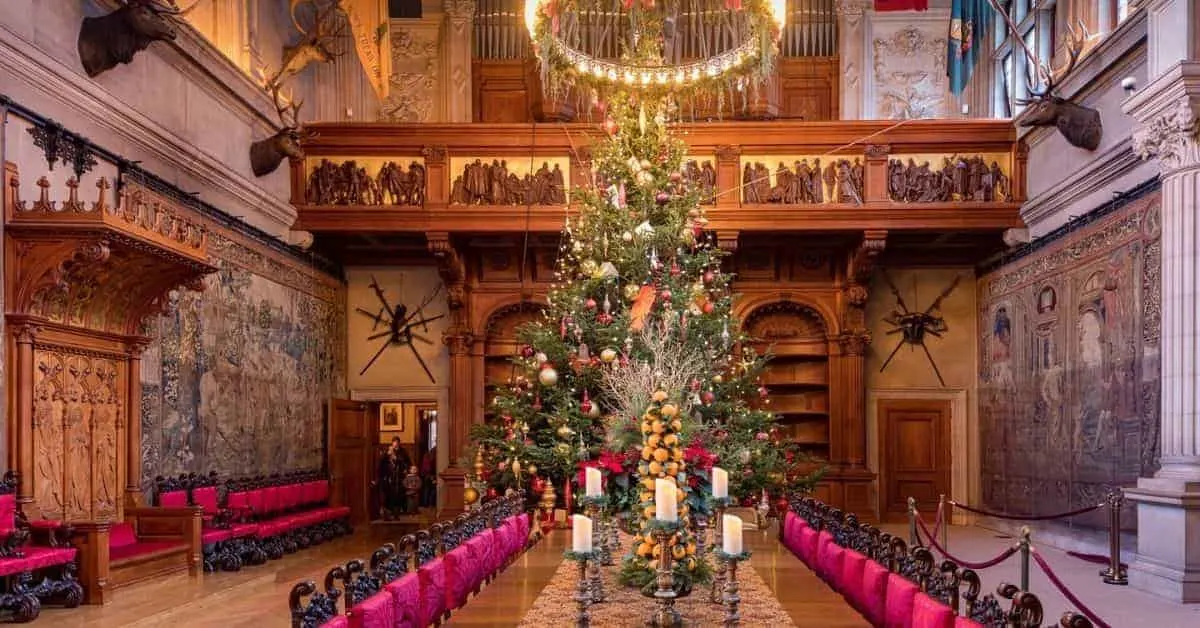 Whether you choose to visit the Biltmore Estate during the day or evening, your experience will be wonderful.
There is so much you will be able to see and do, just make sure that you don't miss out on seeing it all!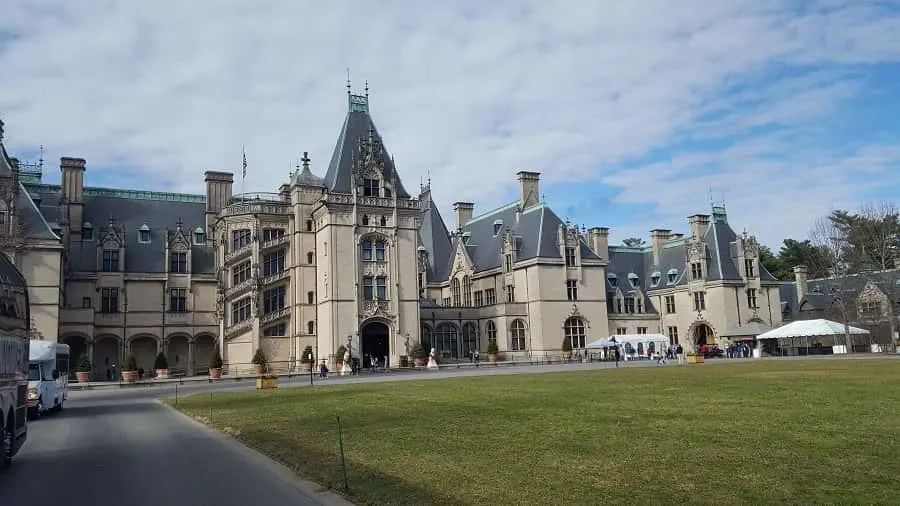 Biltmore Estate in Asheville
Biltmore Estate, located in Asheville, North Carolina is the closest thing America has to a castle.
Built in the 1890s for George Vanderbilt, this mansion is the largest privately owned home in the United States.
The home contains 35 bedrooms, 43 bathrooms, and 65 fireplaces. Each room is filled with period pieces and family mementos. You will feel as though you have stepped back into the early 1900s.
Biltmore Estate Christmas Tours
While touring the Biltmore estate is wonderful any time of year, there is something special about Christmas at the Biltmore.
Maybe it is because George Vanderbilt first opened the doors to his family and friends on Christmas Eve of 1895.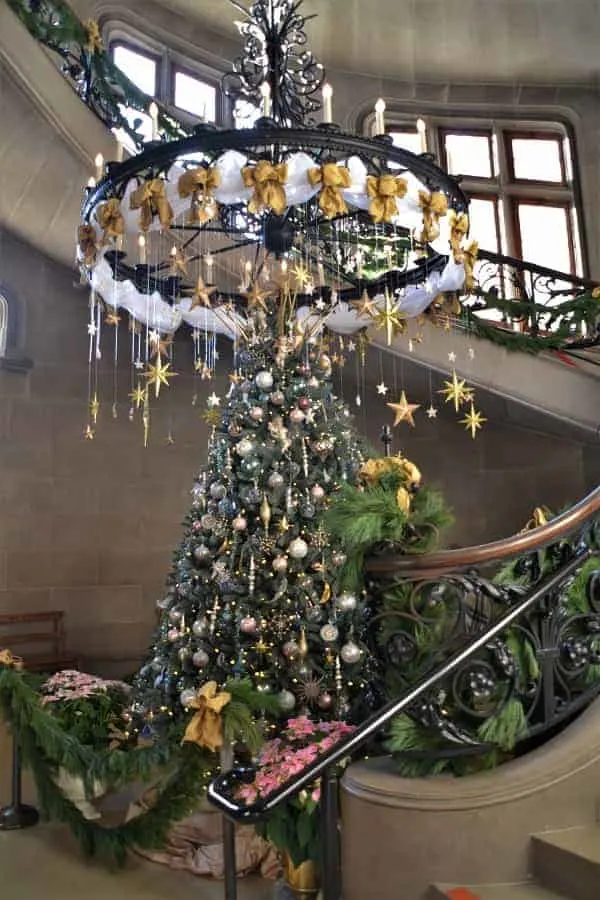 The home is filled with traditional Christmas displays featuring items you would find at the time the house was built and lived in.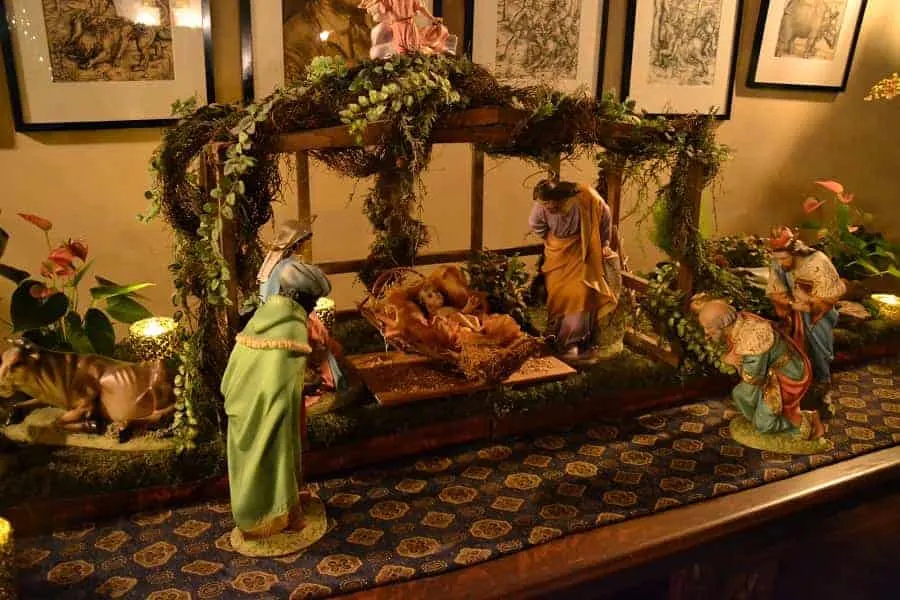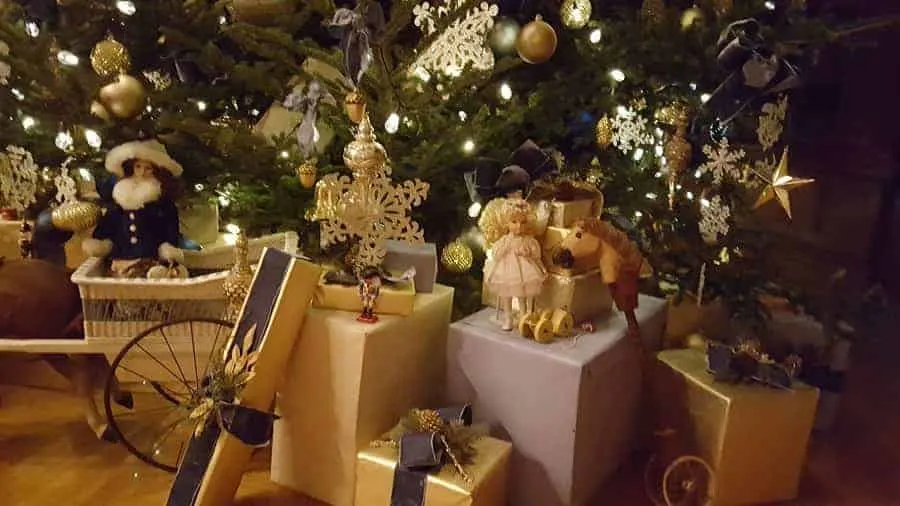 There are nativities, traditional Victorian gifts under the tree, and many different ways Christmas is weaved into the natural decor.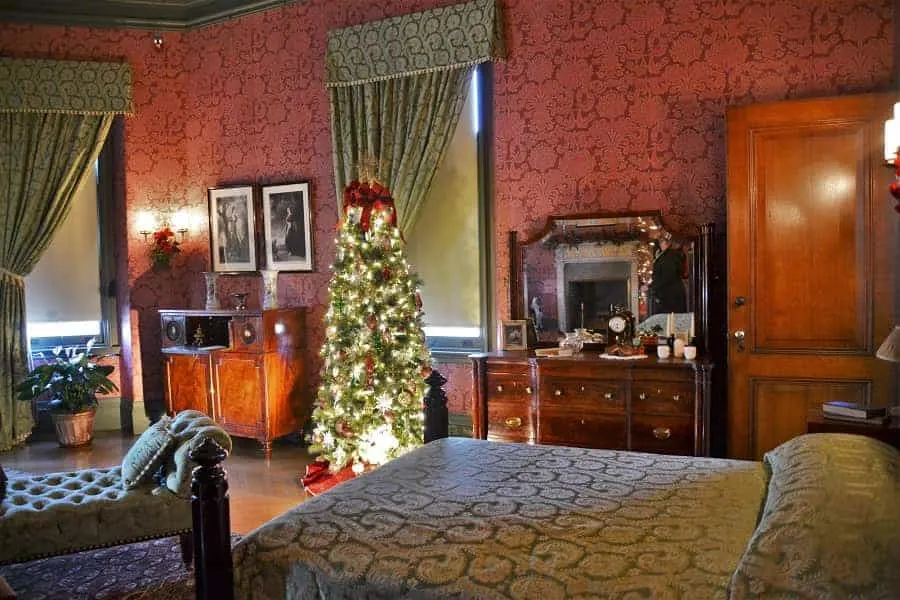 There are trees in just about every room at the Biltmore House and seeing how each room is decorated for Christmas is truly a treat.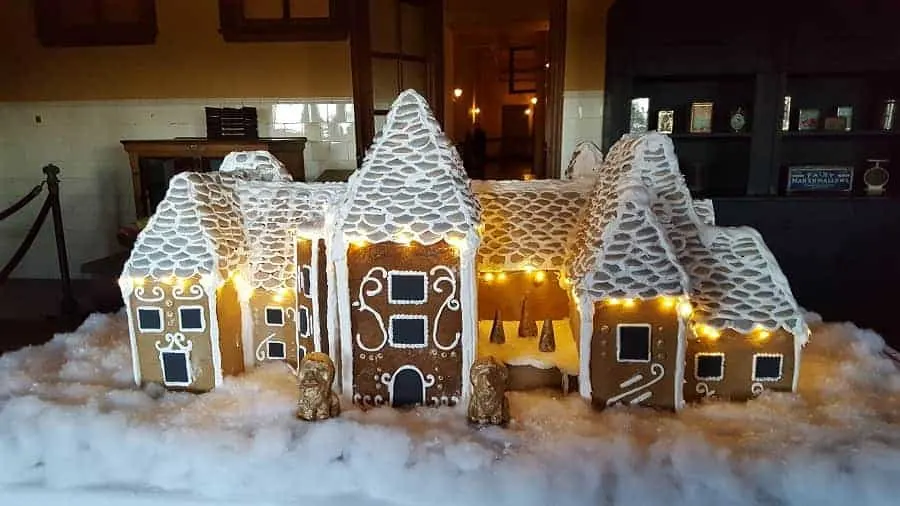 Speaking of treats, you will even find the Biltmore House likeness in a Gingerbread display in the servant's kitchen.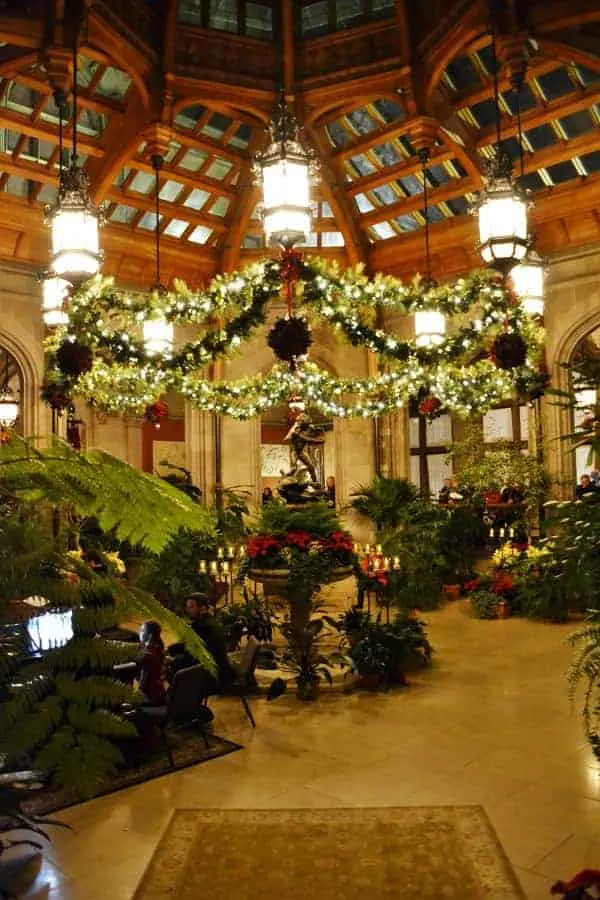 The holidays don't end when you leave the tour of the Biltmore house. You will find the shopping area fully decorated, the creamery has a holiday theme, and even the gardens.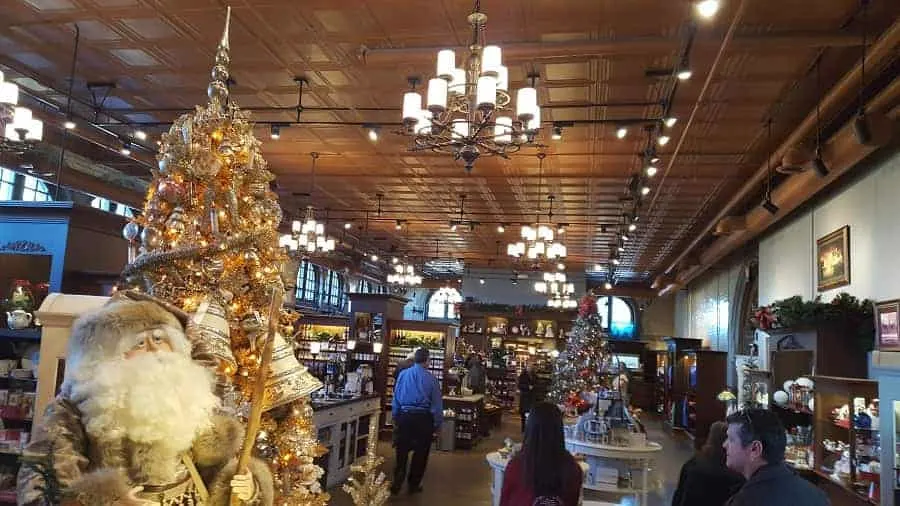 Biltmore House Christmas Shopping
Hoping to do a little Christmas shopping while at Biltmore? You will find plenty of wonderful gift items!
Biltmore Carriage House– Beautiful Christmas decorations, housewares, and gifts.
Confectionery – gourmet chocolates, holiday candies, and giftable sweets.
Toymaker's – timeless toys and games for all ages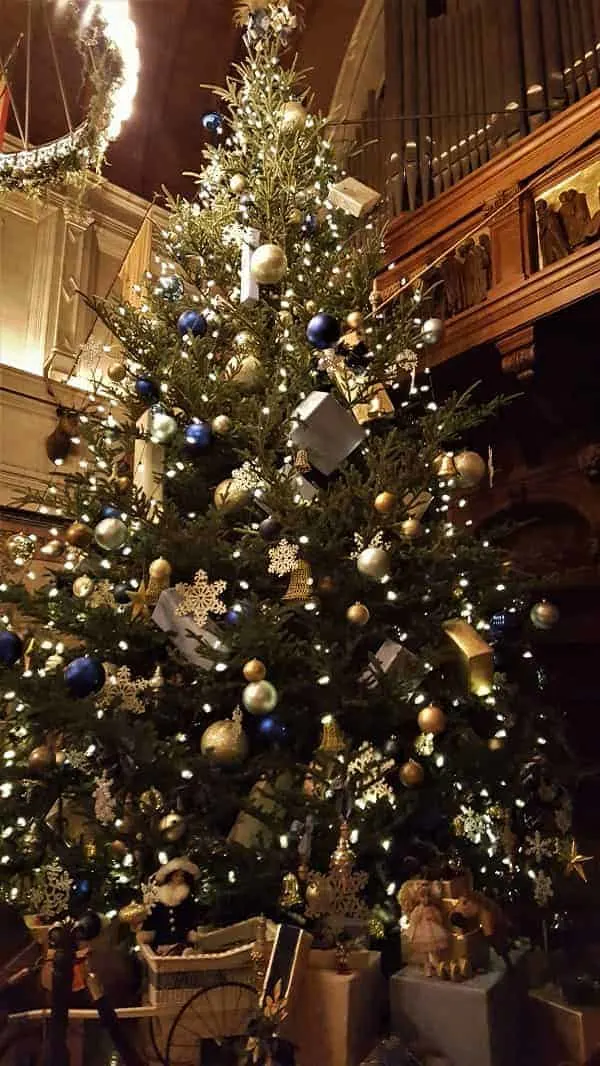 What else you can do during Christmas at Biltmore Estate
A Gardener's Place Seminar – Learn how to create a holiday tabletop centerpiece with natural elements like evergreens, pinecones, and twigs.
Antler Hill Village & Winery Holiday Illumination – Antler Hill Village is lit up with thousands of lights and there is an unbelievable ornament display in the winery.
Bonfires & S'mores – From 3-10pm, s'mores kits ($6), hot chocolate, cider, coffee, beer, and wine are available for purchase from a food cart located on site.
Christmas Carolers in Antler Hill Village performing every 30 min (3-7:30pm).
Santa at the Bandstand – On select dates from 1-5pm, Santa stops by the bandstand in Antler Hill Village for a free meet & greets with children.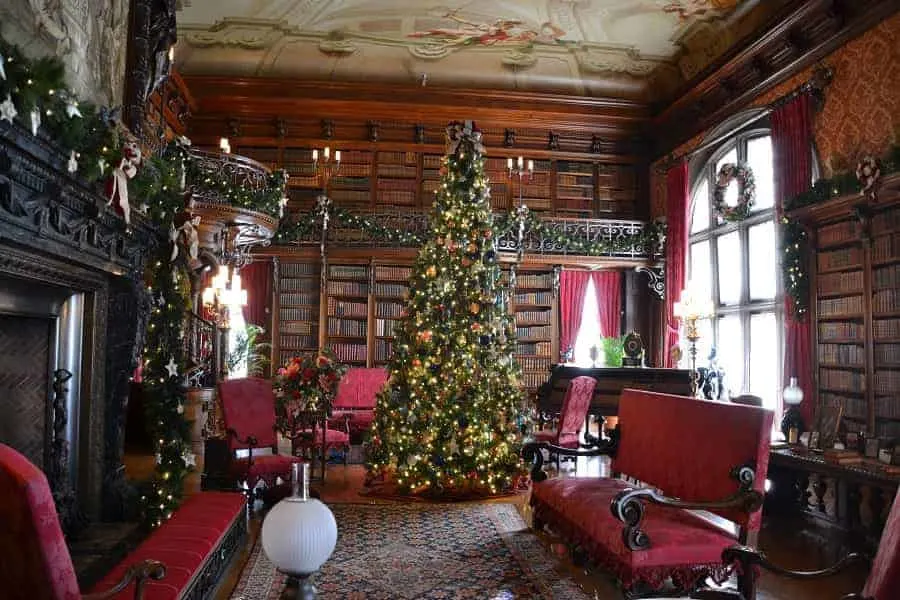 Biltmore Christmas Daytime Celebration
November 1, 2022– January 5, 2023
A daytime visit to Biltmore will allow you the chance to see the mansion decorated with wreaths, garlands, and the thousands of ornaments that adorn the 55+ Christmas trees.
While it is daylight outside, on the interior of the home, you will find that many of the blinds are drawn or lights dimmed so that you can fully enjoy the Christmas decorations lit up.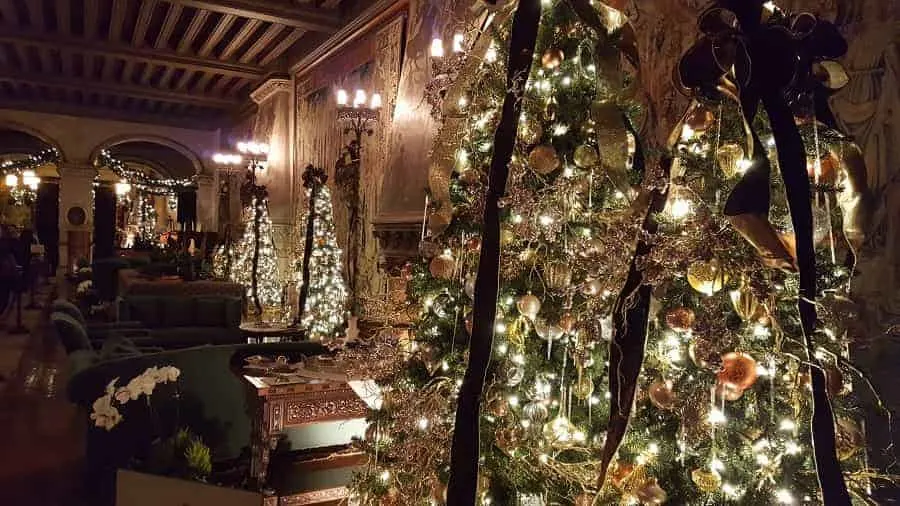 2022 Biltmore Christmas Candlelight Tour
November 1, 2022 – January 4, 2023
When visiting Biltmore during their Candelight Christmas evenings, you will find live music as you tour the mansion and the entire home lit by candlelight, fireplaces, and Christmas displays.
Included with your Biltmore Candlelight Christmas Evening ticket is a (Daytime) admission to Downton Abbey: The Exhibition, Antler Hill Village & Winery, gardens, shops, restaurants, and The Biltmore Legacy.
You can enjoy all of this on the same day of your Evenings visit OR the next day.
Adult admission: $89
Children 10 to 16 $44.50
Audio Guides are available for $12.99. The 90-minute audio tour gives you background information about the Vanderbilt family and details that you might not otherwise notice on your own.
Biltmore Estate Parking
You should plan to park in Central Parking and ride the free shuttle to the Biltmore House. You can also shuttle to Antler Hill Village, Winery, etc.
There are so many wonderful ways to spend your time in Asheville, North Carolina that I think ideally, you will want to have one full day or two half days to fully enjoy everything at Biltmore.
A weekend in Asheville will give you plenty of time to see some of what makes it such a wonderful destination.
Have you spent Christmas at the Biltmore Estate? What was your favorite part?