If you are a fan of the Tudor dynasty, or just enjoy exploring historical venues, Hampton Court Palace should definitely be on your list of places to visit. It is one of only two surviving palaces (the other is St. James's Palace) owned by King Henry VIII and full of interesting stories and artifacts. Here are just a few highlights of what you can expect to see inside Hampton Court Palace.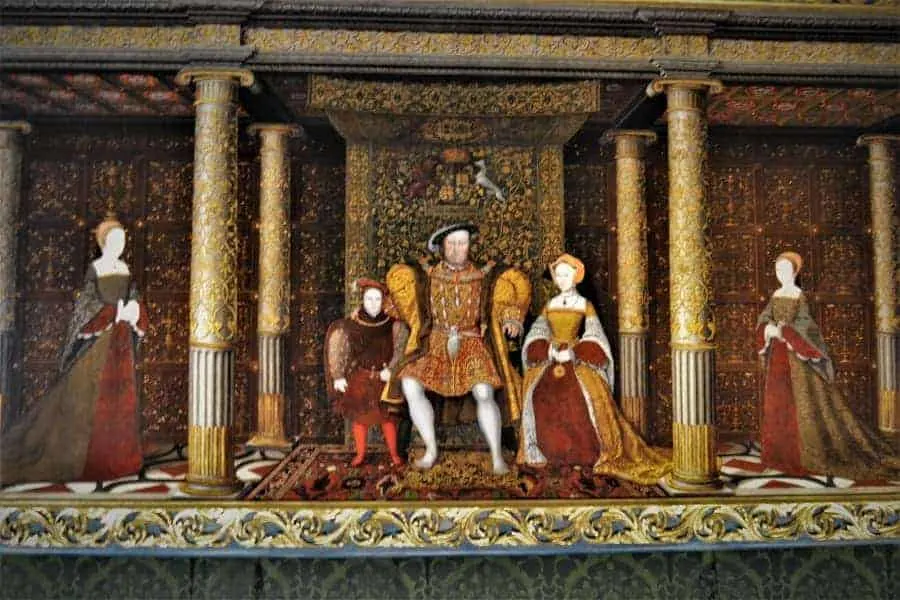 Hampton Court Palace History
Cardinal Thomas Wolsey, Henry VIII's Lord Chancellor, purchased Hampton Court when it was a manor house around 1515 and turned it into a magnificent palace in order to host royalty from near and far.
Unfortunately for him, he didn't get to stay in the palace very long due to the fact that the Papacy would not grant Henry VIII the divorce he wanted (from Catherine of Aragon).
Even though Henry VIII had dozens of homes, Hampton Court was his favorite.
On any given day, there would be 1000 people (courtiers, staff, and guests) at the palace, and depending on your rank, you might NEVER see the King while he was at Hampton Court.
This is because the King designed the palace to have a maze-like system where people were filtered into different areas based on their rank.
This kept those closest to the King in his inner circle while others were given restricted access.
It was only those closest to the King that would be able to access his private quarters (eating room, an entertainment area, and bed chamber).
Hampton Court Palace saw many monarchs in its prime and it wasn't until King George III (1760's) that it was abandoned and turned into stately apartments.
This lasted until Queen Victoria opened it to the public in 1838.
Inside Hampton Court Palace
A trip to Henry VIII's favorite royal residence will allow you to step back in time and see Henry's State Room, Tudor kitchens, the expansive royal gardens, and much more.
Here are some of the things you can see inside Hampton Court Palace: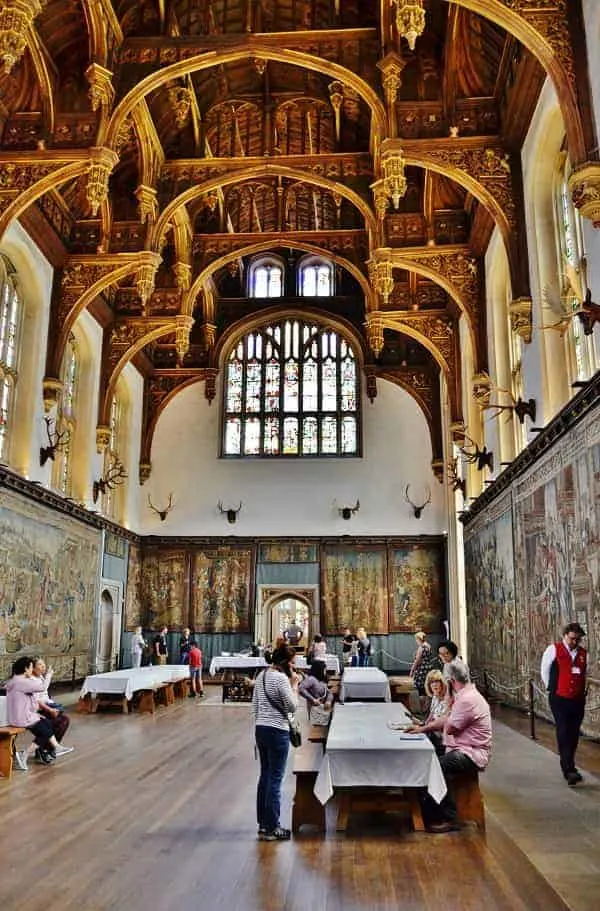 The Great Hall
The Great Hall in Hampton Court Palace is where Kings entertained and were entertained for centuries.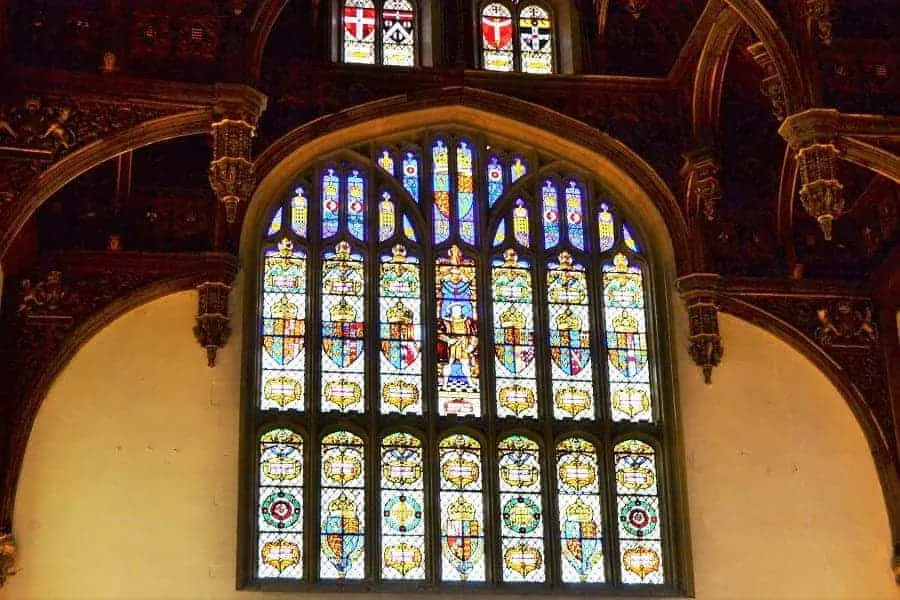 The room features a hammer-beam roof and a large stained glass window with King Henry VIII front & center!
Take your time in this room to look at all the detail in the ceiling. You may find some interesting hidden images and carvings.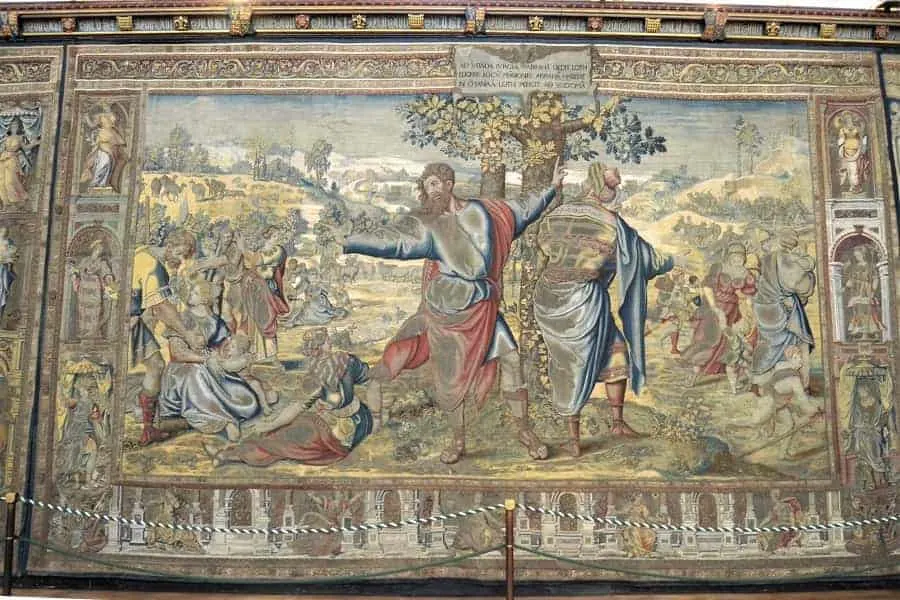 On the walls are beautiful tapestries that tell the Biblical story of Abraham.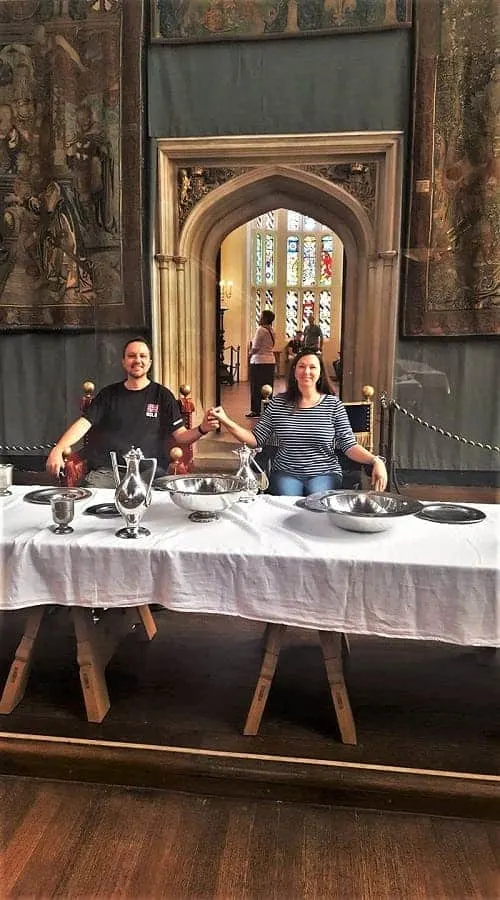 It is worth noting that William Shakespeare's King's Men performed in The Great Hall of Hampton Court Palace for King James from 1603-1604.
The Tudor Kitchens
The Tudor kitchen was in service for some 200 years and had three Master Cooks, one for the King, one for the Queen, and another for the rest of the Court.
There was even a room inside Hampton Court Palace specifically designed for making chocolate.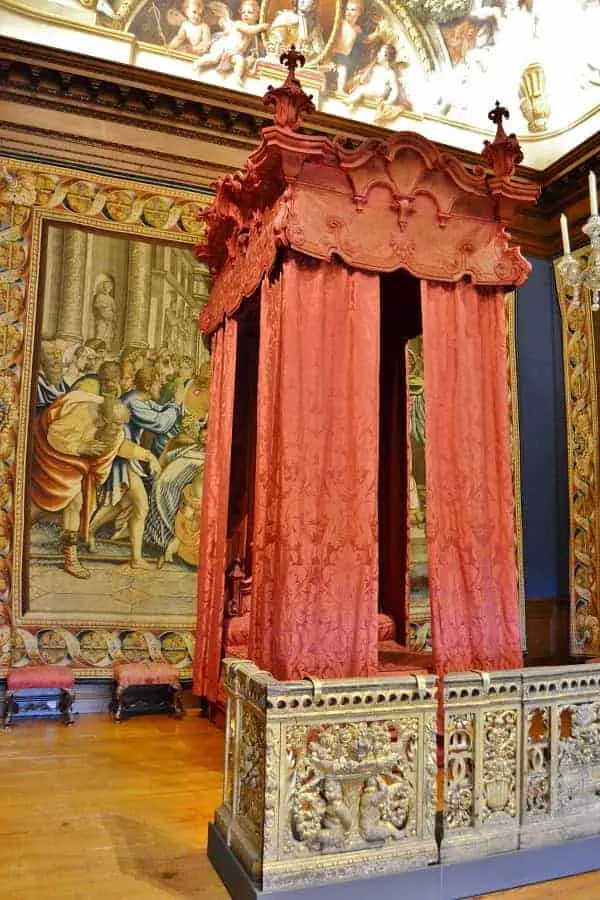 The Royal Chambers
Your tour inside Hampton Court Palace will give you a chance to see the spaces that even some of those living during the time of Henry VIII never got to see!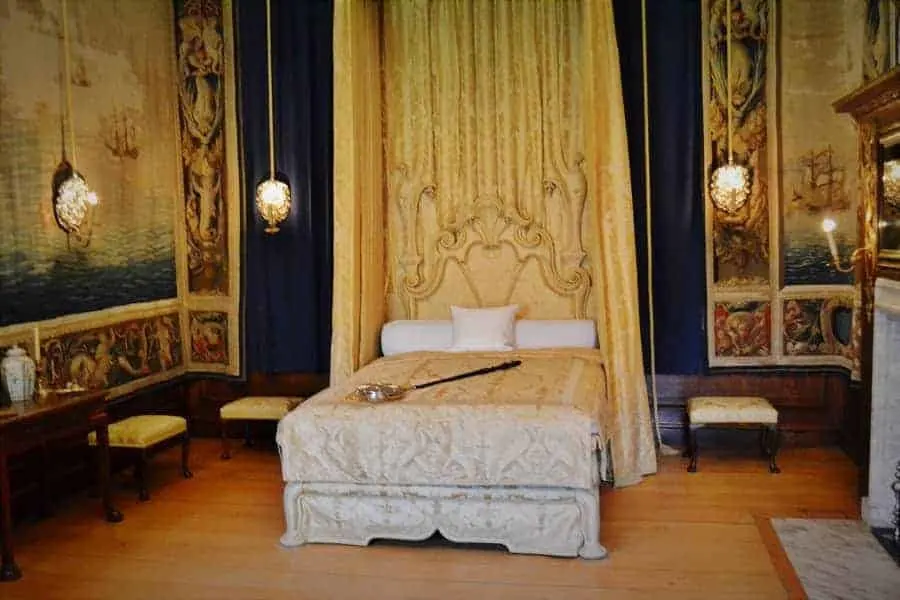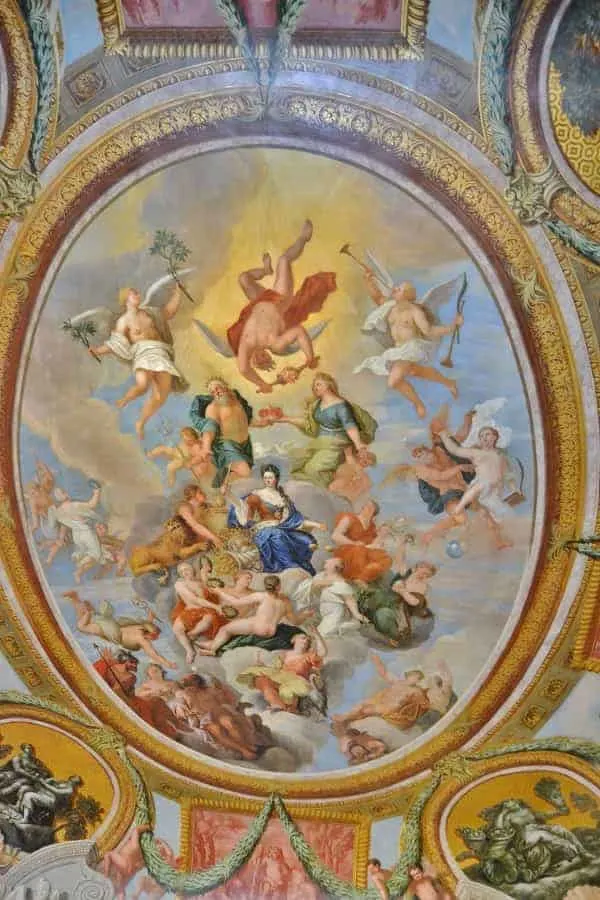 The bed chambers were elaborately decorated with tapestries and beautifully painted murals on the ceilings. Many of the murals feature angels to show that they had the favor of God.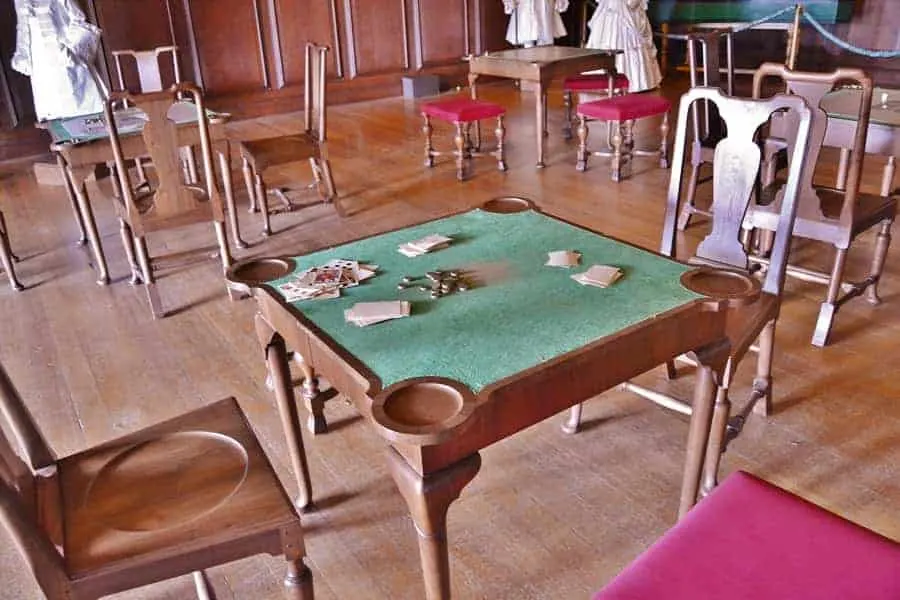 Besides bed chambers, you will also get to see their leisure rooms, like this game room that was meant only to be visited by guests of the King.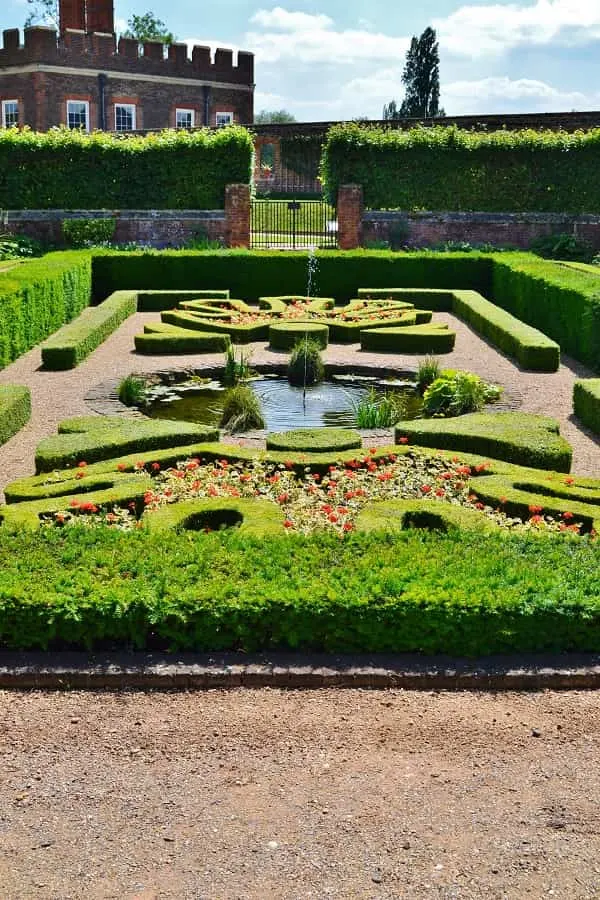 Hampton Court Palace Gardens
A day trip to Hampton Court isn't complete without seeing the gardens. There are over 60 acres of beautifully landscaped gardens here.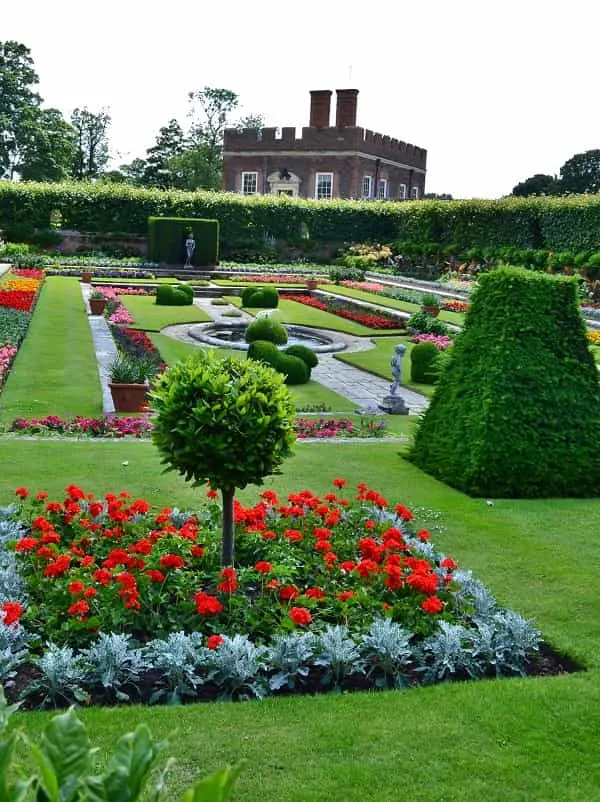 Summer is a great time to take a tour of Hampton Court Palace so that you can see the rose gardens in full bloom.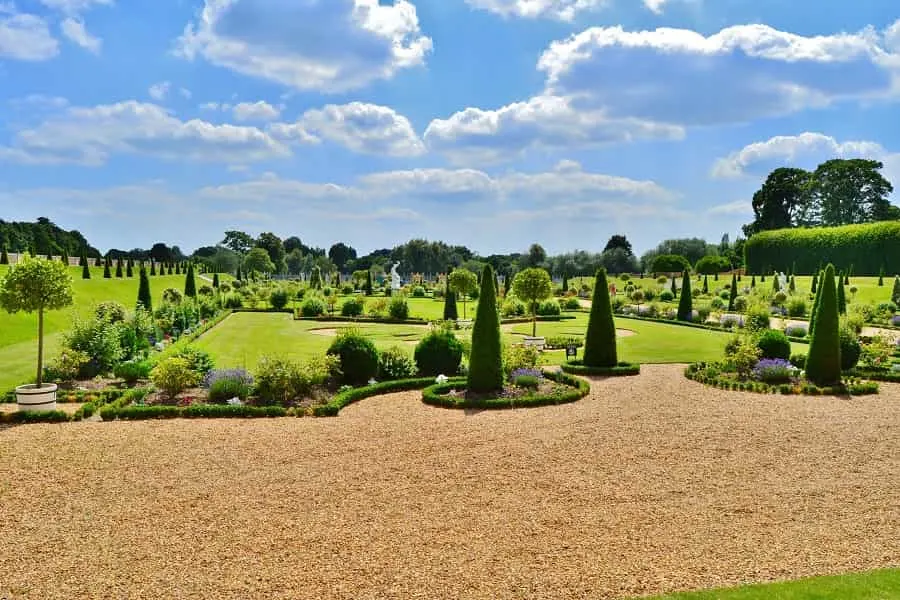 Each of the Hampton Court gardens has been reconstructed to look exactly like they had at the time that they were originally designed.
You will find many different types of flowers and herbs along with vegetable gardens.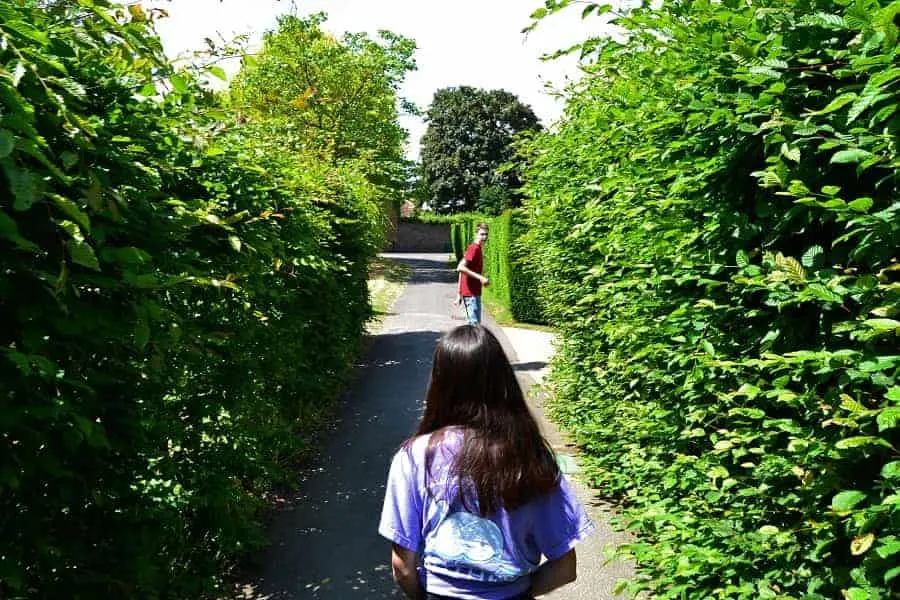 Hampton Court Maze
Take your time to walk through them and be sure to try your hand (or foot) at the oldest surviving hedge maze!
The maze was created for the court of William III and Mary II and is still keeping kids and adults busy throughout the year.
Entry to the Hampton Court Maze is included in a normal admission ticket to Hampton Court Palace.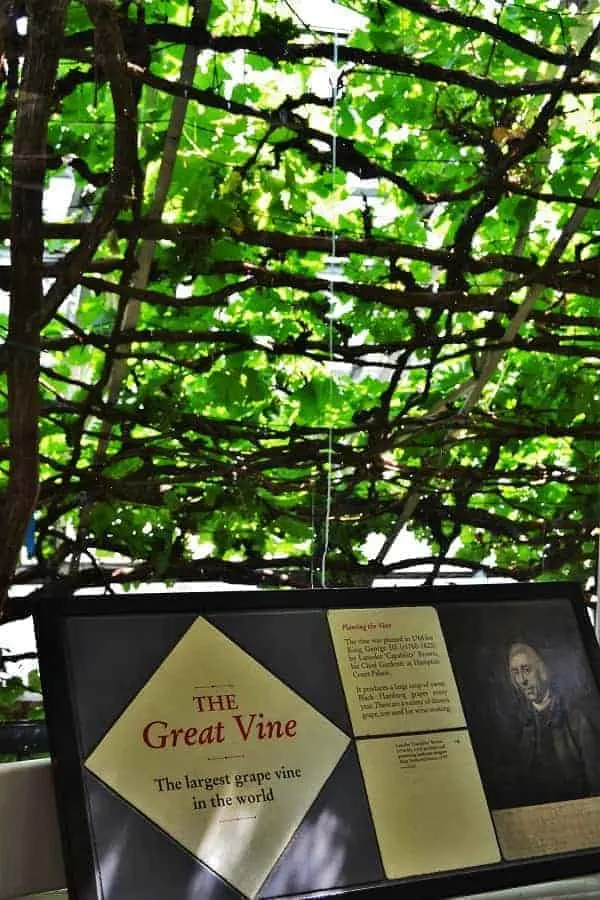 The Great Vine
Not only does a tour of Hampton Court Palace get you into the oldest hedge maze, but you will also get to see the largest grapevine in the world.
"The Great Vine," as it is named, was planted in 1769 and still survives to this day making grapes that are harvested each spring for wine!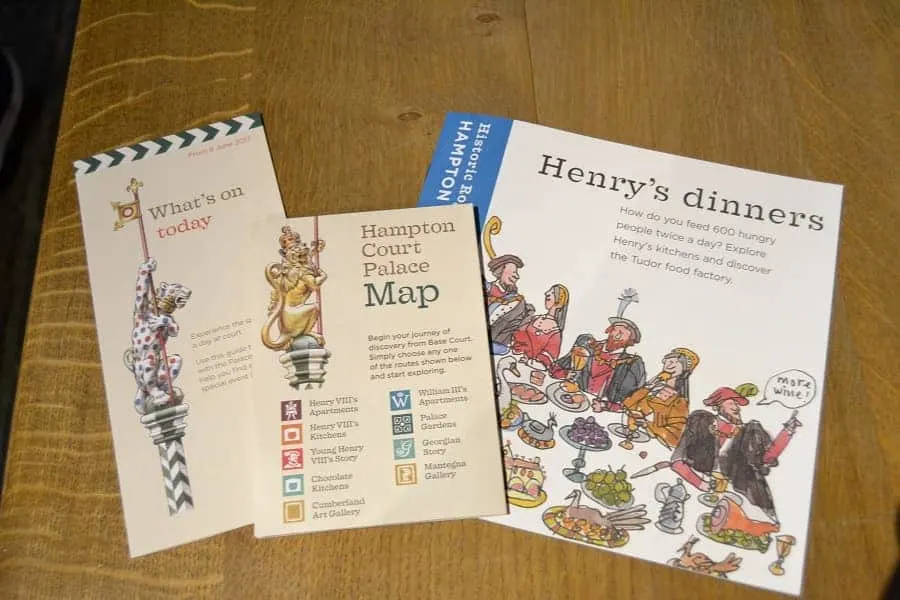 Hampton Court Palace Activities for Kids
Download the App
Download the Time Explorer app to your phone and you can access "missions" for families at Hampton Court Palace. This digital guide will explain what you are seeing and give you challenges where you can win a badge!
Family trails
Packed with fun quizzes, activities, facts and illustrations, the free family trails are the perfect way to explore Hampton Court Palace as a family. Hard copies are available at the palace's Information Center. When you've completed one, bring it back for a prize!
The Hampton Court Palace Magic Garden
Kids will love exploring this outdoor space filled with areas focused on myths, legends, and stories. There are slides, things to climb, and plenty of room to run around and just be a kid! You don't have to visit the palace to visit the Magic Garden.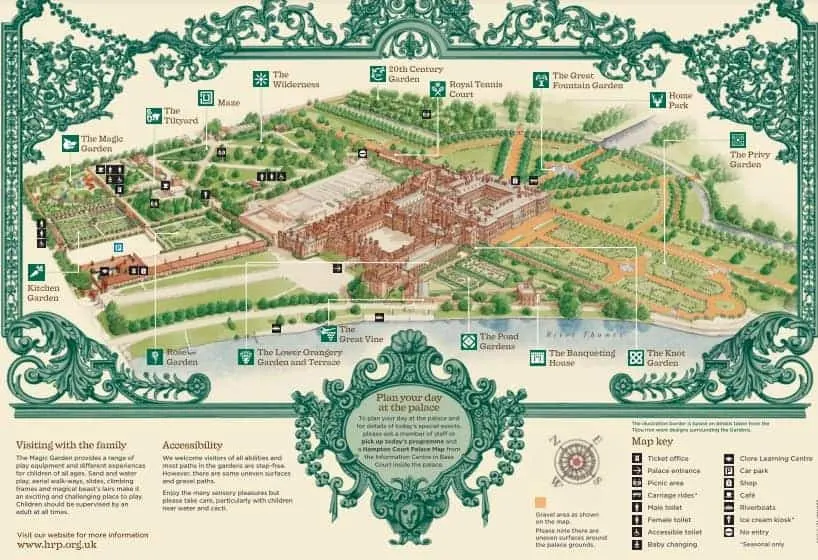 Hampton Court Palace Map
Before you plan to visit the palace of HenryVIII, I suggest you download the Hampton Court Palace Map. This will show you just how expansive the property is and how much you will have to see & do there!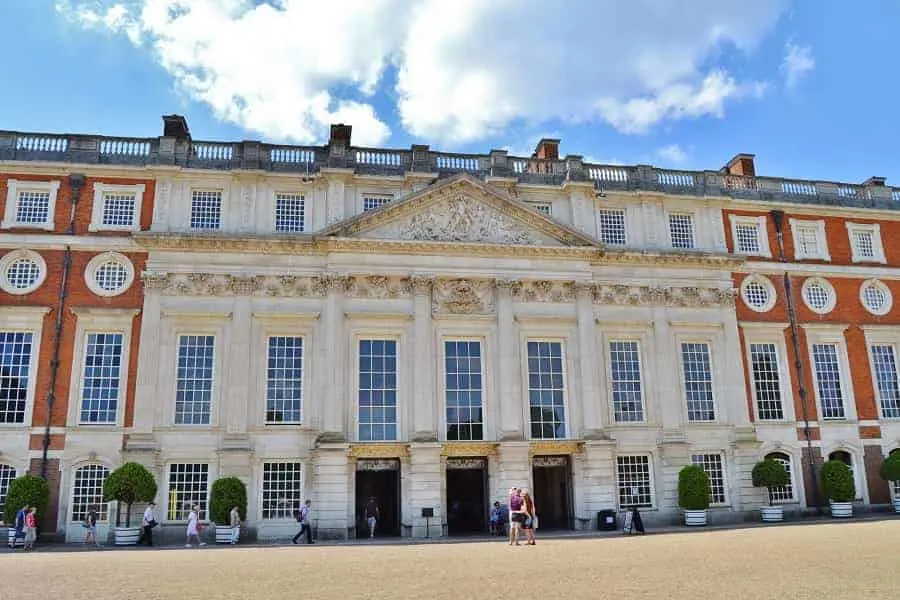 Hampton Court Palace Tickets
Hampton Court Palace is open daily except for 24-26 December. Ticket prices vary based on the time of the year and will give you access to:
All public areas of the palace.
The gardens and courtyards.
The Magic Garden
How to Get to Hampton Court Palace from London
Hampton Court Palace is just 12 miles outside of London in the Borough of Richmond upon Thames, which makes it a great day trip.
The quickest way to get to Hampton Court Palace is by train from London's Waterloo Station.
If you are driving, you will find that on-site parking is limited. Plan to park on the streets nearby.
Have you been on a Day trip to Hampton Court Palace? What did you think?