We may earn money or products from the companies mentioned in this post.
A trip to Iceland isn't complete until you have experienced their natural hot springs.  Many will tell you that you need to experience the Blue Lagoon. Its blue water against the white sand really do look beautiful.  What the pictures won't show you is how incredibly crowded (and overpriced) it is.  If you want a hot spring experience that is more authentic (and more affordable) then I suggest you visit the Secret Lagoon in Flúðir, located near the Golden Circle.
Once the oldest swimming spot in Iceland, the Secret Lagoon has recently undergone a huge refurbishment. What you will find is that it still has the same charm as the original but with added features like state of the art locker rooms with showers.
What to Expect at Iceland's Secret Lagoon
When you arrive to Secret Lagoon, you will check in and then head off to the locker rooms. At check in, you will have the option to rent a towel for a small fee. You will most likely want a towel because the crisp Icelandic air will give you a chill once you hop out of the warm water.
Locker room is spacious and easy to navigate.  You can choose your own locker and take the key with you (has a bracelet for you to wear). There is no charge for locker use.  When you walk into the locker rooms, prepare yourself for the nakedness.  People will walk around totally naked in the locker rooms.  Europeans will have no trouble with this, but if you are American, you may find it uncomfortable. There are benches, mirrors and hair dryers for you to use as needed.
You are expected to shower in the nude prior to putting your swimsuit on. And when I say, you are expected to shower nude, I mean, you and everyone else… in the same shower.  Again, not something us Americans are used to doing.  Nevertheless, it's a hygiene requirement so you will need to get over your prudishness if you have any.
Once you've got your suit on, you will exit through the showers onto the pool deck.  There you will find several picnic tables, benches and pool noodles.  Grab as many as you would like without being obnoxious.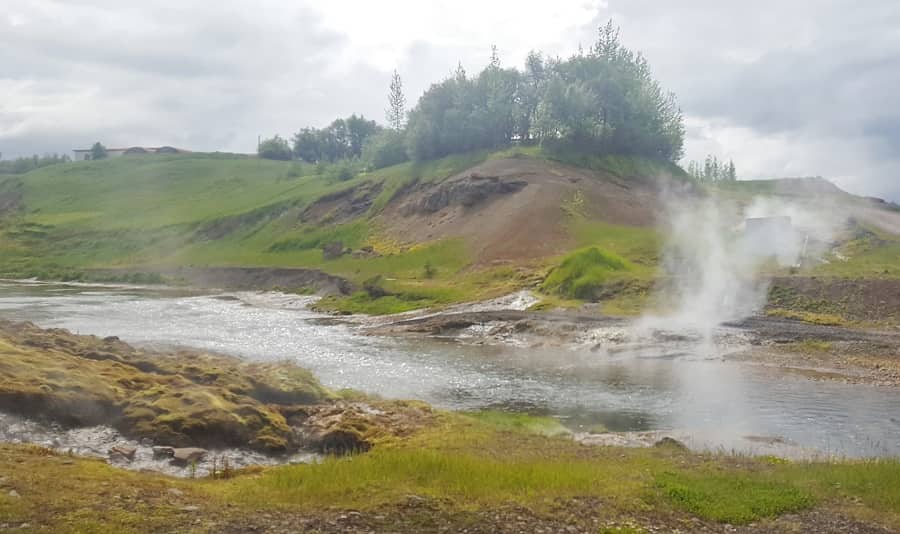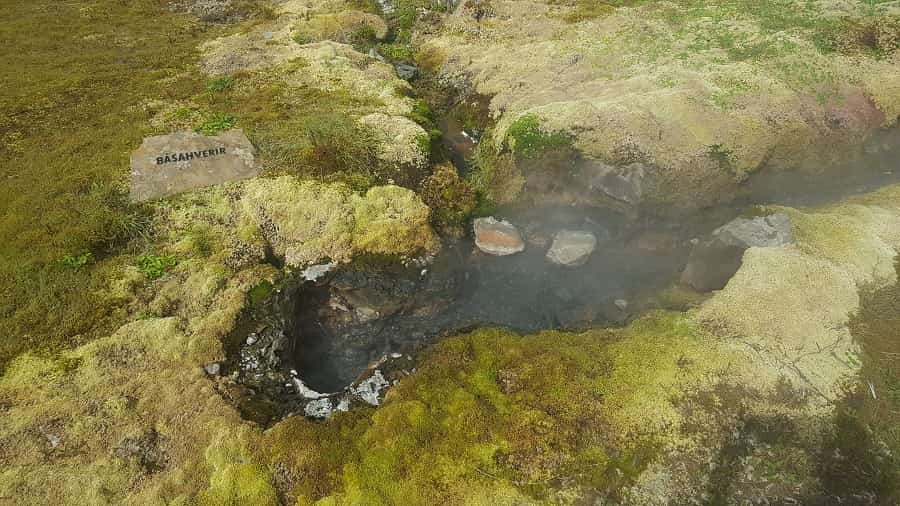 What makes the Secret Lagoon really charming is the setting.  This pool is surrounded by beautiful mossy ground and landscaped in such a way that you can walk the entire perimeter to view the natural hot springs that surround the pool and the small geysir.  The pool itself isn't very large, but it is large enough that you won't feel like you are on top of each other.  Pool shoes are not required as the bottom is made up of smooth black lava rock.
Overall, I found the Secret Lagoon to be a lovely way to spend a few hours. The natural setting and warm waters were the perfect way to relax after hiking up to waterfalls and down into craters!  I would recommend you bring a bottle of water to refresh yourself after your bath and your own towel if you happen to have brought one on your trip.
Have you experienced any of the natural springs in Iceland? What was your experience?