A trip to Iceland isn't complete until you have experienced its geothermal pools or hot springs. If you are looking for the best Geothermal pool, check out Secret Lagoon in Iceland.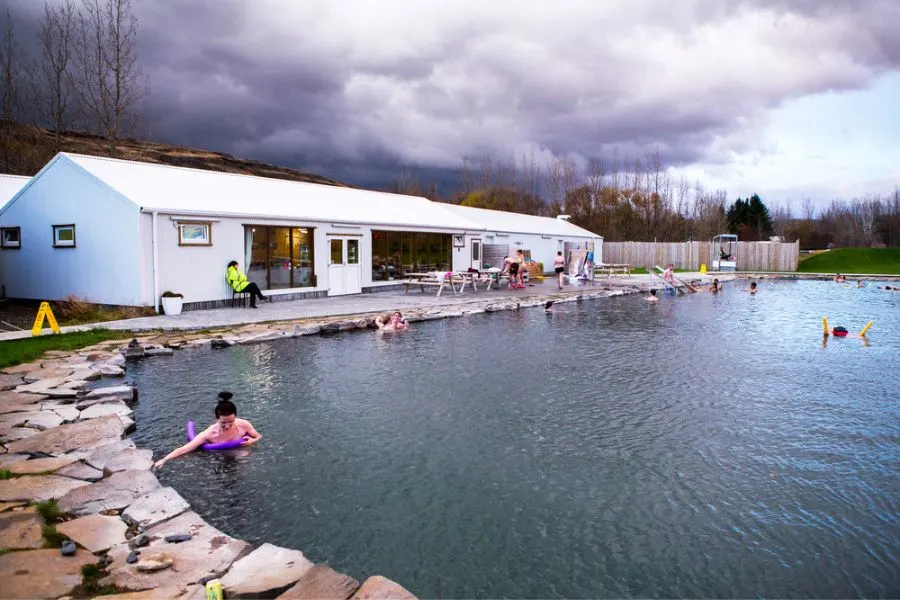 It's a bit out of the way, but so very worth the drive to experience one of the most amazing natural hot springs in Iceland.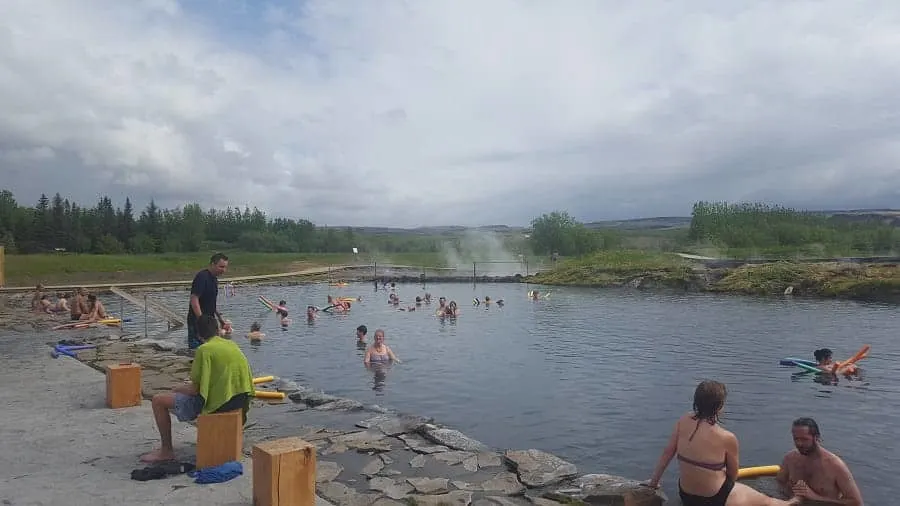 Fludir Secret Lagoon Iceland
Secret Lagoon is a natural hot spring area located in Fludir and just along the Golden Circle. It is the oldest thermal pool in Iceland, dating back to 1891.
When you arrive at Secret Lagoon, you will check in at the front desk and be given the option of purchasing a drink or snack or renting towels.
Towel rentals are great because many people who are traveling internationally fail to bring a towel with them and you will appreciate the towel when you get out of the warm water and are drying in the cool air.
You will then head into the Secret Lagoon locker room to shower & change.
Men go in one direction, ladies in the other.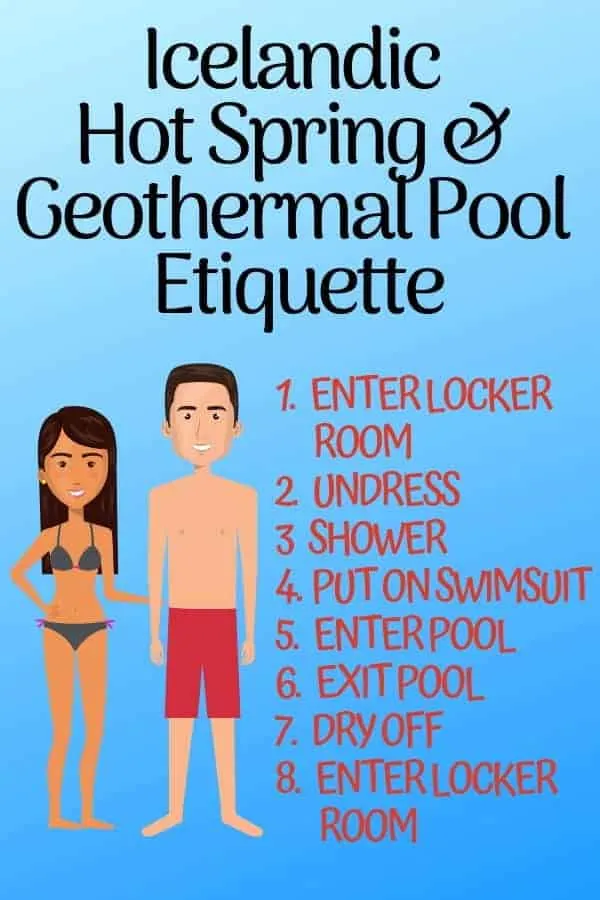 Geothermal Pool Etiquette
Those not familiar with the etiquette of Geothermic Pools & Hot Springs should make sure that they understand the order of operations.
Choose a locker, remove the key, and attach it to your wrist.
Remove all of your clothing and store your items in the locker.
Notice that I did not mention putting on your swimsuit.
In Iceland, you are required to shower nude before putting on your swimsuit and entering the geothermal pool.
This is done to keep the pools as free of germs and grime as possible. Remember, these are natural waters with little to no chemicals.
The Secret Lagoon showers are open, meaning it is a common area where EVERYONE is naked in the communal shower. Soap & shampoo are provided.
Once your shower is done, you will then put your swimsuit on and head out to the pool area.
When you walk out of the locker room, you will quickly get a sense of why Secret Lagoon is one of the best Geothermal pools in Iceland.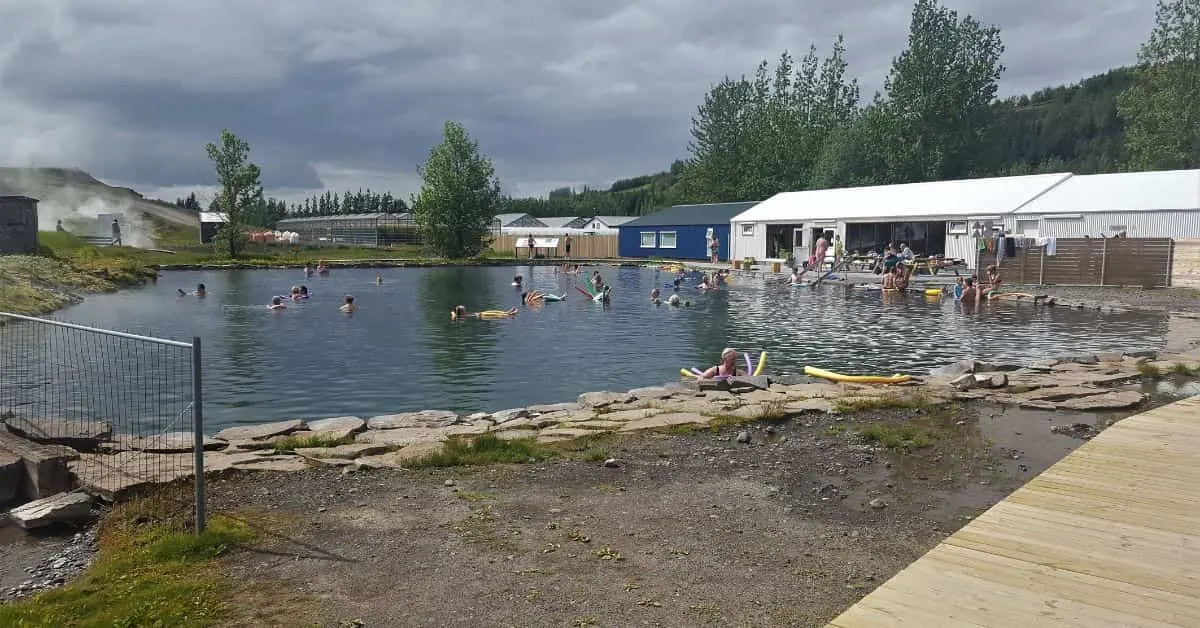 The pool is not ridiculously large, but it is expansive enough that you can easily enter and exit without tripping over people.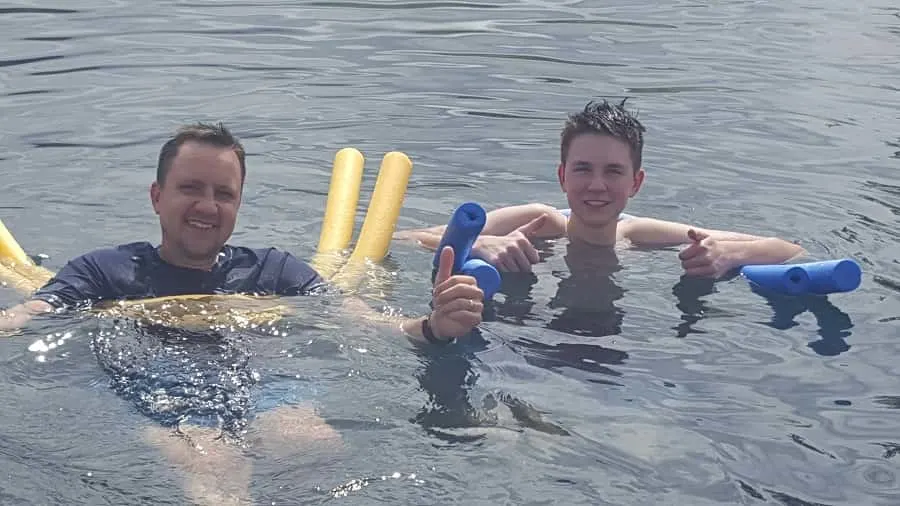 Secret Lagoon provides pool noodles for you to use at no charge. Simply grab a few and take them as you enter the water.
This will help you relax and float in the warm water.
For the most part, you will be able to touch the bottom. You will find the bottom covered in smooth stones.
The stones are warm of course, but will not burn or make your feet uncomfortable.
The temperature of the water will vary depending on your location. Simply swim around until you find the right spot for you.
If you are traveling with children, please advise them that this is not a typical pool atmosphere. Geothermal pools in Iceland are for relaxing, not horseplay.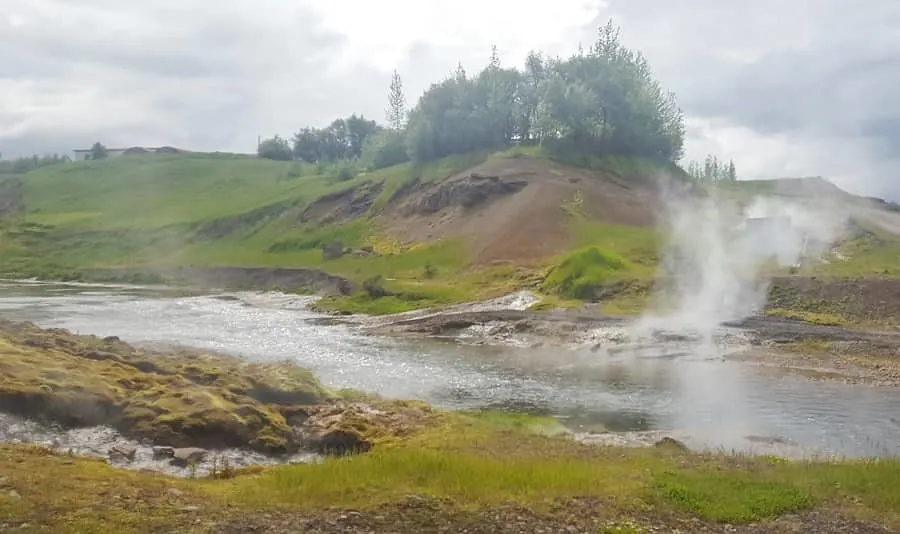 Enjoy the Natural Surroundings
What sets Fludir's Secret Lagoon Hot Spring apart from others in Iceland is the scenery.
This pool is surrounded by beautiful mossy ground and you can look off into the distance and see nothing but the natural beauty of the landscape.
One unique feature that Secret Lagoon has is that there is a trail around the entire perimeter of the pool where you can view natural hot springs and see a small geyser that actually erupts
Secret Lagoon Hours:
Winter Season: from October 1st to April 30th open 11:00 am – 20:00 pm
Summer Season: from May 1st to September 30th open 10:00 am – 22:00 pm
What to Bring with You to Secret Lagoon
Ticket
You really should book your time at Secret Lagoon in advance. The last thing you would want to do is get here and realize that you cannot enter because they are full for the day! Wouldn't that be a mess?
Swim Suit
You will need to wear a swimsuit in the Secret Lagoon Thermal Pool. While you can rent a swimsuit, understand that they do not have a suit for every size.
Waterproof Phone Case
You are going to want to take some photos while you are in the thermal pools in Iceland and this water can really damage your phone.
Remember, not only is the water heated which creates steam, but it also has minerals that can wreak havoc on a cell phone. You will want to have a waterproof phone case that will keep the moisture out!
Bottle of Water
The heated water of the geothermal pool will cause you to be dehydrated. You will want to make sure that you drink water prior to entering the pool and when you take breaks from swimming.
While you can purchase water at Secret Lagoon, bringing your own is simple enough.
Hair Ties or Swim Cap
Both the heat from the Geothermal pool and the minerals can cause hair to dry out.
If you already have brittle hair, you may want to wear your hair up or put on a swim cap to avoid further damage.
Have you experienced any of the Geothermal Pools Iceland has to offer? What was your experience?