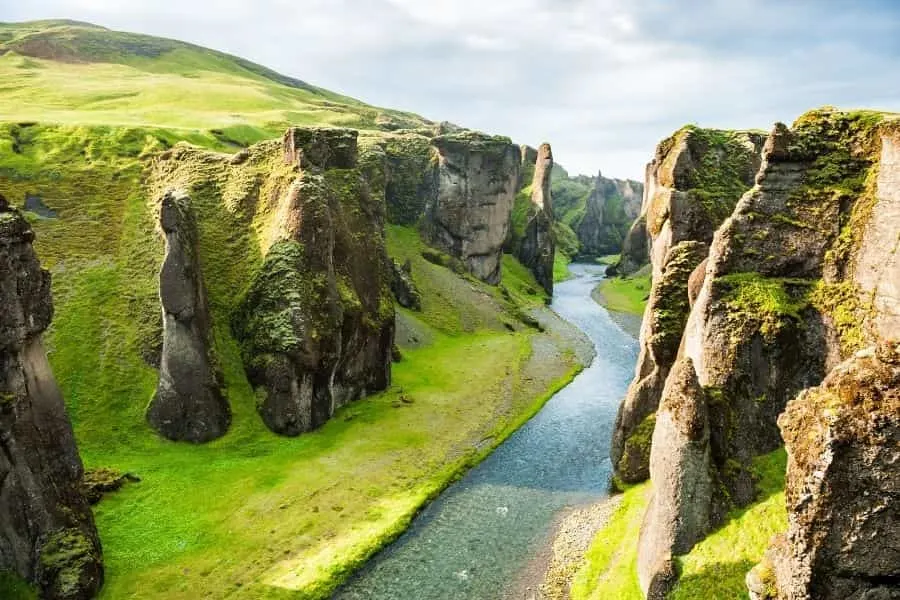 If you are making the trip to Iceland, one of the best ways to spend your time in this amazing country is by driving the Golden Circle. While you can take a paid Golden Circle tour, we prefer to do it on our own. This way we can make sure to hit our favorite Golden Circle sites.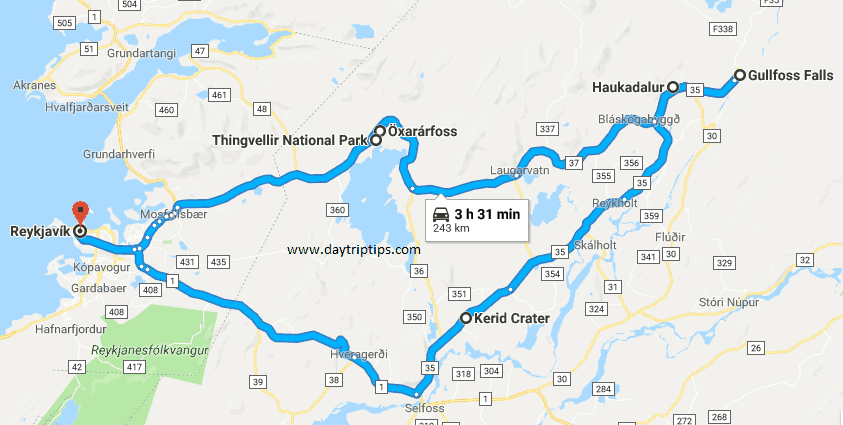 Golden Circle Iceland Map
If you are unfamiliar with Iceland's Golden Circle, you should know that it is a circular route that takes you from Reykjavík into the southern uplands of Iceland and back.
Because it is 300 kilometers, it is easy to do most (if not all) in a day.
It really depends on the Golden Circle stops you make and how long you spend at the Iceland attractions.
If you are planning your own trip without a tour company, be sure to get tickets for the Golden Circle attractions in advance to save you time & money.
Things to See When Driving the Golden Circle
Þingvellir National Park
Öxarárfoss Waterfall
Geyser Strokkur at Haukadalur
Gullfoss Waterfall
The Crater Kerið
Touring Iceland's Golden Circle will give you a chance to explore the natural landscapes and while you will spend a great deal of time in the car, you will have so many stops along the route that you won't feel like your time is wasted sitting in a car at all!
Take a look at our favorite Golden Circle sites.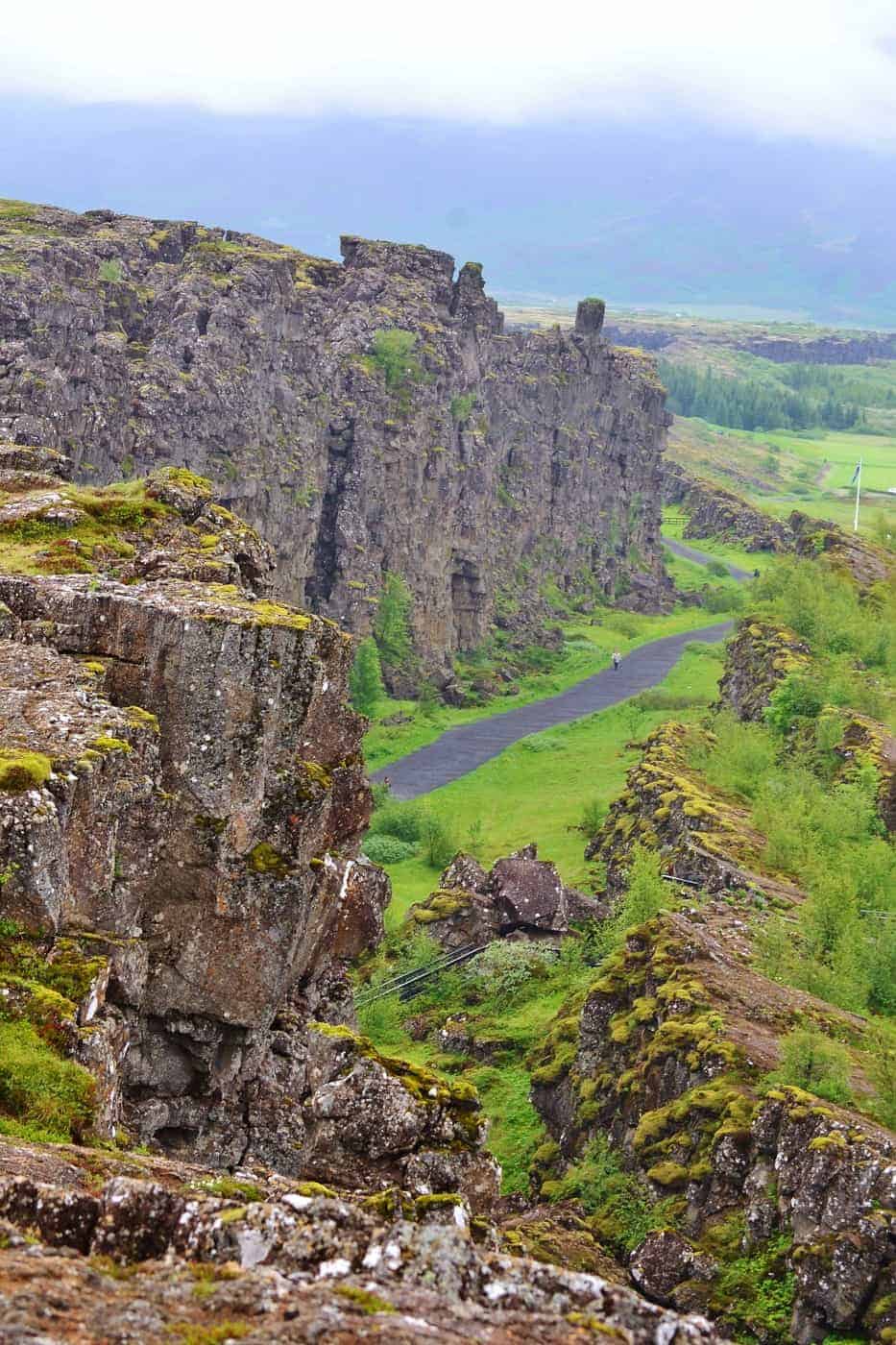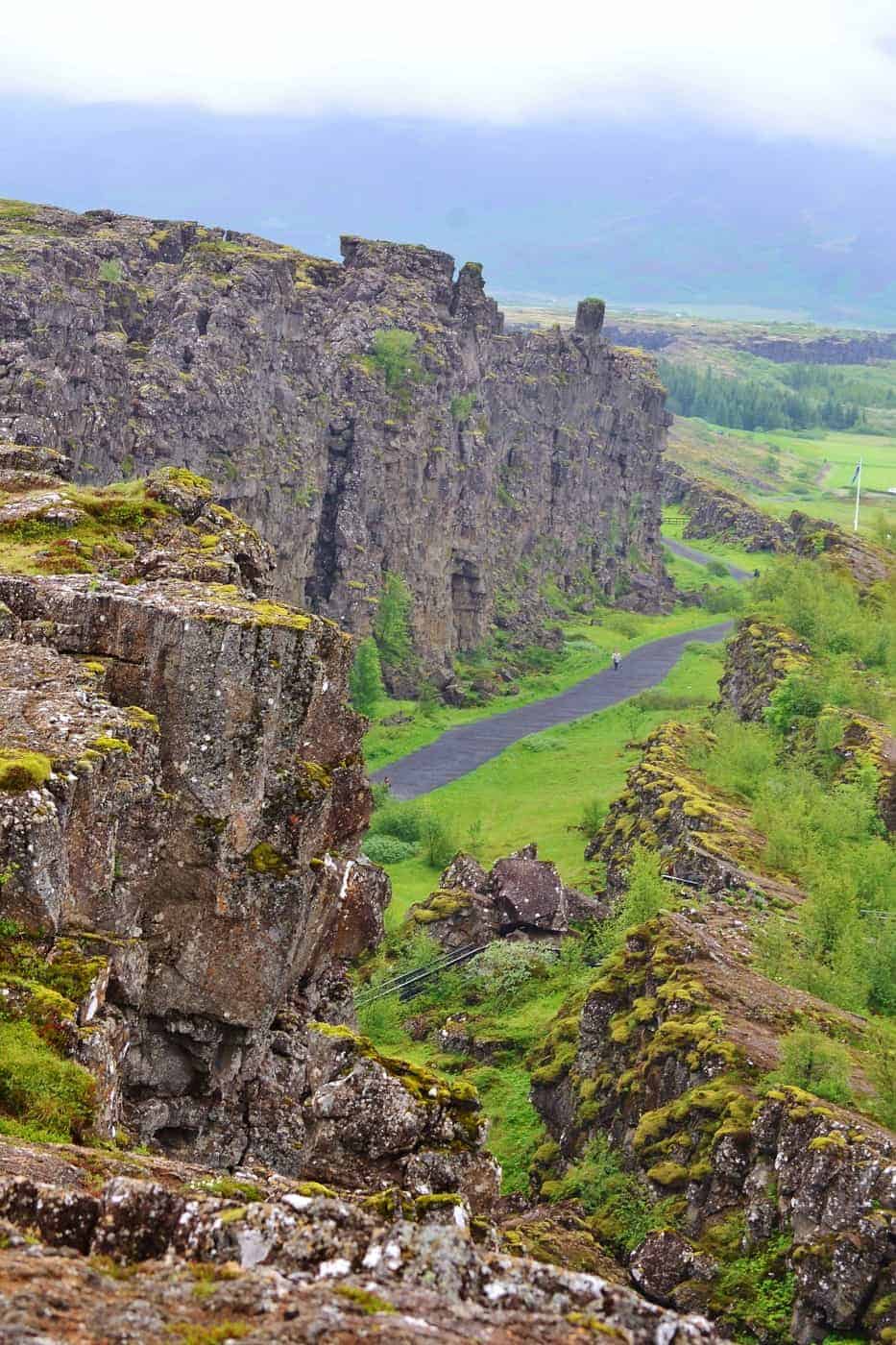 Þingvellir National Park
Þingvellir National Park in Iceland's Golden Circle is located in an active volcanic area.
You will see that the landscape is mountainous in some places and flat in others.
Don't let that fool you.
Those flat areas are grass-covered lava fields.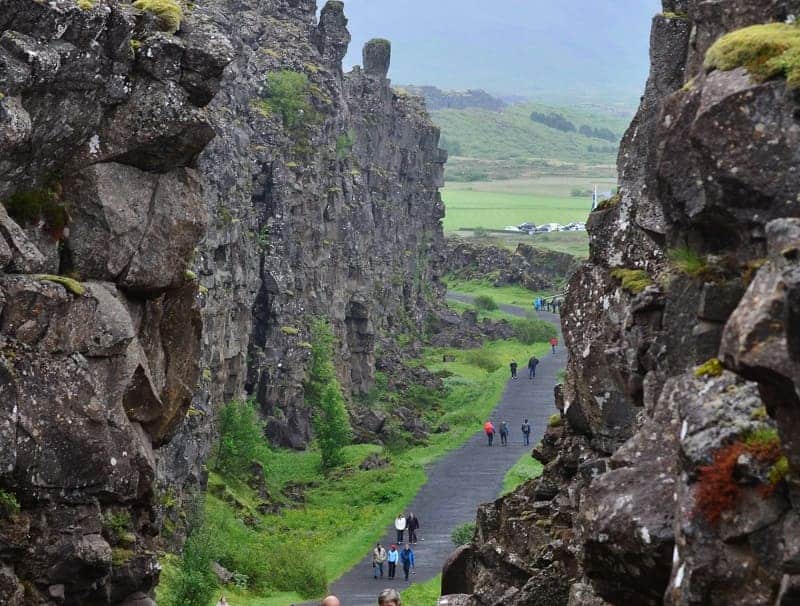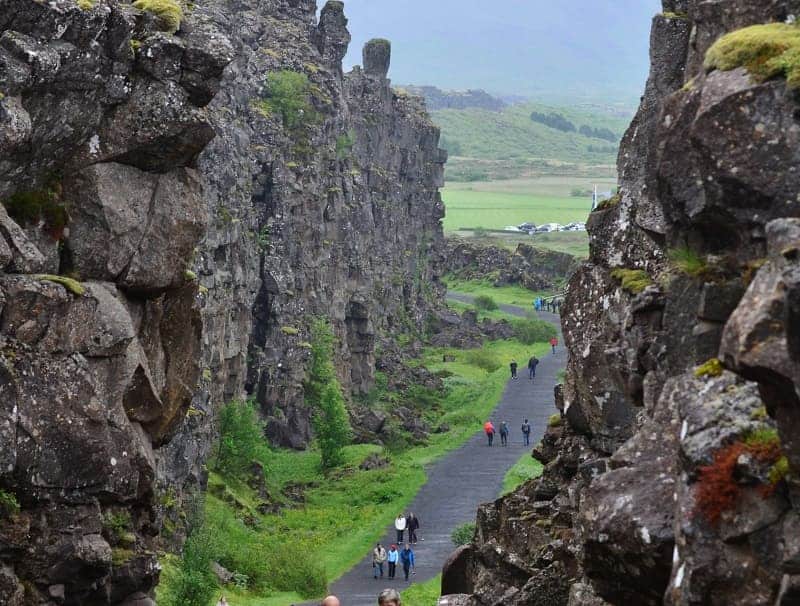 The major feature of the Þingvellir National Park is the rift valley that was caused by the separation of 2 tectonic plates during the time of the continental drift.
This is one of the few places in the world where you can actually walk between the two plates. The natural wonder is also a UNESCO World Heritage site.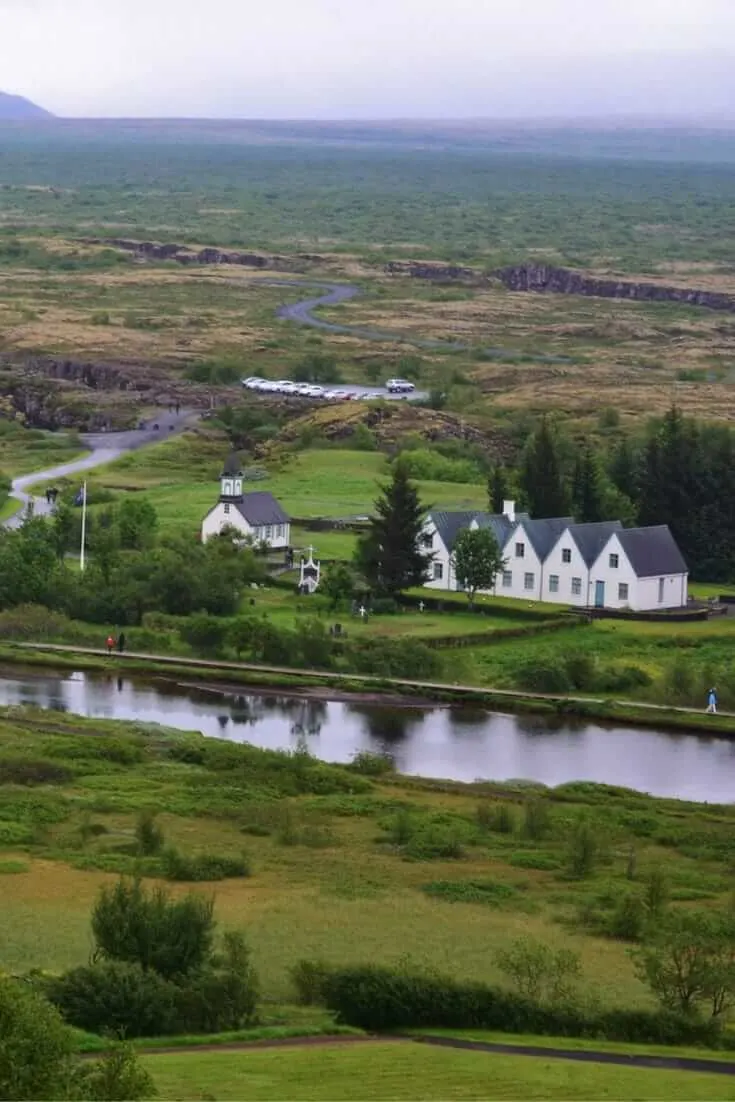 Besides being a natural wonder, Þingvellir National Park is also a very important part of Icelandic history as it is home to the oldest existing parliament in the world, dating back to 930 AD (it has since moved to Reykjavik).
The landscape of this area has changed little since the 10th century.
The only structures that are more recent are the Þingvellir Church and farmhouses.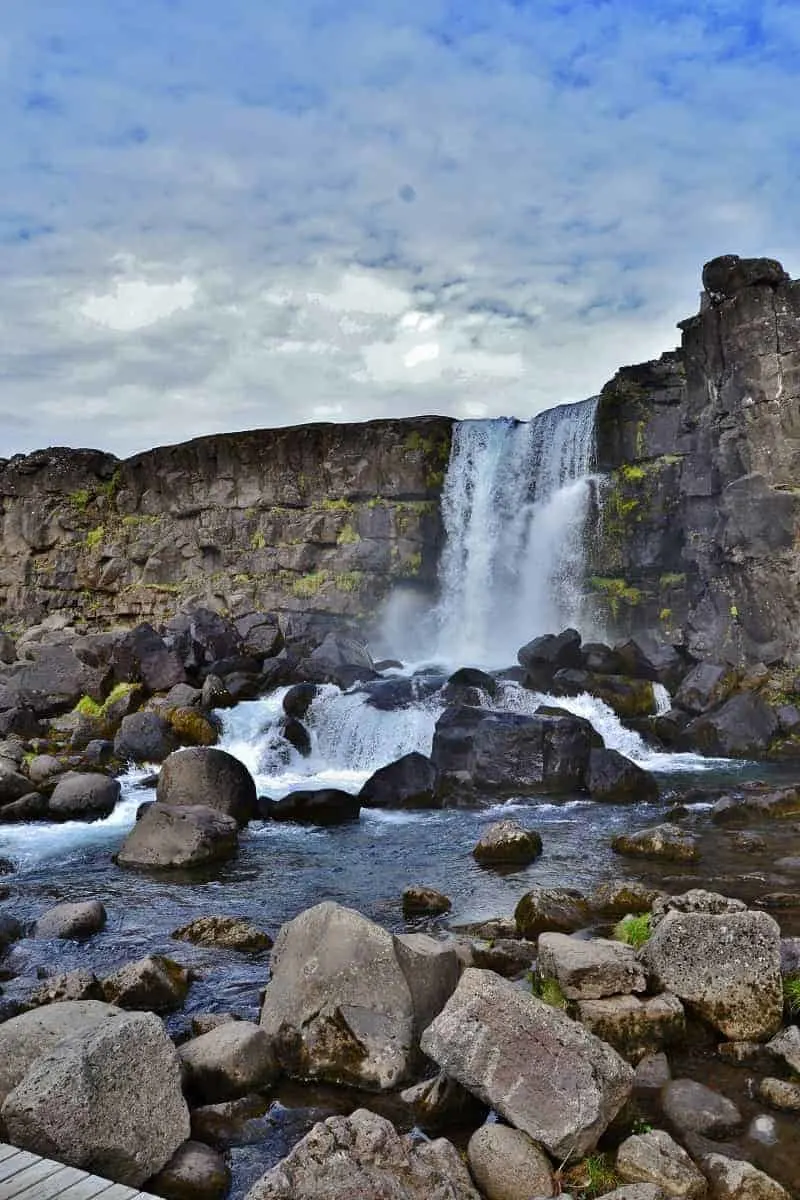 Öxarárfoss
Öxarárfoss is a waterfall inside Þingvellir National Park. While it is hard probably to imagine, this waterfall is not a natural occurrence.
The waterfall is actually man-made and dates back to the 9th century.
The purpose of its construction (it was actually re-routed) was to provide water for the members of the Icelandic parliament when it was in Þingvellir.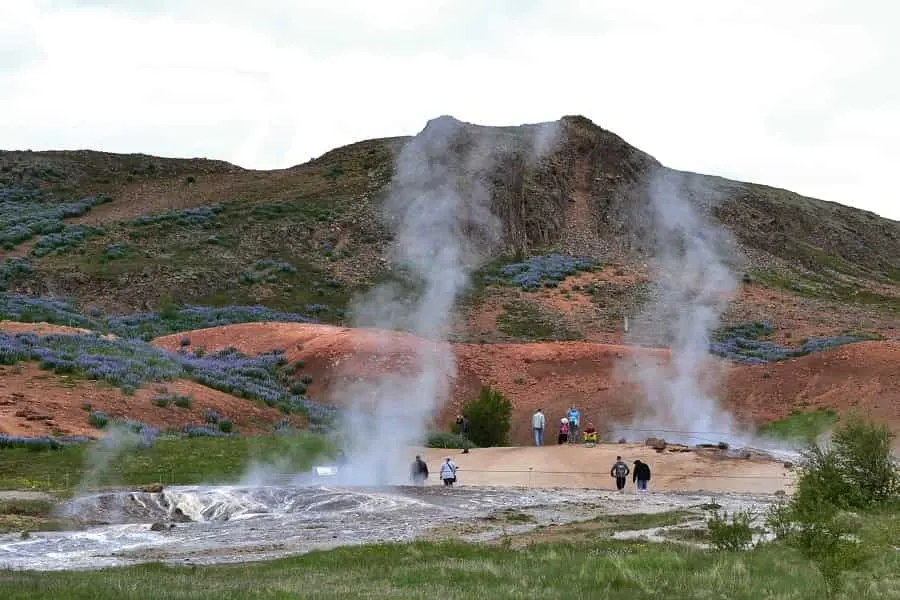 Haukadalur Geothermal Geysirs
One of the most popular Iceland attractions on the Golden Circle is Haukadalur.
This is a geothermal area on the Golden Circle that has many different erupting geysers. The two most viewed are Geysir and Strokkur.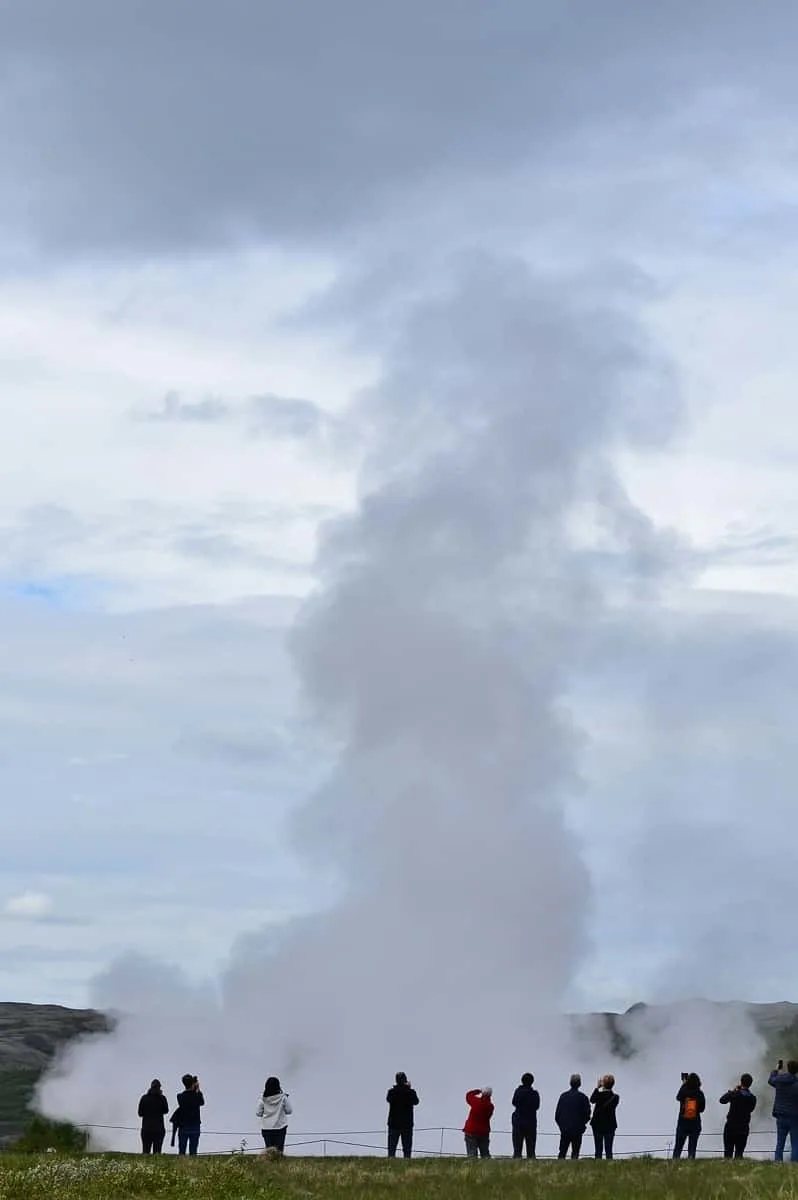 If you have never seen a live geyser, Strokkur is one of the best to witness erupting.
Not only will you be able to walk right up to it (there is a small barrier), but you will also feel the spray!
You can see it erupt every ten to fifteen minutes.
Besides the actual geyser viewing areas, there is a small gift shop and a (pricey) cafe with free restrooms.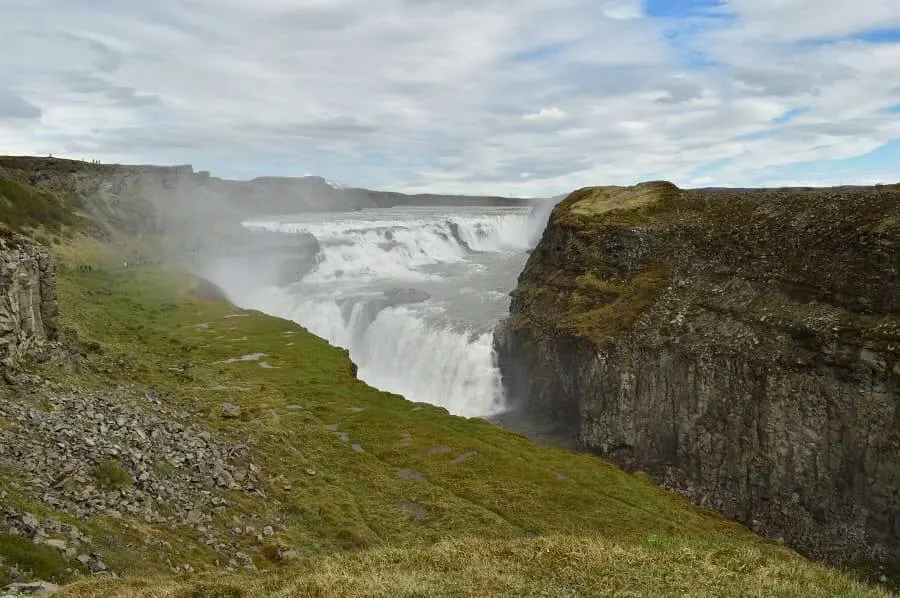 Gullfoss Waterfall
You will find that Iceland has many waterfalls, but nothing is quite as colossal as Gullfoss.
Located on the Hvítá river (which is fed by Iceland´s second biggest glacier, the Langjökull) you will be able to see the water cascade down two rocky areas into the rugged canyon below.
Gullfoss literally means 'Golden' and it is easy to see why it got its name.
It is definitely Iceland's most beautiful waterfall. If you are lucky, sometimes you can see a rainbow just above the waterfall.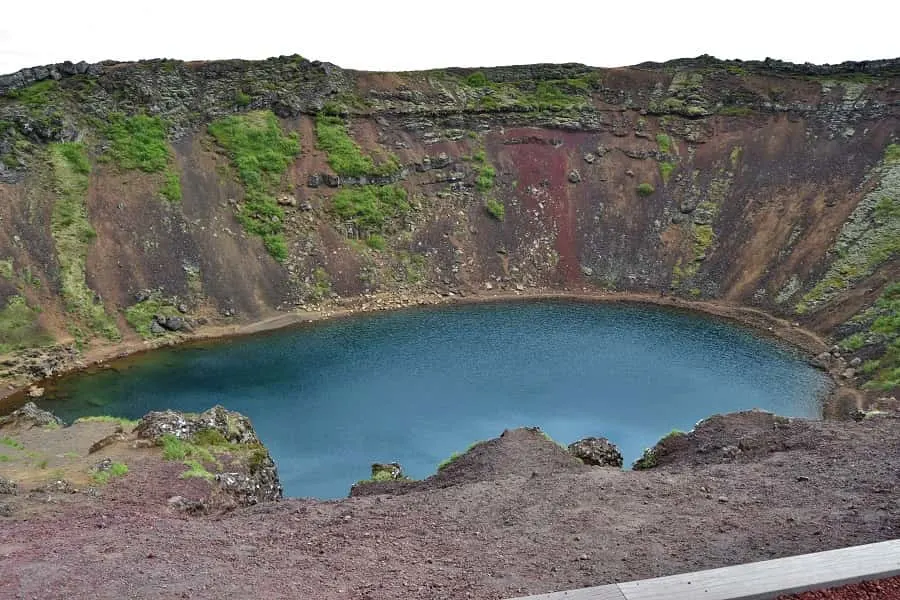 Crater Kerið
This crater was formed about 6500 years ago, most likely from a volcanic eruption.
The striking colors of the blue water in the lake among the rocky terrain make the crater a stunning attraction.
You can take in the beauty from above or hike to the bottom. Both views are pretty spectacular.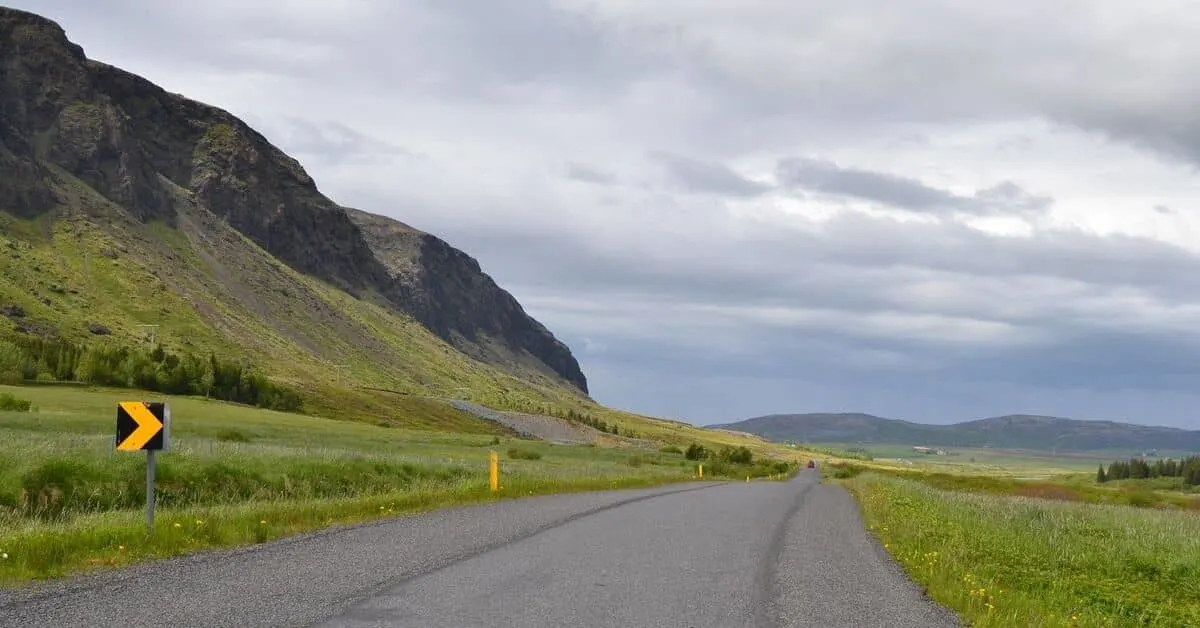 What You Need to Know about Driving the Golden Circle in Iceland
Renting Cars in Iceland
You will find that renting cars in Iceland is quite easy. There are several rental car agencies right outside the airport and they are easy to work with.
I do suggest that you book your rental car for Iceland ahead of your trip so that you can have it squared away before you arrive.
Driving in Iceland
Driving the Golden Circle in Iceland is not difficult and should not intimidate you. The roads are easy to navigate (with proper navigation, of course) and the signs are clear.
Icelanders drive on the right (like in America) and use roundabouts (like in the UK).
You will want to make sure you abide by the speed limit as Iceland has state-of-the-art radar devices and you can find yourself being pulled over & ticketed if you go too far over the speed permitted.
Don't ask me how I know this.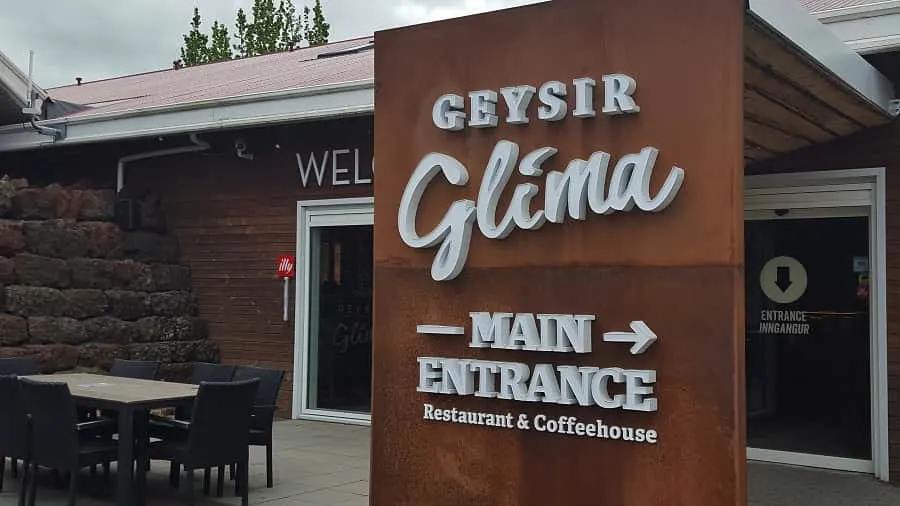 Where to Eat on the Golden Circle
You are going to have a hard time finding places to eat while driving the Golden Circle. The only place we saw to eat was at the Haukadalur Geothermal Geysirs.
They have a small cafe (and a gift shop) but it is pretty expensive. We pack a lunch to take with us.
There are many cafes in Reykjavik where you can buy small sandwiches and even some of the petrol stations have prepackaged sandwiches.
Bathrooms on the Golden Circle
There are nice bathrooms at Haukadalur Geothermal Geysirs.
All of the major sites have bathrooms, but many will charge you to use it. Be sure to have krónur coins on hand.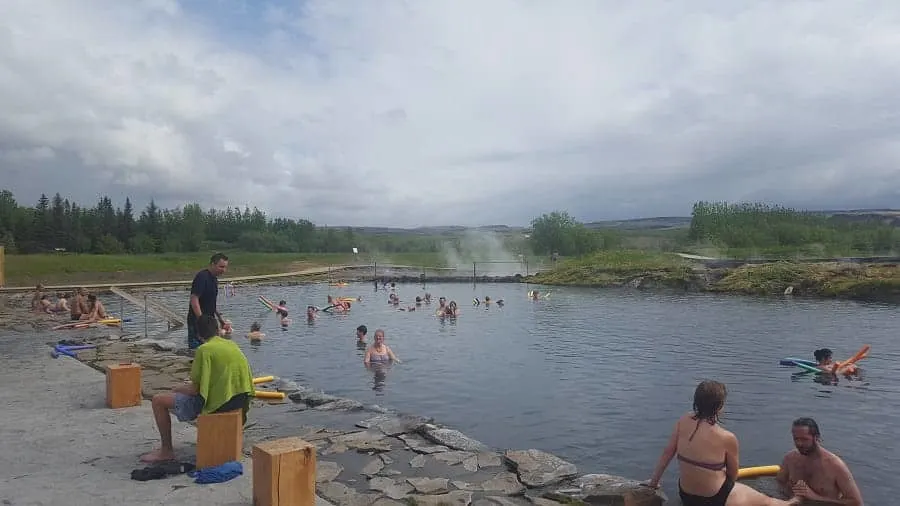 Visiting a Geothermal Pool along the Golden Circle
If you are hoping to visit a hot spring while you are in Iceland, consider taking a trip out to The Secret Lagoon.
Just off the Golden Circle, in the town of Flúðir, is a spring-fed pool that is far less touristy than the Blue Lagoon and gives you an authentic Icelandic hot spring experience.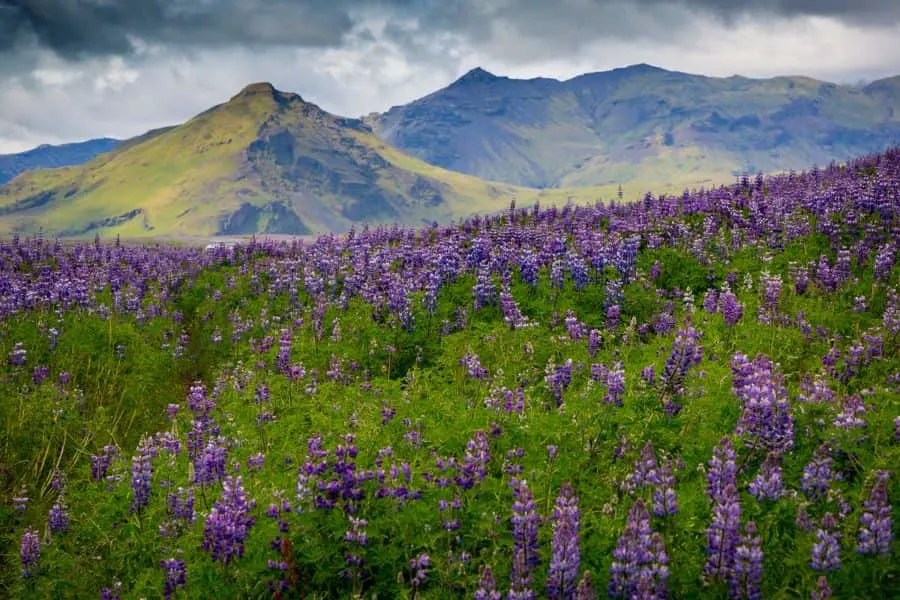 When is the Best Time Drive the Golden Circle in Iceland?
While it is beautiful at all times of the year, we prefer to travel to Iceland in the summer (June-August). The reason why we think the summer months are the best time to visit Iceland has to do with its location.
Iceland is located just south of the Arctic Circle. In the summer, Iceland gets 21-22 hours of sunlight a day!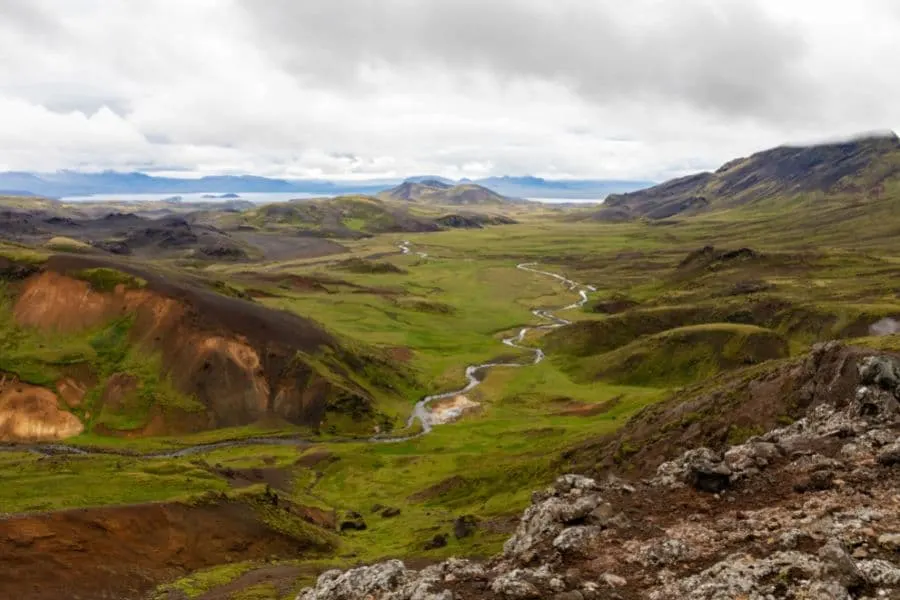 That means that you are able to do a lot more in the summer than you would in the winter months when it is dark most of the day.
Many of the Iceland attractions on the Golden Circle are on public property.
This means that you can access them 24 hours a day. This is a bonus when you are trying to pack a lot in on a day trip!
The weather in the summer months is also a bonus.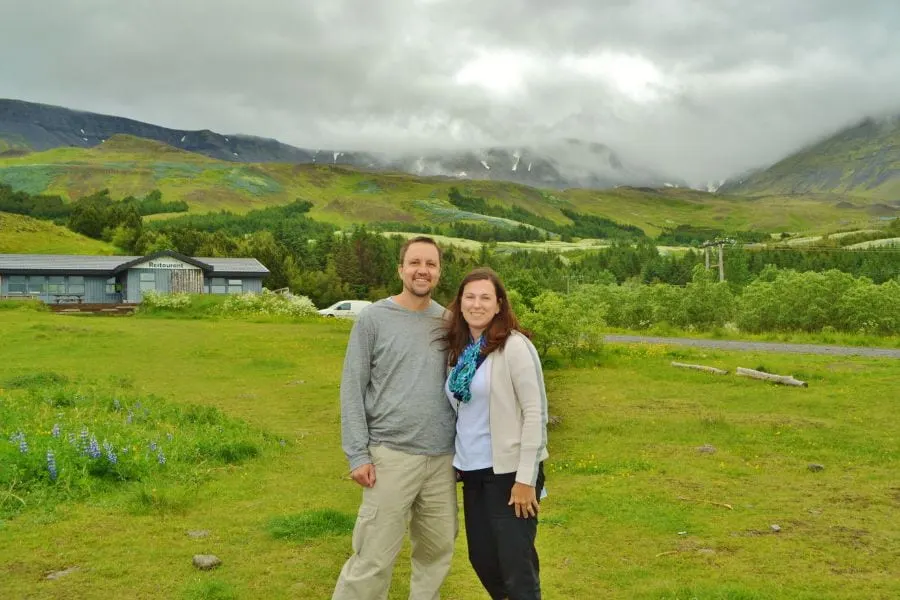 With temperatures averaging around 55 degrees, you will find that you can get by with a lightweight jacket or sweater. No need to pack all those heavy coats and boots!
The colder it gets in Iceland, the more chance you will have of finding some roads inaccessible.
Traveling to Iceland in the summer will assure you that the roads will be open and easy to drive!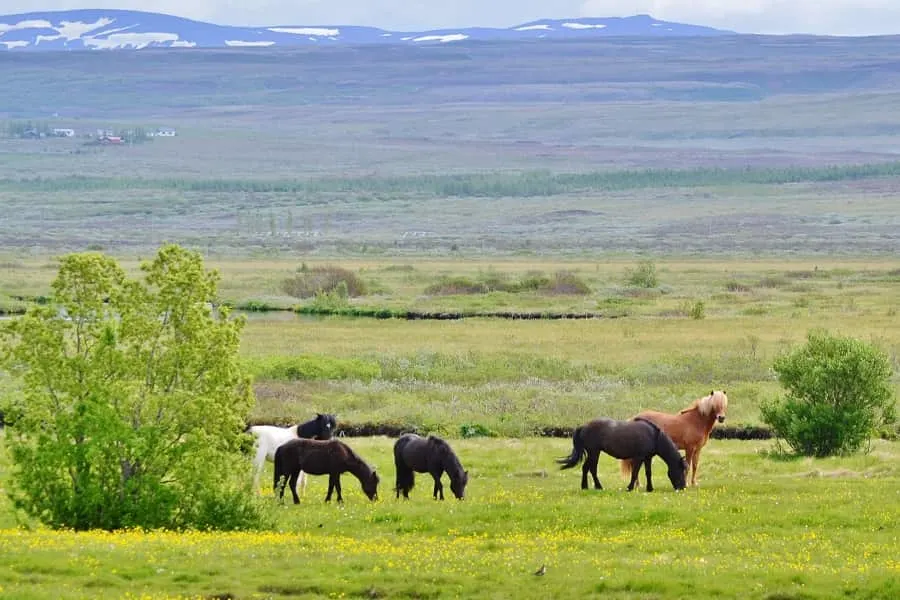 Driving the Golden Circle is a wonderful experience. There is really nothing quite like it.
The landscapes of green fields with wild horses, rocky mountains jetting out from the earth and fabulous water features make the Golden Circle one of the most beautiful natural landscapes in the world.
We hope that if you do visit Iceland, you will consider doing a self-driving Golden Circle tour and that you are able to see our favorite Golden Circle stops!
Have you done any of the Iceland self-driving tours? What was your favorite route?