One of the most charming cities in all of France is Strasbourg. Sandwiched between France and Germany, you get the best of both cultures; quaint Medieval architecture along pedestrian friendly streets, German cuisine (albeit with French names), and a wine selection like not other. If you are looking for what to do in Strasbourg, France, we have just the list for you.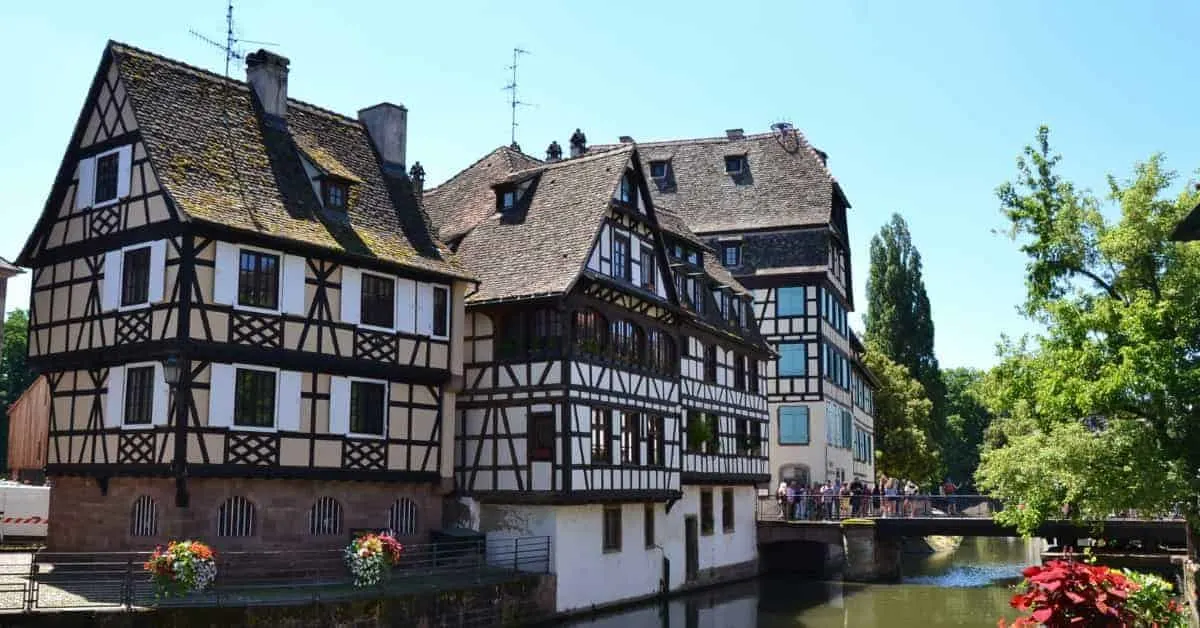 When you arrive in Strasbourg, you will feel like you have stepped into Germany. This is because it is sits on the border of France and Germany. and for centuries has changed hands between the two. While the people speak French, the culture is much more German.
What to do in Strasbourg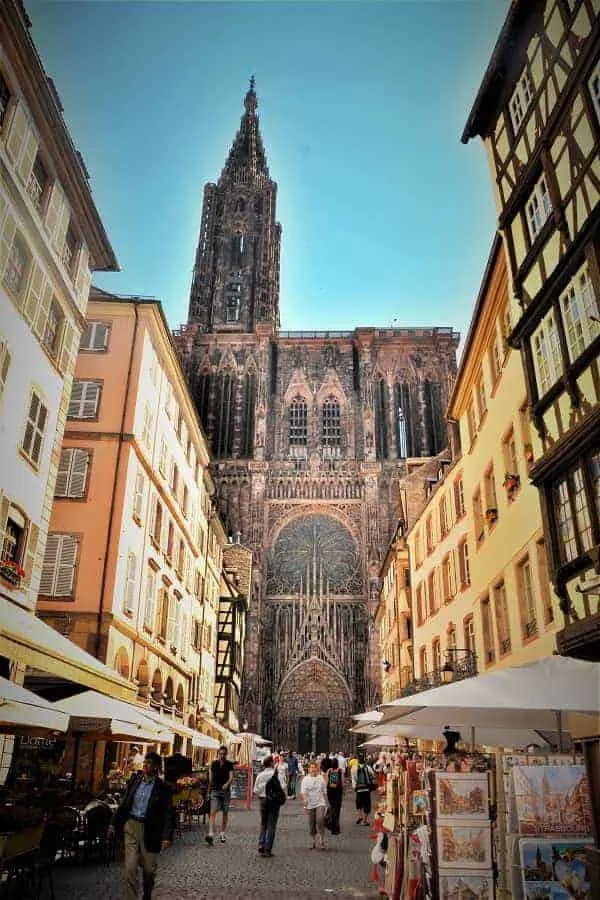 Strasbourg Cathedral
Victor Hugo saw the cathedral and remarked that it was a 'gigantic and delicate marvel.'
It is easy to see why. Strasbourg's Notre-Dame Cathedral is unmistakably Gothic with so much detailing that is almost appears fragile. When you walk up to it, you will be overwelmed with its size. It's pink sandstone façade appears to be jetting straight into the sky.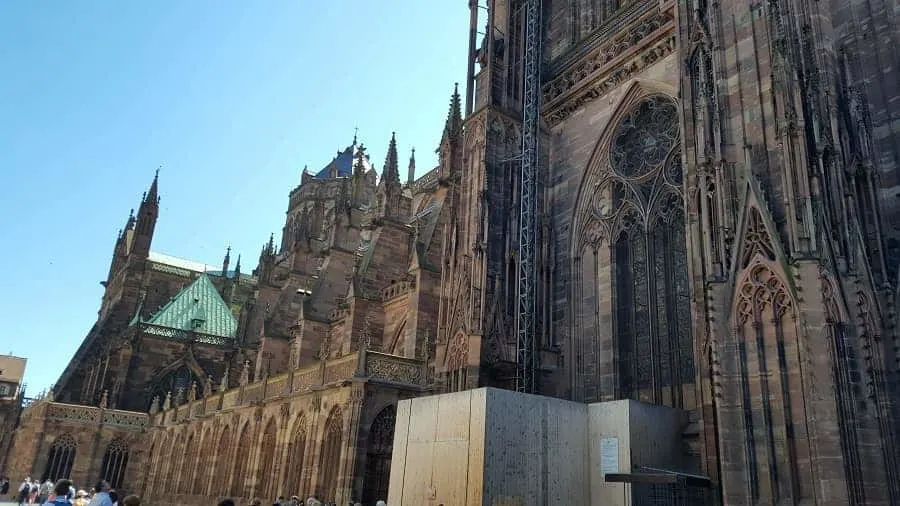 For nearly 200 years (1647-1874), it was the world's tallest building. Today, it is the sixth-tallest church in the world.
A climb up the spiral staircase to the platform (total of 332 steps) will give you a feel for just how tall the structure is (with a wonderful view of city below).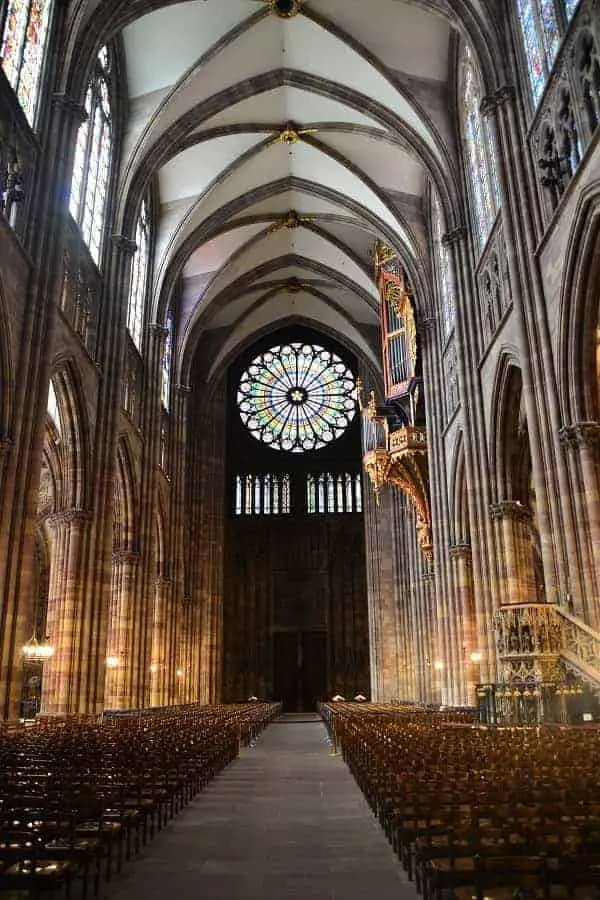 While glorious from the outside (it actually changes color depending on how the sun hits it), the true gems lie in its interior. Medieval churches are known for their beautiful stained glass and this cathedral is no different.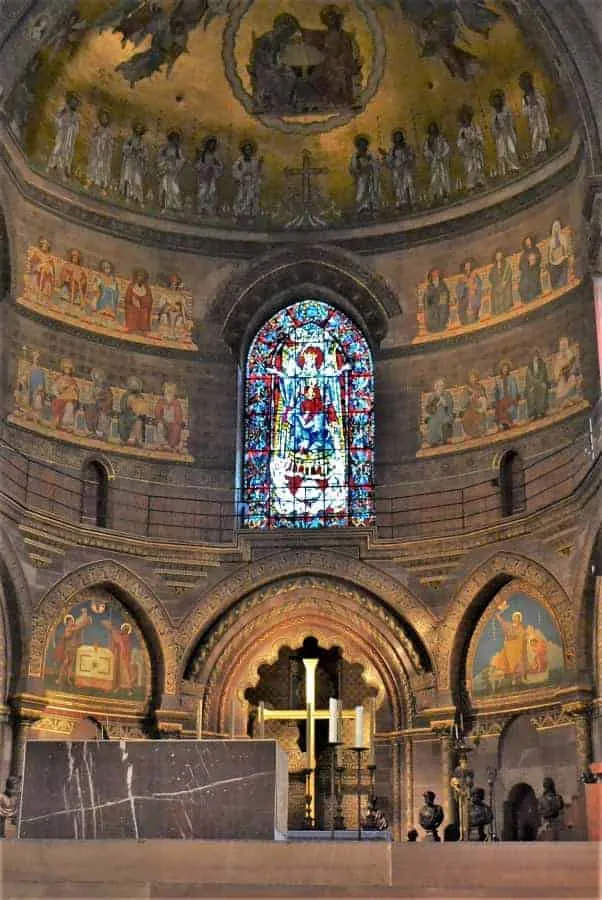 Along with these colorful displays of light, you will also find beautiful murals behind the high alter.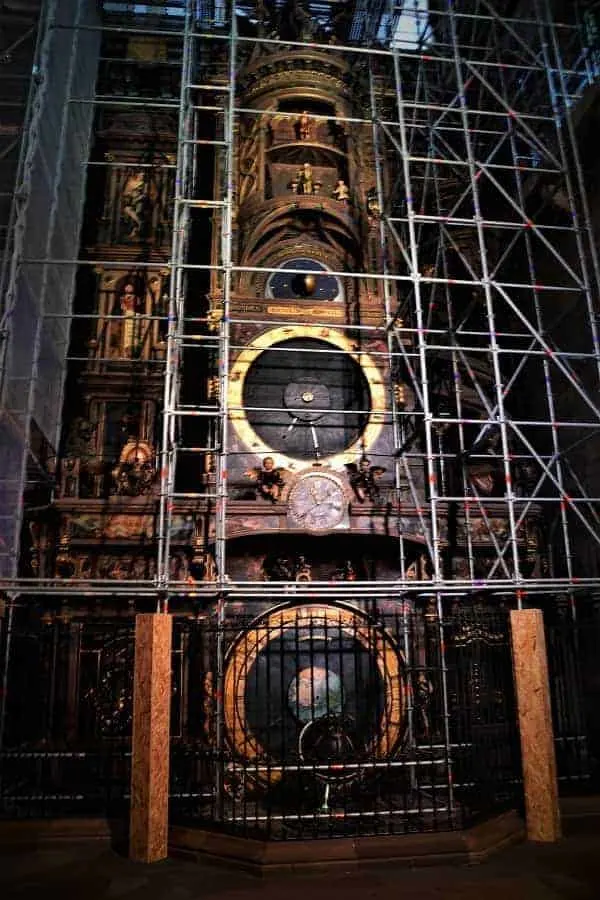 One of the main things to see inside the cathedral is the Astrological Clock. This clock doesn't just tell time; it shows the day of the week, the month, the year, the sign of the zodiac, the phase of the moon and the position of planets.
Time your visit near noon so that you can make it in time to see the famous astrological clock come to life. Added in 1842, this astrological clock comes to life each day at 12:30 with a processional of Apostles coming before Jesus.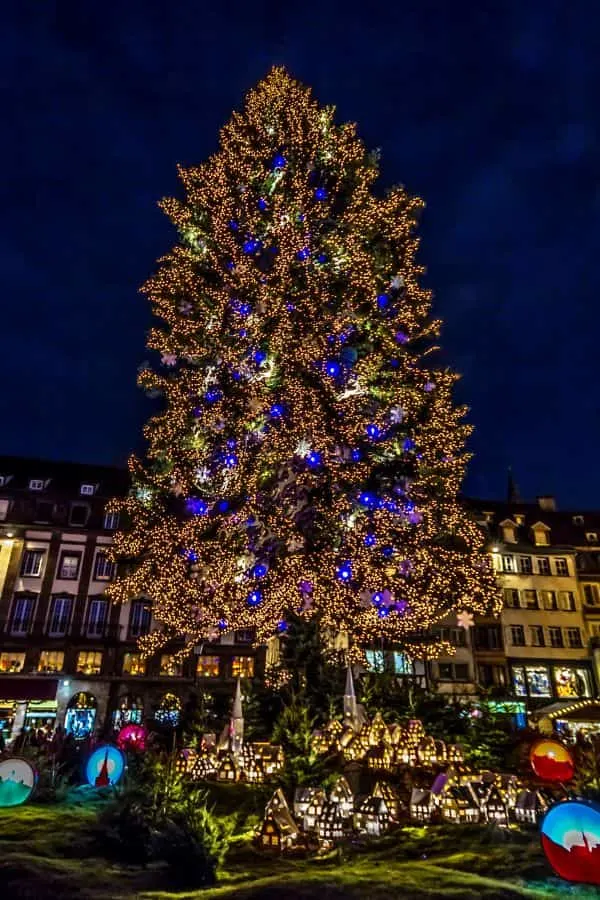 Christmas Markets in Strasbourg
If you happen to be in Strasbourg in December, you will find one of the most famous Christmas markets in all of Europe right at the base of the cathedral.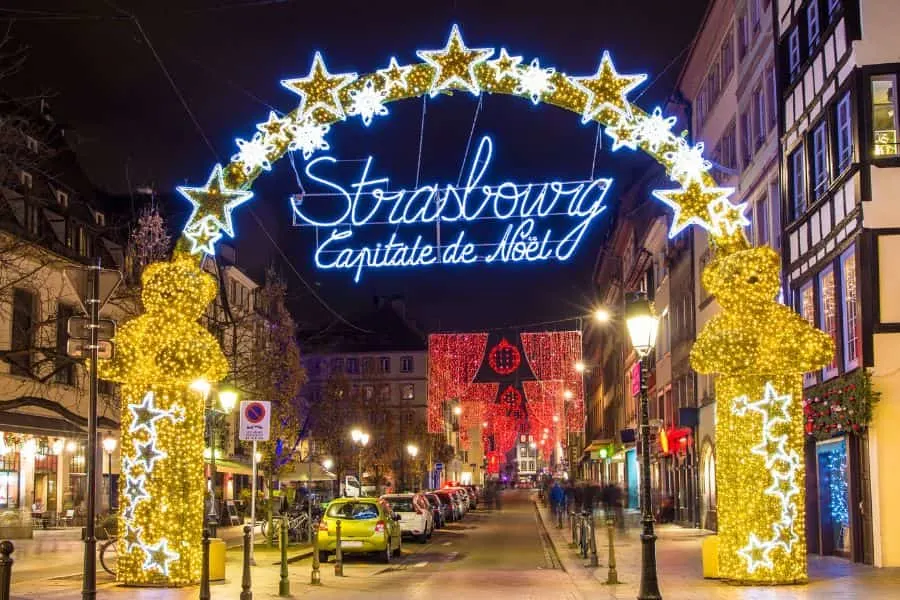 Referred to as the Capital de Noël (the Capital of Christmas), this is the perfect place to buy souvenirs or Christmas gifts. You will find everything from Christmas ornaments to teddy bears!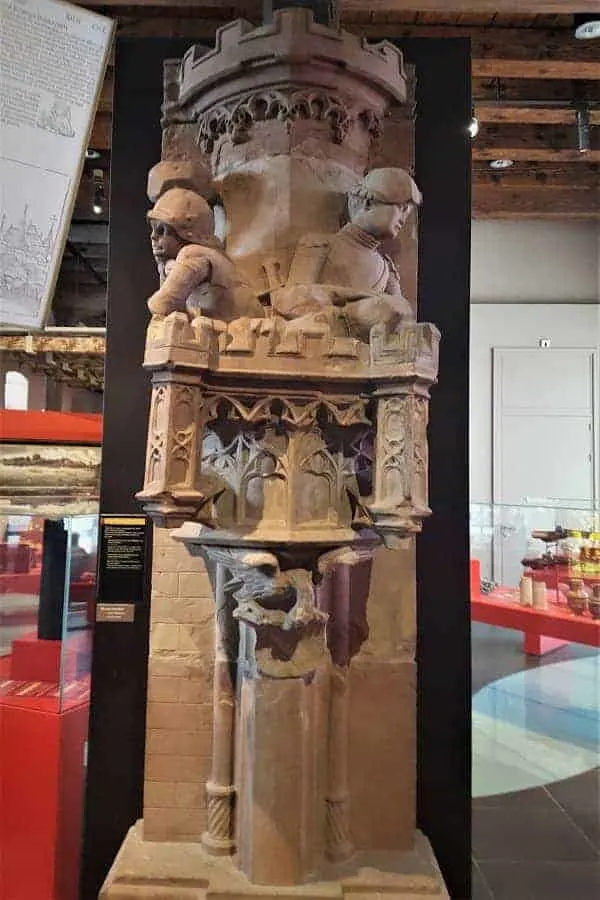 Strasbourg History Museum
If you want to understand the history of this region of France, spend some time in the Strasbourg history museum. You will find the museum takes about 2 hours to fully explore (it's in chronological order).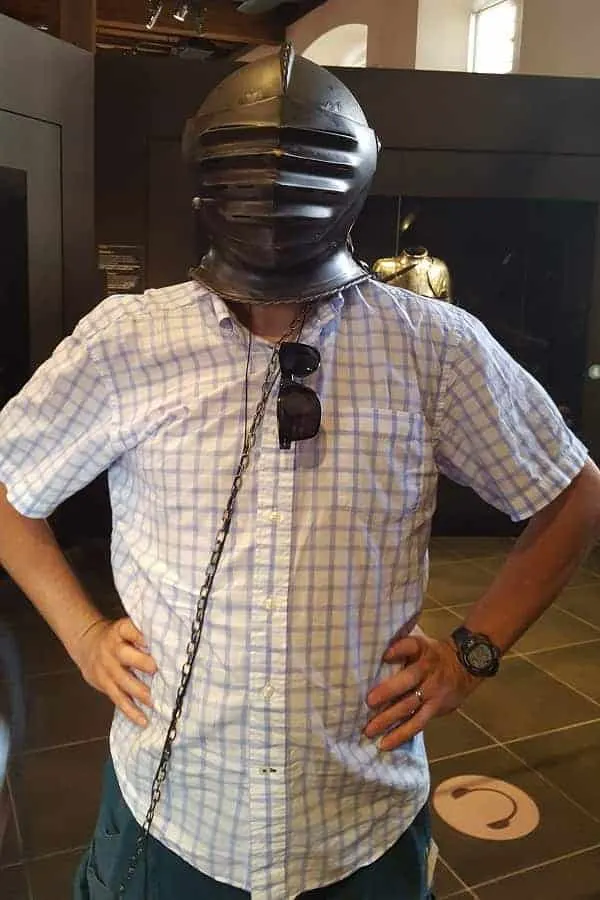 The audio tour is great and if you are travelling with children, they will appreciate that this museum is fully interactive.
Price is 6,5€ or 12 € for a one day pass (to all Museums of Strasbourg and to their temporary exhibitions).
Admission to the museums is free for all visitors on the first Sunday of each month and for those under 18.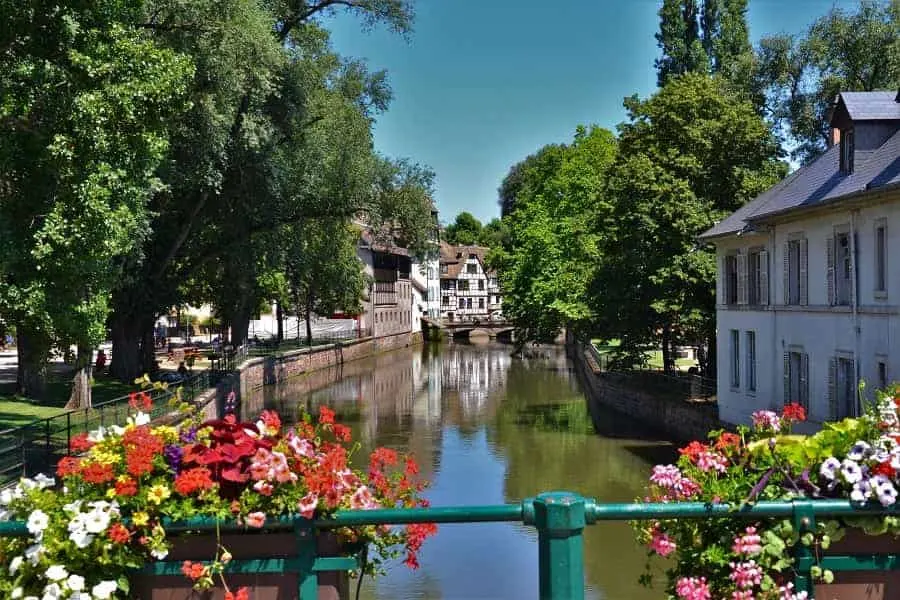 La Petite France
If you have ever imagined stepping into the world of Beauty and the Beast, you can almost imagine it being here. Spend some time just walking around and taking in the breath-taking beauty of the half-timbered homes and Île River that flows through this part of the city.
The city of Strasbourg is divided by the Île River that surrounds the Grand Île (Big Island) on which the old town and most of the city's famous buildings are located. This island was designated a UNESCO World Heritage site in 1988.
A walk along the Île will take you to the Barrage Vauban, or Vauban Dam bridge. This bridge dates back to the 17th century and offers great views of the canals.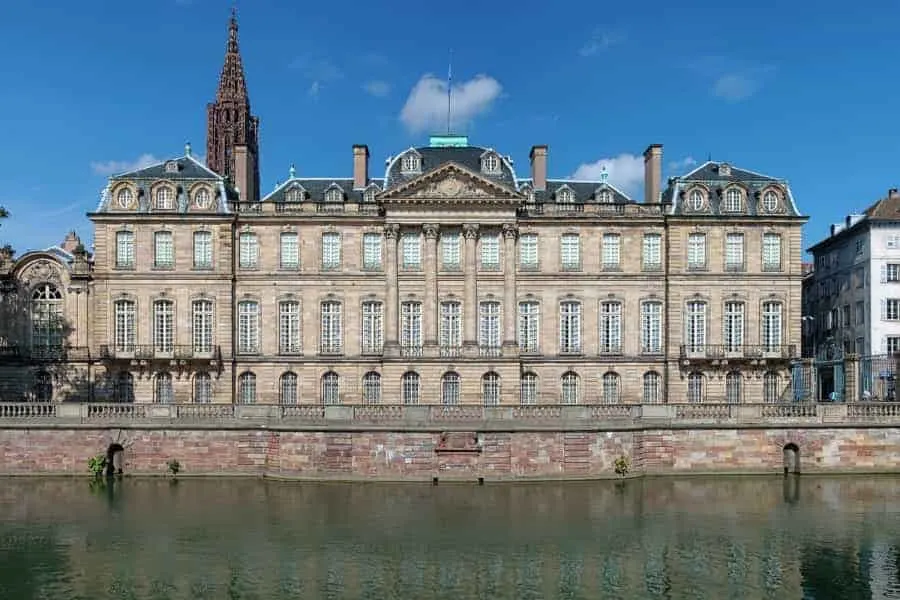 Palais des Rohan
Originally built for Cardinal Prince Bishop Armand-Gaston de Rohan-Soubise (the supposed illegitimate son of Louis XIV), this former Episcopal palace now houses three museums: Musee des Beaux Arts, Musee Archeologique and Musee des Arts Decoratifs.
Many consider this palace to be the mini Versailles, and it is easy to see why. Robert de Cotte (helped complete the royal chapel at Versailles) is the architect who designed the palace.
Inside you will find different types of items on each level.
Art lovers will enjoy seeing works by Rubens, Rembrandt, Renoir and Monet, among many others while history buffs will find the prehistoric and medieval artifacts found during local excavations fascinating.
Price is 6,5€ (for each) or 12 € for a one day pass (to all Museums of Strasbourg and to their temporary exhibitions).
Admission to the museums is free for all visitors on the first Sunday of each month and for those under 18.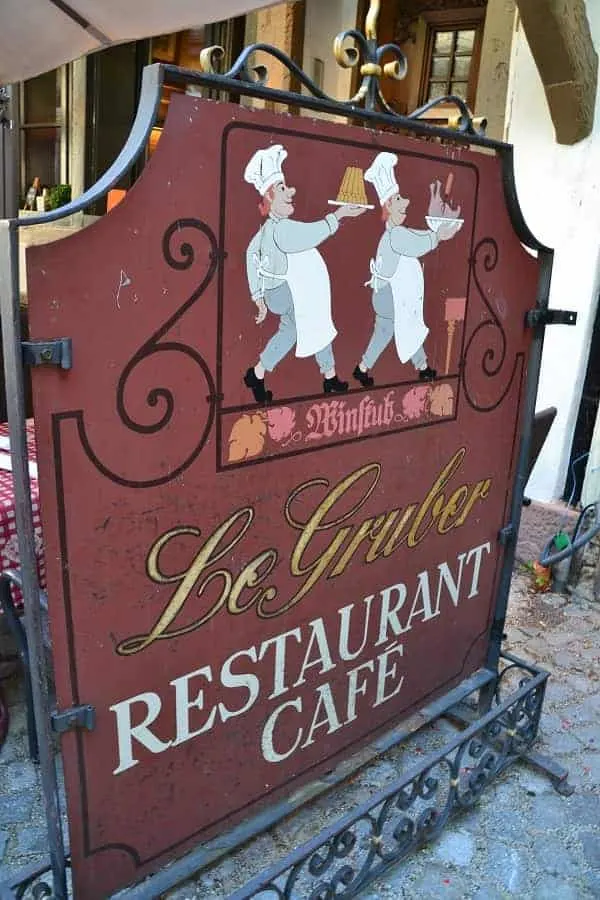 Popular Strasbourg Food & Drink
While the menu in Strasbourg may be in French, the dishes are quintessentially Germanic. For breakfast, you may dine one Flammekueche (Quiche Lorraine).
Lunch or dinner may be choucroute (Sauerkraut) served with pork or knack (sausage) and boiled potatoes.
Dinner could be pork with spaetzle (small pasta like mini dumplings) or Coq au Riesling (chicken cooked in white wine).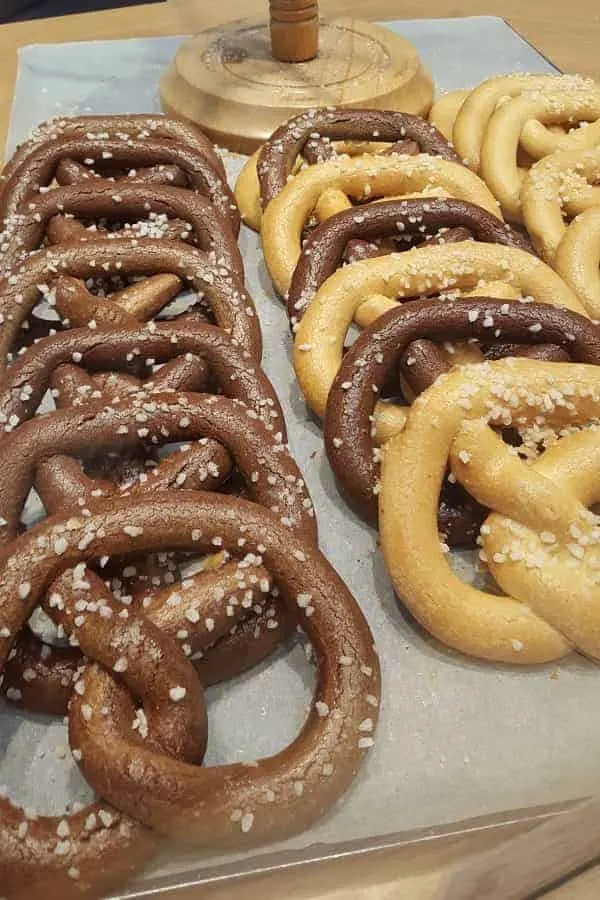 You will find bretzel (pretzels) every where you look. Usually, served with beer, you can also pick them up at cafes and take them to eat on the go!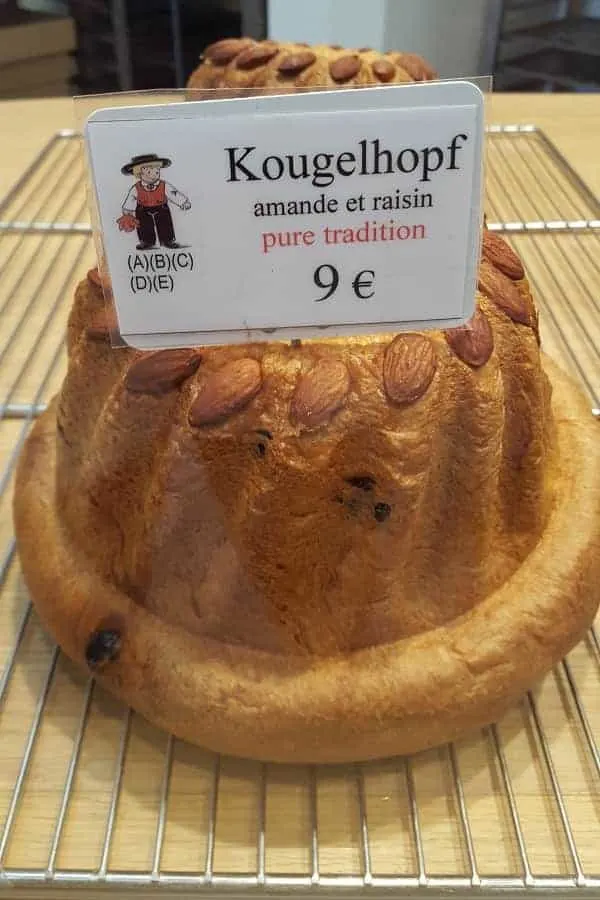 When it comes to dessert, you will see shops selling the regional favorite, Kugelhopf, a bread-like bunt cake with raisins and almonds, pain d'épices (gingerbread) and of course, strudel.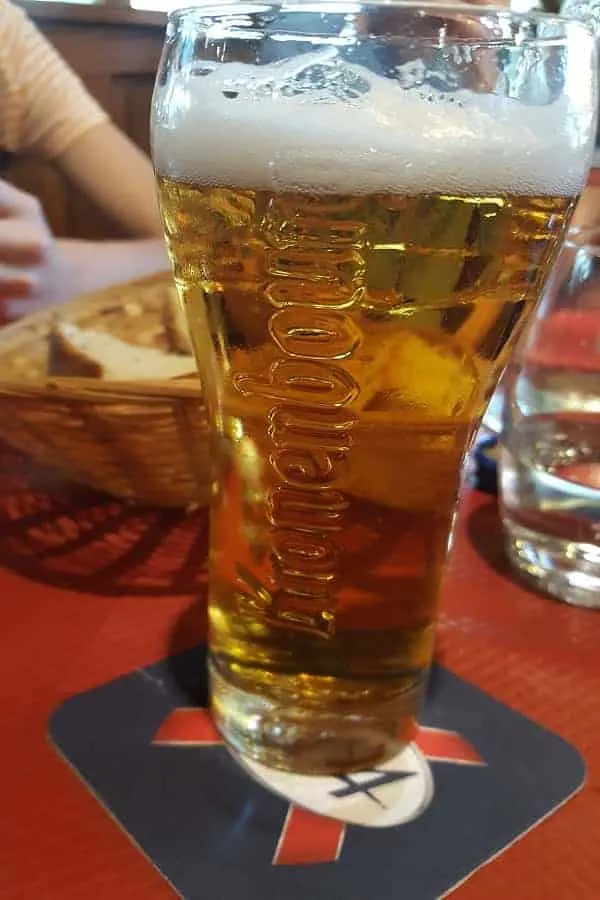 You'll find several breweries nearby: Fischer, Karlsbräu, Kronenbourg, and Heineken, to name a few. But there are also local microbreweries as well.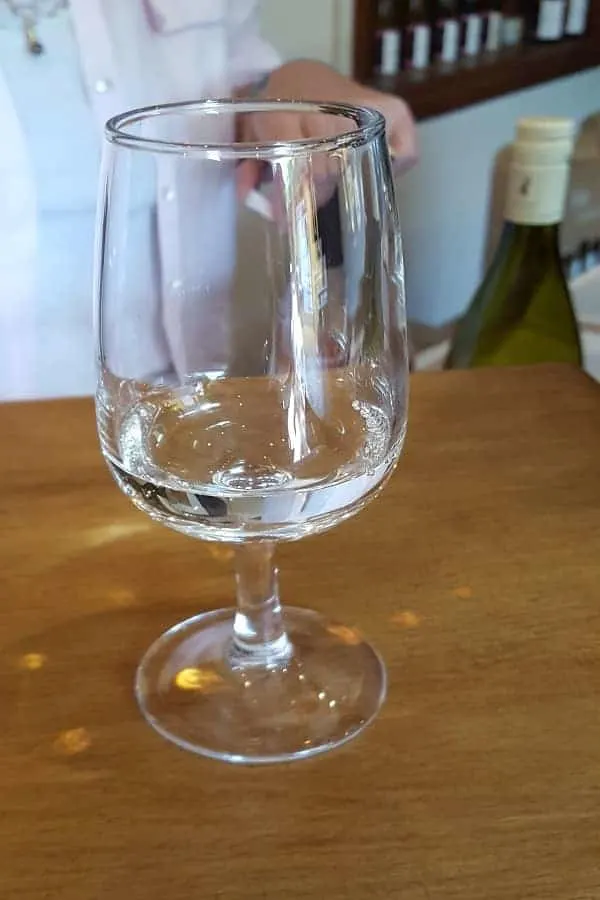 Not only is this part of France known for beer, it is also known for delicious wine.
The wines in Strasbourg are regional and mostly white (most notable are the dry rieslings).
Visiting Strasbourg in the Summer
There are two things that we did when visiting Strasbourg in June that I do not recommend: the train tour and the boat tour. While I am sure that both are wonderful during other times of the year, if it is warm during your visit, I suggest you skip both of these.
Strasbourg does not use air conditioning for either of these tours and you are in the hot sun during most of them (depending on where you sit it could be entirely in the sun).
It was so uncomfortably hot that none in my party was able to enjoy either of these experiences. In fact, we jumped off the train tour early because we couldn't bare it any longer.
Instead of wasting money on these, I would suggest you to purchase a local walking tour with a guide. It is fairly inexpensive and a better option for the warmer months of the year.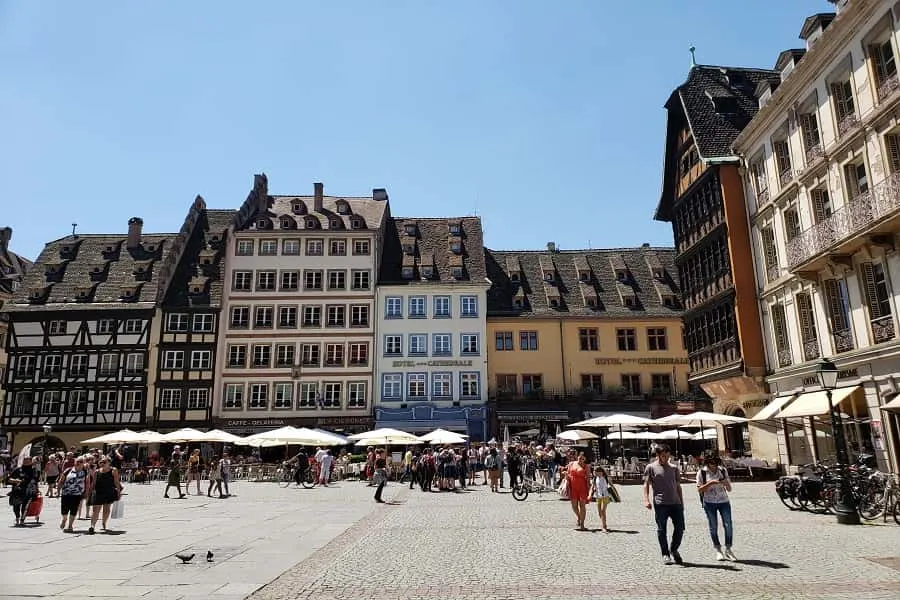 Strasbourg truly is an amazing place to visit while in this region of France. If you are wondering what to do in Strasbourg, I hope you found this guide helpful.
If you are looking for other things to do in the area, you can easily take day trips to places like Colmar, France and Frieburg, Germany which are also pretty incredible cities to visit.