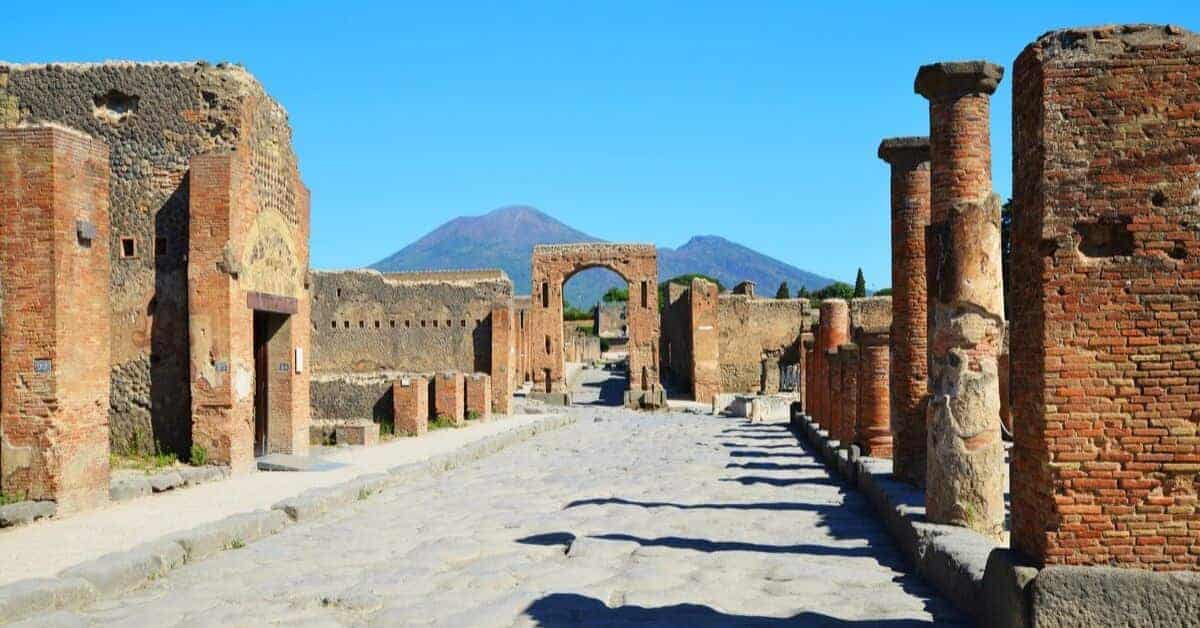 Sitting perched above the Bay of Naples is Sorrento, a small Italian town that is known for lemons, olives and buffalo mozzarella. While it is small, it is the perfect place to spend a few days since it allows you the opportunity to visit popular Italian cities like Capri, Naples and Salerno. Along with those destinations, you can also make the trip from Sorrento to Pompeii & Herculaneum in just a few minutes via train!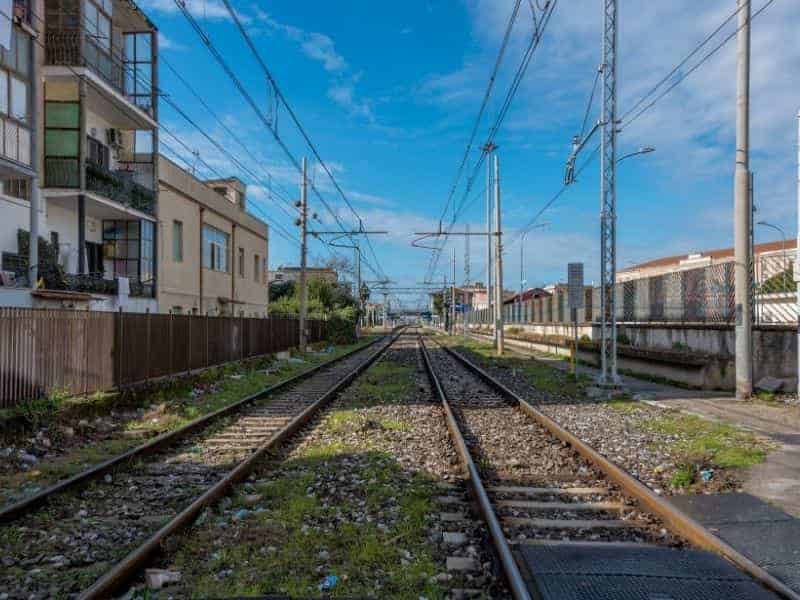 Making the Day Trip from Sorrento to Pompeii
Sorrento to Pompeii by Train
The easiest way to get to Pompeii (and Herculaneum) is by train. The Sorrento to Pompeii train ride is about 30 minutes and to Herculaneum it is 50 minutes which makes it possible to do both in a day if you so choose (all trains stop at both sites).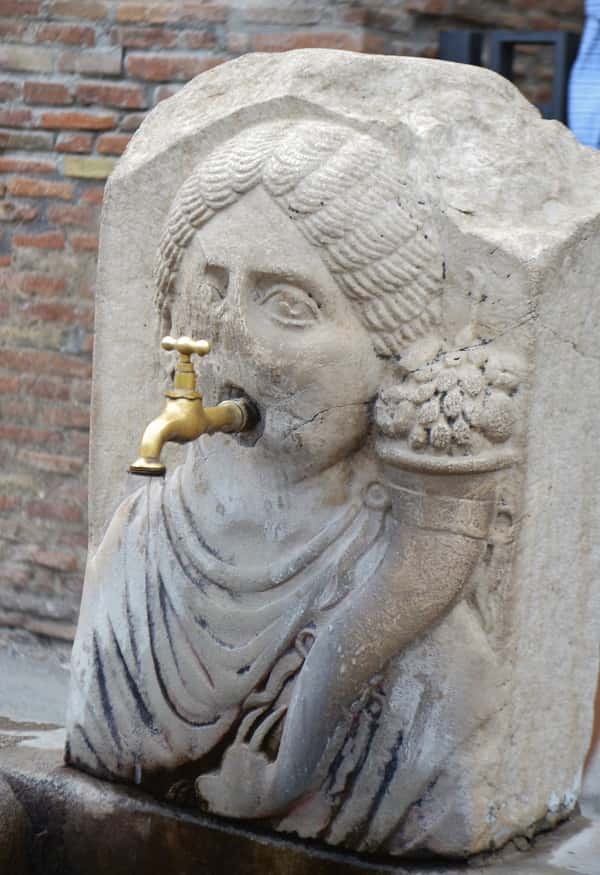 Preparing for your day in Pompeii
If you are familiar at all with Southern Italy, you know how hot it can be. Wear loose, breathable clothing and good walking shoes.
You will be in the sun most of the day, so I would recommend that you also bring a hat and sunglasses.
Lastly, make sure that you bring a refillable water bottle. You will want to stay hydrated in the hot Italian sun and there are plenty of places to refill you bottle in Pompeii.
Pompeii Skip the Line Tickets
If you want to tour Pompeii on your own, you can purchase your Pompeii Skip the Line Tickets online. Your priority access tickets will allow you to see everything at your own pace.
Your most cost-effective way to see Pompeii and understand what you are seeing is with a Pompeii archaeological site walking tour.
This guided tour will get you entrance to the site without have to stand in line & give you information on what you are seeing and your guide will make sure that you see the most important areas of the site and provide historical facts so you understand each areas significance.
Pompeii Hours
April 1 – October 31: 9am-6 pm (last entrance) and stays open until 7:30 pm. Saturday and Sunday, it opens at 8:30am.
November 1– March 31: 9am-3:30 pm (ticket office closing) and stays open until 5pm.
Closed on January 1, May 1 and December 25.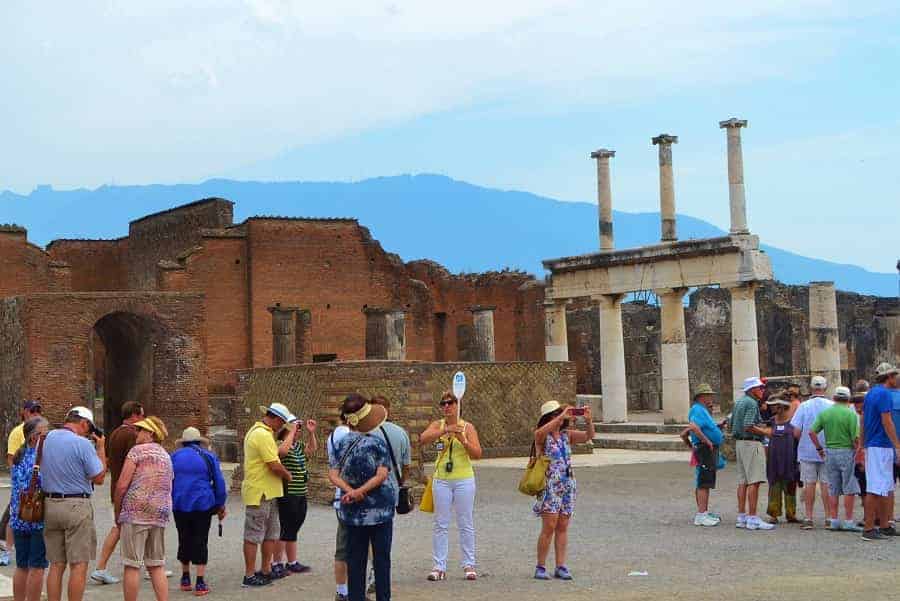 Touring Pompeii Ruins
Prior to the Mount Vesuvius eruption of 79AD, the area around the Bay of Naples was a flourishing city. There were bath houses, restaurants and shops.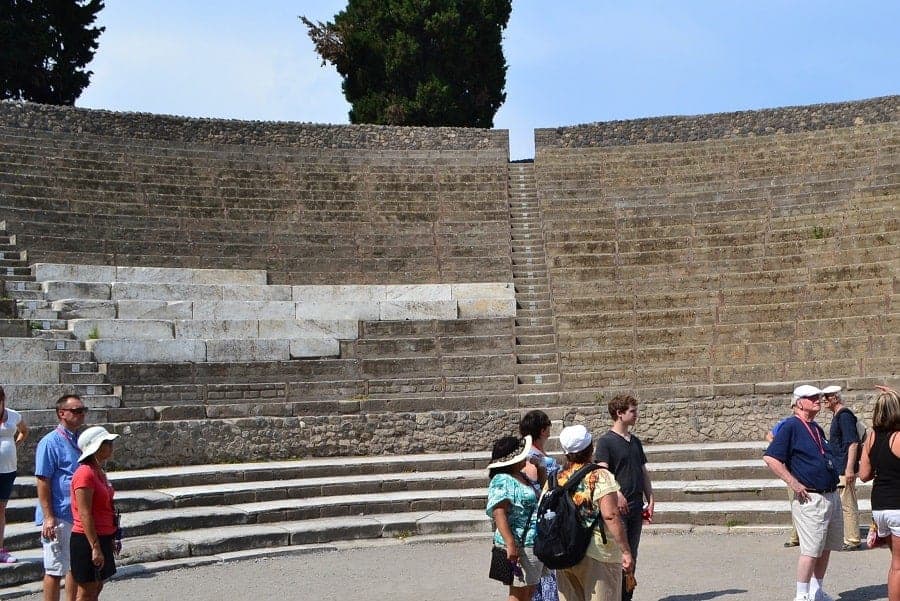 We know they also had lively entertainment as excavation unearthed an amphitheater that could seat about 20,000 people.
People were living their best life and when you see the ruins, you can almost imagine what their lives were like.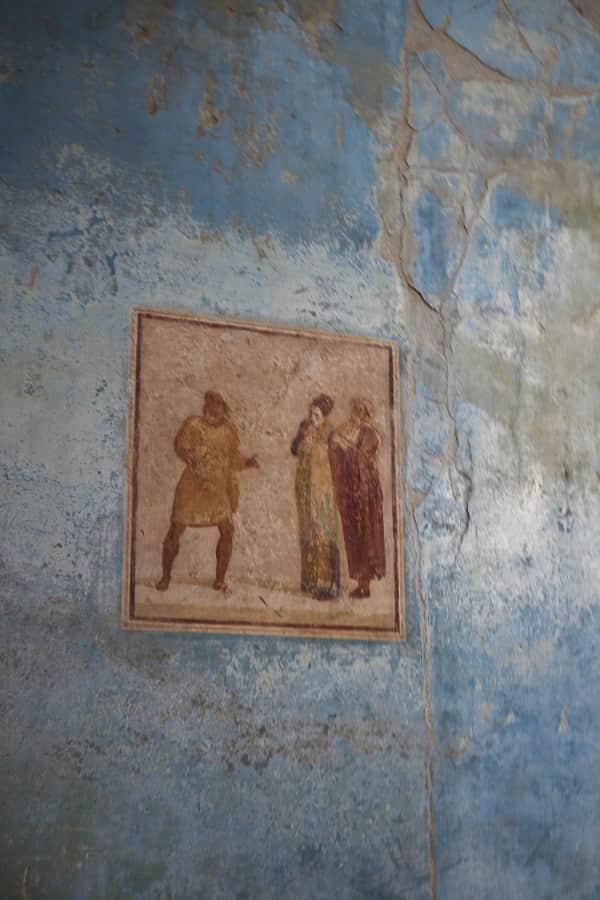 When Mount Vesuvius erupted time literally stopped in Pompeii. What remains are the brick buildings, some of the artwork, and various other artifacts.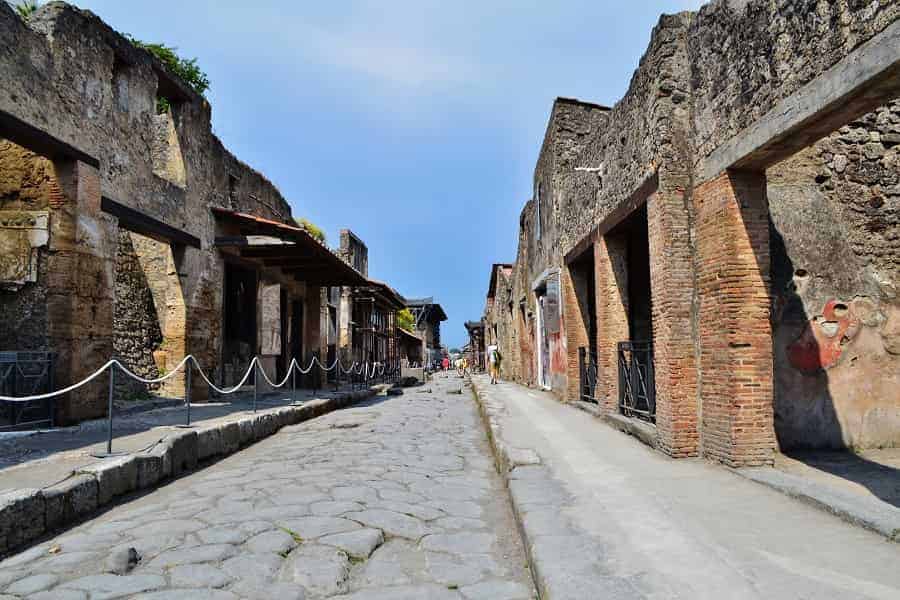 Your tour of Pompeii will allow you to walk through the streets that were once filled with waste (they used them as sewage runoff).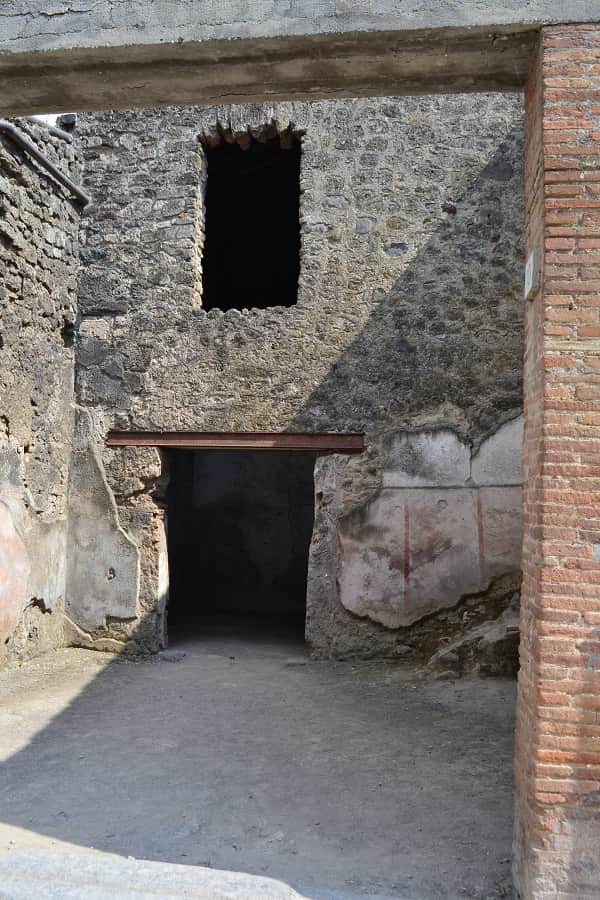 You will see inside the homes and lives of the people who once lived there and walk among the shops were they would have bought their food and other household items.
If you get the chance to go to Sorrento, do make time to visit other places nearby like Pompeii. It is an easy day trip and will allow you to walk back in time to see what life was once like for the people who lived in this area of the world.
Pompeii Tours from Sorrento
If you would rather take a guided tour of Pompeii from Sorrento, these are some great ones to consider.