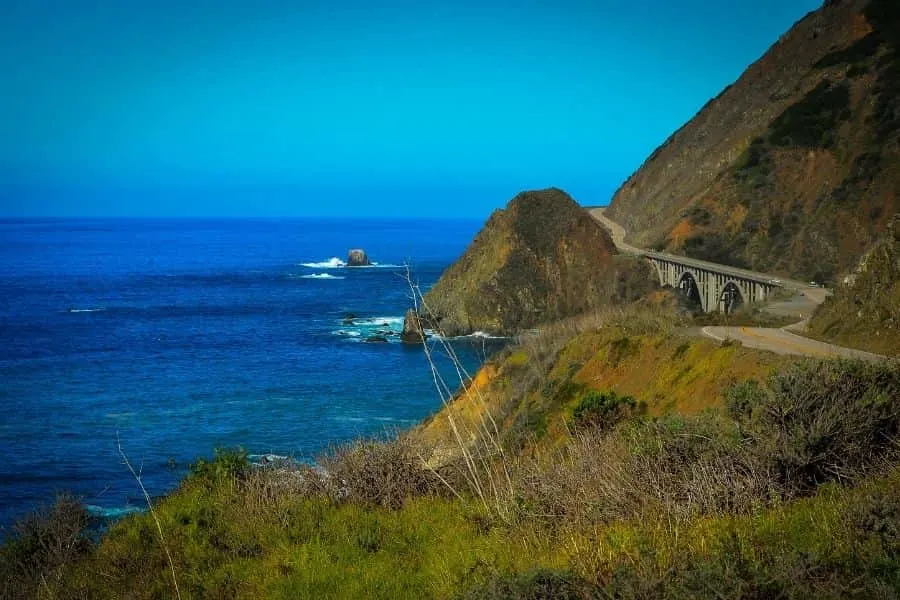 One of the best West Coast road trips to take is along the Pacific Coast Highway. Hugging the picturesque coastline of California, you can see many incredible sites. If you are making the trip and looking for the best Pacific Coast highway stops to make, we have just the list for you!
10 BEST Pacific Coast Highway Stops in California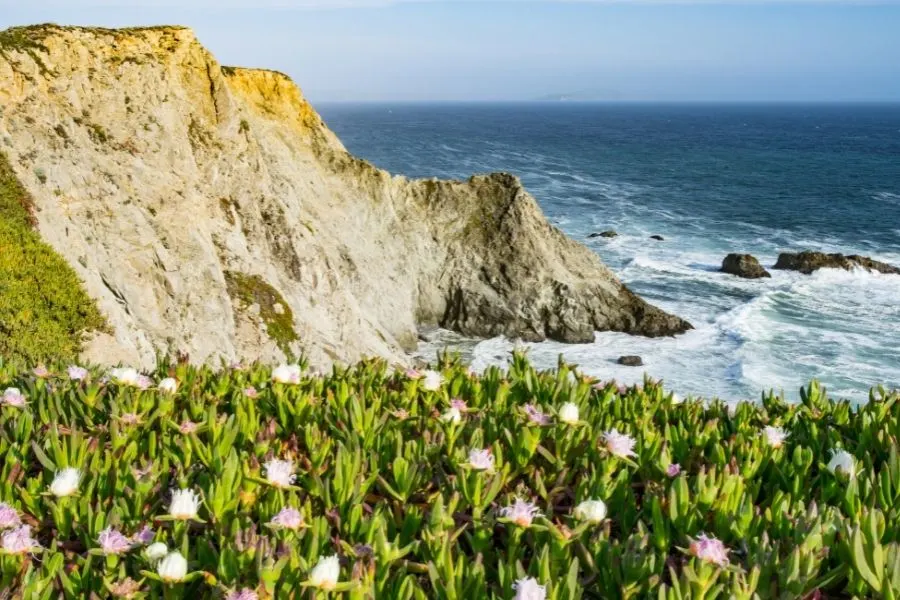 1. Point Reyes
With dramatic beaches, walking trails, and points where you can see migrating whales, Point Reyes has a little bit of everything when it comes to spending time outdoors!
This national park has nearly 80 miles of coastline and you can take a few different routes through it depending on how you want to spend your time.
I would suggest that you make time to see the following: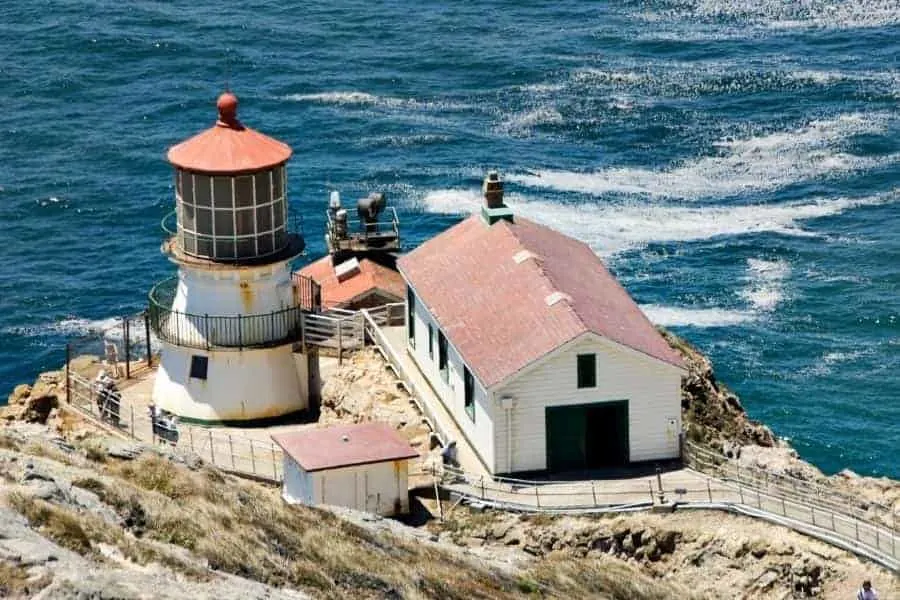 Point Reyes Lighthouse
One of the places you really should visit is the historic Point Reyes lighthouse.
The drive there will take you under a beautiful canopy of cypress trees and after walking down nearly 300 stairs, you will be able to go inside the lighthouse as well as see the views of the Pacific.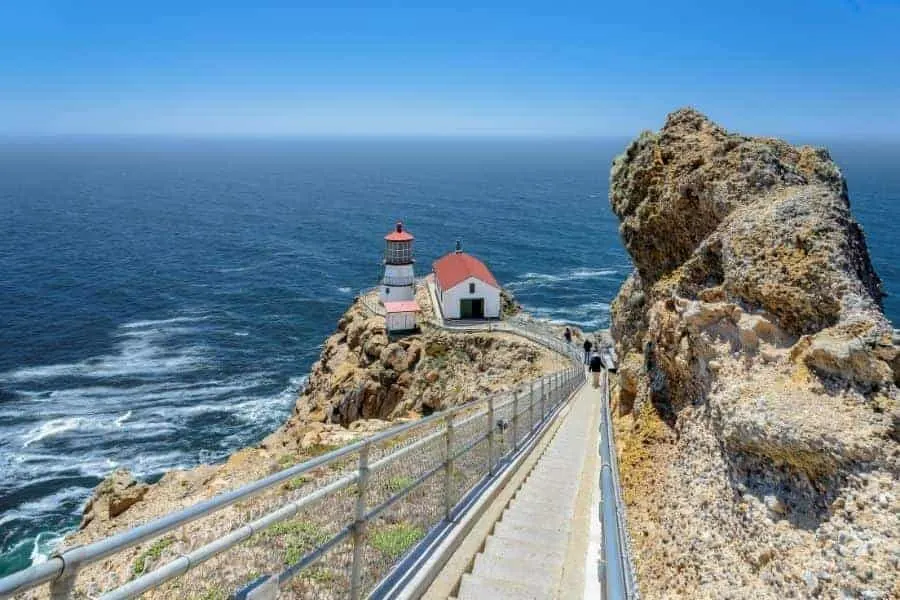 Yes, you will need to be prepared for the walk to the lighthouse because you will also have to walk back up to your car!
You might even catch a glimpse at the migrating Gray Whales.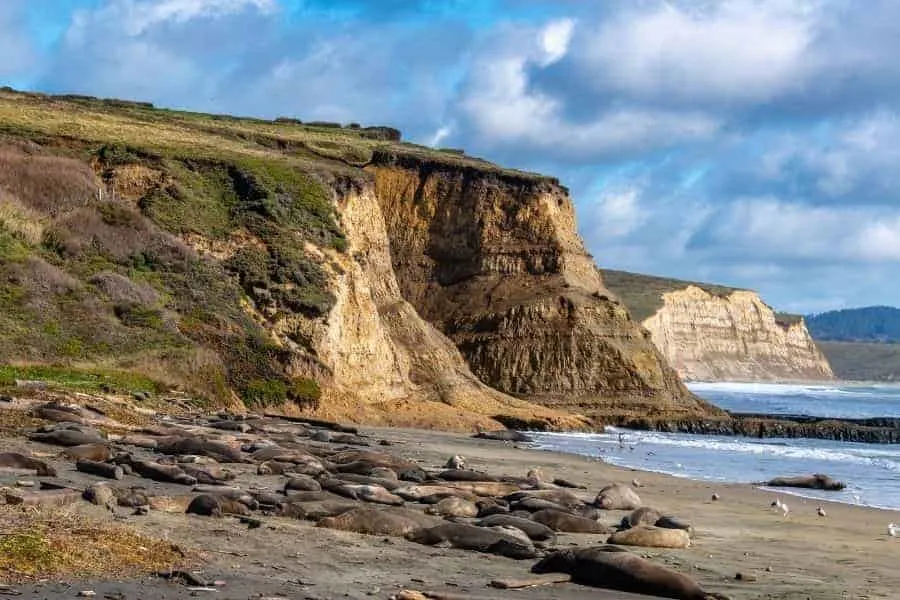 Drakes Beach
With its beautiful sandstone cliffs, the beach here is named after none other than Sir Francis Drake who sailed The Golden Hinde here in 1579.
Before you walk out to the beach, take time to visit the Kenneth C. Patrick Visitor Center to learn about Drake's visit. You will find exhibits and artifacts that will really give you perspective.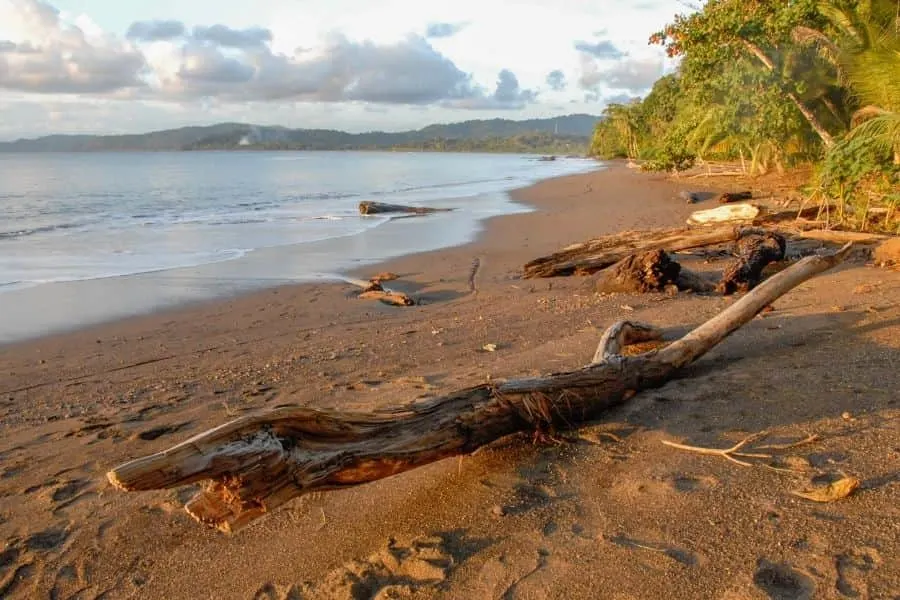 The beach itself is worth exploring on foot. You never know what you might see! There are often elephant seals and plenty of seashells to be found.
I would suggest that you bring a pair of waterproof hiking sandals so that you can explore the rocks and beach adequately.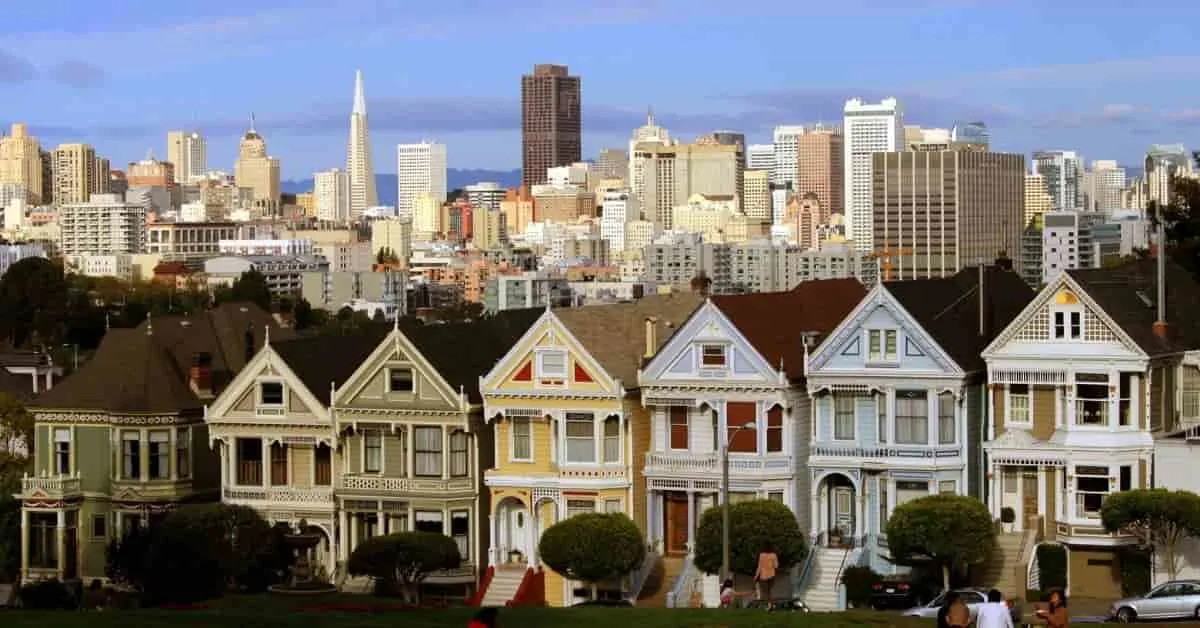 2. San Francisco
San Francisco is known for the Golden Gate Bridge, cable cars, and sourdough bread, but this city is that and so much more.
It will be hard not to spend some considerable time in San Francisco since it has so much to offer visitors. If all you have is one day in San Francisco, you won't be able to see & do everything.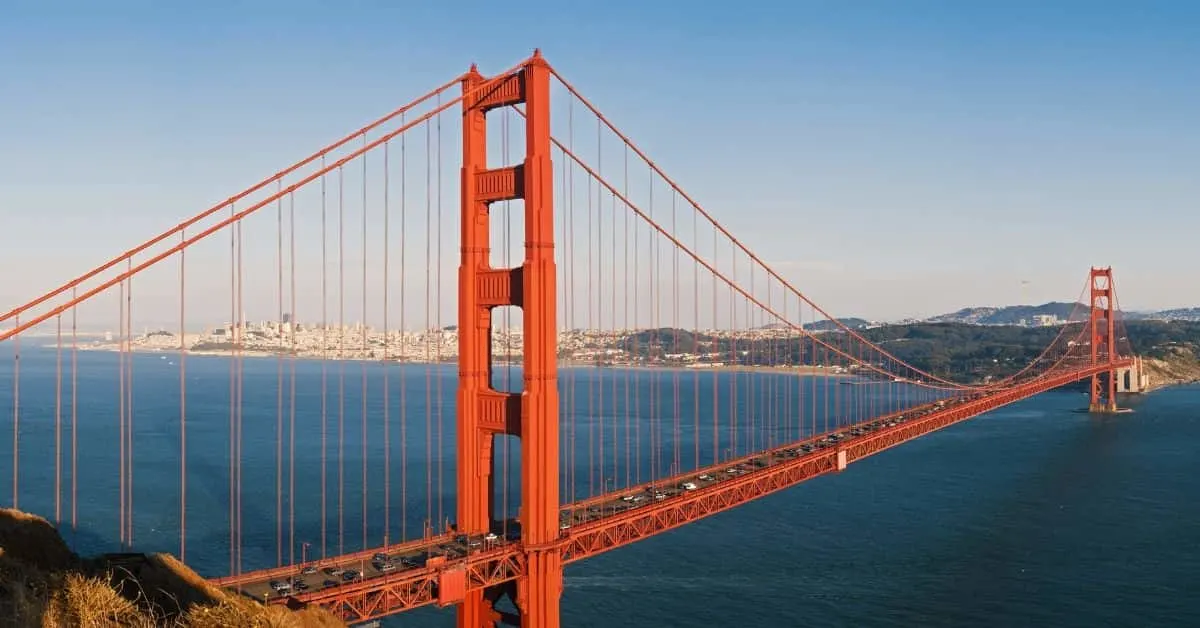 Golden Gate Bridge
Probably one of the most iconic landmarks in all of California, the Golden Gate Bridge is something you should take the time to see up close.
the Welcome Center is the first on-site center dedicated to telling the stories of the Golden Gate Bridge.
If you're interested in the history of the Golden Gate Bridge, twice-weekly (Thursdays and Sundays) free walking Bridge tours are offered by San Francisco City Guides.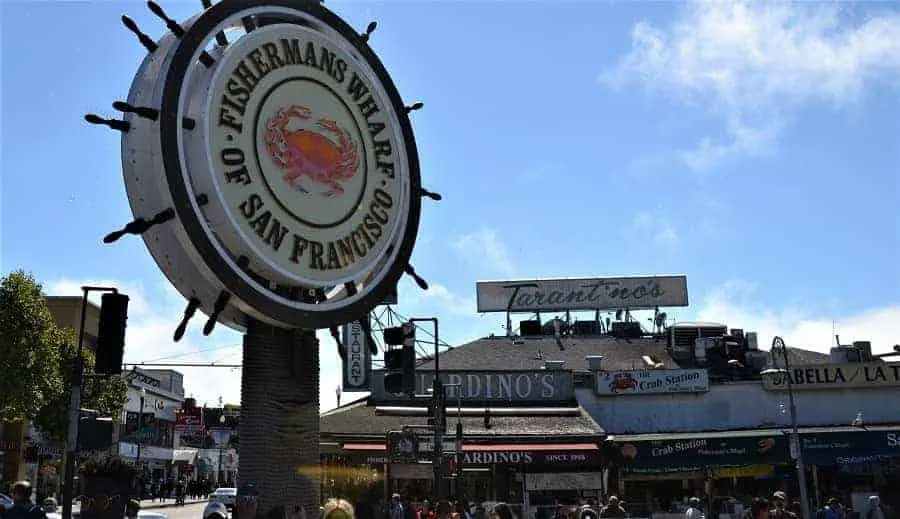 Fisherman's Wharf
Definitely stop by Fisherman's Wharf where you can grab both souvenirs and some sourdough bread.
If you intend to spend some time sightseeing in San Francisco, we suggest you get the GO San Francisco Card.
There are two options you can choose, one is based on the amount of time you will be in town and the other is based on the number of attractions you want to do.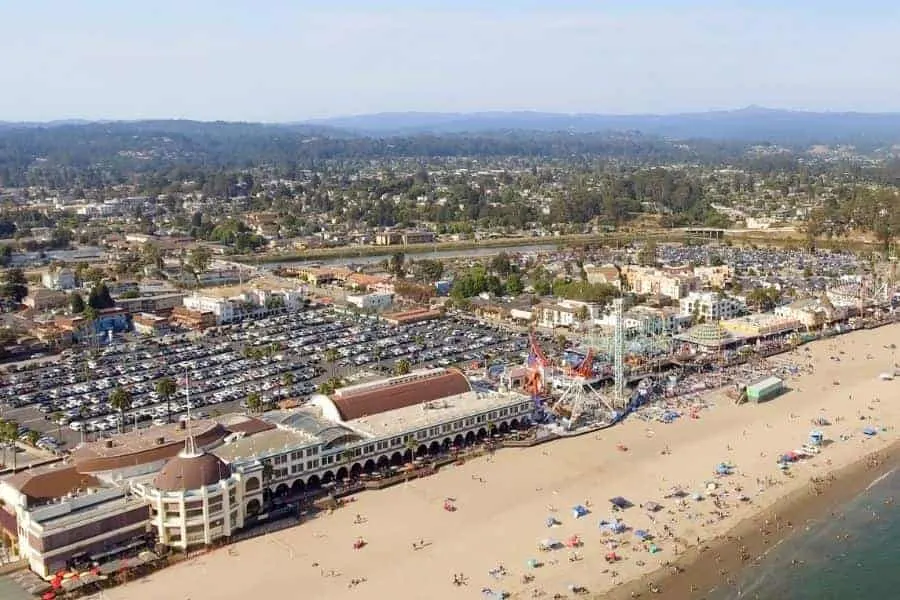 3. Santa Cruz
Santa Cruz is the quintessential beach town and you will want to give yourself a full day to explore both the beach and spend some time at this iconic boardwalk.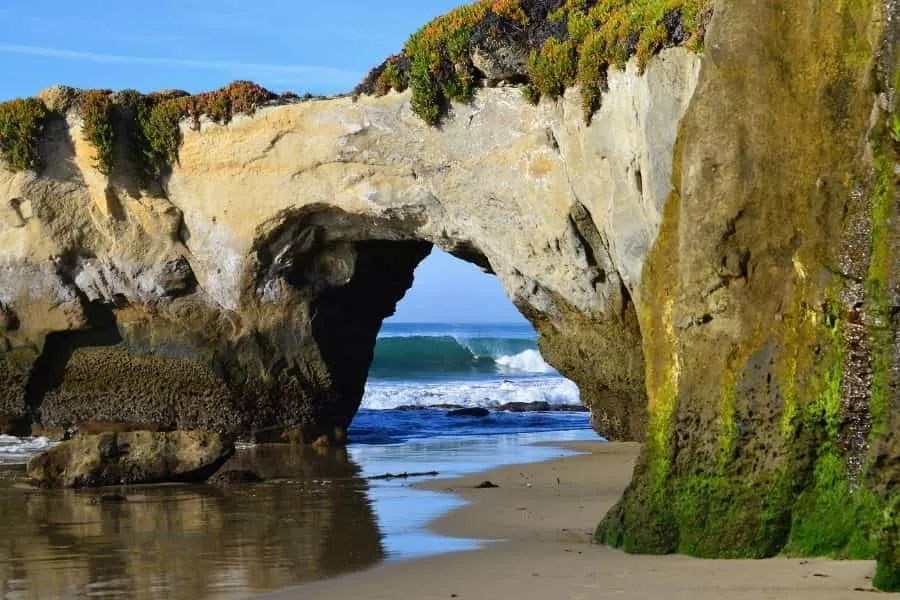 Natural Bridges State Beach
If there is one beach you need to see while in this part of California, it is the Natural Bridges State Beach where you will find one of the most photographed natural wonders in California.
Apart from the natural bridge, the beach is filled with wildlife. Take time to explore the tide pools starfish, crabs, and sea shells.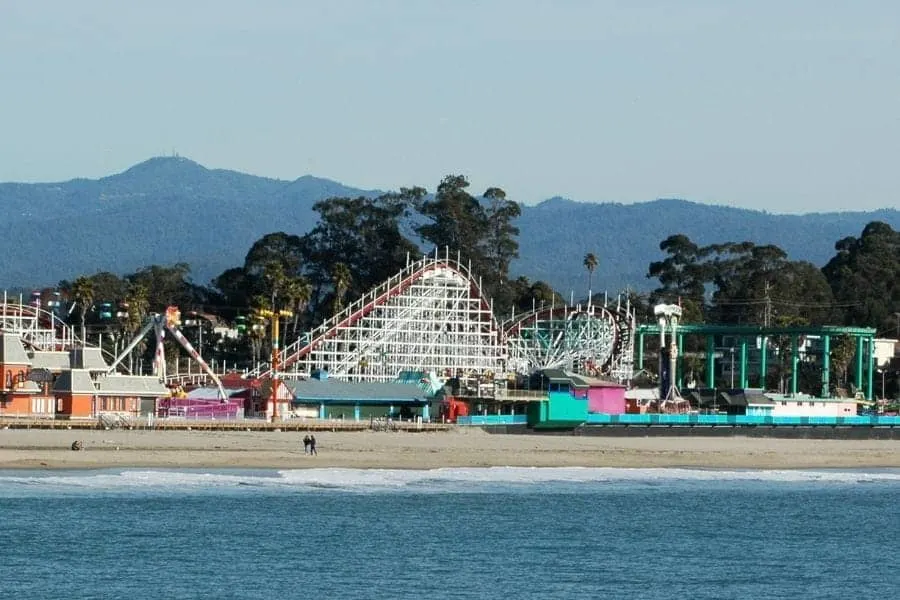 Boardwalk
The Santa Cruz Beach Boardwalk is a great place to spend some time, especially if you are traveling with kids to Santa Cruz.
You'll find more than 40 different rides and attractions, including a rollercoaster!
You can purchase all-day passes, unlimited ride passes, or just individual ride tickets. Ticket prices are the same for all ages.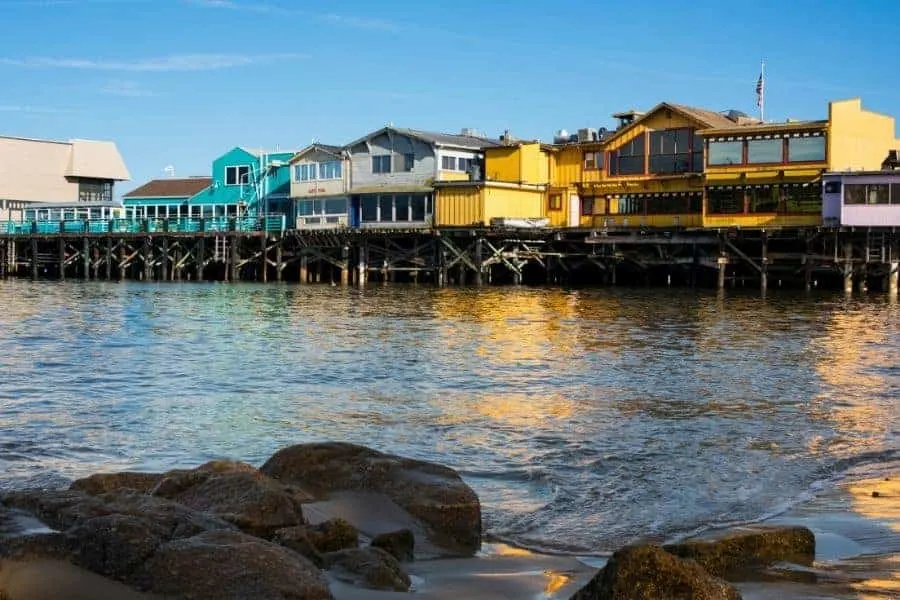 4. Monterey
A trip to Monterey will take you back in time to when this part of the California coast was used as a fishing village.
It was the inspiration for John Steinbeck's Cannery Row novel.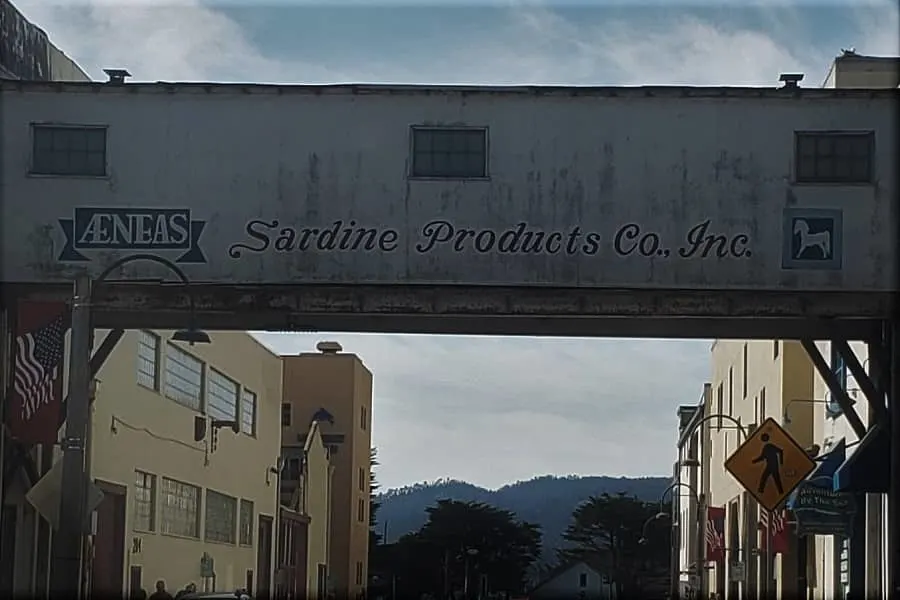 When visiting, you will still see signs of the once profitable sardine industry that eventually collapsed due to over-fishing.
Today, it is a national marine sanctuary where you will be able to see sea lions.
The best place to see them is at the Coast Guard pier where you will be able to see the sea lions close up while being protected by a fence.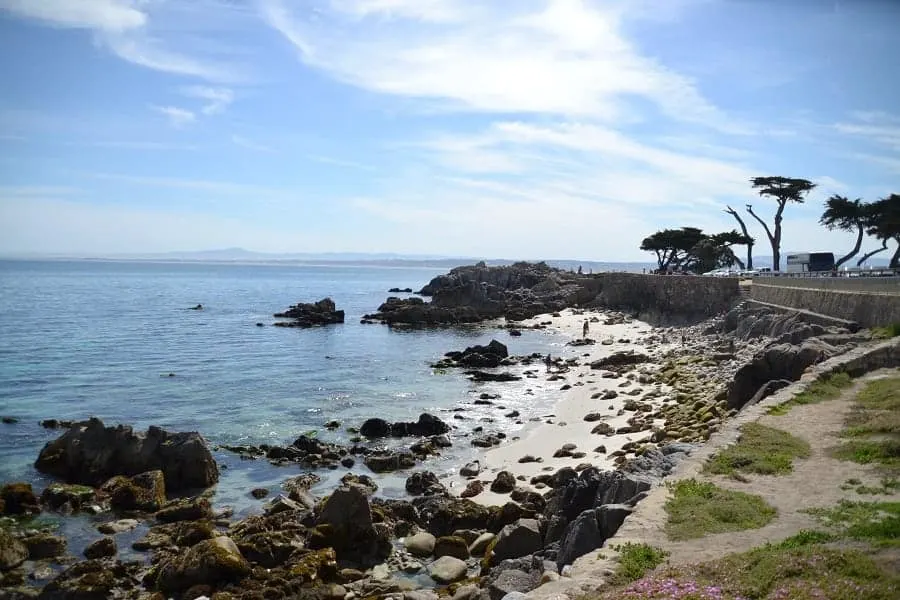 5. Carmel-by-the-Sea
Carmel-by-the-Sea is another seaside town that has beautiful beaches perfect for a sunset walk.
If you spend some time in Carmel, you will want to spend time checking out Ocean Avenue with its quaint boutiques, cafes, and beautiful architecture.
If you have the time, take the FREE self-guided historic walking tour of Carmel.
The Basilica Church
The main draw (besides the beautiful beach) is Carmel's 300-year-old Spanish mission.
The Basilica Church is a registered National Historic Landmark and available to tour.
You will find a stone Basilica that dates back to the 18th century, several different museums (Munrás Family Heritage Museum, Convento Museum, and the Jo Mora Chapel Gallery) with various displays on everything from Colonial Spanish Liturgical art, artifacts, and exhibits about the restoration of the mission and a beautiful courtyard.
Open Daily 9:30 am to 5:00 pm
Admission Rates
Adults: $10
Seniors (62+): $7
Youths (7-17): $5
Child (6 and under): FREE
These funds are used to support the continued maintenance and restoration of Carmel Mission.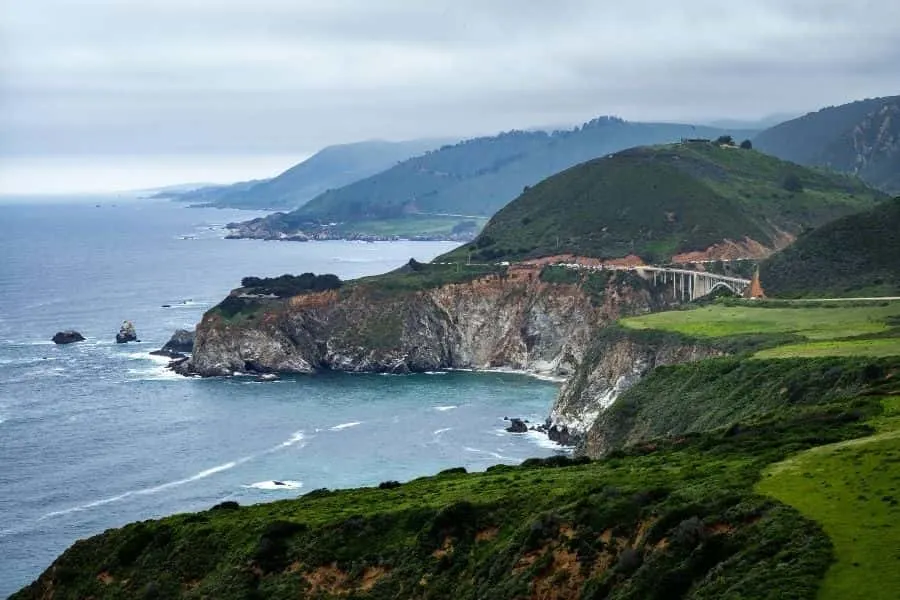 6. Big Sur
Probably one of the most beautiful coastlines in the world is right along this stretch of the Pacific Coast Highway.
When doing the Big Sur drive, here are the things to look out for: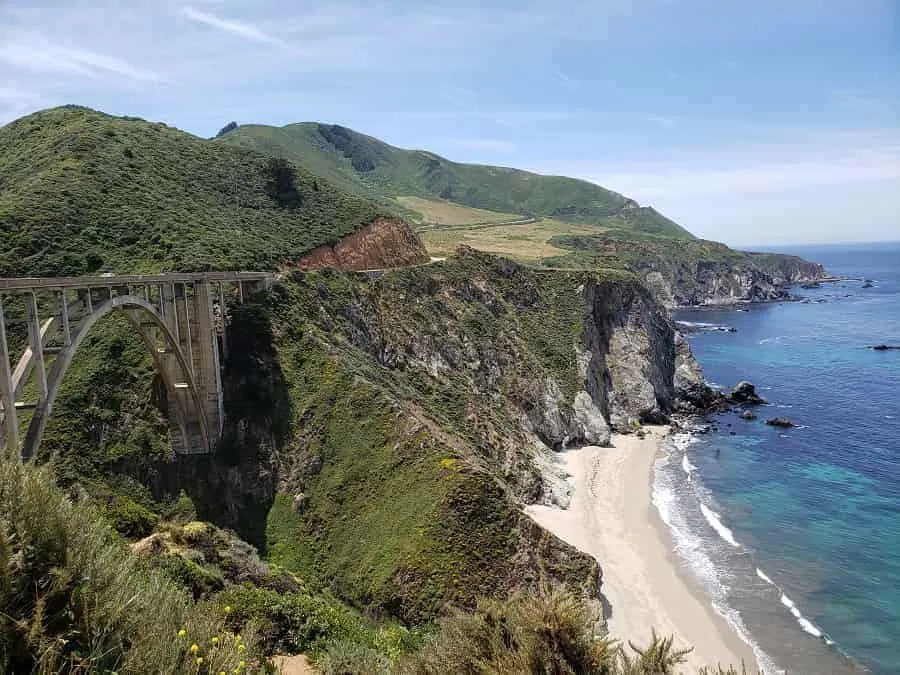 Bixby Bridge
You are going to want to take the time to pull over to take in the beautiful natural rock formations jetting into the Pacific Ocean and the views of the iconic Bixby Bridge.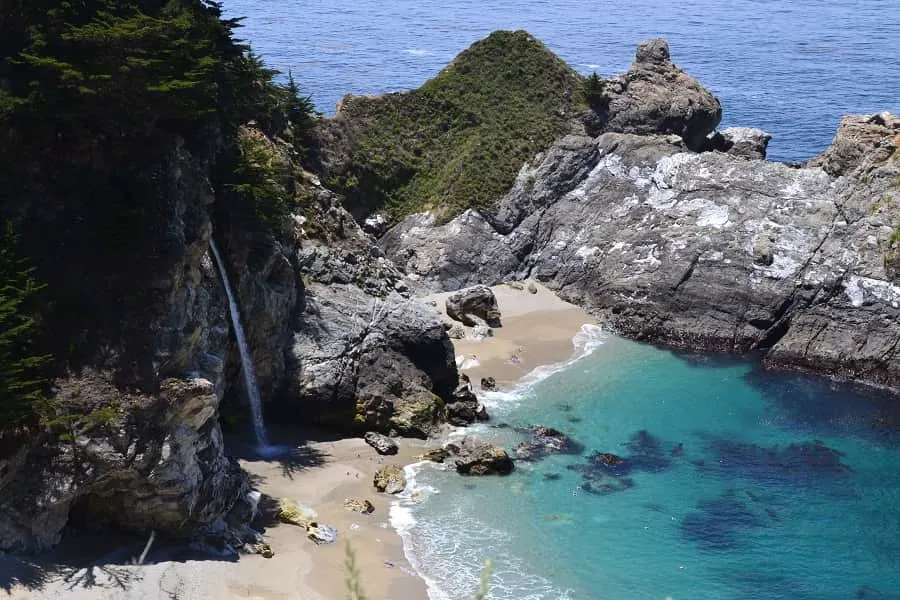 McWay Falls Overlook
Be sure to do the McWay Falls Overlook Trail.
The trail passes under the highway and then heads north around McWay Cove, overlooking the waterfall and a beach that was created from a 1983 landslide.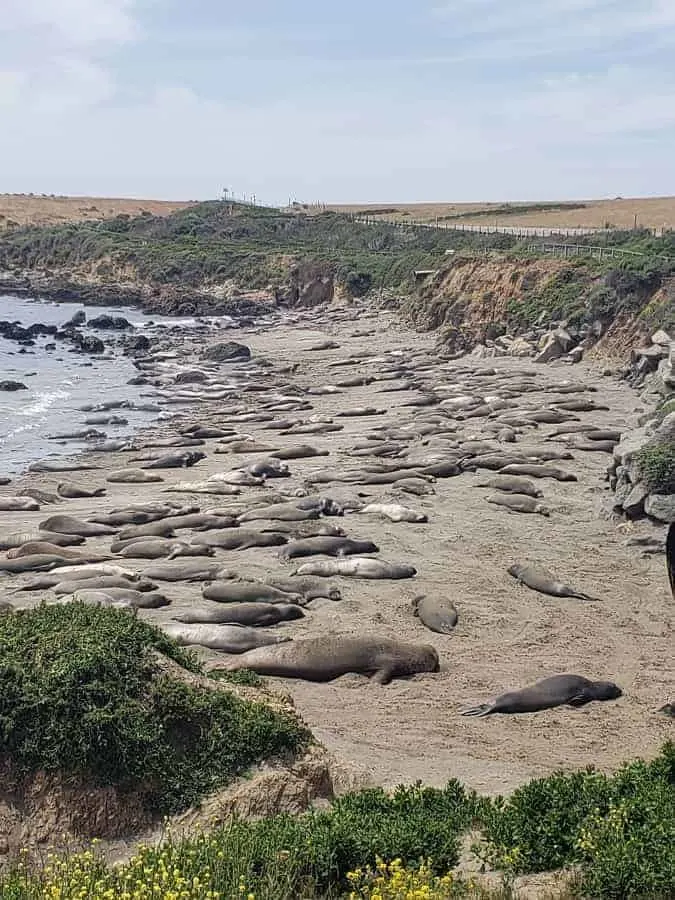 7. Piedras Blancas
If you want to see elephant seals during your PCH road trip, Piedras Blancas Elephant Seal Rookery is the absolute best place to go.
This area is a protected beach so only seals are allowed on the beach. You will be able to view them from a platform that is off the main road.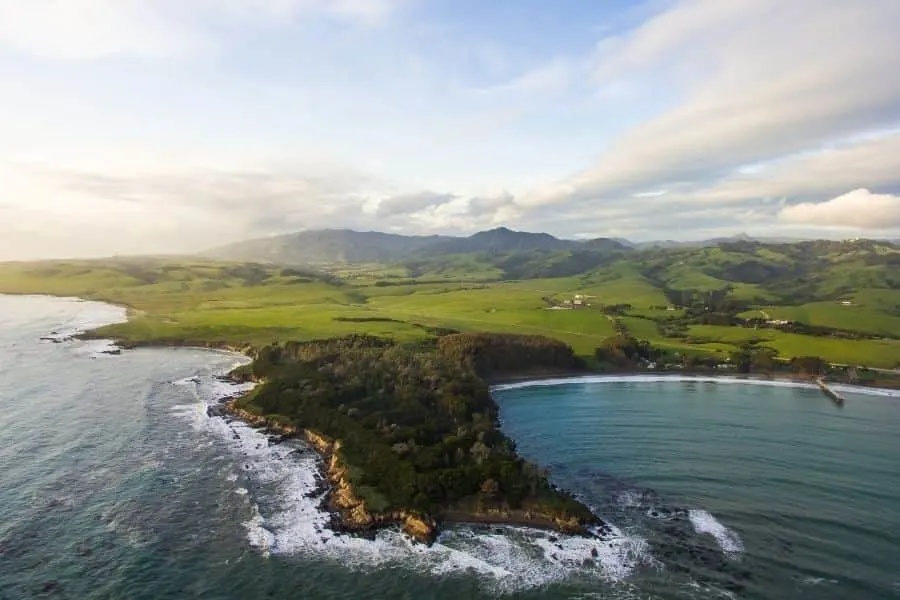 8. San Simeon
Of all the Pacific Coast Highway stops, the one landmark that most people want to visit is Hearst Castle which was home to media tycoon, William Randolph Hearst.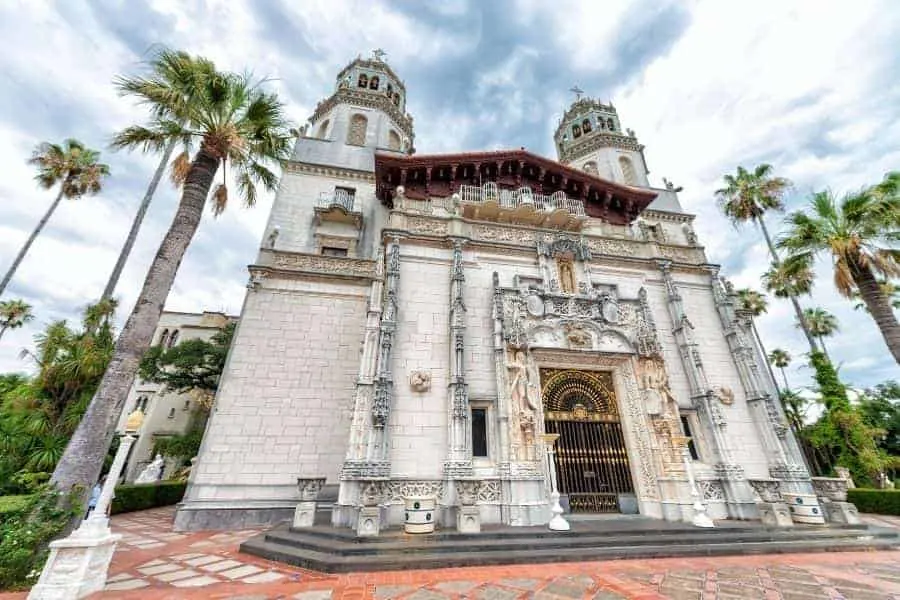 The Hearst Castle
In 1865, American gold mine tycoon, George Heart purchased some 250,00 acres in San Simeon and decades later, his son, William Randolph Hearst built what would become one of the largest estates in California.
The home features Hearst vast collections of everything from vases to ceilings and the home was built as a way for him to showcase his things.
Hearst Castle has 56 bedrooms, 61 bathrooms, 19 sitting rooms, a theater, a library, a beauty salon, and billiard room, and much more.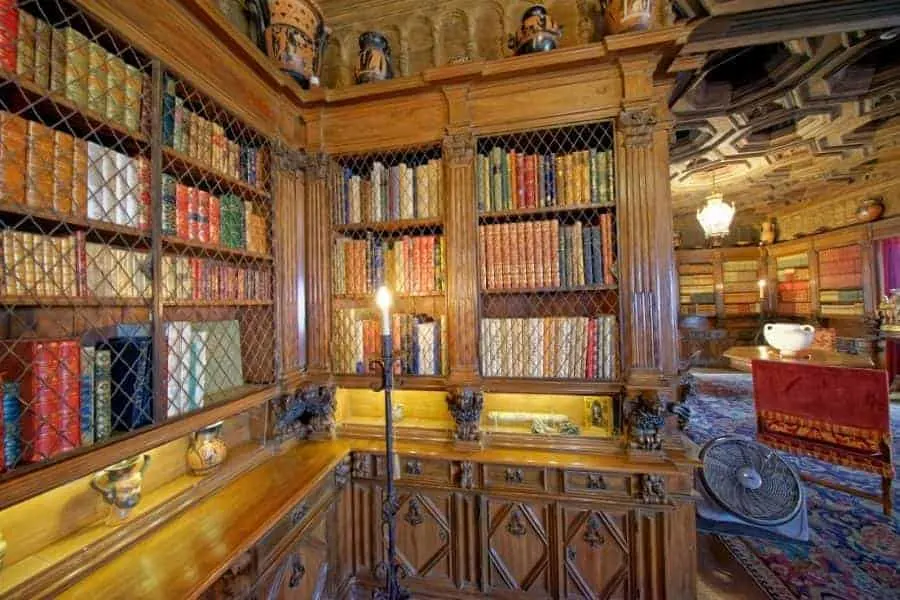 There is NO way that you will be able to see the entire castle in one visit.
Tickets are set up to see different parts of the estate and you probably will want to first do the Grand Rooms Tour.
If you choose to do other tours, make sure that you book them back to back.
All tours will allow you to see such things as the Neptune Pool & Gardens in addition to the home itself and if you would like to spend more than the allotted time perusing the pool & garden, you may do so after your guided tour.
Prices start at $30 for adults if you purchase your tickets online
Bring water (food & other outside beverages are not permitted).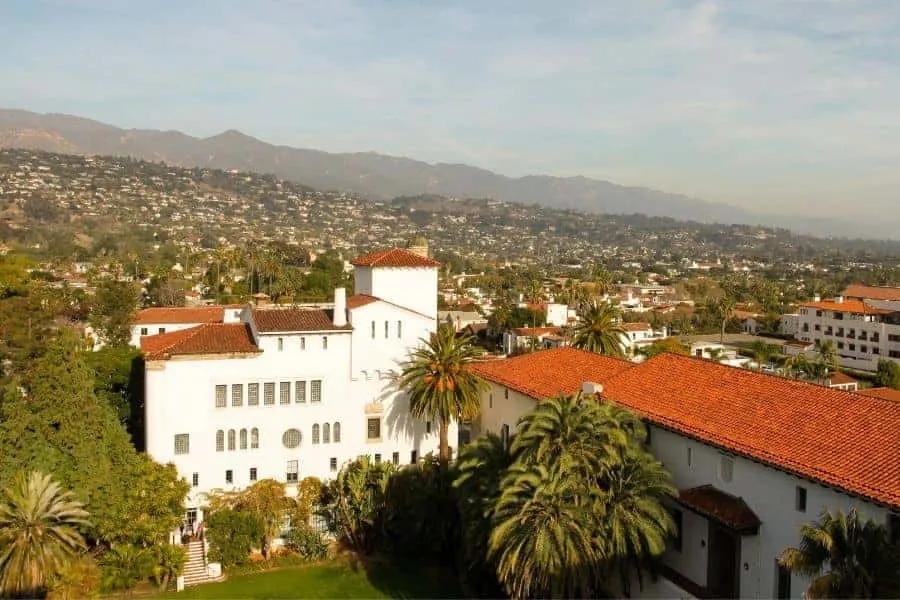 9. Santa Barbara
In 1925, when a major earthquake destroyed the city, it was rebuilt in Spanish Colonial Revival style.
If you would like to take in this architecture during your trip to Santa Barbara, be sure to do the Red Tile walking tour.
The tour spans about 12 blocks and will let you see many of the historical landmarks.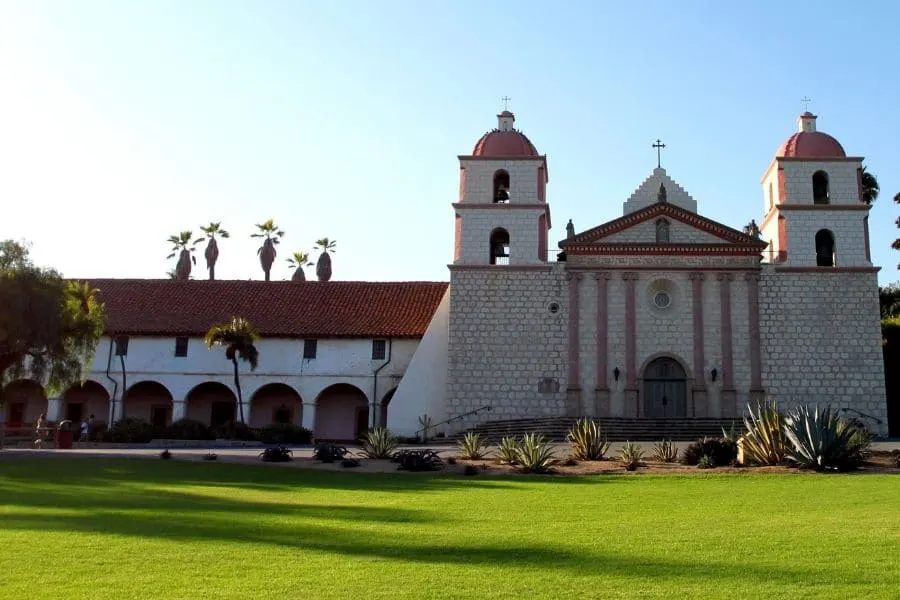 Franciscan Mission Santa Barbara
While in Santa Barbara, take time to visit the Franciscan Mission Santa Barbara.
Founded in 1786, the original building was rebuilt after collapsing in 1812. On the tour, you will get to see the working parish church, and colonial-era art & sculptures.
Outside the church, you will want to walk through the La Huerta Historical Garden and the cemetery where many early Spaniards and Chumash Indians are buried.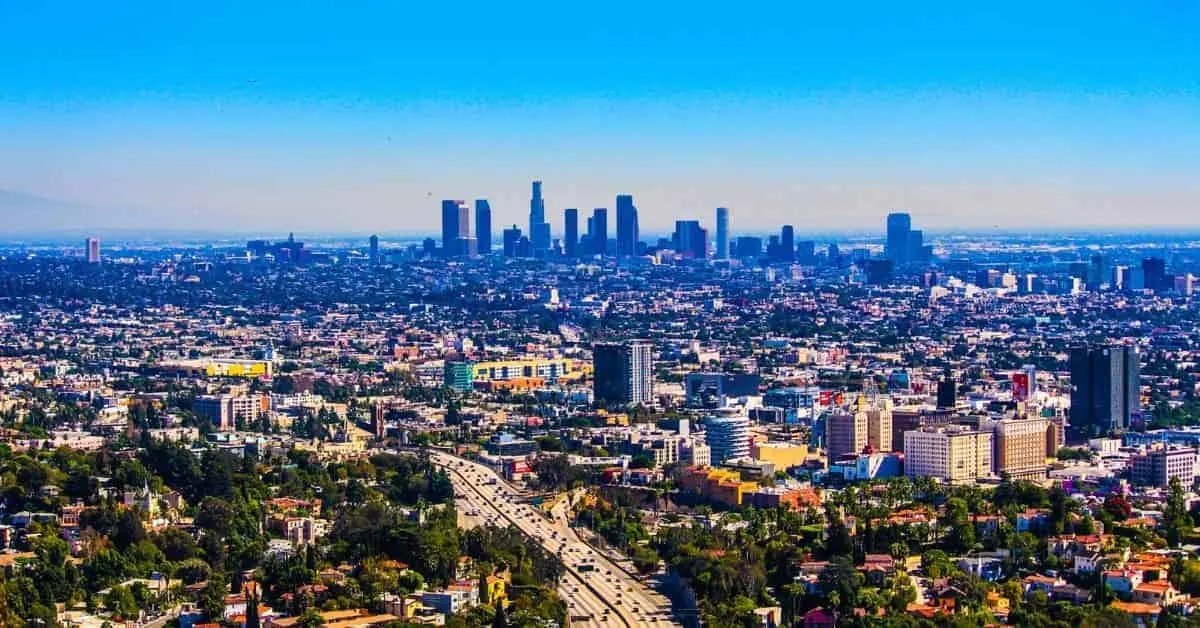 10. Los Angeles
When you are planning your drive along the PCH, your last stop will be Los Angeles. This town is worth a lengthy stay in order for you to experience all it has to offer.
But if all you have is a few days to experience Los Angeles, you will want to make sure you hit the best spots. Check out our 2 days in Los Angeles itinerary for some ideas!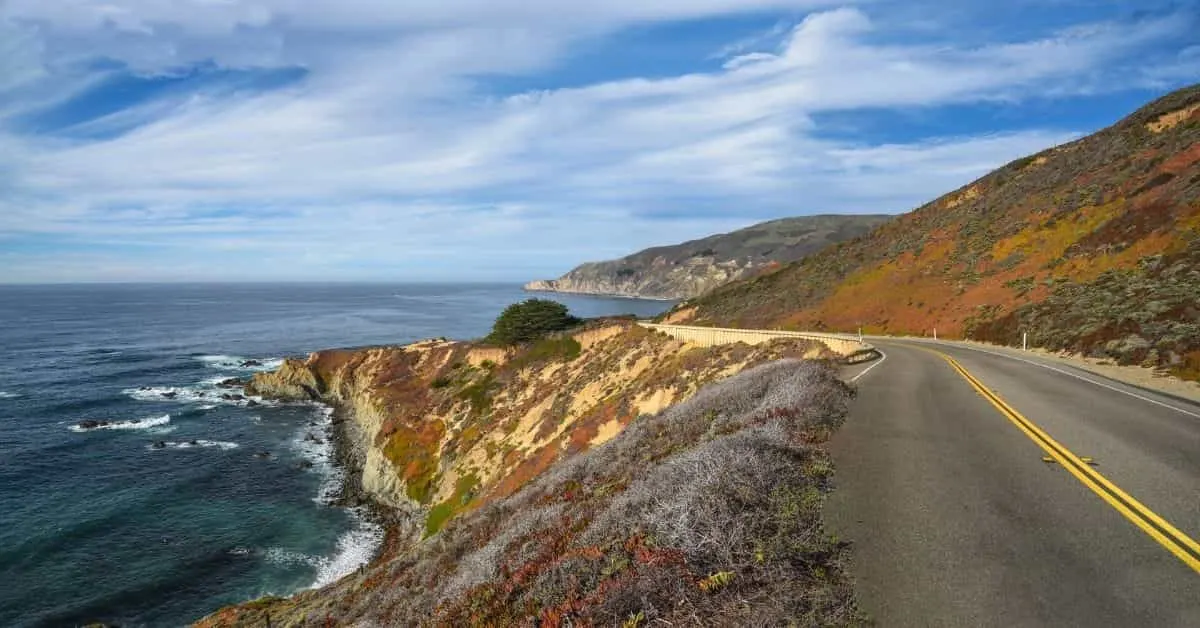 A drive along the Pacific Coast Highway is something everyone should do at least once in their lifetime if given the chance. You will see a side of the country that is beautiful and unlike any other. We hope this list of Pacific Coast highway stops gives you some ideas on where to visit during your trip!
Have you driven the PCH? Which stop is your favorite?