(We may earn a commission via affiliate links in this post. Read our full disclosure policy.)
Changing of the Guard ceremony is one of the most iconic and famous attractions in London. You'll be glad to know that you can see the changing of the guard in London at a few different places, each giving your a unique perspective.
Wondering what to expect and how to best prepare? We have all the information you need on choosing the best viewing location for Changing of the Guard in London along with some tips to make your experience one you will cherish for a lifetime!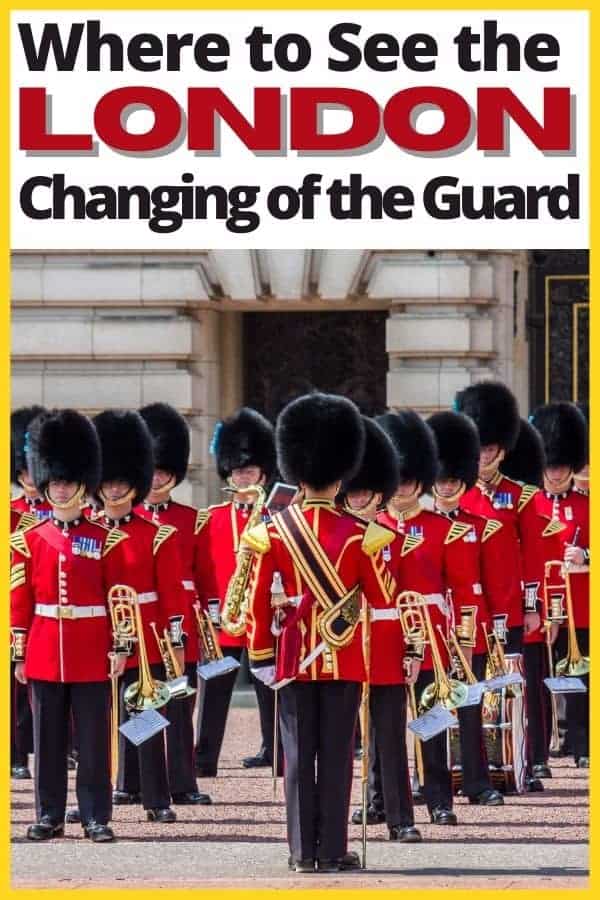 History of Changing of the Guard in London
The actual Changing of the Guard is when a group of soldiers currently protecting Buckingham Palace are replaced by a new group of soldiers. This formal ceremony dates back to the 17th century.
The ceremony began in 1660, after the restoration of King Charles II to the throne. The General at the time decided to honor his king with a parade of soldiers.
The tradition continued for over 3 centuries for numerous Kings and Queens.
In 1960, it was abolished by General Denton who believed it to be unnecessary pomp & circumstance and then was reinstated by his successor Lord Wilson.
It continues the same tradition today as it did centuries ago, with Guards wearing traditional red tunics and black, bearskin hats.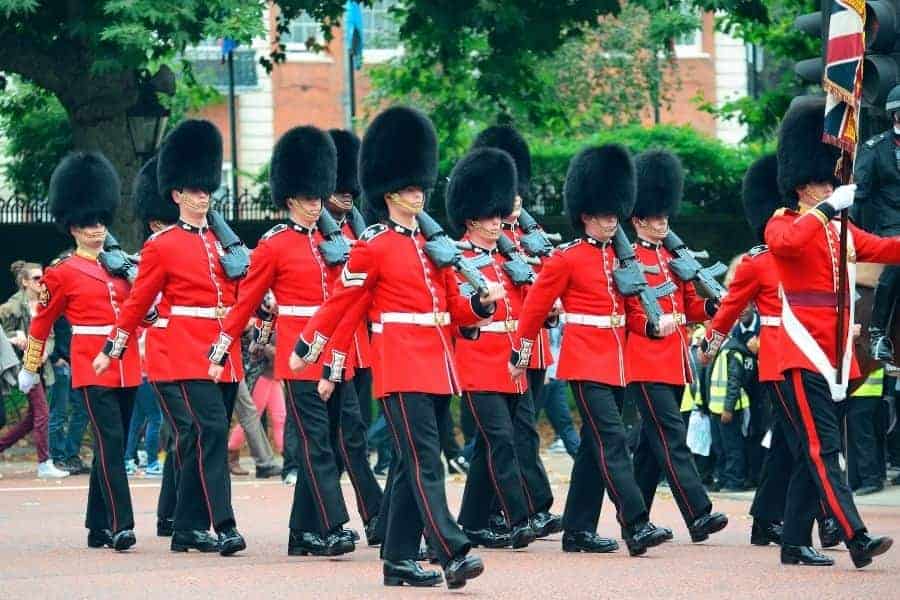 Where to see Changing of the Guard
There are three locations where the public can witness the ceremony for free in London: Buckingham Palace, St James's Palace and Wellington Barracks.
You can also see it at Windsor Castle but you would have to have a ticket to see it fully.
Currently, you can see the ceremony from August to May on Mondays, Wednesdays, Fridays and Sundays & in the summer months of June and July, daily.
When planning your trip to see the Changing of the Guard, you are going to want to pay close attention to the schedule.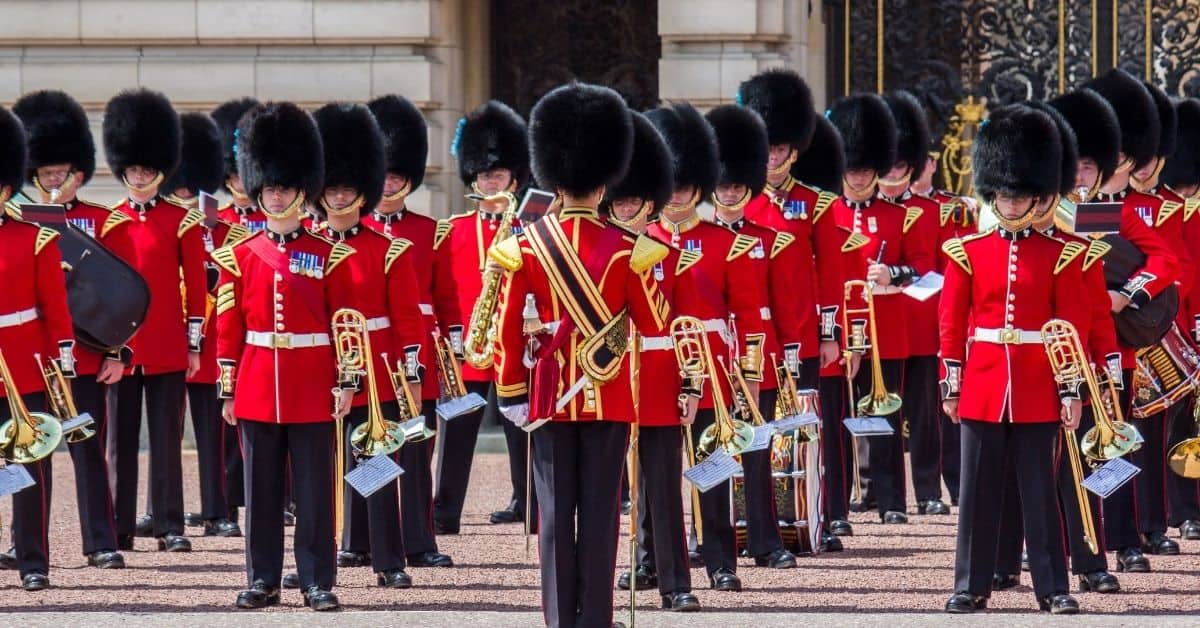 Changing of the Guard Ceremony Schedule
10:43 Old Guard leaves St James's Palace
10:57 New Guard leaves Wellington Barrack
11:00 Official Start Time
11:10 St James's Palace relief leaves Buckingham Palace
11:25 Relieved sentries leave St James's Palace
11:40 Old Guard leaves Buckingham Palace
11:45 St James's Palace Guard leaves Buckingham Palace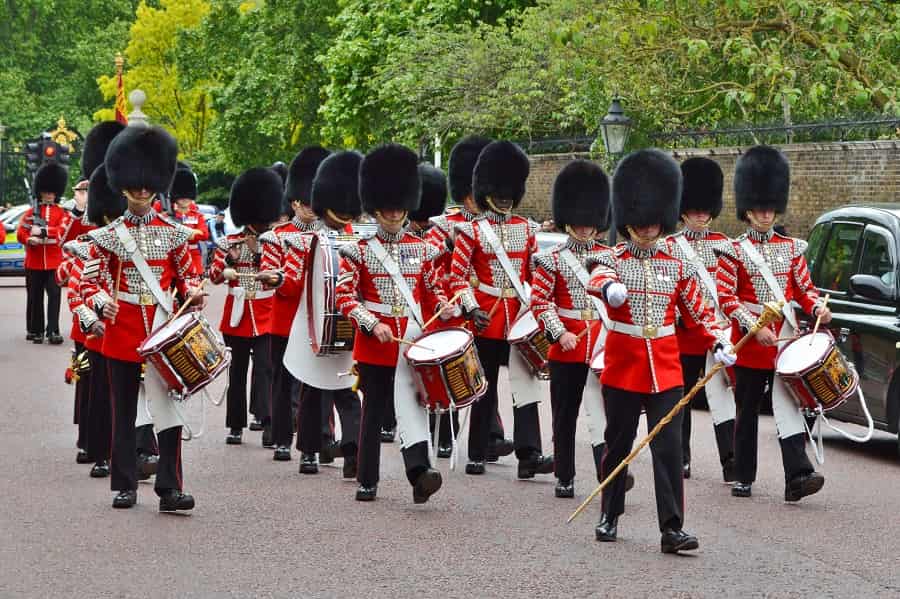 Best Places to See Changing of the Guard in London
One of my personal favorite places to see the Changing of the Guard in London is St. James's Palace. It is more intimate and one of the best views!
The Mall, between Marlborough Road and Buckingham Palace, will allow you to see the Guards marching past without much obstruction, but you won't actually get to see the changing ceremony.
At Wellington Barracks, you will see the New Guard forming up and being inspected. You will also get to experience the Regimental Band as they head out for Buckingham Palace.
The steps of the Victoria Memorial allows you to see the Guards and Band along with the ability to view the ceremony on the forecourt because of the higher perspective.
Buckingham Palace railings is the most popular place to view the changing of the guard, but also the most crowded. If you want to get the best spot, you will need to arrive nearly an hour and a half before it begins!
While you can just show up on your own for any of the Changing of the Guard locaitons, you might be interested in a small group tour. Small group tours allow you access to a tour guide who can explain the history as well as point out the details you might otherwise overlook.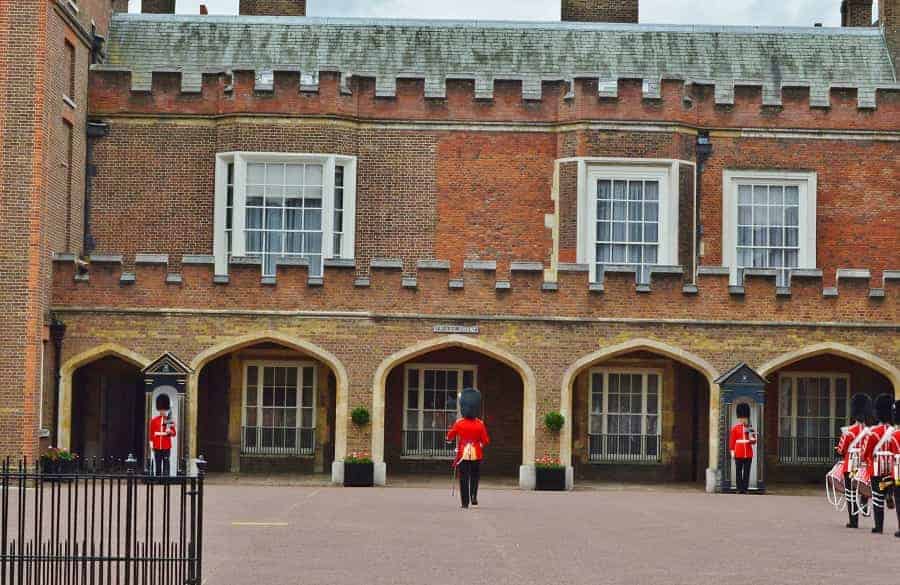 Tips for watching Changing of the Guard
Get to the Changing of the Guard location early! This is not something you can just show up to a few minutes before. People line up sometimes more than an hour in advance to get the best view.
Wear a hat & sunscreen. While it isn't always sunny in London, if you find yourself there on a sunny day, you are going to want some reprieve from the sun.
Keep an eye on your valuables. Pickpockets love a crowd. It provides plenty of distractions! Make sure that if you are carrying a purse or bag, that you place it in front of your body instead of behind you or to your side.
Consider doing a tour that includes the Changing of the Guard experience. These tours are inexpensive and give you great information about the ceremony and what to pay special attention to when viewing.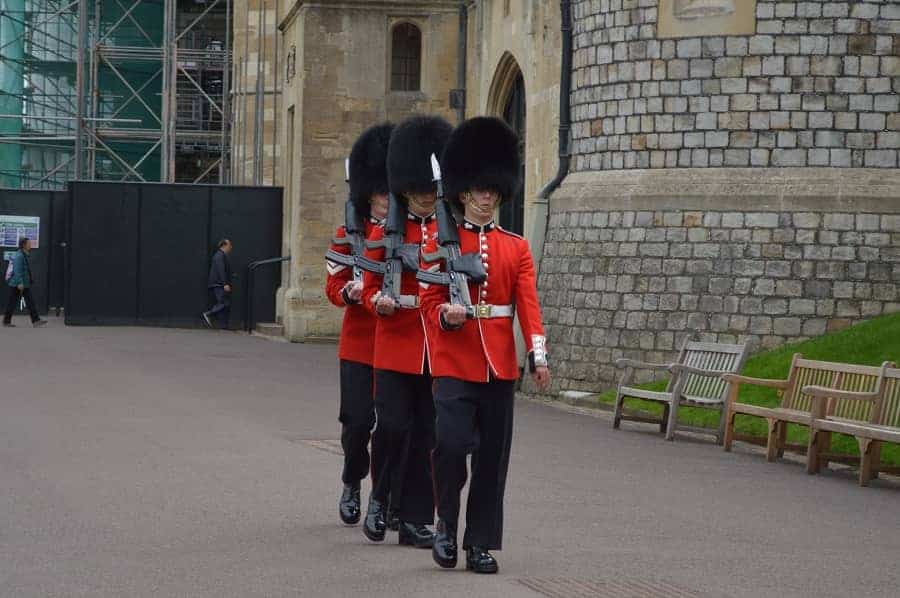 If you're visiting London, make sure not to miss out on one of the most iconic ceremonies in British history! While it takes up much of your morning in London, it is worth seeing to experience something that is so steeped in tradition.