There are so many things to do in Florence, Italy, that you could spend a week there and not experience everything.  But we understand that not everyone has that much time to spend in one place.
What happens when all you have is one day in Florence?
For those who are doing a tour of Italy or a Cruise when your time is limited, you should know that you will be able to see some of the best parts of Florence in one day.
This amazing city is packed full of beautiful sculptures, ancient architecture, Renaissance art masterpieces and some of the best food in the world.  The key to getting the most out of a day trip to Florence is planning and preparation.


This means researching things to do in Florence, buying tickets in advance when you can, and making a site-seeing plan so that you aren't wasting time walking back and forth from one end of town to the other.
When we went to Florence for the day, we had some specific places we wanted to see and put a plan together that would allow us to spend the bulk of our time in our main attractions while also being able to experience some other places that were off the beaten path.
Itinerary for Florence in One Day
Piazza del Duomo: Duomo, Baptistery of San Giovanni, Giotto's Bell Tower

Orsanmichele

Lunch at Casa del Vin Santo

Statues in Piazza della Signoria

Uffizi Gallery

The Ponte Vecchio

Basilica di Santa Croce

Gelato at Vivoli

Piazza del Repubblica
Seems like a lot for a day trip to Florence, right?  While we weren't able to actually go into every structure (we had to prioritize the most important ones for times sake), we did feel like we got to experience the best parts of this beautiful city!
Two of the attractions on our TOP things to do in Florence list were The Baptistry and the Uffizi Museum.  Since we knew these were two things we HAD to make time for, we purchased "skip the line" tickets in advance.
Our ticket for the Duomo included the Cathedral, Baptistry, Cupola, Bell Tower & Santa Reparata and was good for 24 hours.
The skip the line ticket for the Uffizi Gallery was good for a selected window of time, so you will have to know an exact time you can be available to enter in advance of your trip.
If you fail to get tickets in advance, you will spend hour(s) in ticket lines. If you are on a day trip to Florence, the last thing you want to do is waste time standing in lines!
Things to do in Florence in One Day
Piazza del Duomo
We began our day trip to Florence in the Piazza del Duomo. The centerpiece of Florence is the Renaissance dome designed by Filippo Brunelleschi.
The cathedral is named for Santa Maria del Fiore and was built upon on the site of a 7th century church (Santa Reparata).
You may choose to tour the cathedral or climb the cupola.  While beautiful, we only had time to visit one church and we believe that the Baptistery to be a better option.  Plus, the line was ridiculously long (there is no ticket~ it is free entry and first come, first served).
Giotto's Bell Tower (Campanile)
Adjacent to the Duomo is Giotto's Bell Tower (Campanile). If you have the chance to climb either the cupola or the bell tower, choose the bell tower. You will have the best view of Florence! There is a ticket office inside, or if you have purchased the "Il Grande Museo del Duomo" Pass, you can bypass the ticket line completely.
Baptistery of San Giovanni
Directly across from the cathedral is the Baptistery of San Giovanni.  The Baptistery is dedicated to Florence's patron saint, John.  Prior to 2016, there had been beautiful Bronze doors (circa 1330) depicting scenes from St. John's life and scenes from the Old Testament. These doors have been removed & replaced with replicas. The original doors can now be found at Museum Opera del Duomo.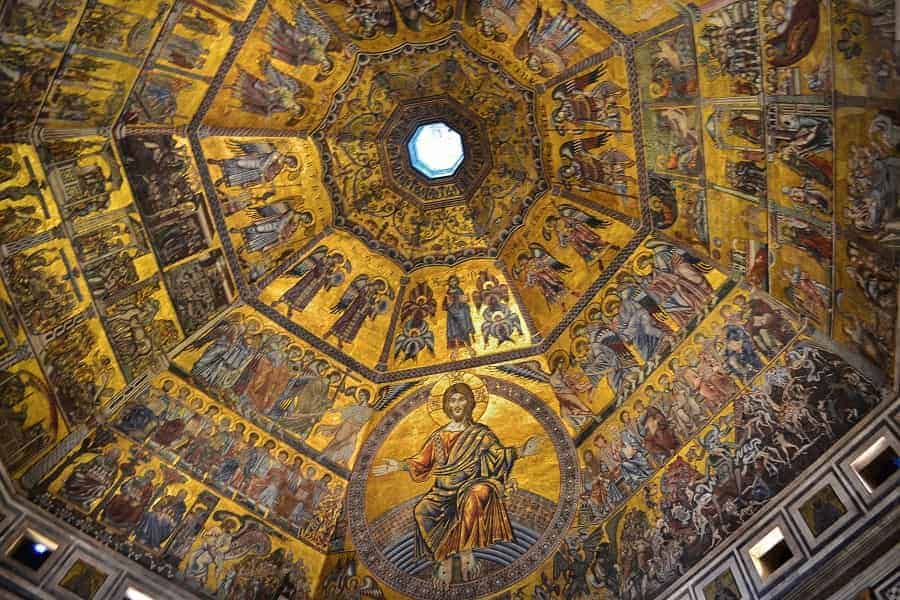 The interior of the Baptistery is stunning. You will notice the shape of the building is an octagonal and features a cupola in the same shape.  The cupola is adorned with mosaic marble design and oriental zodiac symbols.
Church and Museum of Orsanmichele
A short 3 minute walk from Piazza del Duomo toward the Uffizi is the Church and Museum of Orsanmichele. While we did not go inside, there is plenty to see on the outside.
The church facade is laced with niches that features patron saints (14th century). What you will see is replicas. The real statues are inside the actual Museum of Orsanmichele. Nevertheless, it is worth walking by on your way to the Uffizi.
Where we at in Florence: Casa del Vin Santo
Our day trip to Florence began when most things open to the public (10am) so after our time in Piazza del Duomo, we headed to grab lunch. If you head toward Uffizi, you will find plenty of dining options in quaint bistros.
We dined at Casa del Vin Santo which was only about a 5 minute walk from the Duomo.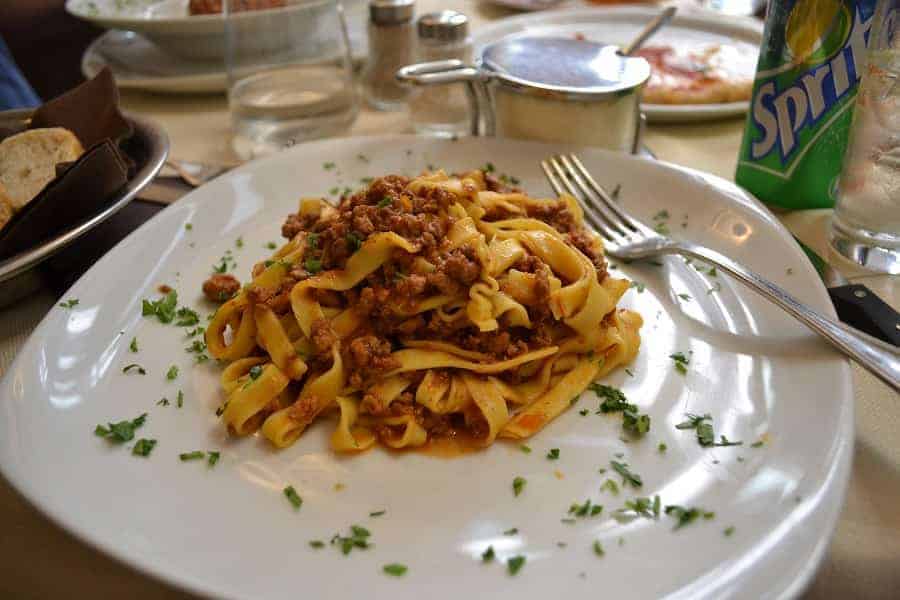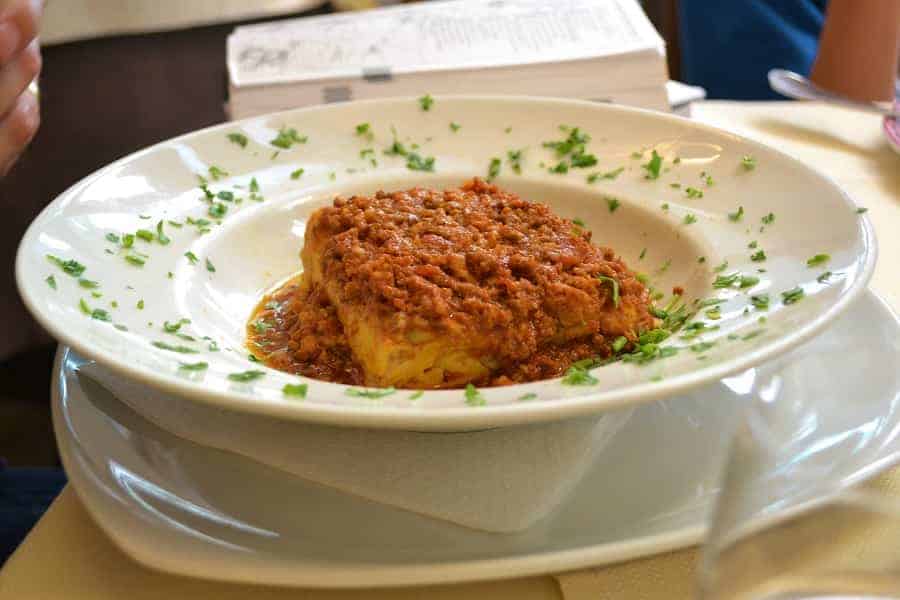 The food was amazing and the space was quiet and air-conditioned. I had pasta, my husband has lasagne and the kids split a pizza. You can book a reservation in advance, but we just showed up and were seated immediately.
Wondering what else you should eat while in Florence? Florence is known for much more than just pasta!
Piazza della Signoria
After lunch we hit Piazza della Signoria. This plaza is filled with political art that was placed there with a purpose. It was in this space that the Dominican friar Savonarola campaigned against "artistic and social excesses" of the Renaissance that resulted in the destruction of items of vanity (like mirrors, cosmetics, fancy clothing, and musical instruments) with a bonfire. Later condemned as a heretic, he was burned at the stake here in 1498.
You will find a replica of The David (the original is in the Galleria dell'Accademia) by Michelangelo. It was placed outside the Palazzo Vecchio as a symbol of the Republic's defiance of the tyrannical Medici.
Fountain of Neptune shows Neptune, whose face resembles that of Cosimo I de' Medici, and was meant to be an allusion to the dominion of the Florentines over the sea.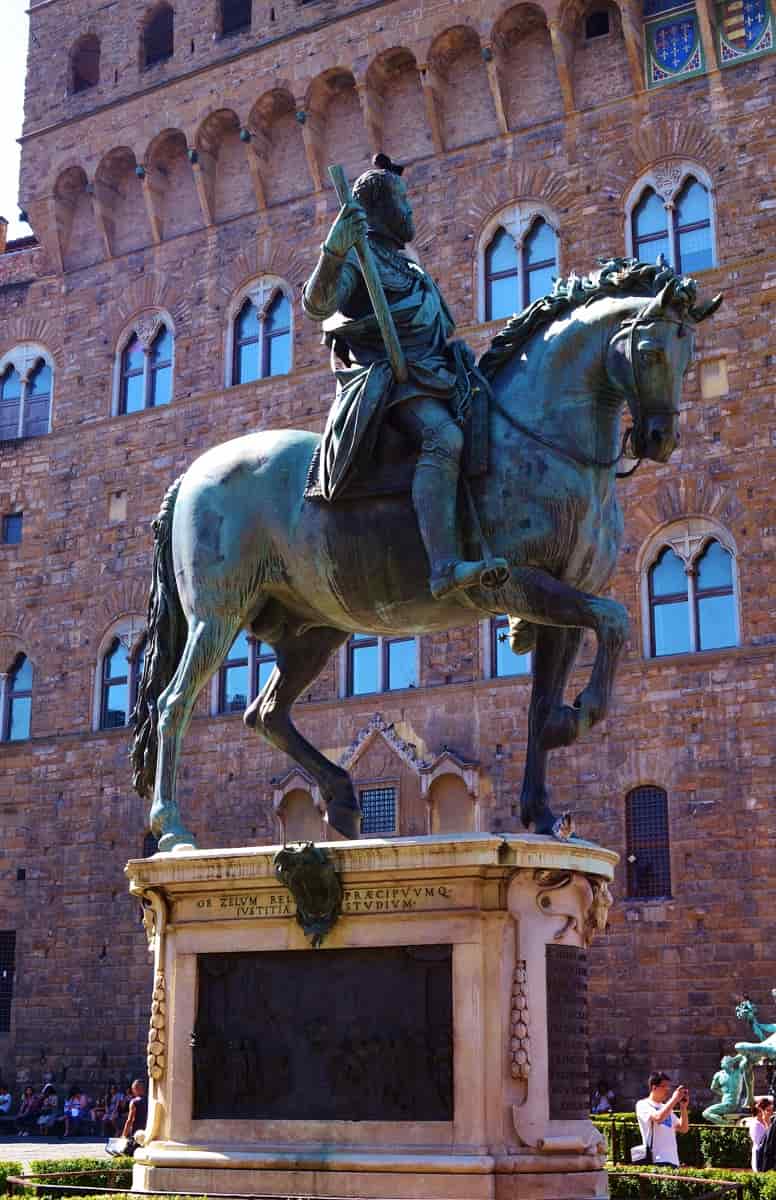 You will also find an Equestrian Statue of Cosimo I. He was responsible for the creation of the Uffizi.
The Uffizi
The Uffizi is just outside of Piazza della Signoria. This museum holds treasures of the Medici.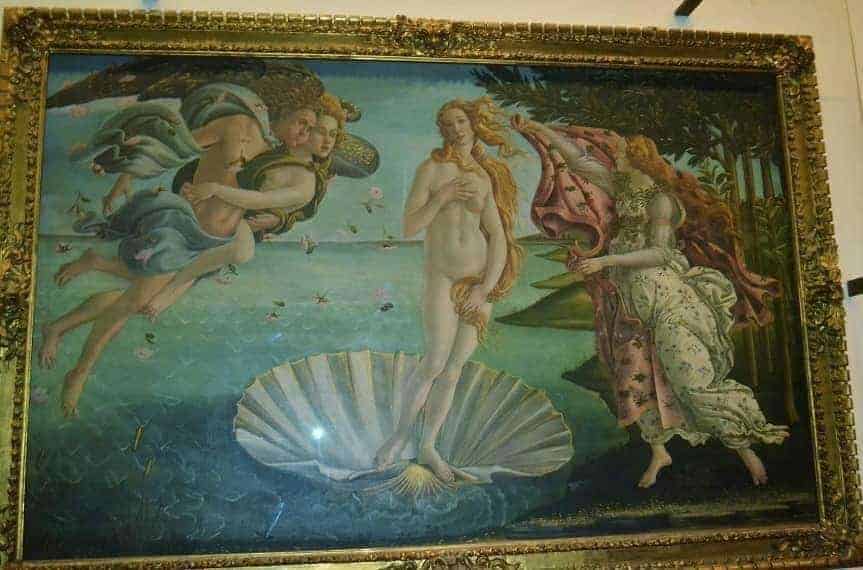 Give yourself hours to explore this wonderful museum. You will find works by Botticelli, Michelangelo, Raphael, Rembrandt, Leonardo da Vinci and more.
You will also have wonderful view of  the Ponte Vecchio over the Arno river and of the Duomo.
TIP: The first Sunday of each month is a FREE ENTRANCE day.  This means that you will NOT be able to book tickets in advance.
The Basilica di Santa Croce
A 10 minute walk from Uffizi is another beautiful church.The Basilica di Santa Croce is the burial place for some popular historical figures like Michelangelo, Machiavelli, Galileo Galilei. There is also a memorial to the poet Dante (although not actually buried here).
Best Gelato in Florence
On the way back from the Basilica di Santa Croce, stop and get gelato at Vivoli. This is my favorite place to grab gelato in all of Florence! It is so popular amongst tourists that Disney World in Florida has a sister store, Vivoli Il Gelato, in Disney Springs.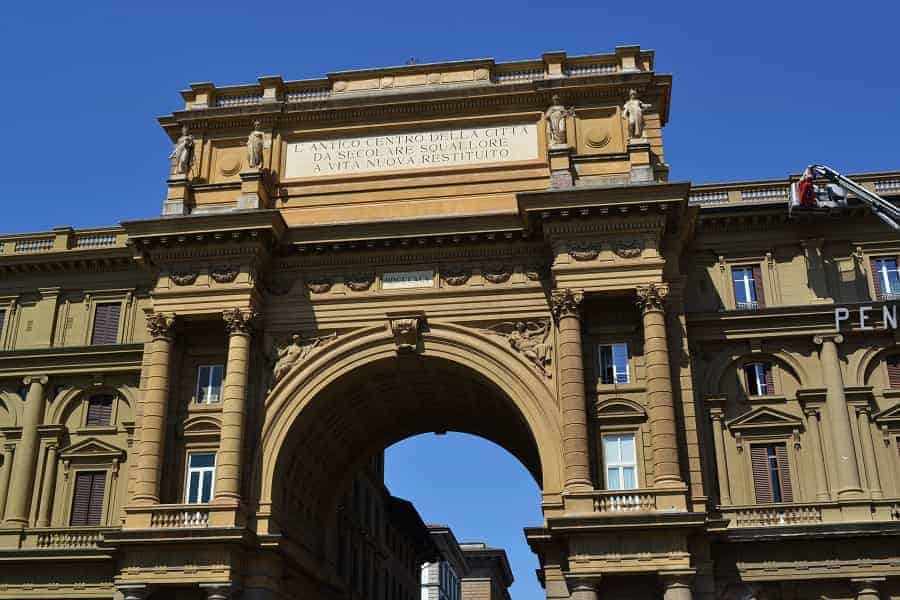 Piazza della Repubblica
Now that you have been re-energized with Gelato, you will be ready to head over to Piazza della Repubblica. This town square is where you will find stores, street artists and live music.
If you are looking to mail off a postcard from your trip, you will also a Post Office, located under the arches of the portico that extends to each side of the Arch of Triumph.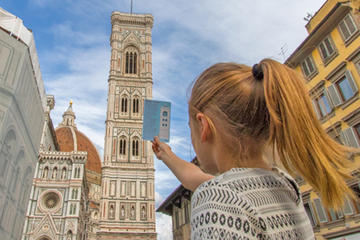 Florence Sightseeing Tour for Kids and Families with Local Guide
Are you traveling with kids? Be sure to read our post on traveling to Florence with Kids
---
Trying to see Florence in one day may seem hard to imagine. There is so many wonderful places to explore, that narrowing it down your list of things to do in Florence can be difficult. We hope that we were able to give you a glimpse at how much you can fit into a short stay in this amazing city.
Have you had a chance to go to Florence? What are some of your favorite things to do?