We may earn money or products from the companies mentioned in this post.
Glastonbury  is a small pilgrimage, new age town that lies in South West England, about a 3.5 hour drive from London.   It is most notable for the Glastonbury Festival which really isn't in Glastonbury, but about 8 miles outside of the central city.  However, it is definitely a haven for those attending the music fest because of its eclectic vibe. Even if you can't make it there for the festival, it is worth a day trip to Glastonbury just to experience all it has to offer.
What can you expect to see in Glastonbury? There are several points of interest, but there are three things you want to see there: King Arthur's resting place in Glastonbury Abbey, the amazing street art and the most important spiritual site in town, the Tor.
When you arrive in Glastonbury, you will find that everything you want to do is within walking distance. There is a car park right there so you don't have worry of finding on street parking. You will want to wear some good walking shoes because even though you'll be in a walking to things that aren't that far away, some of the terrain is hilly and grassy.
Three Things to See in Glastonbury England
1. Glastonbury Abbey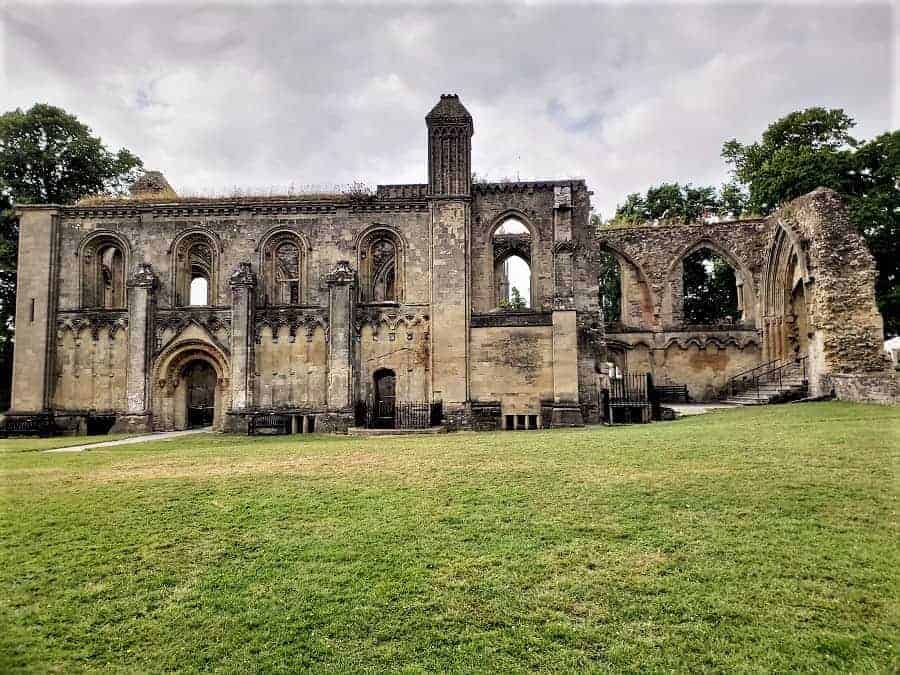 First thing you will want to see during your day trip to Glastonbury is Glastonbury Abbey. Glastonbury Abbey was established as a Benedictine monastery, under Beorhtwald, its first Saxon abbot around 670 AD. Throughout the next few centuries, the monastery was enlarged, destroyed by a fire, reconstructed and then finally destroyed totally when King Henry VIII dissolved all monasteries in the 16th century.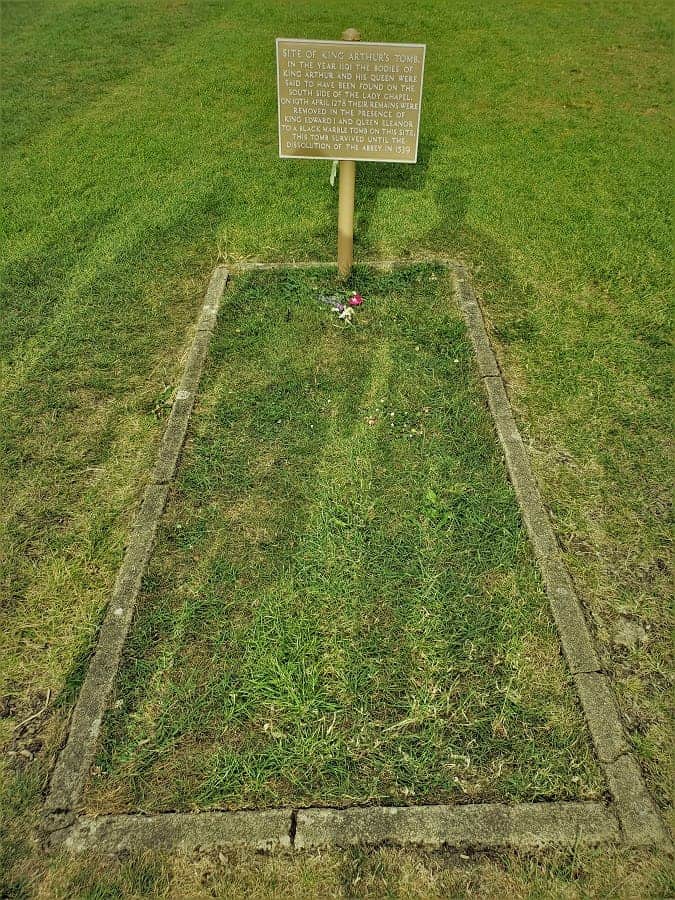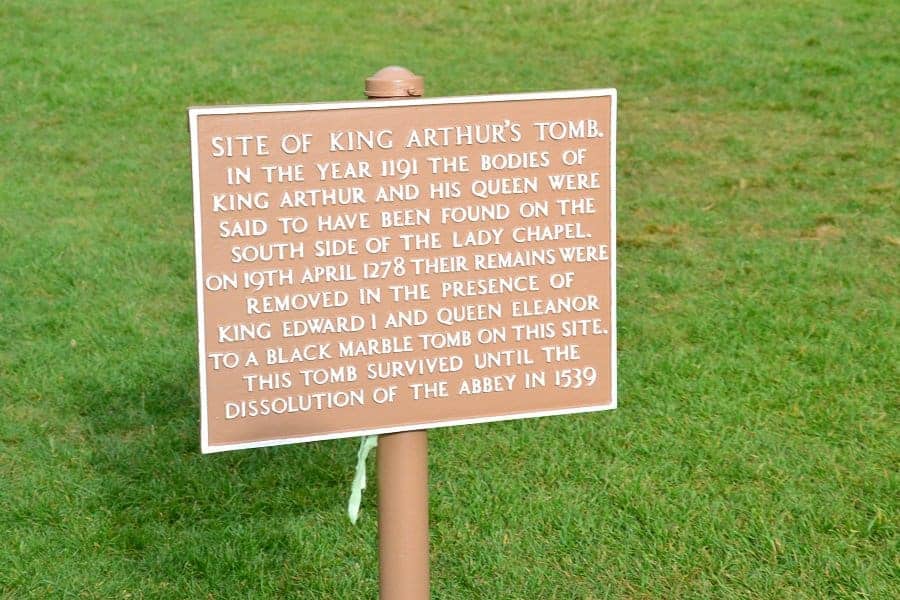 Legend has it that King Arthur and his wife Guinevere are buried on the grounds.  When monks heard this, they had the land excavated (12th century). Below the earth, they found some bones & hair.  At the time of King Edward I reign, he had the remains sealed in a black marble tomb. Unfortunately, when King Henry VIII dissolved all the monasteries, the tombs were removed.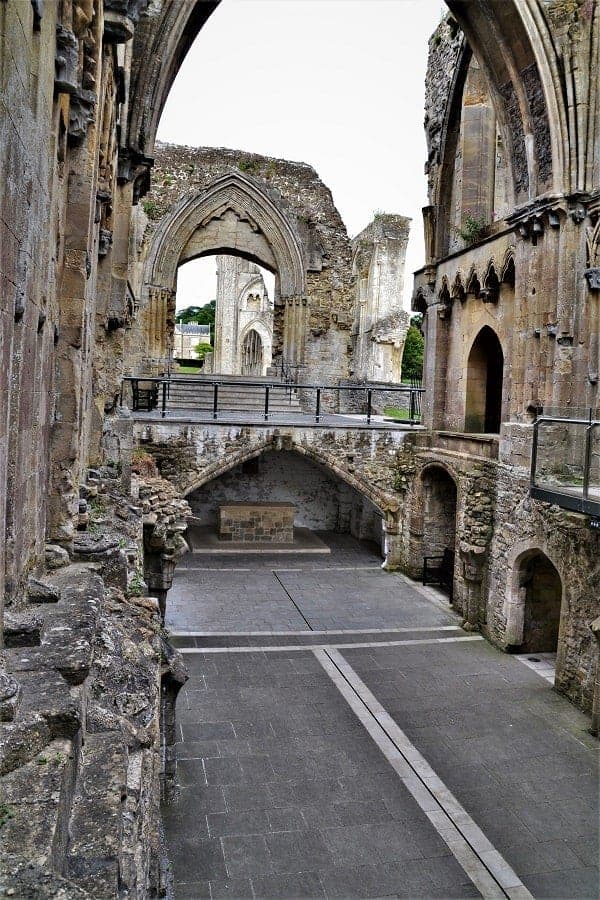 Evidence of the dissolution is found everywhere on this sacred site. All symbols and decoration that once filled the space have been removed and left standing are only part of what was once a very enormous and probably, amazingly beautiful abbey.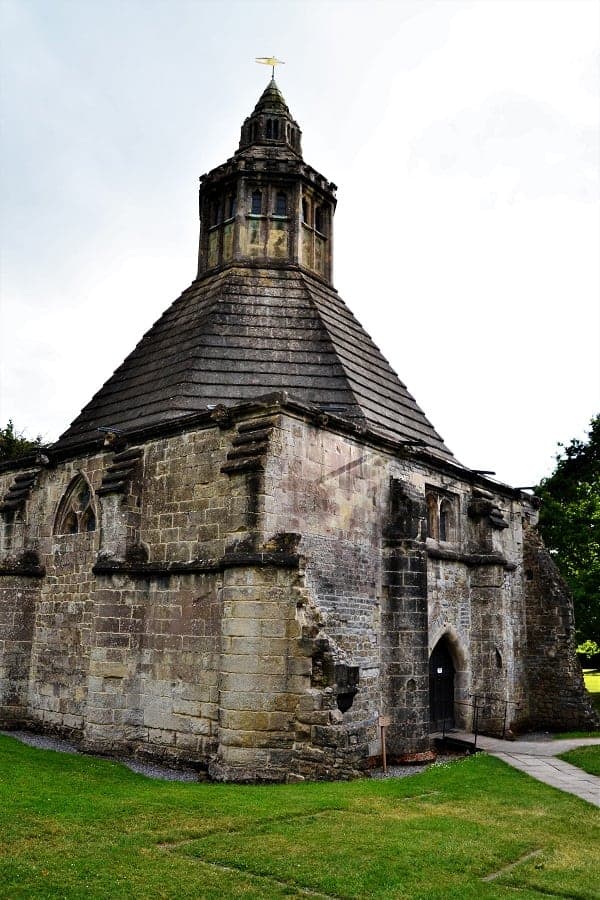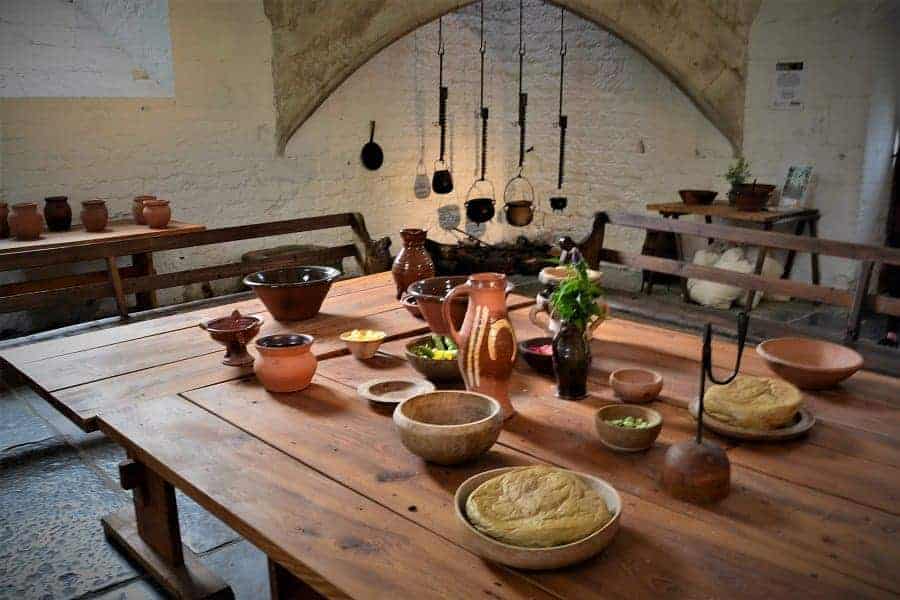 All that remains in tact on this site is one of only a handful of medieval kitchens from the 14th century. This eight-sided structure has been refurnished to show what it would have looked like when it was used, with four corner fireplaces. Each of these would have been used for a different purpose (roasting, boiling, baking and washing).
Just prior to the Dissolution of the Monasteries, three unique Middle-eastern thorn trees grew in Glastonbury on a nearby hill. The trees were considered to be sacred because of the story surrounding a connection to Joseph of Arimathea and the fact that they flower twice a year: once around Easter and then again at Christmas.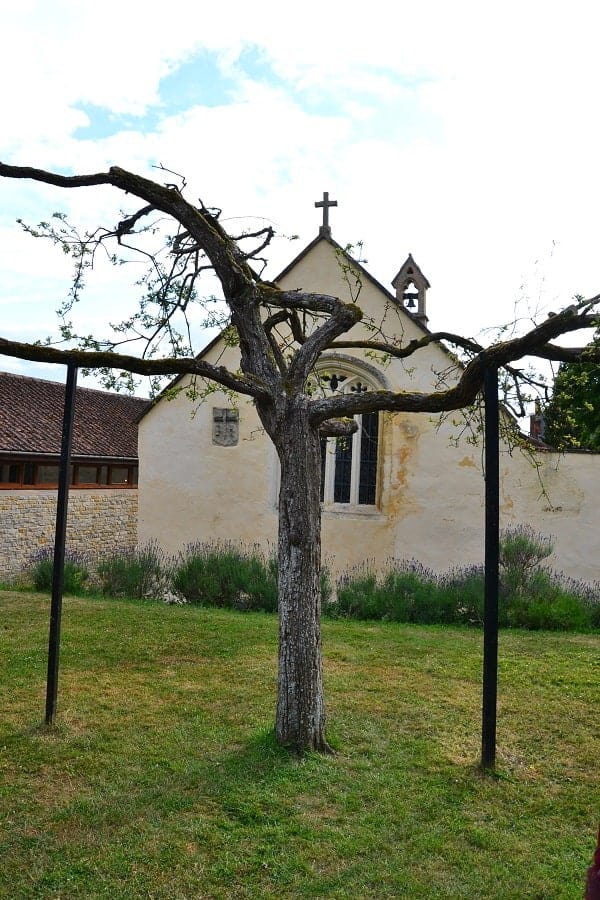 The original trees were destroyed in the 17th century (by Puritan soldiers who believed they were superstitous), but locals had taken cuttings prior to their removal and replanted in several other locations in town.  Two such trees can be found on the grounds of the Glastonbury Abbey.
2. Street Art in Glastonbury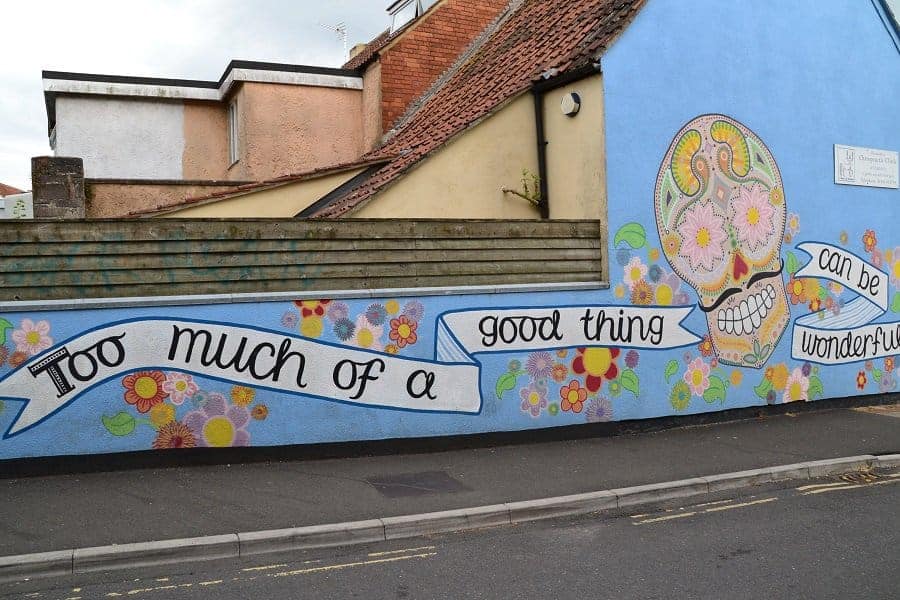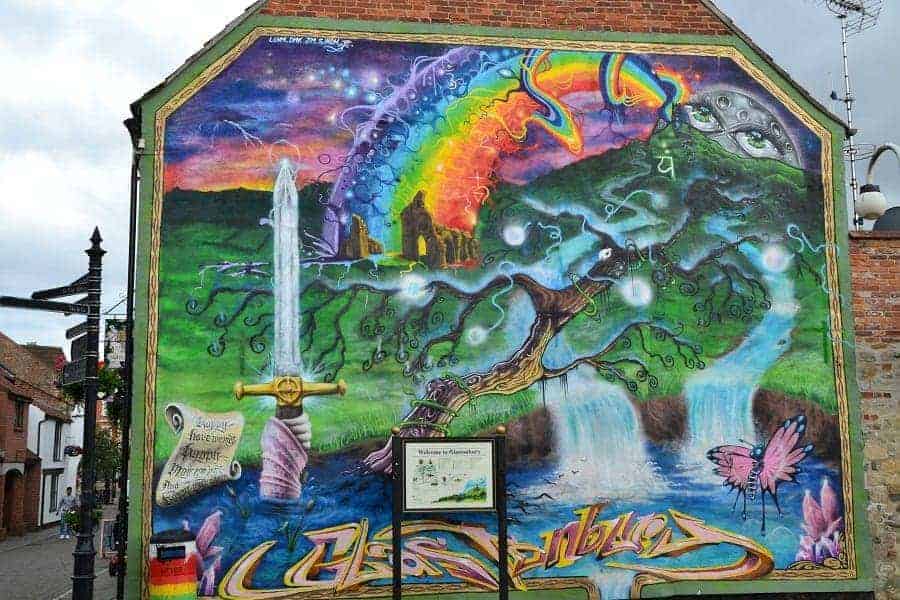 After checking out the Abbey, venture over to High Street and do some shopping. This won't be your typical shopping experience. During your day trip to Glastonbury, you will find a ton of new age shops featuring healing oils, crystals, magic and other mystical properties! Even if you don't want to go in the shops, the window shopping is just as fun with all the colorful stores and window displays! You'll also find some of the coolest street art in the UK.
3. Glastonbury Tor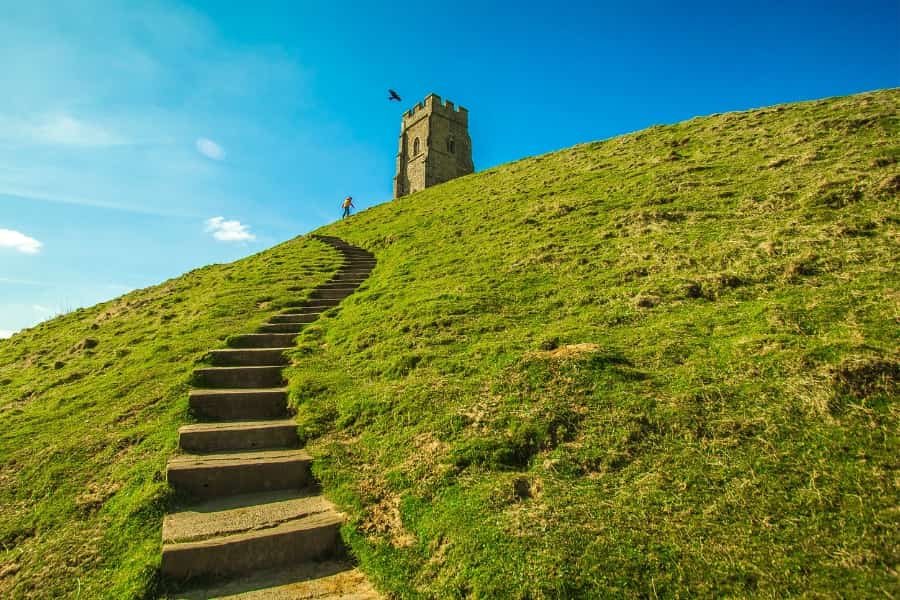 A day trip to Glastonbury isn't complete without taking the hike up to Glastonbury Tor.  Tor is known to be one of the most spiritual sites in England and has amazing 360 views. Its crazy to think that the conical shape of Glastonbury Tor is natural and the terracing footpath along the outer rim has been dated  to be about the same age as Stonehenge!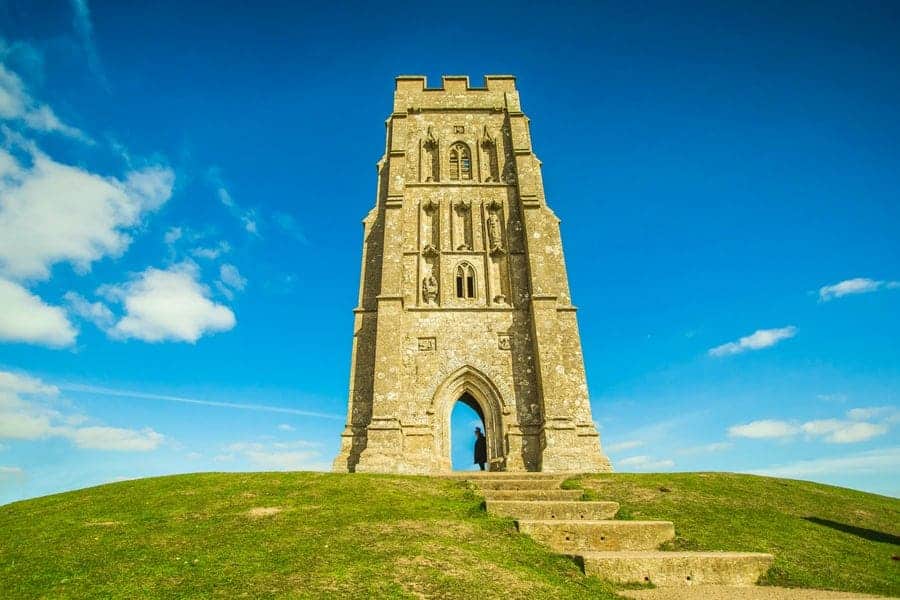 It is about a 15-20 minute hike to the top, but the energy once their is powerful and said to re-energize the soul! There you will find remnants of a church (circa 1323) that was destroyed same time as Glastonbury Abbey. Only the tower remains.
There are two footpaths to the hill, one from town (15 min walk) and one from the back that has disabled parking. There is also a hidden third access path up from Ashwell Lane, but it is a bit harder to manage. Along the walk up the stairs, you will find various wildlife (rabbits, sheep, etc) and benches to sit to rest as needed.
Glastonbury is worth a day trip to enjoy some of the really neat things that set this place apart from many others in England.
Getting from London to Glastonbury (Tour Options)
Coming from London, but not driving? A tour is really the only way to get here affordably. Consider this mini coach tour that takes you to Glastonbury and Cheddar (which is another pretty awesome place to see).
Looking for a uniquely spiritual way to see Glastonbury? Consider taking this semi-private tour.
Have you had a chance to experience Glastonbury? What were your favorite things to see?