If you are planning a trip to Edinburgh, one stop you will want to make is a day trip to Rosslyn Chapel.  It is a place of mystery and has long been thought by many as having connections with the Masons and the Knights Templar.
Part of this is due to its history, the other part is due to its intricate, detailed stone carvings.
If you get the chance to make a day trip to Rosslyn Chapel, do so with an open mind and you might be surprised at what you will find.
History of Rosslyn Chapel
In 1446, William St. Claire (1st Earl of Caithness) came to Roslin with the plan to create the Collegiate Chapel of St. Matthew.  The purpose of the college was to observe the recitation of certain Christian prayers at fixed hours and also to celebrate Mass for all the departed faithful souls (most importantly, those of the Sinclair family).
Forty years after the construction of the church began, William St. Clair died and the chapel never was fully completed.
By the time of the Scottish Reformation (1560) the Chapel was fully abandoned.  Over time, it was taken over by natural elements. Ceilings collapsed, green moss grew on the walls, and the entire building began to look run down.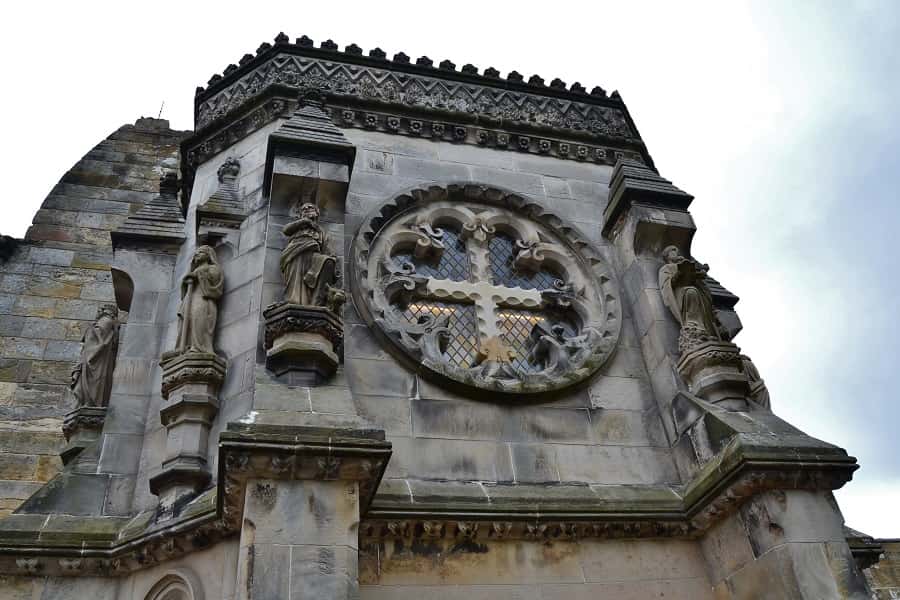 In 1842, the chapel was visited by Queen Victoria. Seeing its beauty beyond the obvious decay, she was determined that Rosslyn Chapel be brought back to life.
By 1862, the chapel was once again in service, but this time under the jurisdiction of the Scottish Episcopal Church.
All the while as years went on and details of the masonry emerged, speculation grew on its history. The unique intricate carvings and the stories of what lie beneath the chapel caused people to wonder if Rosslyn Chapel had connections to the Free Masons or Knights Templar.
If you are familiar with Masonic or Templar imagery, you might spot some markings that look like they could be tied to both.
This theory was brought even further into question with the popularity of Dan Brown's DaVinci Code and later the popular movie of the same name starring Tom Hanks.  If you haven't seen the movie, I suggest you watch it before you visit Rosslyn Chapel! Parts of it was filmed in Rosslyn Chapel!
Tom Hanks said after visiting Rossyln Chapel,
Few locations in film are so delightful and few destinations live up to their billing, but Rosslyn Chapel was all one could imagine or hope for.
Unique Features of Rosslyn Chapel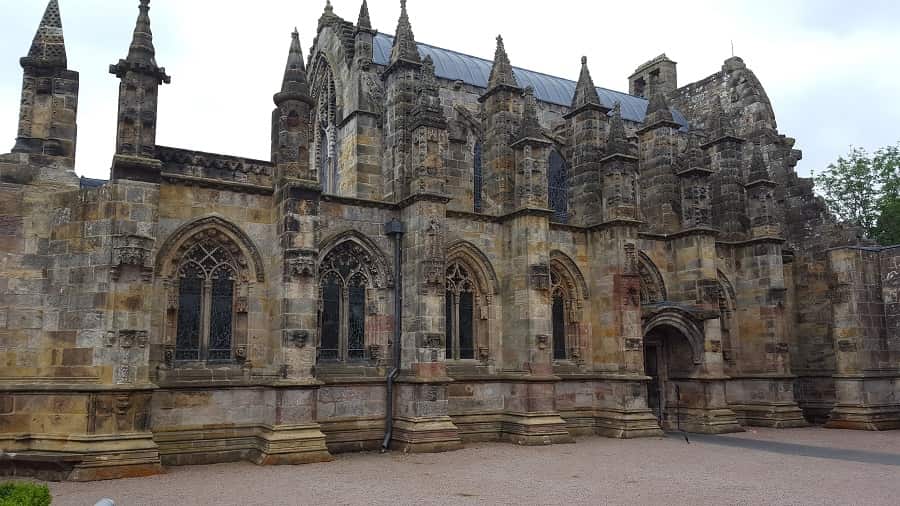 While the outside of Rosslyn Chapel is beautiful, the interior has many unique features you will want to take time to admire.  There are no photographs of these features as photography is frowned upon inside Rosslyn Chapel.
Rosslyn Chapel has 14 leviathan stone pillars which form twelve pointed arches.  The Apprentice Pillar is the most impressive and has a story to go along with it. It is said that it was done by an apprentice of the stonemason in charge of the chapel construction.  When the stonemason arrived back and saw the craftsmanship that undoubtedly overshadowed his own, he killed him with a mallet, right on the spot.
Many of the arches have what are known as music boxes. These appear to be a type of secret musical code that has just recently been deciphered.
There 110 "Green Men" who are found throughout the chapel. The men aren't actually green in color, but have greenery surrounding (and sometimes engulfing them). It is thought that they represent rebirth and fertility.
You will find unusual carvings of plants like aloe & maize. It is unusual because corn (a native American crop) was not yet discovered in the years during which the chapel was constructed.
The Great Rose Window.  At noon, on the day of the summer and winter solstice, light strikes the glass, showering the chapel with a rose-colored glow.
If you are planning a day trip to Rosslyn Chapel from Edinburgh,  be sure to get there early in the day.  You will want to arrive in time to be able to get the guided tour (more like a lecture) before you do your own exploring.
Wander around the chapel grounds to examine the exterior and then head over to Rosslyn Castle ( a 10 minute walk).  Your entire visit will probably be about 2 hours. When you are finished, you can browse the lovely gift store or grab a bite to eat at the onsite cafe.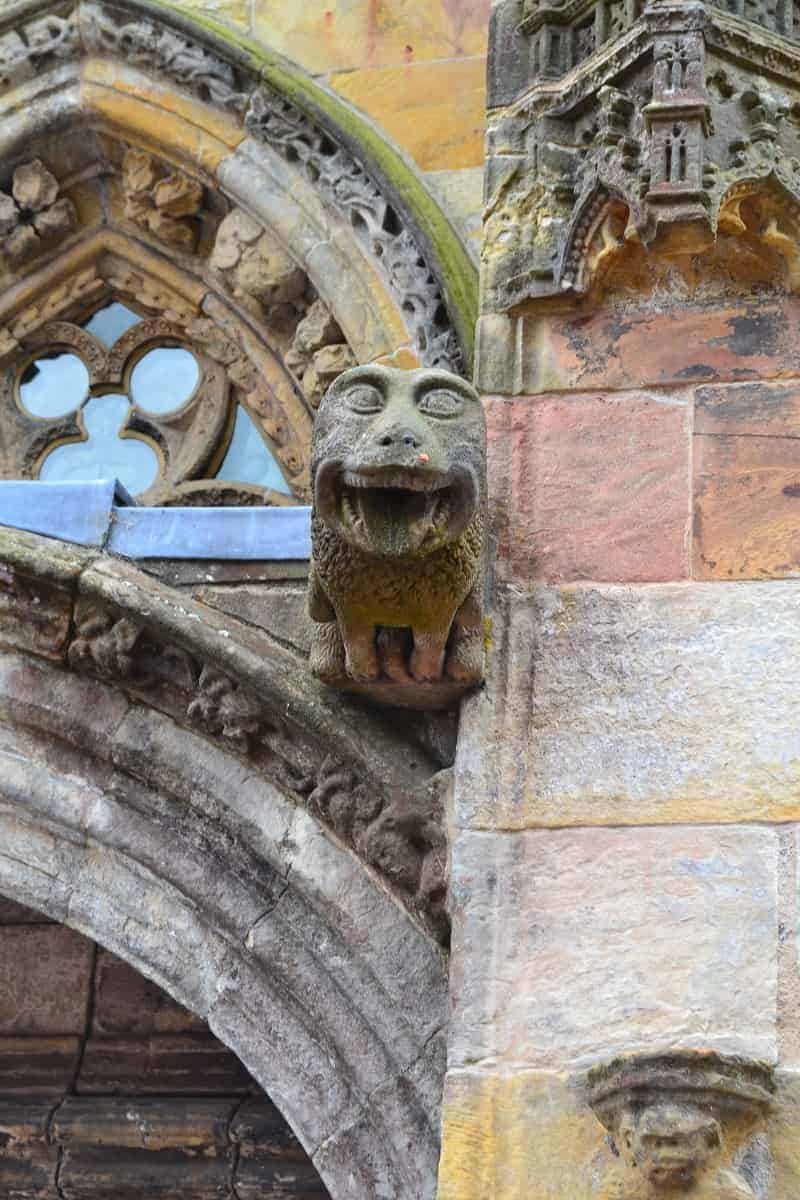 Admission to Rosslyn Chapel
Adults   £9.00
Children free as part of a family group
Guides provide talks throughout the day and are included in the admission price. These run at the following times:
Monday to Saturday:  10am, 11am, 12.15pm, 2pm, 3pm & 4pm
Sundays:  1pm, 2pm, 3pm
Keep in mind that Rosslyn is a working church. Services are held on Sunday mornings at 10.30am and Evening Services are held, between April and October, at 5.15pm. Everyone is welcome.
Short 10 minute prayer services are held throughout the year at 12 noon on Mondays, Wednesdays and Fridays in the Chapel.
How to get to Rosslyn Chapel from Edinburgh
The easiest way to get to Rosslyn Chapel from Edinburgh is by car or bus.
By car: Follow signs to the Newington or Liberton areas, then continue along the A701, towards Penicuik.  Look for the brown tourist signs as you approach the village.
By bus: From Edinburgh, look for a Lothian Service 37 and check that it says 'Penicuik/ Deanburn' at the front of the bus.  Take this bus to Rosslyn Hotel and walk a few minutes to the Chapel.  The trip takes about a little under an hour and is about £1.70 per person (be sure to have exact change).
Tour to Consider: Da Vinci Code and Scottish Borders Small Group Day Trip from Edinburgh
Have you taken a day trip to Rosslyn Chapel? What was your favorite part?