We may earn money or products from the companies mentioned in this post.
Barcelona seems to be a hub for a great deal of people either travelling to Europe by plane or those traveling on a Mediterranean Cruise. While there, you will be able to see some of the most beautiful art and architecture in the world.  Not going to be in Barcelona very long? Don't worry. We have compiled a list of places to visit in Barcelona when you are short on time.
Places to Visit in Barcelona
Sagrada Familia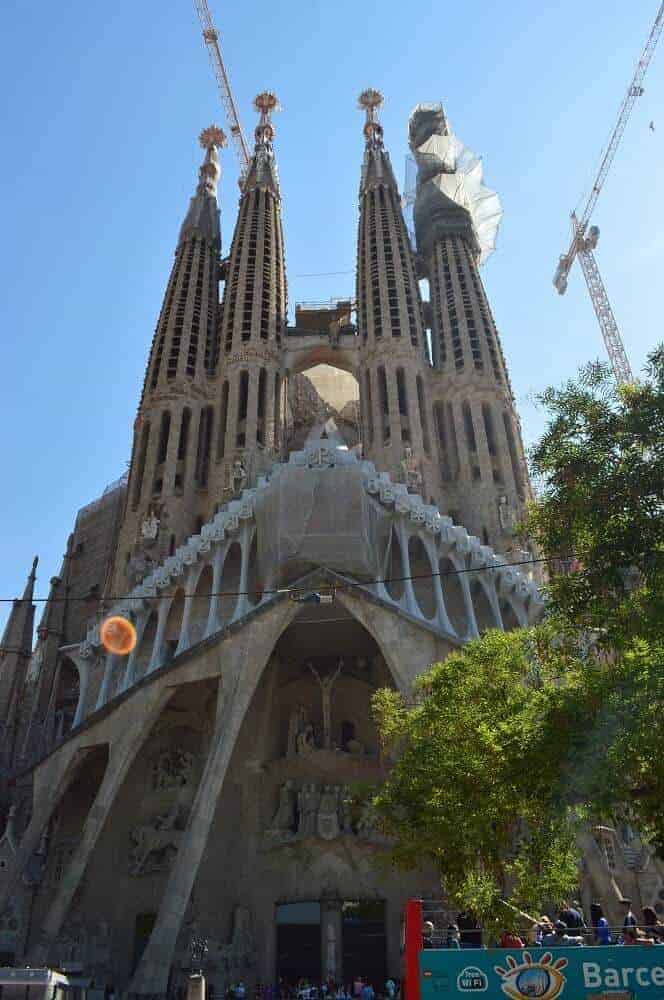 One of the most important places to visit in Barcelona is Sagrada Familia.  Designed by Antoni Gaudí, this Gothic basilica is one of the most beautiful cathedrals in all of the world.
Designed in the shape of a Latin cross, it has been a work in progress since 1882 and is still not complete. The Sagrada Familia is unlike anything you have probably ever seen and thus is my top pick of what to see in Barcelona.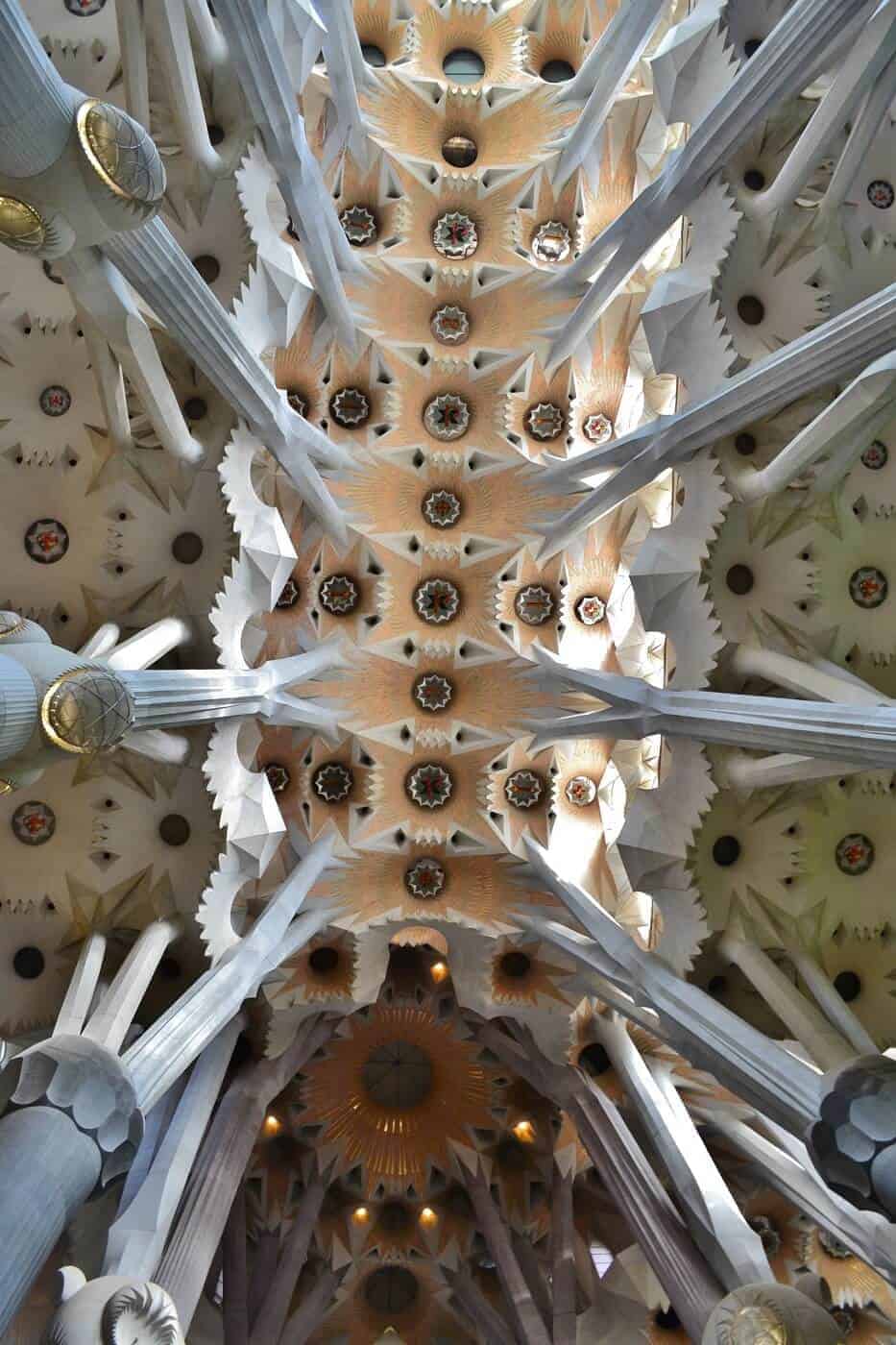 The interior of Sagrada Familia is awe-inspiring. Built to look like you are standing below a forest of trees, the vaulted ceiling and pillars are magnificent.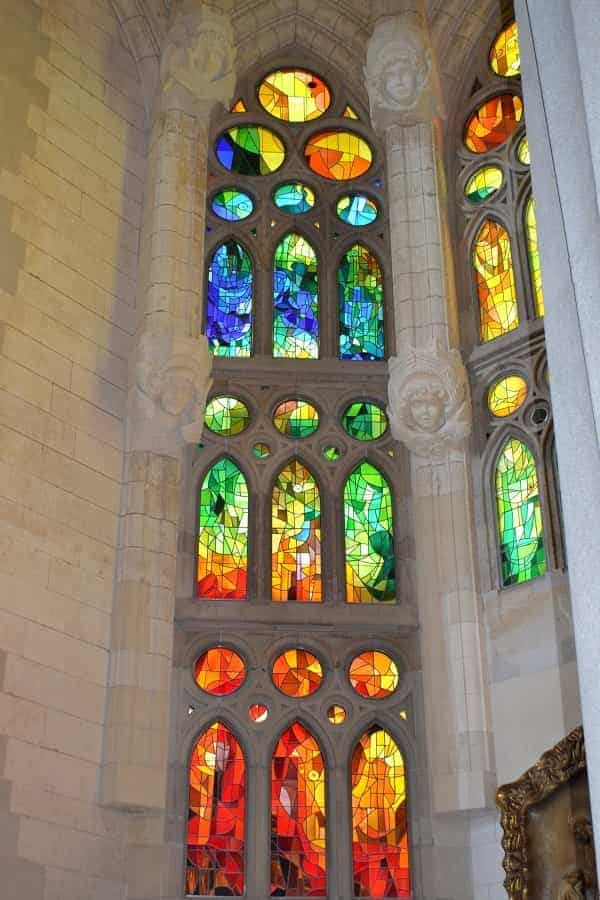 You can't help but be overwhelmed at the amount of stained glass. It casts colors throughout the basilica and providing so much natural light, that you hardly need any artificial light.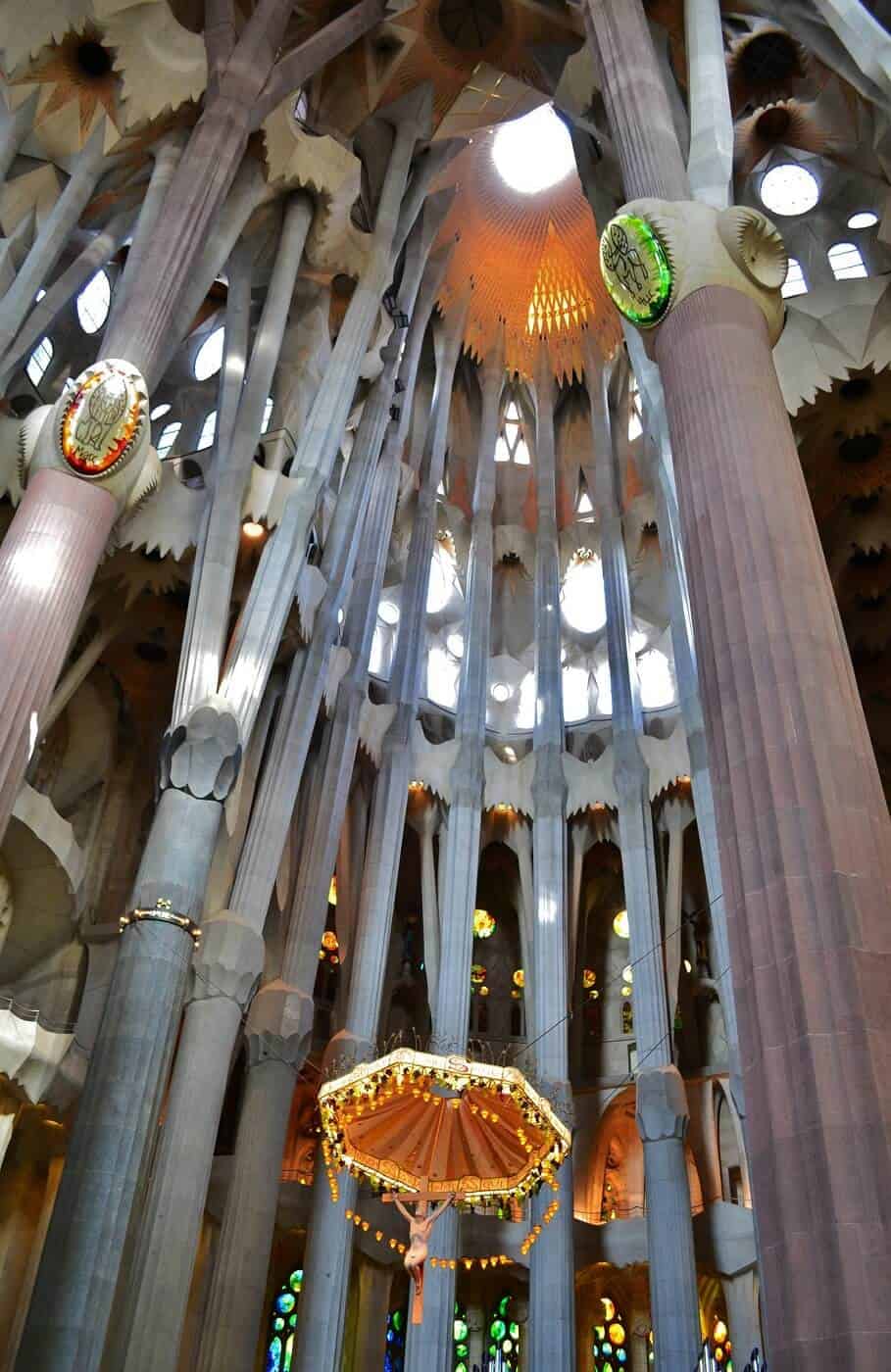 The focal point is the High Altar. The canopy of trees appears to converge into an opening at the top of the church through which it can be imagined that Jesus is ascending to heaven.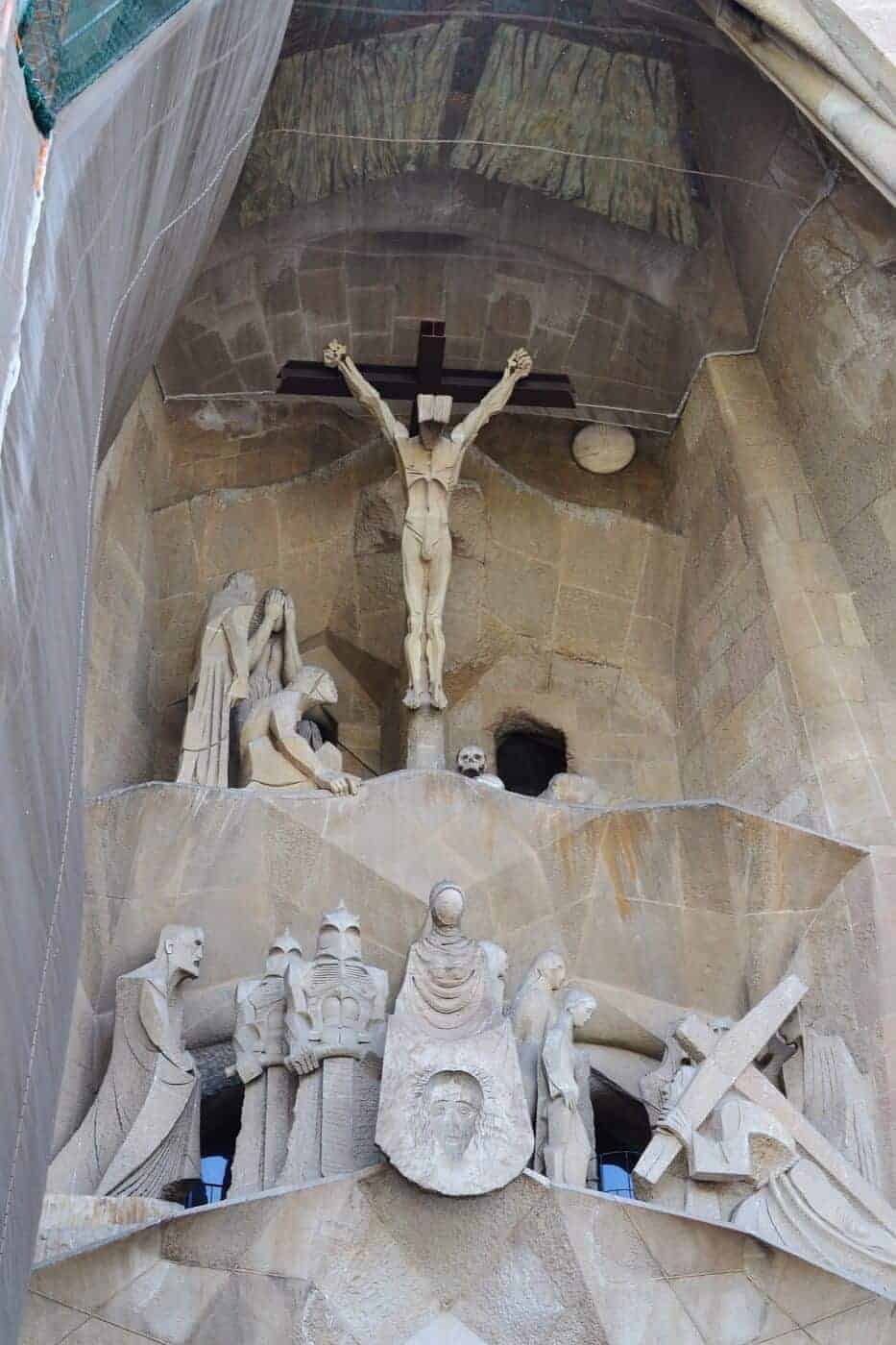 As if the interior isn't enough in terms of symbolism and artistry, the exterior of the Sagrada Familia is equally as breath-taking. Carved into the facade is the story of Jesus from birth to crucifixion.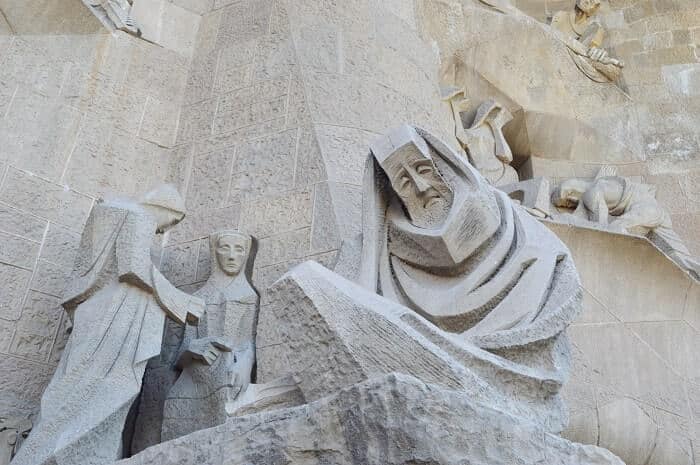 You will also find important figures in Christianity, such as the apostles, Virgin Mary and angels.
While there is an audio tour that you can use, I found that the Sagrada Familia Visual Guide book to be an amazing tool to help with understanding the different aspects of this symbolic basilica. Look for it in the gift shop as it is ridiculously priced on Amazon.
Admission for Sagrada Familia
Sagrada Familia is on the Barcelona Card which allows you to skip line & free entrance, otherwise:
Adults: €15
Seniors: €11
Students & adults under 30: €13
Disabled & Children 10 and under are FREE
---
Arc de Triomf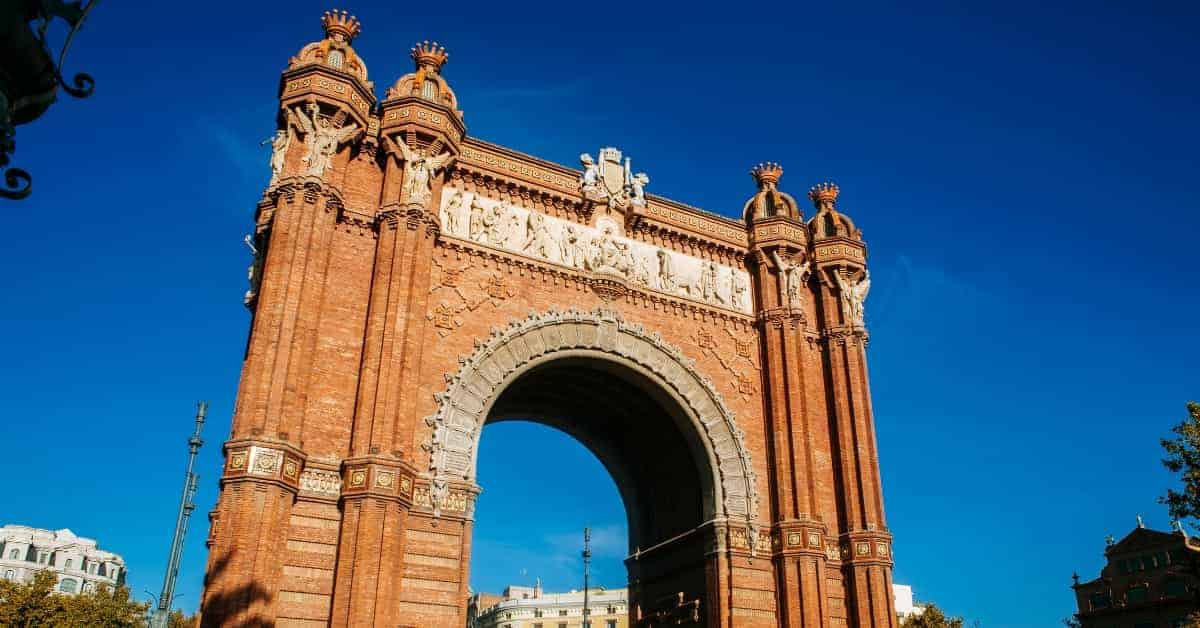 Built in 1888 as a gateway to Spain's first World's fair,  the Arc de Triomf monument showcases Barcelona's respect for the nations and provinces taking part in the exhibition.
One side features agriculture and industry symbolism with commerce and art on the opposite. On the top of the arch are the shields of the 49 Spanish provinces with the coat of arms of the city of Barcelona.
---
Museu Picasso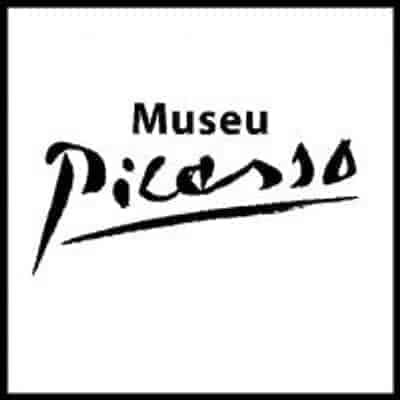 If you are a fan of Picasso, one of the places to visit in Barcelona is the Picasso Museum. This art museum houses the most extensive collections of Picasso's art~ 4,251 to be exact.
You probably best know Picasso's cubist work, but in this museum, you will get to see the progression of his art from his youth through his cubist period and beyond.
Admission for Museu Picasso
Museu Picasso is on the Barcelona card
Standard Admission: €15
People between 18 and 25 years old  & People 65 years old and over are €7
Thursday afternoons from 6.00pm to 9.30pm and First Sunday of each month, from 9am to 7pm are FREE
---
Palau Güell (Palace)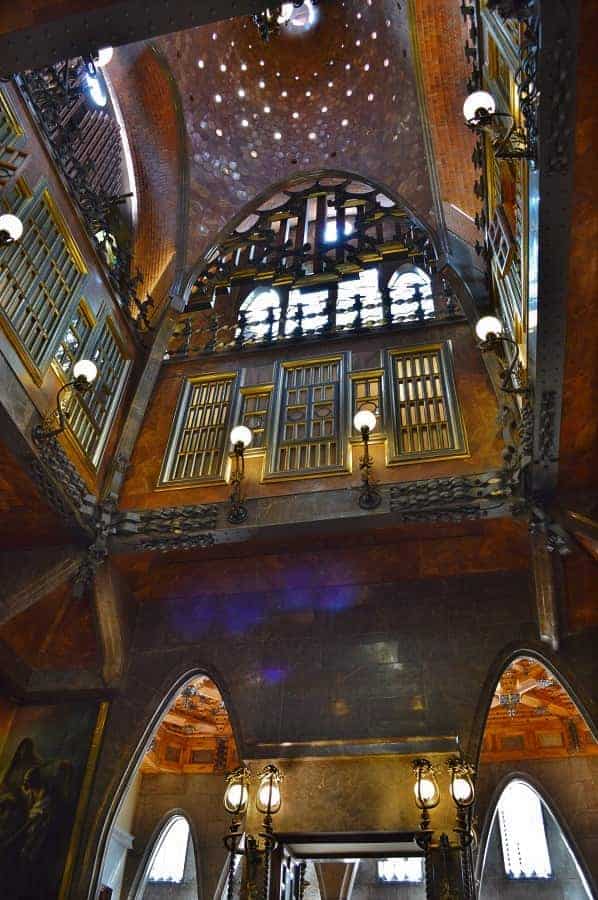 This mansion designed by Gaudi is one of the most famous landmarks in Barcelona and is just off La Rambla.   Be sure to use the audio guide that will take you through the home because it will explain everything that you see.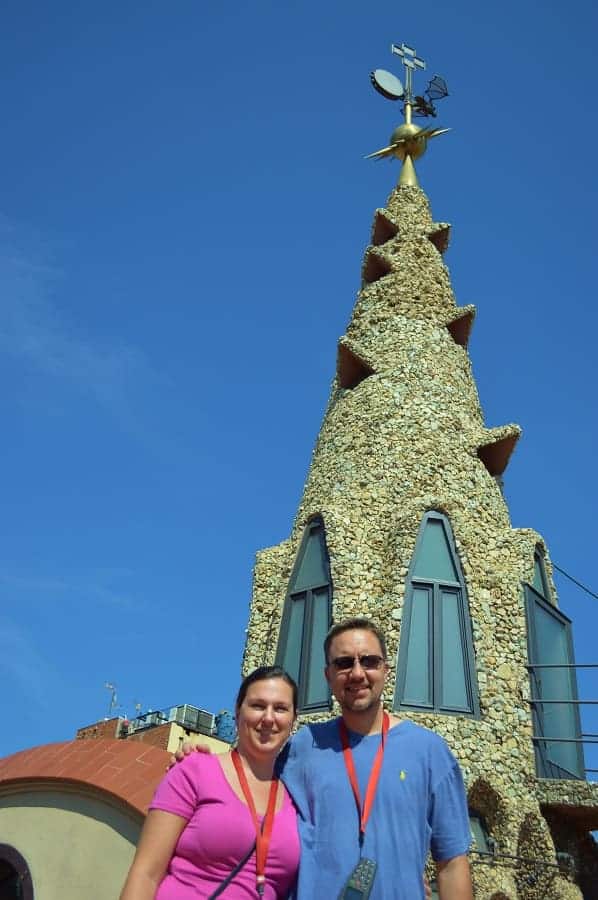 The highlight is the roof which has 20 unique mosaic chimneys and central spire. The view is also pretty spectacular!
Palau Güell Tickets 
Adults: 12€ or you can do a guided walking tour of Palau Güell along with the Gothic Quarter for  $35.
---
La Rambla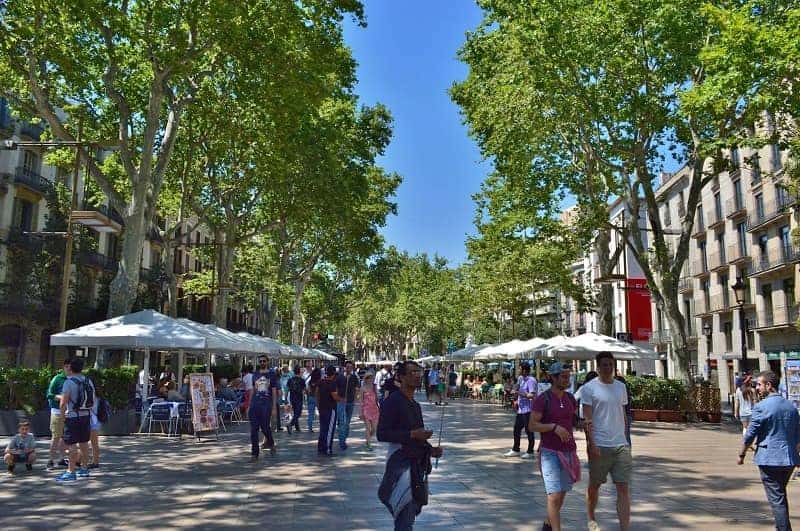 When you only have one day in Barcelona, you MUST visit La Rambla. It is a great spot to go for dinner and since it is so pedestrian-friendly~ you can walk off your dinner to fit in some dessert!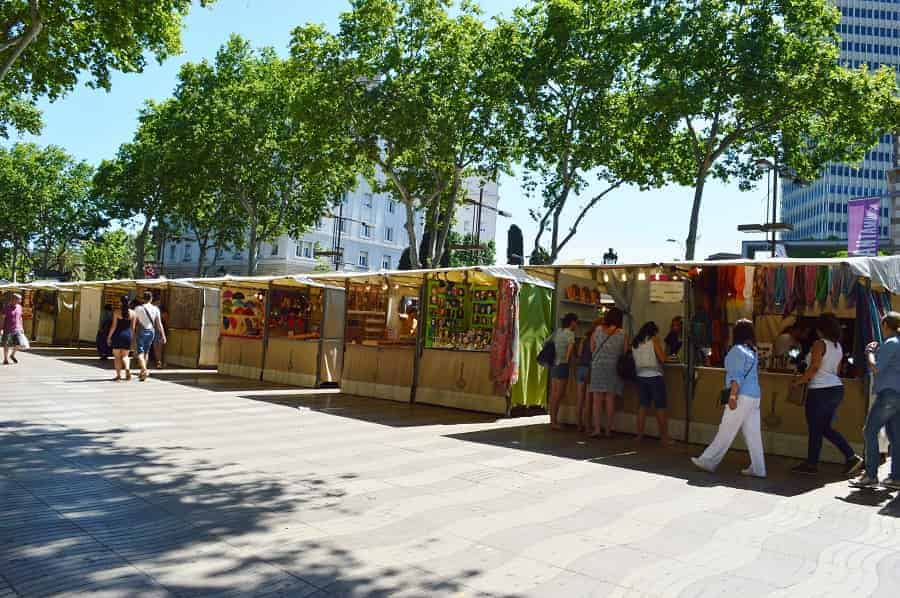 The center of La Rambla has market-style shops, open-air dining, street performers, and live music. There is plenty to keep your attention as you enjoy taking in the culture.
Where to Eat on La Rambla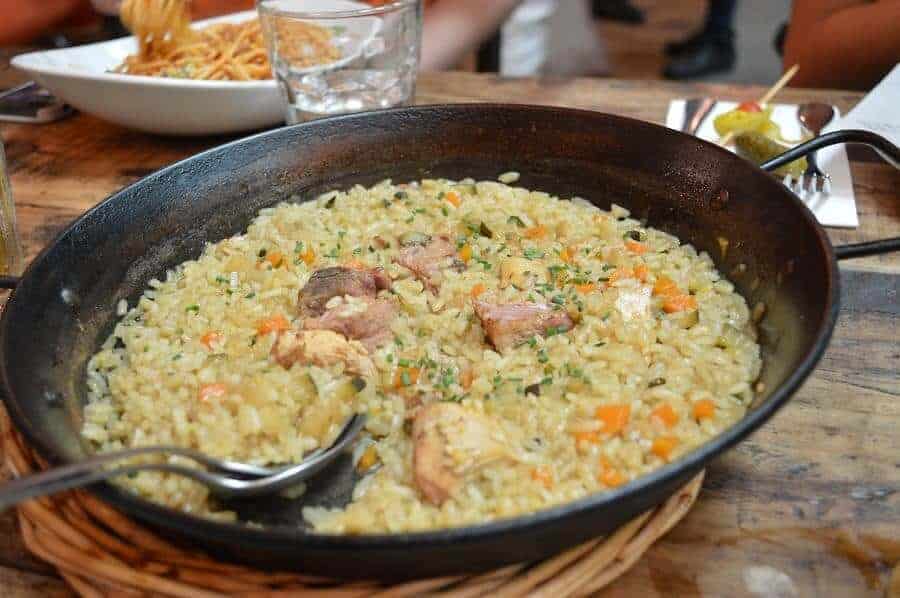 Our pick for dining on La Rambla is UltraMarinos (Book online & you will get a discount). Food is good and beer is cold!
One of the things you must do in Barcelona is have Paella.  Paella is a traditional Spanish dish made with rice, vegetables and a type of meat. You will find it made mainly with either chicken, sausage, or seafood.
One thing that is good to know is how beef is prepared in Spain (and most of Europe). If you order a steak or burger (like our kids did) they will bring it to you nearly raw unless you ask for it well done.
---
Casa Milà
Also known as La Pedrera or "The stone quarry," this is the last private residence designed by Gaudí and a UNESCO World Heritage site.
If you have time to take the self guided tour, you will discover more about Guadi's imagination and how deeply his architecture was inspired by nature.
Tickets are cheaper online than if you purchase them onsite:
Adults €22
Seniors & Students €16,50
Children 7-12 €11
---
Parc Güell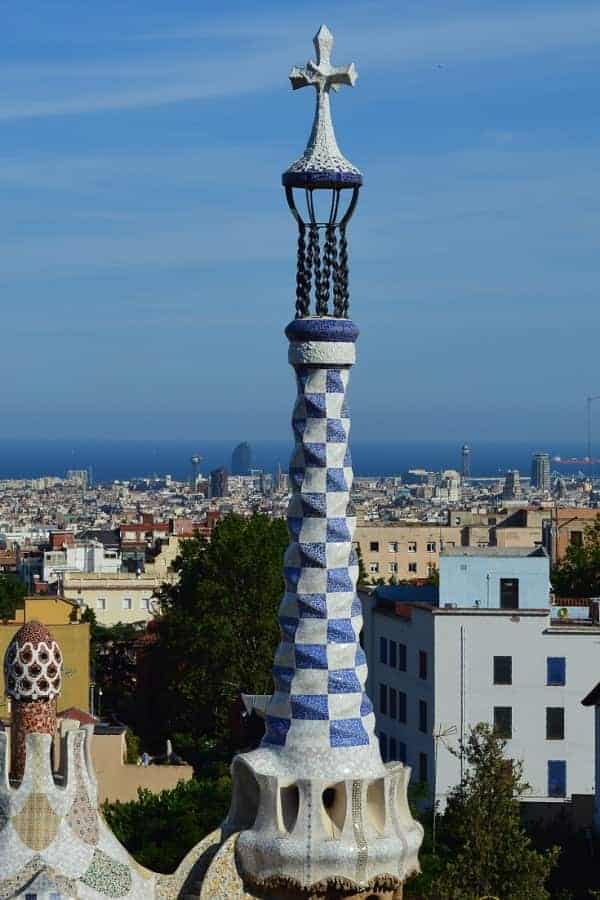 Another must see attraction in Barcelona is Park Güell.  This picturesque public park designed by Gaudí is filled with whimsical details that make you feel like you have stepped into some sort of wonderland.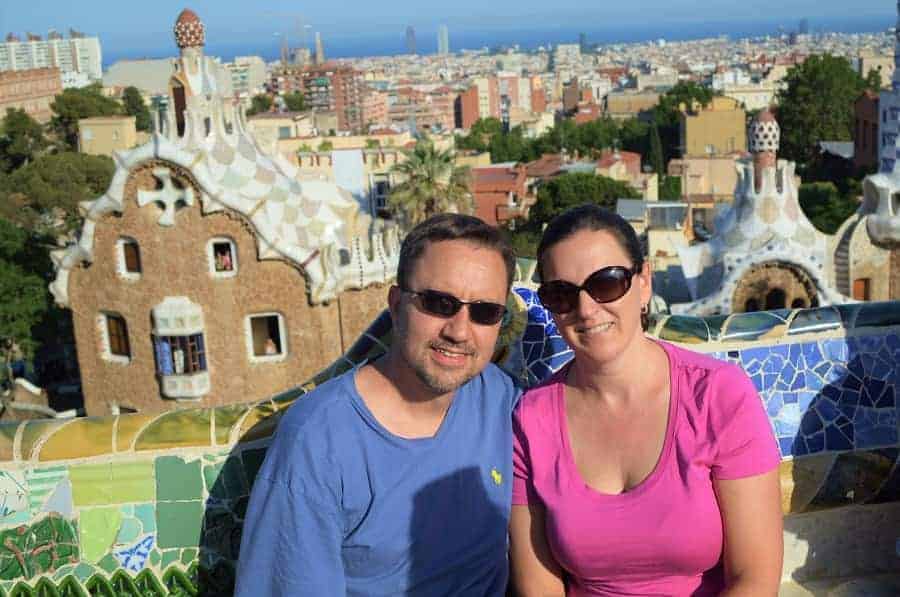 You will find some parts very natural while others are full of beautiful color.  Spend your time in the two homes located on the property or admiring the view as you sit along the mosaic stone wall that overlooks the city.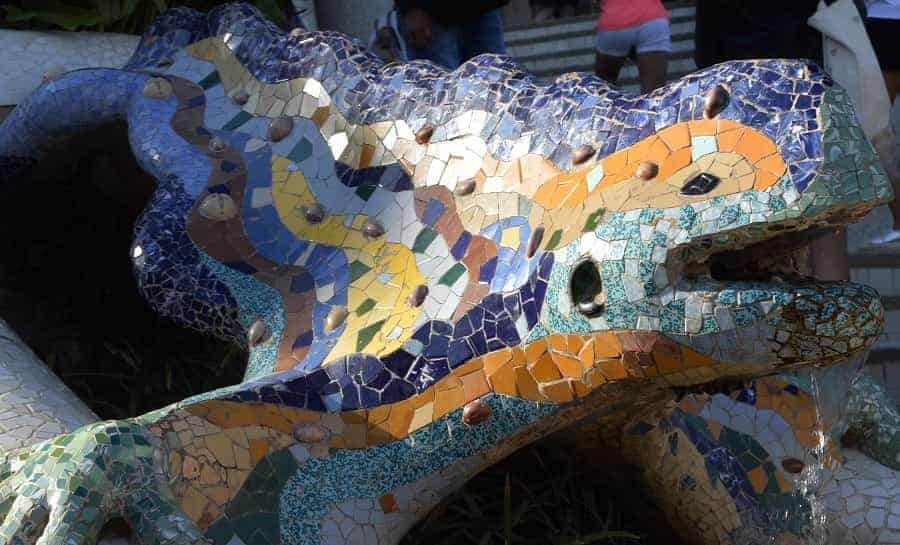 Looking for more Gaudi? We have a great list of Gaudi landmarks in Barcelona you will want to see.
Admission to Park Güell
Park Güell is on the Barcelona card . If you don't have it, then you will definitely want to get your tickets in advance as this is a very popular place to visit!
General 7.50€
Children 7-12 5.25€
Over 65 5.25€
Children 0-6 FREE
Disabled FREE
---
Barcelona One Day Itinerary
Sagrada Familia
Arc de Triomf
Picasso Museum
Guell Palace
Lunch at La Rambla
Casa Milla
Park Guell
---
Before you go to Barcelona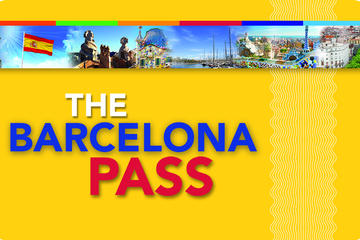 First and foremost, I would highly recommend you purchase the Barcelona Pass. This pass will get you skip the line entry (and tours) for many of the must see attractions.
Pricing is based on how many days you would like to use the pass.  The smallest is the 3 day, but even if you have only one day in Barcelona, it still will save you a ton of money (as long as you are planning on trying to hit several attractions).
€45 for a 3-day (72 hours)
€60 for a 5-day card (120 hours)
Here on a cruise? Consider this Barcelona Shore Excursion: Barcelona Card with Guidebook. It gets you free public transportation, Free admission to 20 top Barcelona attractions and discounts to other stops like the Picasso Museum.


Secondly, we always recommend that you have a pocket guide for big cities, especially when you will be travelling around on foot! Our go to books are usually by Rick Steves. This pocket guide is small enough to take with you and has great walking tours with maps!


If you are planning to take the kids to Barcelona, you will find that it is very family-friendly. Our kids enjoyed the Mission Barcelona travel guide that gave them "missions" to accomplish while we were out and about town. It kept them entertained and made site-seeing fun! I highly recommend the entire series of these travel books for children!
You will do quite a bit of walking in Barcelona. We suggest you wear good shoes. with our one day itinerary in Barcelona, you will find that you can walk to most of what's on our list. The only exception is Park Guell. You may want to take a bus or cab because much of it is uphill!
Barcelona is an amazing city. It has a beautiful Catalonia culture and the whimsical architecture makes it a top destination for people traveling to Europe.  While there are many places you can visit during your one day in Barcelona, we hope that you will take the time to explore some of the sites we've mentioned here.
Have you visited Barcelona? What is one of your favorite things to see?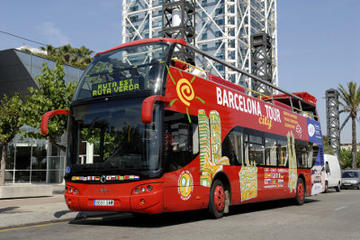 Barcelona Shore Excursion: Barcelona City Hop-on Hop-off Tour