You cannot visit Catalonia without seeing Gaudi's most popular Barcelona landmarks. Gaudi, the pioneer of Catalan Modernism, has had such an important impact on 19th and 20th-century architecture and design that many of his structures have been declared UNESCO World Heritage Sites.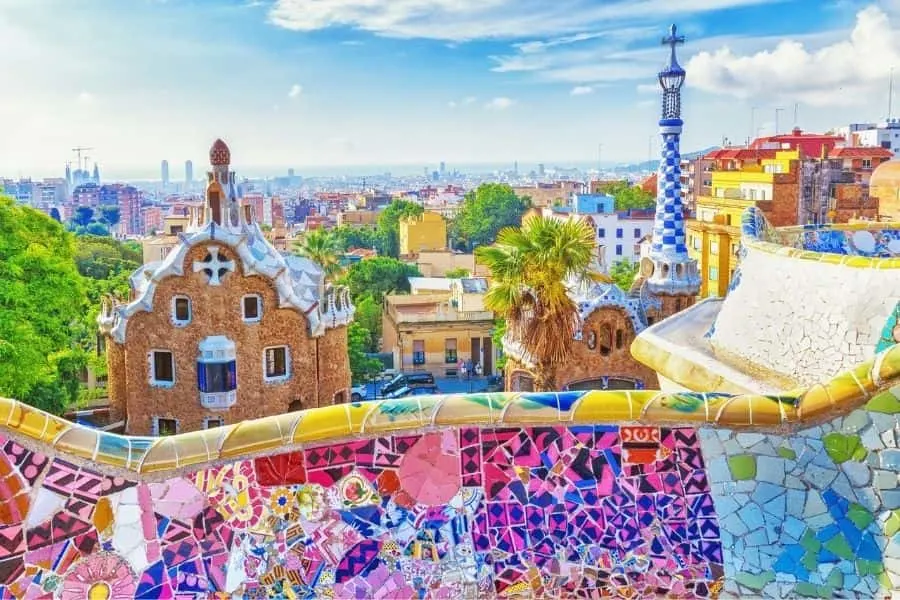 While in Barcelona, you need to make it a goal to see as many of these famous sites as you can.
What you will find is that each building or structure is unique but also easily recognizable as being designed by Gaudi.
They each have a natural element built into the design and have whimsical features that are both beautiful and functional.
8 Barcelona Landmarks Designed by Gaudi
If you follow this guide on the best Barcelona landmarks designed by Gaudi, you will be able to see some of his most famous architecture.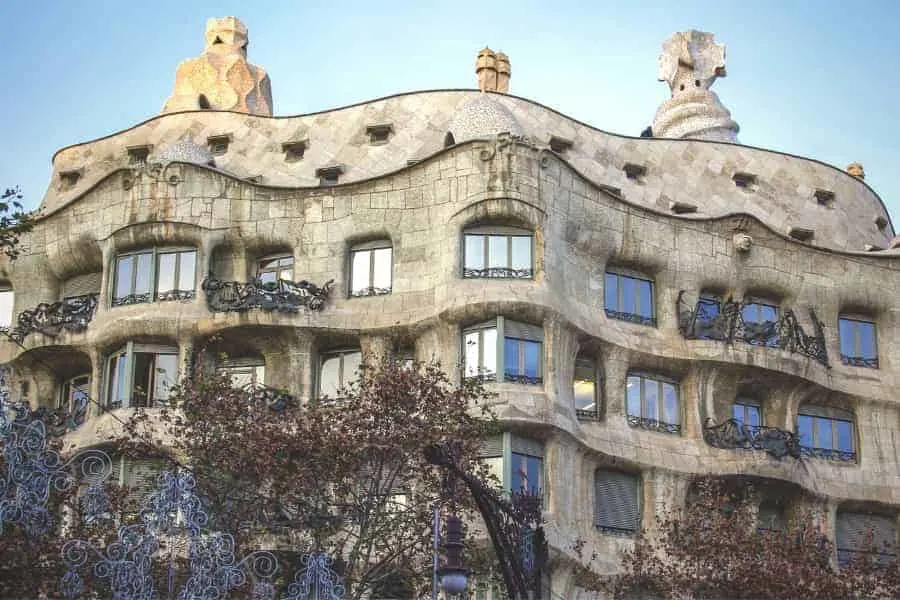 1. Casa Milà
Also known as La Pedrera, Casa Milà is built of stone with twisting wrought iron balconies. It was given the name La Pedrera (which means stone quarry) due to the limestone facade.
It is the last private residence designed by Gaudí and was built between 1906 and 1912.
Instead of closed-off lobbies and courtyards, Gaudi made them the central area in terms of building design.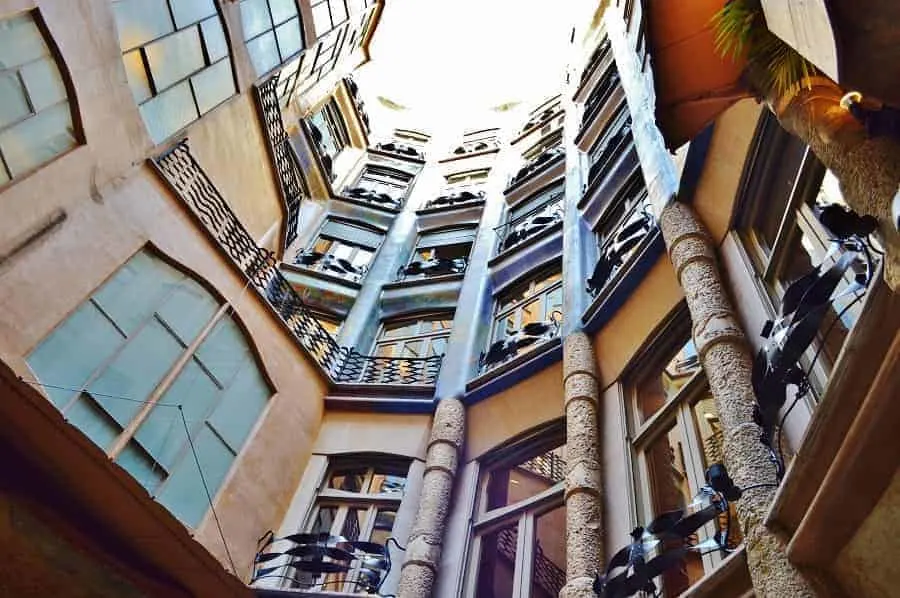 The center of the building is open allowing natural light and balconies for homeowners to view the comings and goings of those below.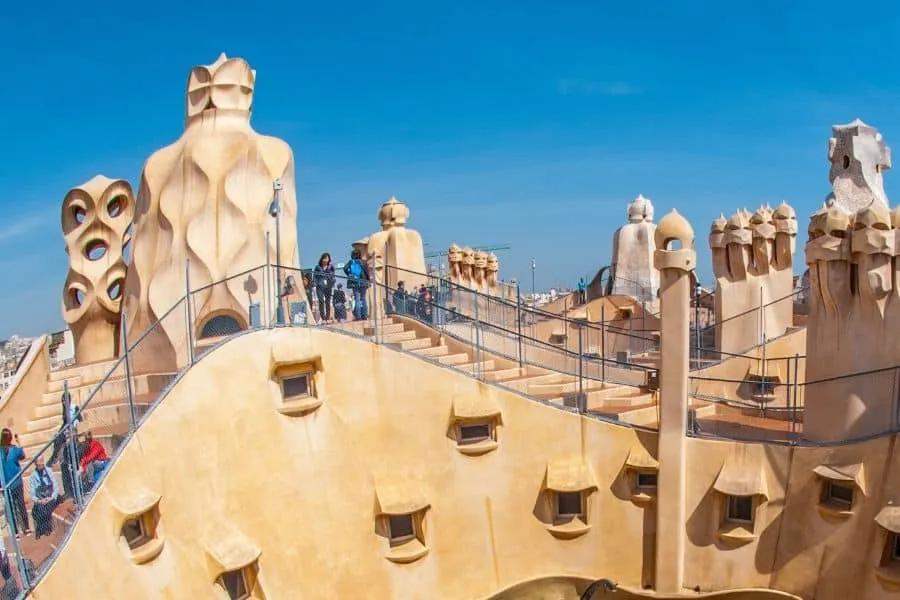 Casa Mila has three areas open to tour: one apartment, the attic with Gaudi's trademark parabolic arches, and the rooftop to see the chimneys.
Be sure to head to see the architectural features atop the building. You will find chimneys that take on a whimsical design due to the items used to decorate them (glass, marble, pottery) along with other structural elements used to hide skylights and ventilation.
Location: Passeig de Gràcia, 92, 08008 Barcelona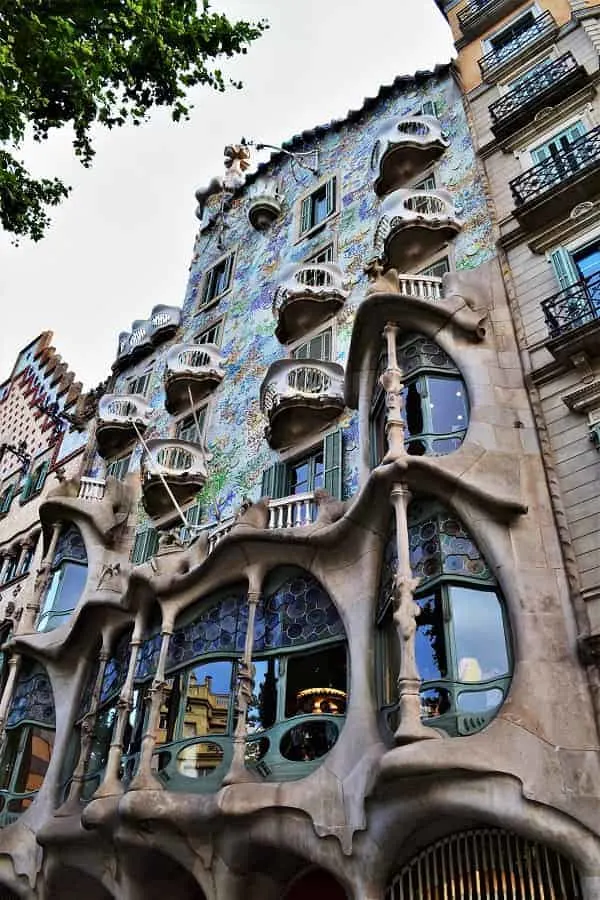 2. Casa Batlló
Just a bit down the street from Casa Mila is Casa Batlló, another Gaudi architectural masterpiece.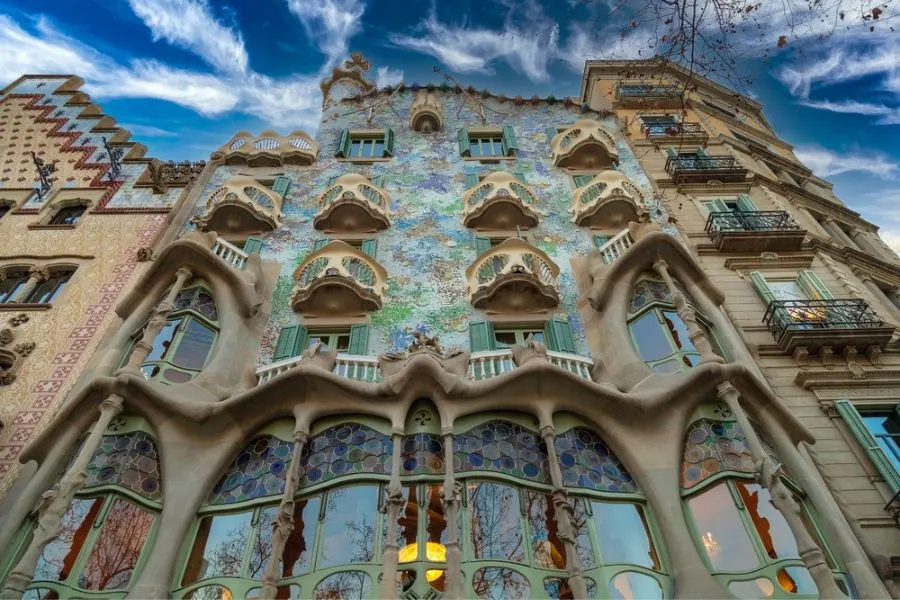 The Casa Amatller, designed by Josep Puig, the Casa Lleó Morera, by Domènech I Montaner, together with Casa Batlló, designed by Gaudí is part of a larger set of buildings known as the block of discord.
It is so named because the buildings sitting side by side are each very different with sharply contrasting styles.
The exterior of Casa Batlló was inspired by the Mediterranean sea but many liken the façade to a dragon being pierced by a cross-topped sword.
A tour here will allow you to explore the loft and visit the famous roof terrace to see more of Gaudi's chimneys.
Location: Passeig de Gràcia, 43, 08007 Barcelona, Spain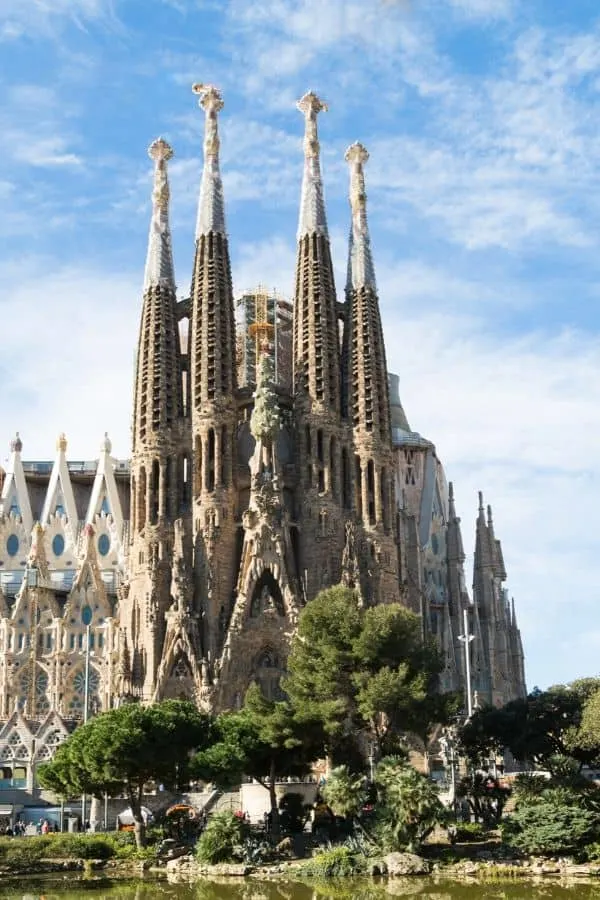 3. Sagrada Família
This pinnacle of Gaudi's achievement is one that he never got to see completed. Sagrada Familia began being constructed in 1882 and isn't due to be finished until 2026.
Lucky for us, the architects and builders have remained consistent with his vision and his work and have kept true to his design.
This cathedral is the symbol of Barcelona and probably the most important of the Gaudi Landmarks in Barcelona.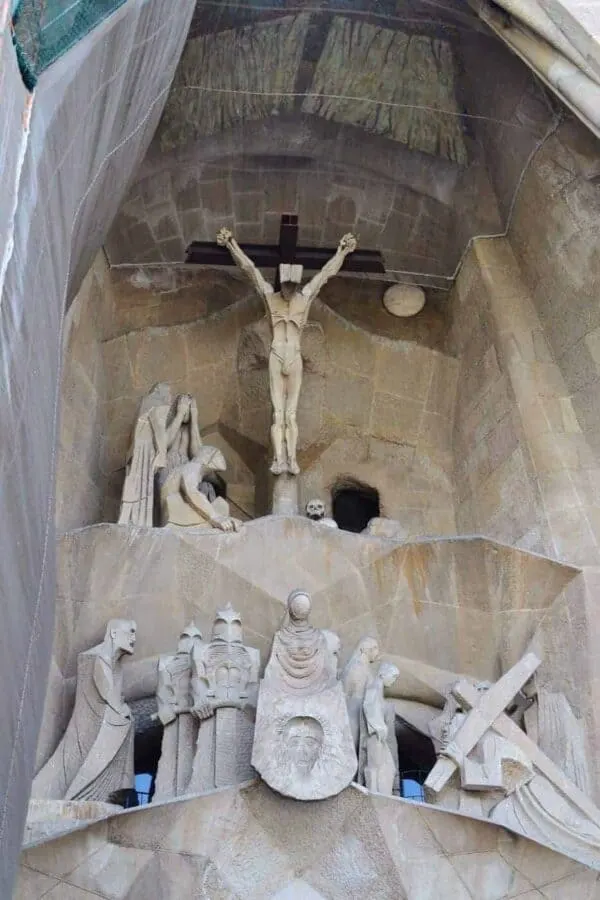 Both the interior and exterior of this Cathedral are a work of symbolic art.
The basilica has three monumental façades that represent the life of Christ: the Birth, the Passion, and Ressurection.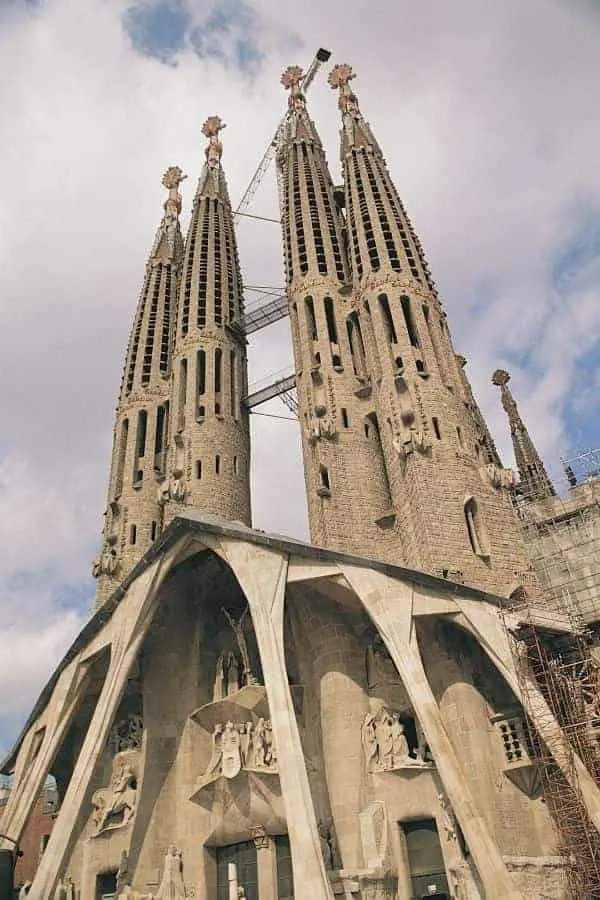 You will also notice four towers on each façade which represent the 12 Apostles.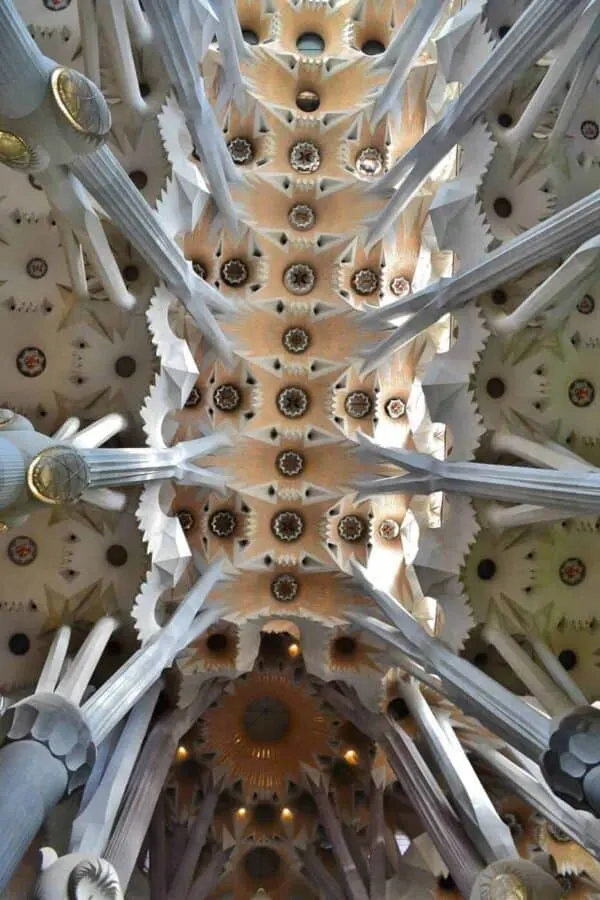 The interior of Sagrada Familia is spectacular.
You will be mesmerized by the stained glass and natural lighting that bounce from each wall. Gaudí's columns seem to rise from the ground and then branch outward like trees above you.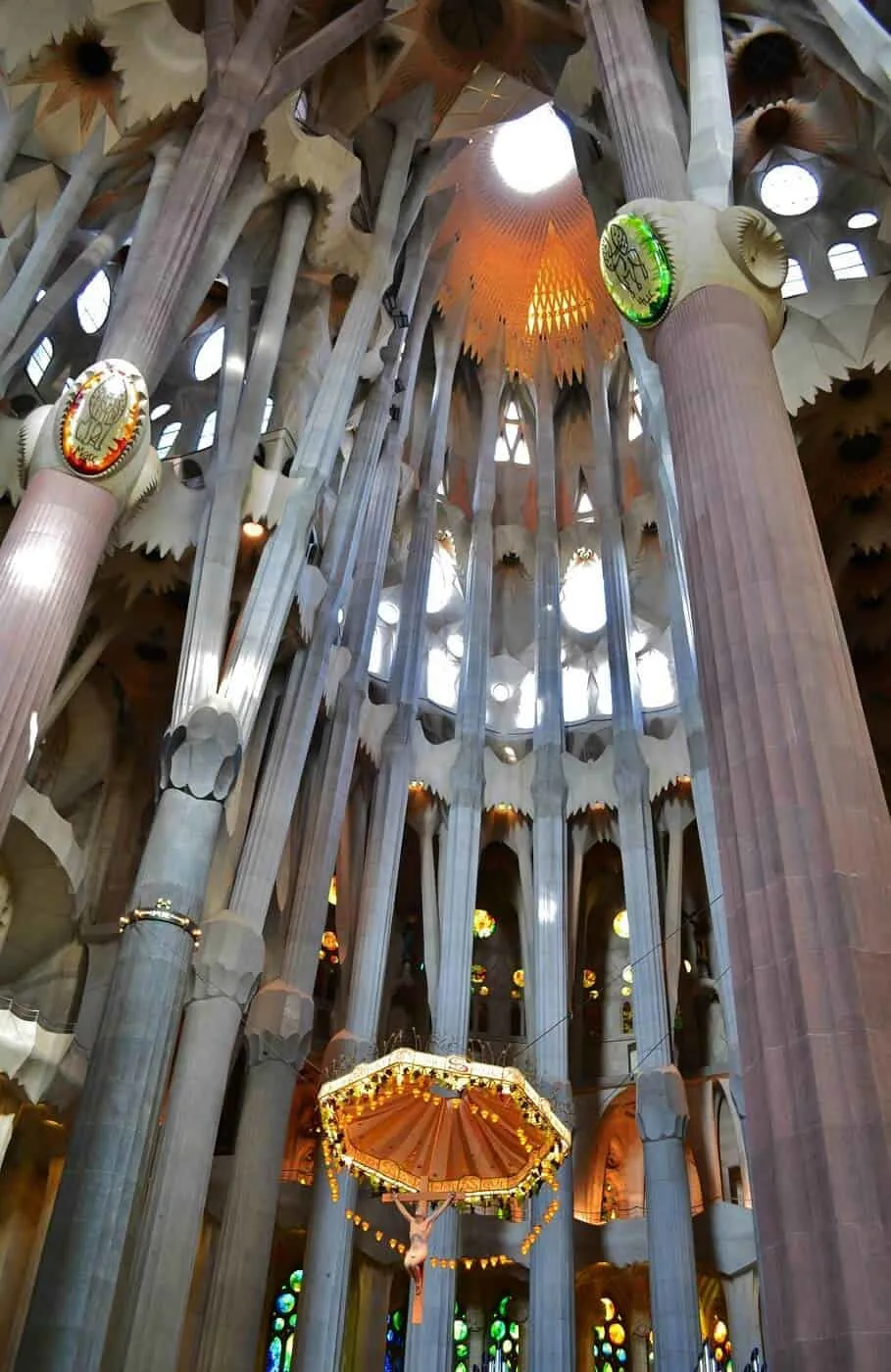 The apse is built directly over the crypt and crowned by a huge dome. The natural light that directly streams down from above makes it appear like Jesus is ascending to heaven.
Location: Carrer de Mallorca, 401, 08013 Barcelona, Spain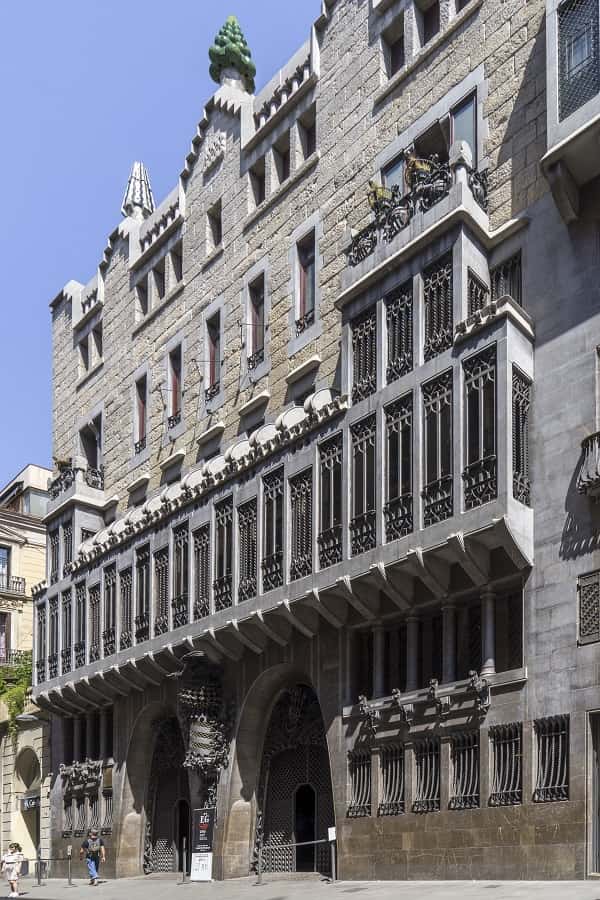 4. Palau Güell
Just off the Rambla, this mansion was designed by Gaudí & built for the industrial tycoon Eusebi Güell.
Available for the tour, the most striking room in this building is the central hall. It is crowned by a parabolic dome that lets in light through small openings.
It was designed to be the centerpiece of the home so that music from the organ could be heard throughout each level.
Location: C/ Nou de la Rambla, 3-5 08001 Barcelona, Spain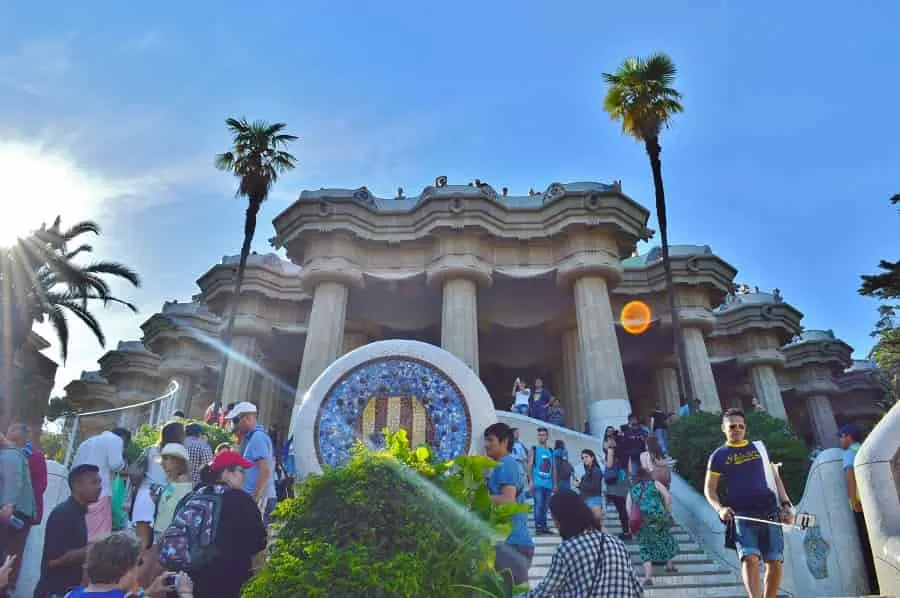 5. Parc Güell
This park in Barcelona was commissioned by Güell who wanted Gaudi to create an outdoor sanctuary for the elite of Barcelona.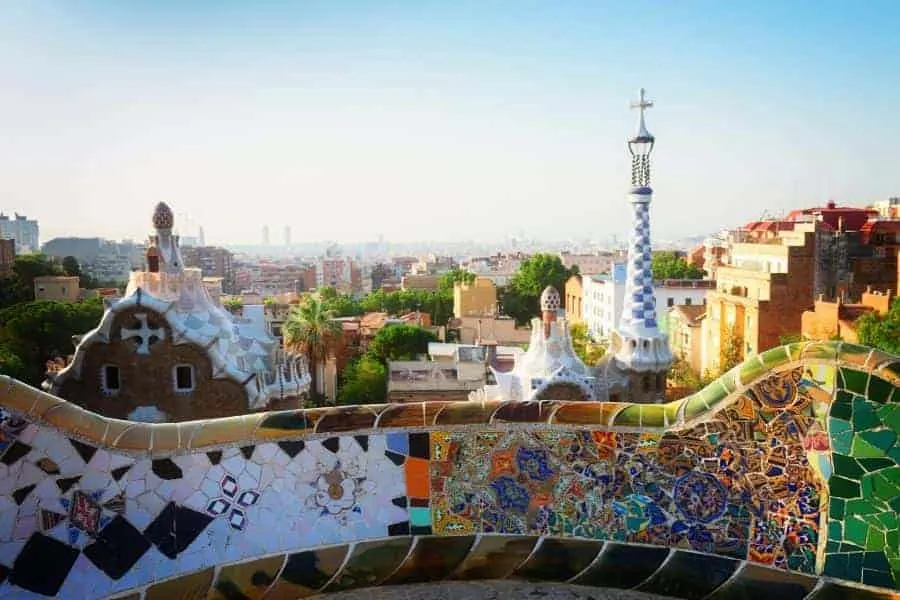 As you climb the stairs up the hill to the terrace, you will find whimsical mosaic creatures, twisting rock pillars, cave-like rooms, and the most beautiful view of the city below.
On the terrace, you will find plenty of places to sit and take in the view as the entire wall is wrapped with bench-style seating.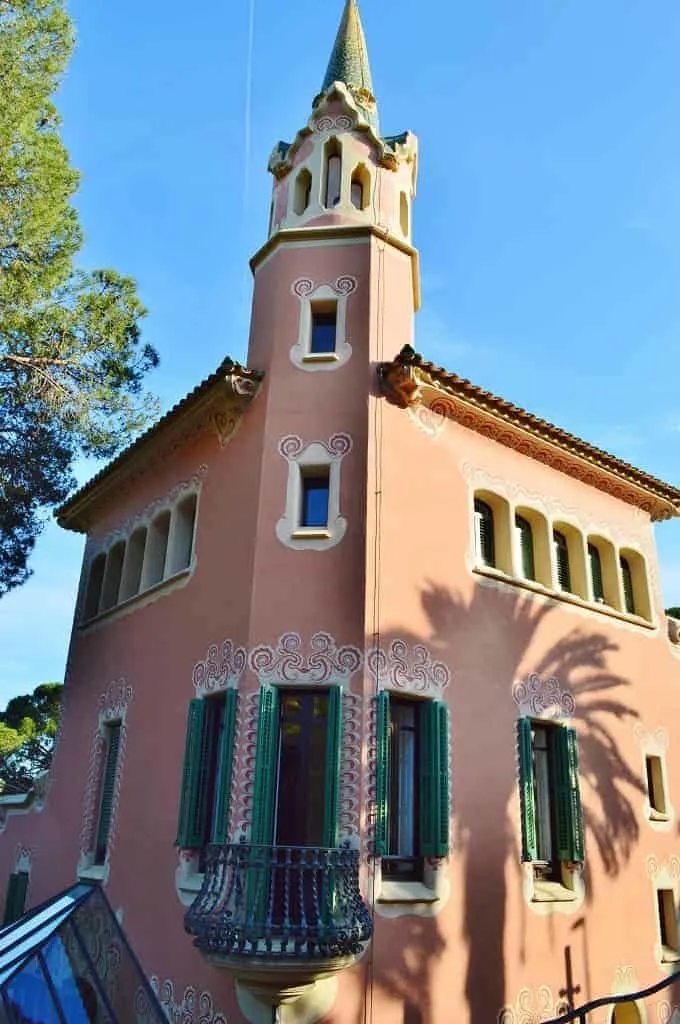 A popular attraction found within Parc Güell is Casa Museu Gaudí (Gaudí House Museum).
In 1906, Gaudí moved into this home designed by Francesc d'Assís Berenguer i Mestres, Gaudi's friend. Inside, you will find various pieces of furniture designed by Gaudi.
Location: C/ Nou de la Rambla, 3-5 08001 Barcelona, Spain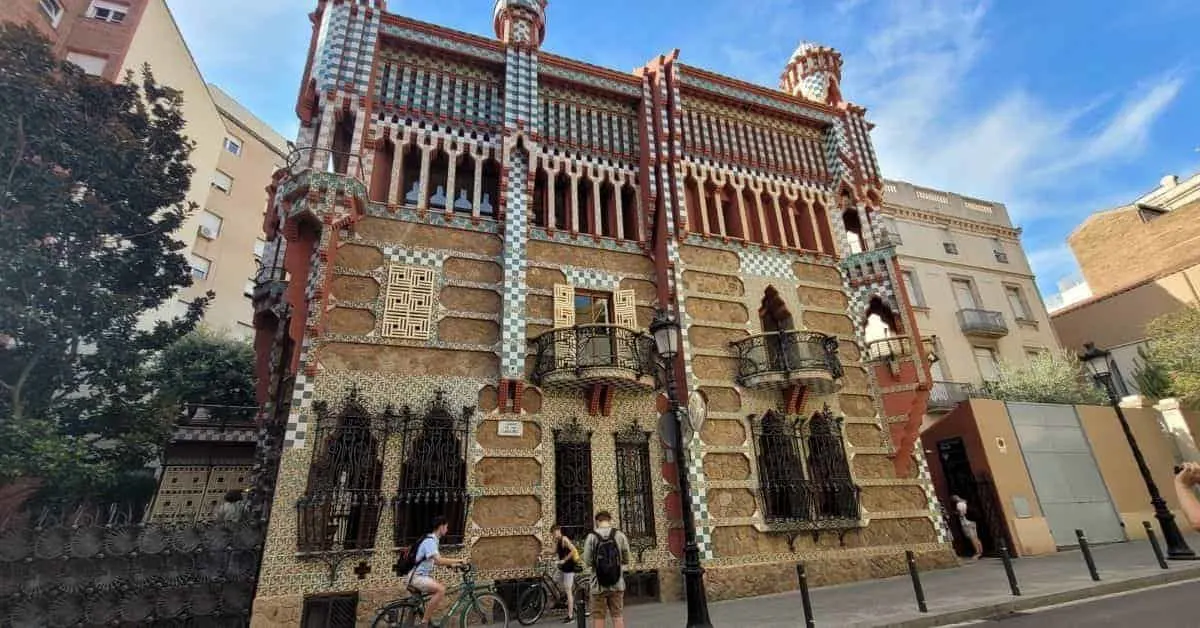 6. Casa Vicens
Casa Vicens is the first architectural design of Gaudi (1883). This four-story building's brickwork and colorful Moorish tiles are quintessential Gaudi.
For many years it was a private residence and in 2005 it was declared a UNESCO World Heritage site.
In 2017, it opened to the public after being restored to its original state based on archival research.
Location: Carrer de les Carolines, 20-26 08012 Barcelona Spain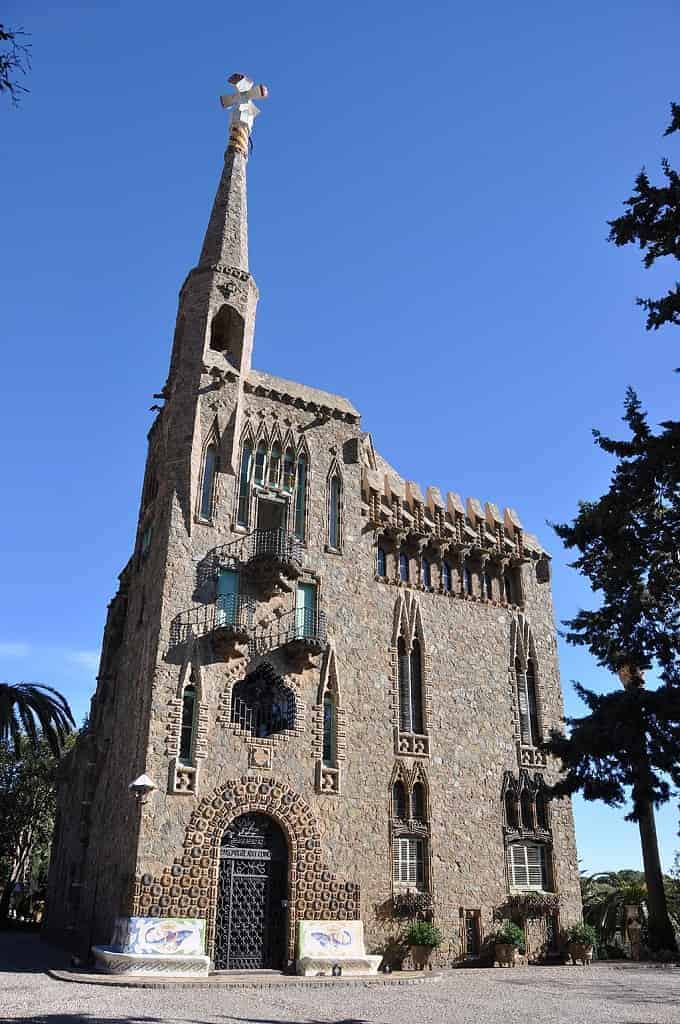 7. Torre Bellesguard
Inspired by the medieval castle of Martin I, Gaudí built this manor house as a blend of Art Nouveau and Gothic styles atop the ruins of the 15th-century medieval palace.
Again, you will find this stately estate filled with color and imagery that Gaudi is known for. You may tour both the home and the estate.
Tours are both self-guided and fully guided depending on your desire.
Location: c/Bellesguard nº 20, 08022, Barcelona, Spain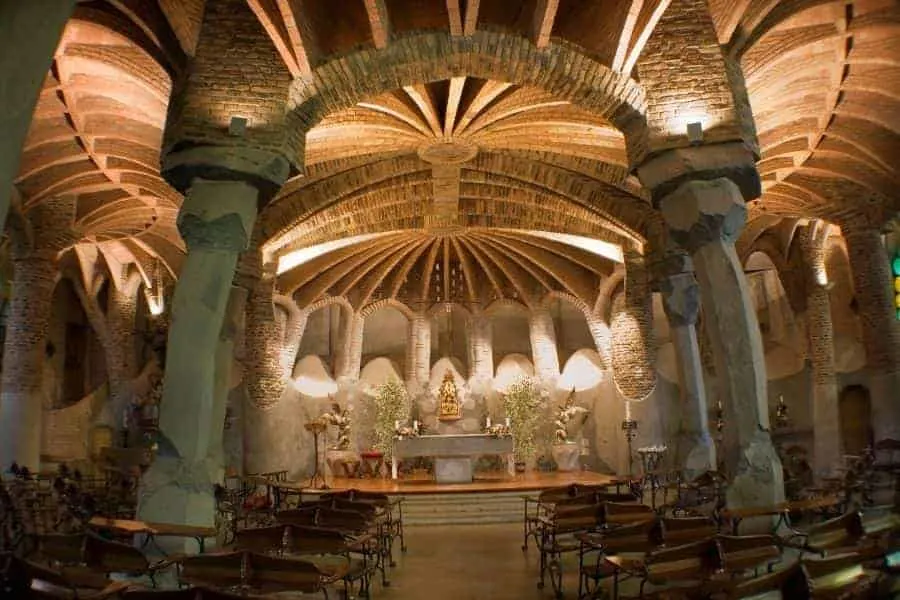 8. Gauid's Crypt
The Crypt was built as a place for the locals of the village of Santa Coloma de Cervello to worship. This crypt has twisted columns that seem to defy the laws of physics and served as a way for Gaudi to test designs he would later use in Sagrada Familia.
While this UNESCO site is just outside of Barcelona, I feel like it is close enough to add to the list if you are a real Gaudi fan.
Location: C/ Claudi Güell, s/n 08690, Santa Coloma de Cervelló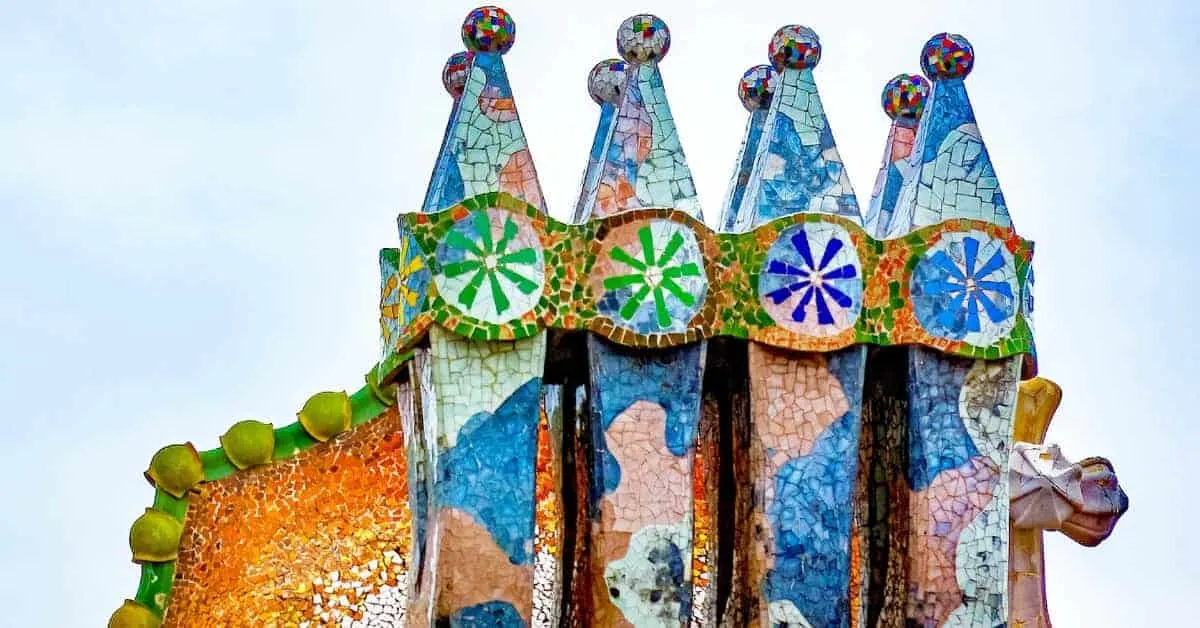 If you are a fan of Gaudi then you are going to love exploring all these landmarks on this Gaudi Barcelona tour of architecture.
Many are within walking distance of each other, so be sure to download this Gaudi Landmark map!
Barcelona is an amazing city full of both popular tourist attractions and unusual things to do.
No matter how much time you choose to spend here, make sure that you give yourself enough time to explore it thoroughly.
Have you done a Gaudi Barcelona tour? Do you have favorite Barcelona landmarks?