(Note: This post contains affiliate links & I will be compensated if you make a purchase after clicking on my links. Read our disclosure policy here.)
A trip to Italy can be an amazing adventure.  While many people choose Rome as their starting point, there is something to say about beginning your trip to Italy in Naples. While gritty, it is authentic and far less touristy than other popular cities in Italy and it is packed full of history.  And because Naples is so close to Mt. Vesuvius, it is easy to see Pompeii and Naples in one day!
How to see Pompeii and Naples in One Day
One of the keys to seeing Pompeii and Naples in one day is planning your trip carefully.  We suggest that you spend the first part of your day in Pompeii and the afternoon & evening in Naples.  The easiest way to get from one place to the other is by train. The Naples-Sorrento train line stops at Pompeii Scavi-Villa Misteri, which is the station very close to the excavation site. The trip is about 30 minutes.  You'll find that the trains run 2-3 times per hour during most of the day.
You can also book a shuttle to take you from Naples to Pompeii. Prices may be a little bit more expensive, but you won't have to worry about the train schedule (because trains can run off schedule).
Pompeii
On our trip, we chose to go on a guided tour of Pompeii because we wanted to make sure that we got the most out of our limited time there.  Tour guides are experts at what they do. They know the key spots to see and can explain what you are seeing and why it is important.
Pompeii is a big place.  Remember that at it's hay day in 79 AD, it had nearly 11000 people! When the eruption occurred, time seems to have froze. And walking around what was once a sprawling city full of life, you will be amazed at how intact many things still are. While anything wooden would have burned, brick, certain ceramics and even some metal remained intact.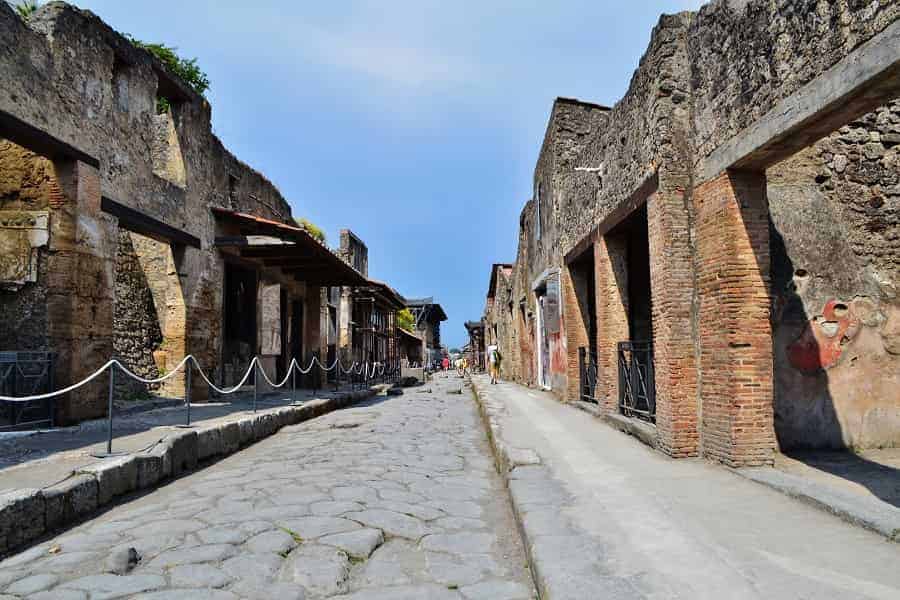 You'll notice that the stone streets are as they were prior to the eruption and the buildings made of brick and stone still stand as they once did. You can imagine how busy these street once were with people going about their daily lives.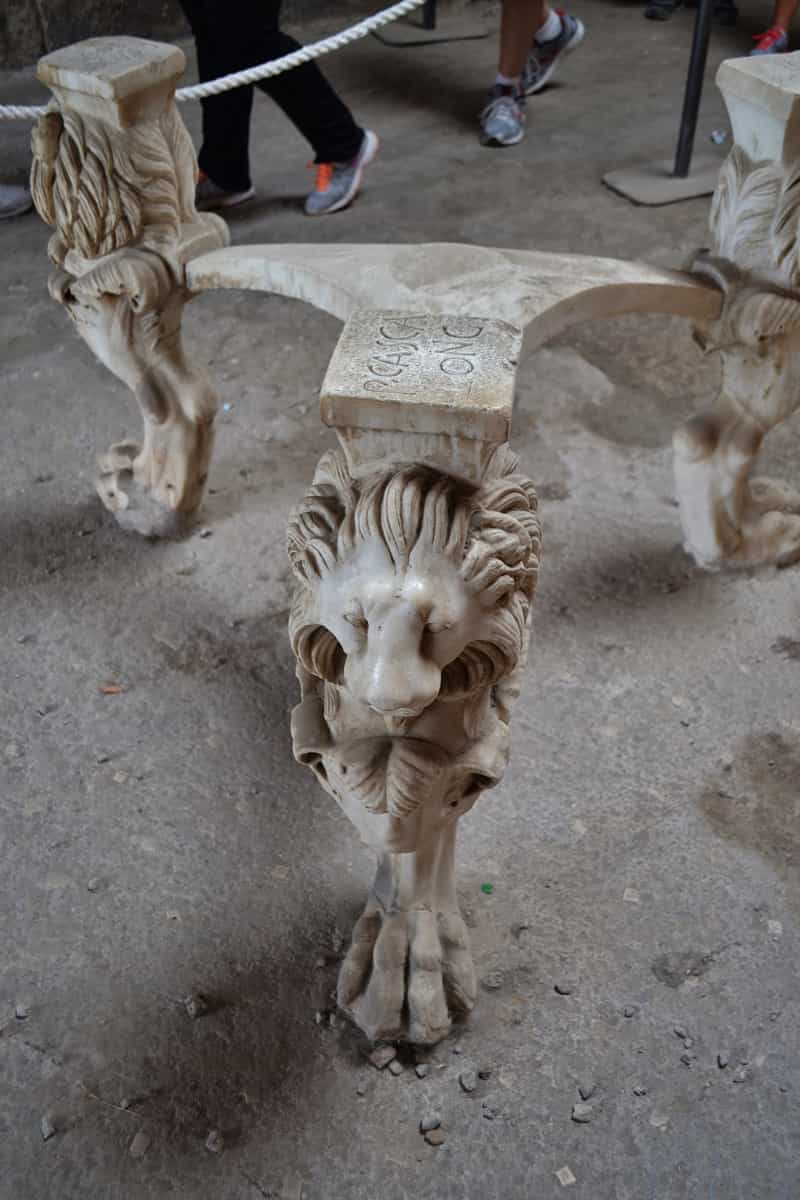 While roaming the buildings in Pompeii, you will see inside their businesses, homes and even find frescoes still painted on some of the walls. You will be able to see how they relaxed in amphitheaters, where they purchased groceries and even where they cooked their meals.  It is a real history lesson for those that have no real sense of what life was like for Italians during that time period.
What you need to know about visiting Pompeii
Pompei is the town and Pompeii is the architectural site
Purchase your tickets in advance so that you don't waste time in ticket lines.
The sun can be brutal and there is little shade. If you are planning to come during the summer months, bring a hat and wear sunscreen.
Plan for about 3-4 hours in Pompeii and know you will be doing a lot of walking.
It is dusty and rocky, so choose shoes that are good for hiking on unleveled stones.
Bring your own water bottle. You can refill it for free from the ancient water fountains (don't worry, they are clean).
Brings snacks as there is only ONE cafe for the entire area.
If you are travelling with children, be prepared for a lot of sexual souvenirs out in the open in the markets just outside of Pompeii.  When Pompeii was unearthed, people were found in precarious positions.  Those images have made their way onto calendars, sculptures and every souvenir you can imagine.
Naples
We are fans of city bus tours and we found Naples easy to navigate due to the tour buses. We could easily be taken from one spot to the other without much thought while learning about this history of Naples.  It was super convenient since we had limited time due to visiting both Pompeii and Naples in one day. Here is where we stopped and what we saw: 
Naples National Archaeological Museum. There you will see more artifacts from Pompeii, like ancient funeral urns, murals and stonework.  There is even a secret room when children are not allowed. If you read what I said about the markets in Pompeii, you'll understand why this room is sectioned off from the rest!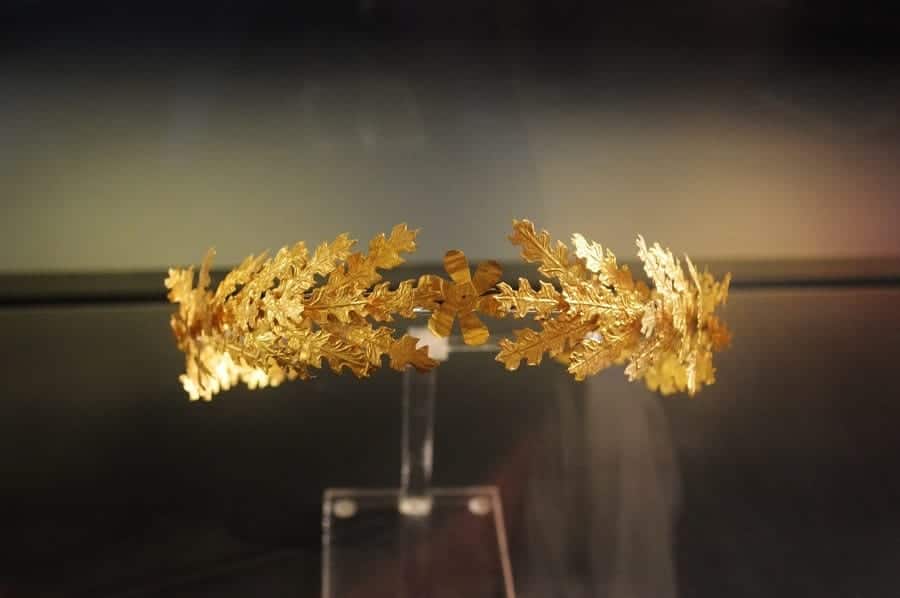 Also to be seen is this beautiful gold crown of oak leaves from the 2nd century BC in Taranto.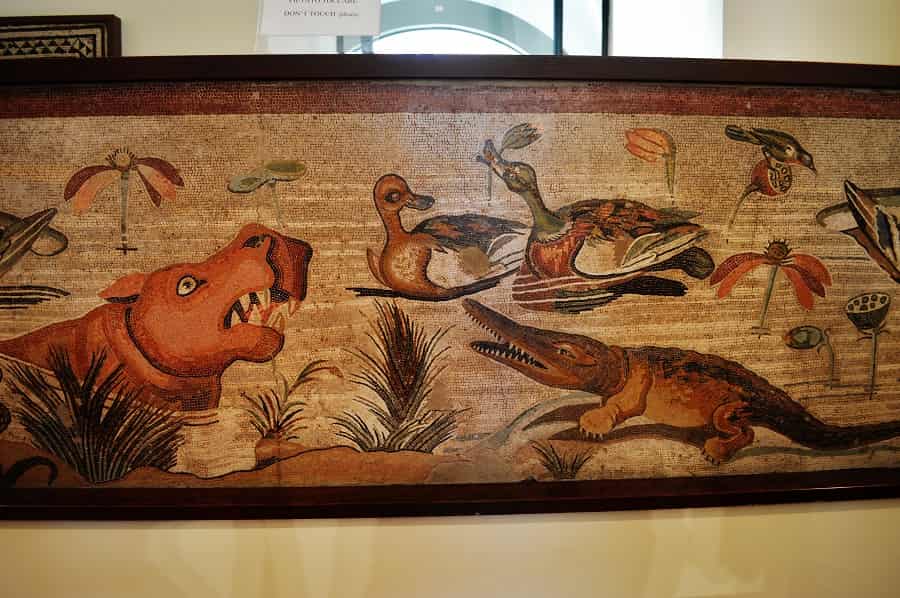 You will see many authentic frescoes from Pompeii. It is amazing how well preserved some of them are.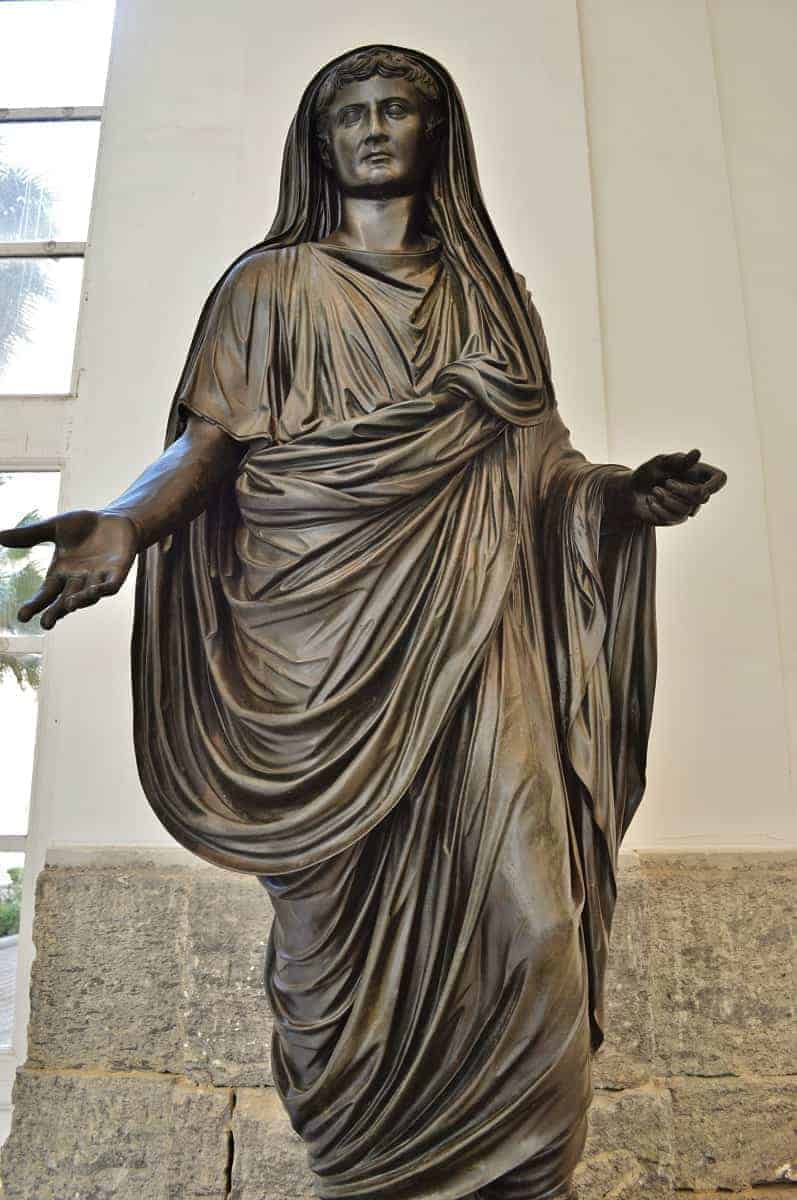 There is also an extensive collection of ancient Roman statues.  This classical sculpture collection is important and impressive because they are actually Roman copies of classical Greek sculpture.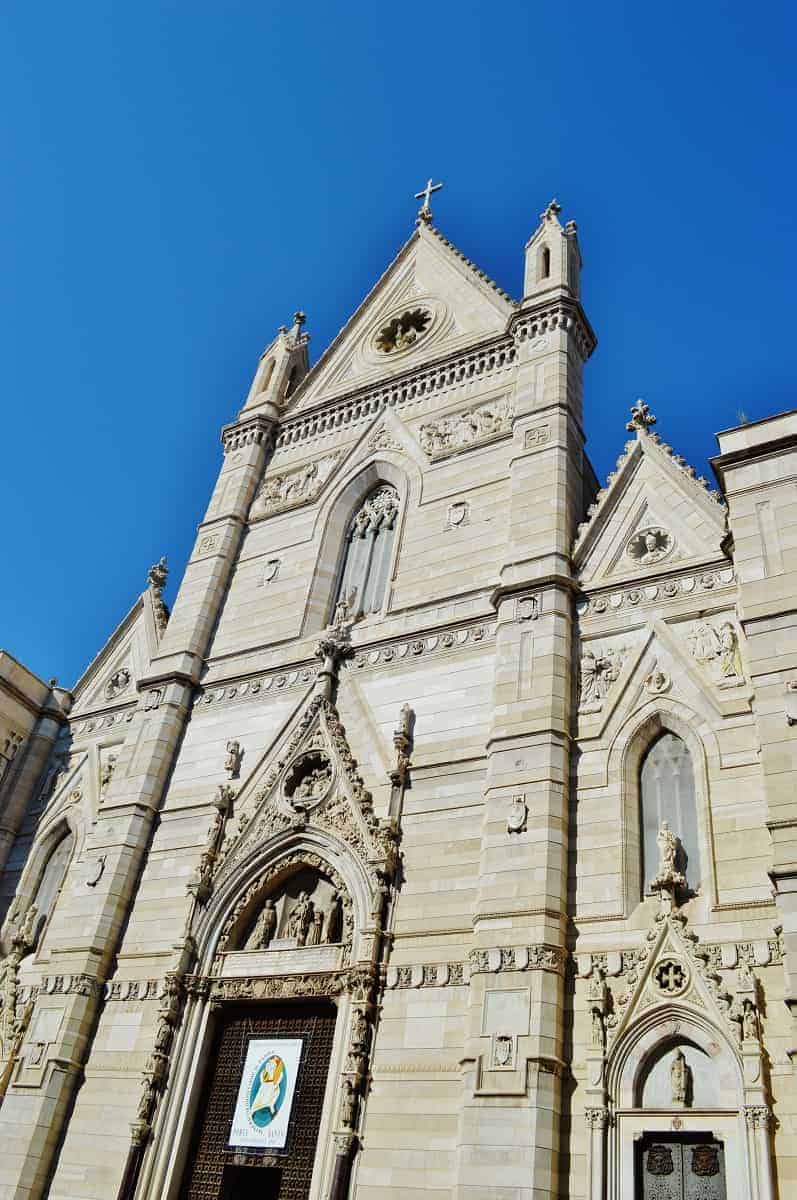 Naples Cathedral. The main cathedral in Naples, the Duomo, is the seat of the Archbishop of Naples.  While While dedicated to Santa Maria Assunta, this cathedral is commonly associated with St. Januarius, the patron saint of the city.  It is said that he is the protector of the city.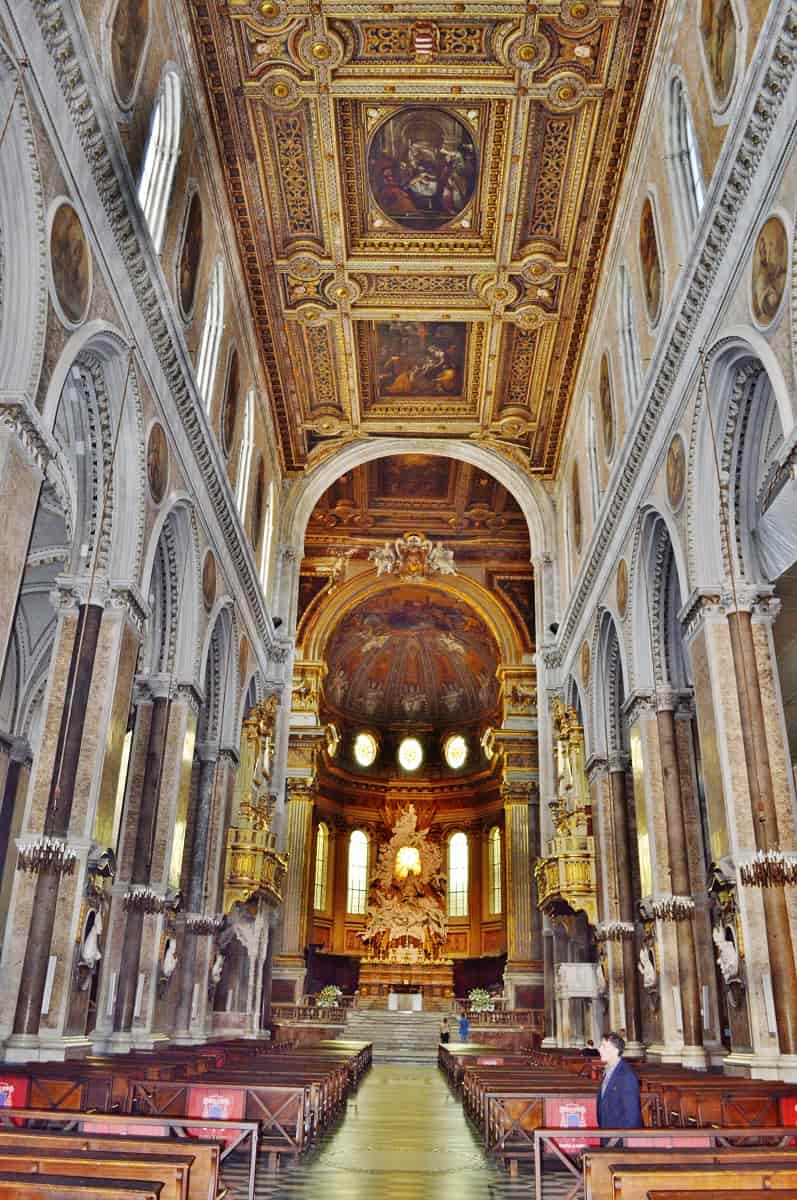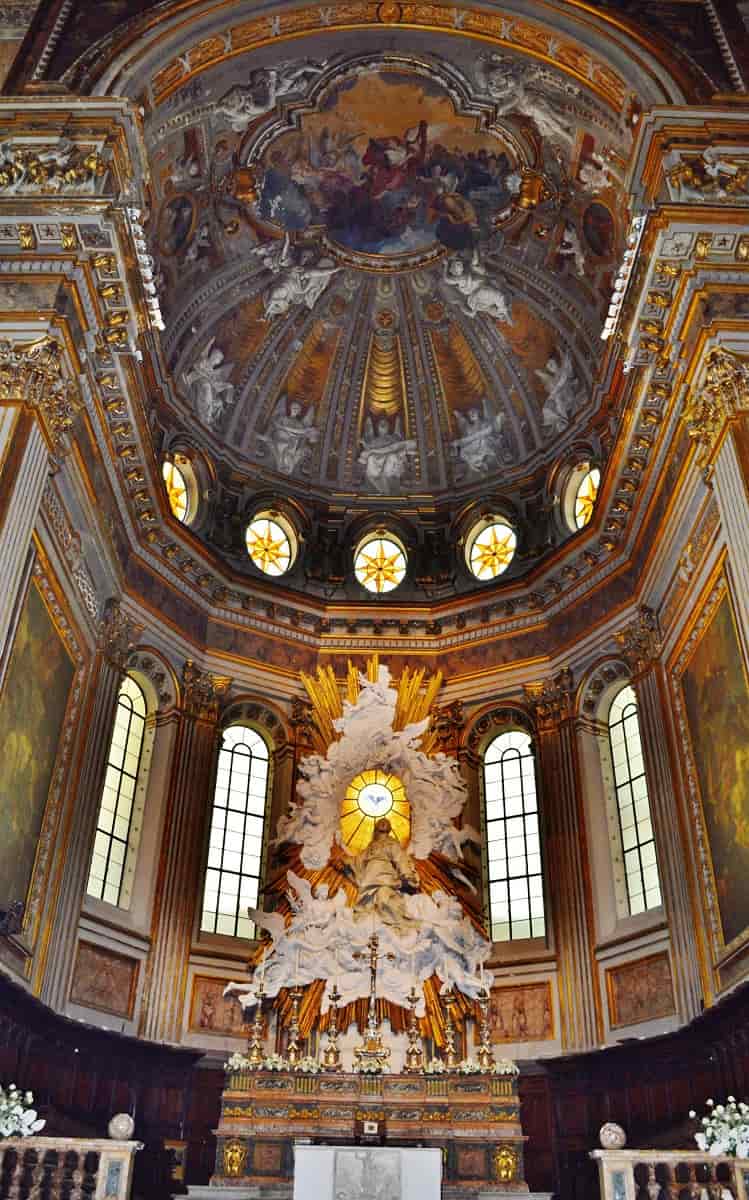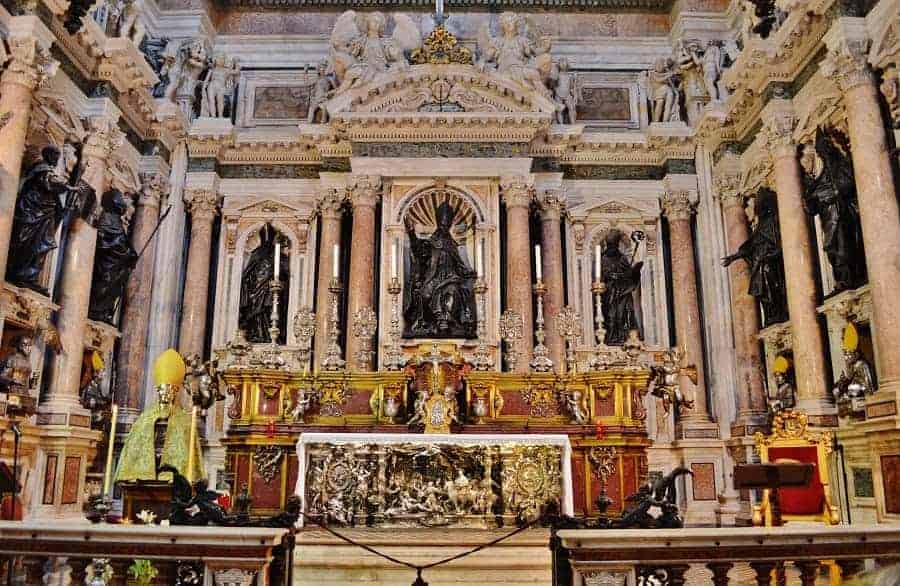 While the outside looks rather plain, the inside is magnificent. Designed in Baroque-style and laid out like a Latin cross, you will find it ornate and awe-inspiring.  The ceiling of the central nave is of wood and bears five paintings: the Annunciation, the Presentation at the Temple, the Visitation, the Nativity and the Epiphany.  The pillars feature busts of the first 16 bishops of the city of Naples.
One of the most powerful of the naves in the cathedral is St. Januarius, chapel. It is said that his blood is preserved here and only brought out on certain occasions.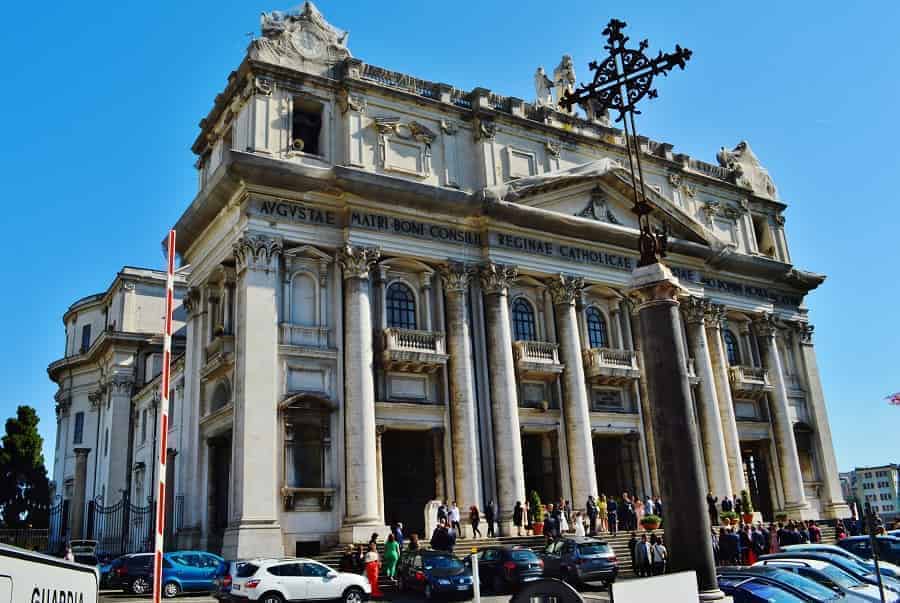 The Madre del Buon Consiglio is another Roman Catholic church in Naples. This church has beautiful frescoes and  a replica of Michelangelo's Pietà. 
San Gennaro Guglia in Sisto Riario Sforza.  Throughout Naples, you will find religious statues in the piazzas. This one was made by Cosimo Fanzago,a Neapolitan sculptor, after the eruption of Vesuvius in 1631.  The Neapolitans believed (and still do now) that Saint Gennaro protected the city from the eruption.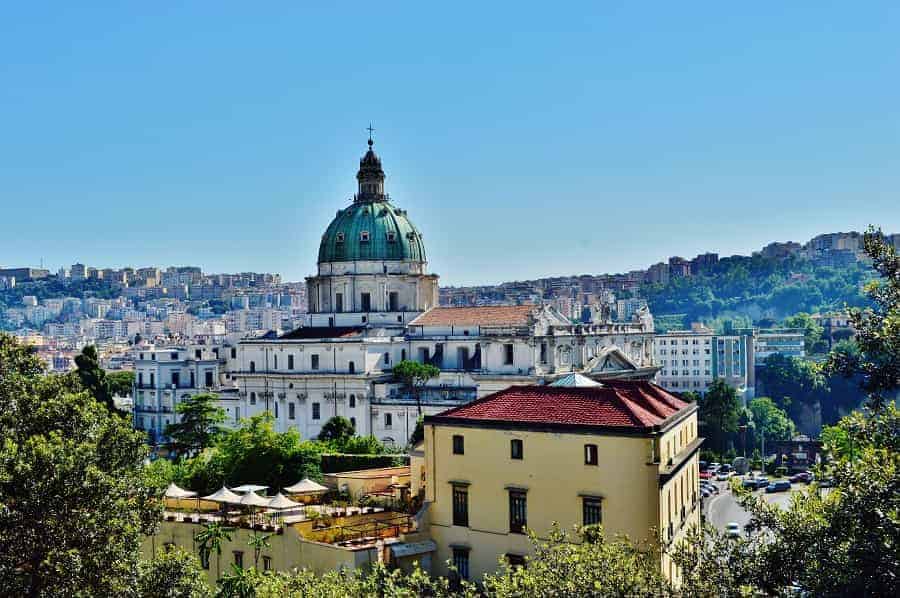 Because Naples is a port town, you may find yourself docking here for a cruise along the Mediterranean. If that is the case, you will have no problem seeing both Pompeii and Naples in one day when you book an excursion.  For those travelling from Rome or coming to Pompeii from Sorrento, you will need to adjust your schedule for the commute. It is a little over an hours ride by train into the area.  Either way you choose to venture to this area, you will find that it is worth the time spent here.
Have you been to Naples or Pompeii? What was your favorite part of your trip?