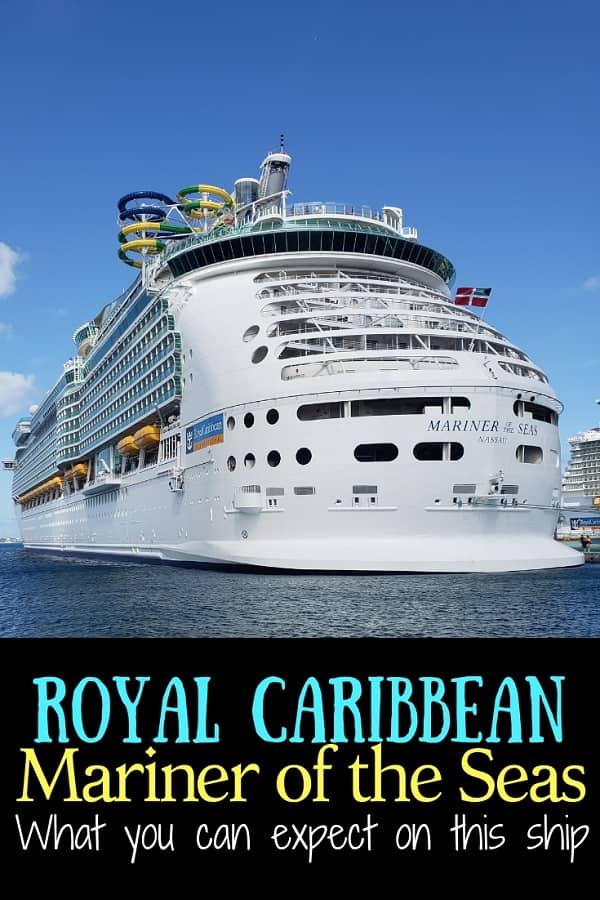 If you are looking for a quick family-friendly cruise to take for a long weekend, consider Royal Caribbean's Mariner of the Seas. This ship ports out of Miami (eventually, it will leave out of Cape Canaveral) and takes cruisers on 3 and 4 night trips to the Bahamas; visiting both Nassau and Coco Cay, Royal Caribbean's private island.
A Review of Royal Caribbean's Mariner of the Seas
Royal Caribbean's Mariner of the Seas first set sail in 2003.  Don't let that scare you. It underwent a HUGE overhaul in June of 2018 that packed this ship full of some of their best cruise features (similar to what you will find on its larger ships like Harmony of the Seas).
Balcony Rooms on Mariner of the Seas
We enjoy the extra space that a balcony room gives and liked the layout of our stateroom. Our large bed was next to our balcony and the couch doubles as a full bed (instead of bunk beds). There was plenty of storage. Our luggage fit under the bed and the closet had hangers as well as shelving.
There is a mini fridge, safe, flat screen TV, hair dryer, and telephone in the room.
Our room was on the 10th floor at the back of the ship. We found this to be the PERFECT location. The buffet was one floor above us and so was the main pool deck! It was wonderful being able to walk up the stairs instead of having to wait on elevators.
---
Pool Deck on Mariner of the Seas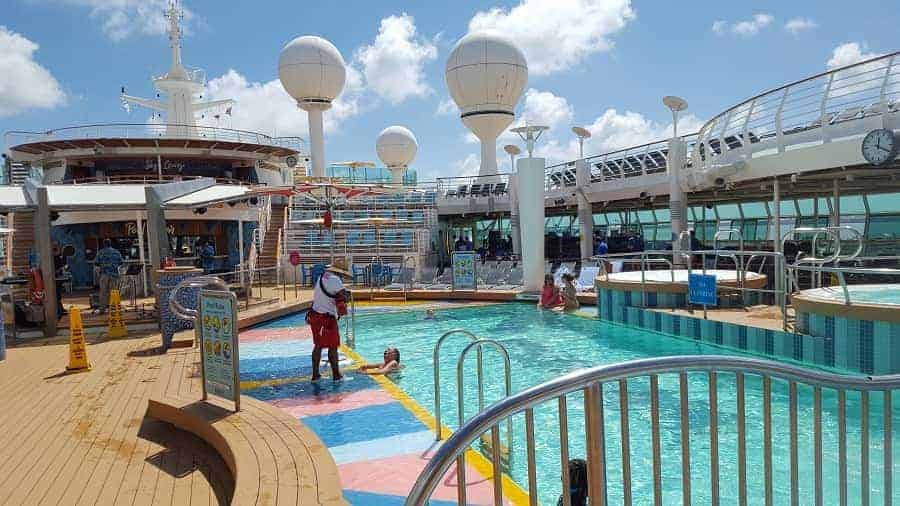 You will find two pools and several hot tubs on the main pool decks. There is ample seating around the pool, both shaded and sunny spots.
During the day, there will be a live Caribbean band or a live action movie playing on the big screen so you will want to pick your chair accordingly. The movie can be seen from most directions, but there are some places where your view will be blocked.  Avoid sitting under the screen when the movie is playing as the sound is amplified at a ridiculous volume.
The floor of the pool deck can be quite hot, so I recommend you wear your flip flops from your chair to the pool.
There is a bar just beyond the pool, but it gets quite crazy. You are better off placing your bar order with one of the attendants. Your 18% gratuity will be included so no need to further tip unless your service was superior.
Adult only pool (16 yrs+)
If you are without the kids, you may want to venture over to the adult pool. It is a smaller pool flanked by a set of large hot tubs. Seating here is limited, but the chairs are cushioned!  There is also a bar in this area with attendants.
---
FREE Dining on Mariner of the Seas
Windjammer Buffet
For breakfast, you will find all sorts of your favorite breakfast dishes: a variety of eggs cooked different ways, bacon, fresh fruit, yogurt, waffles, pancakes as well as an omelet and meat carving station.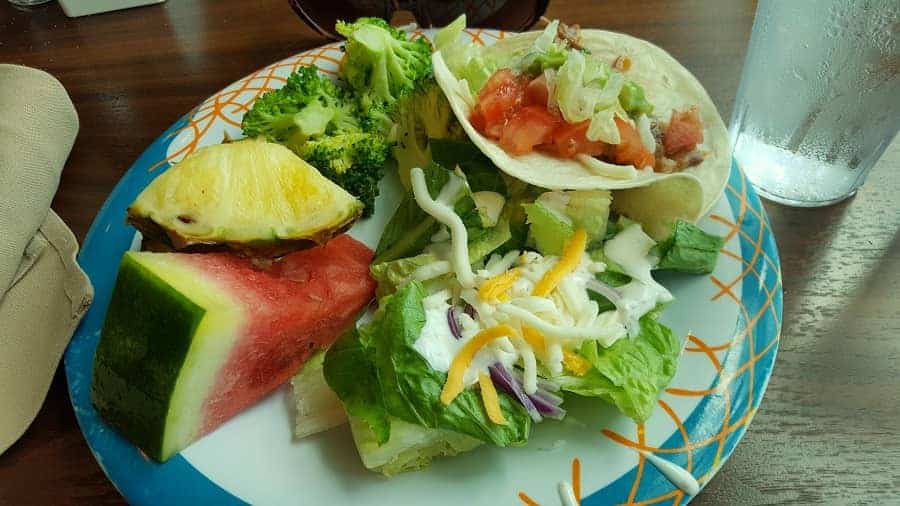 For lunch, you will find grilled hamburgers and brats, a taco bar, Asian and Indian cuisine, carving stations and of course salad and soup bars. There is no shortage of wonderful desserts either!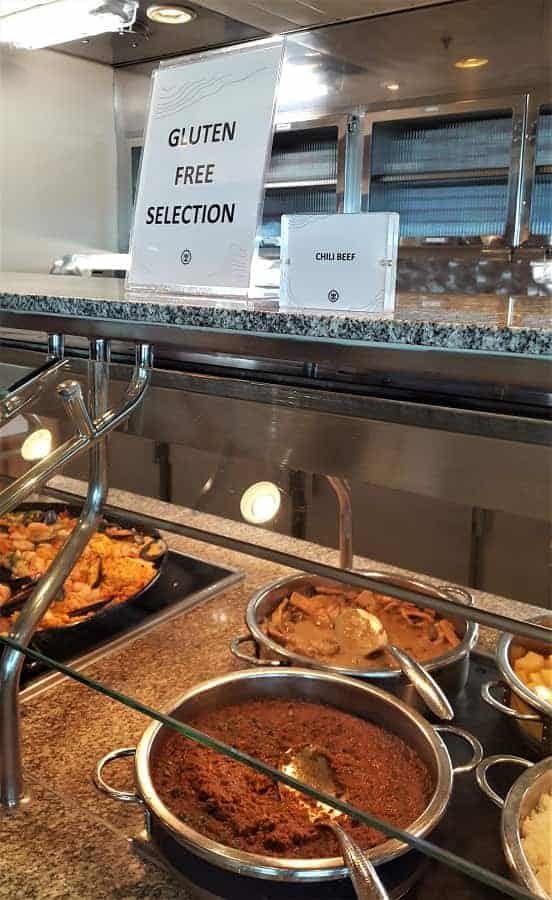 There is a wide variety of food choices and you should have no trouble finding something to eat no matter what your dietary restrictions. I was amazed to see not only plenty of vegetarian options but also gluten free dishes (that were clearly marked).
Cafe Promonade
For breakfast on the Mariner of the Seas, you will find parfaits and biscuits. During the lunch and dinner hours you will find sandwiches, pizza and other various eat on the go type of food. There is small tables for you to sit while you eat.
Main Dining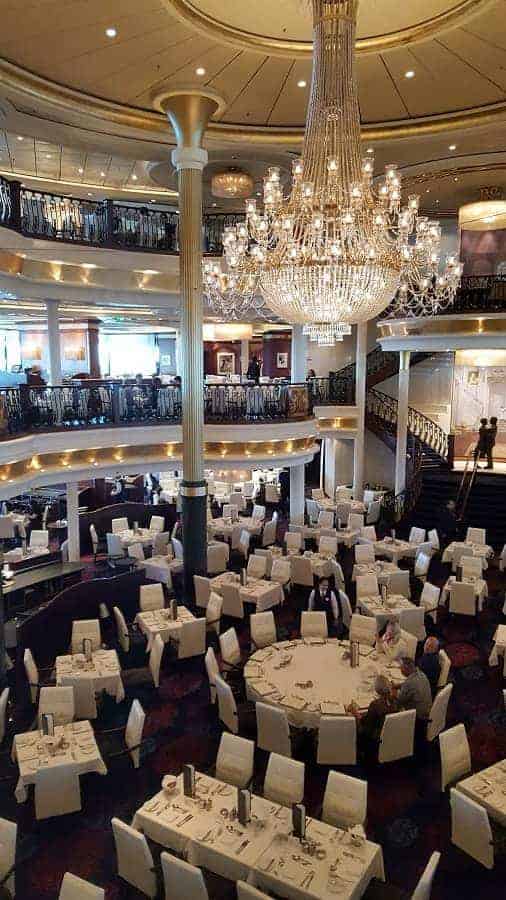 The main dining room on the Mariner of the Seas is beautiful. You will feel like you have stepped right onto the Titanic with the Crystal Chandeliers and sprawling staircase.
Each night, you will sit at the same table and have the same set of servers.  Depending on the size of your party, you may or may not share a table.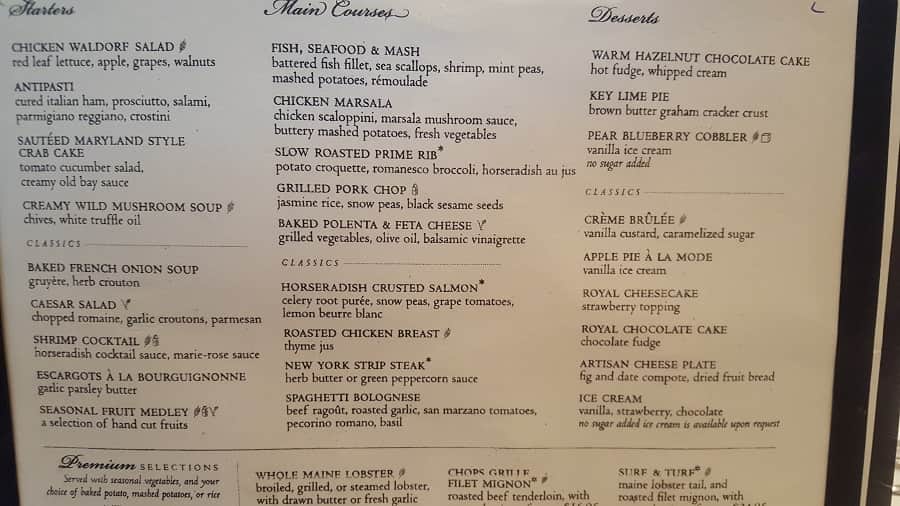 On the top of the menu you will find a list of dishes that are only for that night. The classics portion of the menu remains the same each night. This is true for the appetizers, main dish and dessert choices. There is also a Premium section on the menu that has a upcharge which usually features surf and turf option or lobster.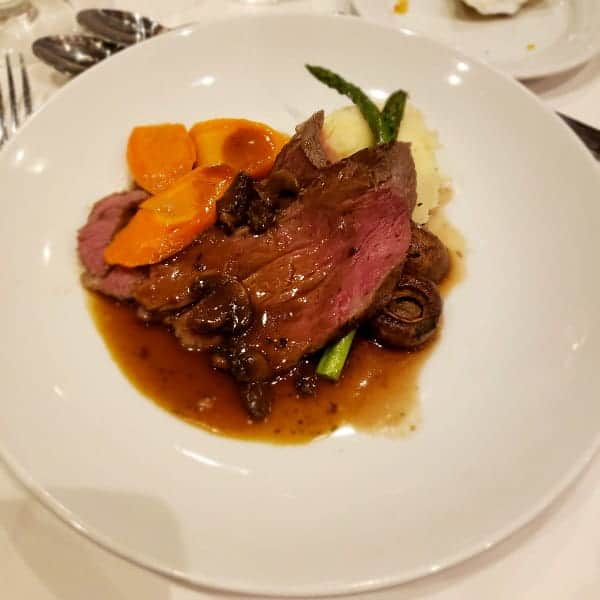 We found that there was always at least one chicken, beef and fish option that rotated nightly.  You will also find lamb, duck and pasta choices at some point during the week.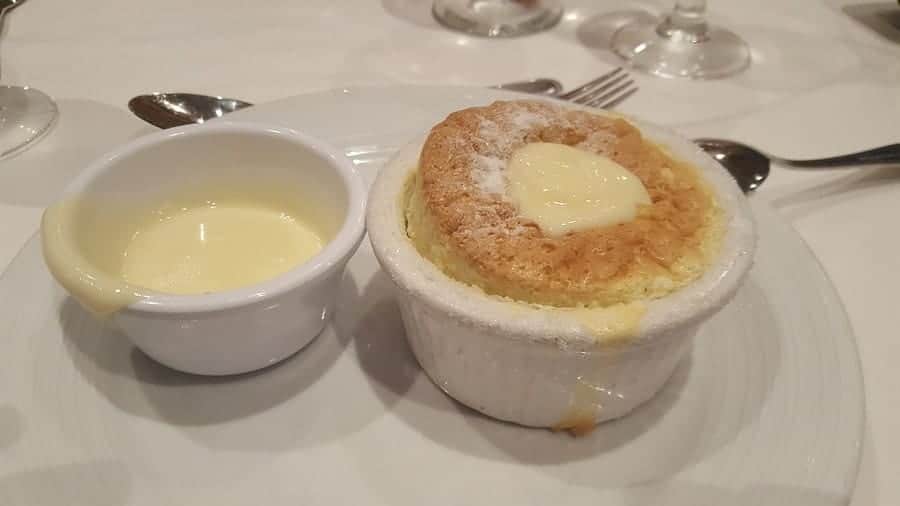 The food during main dining was nothing short of superb.
Other Dining Options on Mariner of the Seas (for a fee)
Izumi, the Hibachi restaurant
Jamie's Italian Grill
Chop's Grill
Ben & Jerry's Ice Cream shop
Starbucks
---
Family Activities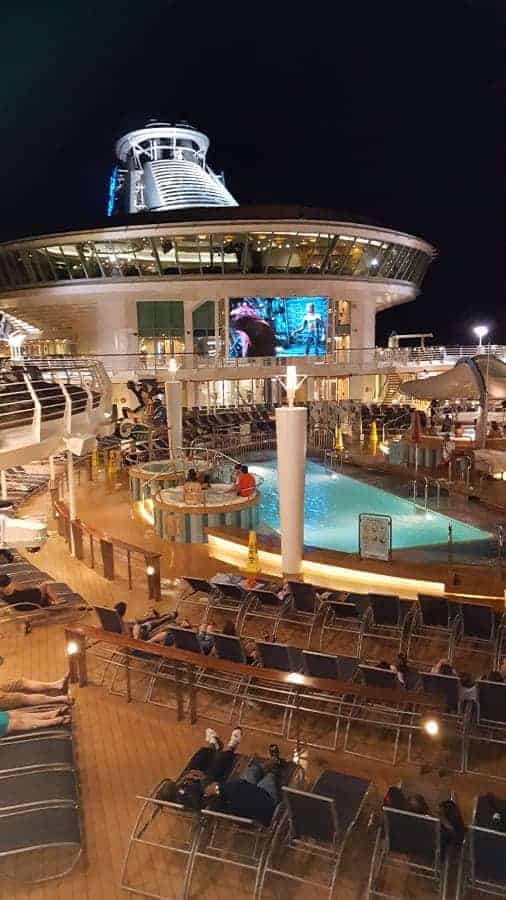 When we planned this cruise, we wanted to make sure that we chose a ship that had activities that would keep our kids busy.  The Mariner of the Seas has plenty of activities that teens will love.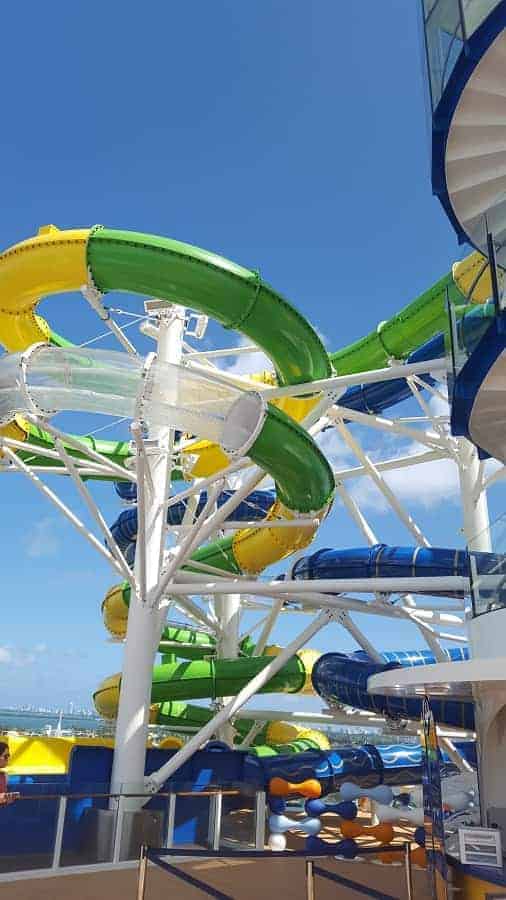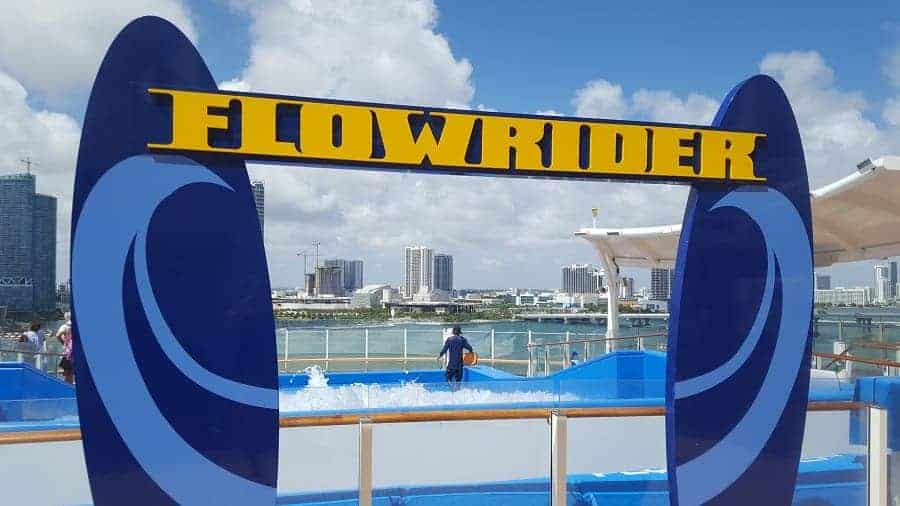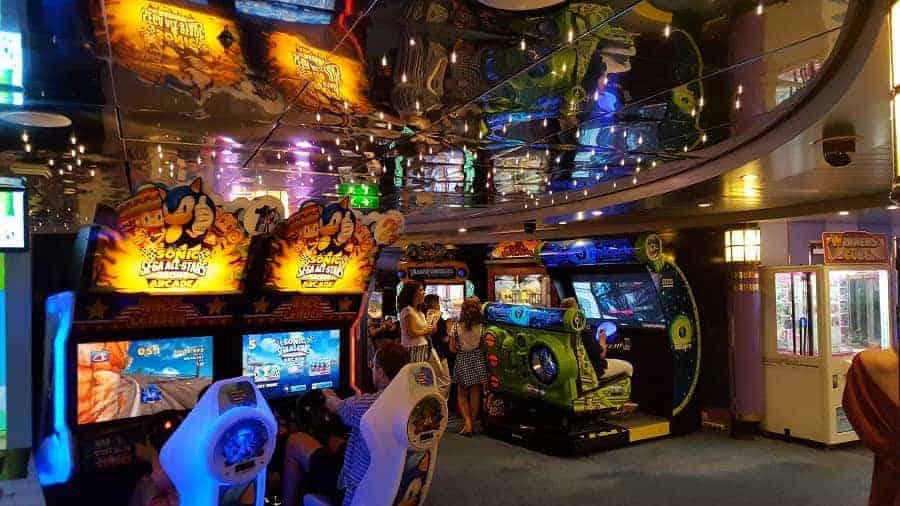 Activities Kids will LOVE on Mariner of the Seas
2 water slides (Cyclone and Typhoon)
Flow Rider surf simulator
Rock climbing wall
9 hole mini golf course
Basketball court
Laser Tag
Ice Skating Rink
Escape Room
Skypad Virtual Reality
Arcade
---
Adult Activities on Mariner of the Seas 
Casino: Gaming tables and slots
Playmakers Bar & Arcade: American sports bar with food
The Bamboo Room: Polynesian style Cocktails handcrafted with exotic fruits and spices
70's Disco Party
Schooner Bar: Piano bar
Boleros: Latin themed club with live band
Wig and Gavel Pub: Traditional British style pub with impressive beer list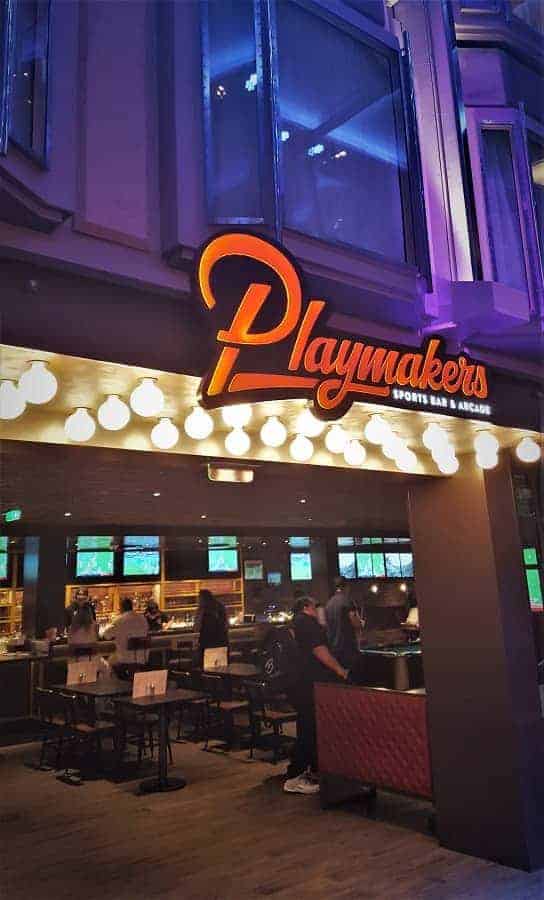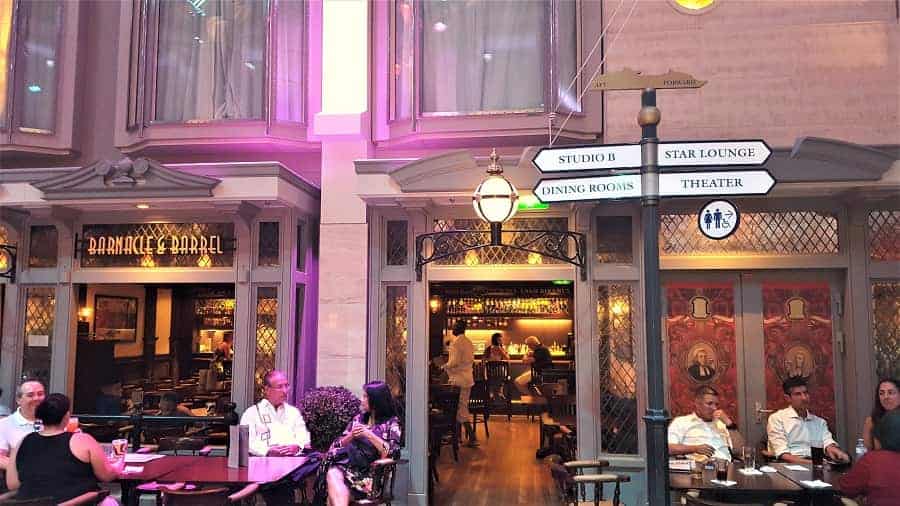 Adults will have no shortage of fun activities on Royal Caribbean's Mariner of the Seas.  With several watering holes, you could easily do a night of just pub crawls, checking out each one's specialty! If sports is your thing, you can also catch live streams of games over at Playmakers while you enjoy a beer & chicken wings!
There are trivia games going on during the day and in the evenings along with special classes where you can learn everything from how to dance to make sushi!
---
The Downside of Mariner of the Seas
While we loved all the fun activities the ship has for the kids, we found that the night life was not as family friendly.  There were plenty of late night dance parties and comedians but as far as activities geared toward family-friendly entertainment, the ship fell short.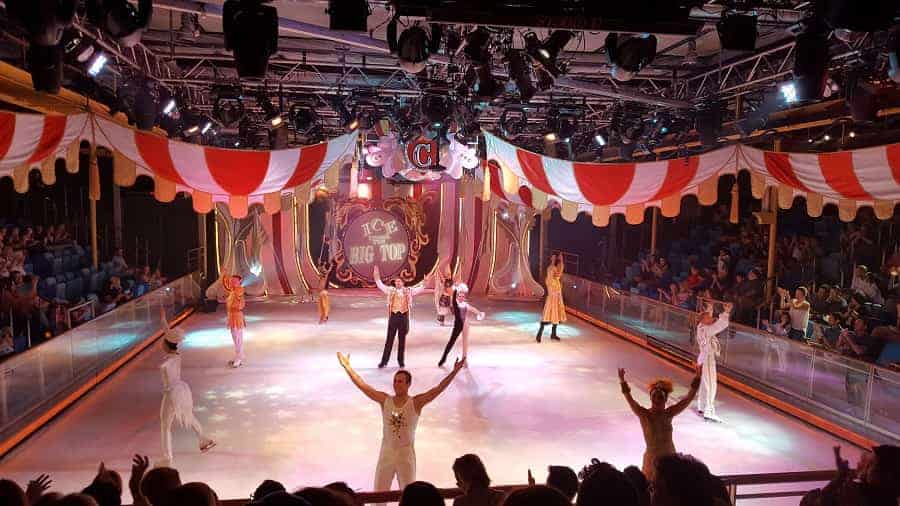 We spent three nights on the ship. The first night, we attended an Circus themed Ice Show that started after dinner.  The show was fine enough, but it ended around 8:30 and there was really nothing for us to do afterward.  We tried to play putt-putt, but found the course completely dark!
The next two nights only had shows (juggler/ comedian) that started at 10:15.  When dinner ends at 7:30, it would have been nice to have something to be able to do. We attempted to book the Escape Room, but we were told that it gets booked three months in advance, so we were out of luck.  We ended up playing shuffleboard and watching a movie by the pool.
---
Tips for Mariner of the Seas 
While a trip on the Mariner of the Seas is short, there is plenty you will want to do. The key is to make sure you are prepared in advance. Here are a few tips for your trip on Royal Caribbean's Mariner of the Seas:
Bring sneakers if you plan to try your hand at the rock climbing wall.
Book your time in the Escape Room before your cruise
One of the elevators has a working piano inside!
There will be one night where the arcade has free game night.
You can have coffee (among other breakfast treats) sent to your room every morning for free.
There is a body wash/shampoo dispenser in the shower.
Bring a lanyard for your ship card (especially if you have kids)
If you can, skip the drink package. Lemonade, juice, tea, coffee is free.
There is free soft serve chocolate & vanilla yogurt by the pool.
Have you had a chance to travel on Royal Caribbean's Mariner of the Seas since the renovation?


Start planning ahead for your cruise holidays in 2019 and discover the amazing destinations you can visit with Royal Caribbean.