One of the best ways to see the most picturesque parts of California is on a drive along the PCH. While it is possible to drive the entire length of the PCH, not everyone has the time it takes. So, if you are looking for a shorter trip along the California coast, consider making a road trip from San Francisco to LA.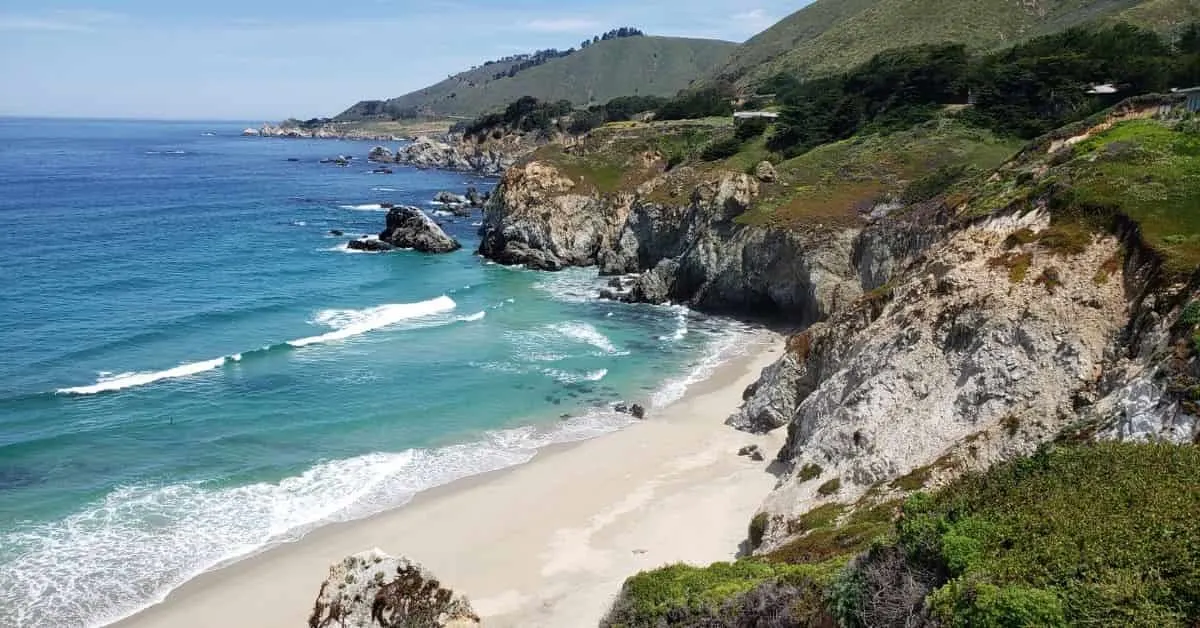 Road Trip from San Francisco to Los Angeles
When you make the drive from San Francisco to LA, there are going to be many different sites you will want to see. Here are just a few of the stops along the PCH that you should make: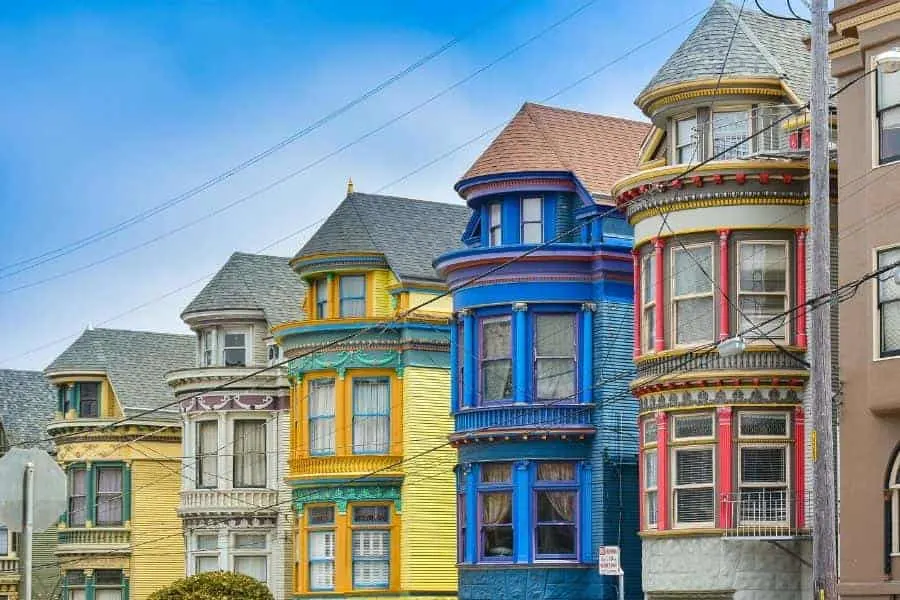 San Francisco
When you start your road trip in San Francisco, you will want to make sure that you give yourself a couple of days to explore this amazing seaside city.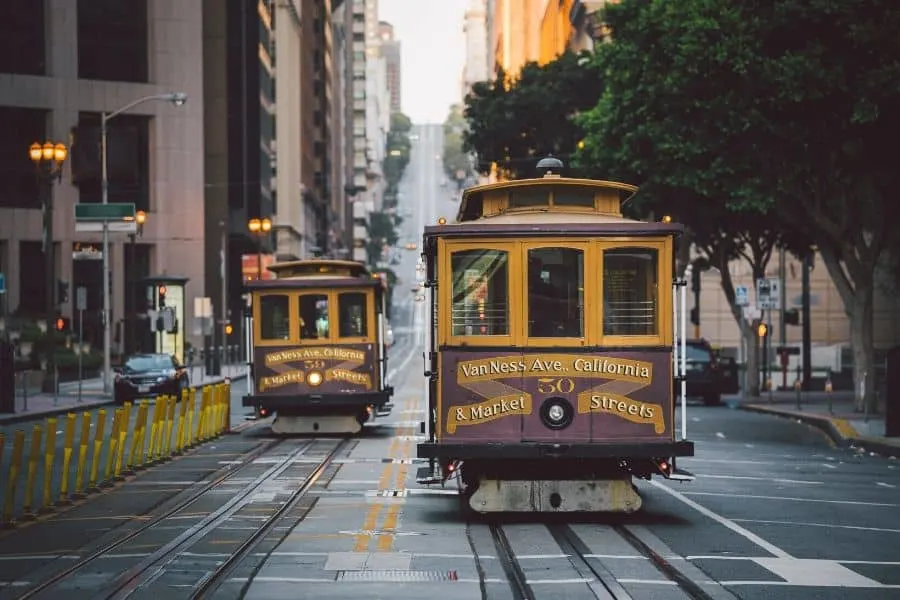 You will find so much to do here before you head off on your journey and depending on how long you give yourself, we have some great San Francisco itineraries for you to consider.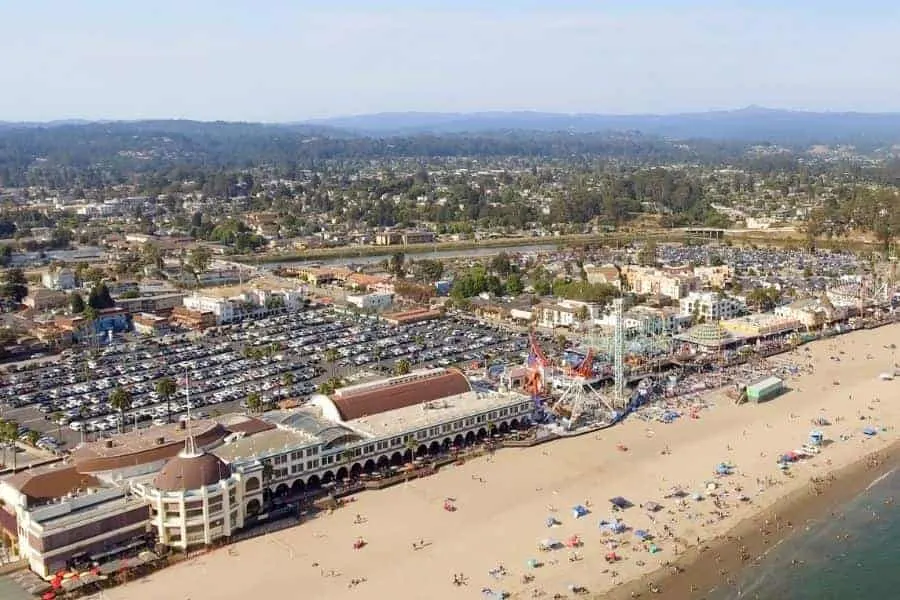 Santa Cruz
When you think about a California beach town, Santa Cruz is it! Beach Boardwalk is a classic seaside amusement park located along a beautiful sandy beach in a friendly beach town.
You want to give yourself plenty of time to visit the beach, see the natural rock bridge, and of course, ride the Giant Dipper roller coaster at the iconic Boardwalk!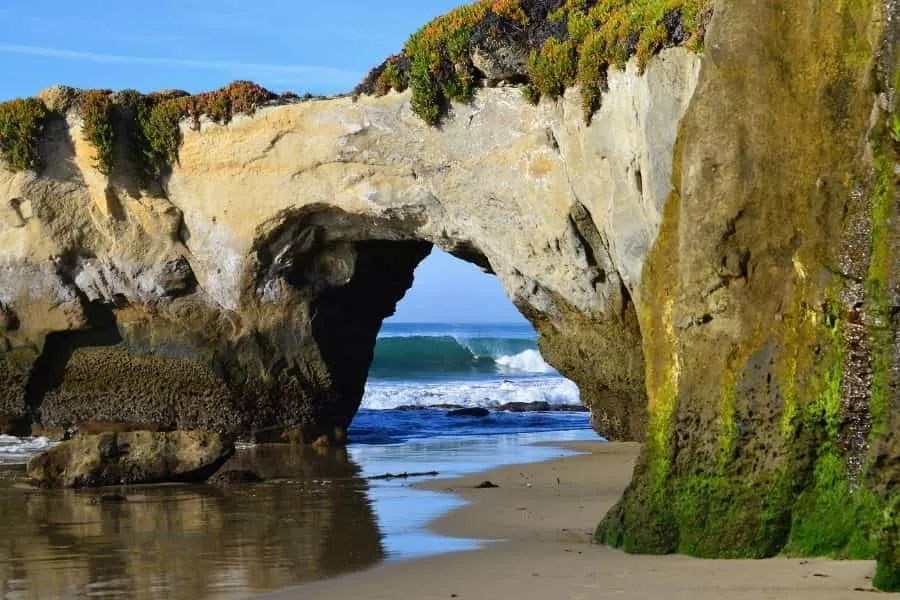 Natural Bridges State Beach
If there is one beach you need to see, it is the Natural Bridges State Beach.
There you will get to see a beautiful natural bridge that is one of the most photographed natural wonders in California.
Aside from the bridge, the beach is teeming with life. You can watch for whales, sea otters, and birds or explore the tide pools along the beach for starfish, crabs, and sea shells.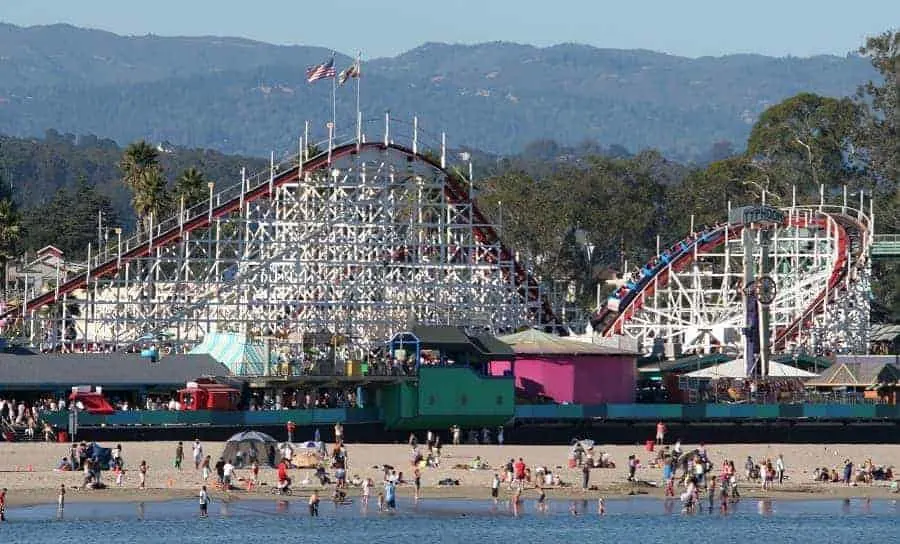 Boardwalk
The iconic Santa Cruz Beach Boardwalk is the place you will want to go if you are bringing the kids with you to Santa Cruz.
With more than 40 different rides and attractions, there is something for everyone!
You can purchase all-day passes, unlimited ride passes, or just individual ride tickets. Ticket prices are the same for all ages.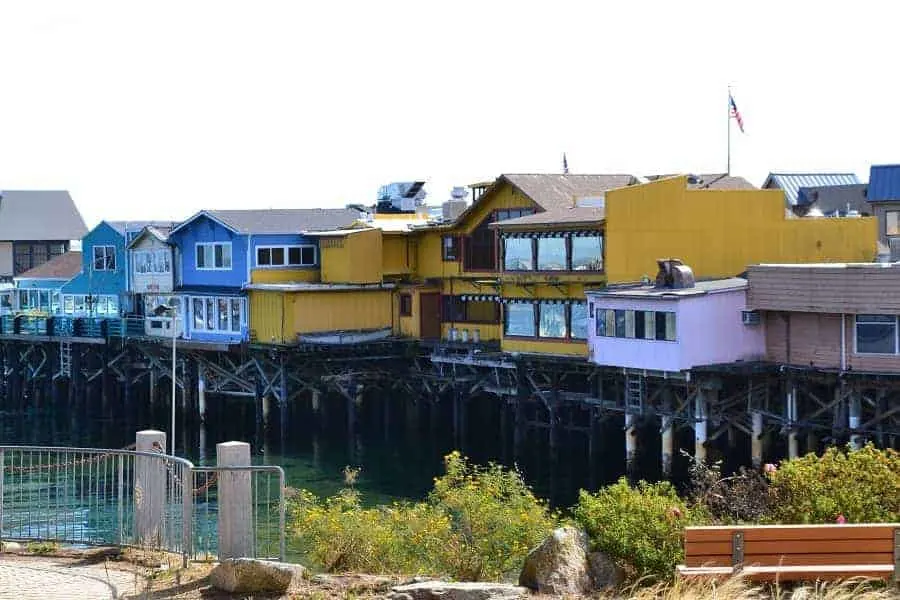 Monterey
A trip to this peninsula will give you a glimpse into a different part of the California coast.
One of the most beautiful coastal communities, it was the focal point for John Steinbeck's Cannery Row novel.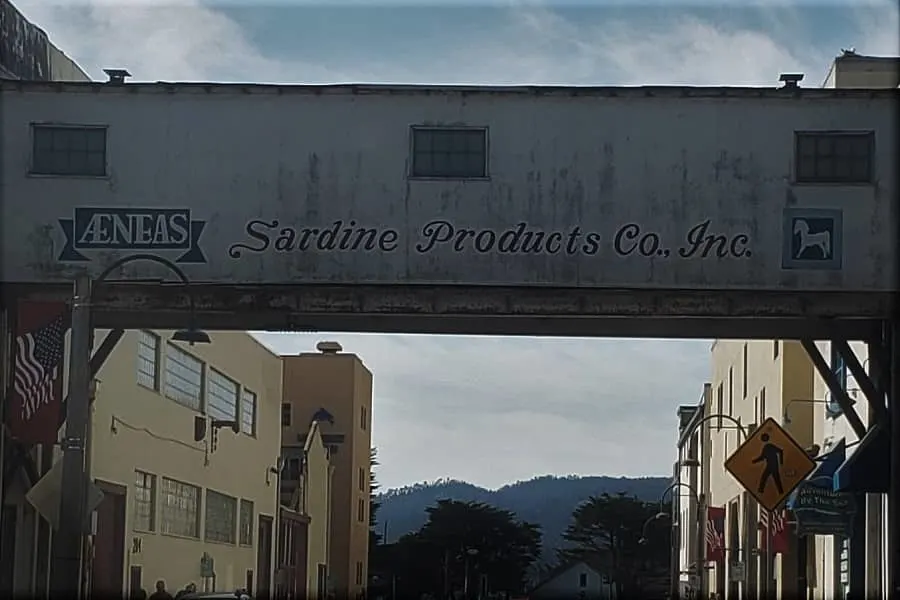 When you visit Cannery Row, where sardines were once canned, you will still see signs of the once profitable industry (it eventually collapsed due to over-fishing).
Today, this area is protected as a national marine sanctuary. Walk around the old buildings, grab a bit to eat, and enjoy the beautiful waterfront views.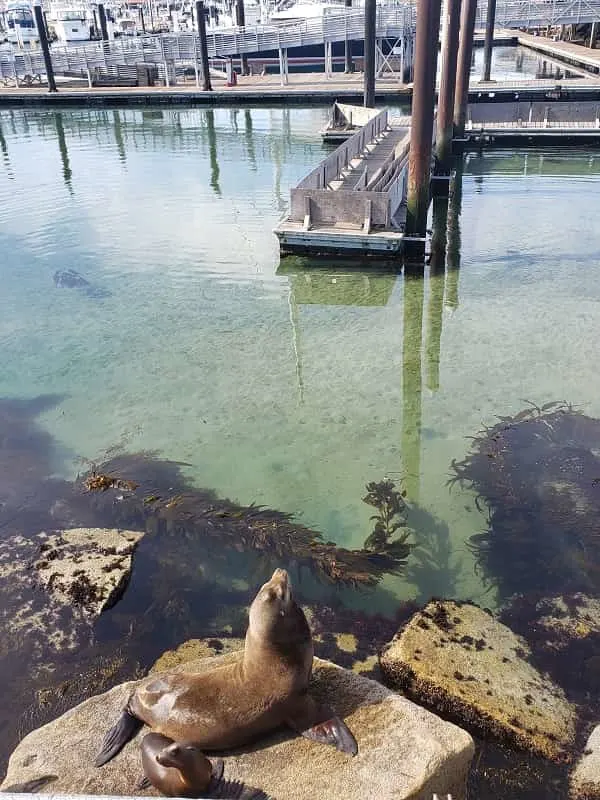 One of the most popular things to do in Monterey is to take a trip to the Coast Guard pier to see the sea lions! You will be able to see them up close in a safe (fenced) environment.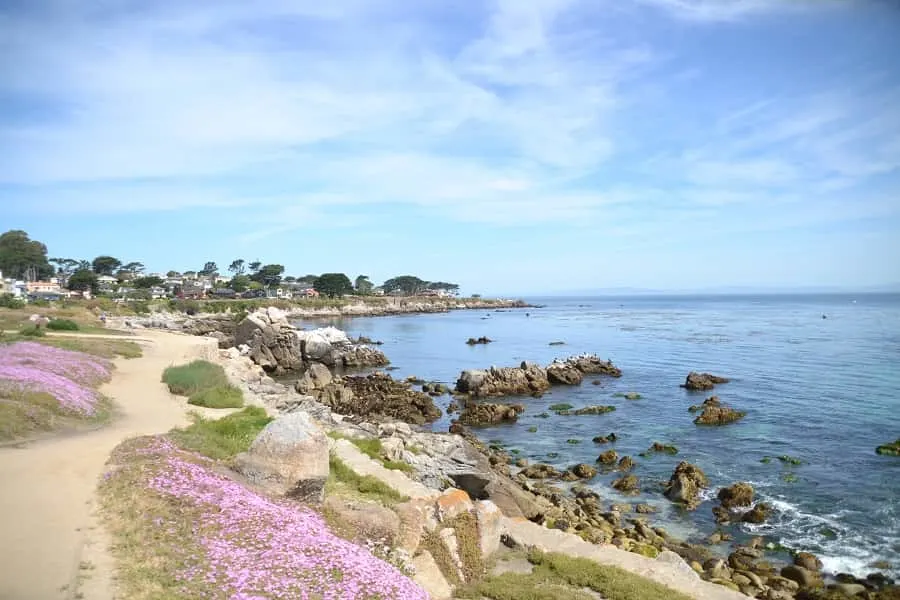 Pacific Grove
Just south of Monterey, sits the seaside town of Pacific Grove. You will definitely want to make a stop here to check out the beautiful views and beaches.
Known for its Monarch Grove Butterfly Sanctuary, Pacific Grove is nicknamed "Butterfly Town, U.S.A." If you visit during the fall, you will get to see them "clustering" at the sanctuary.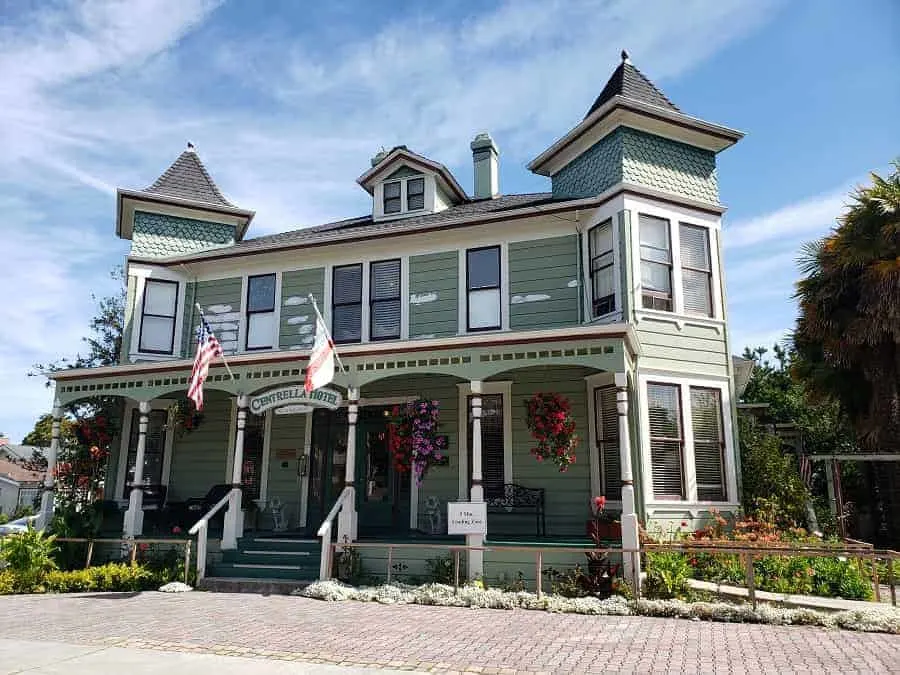 Where to stay in Pacific Grove
Centrella Inn (Check it out) is a beautiful historic Victorian Bed & Breakfast and the perfect place to stay when you are making the trip to Pacific Grove. It is dog-friendly and breakfast is included!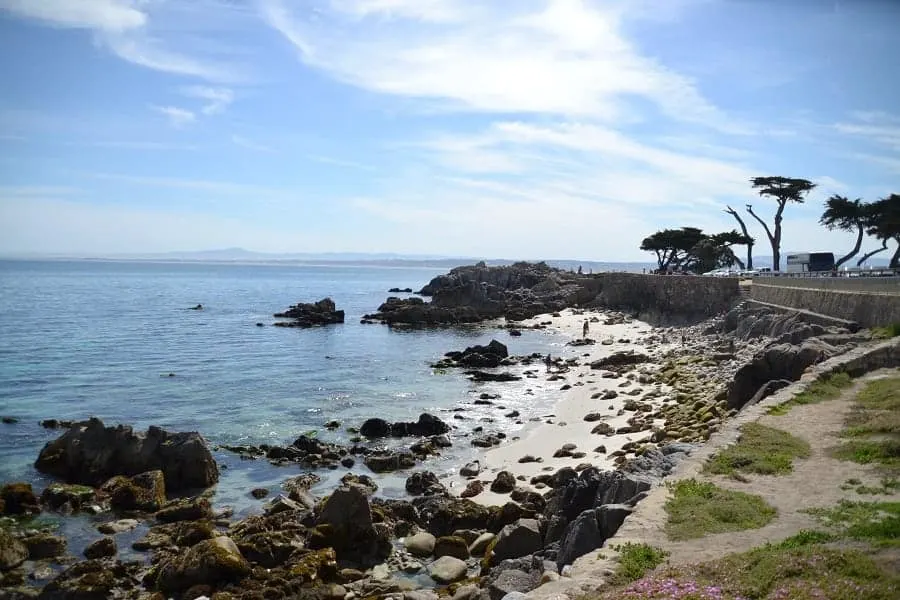 Carmel
Often referred to as Carmel-by-the-Sea, this seaside town has beautiful beaches perfect for a sunset walk.
If you spend some time in Carmel, you will want to spend time checking out Ocean Avenue with its quaint boutiques, cafes, and beautiful architecture.
If you have the time, take the FREE self-guided historic walking tour of Carmel.
The Basilica Church
The main draw (besides the beautiful beach) is Carmel's 300-year-old Spanish mission.
The Basilica Church is a registered National Historic Landmark and is available to tour.
You will find a stone Basilica that dates back to the 18th century, several different museums (Munrás Family Heritage Museum, Convento Museum, and the Jo Mora Chapel Gallery) with various displays on everything from Colonial Spanish Liturgical art, artifacts and exhibits about the restoration of the mission and a beautiful courtyard.
Open Daily 9:30 am to 5:00 pm
The admission fee to visit the Mission grounds, Basilica and Museums
$9.50 for Adults
$7 for Seniors
$5 for Children 7 and up.
Free for children 6 and under.
These funds are used to support the continued maintenance and restoration of Carmel Mission.
Big Sur
Probably one of the most beautiful coastlines in the world is right along this stretch of the Pacific Coast Highway.
Big Sur is known for some of the most beautiful views of the Pacific Coast.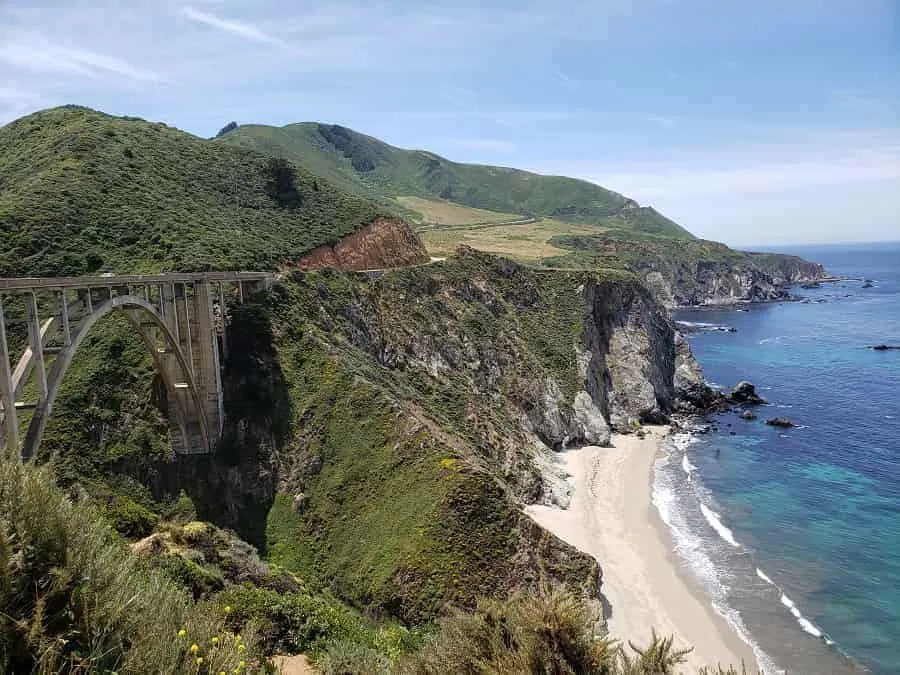 Bixby Bridge
You are going to want to take the time to pull over to take in the beautiful natural rock formations jetting into the Pacific Ocean and the views of the iconic Bixby Bridge.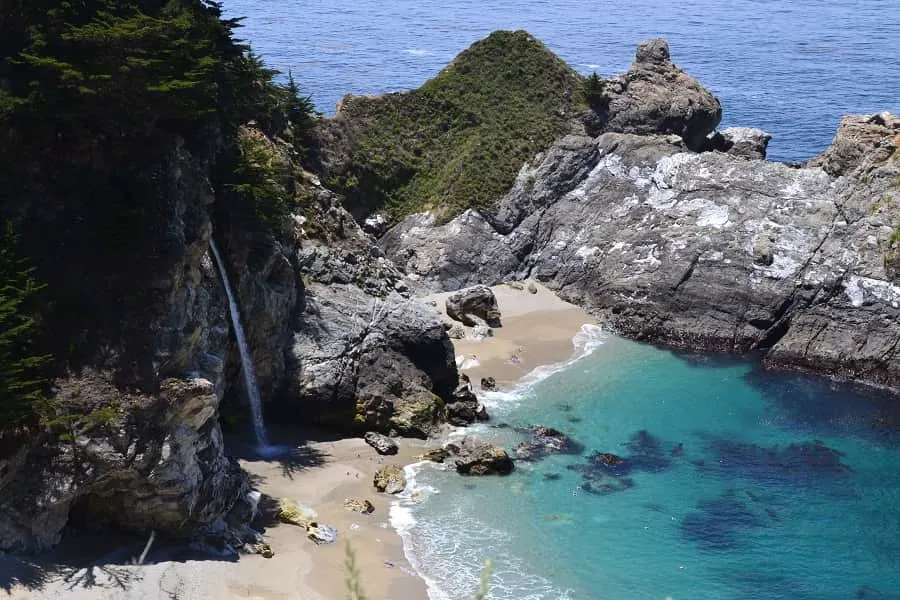 McWay Falls Overlook
Be sure to do the McWay Falls Overlook Trail. The trail passes under the highway and then heads north around McWay Cove, overlooking the waterfall and a beach that was created from a 1983 landslide.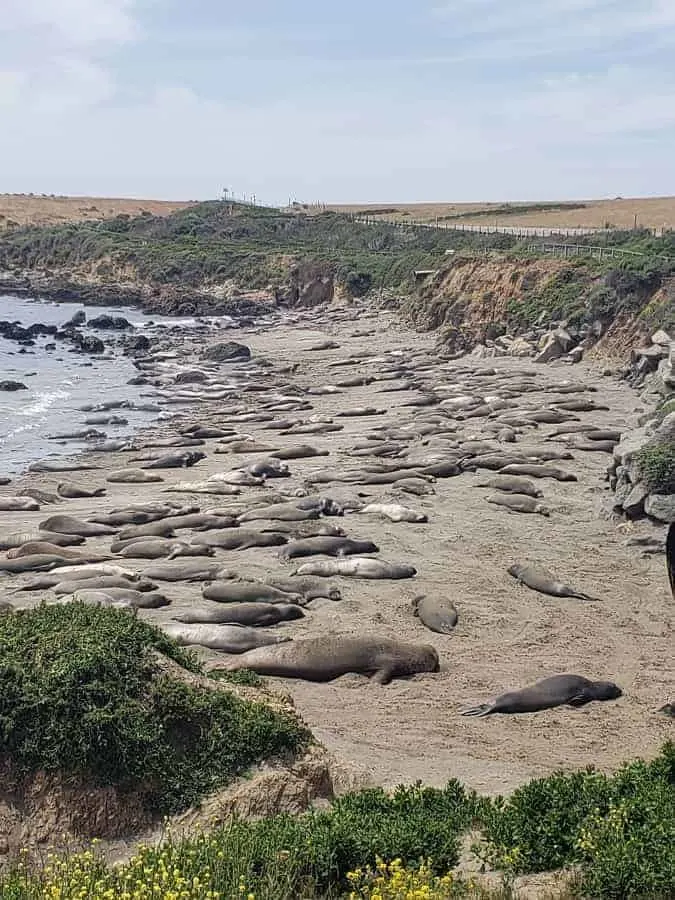 Piedras Blancas
If you want to see seals while venturing from San Francisco to Los Angeles, Piedras Blancas Elephant Seal Rookery is where you will find them.
This area is a protected beach which means that people are not allowed on it. You will find plenty of viewing platforms to watch the seals.
Parking is FREE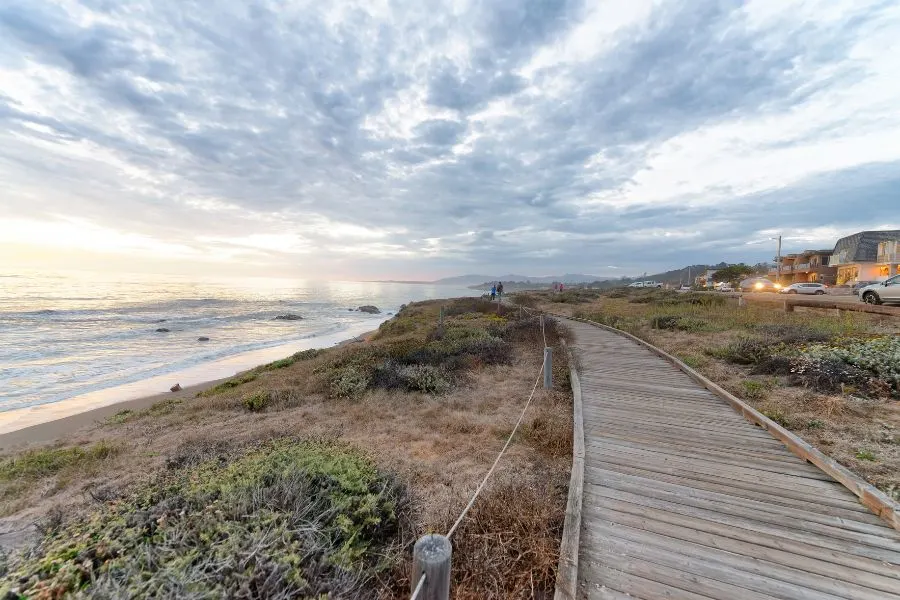 Cambria
Another little beach town, Cambria is worth exploring and even makes a good place to stop in order to venture into Paso Robles.
Just less than an hour's drive away, the Paso Robles wineries are some of the best in the region!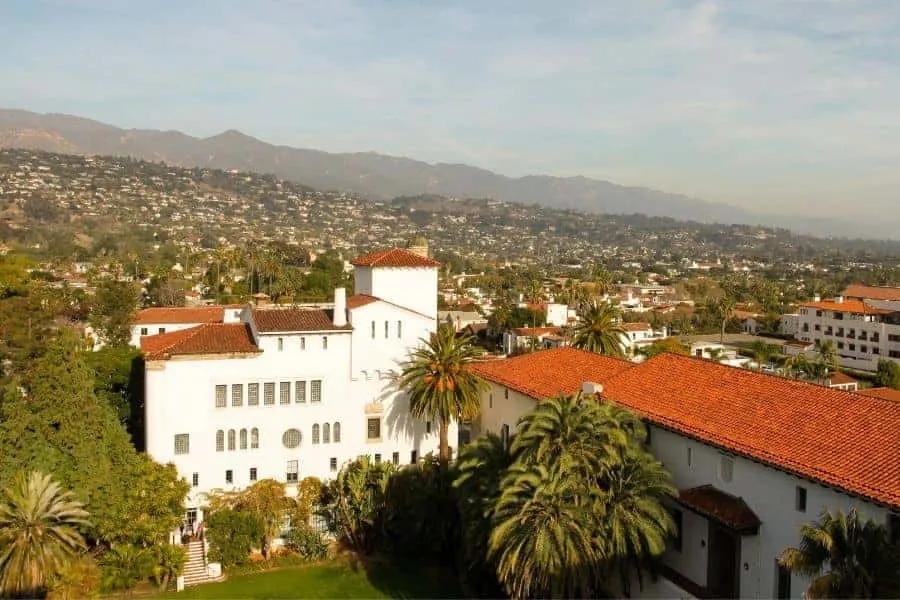 Santa Barbara
In 1925, when a major earthquake destroyed the city, it was rebuilt in Spanish Colonial Revival style.
Walking around the city, you will be able to take in much of the beautiful architecture and historic landmarks.
Use this Red tile walking tour of Santa Barbara to help you get around.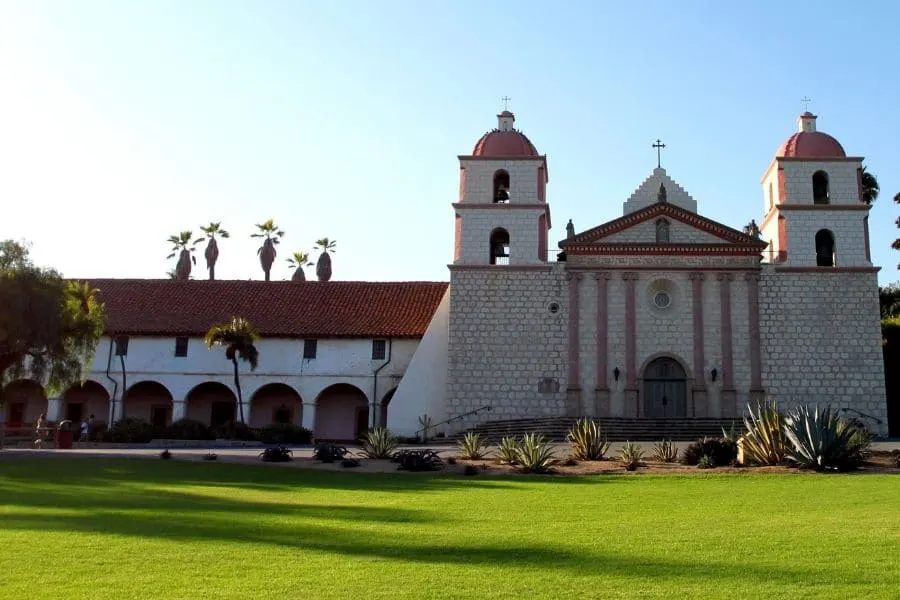 Franciscan Mission Santa Barbara
Be sure to see the Franciscan Mission Santa Barbara. Founded in 1786, it collapsed in 1812 and was rebuilt in its current form.
Be sure to tour this working parish church and admire the facade and the colonial-era art & sculptures.
Outside, you will want to walk through the La Huerta Historical Garden and the cemetery, where many early Spaniards and Chumash Indians are buried.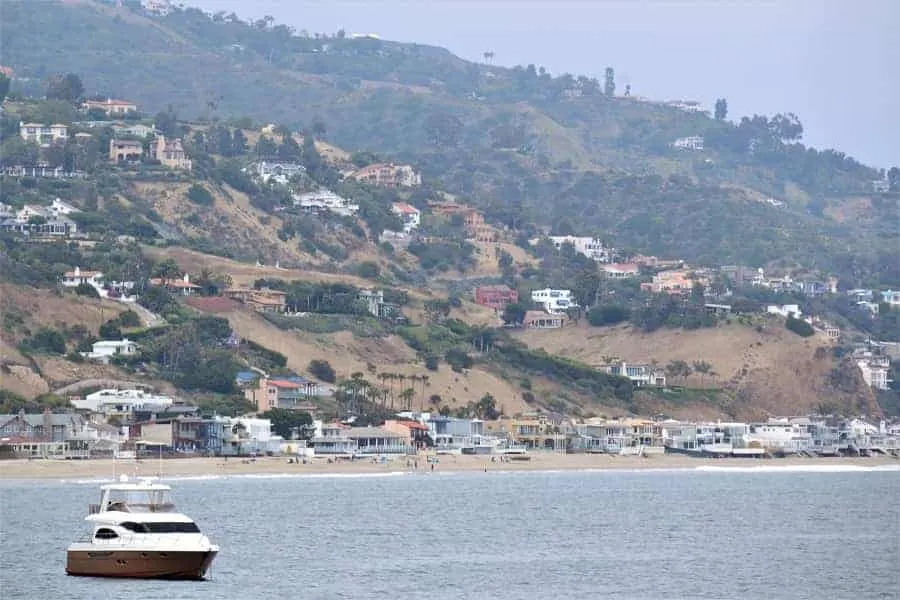 Malibu
This LA Beach town is where the celebrities go to get away from it all.
A drive down the Pacific Coast Highway will allow you to see all 21 miles of the Malibu coastline.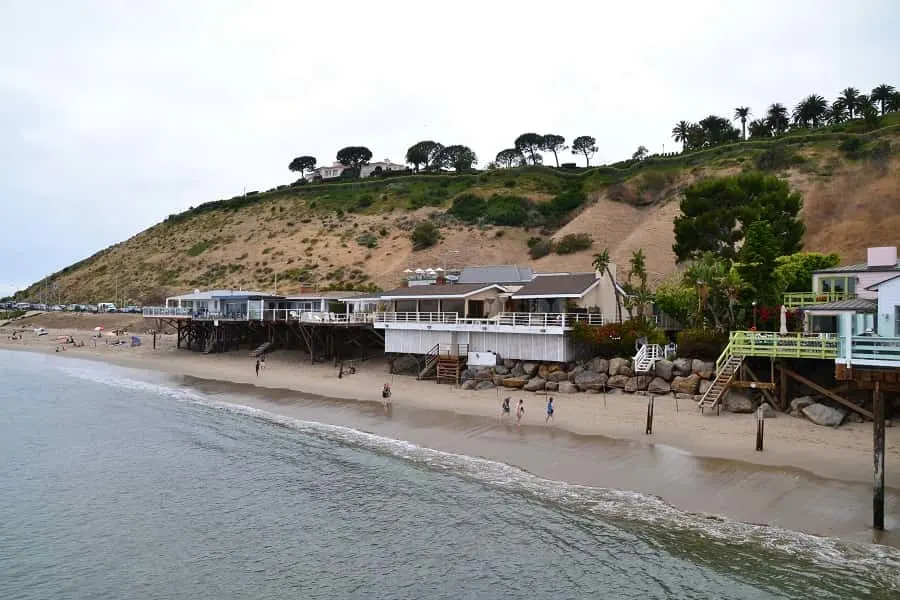 If you are looking for some beach time to break up your road trip from San Francisco to Los Angeles, this is the place to go.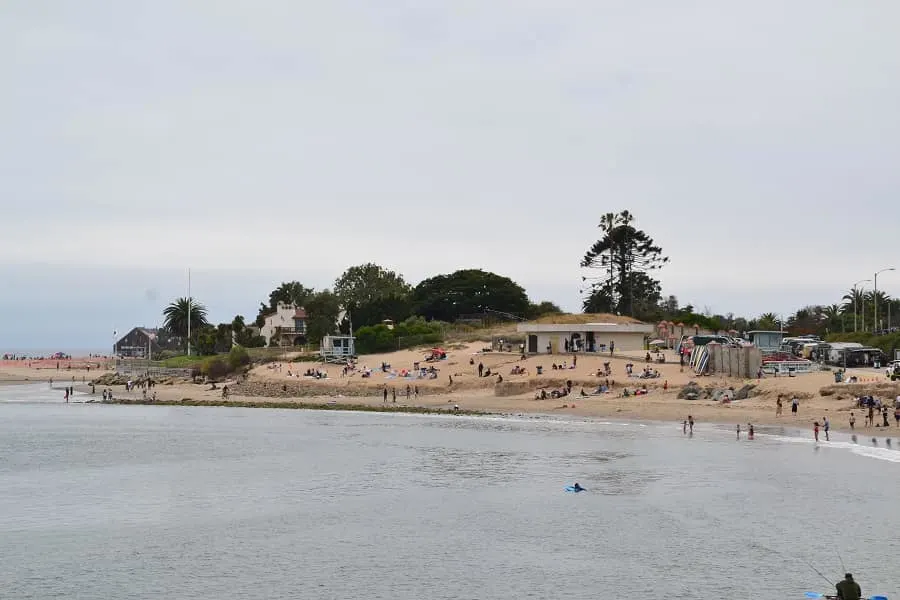 You will find that Malibu has a little bit of everything when it comes to beaches. There are sandy beaches, rocky beaches, small intimate beaches, and large (packed) beaches.
Whatever you choose, you will find that you will be in no short supply of sunshine and ocean waves. The sunsets are pretty spectacular too!
All beaches in California are public property. This means that you can access them no matter which beach you choose to visit (although some are easier to access than others).
While Zuma is the most popular for sunbathers, Westward is less crowded and has convenient free parking. It is an easy walk down to Zuma if you still want to get there.
Devastated by the Woolsey Fire that torched nearly 100,000 acres, if you venture into the hills, you will see firsthand how this destruction has changed the landscape.
What were once sprawling mansions and vegetation have been decimated to nothing but driveways that go nowhere and scorched earth.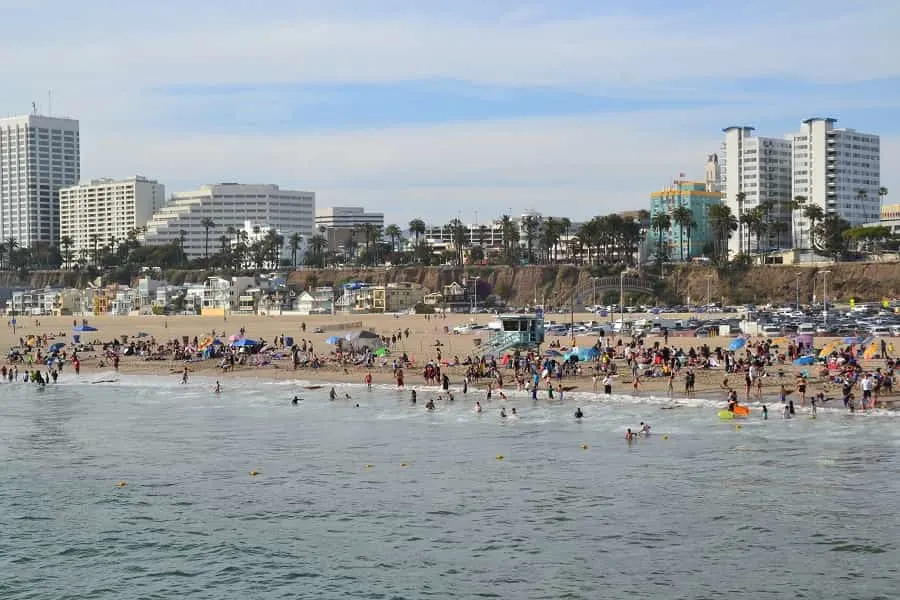 Santa Monica
Santa Monica marks the end of Route 66. You will find beautiful beaches, all kinds of shopping and of course the Santa Monica Pier.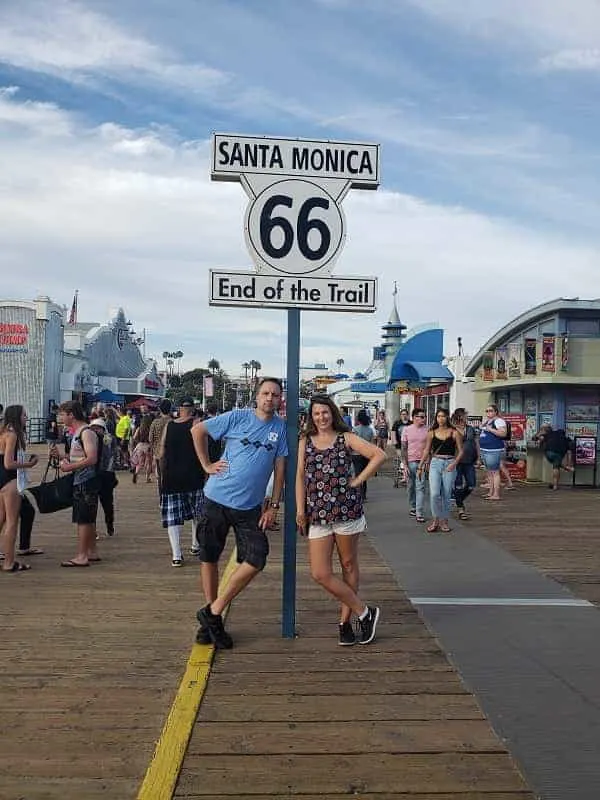 Santa Monica Pier
During your roadtrip from San Fran to LA, you must stop at the Santa Monica Pier and the Pacific Park amusement park!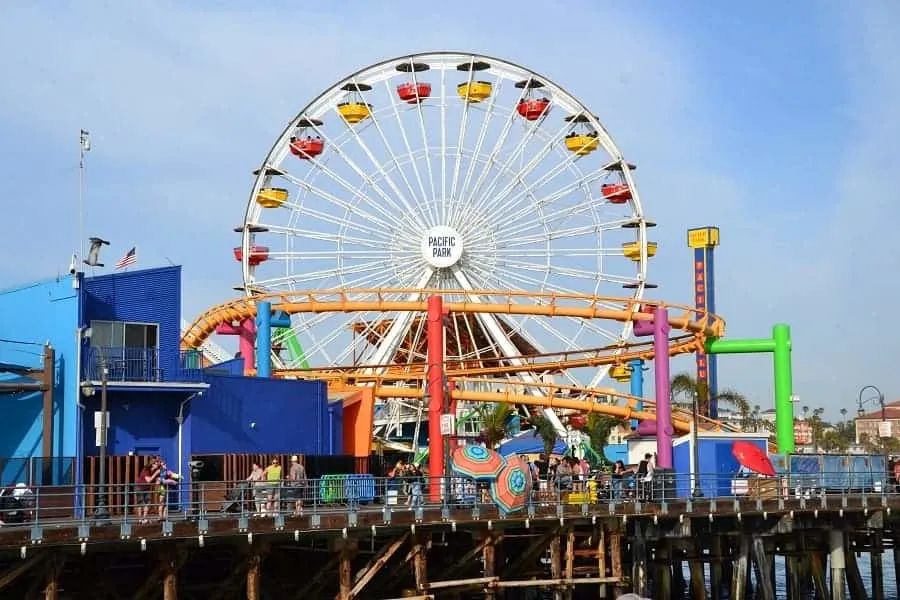 Pacific Park amusement park is a kids dream! There is a roller coaster, tower ride, miniature golf, and a solar powered, over-the-water Ferris wheel, and plenty of wonderful street performers and food vendors.
Make sure that you give yourself some time to explore the pier and the amusement park!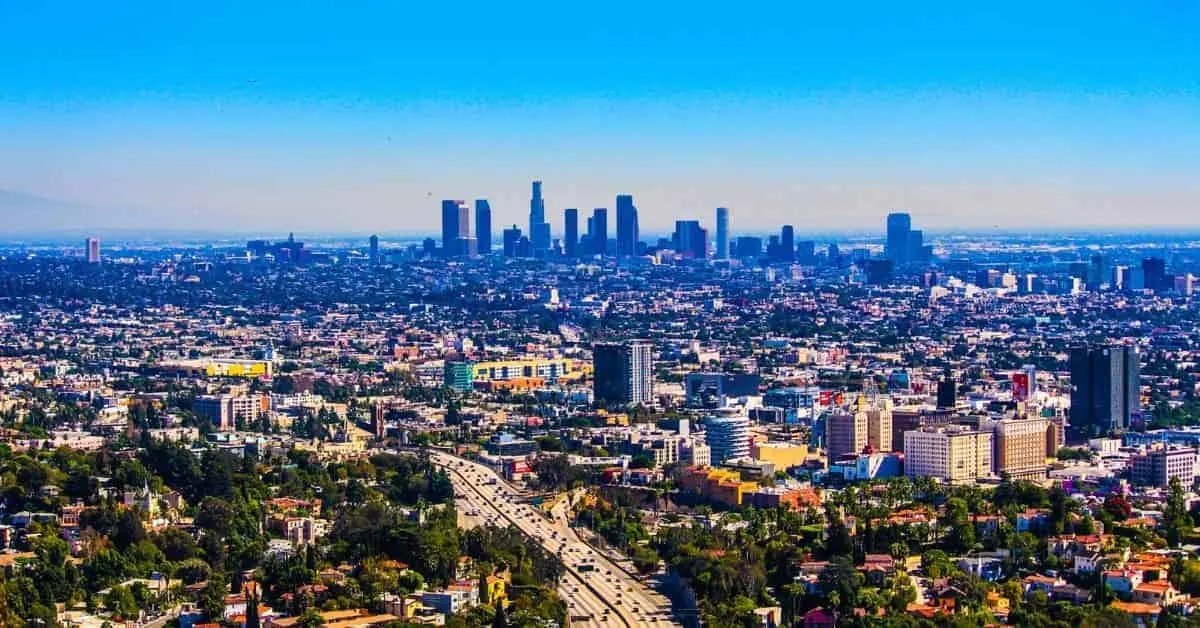 Los Angeles
The last leg of your trip will bring you to Los Angeles.
There is so much to see and do in LA that you will want to make sure that you give yourself several days to explore this beautiful city!
Check out our perfect 2 days in Los Angeles Itinerary.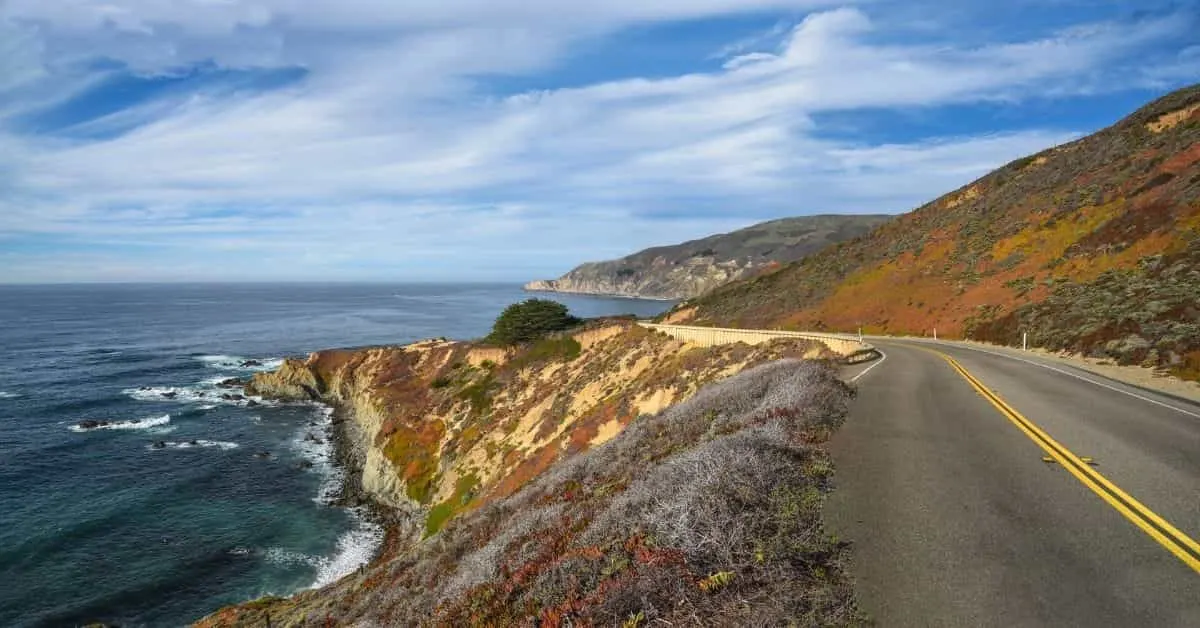 How Long is the Drive from San Francisco to LA?
When driving from San Francisco to Los Angeles, you will be covering close to 230 miles!
While you would think that would only take about 4 hours, it takes much longer because of the winding roads, rugged terrain, and the stops you will want to make along the way.
With that being said, make sure to bring some snacks with you or even some packable meals. Here is a great list of food to pack for a road trip.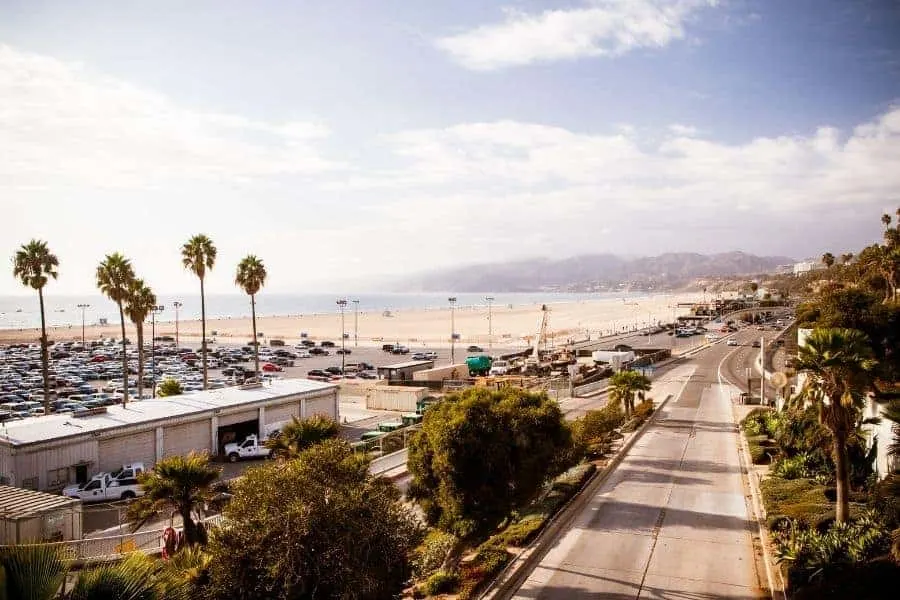 While the California to Washington journey is an amazing trip, we understand that not everyone can do the entire drive.
Making the San Francisco to LA road trip still allows you to see some of the most beautiful parts of the state.
Looking for other places to visit on a California road trip? Check out this 2 week California road trip itinerary!
Planning to start the PCH in San Diego? Take a look at this list of 101 things to do in San Diego!
Have you driven along the PCH? What was your favorite part?