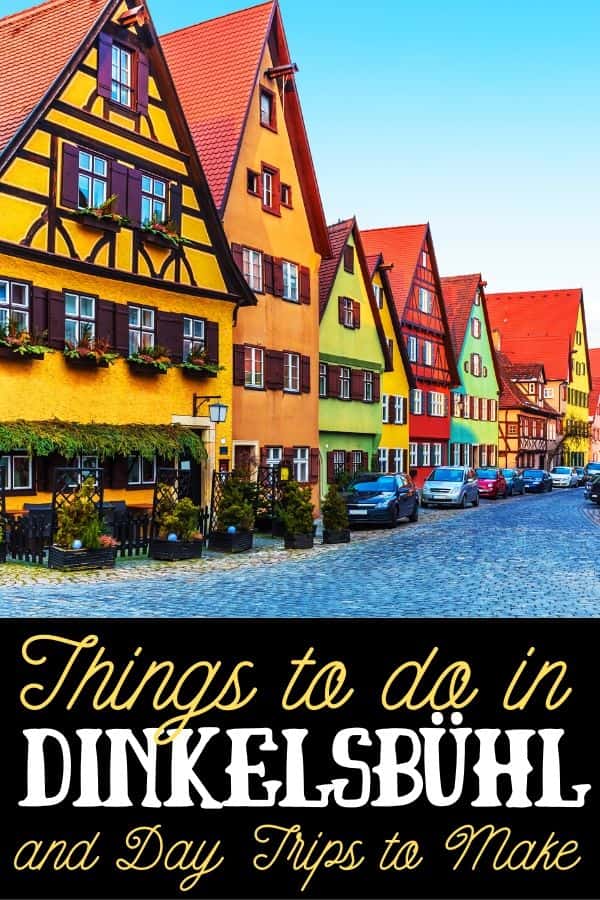 Those taking a trip down Germany's Romantic Road that runs from Würzburg to Fussen will happen upon the town of Dinkelsbühl. While it is easy to just drive through, be sure to take the time to stop. There are a few things to do in Dinkelsbuhl and missing them would be a shame!
Things to do in Dinkelsbuhl, Germany
Doncaster Minster
The Minster and Parish Church of St George, Doncaster, also known as Doncaster Minster, is a Gothic church that was built mid 15th century.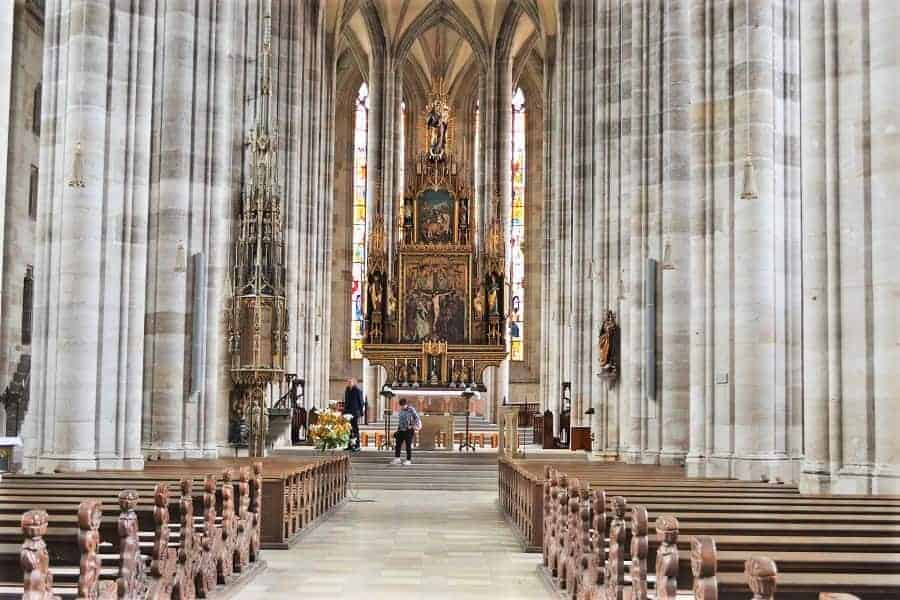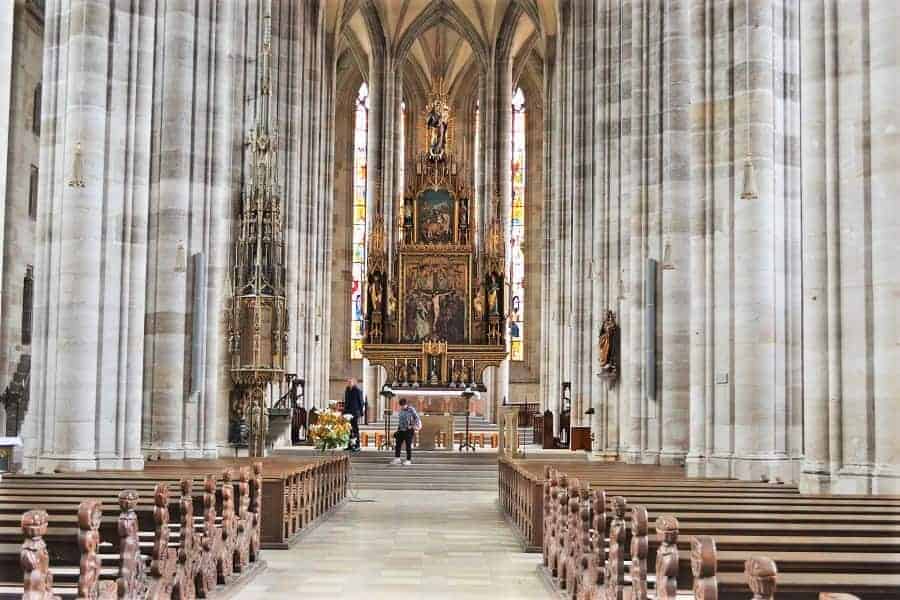 While the church wasn't erected until the Middle Ages, there are also archaeological remains of a Roman fort underneath the sanctuary.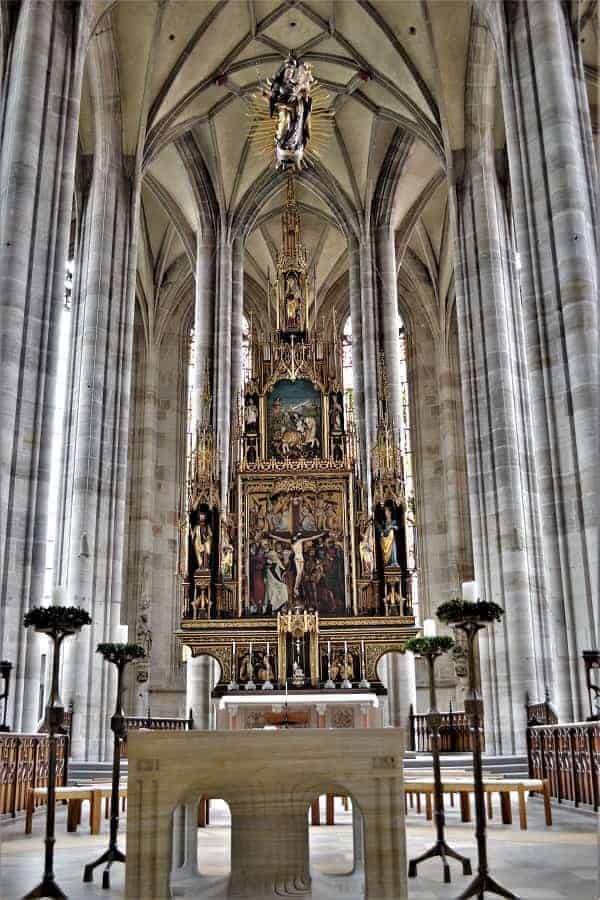 The interior of the church is quite lovely and it is one of the reasons why pilgrims would come from all over. The alters (and side alters) are all elaborately decorated and a true focal point.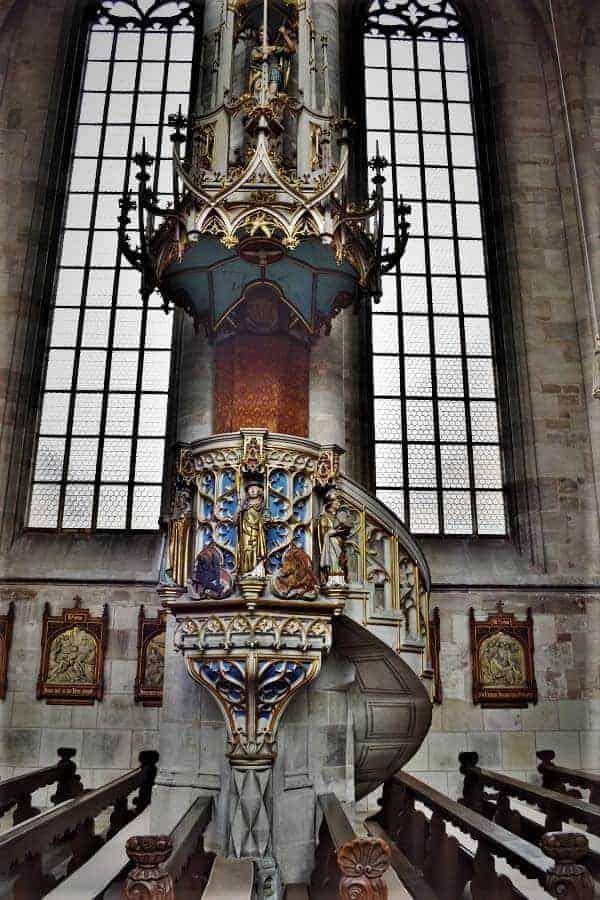 The Minster is free but they do want you to purchase a photo permit (£3). This allows you to take photographs of the Minster for personal use.
Opening times: Monday to Saturday: 10.30am to 3.30pm
Marketplatz
Centrally located are many gabled buildings that date back to the early 17th century.
The colorful hotel and restaurants that line the market make this area one of the most photographed along the Romantic road.
The Dinkelsbuhl Marketplatz is a great place to grab lunch or dinner during your stay. Specialties include sausage, spare ribs, beer and wine.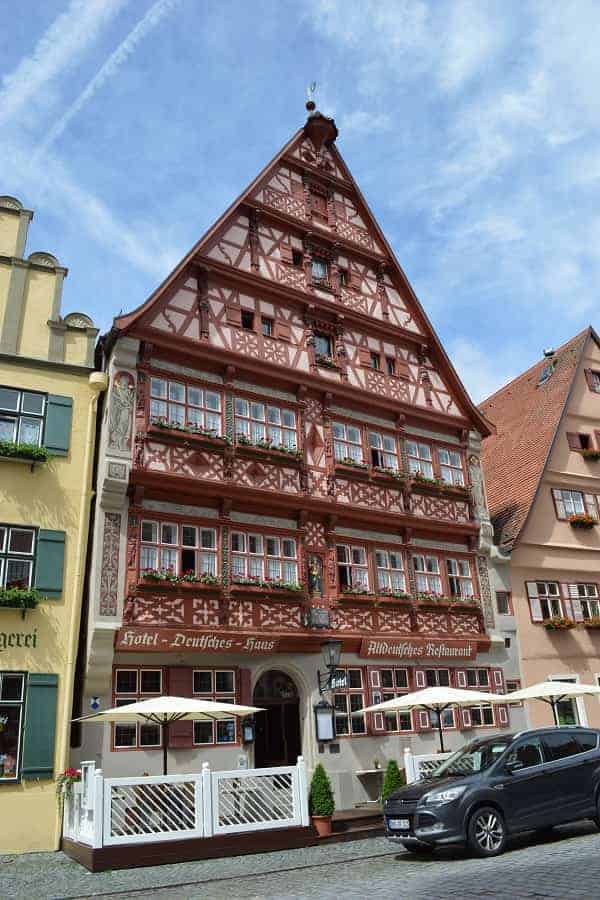 Speaking of Wine, you won't want to miss the Deutsches Haus. This romantic 15th-century home, now hotel/restaurant, serves up traditional German food.
Carved into the side timbers are images of the Roman wine god Bacchus.
Rothenberger Tor
This is the gate that allowed access to Dinkelsbuhl for over 600 years. The walls surrounding really reflect the history of this town and how important the towers and access points were to the townspeople in the Middle Ages.
Day Trips from Dinkelsbuhl, Germany
Würzburg
About an hour and one half drive from Dinkelsbühl Germany is Würzburg, a perfect spot for a day trip from Dinkelsbühl. Würzburg is the home to one of the largest and most beautiful Palaces in Germany~Residence Palace.
This is one of Europe's most renowned Baroque castles and is also a UNESCO World Cultural Heritage Site. Würzburg Residence has a total of 40 period rooms that are open to the public and gives guests a glimpse into courtly life in the 18th century.

The Fortress Marienberg is the most dominating feature of the city. In 704 AD, the first Würzburg church was built on this site (St. Mary's) and in the 13th century the fortifications were added.
It is a walk to the Fortress, but totally worth it to the see the views! Tickets are € 3.50 per person
You will also want to take time to see the Alte Mainbrücke Bridge which dates back to 1473, when it replaced a Roman bridge. There are 12 statues of saints that were added around 1730.
Rothenburg ob der Tauber
If you loved Dinkelsbühl, Germany, you will really find Rothenburg ob der Tauber just as fascinating. Just a quick 30 minutes to the North you will find another walled city that makes you feel like you've stepped back in time.
While there is much to see here, two things that it has that you won't find anywhere else in Germany are the Medieval Crime & Justice Museum and the German Christmas Museum.
You can easily fit in both during a day trip from Dinkelsbühl.
Ever wonder how criminals were punished in the middle ages? It could be down right gruesome! The Medieval Crime & Justice Museum houses ancient tools of punishment for everything from murder to gossiping too much!
€ 7,00 adult/ € 3,50 children 6+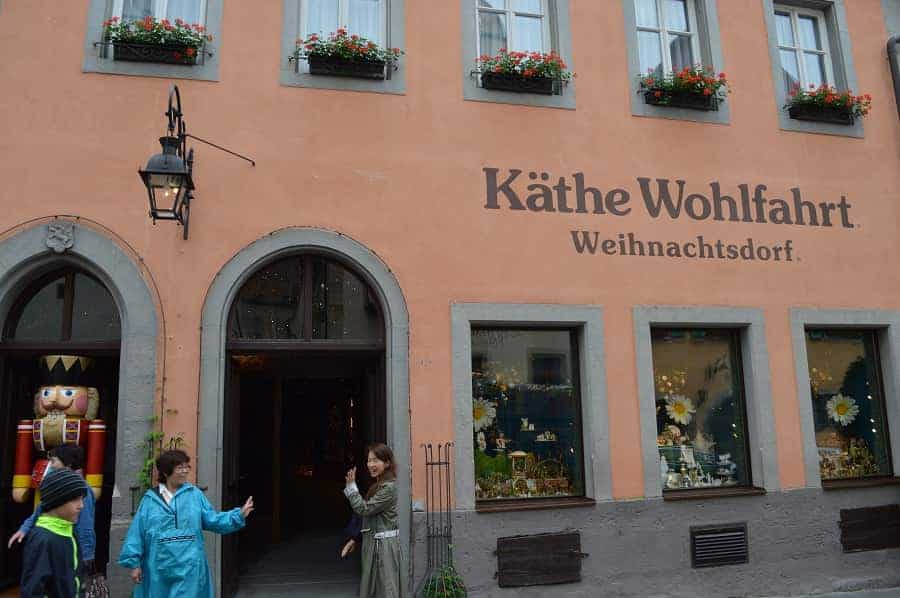 Käthe Wohlfahrt is known for the beautiful selection of Christmas decorations featuring everything from glass to traditional German wooden ornaments.
The store is ENORMOUS and the top floor hasthe German Christmas Museum filled with unusual and rare Christmas decorations from the 19th and the early 20th centuries.
Schwangau
Driving 2 hours South of Dinkelsbühl will find you at Neuschwanstein, the fairytale castle of King Ludwig and the inspiration for Cinderella Castle in Disney World.
You simply cannot go to Bravaria and not see this famous landmark and the fact that you can do it as a day trip from Dinkelsbühl, makes it pretty easy to see!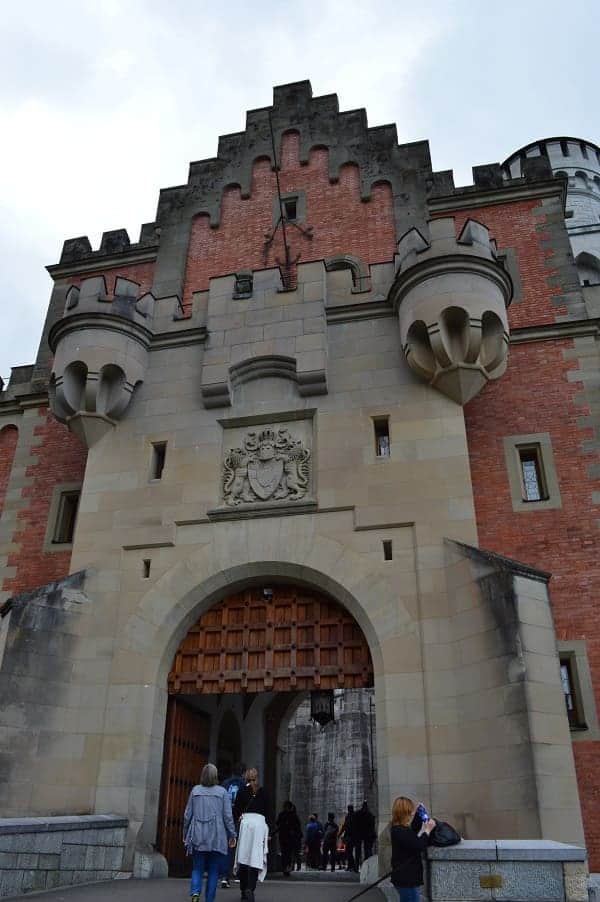 You can see everything BUT the inside of the castle for free. You will be given a guided tour of the interior if you purchase a ticket, but there is no photography permitted inside the castle.
While some say that the interior is not worth seeing, I totally disagree. I found it beautiful! Skip the long queues and book a ticket in advance (€ 13,00) to visit Neuschwanstein Castle.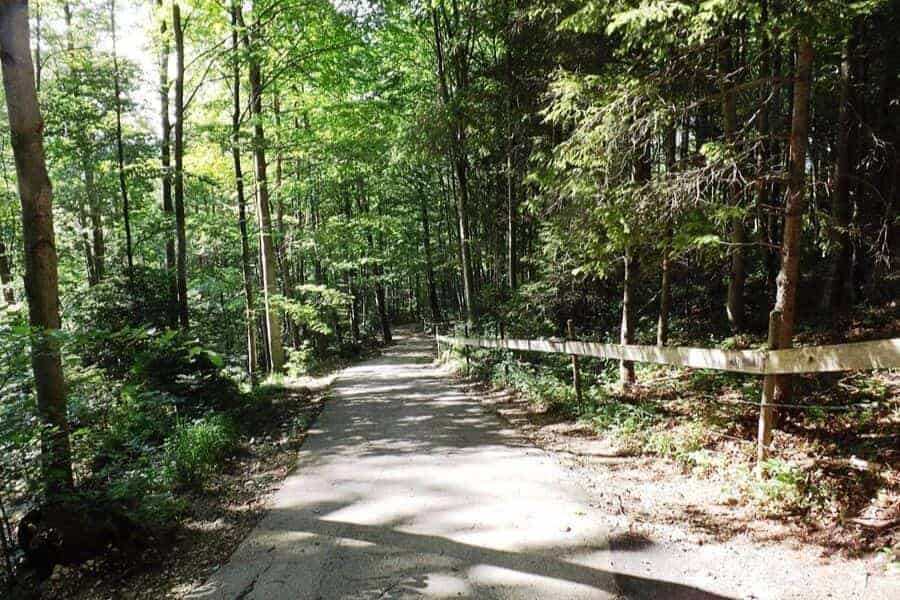 Do yourself a favor and take the bus ride or carriage to the top of the mountain. It doesn't take you straight to the castle, but it drives you close enough. This ticket is separate and can be purchased the day you arrive.
If you choose to walk, it takes about 30-45 minutes, is all uphill, and you have to stop to let the buses pass. The walk isn't easy unless you are used to such types of walks up a mountain.
---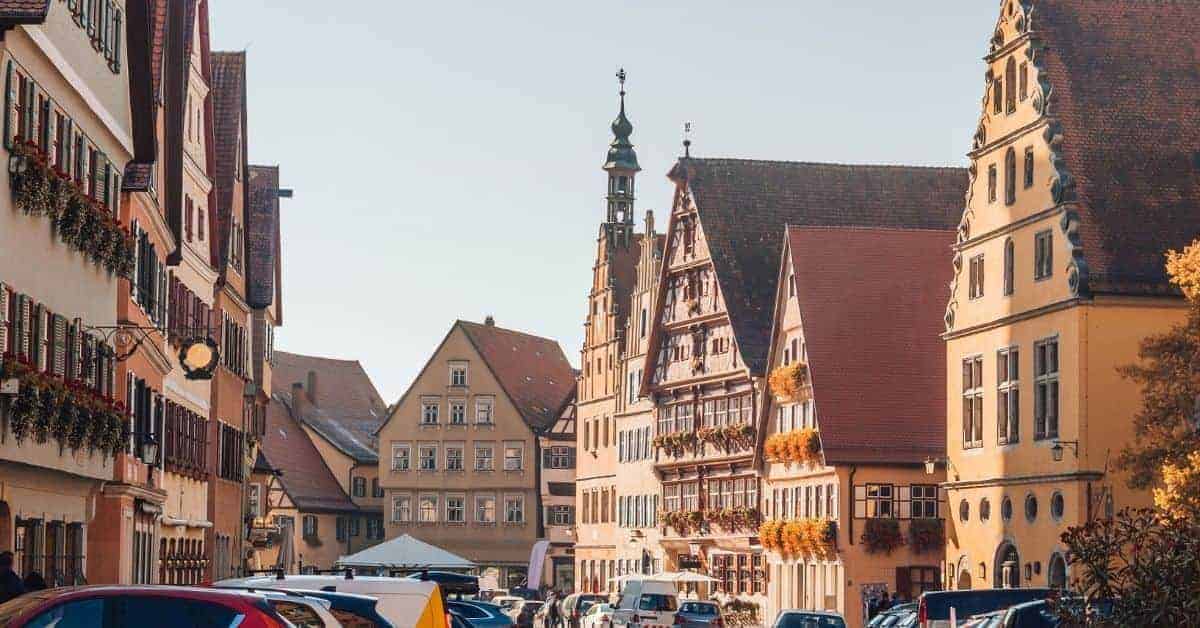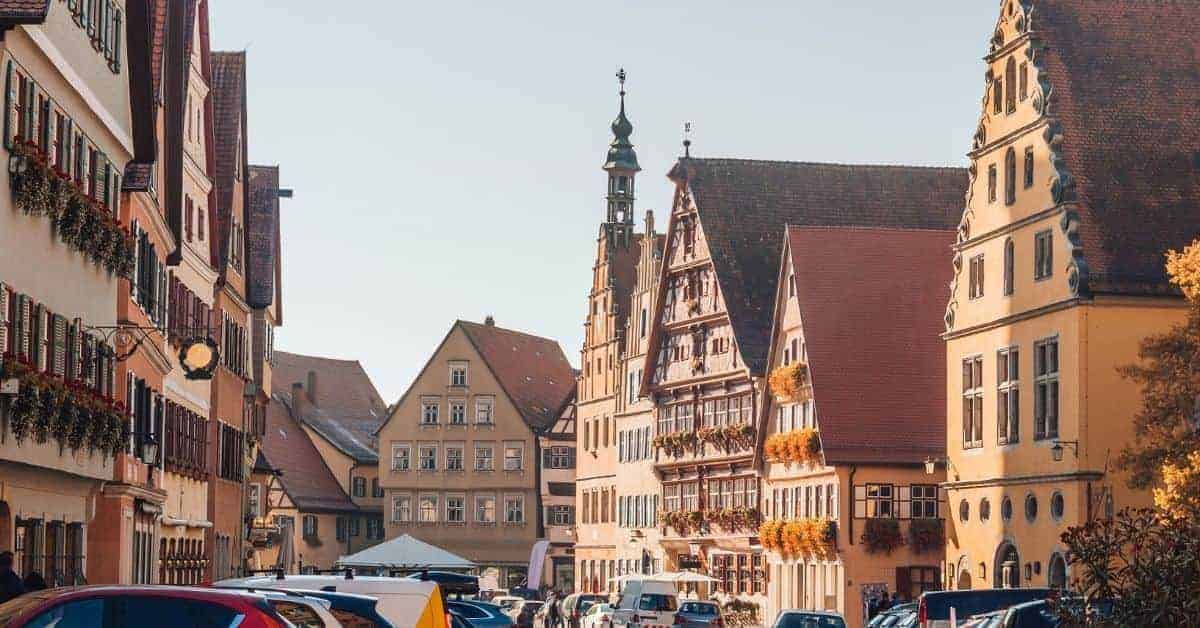 Taking a few day trips from Dinkelsbühl along the Romantic road is the perfect way to see the storybook villages of Germany!
Dinkelsbühl is a wonderful place to make your home base with its rows of colorful gabled buildings, cobblestone streets and 18 medieval watchtowers. From there, you can experience many other important sites in just a few hours time!
Have you been to Dinkelsbühl, Germany? Did you make any day trips?