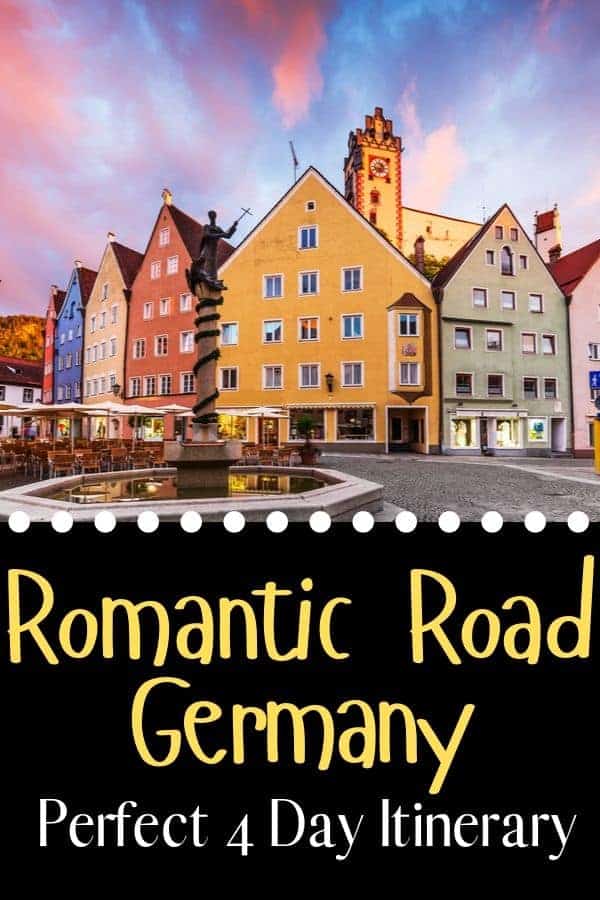 There is no better way to see Germany than with Romantic Road trip. This picturesque route takes you through the forests, mountains, and small storybook towns of Bavaria. While it can be driven in a day, we suggest you take your time so that you can fully experience everything on our Romantic Road Germany Itinerary.


Germany Road Trip along the Romantische Straße
If you will be driving in many different European countries, you may want to get an International Driving Permit (IDP). This is a Driver's License that is valid for over 150 Countries.
If you are sticking to Germany, you'll be fine with your own standard Driver's License to drive along the Romantische Strasse.
If you're planning on renting or leasing a car in Germany you will want to make sure that you are ready for driving a stick shift (manual) vehicle.
You may be able to find an automatic, but it will cost you more and you will have less selection.
I would also recommend that you prepay for GPS.
Car Rentals in Germany
No car? There are bus tours that run almost the full length of the Romantische Strasse. If you are looking to train it, you will be disappointed as there are only so many stops along the route and you would miss some really great places.
Wondering where you should stop & what sites you should take in? We've got a great list of things to do, see and eat while on the Romantic Road Germany.
Romantic Road Germany Itinerary
4-Day Germany Road Trip along the Romantische Straße from Munich
Day 1: Start in Munich and head south to Würzburg where you can tour the 18th-century Residenz palace & Marienberg-Fortress before heading on to Creglingen.
There, you will want to spend time about an hour at Herrgottskirche and possibly the Thimble Museum.
This should put you in Rothenburg ob der Tauber in time to grab dinner before checking into your hotel & possibly doing the Night Watchman Tour.
Day 2: Explore more of Rothenburg during your day before driving onto Dinkelsbühl & then Augsburg where you should spend the night.
Day 3: Spend the morning in Augsburg seeing the sites in this German Renaissance town before heading to Weis to visit Wieskirche and lastly Neuschwanstein Castle.
Plan to stay overnight in nearby Füssen.
Day 4: Explore all Füssen has to offer before heading on your way to your next destination.
Würzburg
Take time to visit Marienberg-Fortress. Originally, this was a site of a Celtic castle at this site. Later, the first Würzburg church was erected and in the 13th century, it was made into a fortress.
The fortress was expanded and renovated several times during the Renaissance and Baroque periods. The best part of Marienberg-Fortress is the view it gives of the city of Würzburg.
Creglingen
While coming through this small town along the Romantische Strasse, be sure to stop at the Herrgottskirche.
The story behind this church being built is that a farmer in the mid-14th century claimed to have found an undamaged communion host in the field that he was plowing.
Believed to have been a sign, the community built a church on that field.
Inside the church is one of the most famous wooden altar pieces designed by Tilman Riemenschneider in the middle ages.
Rothenburg ob der Tauber
In my opinion, this is the most quintessential storybook town on the Romantic Road in Germany. It is like time stopped and all remains as it once was.
It is probably because this town was spared from the destruction of WWII due to the fact that an American general had once stayed here for vacation and fell in love with it's charm.
If you can, be sure to stay overnight here and experience all Rothenburg has to offer.
Dinkelsbühl
With 16 fortified towers and several authentic city gates, it is one of the only remaining walled medieval towns in Germany. Dinkelsbühl is is your quintessential storybook town and worth spending time seeing all the sites.
Augsburg
The largest city along the Romantic Road in Germany, Augsburg is the home of German Renaissance and Rococo style.
Take time to see the Rathaus (Town Hall), the Perlachturm (Perlach Tower), and the Schaezlerpalais (Schaezler Palace).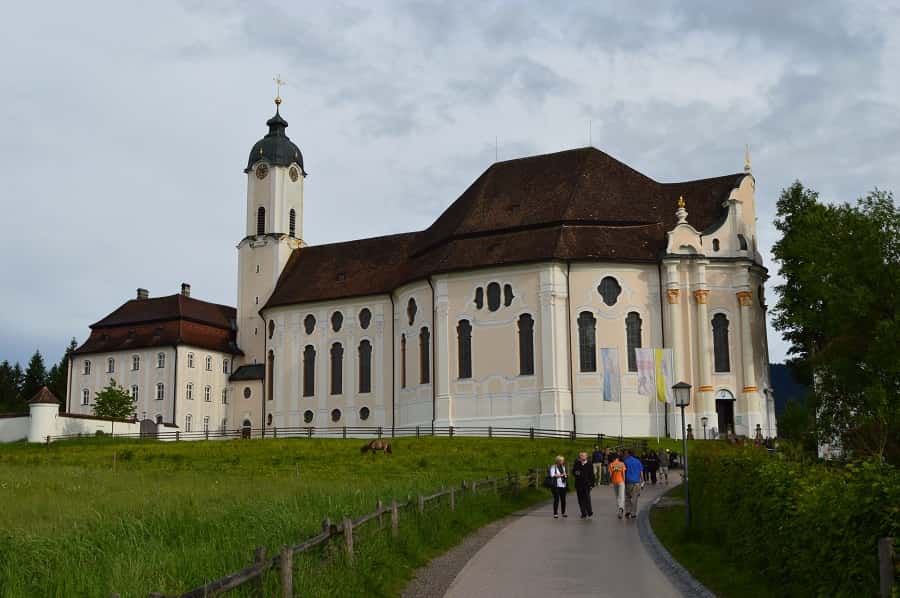 Wies
The most important site to visit here is Wieskirche. It is a famous pilgrimage site due to the fact that in 1738 it is said that tears were seen on a dilapidated wooden figure of the Jesus.
Many who have visited and prayed in front of the statue have claimed that they have been miraculously cured.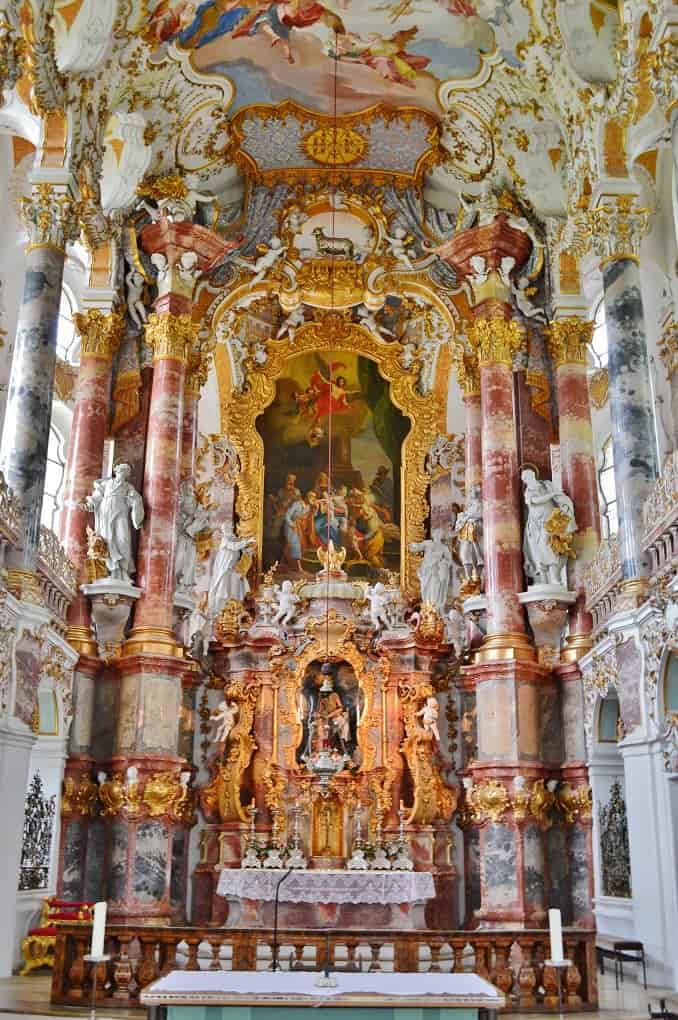 The church interior is stunning and ornate. Plan on spending about 30 minutes or so checking it out. Admission is free, but donations are accepted (and encouraged).
Schwangau
This village in Bavaria is the where you will be able to visit Neuschwanstein Castle and Hohenschwangau. Neuschwanstein is the fairy tale castle of Mad King Ludwig for which Cinderella Castle in Walt Disney World is designed.
While you can take pictures outside of the castle and the views from the castle, you cannot take pictures inside.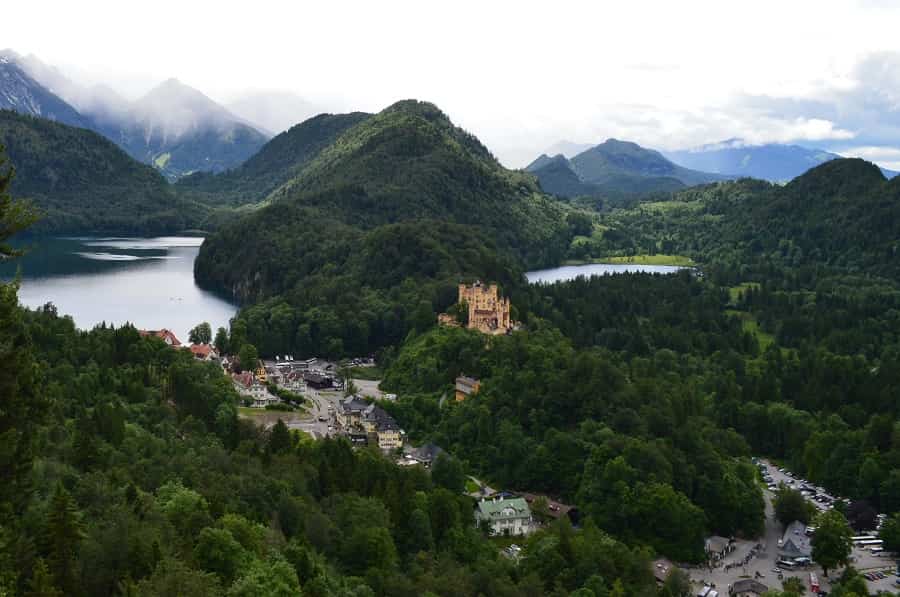 While beautiful, King Ludwig only lived in Neuschwanstein for about six months. He actually grew up in Hohenschwangau Castle which is visible from Neuschwanstein.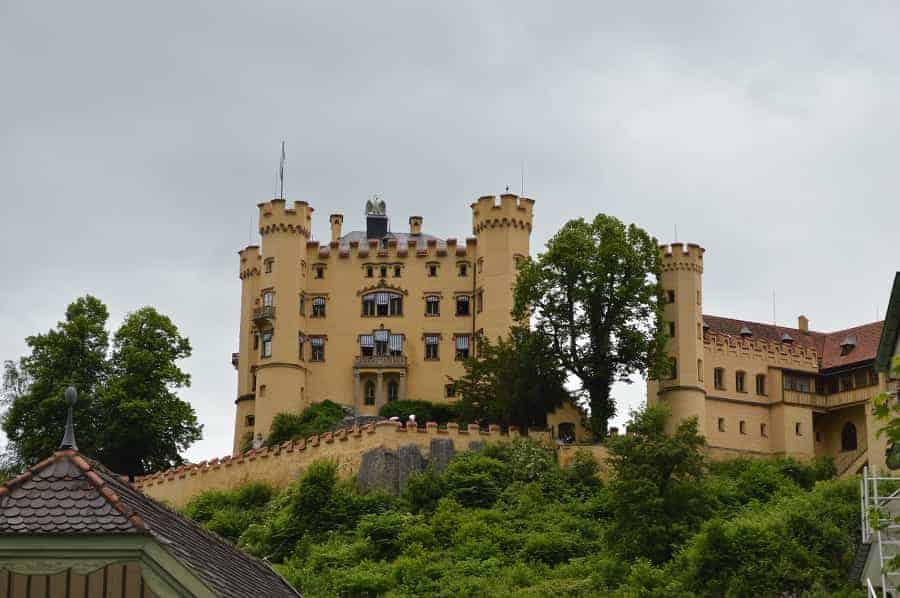 The castle can be visited on its own, or as part of a combined ticket with Neuschwanstein. Which ever way you choose to see one or both, be sure to book your tickets in advance to avoid the long lines.
Füssen
The end of the Romantische Strasse (or beginning) leaves you right at the edge of Austria and the alps. This beautiful lakes against the backdrop of mountains (and castles) is simply breathtaking.
You'll find the old town charming with plenty of things to do to fill your day. Check out the Baroque churches and Bavaria's oldest preserved fresco (circa 980).
Romantic Road Germany Road Trip Guide

If you are concerned about driving in Germany, you shouldn't be. It is as easy as it gets and the fact that you can go at a leisurely pace through each town make it the perfect trip for both couples and families! Use this Germany Road Trip Guide
.
Have you driven along the Romantic Road Germany? What was your favorite stop?