Barcelona is a top destination for those traveling to Europe for many reasons. It is a popular port city for cruise lines, it has the top tourist site in all of Spain (the Sagrada Familia) and because it is a coastal city, the weather is beautiful. If you are looking to come here, you might be interested in looking at some of these Barcelona Itineraries.
Best Barcelona Itineraries
If a journey through history and culture combined with plenty of local delicacies is what you're after when traveling then let us show you how best spend one single day in Barcelona.
With only three days in this city of culture, style and beauty, you may be wondering how to maximize your visit. We have some great ideas on what to see and do in Barcelona during a short stay.
From its sunny beaches and stunning architecture to amazing gastronomy and lively nightlife – there's no shortage of activities to fill your 4 days in Barcelona! Let us take you on a journey through one of Europe's most dynamic cities with our guide on where to go, what to see, and how to make the most out of your time here.
What to Bring to Barcelona:
Rick Steves Guide for Barcelona
When you are traveling to Barcelona without a tour guide, you should consider purchasing a guidebook.
Our favorite guidebooks are those by Rick Steves.
His Barcelona guide is small enough to take with you and has great walking tours with maps!
Sunscreen, Sunglasses and Hat
Even if the sun doesn't feel that hot to you, the sun is out nearly 15 hours a day in the summer months.
That is a lot of exposure time, so we suggest you do your part to protect the parts of your body that are exposed to the sun's rays including your eyes.
Comfortable Shoes
While in Barcelona you will be doing a good amount of walking. Make sure that you are wearing shoes that are comfortable.
Many of the streets around La Rambla are cobblestone and not friendly to heels.
Choose shoes that have grip to be able to handle the different types of ground you will be covering on foot.
Our pick is a sport sandal, like these Jambu Mary Jane flats for women & KEEN sport sandals for men.
I prefer adapters that have both prong outlet and USB ports.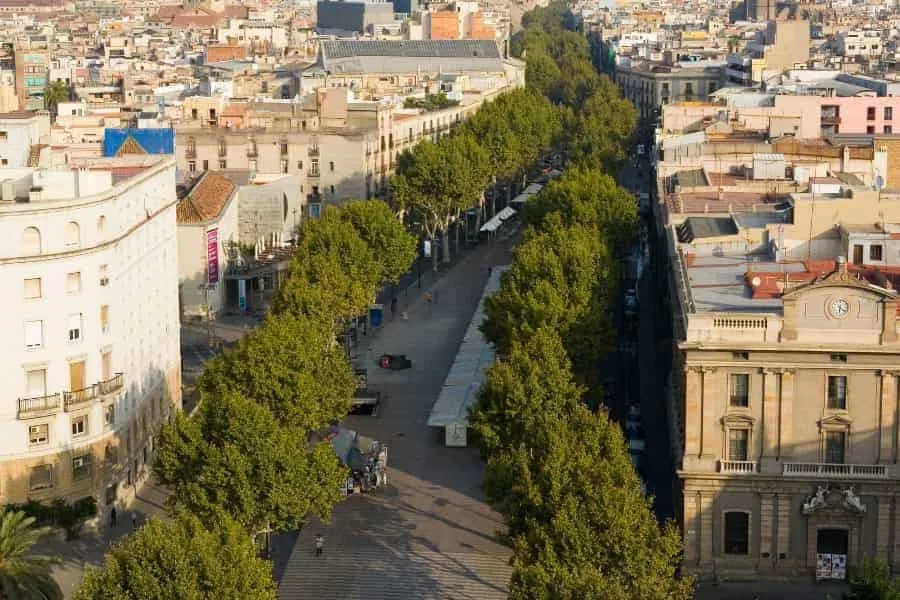 Where to Stay in Barcelona
Barcelona is a pedestrian-friendly city and you will find it easy to get from one place to another either through its metro system or through its buses.
Choose to stay in a place that has easy access to both. These are some of the places we recommend to stay in Barcelona:
Arc la Rambla: Located in Barcelona's Gothic Quarter neighborhood, Arc la Rambla is in the city center and about a 10-15 minute walk from most of the desirable sites in Barcelona.
Ayre Hotel Rosellon: Located in Barcelona's Eixample neighborhood, Ayre Hotel Rosellon is in the city center and near a metro station. It is as close as you can get to Sagrada Familia and offers beautiful views.
Olivia Balmes Hotel: In the city center, Olivia Balmes Hotel is in Barcelona's Eixample neighborhood, an area with great shopping and near to many popular landmarks, like Casa Mila.