Barcelona is one of my favorite cities in the world. It is full of magnificent art and architecture, lovely beaches, and vibrant Catalan culture. I've had the pleasure of visiting the city a few different times and each time I am there, I always find something I haven't experienced before. 3 days in Barcelona will give you the chance to see quite a bit.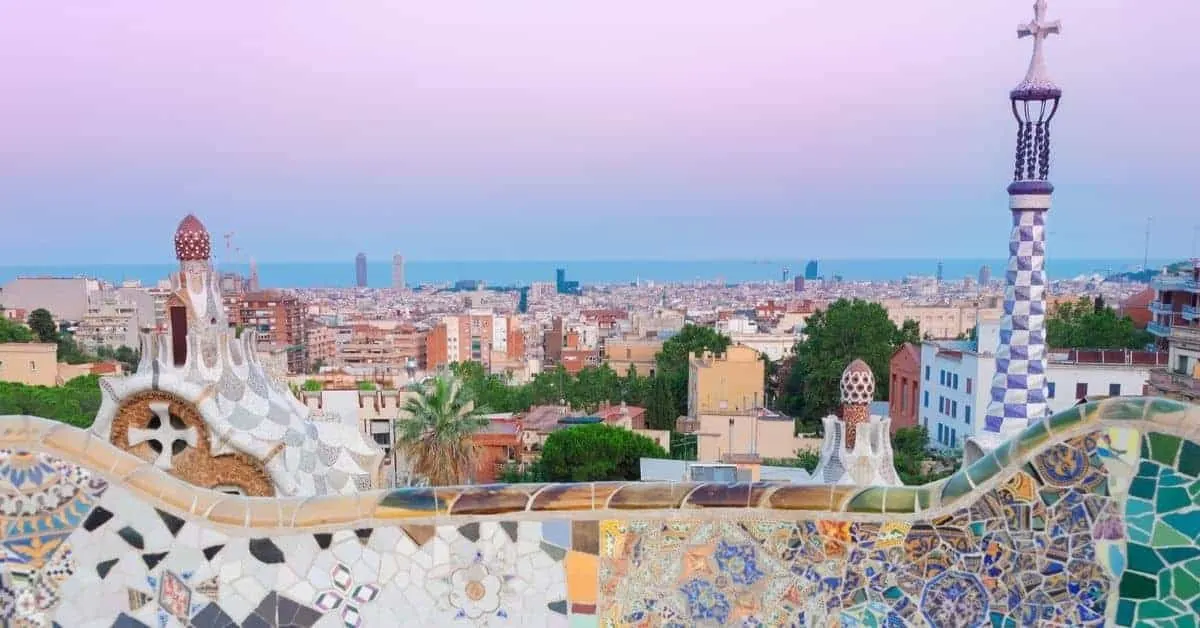 If You'll Be in Barcelona for 3 Days, Get the Barcelona Card
One of the best ways to affordably see all the top sites while in Barcelona is with the Barcelona Card.
This digital card will get you free admission into more than 20 of the best Barcelona attractions and discounted tickets to many others!
In addition, you get free use of public transportation (both Metro & city busses)! Your card also allows you to travel free on the train from Barcelona Airport Terminal 2 to Barcelona City. You will have to transfer between Terminal 1 and Terminal 2 to take advantage of this service.
Pricing is based on how many days you intend to use the pass. Choose between 3, 4, & 5 days.
In addition to the free admission, you also get a free city metro map with more than 80 special offers at select shops, restaurants, and outlets.
3-Day Barcelona Itinerary of Things to Do
Day One in Barcelona: Sites on a Big Bus Tour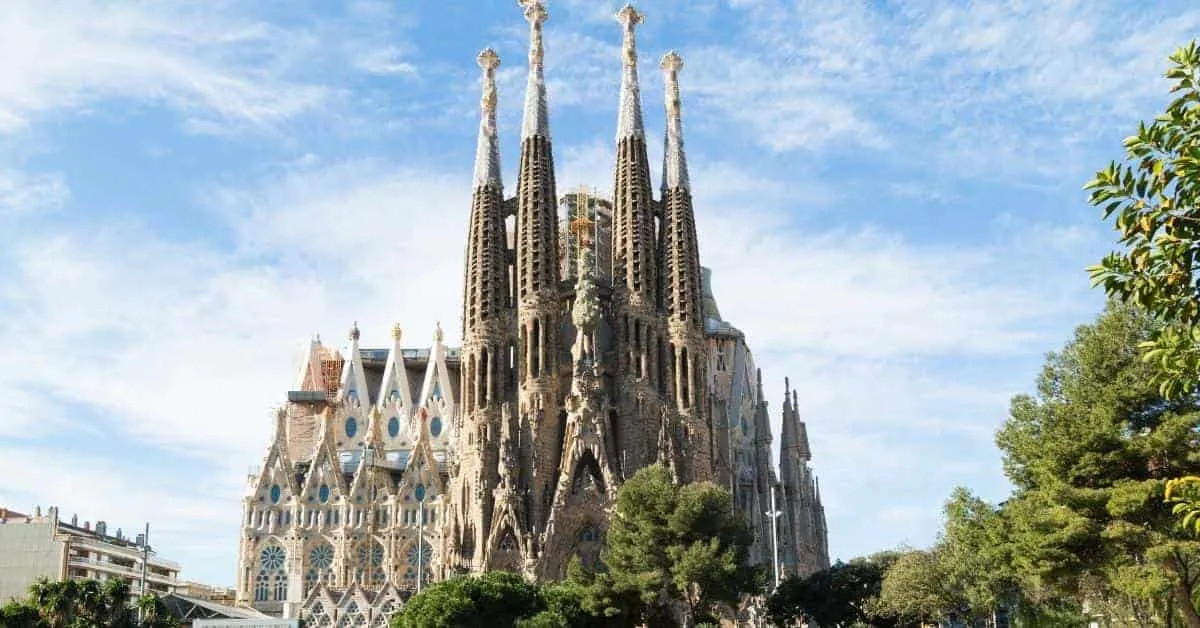 Sagrada Familia
One of the most popular places to see in Barcelona is Sagrada Familia and this is where you really should start your first day in the city.
This Gothic cathedral was designed by Antoni Gaudí and is the most famous church in all of Barcelona.
It has been a work in progress since 1882 and is still not complete (although completion is set to be done by 2026).
The Sagrada Familia is unlike anything you have probably ever seen and thus is my top pick of what to see in Barcelona.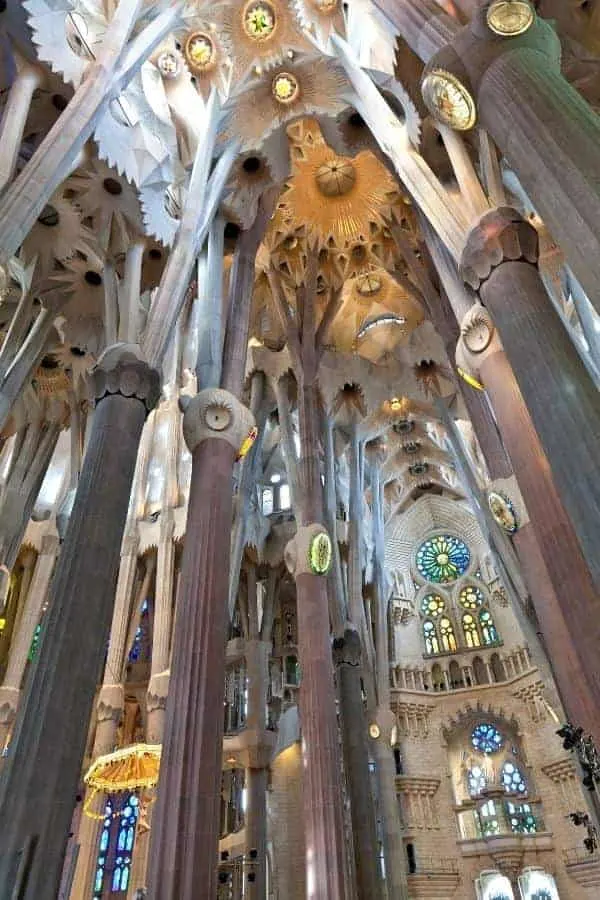 While the exterior is an amazing artistic design, the interior of Sagrada Familia is what will really astound you.
While there is an audio tour that you can use, I found the Sagrada Familia Visual Guide book to be an amazing tool to help with understanding the different aspects of this symbolic Basilica.
Admission for Sagrada Familia
Sagrada Familia Guided Tour Tickets are free with the Barcelona card. If not using the card, you should purchase your tickets for Sagrada Familia before you go to avoid the line!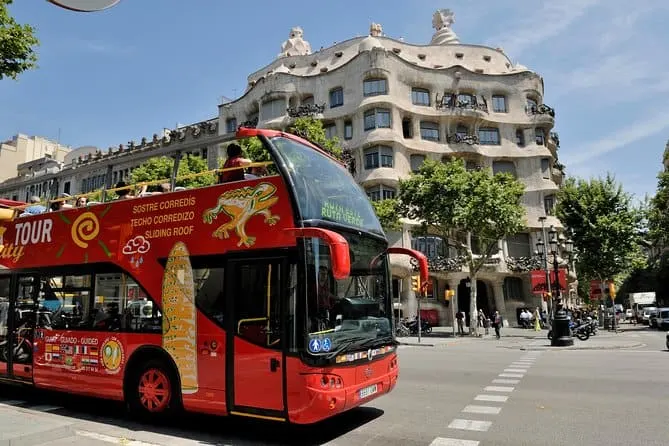 Take a Hop on Hop off Bus Tour
One thing that we love to do when we first get to a big city is to take a bus tour. Barcelona is spread out and a bus tour makes navigating an unfamiliar city easy.
After spending the morning in Sagrada Familia, take the bus to see the city.
The Hop on Hop off Bus tours of Barcelona will take you to all the most important landmarks while giving you historic details through either a tour guide or audio.
There are three different bus lines, each taking you to different parts of Barcelona, including stops along the Mediterranean sea.
If you took my advice and purchased the Barcelona card, you will get to use the Hop on Hop off Bus as part of your pass.
Not going to get the Barcelona card? You can still purchase a Barcelona bus ticket separately.
You can pick up the Blue bus at Sagrada Familia and take it two stops to Park Guell.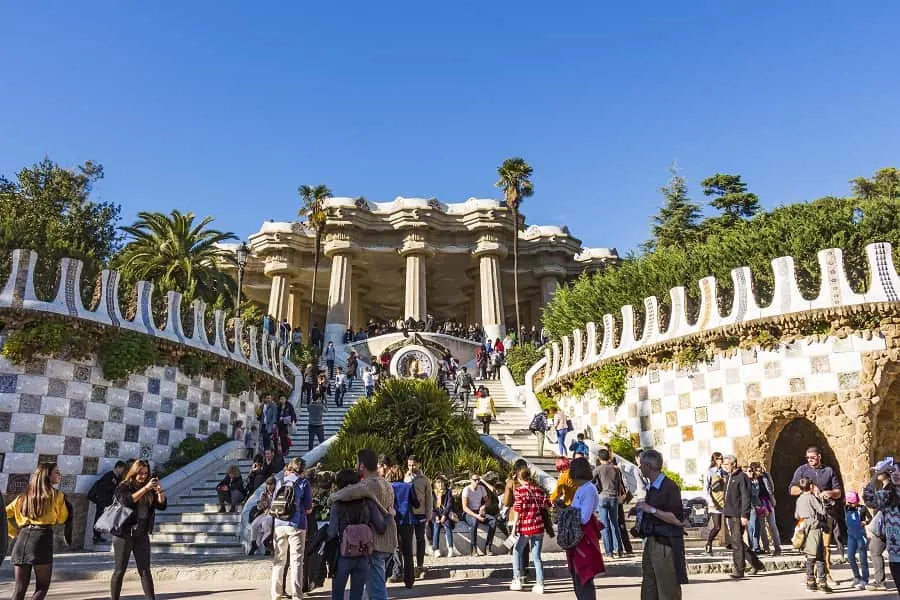 Parc Güell
Another must-see attraction in Barcelona is Park Güell. This picturesque public park designed by Gaudí is filled with whimsical details.
You will find some parts very natural stone while others are full of beautiful colored mosaic tiles.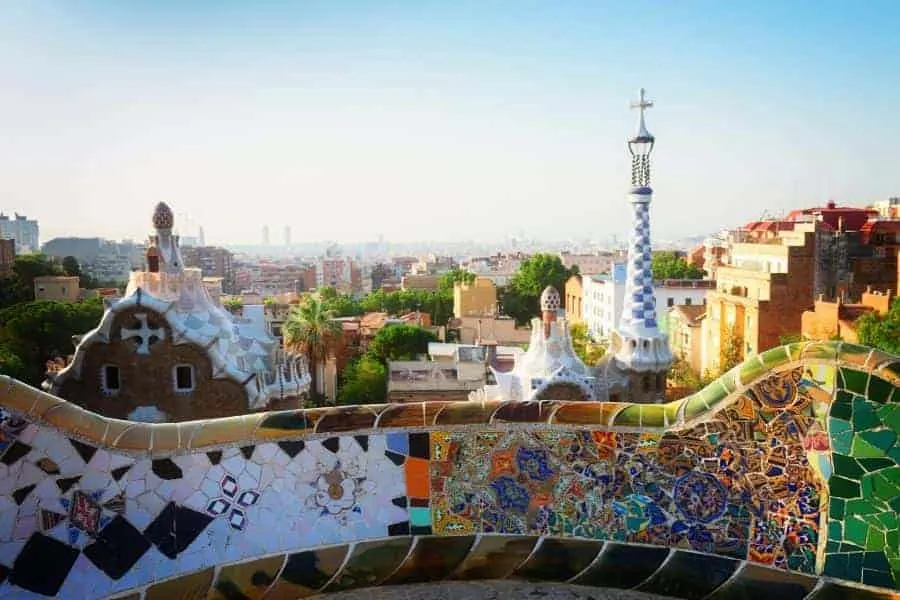 It is a wonderful way to spend an afternoon away from the hustle and bustle of the city while being able to get a bird's eye view of Barcelona.
Looking for more Gaudi? We have a great list of Gaudi landmarks in Barcelona you will want to see.
Admission to Park Güell
Park Güell is on the Barcelona Card. If you don't have it, then you will definitely want to get your tickets in advance as this is a very popular place to visit.
Continue on the Blue Bus to the Block of Discord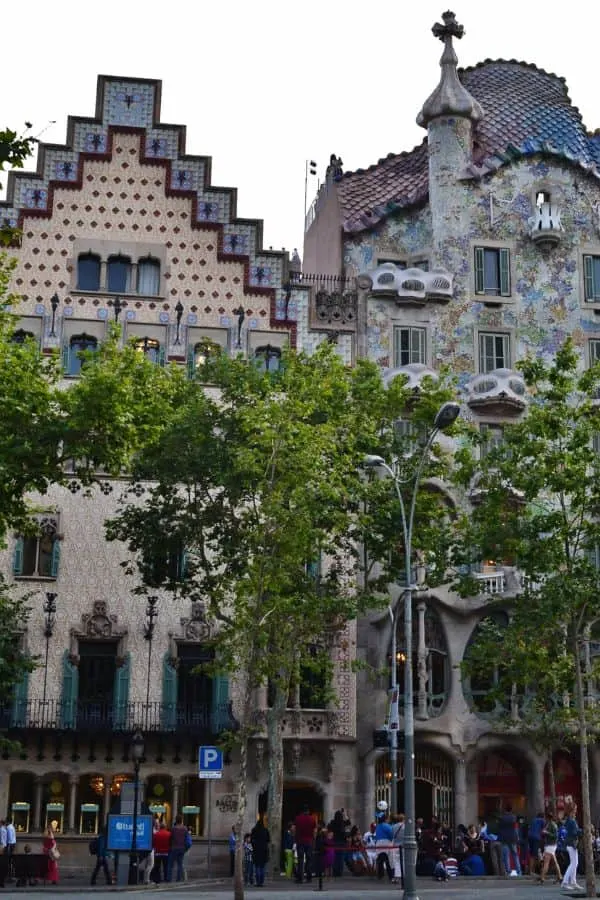 Block of Discord
This street is often referred to as the Block of Discord because of the opposing styles of architecture.
This block has three major Modernista styles of buildings designed by three of the best architects of the period Casa Batlló by Antoni Gaudí, Casa Amatller by Puig i Cadafalch, and Casa Lleó i Morera by Domènech i Montaner.
Each building is unique to its designer, causing a clash in styles, hence, the discord.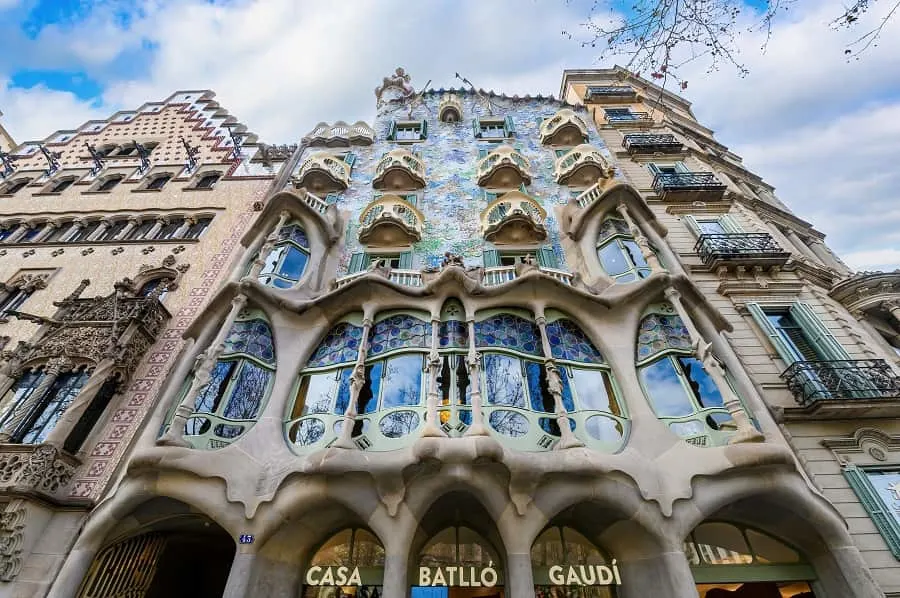 Casa Batlló
The exterior of Casa Batlló was inspired by the Mediterranean Sea
This colorful building was a rebuild of a previous structure. Gaudi came in & added a new facade, increasing the size and changing the living space.
A tour of Casa Batlló will allow you to explore the living space through a virtual reality experience.
You can tour this home during the day or at night and audio guides are available. Both tours offer a different fully interactive experience. Be sure to get your tickets in advance.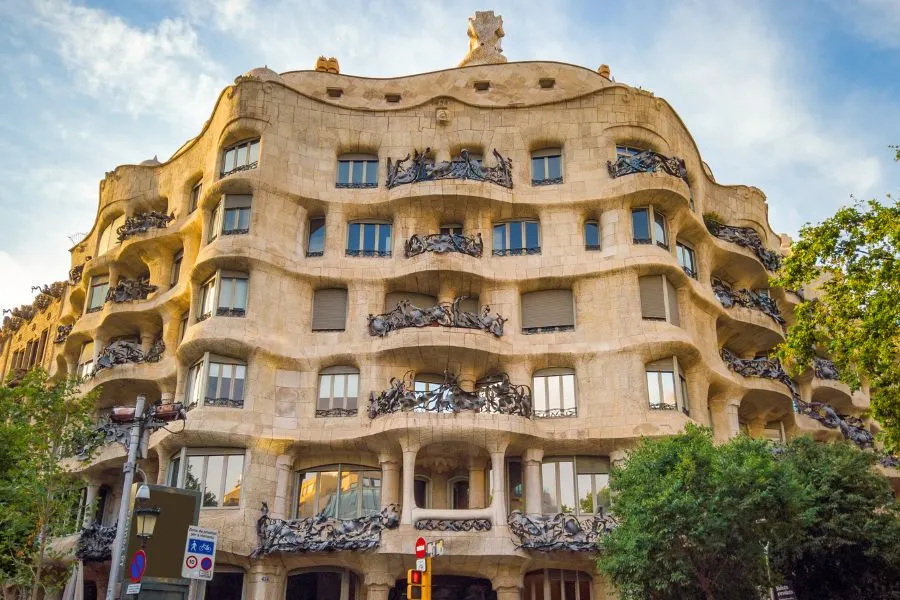 Casa Milà
This is the last private residence designed by Gaudí and another UNESCO World Heritage site.
Also known as La Pedrera or "The stone quarry," you will discover more about how Gaudi's architectural design was inspired by nature during this self-guided tour.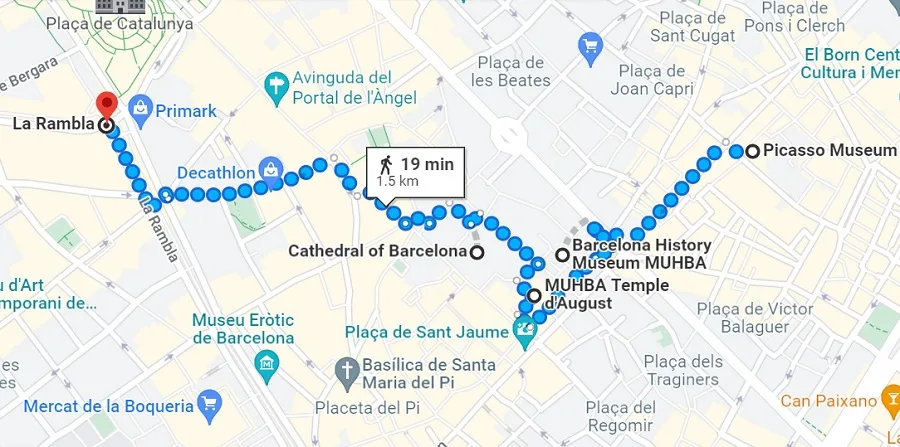 Day 2: Walking Tour of Barcelona Sites
Make sure that you wear good walking shoes because this will be a day of walking from site to site. Luckily, they are all within a 20-minute walk.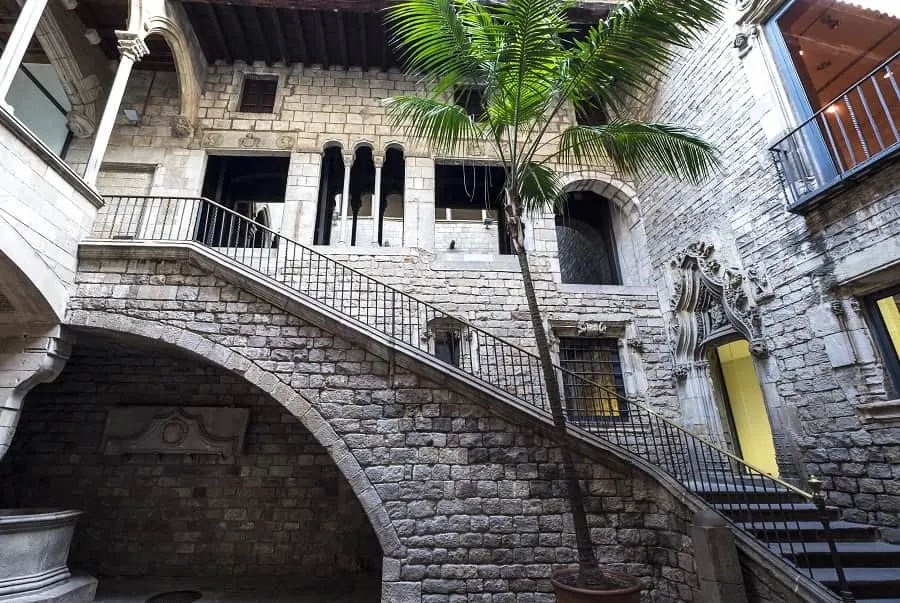 Picasso Museum (Museu Picasso)
Pablo Picasso is probably the most well-known Spanish artist and Barcelona was once his home.
If you love art, start your second day in Barcelona at the Museu Picasso.
It houses the most extensive collection of Picasso's art~ 4,251 pieces!
The museum does a wonderful job of showcasing his work from different periods of his life so that you get to see the progression of his art.
Audio guides are available for an additional €5 but we found that they are not necessary. There are plaques throughout the museum that give a fantastic description of each piece.
Admission to Museu Picasso
Museu Picasso is on the Barcelona Pass or you can do a guided skip-the-line tour on your own. Keep in mind that Thursday afternoons from 6 pm to 9.30 pm and the First Sunday of each month, from 9 am to 7.pm are FREE.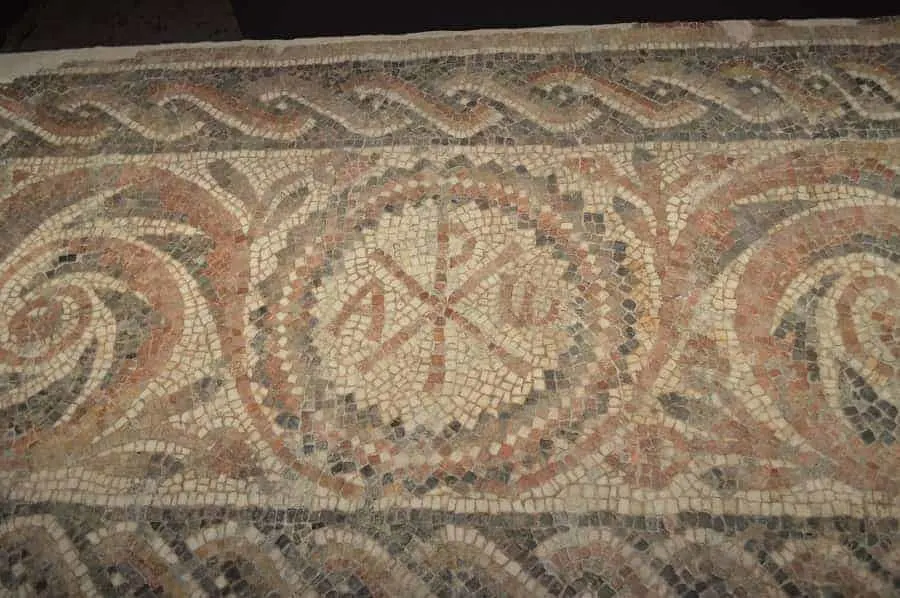 Visit Roman Ruins at the Museum of History
It is pretty interesting to see glimpses of the times of the Romans in Barcelona!
Just a short walk from the Picasso Museum is the History Museum of Barcelona.
At this museum, you can explore this extensive collection of Roman ruins that lie beneath the city.
It is actually the largest Roman site outside of Rome and has produced more than 35,200 different objects from the Roman period.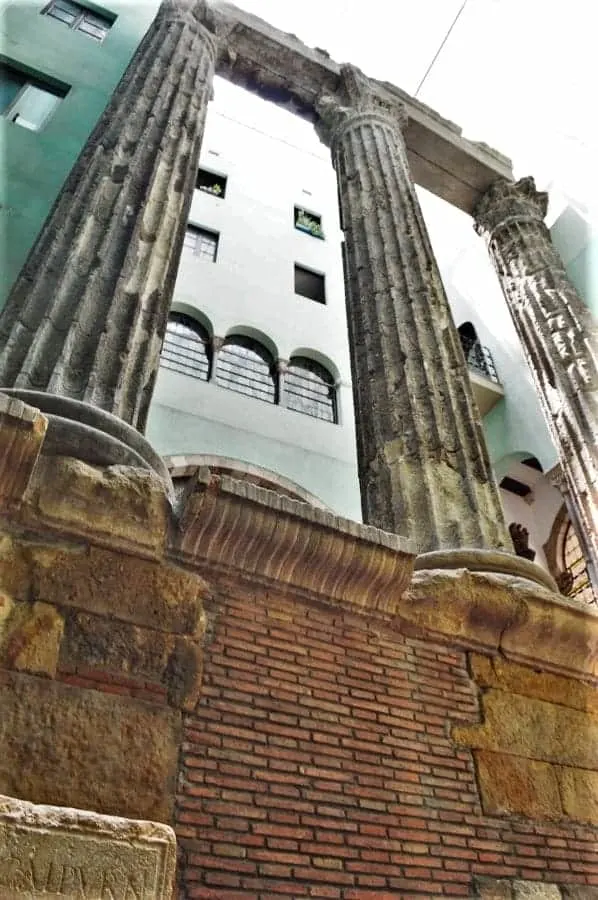 Temple Augustus
Another great Roman site to see is the Temple of Augustus. The only trace left of the temple is four columns.
It sits in the oddest of areas in the Gothic Quarter and is easy to miss if you don't know where to go.
Carrer del Paradís, 10, 08002 Barcelona, Spain
It is FREE to see.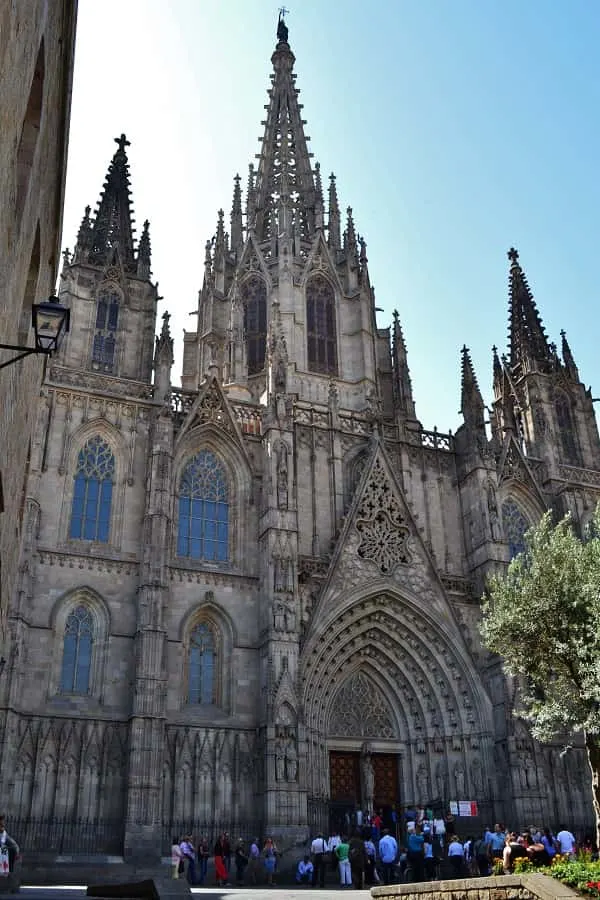 Cathedral of Barcelona
Also within walking distance of the Picasso Museum & Museum of History is the Cathedral of Barcelona.
While not as grand as the Sagrada Familia, this cathedral is decorated with gargoyles, statues, pinnacles, and arches with tall bell towers.
The interior has a knave flanked by 28 chapels and beautiful stained-glass windows.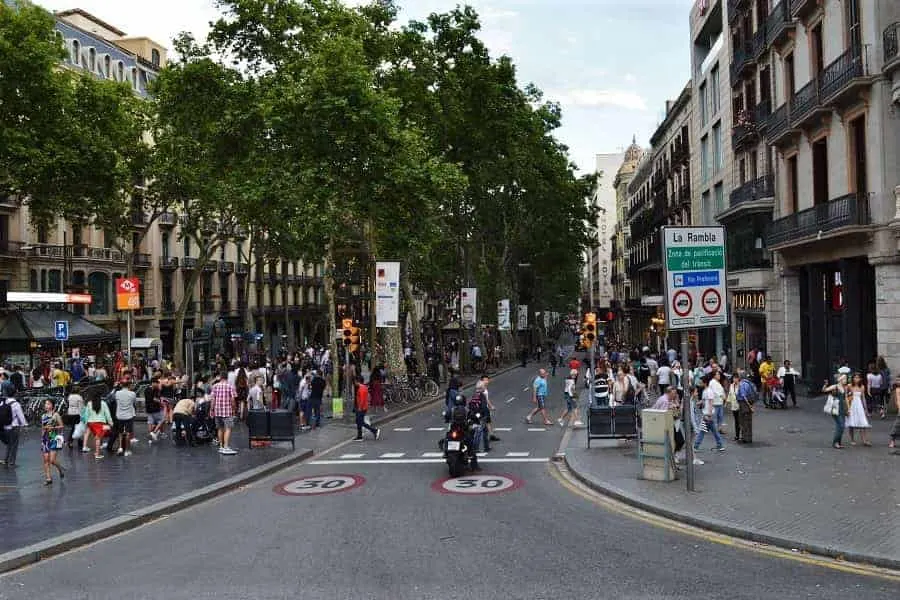 La Rambla
When you are spending 3 days in Barcelona, you have to go to La Rambla at least once. It is the most famous street in Barcelona.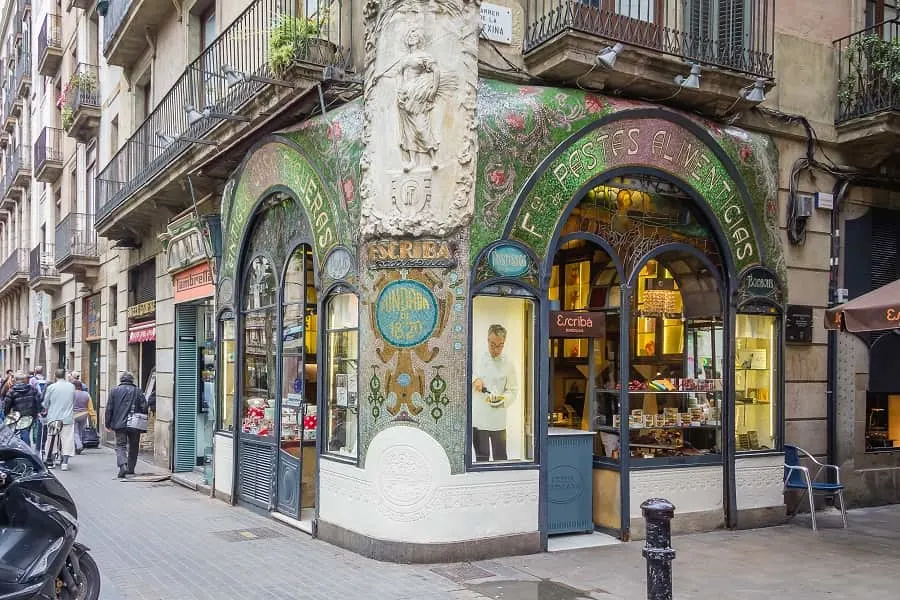 You can spend time enjoying the market-style shops, open-air dining, street performers, and live music.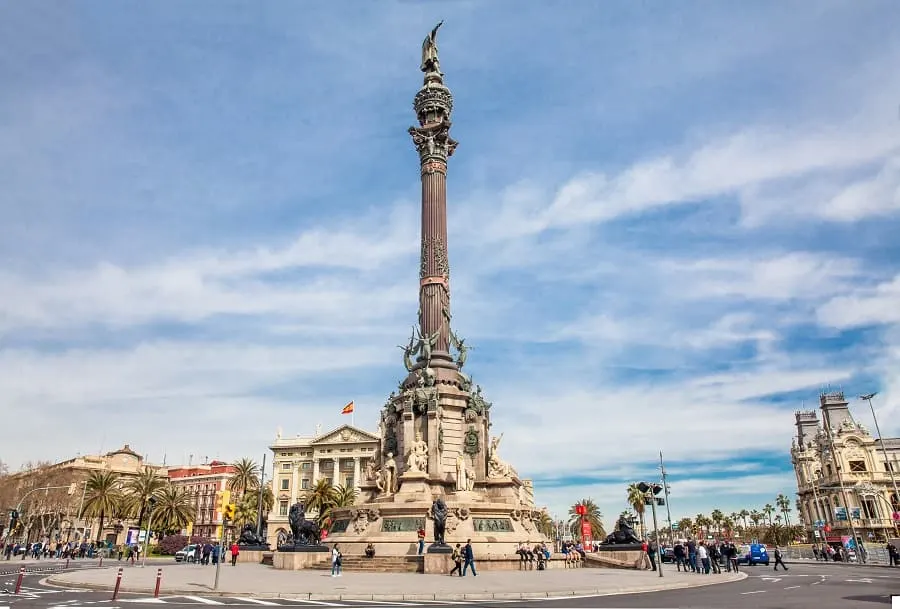 Located nearby is the Christopher Columbus Monument which is a memorial to the great explorer Christopher Columbus.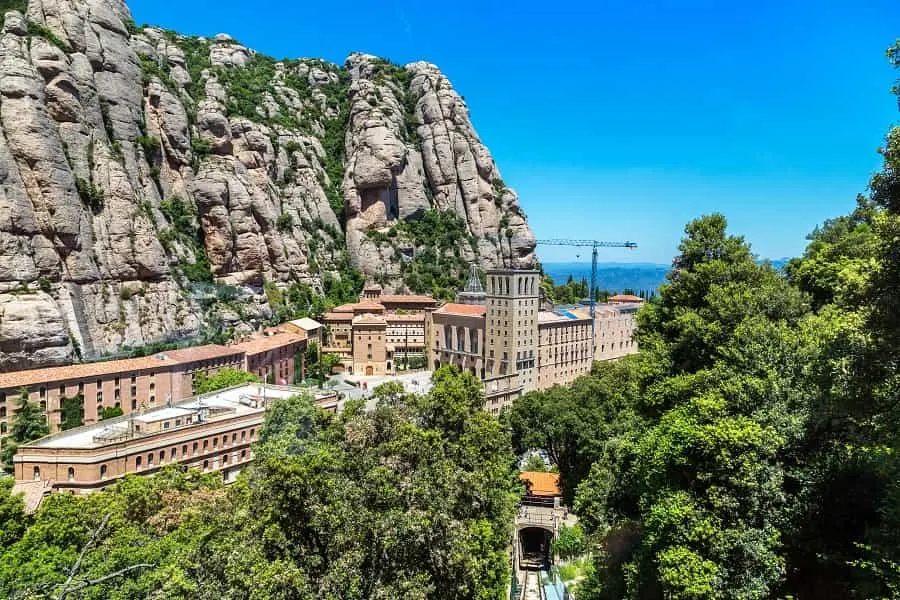 Barcelona Day 3: Make the Day Trip to Montserrat
Since you have three days in Barcelona, you really should take a trip out to Montserrat, a sacred mountain just an hour's drive from the city.
Take a guided tour and learn about the history of Montserrat's Benedictine Monastery which sits atop the mountain.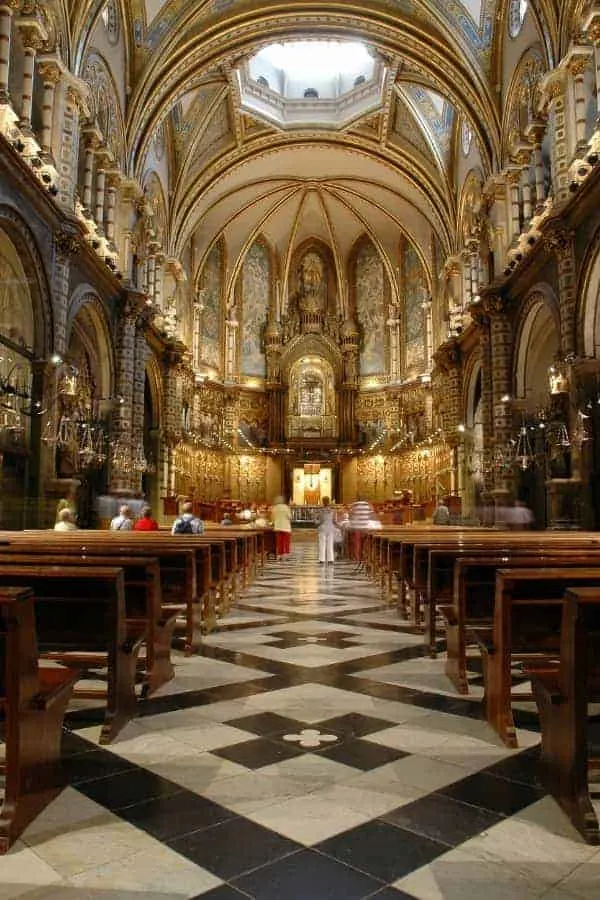 Here, you will get to see the famous Black Madonna statue in person, view paintings in the on-site museum, and shop for souvenirs at vendor stalls.
Where to Stay in Barcelona
Barcelona is a pedestrian-friendly city and you will find its metro system & bus lines easy to use. Choose to stay in a place that has easy access to both.
These are some of the hotels that we recommend when staying in Barcelona:
Arc la Rambla: Located in Barcelona's Gothic Quarter neighborhood, Arc la Rambla is in the city center and about a 10-15 minute walk from most of the desirable sites in Barcelona.
Ayre Hotel Rosellon: Located in Barcelona's Eixample neighborhood, Ayre Hotel Rosellon is in the city center and near a metro station. It is as close as you can get to Sagrada Familia and offers beautiful views.
Olivia Balmes Hotel: In the city center, Olivia Balmes Hotel is in an area with great shopping and near to many popular landmarks, like Casa Mila. It is also steps from a metro station.
Barcelona is an amazing place to visit and while spending 3 days in Barcelona doesn't allow you to do everything you would be able to do in a week's time, it does allow you to see a lot!
For those of you that have been to Barcelona, do you have any tips to share on things others should be sure to see while in Barcelona for 3 days?