If you are planning a visit to London you really should do one of the Big Bus London Tours. The bus will take you throughout London and the Burroughs to see all the best attractions.
The key is to make sure that you know the differences between the different lines. Each will take you to a different part of the city and allow you to see certain important landmarks and sites.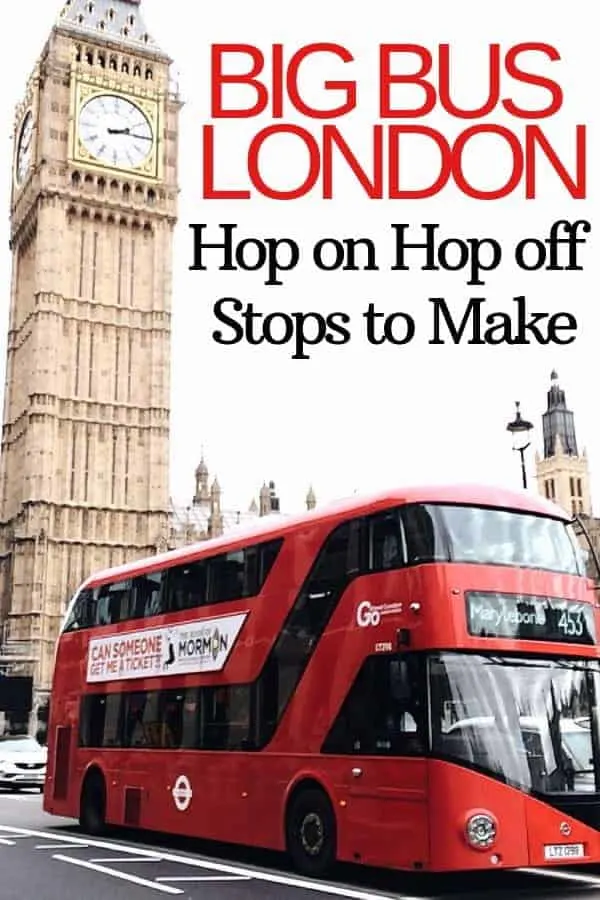 Guide to the Big Bus London Tours
Your trip on Big Bus Tour of London has a few advantages. First of all, you will get a map of London with all of the sites highlighted so you plan out your day around the city.
There are 3 for the Big Bus Tour: Red, Blue & Green. You will want to pay attention to the different lines because they take you to different places and often overlap the same place but in a different order (or direction).
There are also some lines that have a live tour guide (Red), while others are simply audio (earphones are provided).
All Big Bus Tour buses offer free wifi which is a big benefit when you are travelling abroad!
While you can purchase your Big Bus Tickets outside the bus stop area, you will save a ton of money if you purchase them in advance.
Big Bus London starting points for each tour are as follows:
Blue Route: Stop #1: Baker Street
Red Route: Stop #26: Green Park Underground Station
Green Link: Stop #49: Woburn (Northbound)
Night Tour: Stop #9/15: London Eye
Big Bus London Stops to Make on the Red Line
My favorite of the three lines to take on the Big Bus London Tour is the Red Line. You will get to see the most famous landmarks while on this section of the London Bus Tour. While you will see more than the following on the tour, these are the London Hop on Hop off Stops you should pay attention to:
Hyde Park Corner Stop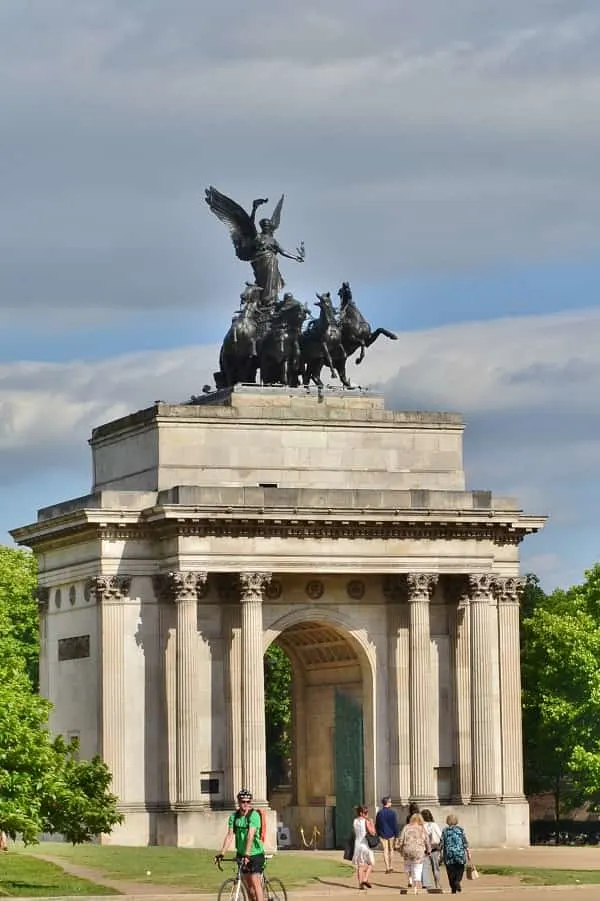 Wellington Arch
Wellington Arch once served as the entrance to Buckingham Palace. Later, it became a victory arch when Wellington defeated Napoleon.
The top is crowned with the largest bronze sculpture in Europe, the Angel of Peace descending on a four-horsed chariot of War.
While you can view it from below (or the bus) for free, if you would like to walk to the top & see the panoramic view of London the price is £3.50.
This is just a sampling of the Big Bus London Hop on Hop off stops to make.
Trafalgar Square Stop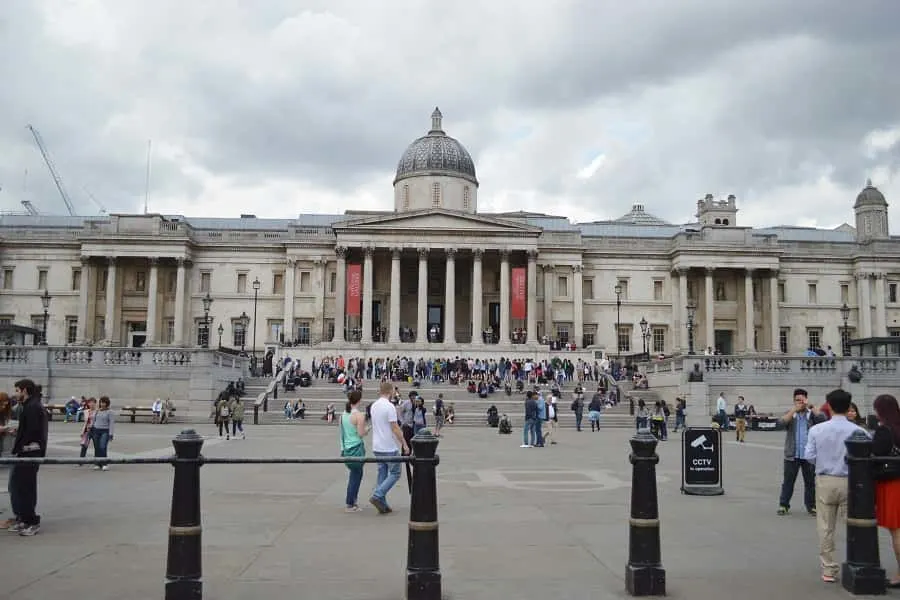 National Gallery
Art lovers will not want to miss this Big Bus London Hop on Hop off stop. You will get to see everything from preliminary drawings by Da Vinci to works by other prominent artists like Van Gogh and Michaelangelo.
You could easily spend an entire day exploring the National Gallery, but if you don't have that kind of time, be sure to make sure that you see these 30 paintings.
St Paul's Cathedral Stop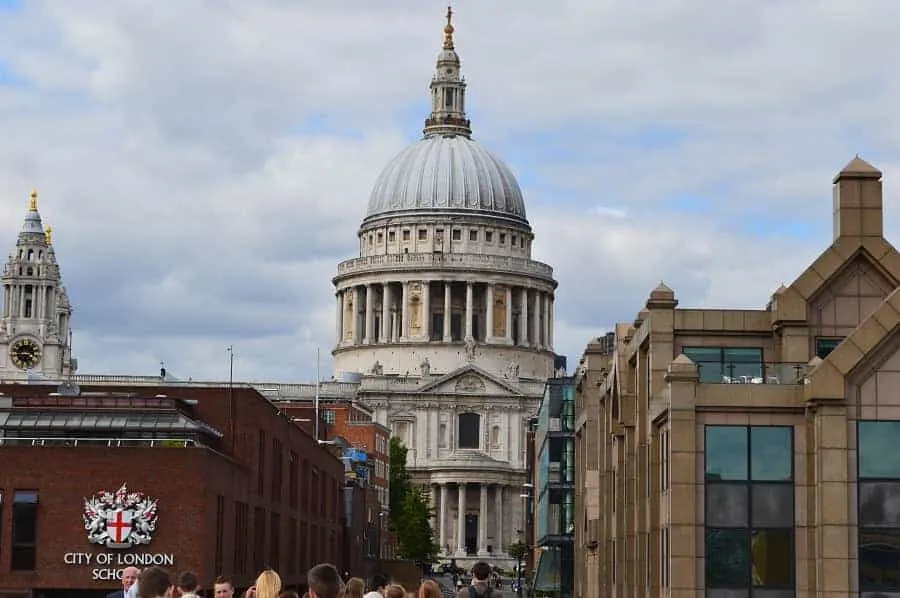 St. Paul's Cathedral
While the outside of this Cathedral is beautiful, the real joy is found on the inside. Bask in the majestic interior and learn about its fascinating history. Be sure not to miss walking up to the dome where you will have amazing views of London.
Plan to spend 1-2 hours at this stop.
St. Paul's opens at 8:30am and the last time to enter for a tour is 4:30pm.
The price of admission includes entry to the Cathedral floor, the crypt, and the three galleries in the dome. Admission also includes multimedia guides and guided tours.
Adult price online: £33.30, on-street £37.00
Child price online: £7.20, at door £8.50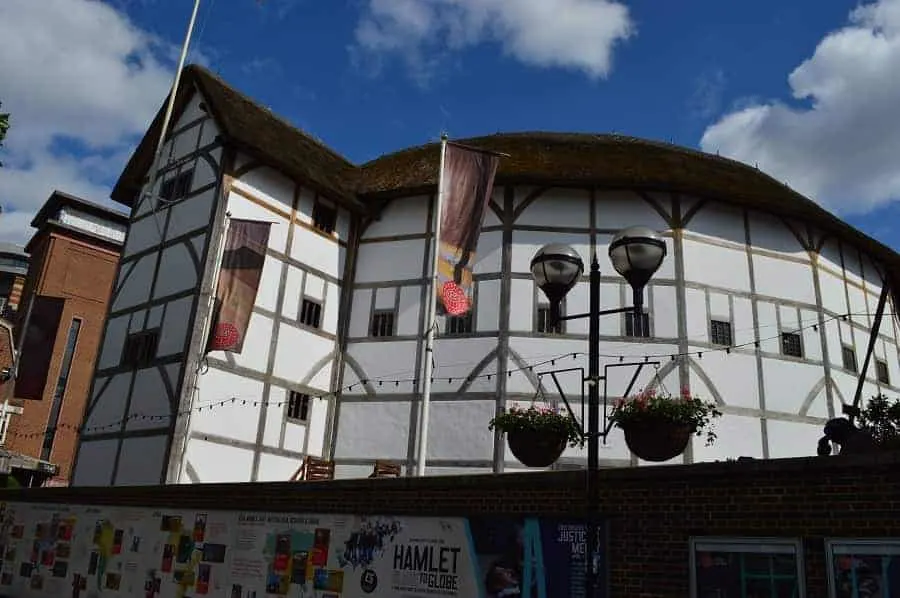 Globe Theater
Just across the Millennium Bridge is the reconstructed Globe Theater. It is worth taking the time to explore the permanent exhibits inside even if you don't have time to take the full Globe Theater tour.
Tower of London Stop
Tower of London
The Tower of London is a sight to behold and you will certainly get a feel for its enormity when you see it from the London Big Bus Tour. Take time to get off at the stop to tour the entire complex.
With an admission ticket, you can tour the fortress, palace and prison while learning about its important history.
Adult price online: £22.70
Child price online: £10.75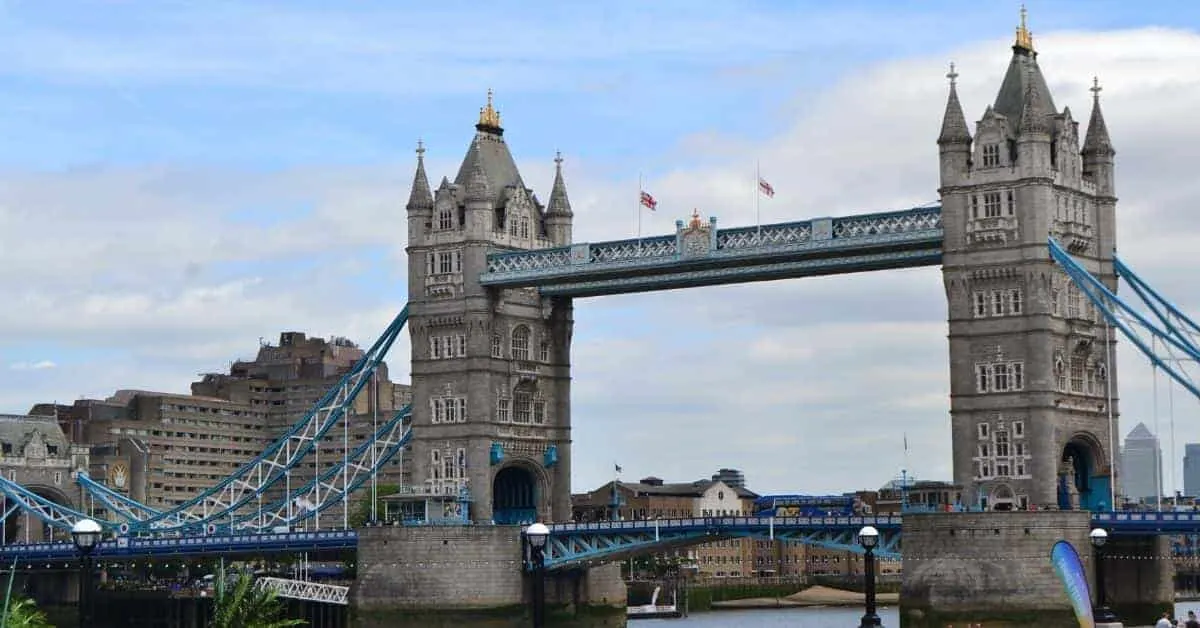 Tower Bridge
While just seeing the bridge is exciting, you should also consider stopping here and taking the tour.
Touring the Tower Bridge Exhibition gives you a chance to learn about the bridge's history, including how it was built.
You will also get to see impressive views of London and can stand on a glass bottom platform giving a new perspective of the bridge!
Tower Bridge Exhibit opens at 9:30am and last time to enter for a tour is 17:00pm.
Adult price online: £8.70 on-street £9.80
Child price online: £3.80 at door £4.20
Temple Underground Station Stop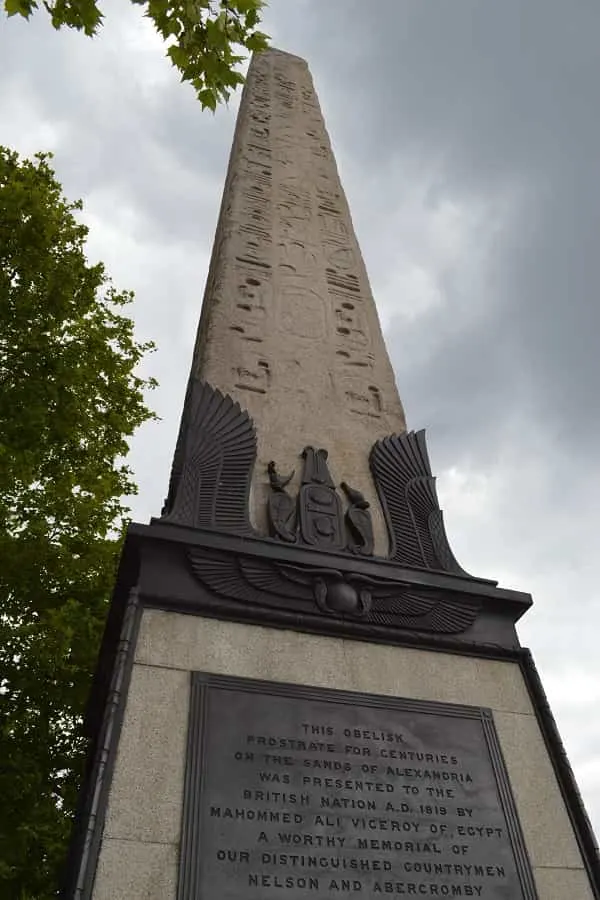 Cleopatra's Needle
If you love Egyptian art, one of the Big Bus London Hop on Hop off stops to make is to see Cleopatra's Needle. The Obelisk brought to London from Alexandria, Egypt sits on the bank of Themes River called "Victoria Embankment".
The history of Cleopatra's Needle is that it belonged to Pharaoh Thotmes III and dates back to 1460 BC, making it almost 3,500 years old.
On each side of the obelisk are hieroglyphics that date from different parts of Egyptian history and at the top of the obelisk you can see a sphinx making offerings to the Gods of Heliopolis.
There is an interesting story concerning the journey of Cleopatra's Needle from Alexandria to Egypt. You will find it on plaques that surround the obelisk.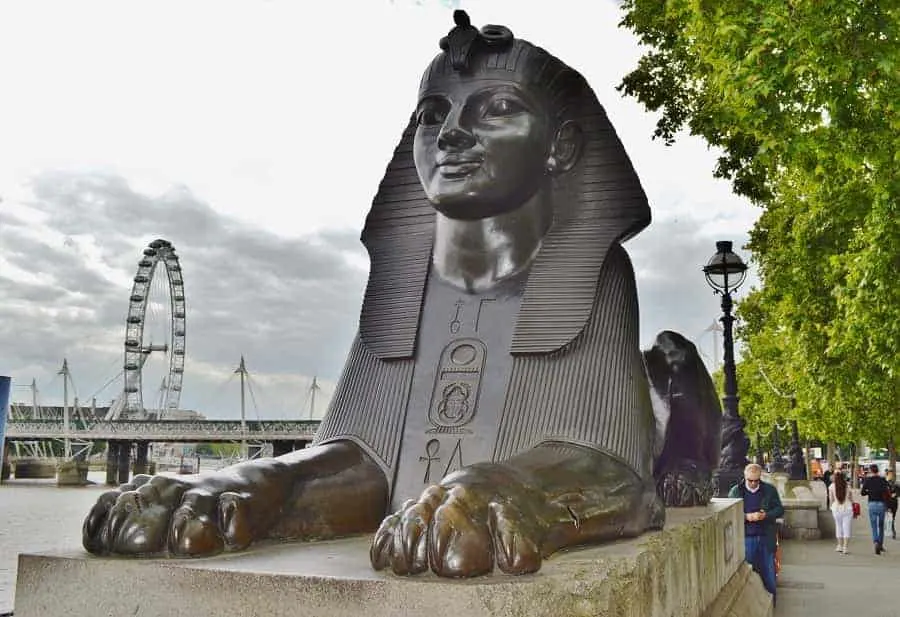 You will also find two bronze Sphinxes in Victoria Embankment, but they are reproductions from the Victorian era and are NOT Egyptian.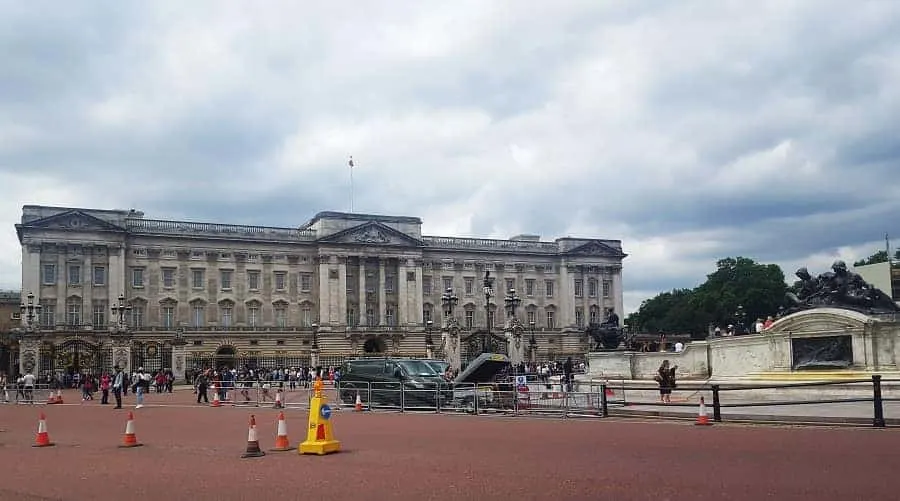 Buckingham Palace Stop
Buckingham Palace is open to visitors during the summer, but even if you aren't planning on going on a tour of Her Majesty's residence, you should take time to get off the Big Bus Tour to see it close up.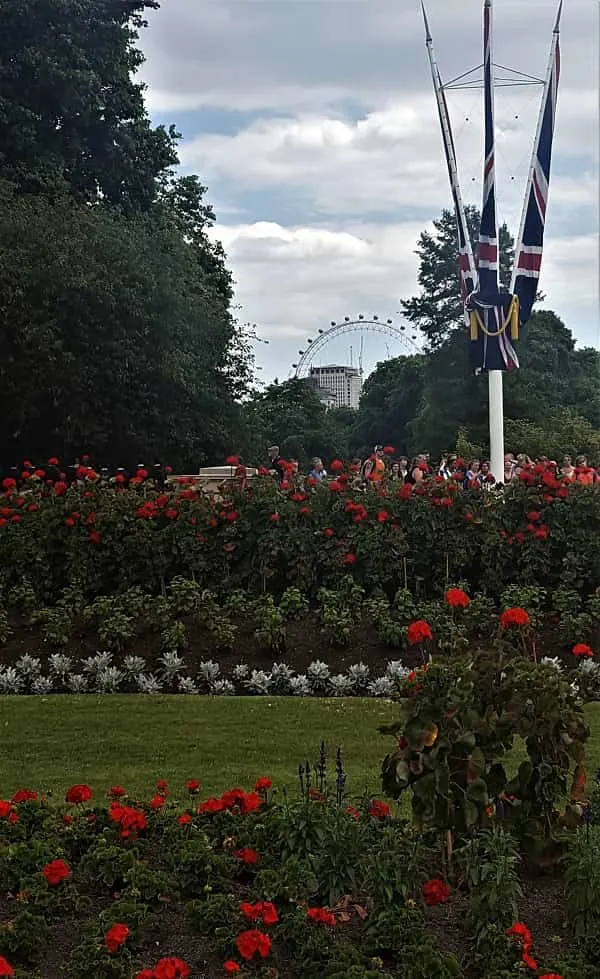 While in the area, you can walk through Green Park, The Queen Victoria Memorial & take a look at the Palace gates.
Tickets to Buckingham Palace:
Adult: £23.00
Child (under 17): £13.00 (under 5): Free
Tickets to Buckingham Palace include a visit to the State Rooms and free entry into the Prince of Wales Exhibition.
Nova Complex Stop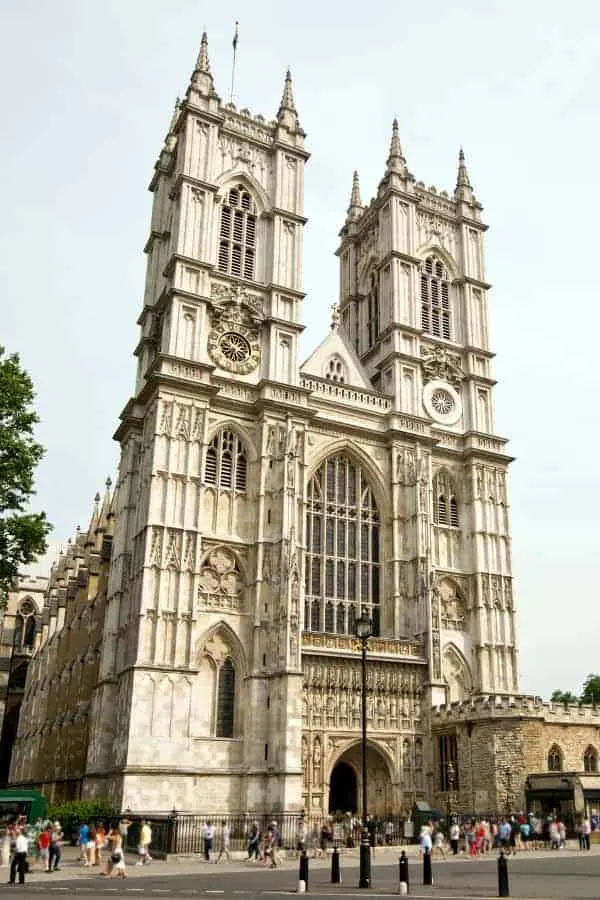 Westminster Abbey
Those wanting to see where Prince William and Kate Middleton were married will want to make sure to get off at this stop so that they can experience Westminster Abbey.
The history of the church doesn't limit itself to weddings. Beginning with William the Conqueror, every British sovereign has been crowned in Westminster Abbey (with the exception of Edward V and Edward VIII).
And if that wasn't enough to make you want to tour the interior of this amazing UNESCO site, the abbey also has tombs and memorials of famous British subjects like Sir Isaac Newton, Geoffrey Chaucer, Robert Browning and many more.
Tickets for Westminster Abbey (BUY NOW & Get Audio Guide)
£20.00 for adults
£9.00 for children between 6-16
FREE for under 5 and under
Big Bus London: Stops to Make on the Blue Line
The Blue Line of the London Big Bus tour takes you toward the western part of the city. If you want to go to Kensington Palace, this is the line to take. Here are the London Hop on Hop off Stops to make:
South Kensington Museums Stop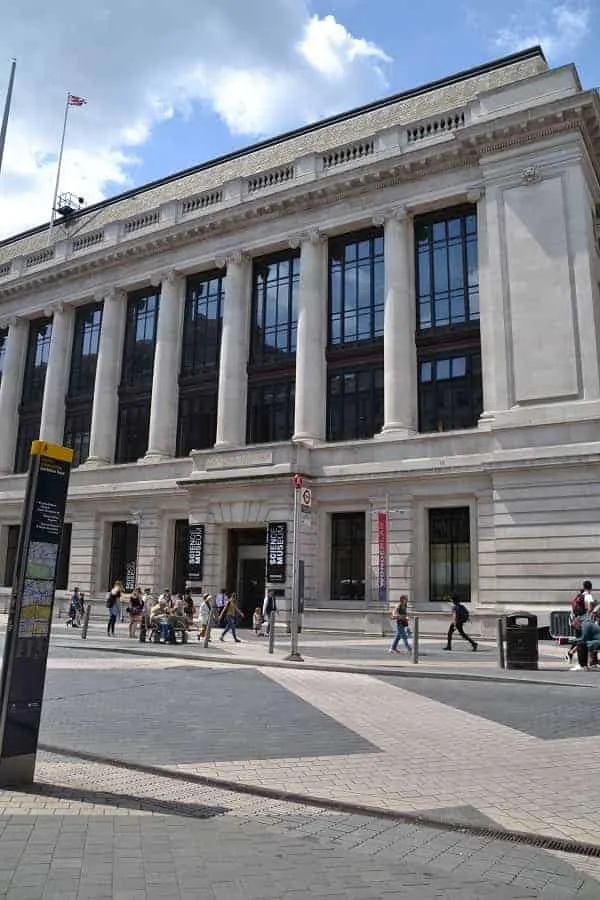 Victoria & Albert Museum
This museum is more of a showcase of pieces of art than a true art or history museum. You will find a little bit of everything and that is really what makes it worth checking out.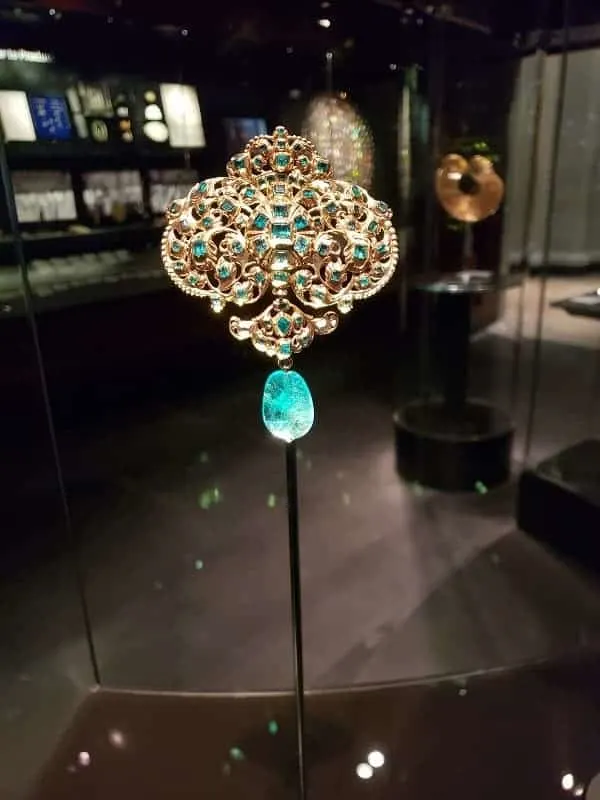 Don't miss seeing the Jewelry collection which is one of the largest in the world.
Like all museums in London, admission to V&A museum is FREE!
Kensington Palace Stop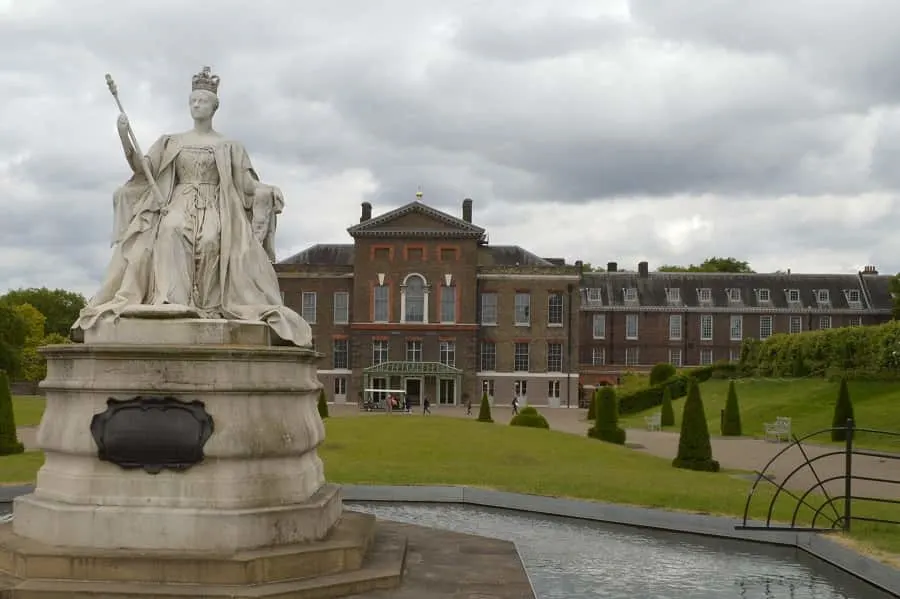 Kensington Palace & Gardens
While you won't be able to see the Royal residence when touring the grounds of the home of the Duke & Duchess of Cambridge, you can see the State Rooms and all public areas of the palace and gardens.
Queen Victoria, born in 1819, grew up at Kensington Palace. You will find the history of her life and marriage to Albert on display in part of the palace.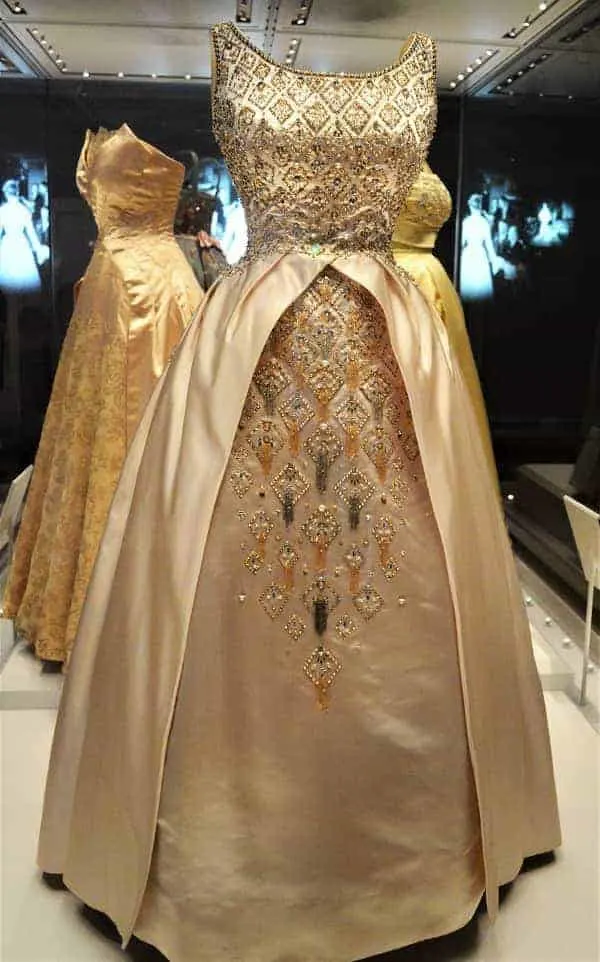 Not to be missed is the Diana: Her Fashion Story exhibition, where you will find the iconic outfits and ball gowns she wore during her life.
Adult: £19.50
Child: £9.70
Big Bus London: Stops to Make on the Green Line
St. Pancras Station Stop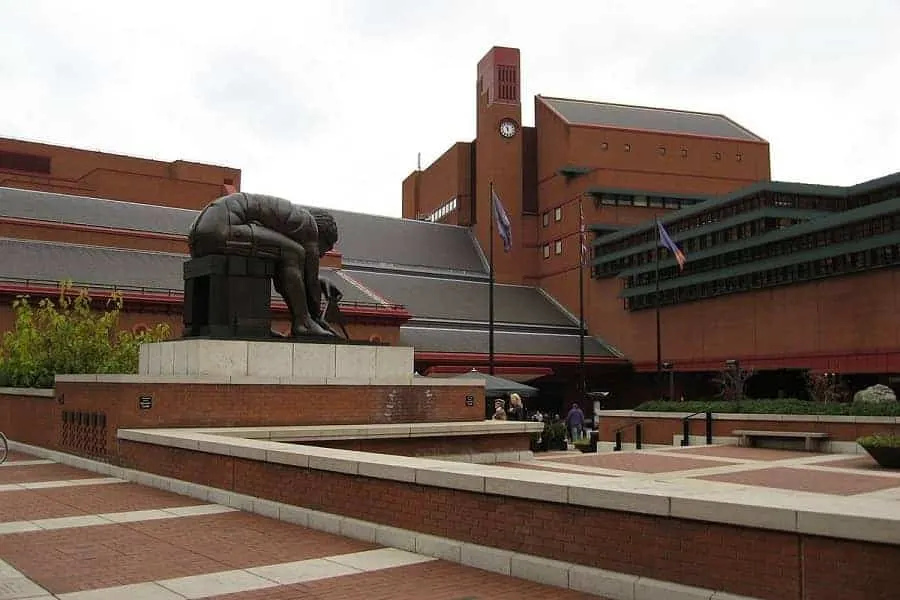 British Library
This is no normal library. The British Library is the second largest national library in the world in terms of how many pieces it contains (it is second only to the US Library of Congress).
While you can't possibly see everything here, be sure to stop in the Treasures of the British Library Gallery to see some of the world's most important books, manuscripts and documents.
You will find such items as DaVinci's notebook; handwritten music from Beethoven, Shakespeare's first folio; among other precious books and manuscripts.
British Museum (Southbound) Stop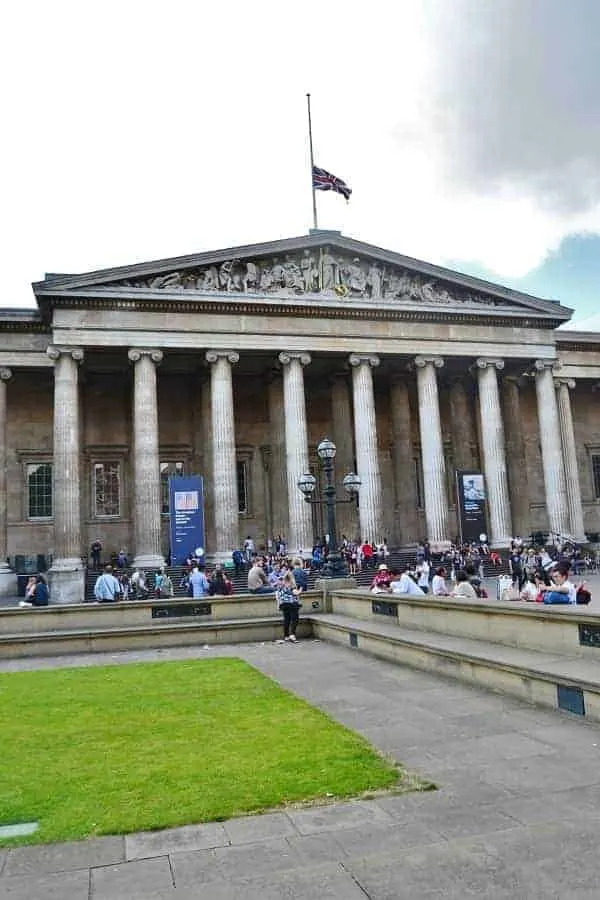 British Museum
This FREE museum is one of the best in England and is one of the best London Hop on Hop off Stops to Make. You will remember this museum from the movie Night in the Museum: Secret of the Tomb.
There is just so much to see in this museum that I couldn't possibly list them all. To give you an idea of some of what you can experience, here is a list of what you can expect to see in one hour.
Museums are FREE
British Museum (Northbound) Stop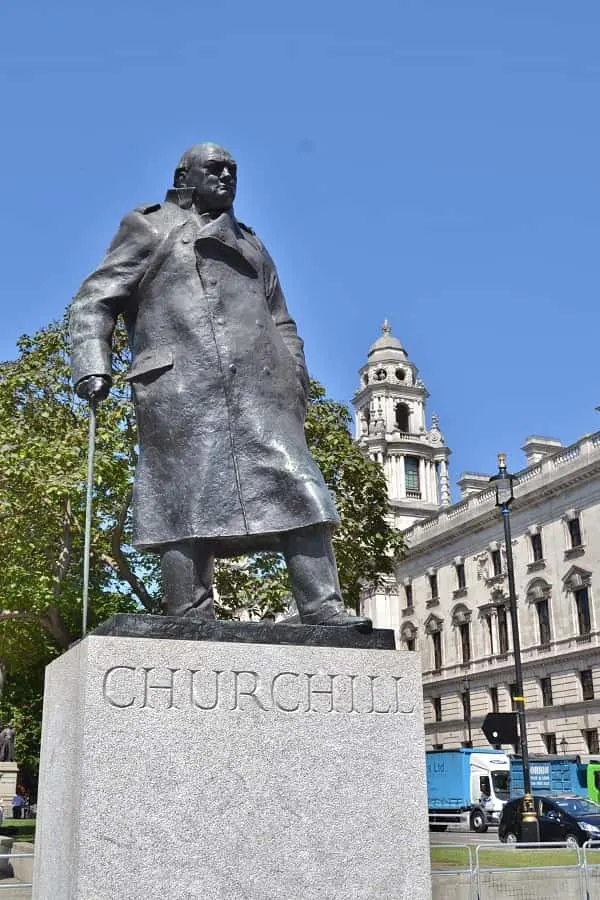 Churchill War Rooms
You don't have to be a history buff to enjoy going through the bunker where Churchill made some of the most important decisions concerning WWII. What makes this a neat experience is that it is exactly as it was when Japan surrendered.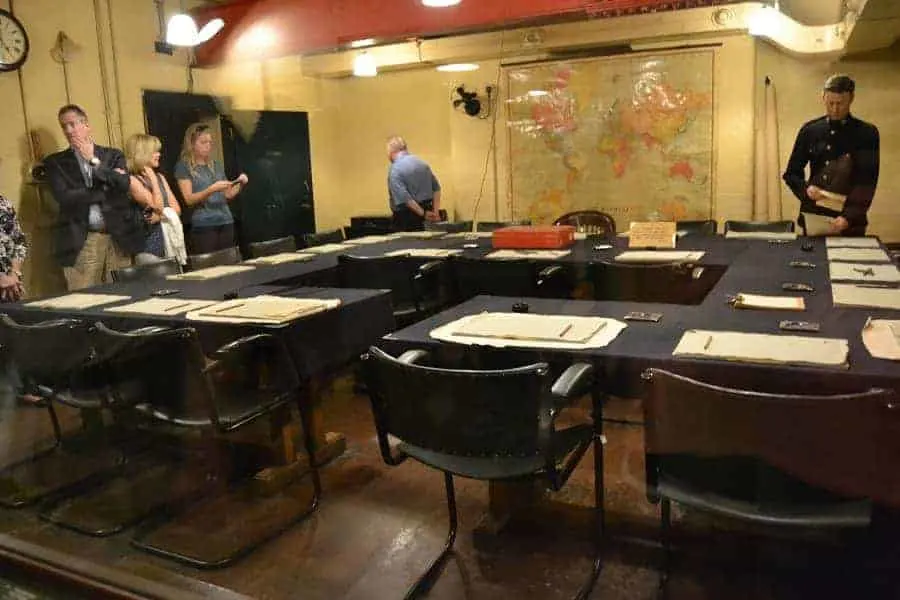 You will be able to see the map room where Churchill and his men spent countless hours planning, the rooms where people slept and the telephone room where important calls were made.
Adult: £22
Child 6-15: £11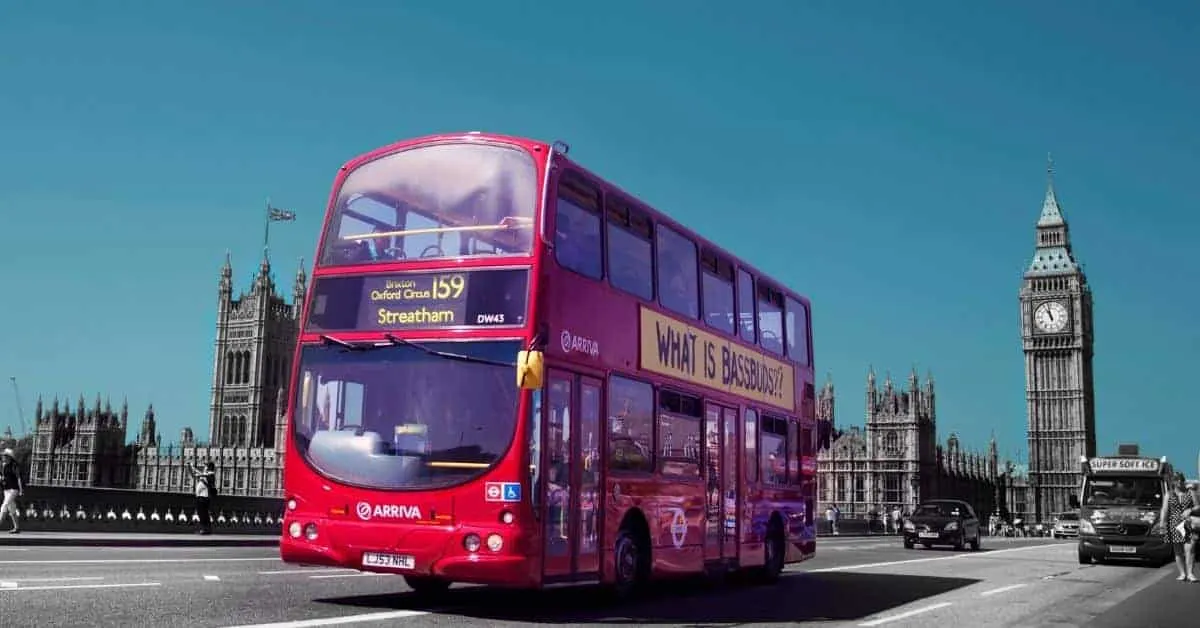 Overall, we are huge fans of Big Bus Hop on Hop off Tours and usually take them in any city where they are available. We find them a great way to get an overview of the city and make getting from one site to the next pretty effortless.
The one thing you will want to make sure is that when you do hop off to walk around that you make sure you look for the Big Bus Tour bus system sign to re-board.
There are several different bus tour groups available and you don't want to be waiting for the wrong one!
Have you taken a Big Bus London Tours? What was your experience?