When planning a trip to Italy, one stop on everyone's list is Rome. It is filled with ancient architecture, historic monuments, religious sites, and many museums. While one day in Rome doesn't seem like near enough time, let me tell you that you can see a lot of Rome in a day if you plan carefully!
How to See Rome in a Day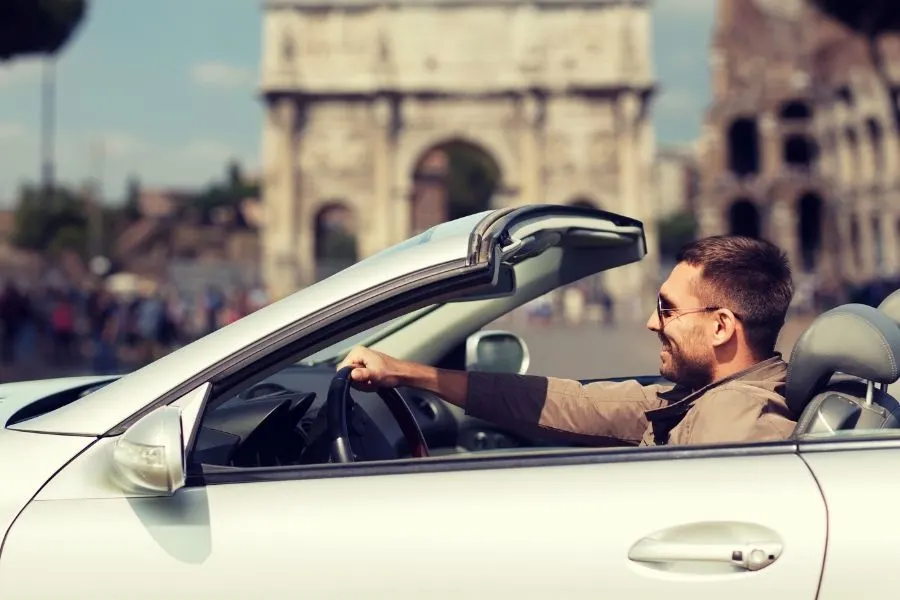 Use a Private Driver in Rome
While you can see many of the famous Roman sites using public transportation, it may be in your best interest to hire a driver for a private tour of Rome.
Private drivers know the city better than anyone and can navigate streets to get you where you want to go much faster than you could on your own.
While stopping in Rome for the day during our Mediterranean Cruise, we hired a private driver to take our family to all of the famous sites.
It cost a bit more than doing it on our own, but we wanted to make the most of our time and not miss out on things because we couldn't navigate our way through Rome effectively.
Our driver made us feel safe in an unfamiliar city and because of his experience in Rome, he knew places to drop us off near the famous sites in Rome we wanted to see and could talk to us about the sights before we arrived.
One Day Rome Itinerary
Morning
Arch of Constantine
Colosseum
Palatine Hill
Roman Forum
Afternoon
Piazza Navona
Pantheon
Trevi Fountain
Spanish Steps
While this list may seem daunting. Understand that many of the sites are centrally located and can be broken down into morning & afternoon.
Sites to See during your Day Trip to Rome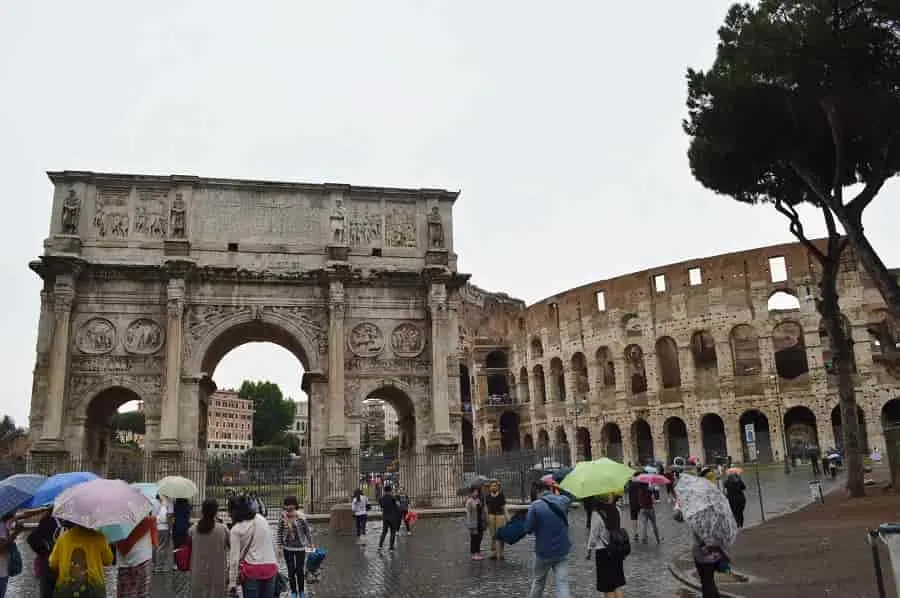 Arch of Constantine
This arch was commissioned by the Roman Senate to commemorate Flavius Constantine the Great's victory over Maxentius (Battle of Milvian Bridge) in 312.
The inscription reads:
To the emperor Flavius Constantine the Great pious and fortunate, the Senate and People of Rome
because by divine inspiration and his own greatness of spirit with his army on both the tyrant and all his faction at once in rightful battle he avenged the State dedicated this arch as a mark of triumph.
It sits between the Colosseum and Palatine Hill which would have been the route taken by the emperors when they entered the city in triumph.
Colosseum
There is nothing quite like the view of the Colosseum for the first time.
This UNESCO World Heritage Site is quintessential Roman architecture and tops our list of places you must visit when in Rome.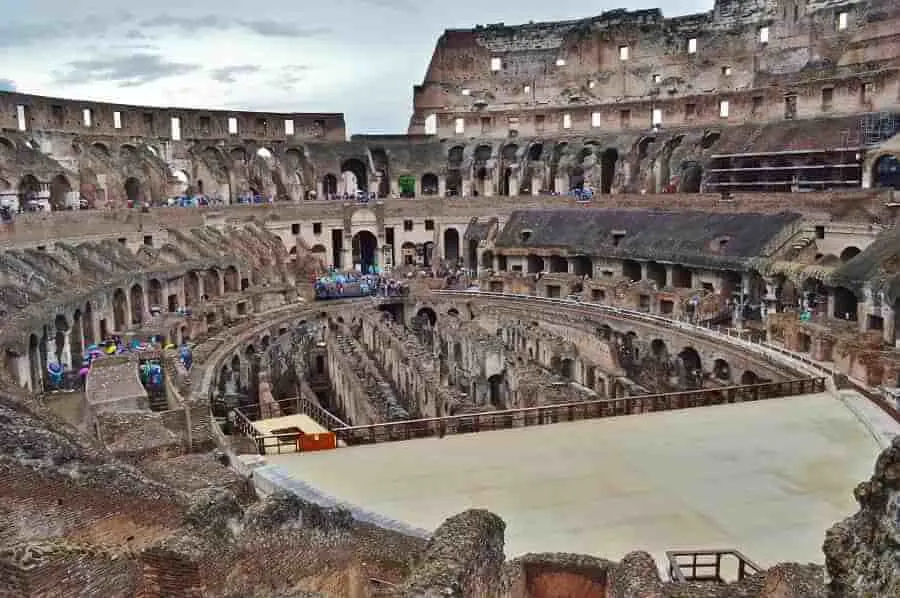 The first time we were in Rome, we didn't take the time to go inside, but we did take the time to tour the inside of the Colosseum on our second visit.
In my opinion, it wasn't worth
Roman Colosseum is on the Rome City Pass, but if you don't get it, you can get a combo ticket that gets you into Colosseum & Palatine Hill.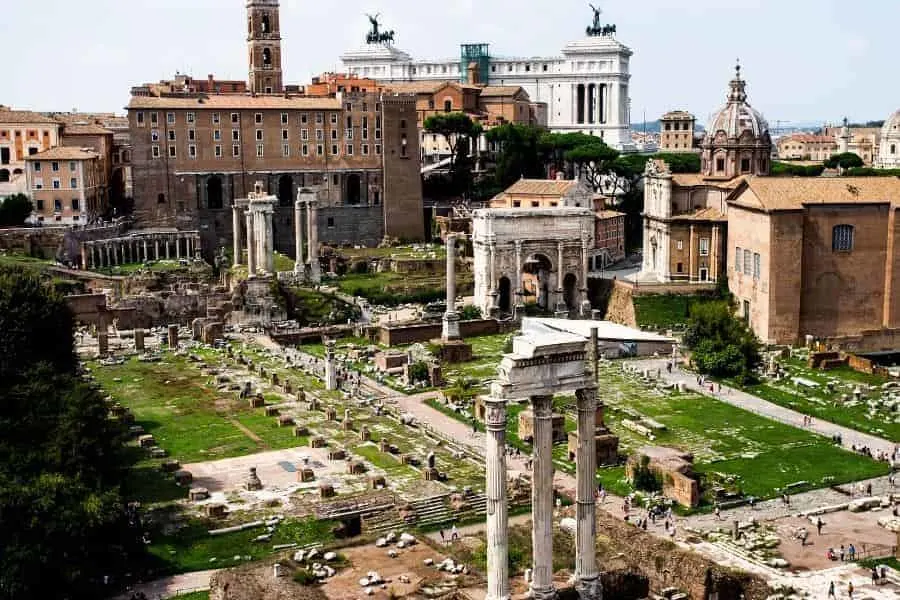 Roman Forum
The Roman Forum is one of the most important archaeological sites in the world and the fact that it still remains semi-intact is quite amazing.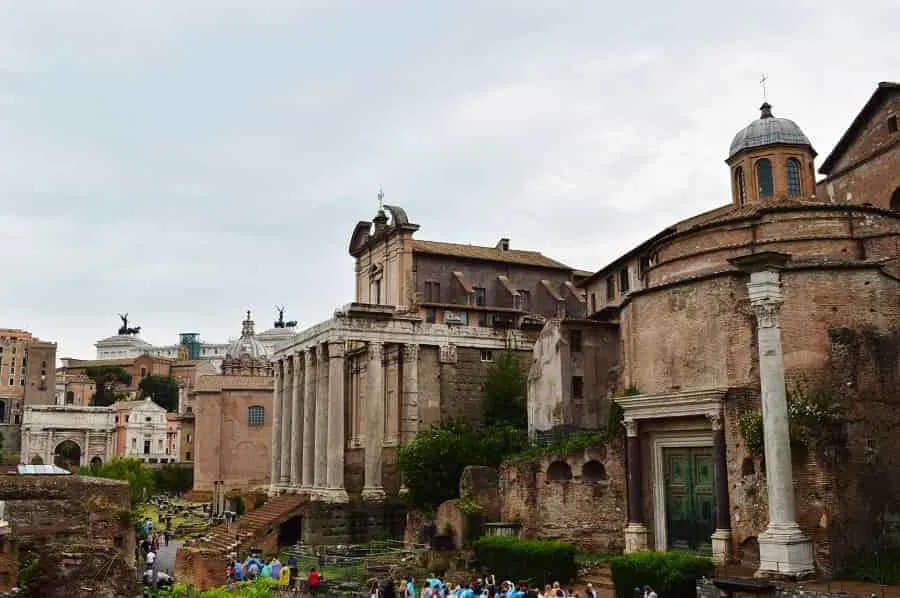 Walking through the Forum is like walking back in time during the reign of Julius Caesar. You will find impressive structures, such as the Temple of Vesta, the Curia Julia, and the Rostra.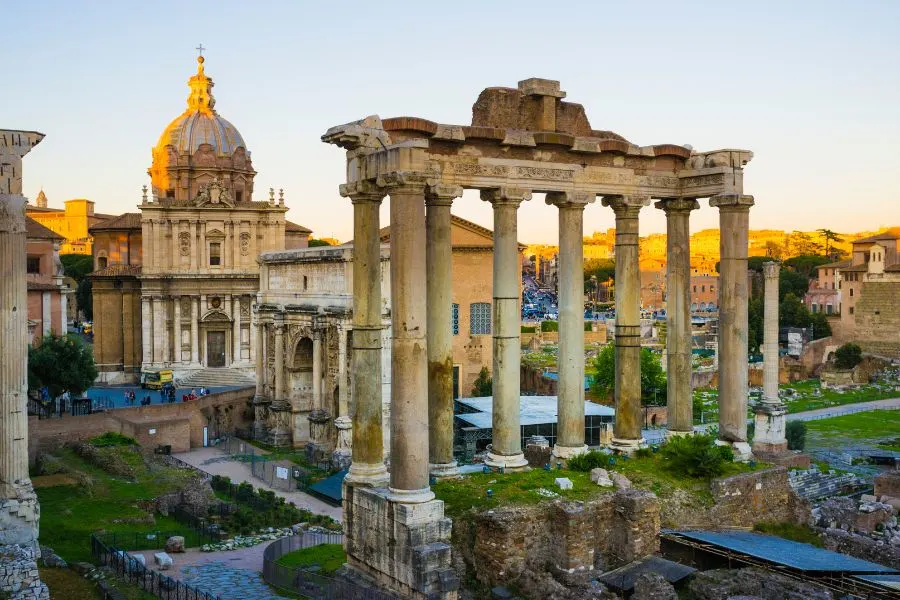 To understand everything that you see, I suggest you download Rick Steves' audio tour of the Roman Forum. He does a great job explaining it all!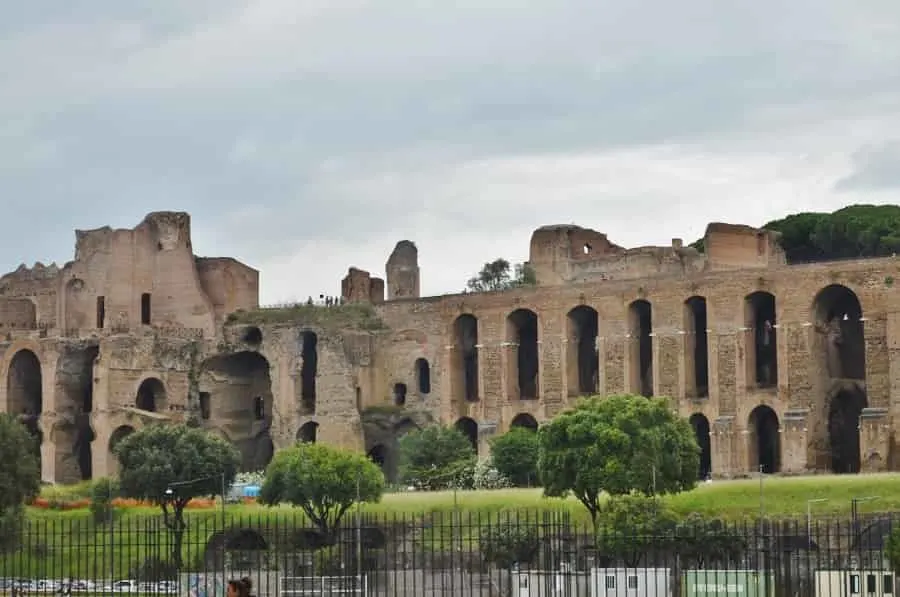 Palatine Hill
Sitting next to both the Roman Forum and above the Colosseum is Palatine Hill.
This is the most famous of Rome's seven hills and according to legend, this is the spot where Romulus founded Rome.
Palatine Hill was once home to Roman Emperors and the site of palaces in ancient times. Now, it is an archaeological site.
BUY the Combination Ticket for Colosseum, Roman Forum & Palatine Hill to SAVE MONEY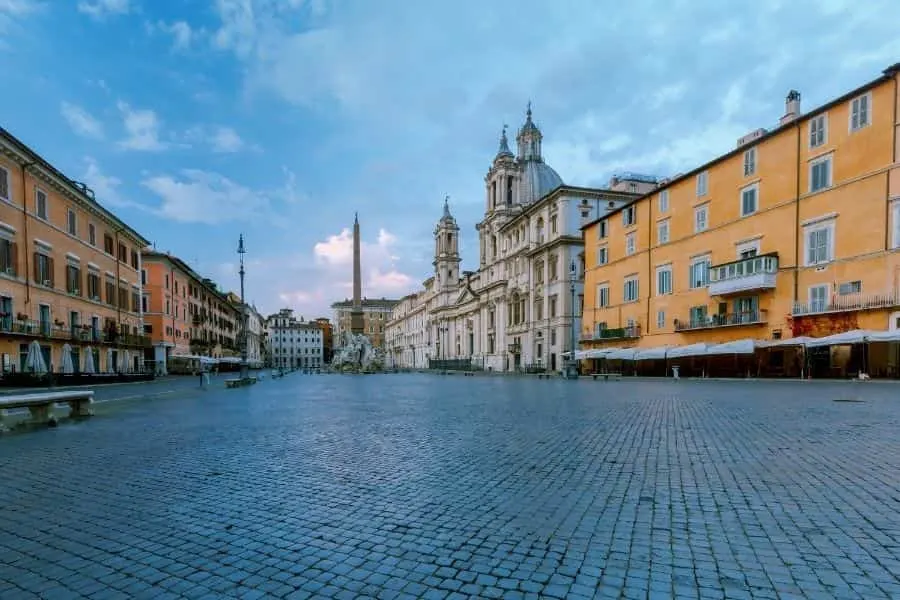 Piazza Navona
Piazza Navona is a large public square located in the heart of Rome.
It was originally built in the 1st century AD as an ancient Roman stadium and later became a marketplace during the 15th century.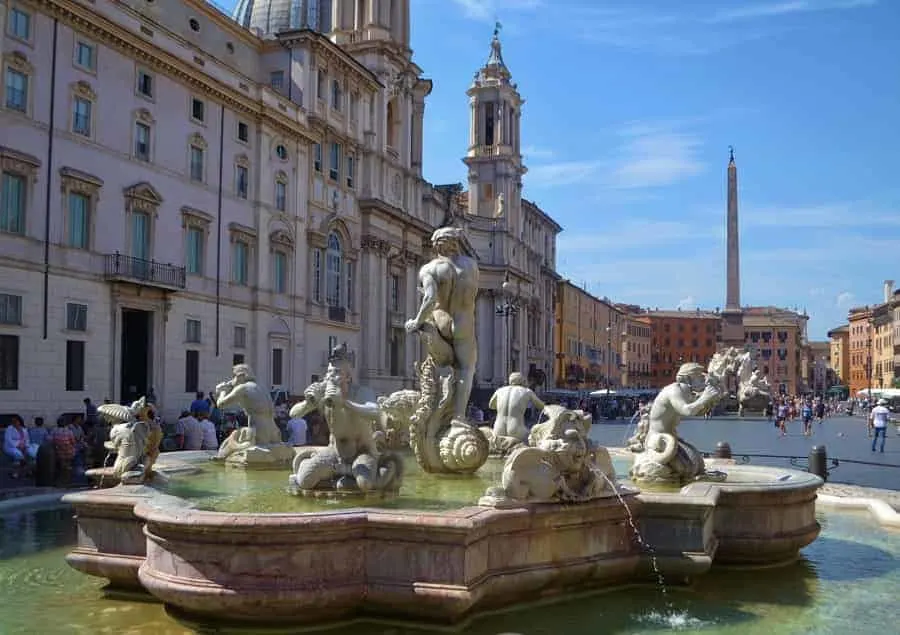 The shape of the square has been preserved to this day, with two famous Roman fountains at either end – the Fountain of the Four Rivers and the Fontana dei Quattro Fiumi or "Fountain of the Four Rivers".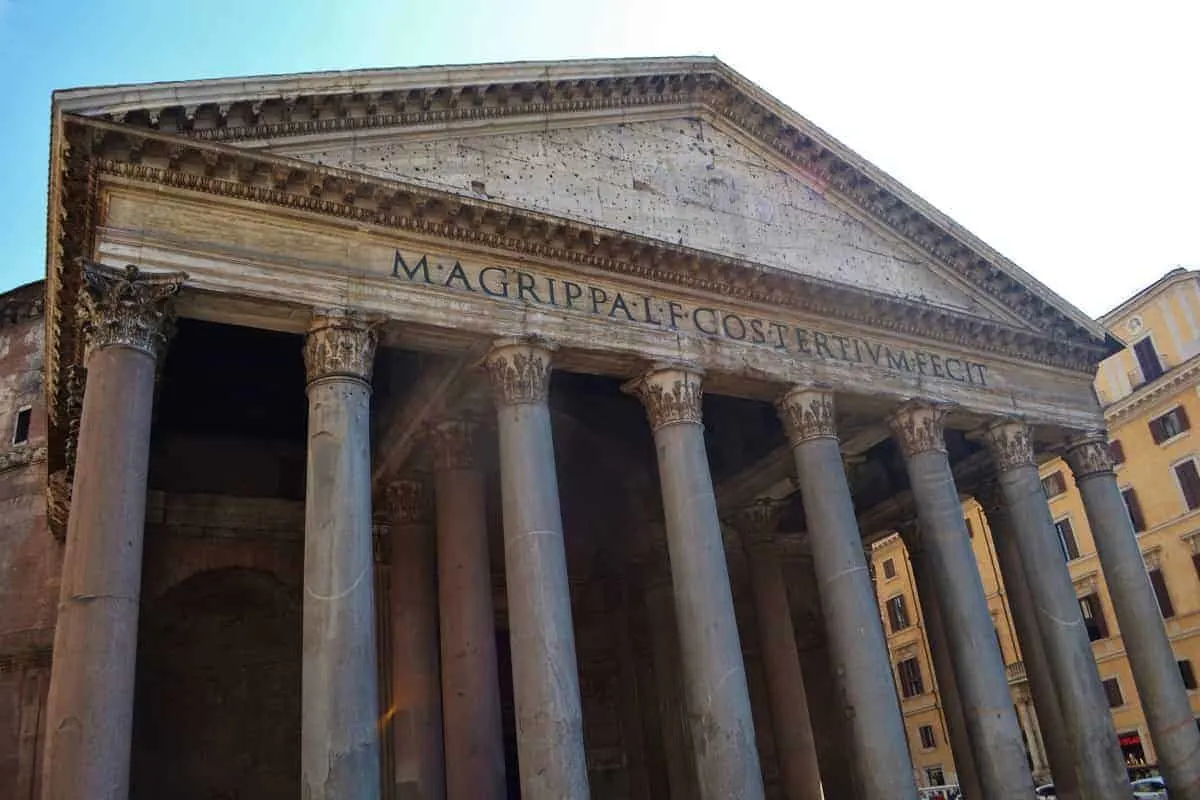 Pantheon
The Pantheon is a former Roman temple in Piazza Navona and now serves as a church. Because of this, entry is free!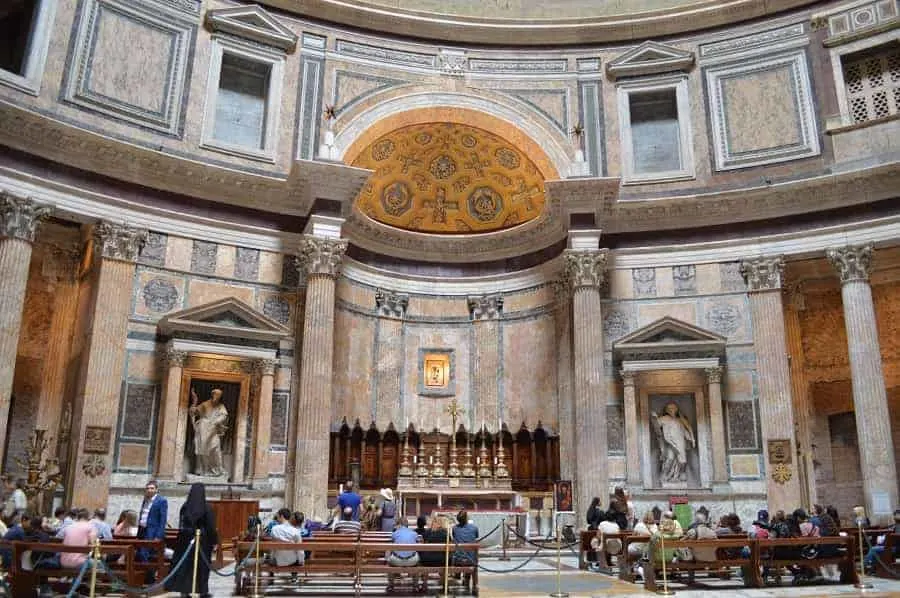 The interior Rotunda features seven alcoves that span across the entire perimeter. During ancient times, these would have been areas to place sculptures of Roman deities, but today they serve as chapels and tombs.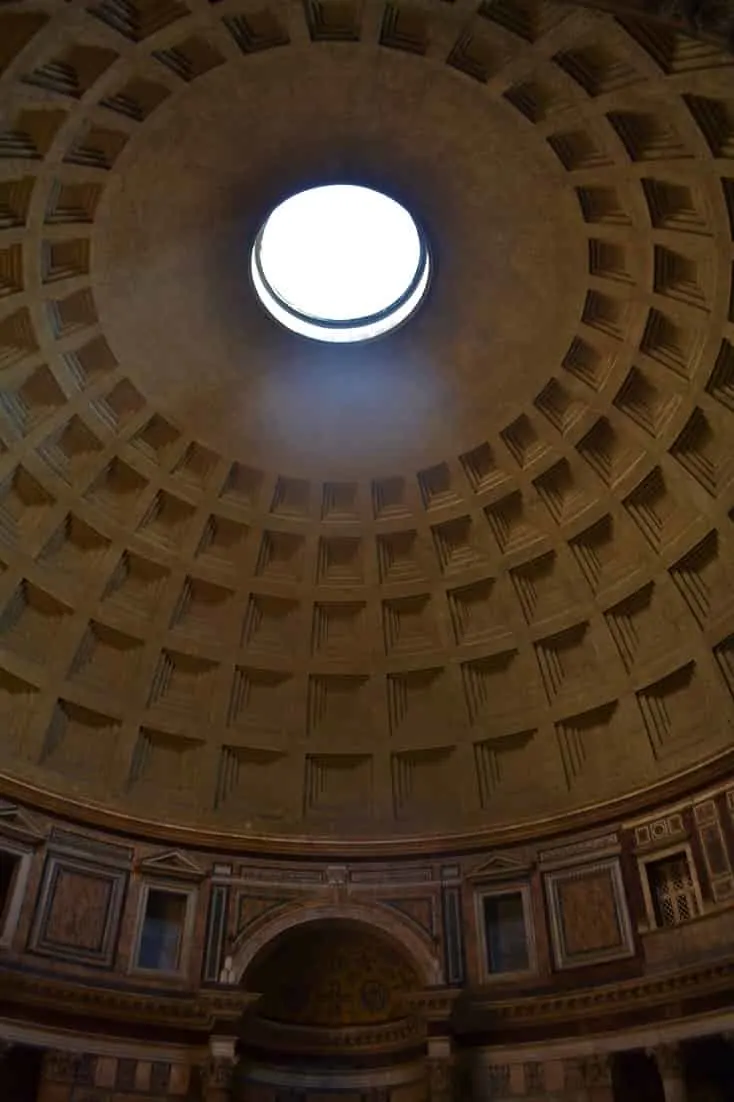 The Pantheon's dome is 43 meters high and features an oculus that opens to the sky.
When originally built, it is believed that the interior would have been dark blue so that at night when the moonlight would hit the bronze features, it would shine like stars.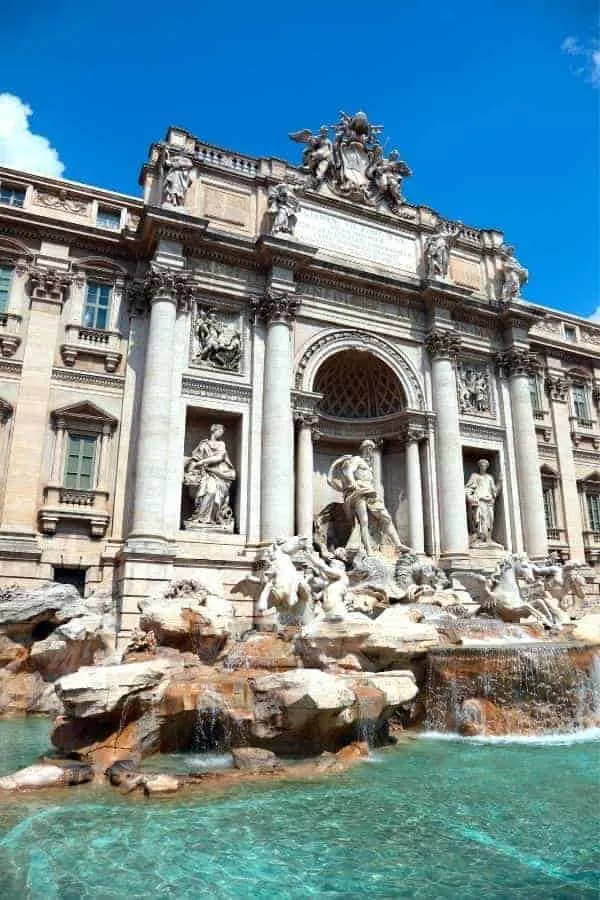 Trevi Fountain
The Trevi Fountain is one of Rome's most iconic landmarks and is a must-see for any visitor to Rome.
Just around the corner from the Pantheon, the Baroque fountain was constructed in 1762.
It features a central statue of Neptune, God of the Sea, surrounded by other Roman gods, goddesses, and allegorical figures.
Water pours from several levels and directions creating a truly breathtaking scene that draws crowds year-round.
Legend has it that if you throw a coin into the fountain, you will one day return to Rome.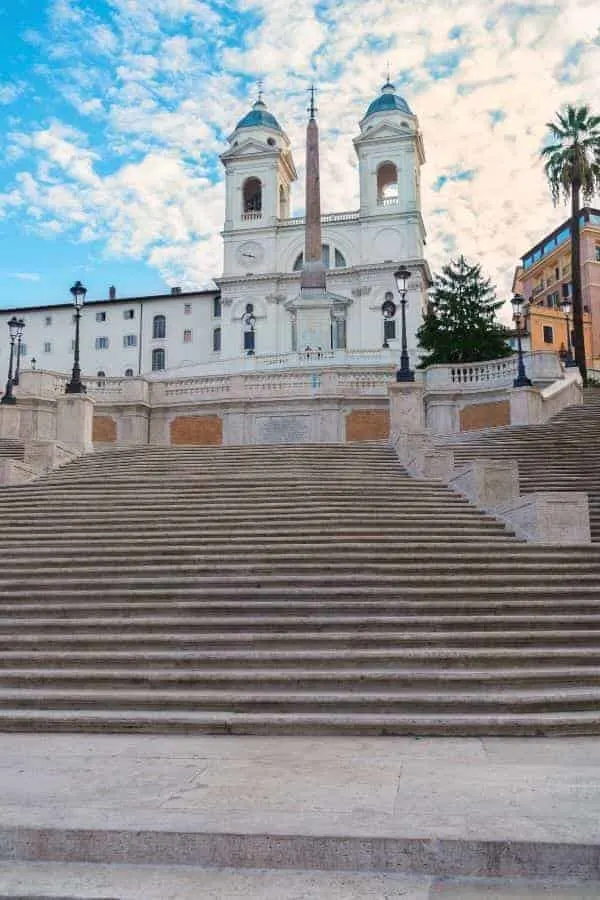 Spanish Steps
The Spanish Steps, built between 1723 and 1725, are a popular site because they were featured in Roman Holiday starring Audrey Hepburn.
The steps can be accessed at the top (Piazza di Spagna) or from the bottom.
Because it is such a popular place to take photos, you will find locals trying to sell you flowers. Be careful, because it may seem as though they are giving it to you for free, but as we all know, nothing is ever free.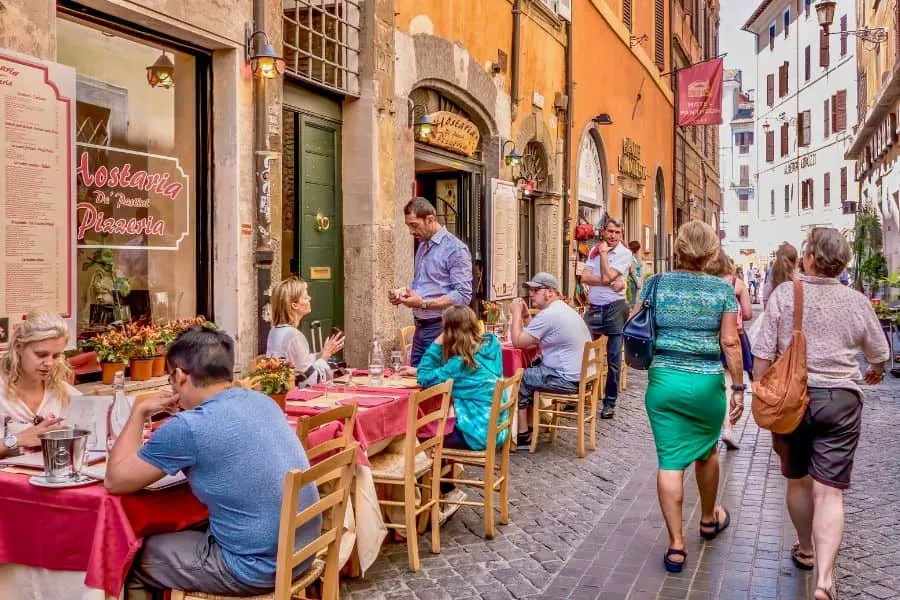 Where to Eat in Rome
With only one day in Rome, you won't have the time to explore all the best places to eat. If you can only choose one restaurant, we would suggest you do it right and choose one that is nearby the attraction you are visiting during lunchtime.
While a single day in Rome is certainly enough to tantalize and delight, you won't be able to experience all it has to offer. We hope that we've given you some ideas on how to best spend your time.
Planning to be in Rome for more than One Day?
Check out these itineraries: