We may earn money or products from the companies mentioned in this post. Read our disclosure policy.
When planning a trip to Italy, one stop on everyone's list is Rome. It is filled with ancient architecture, historic monuments, religious sites and many museums.  You could easily spend a week in Rome and still not see EVERYTHING. Unfortunately, not everyone has that much time to spend in one city.   Whether you are in Rome on a from a Mediterranean cruise or just stopping through on a backpack adventure, there is plenty you can see & do in Rome in a day.
What is the best way to see Rome in a day? While you can do it on your own using public transportation, it may be in your best interest to hire a driver for a private tour. Private drivers know the city better than anyone and can navigate streets to get you where you want to go much faster than you could on your own.
What You Can Do & See in Rome in a Day
Colosseum
Arch of Constantine
Palatine Hill
Roman Forum
Pantheon
Piazza Navona
Fontana dei Quattro Fiumi
Trevi Fountain
Spanish Steps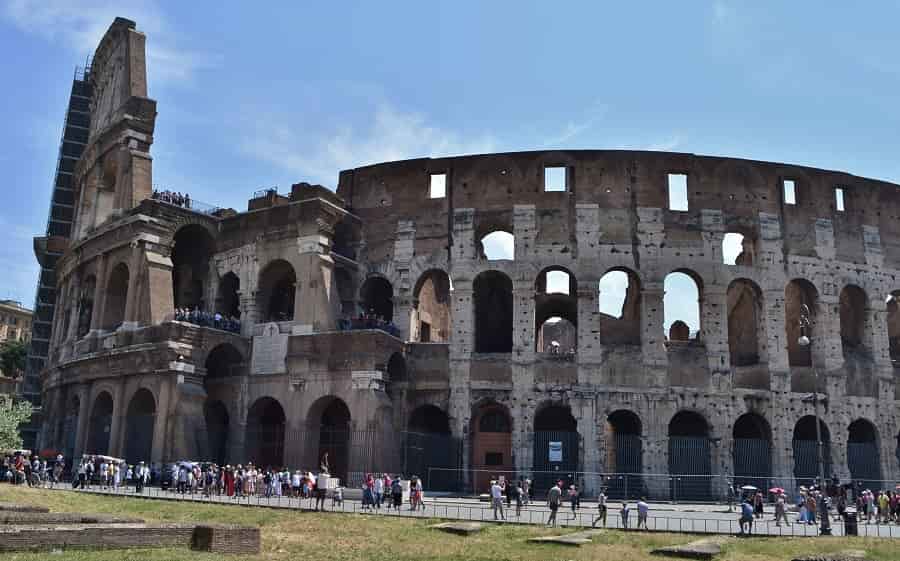 Colosseum
There is nothing quite like the view of the Colosseum for the first time. This UNESCO World Heritage Site is quintessential Roman architecture.  The first time we were in Rome, we didn't take the time to go inside (we chose to do Rome & Vatican in one day), but we did take the time to tour the inside of the Colosseum on our second visit. Here is what I can tell you: while amazing to see the interior arena and hear about it in the audio portion of the tour, it is not necessary.  If you have to choose between making time to go inside the Colosseum or walk the Forum, I would choose the Forum, hands-down.

Arch of Constantine
The Arch of Constantine is the largest surviving Roman arch from imperial Rome and sits between the Colosseum and Palentine Hill. Constructed in 315 CE,  the Arch of Constantine commemorates Roman Emperor Constantine's victory over Maxentius at the battle of Milvian Bridge in Rome. The inscription at the top reads (translated):
To the emperor Flavius Constantine the Great pious and fortunate, the Senate and People of Rome
because by divine inspiration and his own greatness of spirit with his army on both the tyrant and all his faction at once in rightful battle he avenged the State dedicated this arch as a mark of triumph.
Palentine Hill
Sitting next to both the Roman Forum and above the Colosseum is Palentine Hill. The home to Roman Emperors and site of palaces in ancient times, Palentine Hill is now an archeological site. While you will find a museum or Roman artifacts and the Houses of Augustus and Livia (there are amazing frescoes in them), the best part of this site is the view.


Roman Forum
The centre of political and social activity in ancient Rome, the Forum dates all the way back to the sixth century BC.
Pantheon. There, you will find ancient buildings, structures and decapitated statues. There is so much to see and digest that I recommend you download Rick Steve's audio guide so that you can fully understand the significance of all that you see there.
Piazza Navona
Just steps away from the Pantheon, Piazza Navona is set on the site of what was once Stadium of Domitian in the 1st Century A.D. It is now beneath the ground. This is where you would have found Gladiators battling it out and ancient athletic contests. Now, you will find ancient fountains and street musicians & artists mingling with tourists. It is a great place to sit and have a glass of wine or beer and people watch.
Fontana dei Quattro Fiumi
Located in the very middle of Piazza Navona is the Fountain of the Four Rivers by Bernini. Each figure is meant to represent one of the major rivers of Bernini's time: the Nile, Ganges, Danube and Rio de la Plata.
Trevi Fountain
You will find fountains scattered throughout Rome, but none is quite as striking at Trevi Fountain.  This fountain was the end point of an ancient roman aqueduct constructed by Marcus Vipsanius Agrippa. While the end point existed since ancient times, it wasn't until the 17th & 18th centuries that the fountain itself was designed and constructed.  There is an old legend that says if a visitor throws a coin into the fountain, they are ensured a return to Rome. It worked for me!
Spanish Steps
A few blocks from Trevi Fountain is the famous Spanish Steps. This 153 stairway was built to link the the Trinità dei Monti church with the Spanish square below.  Because of its design and location, it became a place for artists and poets to work their craft.  At the corner on the right of the steps is the poet John Keats' house (now a museum).  You will find gentlemen passing out roses. These roses are NOT free. They expect you (or your man) to give them a tip.
---

You will notice that I did not include Vatican City in this list.  If you had to, you could see the Vatican and Rome in a day.  In order to do both, you would have to sacrifice some of the things on the above list (most likely that would mean just seeing the Colosseum & Forum from the outside ~not taking time to go through them).   Ideally, you would have a day to see Vatican City and a second day to see Rome.
Have you done Rome in a day? What did you get to see?